By Jerri-Lynn Scofield, who has worked as a securities lawyer and a derivatives trader. She now spends much of her time in Asia and is currently working on a book about textile artisans.
National Geographic kicked off a new Planet or Plastic initiative in its June issue. The magazine continues to highlight the plastics problem despite its 2015 acquisition by Fox. The worldwide plastics crisis is not seen as a left or right issue.
In the UK for instance, the Independent reported over the weekend in New 'plastic tax' planned to drive use of unrecyclable material out of existence that the government is discussing ways to increase the cost to companies of using certain plastics as part of a waste and resources strategy to be announced before end 2018:
It follows a string of announcements from environment secretary Michael Gove as he stakes out green issues as Conservative political territory, with campaigners encouraged to push for progress in other areas too.
Plastic or Planet Initiative
As reported by Treehugger:
Featuring a long-term, multi-year commitment from the media group, and comprising of educational campaigns, a consumer pledge, research initiatives, as well as a corporate commitment to audit and then reduce single-use plastic dependency within the organization, it really does look like more than your average corporate responsibility initiative.

An early sign of change will be subscribers in U.S., U.K. and India will begin receiving their magazines wrapped in paper, not plastic, immediately. And all global subscribers will see the same by the end of 2019. I'm very excited to see this initiative roll out.
This article, We Depend on Plastic. Now We're Drowning in It., provides an eye-opening and depressing introduction to the scale of the problem. The magazine's suggested response focuses on individual actions, as outlined in– You Can Help Turn the Tide on Plastic. Here's How —  and emphasizes 'painless' measures:
Six Things You Can Do (and Feel No Pain)[Jerri-Lynn here: original emphasis]

1. Give up plastic bags. Take your own reusable ones to the store. A trillion plastic shopping bags are used worldwide every year, and 100 billion in the United States alone—that's almost one per American per day. The average Dane, in contrast, goes through four single-use bags per year. Denmark passed the first bag tax in 1993.

2. Skip straws. Unless you have medical needs, and even then you could use paper ones. Americans toss 500 million plastic straws every day, or about 1.5 per person.

3. Pass up plastic bottles. Invest in a refillable water bottle. Some come with filters if you're worried about water quality. A handful of cities, including Bundanoon, Australia, and San Francisco, have banned or partially banned bottled water. But around the world, nearly a million plastic beverage bottles are sold every minute.

4. Avoid plastic packaging. Buy bar soap instead of liquid. Buy in bulk. Avoid produce sheathed in plastic. And while you're at it, give up plastic plates and cups. The French are (partially) banning the stuff.

5. Recycle what you can. Even in rich countries, recycling rates are low. Globally, 18 percent of all plastic is recycled. Europe manages 30 percent, China 25—the United States only 9.

6. Don't litter. The Ocean Conservancy has run beach cleanups for 30 years. Of the top 10 types of trash they find, the only nonplastic item is glass bottles. Worldwide, 73 percent of beach litter is plastic: cigarette butts (the filters), bottles and caps, food wrappers, grocery bags, polystyrene containers. In 2016 the conservancy collected 9,200 tons of trash in 112 countries—around a thousandth of what enters the ocean each year.
Now, I'm not saying that widespread adoption of such simple measures will have no impact. I  already follow each of these six steps, even though I have no illusions about their overall efficacy. Reducing individual plastic consumption would only be a teensy teensy drop in a very large worldwide bucket.
As astute reader oaf pointed out in comments the last time I wrote about plastics,
Plastics Pollution Policies– "Bold" or Pathetic?, it's misleading to say that consumers create this waste. Much of the huge amount of plastics waste is foisted on consumers and we can't escape being enshrouded in plastic packaging.  One welcome development– as I discuss further in the last part of this post– is that the current UK government understands that consumers alone cannot solve this problem and that companies must be pushed to  cease use of problematic plastics.
Improving Solid Waste Management
National Geographic's Plastic. Now We're Drowning in It  article is much better than its feeble pledge. As that piece noted, " At a global summit in Nairobi last December, the head of the United Nations Environment Programme spoke of an "ocean Armageddon."  Some note this is a far easier problem to solve than global warming:
"This isn't a problem where we don't know what the solution is," says Ted Siegler, a Vermont resource economist who has spent more than 25 years working with developing nations on garbage. "We know how to pick up garbage. Anyone can do it. We know how to dispose of it. We know how to recycle." It's a matter of building the necessary institutions and systems, he says—ideally before the ocean turns, irretrievably and for centuries to come, into a thin soup of plastic.
Unfortunately, the  development of effective waste management systems — particularly in developing countries– has failed to pace with the upsurge in plastics production and use:
In recent years the surge in production has been driven largely by the expanded use of disposable plastic packaging in the growing economies of Asia—where garbage collection systems may be underdeveloped or nonexistent. In 2010, according to an estimate by [Jenna Jambeck, a University of Georgia engineering professor], half the world's mismanaged plastic waste was generated by just five Asian countries: China, Indonesia, the Philippines, Vietnam, and Sri Lanka.

"Let's say you recycle 100 percent in all of North America and Europe," says Ramani Narayan, a chemical engineering professor at Michigan State University who also works in his native India. "You still would not make a dent on the plastics released into the oceans. If you want to do something about this, you have to go there, to these countries, and deal with the mismanaged waste."
I should mention that the global rate of recycling is nowhere near 100%– even in Europe and North America.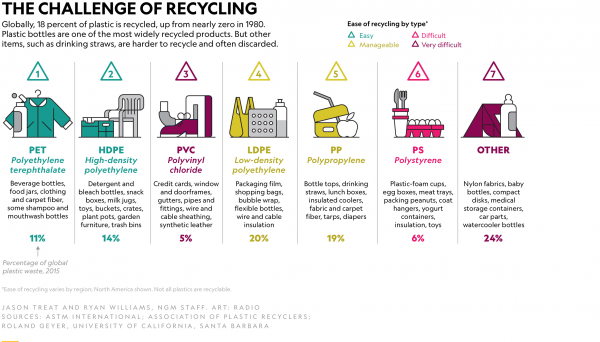 Source: National Geographic, WE MADE PLASTIC. WE DEPEND ON IT. NOW WE'RE DROWNING IN IT.
But some developing countries– such as India– have achieved impressive results in some recycling initiatives. India currently recycles 90% of its plastic water bottles and food containers made from polyethylene terephthalate (PET), as I discussed further in this March post. So clearly there is much more that can be achieved on the recycling front.
In the longer-term, creating fewer plastics in the first instance is the most sustainable way of addressing the problem. But suppose National Geographic is right– and improving waste management systems would take the world where it needs to go.  What's the state of play with creating and financing such systems:
"Everyone wants a sexy answer," [Jambeck] says. "The reality is, we need to just collect the trash. Most countries that I work in, you can't even get it off the street. We need garbage trucks and help institutionalizing the fact that this waste needs to be collected on a regular basis and landfilled, recycled, or burned so that it doesn't end up going all over the place."

…Siegler has proposed a worldwide tax of a penny on every pound of plastic resin manufactured. The tax would raise roughly six billion dollars a year that could be used to finance garbage collection systems in developing nations. The idea never caught on. In the fall of 2017, though, a group of scientists revived the concept of a global fund. The group called for an international agreement patterned after the Paris climate accord.

At the Nairobi meeting in December, 193 nations, including the U.S., actually passed one. The United Nations Clean Seas agreement doesn't impose a tax on plastic. It's nonbinding and toothless. It's really just a declaration of a good intention—the intention to end ocean plastic pollution. In that way it's less like the Paris Agreement and more like the Rio de Janeiro treaty, in which the world pledged to combat dangerous climate change—back in 1992. Norway's environment minister, Vidar Helgesen, called this new agreement a strong first step.
Really? Perhaps it is– the necessary first step in a marathon.
The failure to adopt a cross-border, multilateral plastics taxes does not mean that increasing the costs to companies for using plastics isn't being discussed front and center at the national level.  In the UK for example, as The Independent article cited above reports:
Firms who package goods in unrecyclable plastic will be hit with massive costs under plans to drive its use "out of existence", The Independent can reveal.

Whitehall insiders believe the proposal – effectively a tax on non-reusable plastic – will have a greater impact on the government's drive to abolish all plastic waste by 2042 than any other measure.

A source close to the proposal told The Independent it would make the cost of using unrecyclable plastics "so exorbitantly high" that companies would simply conclude they are no longer worth it.

At the same time the measure will create a lucrative funding stream to pump into new UK recycling capacity for plastics that can be reused.
Although it's certainly too soon to break out the champagne until the full program is announced– and a 24-year time frame for abolishing all plastic waste is not exactly stringent– the Tories seem to be looking  beyond individuals to address the problem of plastics waste.  Let's hope they come up with something more ambitious than the disappointing EU plan announced in January that I discussed further in EU Makes Limited Move on Plastics: Too Little, Too Late?