By Lambert Strether of Corrente.
Trade
"Farmers prefer Trump do trade deals than hand them cash" [Associated Press]. " Many farmers remain critical of President Donald Trump's tariffs and the damage done to commodity prices and markets but were appreciative Tuesday that he offered to provide some cash to help offset their losses… "This is a short-term solution to allow President Trump time to work on long-term trade deals to benefit agriculture and the entire U.S. economy," said Secretary of Agriculture Sonny Perdue. The money comes from the Commodity Credit Corporation, a USDA agency founded in 1933. It has authority to borrow up to $30 billion from the Treasury at any one time to 'stabilize, support, and protect farm income and prices.'" Some farmers expressed concern that few details have been released. The USDA said it planned to roll out some of those details around Labor Day and the program would begin to make payouts after the fall harvest." • Just in time for the mid-terms! NOTE * Whaddaya know. The Executive Branch has a lot of power. I wish somebody had told Obama.
"Today's Pickup: NAFTA talks set to resume as auto tariffs loom overhead" [Freight Waves]. "As the heat of the tariffs' war subsides, the NAFTA talks are set to continue this week between the three countries after two months of subdued negotiations. The talks were stalled over the last month as Mexico went into its presidential election, and now the governments are getting back together to discuss key issues regarding the auto industry. This talk is also expected to highlight the aluminium and steel tariffs that the U.S. levied on its neighbors, which triggered a retaliation from those countries. Mexico and Canada have been hard hit by the tariffs as a huge part of their auto exports end up the U.S."
Politics
2020
Help me:

Here's the survey, which I naturally filled out enthusiastically. Though the design of the survey, a thinly disguised scheme to separate die-hard Clinton supporters from their money, has that faintly hysterical yet relentlessly cheesy down-market direct mail feel — like so much of Democrat fundraising — it was distributed by a real organization, the National Democratic Training* Committee, supported by real Democrat insitutions like Democracy for America, ActBlue, etc. • Here again, what should be a core party function is outsourced. I don't want to use the word "grifters," but feel free to think it. NOTE * They offer wheels as a promotional premium!

"Inside Ozy Fest, the progressive alternate reality where the brands outshine the ideas" [WaPo]. "Ozy Fest is cheaper and more interactive than TED Talk conferences, and similar to Burning Man in the sense that Grover Norquist is here… Attendees are wearing T-shirts that say 'I'm still with her' and 'The future is female' and 'Love trumps hate.' They are getting their charts read by an astrologist wearing a feathered mohawk headdress. They are commissioning custom-made poetry from Brooklyn performer-artist Lynn Gentry, who sits behind a manual typewriter asking for a word or two of subject-matter inspiration… Clinton herself is here at Ozy Fest, in a flowing sky-blue caftan and white linen pants, looking like she was choppered in from East Hampton. For 45 minutes, she is the president of this little plot of Central Park, astride the ritziest Zip code in New York City, a bubble within a bubble within a bubble. Her interlocutor is billionaire philanthropist Laurene Powell Jobs, the sixth richest woman on the planet and a primary investor in Ozy Media, whose name comes from the Percy Bysshe Shelley poem 'Ozymandias'…" • Ozymandias, by Percy Bysshe Shelley: "I met a traveller from an antique land, Who said—"Two vast and trunkless legs of stone / Stand in the desert…." Hidden by a caftan, it would seem.

"Fear and loathing at OZY Fest" [The Week]. "[OZY Fest] rolled into New York City's Central Park this weekend, bringing with it thousands of attendees who had all voluntarily decided that the best way to spend their time and money was by going to something described favorably as 'TED meets Coachella'… While it's easy to dunk on the superbly mediocre lineup, in practice the event was the best argument I've seen yet for why the Democratic Party is in need of a radically new approach — because this lot sure has nothing to say…. OZY Fest is a strange, well-funded mutation of the #Resistance, organized and attended by people who are so out of touch and smugly self-congratulatory that 'highlights' of day one, which I attended, are limited to Hillary Clinton talking about Russia and DNC Chairman Tom Perez predicting the party will win 'north of 23' House seats and 'plus two' Senate seats come November. For a festival with the tagline 'Think. Eat. Rock.' … There wasn't much of anything thought provoking; everything that was said had been said before…. Cynthia Nixon, who is running for governor of New York state on the appealing promise of not being Andrew Cuomo, gave a rote stump speech at the free bandshell stage outside the main gates, name-dropping the Occupy and Black Lives Matter movements, the Parkland shooting, and the Democratic Socialists of America. A couple behind me at her speech, sporting orange wristbands indicating they had paid at least $99 to be there, murmured 'who is she?' and 'she's totally crazy.'" • Sadly, we have no reader reports….
2018
Readers asked, in the last midterms Worksheet I ran, for a table of upcoming primaries in the 80 districts in play that I have been tracking. Here it is:

| | | | | | | | | |
| --- | --- | --- | --- | --- | --- | --- | --- | --- |
| Date | District | Party | Incumbent | Horserace | PVI | HRC | Flipped | City |
| 2018-08-07 | KS-02 | R | Jenkins | Lean-R | R+10 | -18.40 | | Topeka |
| 2018-08-07 | KS-03 | R | Yoder | Lean-R | R+04 | 1.30 | | Kansas CityS |
| 2018-08-07 | MI-07 | R | Walberg | Likely-R | R+07 | -17.00 | pivot | Ann ArborS |
| 2018-08-07 | WA-05 | R | McMorris Rodgers | Likely-R | R+08 | -20.10 | | Spokane |
| 2018-08-07 | WA-08 | R | Reichert | Toss-Up | EVEN | 3.00 | | Wenatchee |
| 2018-08-14 | MN-01 | D | Walz | Toss-Up | R+05 | -14.90 | pivot | Rochester |
| 2018-08-14 | MN-02 | R | Lewis | Toss-Up | R+02 | -1.20 | pivot | Eagan |
| 2018-08-14 | MN-03 | R | Paulsen | Lean-R | D+01 | 9.40 | | MinneapolisS |
| 2018-08-14 | MN-07 | D | Peterson | Likely-D | R+12 | -30.80 | pivot | Moorhead |
| 2018-08-14 | MN-08 | D | Nolan | Toss-Up | R+04 | -15.60 | pivot | Duluth |
| 2018-08-14 | WI-01 | R | Ryan | Lean-R | R+19 | -10.30 | pivot | Kenosha |
| 2018-08-27 | MI-06 | R | Upton | Likely-R | R+04 | -8.40 | pivot | Kalamazoo |
| 2018-08-27 | MI-08 | R | Bishop | Lean-R | R+04 | -6.70 | | Lansing |
| 2018-08-27 | MI-11 | R | Trott | Toss-Up | R+04 | -4.40 | | Livonia |
| 2018-08-28 | AZ-01 | D | O'Halleran | Tilt-D | R+02 | -1.10 | | Flagstaff |
| 2018-08-28 | AZ-02 | R | McSally | Tilt-D | R+01 | 4.90 | | Tucson |
| 2018-08-28 | AZ-08 | R | VACANT | Likely-R | R+13 | -21.10 | | PhoenixS |
| 2018-08-28 | FL-07 | D | Murphy | Lean-D | EVEN | 7.30 | | Orlando |
| 2018-08-28 | FL-13 | D | Crist | Safe-D | D+02 | 3.20 | pivot | Saint Petersburg |
| 2018-08-28 | FL-26 | R | Curbelo | Tilt-R | D+06 | 16.30 | pivot | MiamiS |
| 2018-08-28 | FL-27 | R | Ros-Lehtinen | Lean-D | D+05 | 19.60 | | Miami |
| 2018-09-11 | NH-01 | D | Shea-Porter | Tilt-D | R+02 | -1.60 | pivot | Manchester |

This table includes two new columns that I have added to the database but not hitherto presented: "City," and "Flipped." City (like "Topeka"), is intended to give out-of-state readers a sense of the district that a bare "KS-02" does not; it names what I considered the main city for every district, generally the city with the largest population, though cities are often split by district lines. (The subscript S is for "Suburb.") Flipped shows districts that flipped from Obama to Trump (that is, the districts that gave Trump his 2016 margin; see here and here). As you can see, these districts are critical in 2018, too.

"Why Trump Won't Take a Political Hit From Summit Follies" [Charles Cook, Political Report]. The views of the two groups of partisans are already fixed. "The third group is independents. The bad news for Republicans is that Trump's approval rating among independents was just between 40 and 45 percent and will likely drop a bit because of recent events. The better news for Republicans is that increasingly, independents read, watch, and listen to less news than partisans, so they are less likely to be much aware of what is going on [For some definition of "What is going on." –lambert]. Many of them approach anything coming from the media with a more-than-healthy degree of skepticism, not so much because they see the media as too liberal or for that matter too corporatist, but just because they have heard a lot of bad things about the media and are mistrustful of everything. To the extent that they pay less attention to news, , as they don't live and breathe this stuff the way partisans and ideologues do." • Lower volatility as a consequence of the press, as a class, acing itself out as it has with hysteria and bullshit, not to mention eagerly propagating mis-and disinformation campaigns (WMDs) is an interesting perception (and why I read these cigar-puffing walruses). Keynes' metaphor of "pushing on a string" comes to mind. It would also be interesting to know how many independents are counter-suggestible, though I suspect the percentage is low.

GA Governor: "After Trump-Backed Candidate Wins Nomination, Georgia Governor's Race Becomes Historic 'Battle of the Bases'" [Governing]. "Secretary of State Brian Kemp, a self-described "unapologetic conservative," rode an endorsement from President Trump to a come-from-behind victory in the Republican runoff on Tuesday. He now faces former state House Democratic leader Stacey Abrams, an unabashed progressive and the first black woman nominated for governor by a major party in any state…. Abrams has made the idea of appealing to minorities and other core Democratic voters an essential part of her strategy. Five years ago, she founded the New Georgia Project, which has registered tens of thousands of African-American voters." • As I keep saying, if the Democrat Party wanted to expand its base, it would make voter registration a core party function, 24/7/365. Abrams had to do it herself, and good for her.

PA-17: "Rothfus vs. Lamb Clash Moves From Toss Up to Lean Democratic" [Cook Political Report]. "A Monmouth University poll shows newly elected Democratic Rep. Conor Lamb leading three-term GOP Rep. Keith Rothfus 51 percent to 39 percent. It corroborates data parties have seen privately, and we're moving our rating from Toss Up to Lean Democratic. The new 17th CD is close to Lamb's dream district. It unites almost all of suburban Allegheny County, including his home and political base of Mt. Lebanon, with Beaver County, which has a strong blue-collar Democratic heritage. On the whole, it's much less Republican and more Pittsburgh-centric than either incumbent's current seat. Both Lamb and Rothfus's current seats voted for President Trump by around 20 points. But the new 17th CD voted for Trump by just two points, 49 percent to 47 percent (its PVI is R+3, versus R+11 in both the current 12th and 18th CDs). It also sports a double-digit Democratic voter registration advantage…. The combination of dramatically better district lines for Democrats, the candidate resume contrast and an anti-Trump national mood give Lamb the clear advantage. Rothfus becomes only the second GOP incumbent to join the Lean Democratic column." • Good description of the district, but isn't there a Rule about getting excited over one poll?
New Cold War
"Before her arrest as an alleged Russian agent, Maria Butina's proud defense of her homeland drew notice at American University" [WaPo]. • Yes, we're going hysterical over a Russian "agent" who communicated with her putative handler over Twitter DM. Have you noticed the common thread, here, and with the Mueller indictment, that the insanely devious and powerful Russkis also have terrible operational security? Flaw in the narrative, there, dudes. Anyhow, this poor woman's real problem is that she didn't go to work for the Saudis or the Israelites. Proudly defending slave powers and apartheid states is jake with the angels. Think, people!
Realignment and Legitimacy
"Have Women Shifted Democratic during the Trump Era?" [Data for Progress]. "In sum, reviewing these three forms of political behavior [i.e., partisanship, general election vote choice, and midterm U.S. House race vote choice] across various data sources produces plenty of ambiguity and inconsistency in determining whether political differences between men and women are growing. This suggests claims of historically large gender gaps in the era of Trump in American politics seem a little overblown. At the same time, it's important to acknowledge the evidence pointing to some recent change. The partisanship gender gap has gradually increased over the years in a few cases (GSS, Pew) and jumped substantially one year into Trump's presidency in others (Gallup, CCES). Moreover, disaggregated data clarifies that women are driving these slightly increasing gender gaps (moving more Democratic and less Republican) more than men doing so. The general election vote choice gender gap did increase in 2016 but for the most part only barely. The upcoming midterm election offers the next compelling test of this question, but even then, current relevant evidence produces an uncertain answer." • To summarize brutally, it's not clear that The American Association of University Women is a good proxy for all women, including suburban Republican, and working class women.
Stats Watch
New Home Sales, June 2018: "New home sales unfortunately join the host of housing data showing weakness" [Econoday]. The Spring selling season was a poor one for the housing sector with both new sales and especially resales showing little life. Less-than-favorable mortgage rates are one reason for the slowing as are constraints on new building including scarcity of skilled construction labor as well as materials."
MBA Mortgage Applications, July 20, 2018: "Purchase applications for home mortgages fell a seasonally adjusted 1 percent" [Econoday].
Shipping: "Drewry shares a few insights on current state of ocean shipping" [Logistics Management]. "'With the peak season now starting, other carrier consortia will likely not need to reduce capacity, at least until the peak season ends in about October,' [Philip Damas, head of Drewry's Supply Chain Advisors] said…. He was also critical about recent bunker fuel surcharges, observing that carriers announced nearly identical new fees. He said that some shippers regard this as "price signalling" – a term used to say that a competitor is communicating proposed price increases to other competitors, who can then respond even without direct discussions." • Cartels, and their little ways…
The Bezzle: "Brookings survey finds only 21 percent willing to ride in a self-driving car" [Brookings Institute]. "Recent fatalities involving self-driving vehicles appear to be making people nervous about self-driving vehicles. When asked in a survey undertaken by researchers at the Brookings Institution how likely they are to ride in a self-driving car, only 21 percent of adult internet users said they are inclined to do so, compared to 61 percent who are not…. Recent fatalities involving self-driving vehicles appear to be making people nervous about self-driving vehicles. When asked in a survey undertaken by researchers at the Brookings Institution how likely they are to ride in a self-driving car, only 21 percent of adult internet users said they are inclined to do so, compared to 61 percent who are not." • Shorter: "Sure, I'll get in your algorithmic death trap. If you pay me!" Seems like Silicon Valley is having it's own little legitimacy crisis?
The Bezzle: "Disney, Fox and Netflix" [West Coast Stat Views]. "One idea which is treated as credible by investors and the financial press while seen as completely absurd by anyone with knowledge of the business is the idea that the company can, in a relatively short period of time, create a content library that rivals that of the major studios in quantity and quality. It's true that Netflix is spending a great deal of money producing new shows, but even if they were doing this in the smartest possible way and getting the greatest possible bang for their buck (which they aren't) it would still be a tiny fraction of the investment they would need to make…. [A]ny analysis you've seen that defends Netflix's skyhigh valuation and doesn't address this issue should be ignored as worthless."
Five Horsemen: "In early trade three of the five horsemen are at record highs" [Hat Tip, Jim Haygood].
NakedCap Mania-Panic Index: "Yesterday's rise in the market lifted the mania-panic index to 63 (complacency)" [Hat Tip, Jim Haygood]. (The NakedCap mania-panic index is an equally-weighted average of seven technical indicators derived from stock indexes, volatility (VIX), Treasuries, junk bonds, equity options, and internal measures of new highs vs new lows and up volume vs down volume … each converted to a scale of 0 to 100 before averaging, using thirty years of history for five of the seven series.)
Our Famously Free Press
"Choose A Path" [Eschaton]. "Let me post stupid shit on my wall. If other people want to share it, who cares. The problem is that facebook specifically has had ever evolving ways of not just letting you do this, but actively encouraging "sharing" and the placement (purchase) of ads which push bullshit content, along with their own content curation. And that's because they want to make money off of the bullshit. I mean, I only see bullshit on facebook, aside from the what trusted friends actually post. That's where the money is. And there's no such as a neutral "algorithm." Again, they don't need the damn algorithms. But that's where the money is." • This One Old-School Blogger's Idea Could Destroy All Social Media: All I want, from all social media, is a list, chronologically arranged, curated by me. The accounts on my list shoud do the sharing, not some horrid algo. Maybe we should just outlaw the algorithmic arrangement of content, after we break up the social media monopolies. Why not?
Gaia
"Capital Goods Makers Judged on How Well They Meet Paris Agreement" [Governing]. "'Regulators and markets are demanding the decarbonization of high emitting sectors and the industrial corporations at the end of the chain are looking to their suppliers to find innovative new solutions and equipment,' said Carole Ferguson, head of Investor Research, CDP. "The good news is that the capital goods sector is starting to meet this challenge.'… The CDP report assesses companies across four key areas aligned with the recommendations from Mark Carney's Task Force on Climate-related Financial Disclosures (TCFD). As the TCFD recommendations become mainstream, investors will increasingly expect capital goods companies to disclose how they are adjusting their business models to manage transition risks, while taking advantage of the opportunity to generate revenue from the global transition to a low-carbon economy…. The main transition risk for the sector is managing emissions down the value chain. Scope 3* accounts for over 90% of sector emissions, however corporate disclosure and management of these emissions are poor. Less than a third of the companies we analyzed have a scope 3 emissions reduction target." NOTE * Undefined in the article, but: "For most sectors, the largest sources of a company's emissions lie upstream and/or downstream of their core operations. For that reason, if scope 3 emissions represent more than 40 percent of a company's overall emissions, the SBTi requires they set a target to cover this impact. There are different options for companies to set a scope 3 target."
Guillotine Watch
"How Silicon Valley Has Disrupted Philanthropy" [The Atlantic]. "So Silicon Valley nonprofits are pivoting, to use a local term of art, like the Boys & Girls Club did. They're taking their cues from The Giving Code, which recommends not talking about 'charity' and meeting immediate community needs, but instead focusing on 'impact' and getting at root causes of problems. It suggests using the language and mindsets of business, and focusing on metrics, data, and effectiveness, rather than the language of altruism and ethics. It says that Silicon Valley donors are interested in approaches to solving problems that use technology, and in causes to which they have a personal connection." • As it was written, so shall it be: "The ideas of the ruling class are in every epoch the ruling ideas, i.e. the class which is the ruling material force of society, is at the same time its ruling intellectual force. The class which has the means of material production at its disposal, has control at the same time over the means of mental production, so that thereby, generally speaking, the ideas of those who lack the means of mental production are subject to it." It is known….
Class Warfare
"Is Hiring Ex-Offenders a Good Idea?" [Governing]. • Works for bankers!
"The Role of Technology in Political Economy: Part 1" [Law and Political Economy]. "In today's post, I'll describe the limits of the mainstream economists' answer, which lies at the foundation of "the robots will take all the jobs" and the legitimation of winner-take-all markets. Tomorrow's post will outline the limits of the dominant left reaction, as well as the limits of Karl Polanyi's approach, which has provided so much inspiration for the present resurgence of political economy. Finally, in the third post I'll outline a view of the political economy of technology." • Well worth a read. I'm just happy to see a good blog with "Political Economy" in its name.
"Calibrating scientific skepticism – a wider look at the field of transgenerational epigenetics" [Wiring the Brain]. • This is important if you view, as I do, epigenetics as one way class reproduces itself across generations.
"Food rioters and the American Revolution" [Barbara Clark Smith, libcom.org]. "On more than thirty occasions between 1776 and 1779, American men and women gathered in crowds to confront hoarding merchants, intimidate "unreasonable" storekeepers, and seize scarce commodities ranging from sugar to tea to bread…. Such food or price riots occurred in at least five northern states – New York, Pennsylvania, Massachusetts, Rhode Island, and Connecticut as well as in Maryland and, according to one report, Virginia. Some towns, such as East Hartford, Connecticut, and Beverly, Massachusetts, seem to have witnessed only one incident; others, including Boston and Philadelphia, experienced deep, sustained conflict. A good-sized minority of the crowds we know about consisted largely of women; a few others may have included men and women alike."
"A Sociologist Examines the "White Fragility" That Prevents White Americans from Confronting Racism" [The New Yorker]. "In a new book, White Fragility, DiAngelo attempts to explicate the phenomenon of white people's paper-thin skin. She argues that our largely segregated society is set up to insulate whites from racial discomfort, so that they fall to pieces at the first application of stress—such as, for instance, when someone suggests that "flesh-toned" may not be an appropriate name for a beige crayon. Unused to unpleasantness (more than unused to it—racial hierarchies tell white people that they are entitled to peace and deference), they lack the 'racial stamina' to engage in difficult conversations. This leads them to respond to 'racial triggers'—the show 'Dear White People,' the term 'wypipo'—with 'emotions such as anger, fear and guilt,' DiAngelo writes, 'and behaviors such as argumentation, silence, and withdrawal from the stress-inducing situation.'" • I've always thought "white fragility" was a little tendentious, not to say performative. After all, if their fragility was all that great, how do "wypipo," so-called, simultaneously hold on to their imputed vast powers?
* * *
Readers, feel free to contact me at lambert [UNDERSCORE] strether [DOT] corrente [AT] yahoo [DOT] com, with (a) links, and even better (b) sources I should curate regularly, (c) how to send me a check if you are allergic to PayPal, and (d) to find out how to send me images of plants. Vegetables are fine! Fungi are deemed to be honorary plants! If you want your handle to appear as a credit, please place it at the start of your mail in parentheses: (thus). Otherwise, I will anonymize by using your initials. See the previous Water Cooler (with plant) here. Today's plant (EL):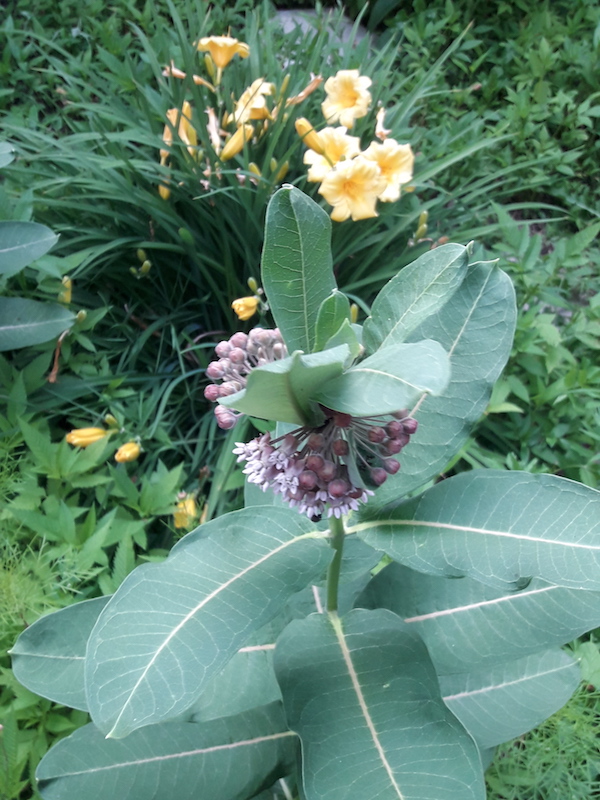 EL writes: "I wish I can say that the milkweed has attracted monarch butterflies but I've seen are some bugs flies."
* * *
Readers: Water Cooler is a standalone entity not covered by the annual NC fundraiser. So do feel free to make a contribution today or any day. Here is why: Regular positive feedback both makes me feel good and lets me know I'm on the right track with coverage. When I get no donations for five or ten days I get worried. More tangibly, a constant trickle of small donations helps me with expenses, and I factor that trickle in when setting fundraising goals. So if you see something you especially appreciate, do feel free to click the hat!

To give more, click on the arrow heads to the right of the amount.
If you hate PayPal — even though you can use a credit card or debit card on PayPal — you can email me at lambert [UNDERSCORE] strether [DOT] corrente [AT] yahoo [DOT] com, and I will give you directions on how to send a check.