By Lambert Strether of Corrente.
"Our intelligence community" is one of those phrases that make my back teeth itch, because I hate to see "our" doing that much work (especially when I know how much work our's parent, "we," has to do.) So I thought I'd throw together some usage examples of the term to see if I could find more significant readings than my own reaction, and then draw out some implications from that reading. But first, let's look at how often that term is used, and where. We turn to Google Trends: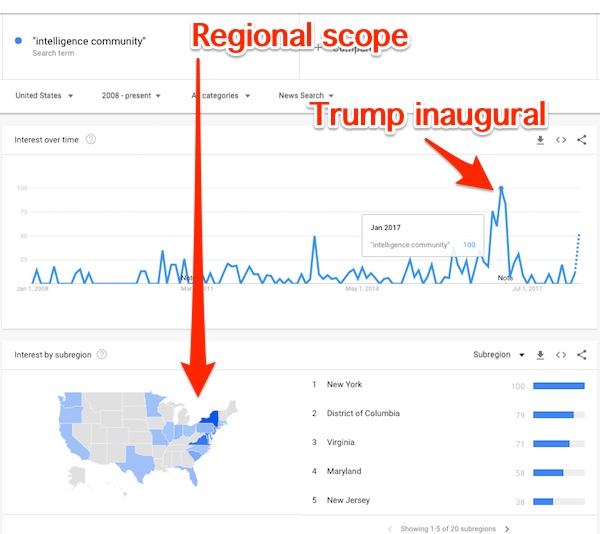 Some caveats: Google doesn't have enough data to track "our intelligence community," or so it says, so the search is for "intelligence community" only. Further, the search is for 2008 to the present, again because Google, or so it says, doesn't have enough data for shorter time frames.[1] However, I think the chart shows that interest in the intelligence community is not general in time or space: It spikes when there's gaslighting with reader interest in particular stories, and spikes along the Acela Corridor, in Washington and New York. (We might also speculate, based on HuffPost/YouGov voter data, that interest in the today's stories about the intelligence is limited not only in space, and time, but in scope: Primarily among liberal Democrats.[2]) With that, let's turn to our usage examples. I used Google to find them, and of course Google search is crapified and all but useless — for example, it insists on returning examples of "intelligence community" along with "our intelligence community" in normal search, even with when the search string is quoted — but it is what it is; readers are invited to supply their own examples.
Example 1, July 13, 2018, New York Times:
On Friday, Michael McFaul, a former United States ambassador to Russia, wrote on Twitter: "I'm very impressed that Mueller was able to name the 12 GRU officers in the new indictment. Demonstrates the incredible capabilities of ."
No. Mueller provided no evidence and the case is unlikely to go to trial; the capability consists in the naming, not in the proof. Verdict: Credulity.
Example 2, July 3, 2018, Washington Post:
The determined that the Kremlin intended to "denigrate" and "harm" Clinton, and "undermine public faith in the U.S. democratic process" while helping Trump.
And the same claim, July 10, 2018, Washington Post:
The U.S. has concluded that Russia interfered in the 2016 election to boost Trump's candidacy
No. If you click through, you'll find that this is the "17 agencies"/"high confidence" report, whose agencies and analysts were hand-picked by Clapper; that's just not the "intelligence community" as a whole[3]; the Defense Intelligence Agency (DIA), was not involved in the analysis, for example. (I don't see how it's normal that such an important topic not to be the subject of a Presidental Finding, but perhaps people were in a rush.) Verdict; Misinformation.
Example 3, July 19, 2018, (retiring) Senator Jeff Flake (R), New York Times:
FLAKE: We know the intelligence is right. We behind our . We need to say that in the Senate. Yes, it's symbolic, and symbolism is important.
And a similar formulation, July 22, 2018, Senator Marco Rubio (R), CBS News:
We need to move forward from that with good public policy and part of that is, I think, with .
Posturing aside, to my sensibilities, it's pretty disturbing when "support the troops" bleeds over into "support the spies," and when supporting the conclusions of an institution bleeds over into supporting the institution itself, as such. (The whole of the Federalist Papers argues against the latter view: "Ambition must be made to counteract ambition.") Verdict: Authoritarian followership.
Example 4, undated, Office of the Director of National Intelligence:
WE UNIFY TOWARD A STRONGER, SAFER NATION
No. The DNI mistakes the hope for the fact; were the intelligence community in fact unified, Clapper would not have hand-picked agencies for his report, and a Presidential Finding would have been made. (And given the source, "our" is doing even more work there than it usual does; it reminds of liberal Democrats talking about "our Democracy." Whose, exactly?) Verdict: Wishful thinking.
Example 5, July 16, 2018, John Sipher (interview), PBS:
I do think the is quite resilient. They put their head down and they do their work, but they take this very seriously. And they see the president as their primary customer and they will do almost anything to get the president the information that he needs to do his job.
No. Quis custodiet ipsos custodes — "Who will guard the guards themselves?" — was formulated by the Roman poet Juvenal (d. 138AD) in the late first or early second century, [checks calculator], about 1880 years ago. It's absurd to assume that "the intelligence" community has always served its "primary customer" — see the Bay of Pigs invastion at "groupthink" — or that they will in the future, especially considering the enormous stakes involved today. Verdict: Historical ignorance.
Example 6, July 12, 2018, Representative Barbara Comstock:
Today I voted for H.R. 6237, the Matthew Young Pollard Intelligence Authorization Act for Fiscal Years 2018 and 2019. This important legislation funds and provides them the resources they need to effectively defend our nation… "This legislation makes sure that the dedicated men and women who serve our nation in the Intelligence Community [caps in the original] are fully equipped to fulfill their mission."
No. While Sipher urges (as does Clapper) that the intelligence community is in the business of serving customers, Comstock, through her language ("dedicated men and women who serve our nation") identifies it with the military. That's pretty disturbing when you realize that the intelligence community has a domestic component (and when you think back to Obama's 17-city crackdown on Occupy, or Obama's militarized response to #BlackLivesMatter). Verdict: Militarization
Example 7, July 16, 2018, ABC:
Director of National Intelligence Dan Coats, head of the U.S. , reaffirmed his conclusion that Russia had indeed tried to sway the election in a statement published after Trump's remarks.
No. The U.S. has 17 intelligence agencies; the DNI is in no sense their head. From the DNI site:
The core mission of the ODNI is to lead the IC in intelligence integration, forging a community that delivers the most insightful intelligence possible. That means effectively operating as one team: synchronizing collection, analysis and counterintelligence so that they are fused. This integration is the key to ensuring national policymakers receive timely and accurate analysis from the IC to make educated decisions.
If you boil that bureucratic porridge down — the Russian word for porridge is kasha, in case kompromat has worn thin for you — you'll see that the 17 intelligence agencies do not have a reporting relationship to the DNI. Hence, the DNI is not their head. QED. Verdict: Authoritarian followership
Example 8, July 18, 2018, John Brennan, Salon:
[BRENNAN:] What Mr. Trump did (Monday) was to betray the women and men of the FBI, the CIA and NSA and others and betray the American public. That's why I use the term, this was nothing short of treason, because it is a betrayal of the nation. He's giving aid and comfort to the enemy.
(Leaving aside Brennan's broad definition of enemy — apparently a sovereign state with interests different from our own, as opposed to a nation against whom Congress has declared war — note that Brennan treats the agencies as individual entities, not as "unified," presumably betraying DNI Coats). More:
BRENNAN:] I still shake my head trying to understand what was discussed during the two-hour one-on-one, what was discussed between the two sides in their bilateral meeting. We only saw what Mr. Trump said during the press conference. I can't even imagine what he said behind closed doors. I can't imagine what he said to Mr. Putin directly. I am very concerned about what type of impact it might have on and on this country."
No. Note well: What (torture advocate) Brennan says contradicts the other two models expressed in this aggregation. If the President is the customer, it's not Brennan's concern what that customer does (any more than it's Best Buy's concern what I buy in Starbucks after I pick up my flat-screen TV). And if the intelligence community is a branch of the military, it's not their concern what their Commander-in-Chief does; he'll tell them what they need to know.) Seriously, why does the Praetorian Guard need to know what the emperor is doing. Now, one could argue that Brennan's ambition is counteracting Trump's ambition; well and good, but then one needs to think through the consequences. And if Brennan, et al., really believe that Trump committed treason, then they — as the good patriots they presumably are — need to indicate a path to removing him. If that path does not include full disclosure of the evidence for whatever charges are to be made, then the country will have to deal with the consequences — which I'd speculate won't be pretty — of a change in the Constitutional order where the "intelligence community" can remove a President from office based on its own internal consensus. Praetorian
(Here's a collection of examples; I wish I had time to do more examples, but these will have to do.)
But speaking of the internal consensus of the intelligence community, let's take a little walk down memory lane. From the "Salon Staff," quoting Senator Jane Harmon:
p>Almost one year ago, on January 28th, 2003, the President devoted one-third of his State of the Union address to what he described as "a serious and mounting threat to our country" posed by Iraq's possession of weapons of mass destruction. He spoke, in those famous 16 words, about efforts by Iraq to secure enriched uranium from Africa. He talked about aluminum tubes "suitable for nuclear weapons production." He described stockpiles of chemical and biological weapons and said, "we know that Iraq, in the late 1990s, had several mobile biological weapons labs."

One week later, on February 5th, Secretary of State Colin Powell, with Director of Central Intelligence George Tenet sitting behind his right shoulder, used charts and photographs to elaborate on the Administration's WMD case. "These are not assertions," Powell said, "these are facts corroborated by many sources." Among Powell's claims were:

That "we know, we know from sources that a missile brigade outside Baghdad was dispersing rocket launchers and warheads containing biological warfare agent to various locations …"
That "there can be no doubt that Saddam Hussein has biological weapons and the capability to rapidly produce more, many more."
Pictures of what he called "active chemical munitions bunkers" with "sure signs that the bunkers are storing chemical munitions."

Powell has subsequently said that he spent days personally assessing the intelligence. He included only information he felt was fully supported by the analysis. Hence, no mention of enriched uranium from Africa, no claim that al Qaeda was involved in 9-11.

The effect was powerful. Veteran columnist for the Washington Post, Mary McGrory, known for liberal views and Kennedy connections, wrote an op-ed the following day entitled "I Am Persuaded". Members of Congress, like me, believed the intelligence case. We voted for the resolution on Iraq to urge U.N. action and to authorize military force only if diplomacy failed. We felt confident we had made the wise choice.

But as the evidence pours in …

the Intelligence Committee's review of the pre-war intelligence;
David Kay's interim report on the failure to find WMD in Iraq;
an impressive study by the Carnegie Endowment for International Peace;
the President's Foreign Intelligence Advisory Board's critique;
thoughtful commentaries like that of Ken Pollack in this month's Atlantic Monthly;
and investigative reporting including a lengthy front page story by Barton Gellman of the Washington Post on January 7,

… . Indeed, I doubt there would be discussions of David Kay's possible departure if the Iraq Survey Group were on the verge of uncovering large stockpiles of weapons or an advanced nuclear weapons program.

But if 9/11 was a failure to connect the dots, it appears that . If our intelligence products had been better, I believe many policymakers, including me, would have had a far clearer picture of the sketchiness of our sources on Iraq's WMD programs, and our lack of certainty about Iraq's chemical, biological and nuclear capabilities.

Let me add that policymakers — including members of Congress — have a duty to ask tough questions, to probe the information being presented to them. We also have a duty to portray that information publicly as accurately as we can.
The WMDs episode led to the (bipartisan) Iraq War, the greatest strategic debacle in American history. The WMDs episode was marked by fake evidence (yellowcake; aluminum tubes), planted stories, gaslighting, and a consensus of elite opinion along the Acela Corridor, exactly as today. The intelligence community was wrong. The national security establishment was wrong. The press was wrong. The Congressional leadership was wrong. The President was wrong. Everybody was wrong (except for a few outliers who couldn't get jobs afterwards anyhow, exactly because they were right). And now, today, we are faced with the same demand that we believe what the intelligence community says, without question, and without evidence that the public can see and examine. The only difference is that this time, the stakes are greater: Rather than blowing a few trillion and slaughtering hundreds of thousands of faraway brown people, we're rushing toward a change in the Constitutional Order that in essence makes the intelligence community a fourth branch of the government.
Why are we doing that? Well, if you look at the verdicts after each of the quotes I've found, taking the quotes as a proxy for elite opinion, one reason might be that the portion of our elites involved in the Russia narrative — who, let us remember, are limited in space and scope — are:
Credulous
Misinformed
Prone to authoritarian followership
Historically ignorant
Militarized
Praetorian
If power is lying in the street, beware of who picks it up. Matters might not improve.
NOTES.
[1] The hit count (100 for the spike in January 2017) is oddly low; sadly, although 100 looks like a blue link, we cannot click through to check the data. However, even if the aggregates are low, I think we can assume that both the shape of the trend line and its geographic distribution are directionally correct, because the spikes occur at reasonable places for them to occur. Sidebar: Note the horrid user interface design, which uses inordinate amounts of screen space to no purpose, disrespecting the time-pressed professional user.
[2] We might even go so far as to speculate that — given these limitations in space — that while "our" asserts Democrat leadership as a National party, Democrats are in fact a State party. Removing the hyphen from "nation-state" is a neat way of encapsulating our current legitimacy crisis.
[3] "Intelligence community," like "deep state," connotes unity among institutions that are in fact riven by faction.
ADDENDUM: Scott Horton
I didn't add this material to the post proper, because I only had screen shots, and I wasn't able to find the post in time using Google, or Facebook's lousy search. So after ten minutes of plowing through Facebook's infinite scroll, here is the embed* from Scott Horton that I sought:
And a screen shot personally taken by me: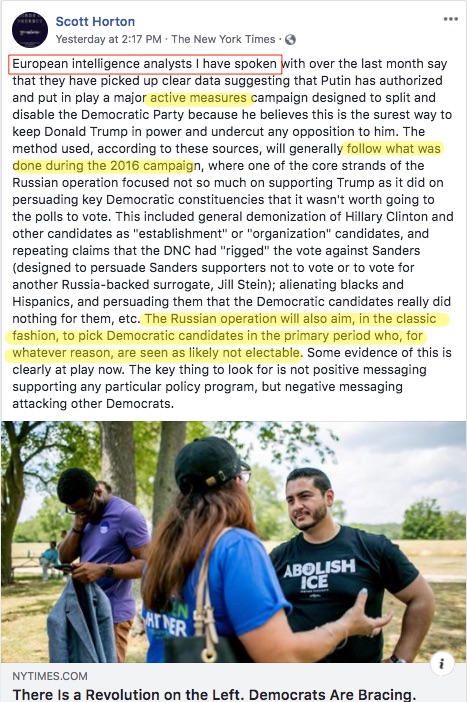 Note the lead: "European intelligence analysts…," so reminiscent of Bush's "British intelligence has learned…" (the sixteen words). What they "learned," of course, was the faked evidence on Niger yellowcake. Go through my list of "verdicts," starting with "credulous," and see what does not apply to Horton.
Horton is a Contributing Editor to Harper's Magazine, has a law practice in New York, and is affiliate with Columbia Law School and the Open Society Institute.
Corey Robin's reaction (via):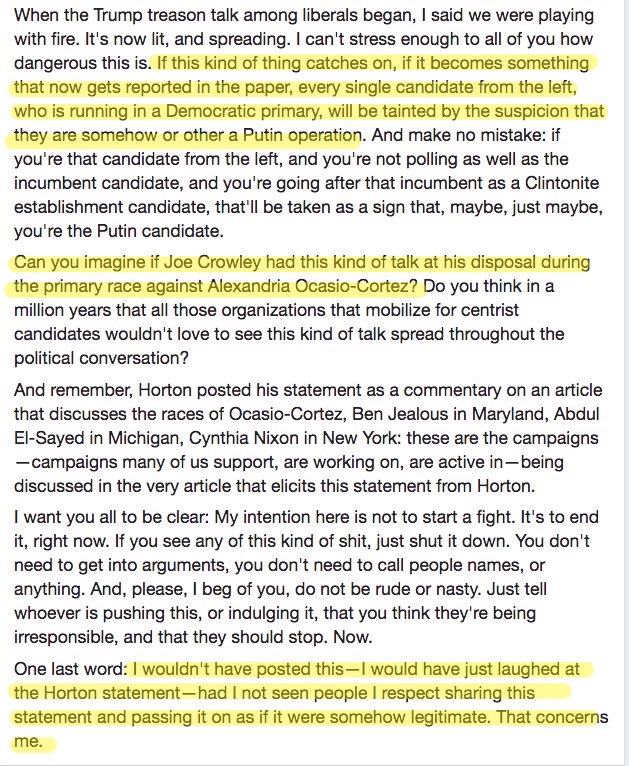 I agree. And from a voter:
I know I've been harping on this point, but saying that poor whites in the Midwest/South voted for a fascist rapist because they're cruel and selfish while saying nonwhites didn't vote for Clinton because they were so naive they were a mark for Russian trickery is RACIST AS FUCK. https://t.co/OSG14h9RFh

— Devil E. Cheese (@Deadl_E_Cheese) July 22, 2018
The key point, for me, is this: "Liberal Democrats do not view anyone outside of places like Orange and Lexington County (whom they go all-out to court) as people fit to make their own choices." It's important to watch for outright denial of agency, to others, not merely lack of agency. That's true for Horton, it was true for Clinton's "deplorables" comment, and it was true for Obama's "bitter"/"cling to" Kinseley gaffe.
It would be nice if Senator Sanders didn't signal boost this stuff. Here's another usage example of "intelligence community":
1) The Congress must make it clear that we accept the assessment of our intelligence community with regard to Russian election meddling in our country and in other democracies.

— Bernie Sanders (@SenSanders) July 18, 2018
Or, to put this another way, Sanders needs to get his supporters' backs, and fast, with messaging that doesn't take a "duck and cover" approach by repeating the catchphrases of the current onslaught, but contextualizes and decontaminates it. I didn't say that would be easy…
NOTE * I like the picture the Time chose very much; apparently, the evul left is young, female, swarthy, and/or black. No suburban Republicans here! The "AbolishICE" t-shirt — and not, say, #MedicareForAll — is also a nice touch.