By Lambert Strether of Corrente.
Rain began to fall on my garden office, so I had to pack up and move. I'll add just a touch more material shortly. –lambert
Trade
"China-US trade war: Vice-President Wang Qishan 'the firefighter' might not be sent to front line" [South China Morning Post]. "Wang Qishan is widely considered China's most powerful vice-president, but the man dubbed 'the firefighter' for taking on tough jobs might not have the hands-on role in US trade talks that many observers had expected, according to a source who met Wang recently…. Wang is reputed to be one of Chinese President Xi Jinping's most trusted and important allies… With his reputation as a skilled hand with a wealth of knowledge in trade, finance and China's relations with the United States, Wang also had extensive contacts with American officials such as former Treasury chief Henry Paulson." • Not an expert in China tea leaf-reading, but if you don't send your best guy to a negotiation…
" The Trump administration is planning to formally announce on Thursday that it has reached a breakthrough in NAFTA talks with Mexico, a move that would pave the way for Canada to return to the negotiating table, three sources close to the talks told POLITICO. The White House is expected to announce that the U.S. and Mexico have made enough progress on various two-way issues in talks over the past month to be able to present what one source described as a "handshake" deal. President Donald Trump is expected to be in attendance. But it's likely to be a U.S.-only announcement, as Mexican officials are wary of making any formal announcement before Canada is back in, one of the sources said" [Politico].
Politics
2020
"Report: Nearly 70% of students who applied for New York's free college program were rejected"" [MarketWatch]. • Well, I guess Cuomo won't be running on free college, then; a result like that would only appeal to Republicans, and Democrats would hardly support that, or a failed, faux version of a Sanders program. Oh, wait…
2018
GA Governor: "Brian Kemp's Bid for Governor Depends on Erasing the Black Vote in Georgia" [Slate]. "In November, the popular Democrat Stacey Abrams will compete for the governorship against Republican Brian Kemp, the current Georgia secretary of state. Kemp, who has devoted his time in office to a ruthless campaign of voter suppression, called upon Randolph County to abandon the plan [to shutter polling locations in predominantly black districts] when it spurred widespread outrage. That being said, the key figure in the Randolph County controversy is a Kemp ally who was handpicked by the secretary of state to close polls throughout Georgia." • Kemp and Kobach are using the same vile playbook. Worth a read for the brazen tactics.

"Trump says Mollie Tibbetts' death 'should've never happened,' calls immigration laws 'a disgrace'" [Des Moines Register]. "President Donald Trump called the United States' immigration laws 'a disgrace' Tuesday night, referring to the undocumented immigrant charged in the death of Mollie Tibbetts. Trump, a Republican, was speaking at a rally in West Virginia. He said Tibbetts' death 'should've never happened.'" If Trump wants to make 2018-2020 even dirtier than it already is, here's the perfect distraction. However, via real an excellent wrap-up from Bleeding Heartland, actual reporting from Associated Press:

Yarrabee Farms, a family-owned company that operates dairy farms in the rolling hills outside Brooklyn, said that [Cristhian Bahena Rivera, the illegal immigrant charged] had been an employee in good standing for four years and that it was shocked to learn he was implicated in the crime.

who previously served as president of the Iowa Farm Bureau.

Neither Republicans nor Democrats wish to draw attention to the role of employers in illegal immigration, so no doubt Republicans will continue their shameless exploitation of the case, while Democrats flail about, having tied their left, class warfare hand behind their backs (though in all fairness, that hand has been tied so long it's probably atrophied in position. But pity them, because it's not easy to get your right hand into the cookie jar with your body contorted like that).
New Cold War
Sober assessments:

"Indictments? Impeachment? A look at Trump's legal woes" [Associated Press].

"Michael Cohen pleads guilty, says he coordinated hush money with Trump to influence election" [Los Angeles Times] Also sober. "The Manafort verdict marked a clear victory for the special counsel, who brought the charges. Mueller's office also collected the initial evidence on Cohen, and passed it to the U.S. attorney's office in Manhattan." • So both the Manafort and Cohen cases were a victory for Mueller.

"Michael Cohen Plea Agreement: Possible Meanings of the Campaign Finance Counts" [Bob Bauer, Lawfare]. "As Nixon found when one of his lawyers also became a witness for the government, this can be the beginning of very hard times." • From Obama's White House counsel; well worth a read. I'm not sure, however, that the Nixon/Dean (Watergate) Trump/Cohen analogy holds (even though this writer, unlike others, doesn't engage in triumphalism). The correlation of political forces is different; the parties are different; the press is different; the challenges facing the country are different. In the glory days of Watergate, Bauer's appeal to The Norms Fairy might have worked. But today, there are no "wise men" to enforce the norms, and take the President aside and tell him he's done.

"What to Make of the Cohen Plea and Manafort Convictions" [Andrew McCarthy, National Review]. From an Assistant United States Attorney for the Southern District of New York; also well worth a read. "The conduct here is not of the egregious nature that rises to high crimes and misdemeanors — it is an infraction committed by many political candidates and often not even prosecuted. More to the point, it is remote from the core responsibilities of the presidency, implicating pre-election actions to conceal alleged indiscretions that occurred a decade earlier. And while the president has denied the indiscretions, it is not like the allegations come as any surprise to the public, who, while well aware of his flaws, elected Donald Trump nonetheless." • In other words, "it's in the price"; voters already marked Trump to market.

More Watergate, with charts of shifts in public opinion. Thread:


Nixon, Watergate and Partisan Opinion. This topic comes up often enough these days that I think it worthwhile to lay out the facts in some detail in hopes of clarifying how partisans and the public at large reacted and when. /1 pic.twitter.com/WByUb3I7lc

— Charles Franklin (@PollsAndVotes) August 12, 2018

The final charts are suggestive; they suggest that Nixon was facing economic headwinds toward the end of his tenure. If the next recession is what's needed to take Trump down, my guess is that volatility under President Pence will increase, not decrease.

AOC's take:

Cohen wasn't just Trump's lawyer, he was the Deputy Finance Chair for the *Republican National Committee.*

This criminal behavior doesn't just implicate Trump. It also has implications for the entire Republican Party.

We MUST vote & flip the House 11/6.

— Alexandria Ocasio-Cortez (@Ocasio2018) August 22, 2018




Smart, because systemic.

"Dirty Business: In Lanny Davis, Michael Cohen Has the da Vinci of Spin" [Ryan Lizza, Esquire] • Rawther meta, since most of the article consists of Lizza writing down what (long-time Clinton operative) Davis says. Entertaining, though! Especially a vivid after-action report from the Acela…

Ka-ching:

Lanny Davis' GoFundMe is for millionaire Cohen's "legal fees" – i.e., Lanny Davis. Davis launched this just after going on @maddow & hinting that Cohen has Russia collusion info – even tho Cohen quietly stands by his sworn Senate testimony that he doesn't: https://t.co/VZZnUdhKNj https://t.co/dzvyxE9A4z

— Aaron Maté (@aaronjmate) August 22, 2018

I have my yellow waders, but I don't have a moonsuit, so I hesitate even to bring up QAnon. Nevertheless, this thread from the Italian japesters, the Wu Ming Foundation, is so suggestive I cannot forebear:

Facts: thanks to the #QAnon prank, Trump's fan base didn't protest against the #Mueller investigation and other inquiries, because they thought they didn't really aim at Trump but were part of an ingenious «4D-chess» game masterminded by Trump himself. –>

— Wu Ming Foundation (@Wu_Ming_Foundt) August 22, 2018

Because I am in a Biblical mood today, cf. Matt 7:16-20.
Realignment and Legitimacy
"data demystified #2: Analyzing 'Don't Knows' and 'Neithers'" [data for progress]. "Policy alternatives such as public banking, universal basic income, and job guarantees are for the first time gaining widespread interest among advocacy groups and candidates. [These ideas] are unfamiliar to the mass public, and this can complicate attempts to "measure" their attitudes on these subjects…. Survey respondents who do not have a strong opinion on issues that are new to the progressive agenda, or whose interests are "uncrystallized," face two options when answering survey questions. They may choose to select the middle option ("neither agree nor disagree") or they may choose to say they "don't know" how they feel about the issue. Survey respondents who are self-conscious about their knowledge may respond that they "neither agree nor disagree" with an issue rather than admit that they do not know enough about the issue to provide a response. This is often called satisficing…. [P]olitical science and psychology literature has shown that some groups of people are more likely to take the middle stance on an issue or declare that they "don't know." In studies of political knowledge, for instance, women are shown to have a lower propensity to guess when they are unsure; that is, women are more likely to say that they don't know, while men are more likely to try and come up with an answer on the spot. Moreover, research has shown that lower levels of political knowledge among ethnic and racial minority groups are more likely the result of different political experiences that provide different kinds of knowledge. Therefore, analysis of public opinion surveys needs to consider how responses may have raced and gendered components." • The writers "account for the uncertainty that accompanies new issues" by adding ideology into the mix.

"Daily Digit: How many people identify with the "alt-right"?" (video) [Yahoo News]. "Today we're looking at the number of white Americans who identify with the alt-right. A new study that polled white Americans on how strongly they felt white identity, solidarity, and discrimination shows that roughly 11 million of 198 million white Americans, or 6%, identify with all three. Though that doesn't necessarily mean such people are involved in radical movements, some are susceptible to racial resentment. The same study also shows that most white Americans oppose white identity politics, but there are still silent supporters." • So one would think that minimizing those numbers would be a smart thing to do…

"The Media Are Missing a Movement" [Morton Kondrake, RealClearPolitics]. • I thought this would be interesting, but it's a puff piece for "No Labels," and that ilk.

"Why the Democratic Socialists of America Won't Stop Growing" [In These Times]. "DSA may soon have 50,000 members across 200 local groups in all 50 states—up from 6,000 members in 2015. The surge in freshly minted socialists came in three waves: First, those energized by Bernie Sanders' primary run; second, those brought in by Donald Trump's election and the Women's March; and third, those inspired by 27-year-old DSA member Ocasio-Cortez's primary victory in May over incumbent—and Democratic heavyweight—Joe Crowley…. Members I spoke with took ["democratic socialism"] to mean everything from taking public goods like healthcare off the private market (along the lines of Scandinavian social democracies) to worker-ownership of the means of production. Central Iowa DSA co-chair Caroline Schoonover was among many to say that democratic socialism means "taking power from the few and giving it to the many." All saw small-d democracy—people having a say in the decisions that affect them—as central, both in politics and workplaces, and in DSA itself."

* * *

Corruption:

The question of standing (1):

49 percent of voters believe Menendez was "involved in serious wrongdoing," while just 16 do not and 31 percent "haven't heard enough." (that could be impact of Hugin's relentless negative ads). pic.twitter.com/NaAcFP61Dt

— Nick Corasaniti (@NYTnickc) August 22, 2018




A useful reminder that liberal Democrats have no standing to yammer about corruption as long as they're running Menendez; it's exactly the same issue with Bill Clinton and #MeToo. Cf. Luke 6:41-42 (and I like "plank" and "speck" vs. "mote" and "beam").

The question of standing (2): "Obama records video backing Pritzker for Illinois governor" [WGNTV]. • Squillionaire Pritzker, but not AOC? Really, Obama? Really?

"The surprise is not that Trump surrounded himself with advisers who committed crimes, or that Trump himself encouraged his advisers to flout the law. The surprise is the mere possibility that any of them will pay for it" [Adam Serwer, The Atlantic].
Stats Watch
MBA Mortgage Applications, week of August 17, 2018: "Posting the first increase in 6 weeks, purchase applications for home mortgages rose" [Econoday].
Existing Home Sales, July 2018: "Housing is the one sector of the economy not showing any life. [Below consensus, and] the lowest rate in 2-1/2 years. Year-on-year, resales are down 1.5 percent" [Econoday]. "Rising mortgage rates aren't a plus for housing and neither are construction constraints for labor and materials that are slowing the new home market where weakness bleeds into resales. Third-quarter GDP looks to be very solid but apparently won't be getting much lift from residential investment." And: "The rolling averages have been slowing since the beginning of 2017. The rolling averages remain marginally in contraction. Housing inventory is low for Julys – and if you do not have enough houses for sale – then that means home sales cannot improve" [Econintersect]. And but: "This is a reasonable level for existing home sales, and doesn't suggest any significant weakness in housing or the economy. The key for the housing – and the overall economy – is new home sales, single family housing starts and overall residential investment" [Calculated Risk].
Shipping: "Cargo rollovers cause chaos on Transpacific" [Lloyd's Loading]. "After carriers culled capacity on the trade earlier this year, the transpacific box trade quickly become a sellers' market with spot rates edging up throughout early summer and General Rate Increases gaining traction…. [Sriram Vaithiyanathan, Panalpina's ocean freight trade lane manager] said the Sino-US trade war, which has already seen tariffs introduced on thousands of Chinese imports with more due to enter force later this year, had added to the cargo surge by encouraging some US importers to ship cargo early."
Shipping: "Global box growth brakes sharply in second quarter" [Lloyd's Loading]. "Growth in container volumes slowed in the second quarter of 2018, as a strong showing from the transpacific and transatlantic trades was unable to offset weak performances elsewhere, including most notably Asia-Europe…. The weak second quarter performance for Asia-Europe resulted in only moderate half-year growth of 1.2%, a trend that analysts Drewry put down to softening demand from the trade's two largest inbound markets, the UK and Germany, which account for approximately two-fifths of westbound cargo." • Brexit? Yes: "'A lack of clarity as to what Brexit will really mean for the nation's economic health, coupled with a rise in petrol prices, has prompted British households to take a more cautious approach to borrowing and spending," added Drewry."
The Bezzle: "Deal-hungry investment bankers walk Tesla tightrope" [Reuters]. "[N]o company of Tesla's size has ever been taken private by financial investors as Musk has suggested, as opposed to being acquired by a bigger company. Moreover, the standard method of doing so, saddling the company with debt in a so-called leveraged buyout, is not an option for Tesla given that is already servicing a debt mountain of some $11 billion and is not making any money. It reported an operating loss in 2017 of $1.6 billion. Debate over the deal's feasibility has polarized bankers."
The Bezzle: "World's top cryptocurrency miner may be losing its edge, analysts say" [South China Morning Post]. "Speculation about Bitmain's finances has intensified in recent days. Unverified investor presentations purporting to show details of Bitmain's business have been circulating online, prompting discussions in cryptocurrency circles over the company's exposure to falling virtual currency prices. Bitmain has likely been acquiring large amounts of Bitcoin Cash, posing a 'major risk' as the bitcoin offshoot's value declines…." • Never sample your own stuff. What's wrong with these people?
The Bezzle: "Berkeley's Bold Bet on Bitcoin" [Governing]. "Later this year, it plans on becoming the first municipality in the country to issue municipal bonds using the blockchain technology that underpins cryptocurrency. The project is the brainchild of Mayor Jesse Arreguín and Vice Mayor Ben Bartlett and is being billed as a way to make investing in municipal bonds more accessible than ever. That's because, unlike the minimum $5,000 bond denomination common today, "cryptobonds" can be issued in denominations as low as $5 or $10. The bonds also have the potential to open up a whole new way for the city to raise money for housing…. It was around [the time of a homeless encampment fire] that Bartlett and Arreguín began talking about alternative fundraising with both Neighborly, a municipal finance startup that helps governments issue municipal bonds in small-dollar bundles, and the University of California at Berkeley's Blockchain Lab, a research center for cryptocurrency technology. The idea to issue municipal bonds using blockchain technology was born. In May, the city council directed staff to evaluate the benefits of a pilot program in which Berkeley would offer municipal debt using blockchain technology." • A startup for municipal bonds in bitcoin…
Manufacturing: "Arcing on 777 traced back to manufacturing defect" [FlightGlobal]. "A short circuit that sparked a fire on-board an Etihad Airways Boeing 777-300ER last October has been traced back to incorrect routing of a wiring bundle during the manufacture of the aircraft four years earlier…. [Boeing] issued a service bulletin requiring inspections and corrective action on 777s with line numbers 1-1527 onwards, while it is considering design changes on new aircraft to prevent a re-occurrence." • So the system worked, but I have an uneasy, non-quantified feeling it's being more and more tested.
The Fed: "How Well Do Yield Curve Inversions Predict Recessions?" (video) [Federal Reserve Bank of St Louis]. "In this video from a recent Dialogue with the Fed event, Director of Research Chris Waller reviews previous yield curve inversions and shows that they are indeed a strong predictor of recessions." • A primer; but how strong is "strong"?
Gaia
"As Wildfires Rage in California, So Does the Battle Over Who Will Pay" [Climate Liability News]. "Wildfire season is now essentially year-round in the state and 2017 featured the state's largest-ever fire, the Thomas fire, which scorched more than 281,000 acres in Southern California last December, according to CalFire. Already this year, it's been surpassed by the Mendocino Complex fire and more than 800,000 acres have burned across the state. Sixteen of the 20 largest wildfires in California have taken place since 1999. Historically, insurance companies, utilities and taxpayers have shared the bulk of the expenses of wildfire damage, though not in equal measures. With the damage piling up, fierce fights have broken out in courtrooms and in the state capitol to try to shift the financial burden. A novel strategy emerged over the past year as eight cities and counties sued oil and gas companies for money to pay for the impacts of climate change, from sea level rise and flooding to wildfires."
Guillotine Watch
"Inside the Private Las Vegas Club For Crypto Billionaires" [Bloomberg]. "In fact, the MORE club is a crypto paradise where members can leave their cash and plastic at home. Instead they use cryptocurrency to purchase bottles (priced from around $2,500 to $50,000), table service or nights in the hotel. …. And it's not just table service and fancy dinners that can be purchased on crypto. MORE members can rent a Lamborghini, Ferrari or a Bentley while in Sin City using their crypto. Or, purchase a personal training session with a UFC fighter with digital coins inside the club. Or, schedule a personal meet-and-greet with one of the club's performers." • It's going to be hard to get all that service on Mars….
Imperial Collapse Watch
A salutary reminder, especially for those who came in late, that the Bush administration was, if anything, more shambolic than the Trump administration. Read the quotes in this thread:

Time to revisit "lol this owns: the book" pic.twitter.com/u7PaeqKRvf

— novichok microdoser (@premium_thot) August 9, 2018
Of course, Bush has now been rehabilitated by the #Resistance in an effort to appeal to suburban Republicans, so the Iraq debacle is no longer discussible in polite society..
Class Warfare
"A rundown of all the ways Trump is overseeing an all out, under-the-radar attack on workers" [Salon (RH)]. A good list: "In addition to all that, the Trump administration has proposed $2.6 billion in budget cuts—an enormous 21 percent—to the Department of Labor. Those cuts include a proposed elimination of four department programs and their services, such as training for worker-safety and for migrant farmworkers. The budget also seeks to significantly slash funding for Job Corps, a program that provides job training to disadvantaged youth, by $407 million, or 24 percent. Dimitri Iglitzin, a labor attorney in Seattle, says that "Of all of the ways that the Trump administration has been crushing labor, the most important has been the neutering of the Department of Labor. On a day-to-day basis, the agency that should be fighting for working people is doing so no longer." • Three takeaways: First, if Obama's Democrats had passed cardcheck, unions would be in a much stronger position. Second, liberal tropes that Trump is senile, insane, stupid, and so forth, just aren't helpful, profitable though they may be. Exactly as with the courts, Trump has moved efficiently and with dispatch — in a word, strategically — to service his constituencies, and act in his own class interests, and in the interests of his donor class, despite all the sound and fury. Third, by not focusing on what Trump is actually doing, liberal Democrats cripple future efforts to undo it; hysteria is no match for hysteresis, in other words.
"Why Prosperity Has Increased but Happiness Has Not" [New York Times]. " Researching happiness and age, I did a deep dive into the relatively new discipline of happiness economics and emerged impressed by two findings. One is that . According to World Bank data, the share of the world's population living on less than $1.90 a day (inflation adjusted) declined to under 10 percent in 2015 from 44 percent in 1980, an astounding achievement. But ordinary people's well-being depends mainly on their immediate surroundings. If you are an autoworker who loses your job in Massena, N.Y., when G.M. closes its local plant (moving some jobs to Mexico) and who spends years out of work and who watches as schools shut down and shops go dark and young people flee — for you, the fact that America's big coastal cities are doing great, or that more than half a billion Chinese have been lifted out of extreme poverty, merely rubs salt in your wounds." • Yes, the spectable of well-off 99%-ers extolling average well-being while studiously ignoring decreasing life expectancy in the regios they themselves helped de-industrialize and destroy, is one of the more entertaining features of the current zeitgeist. "Great train, the Acela; almost European. Just stay on your cellphone, and never look out the window!
News of The Wired
"Need More Self-Control? Try a Simple Ritual" [Scientific American]. "[P]articipants who enacted a ritual while eating carrots subsequently made healthier choices as compared to those in the other groups. The results suggest that following a stringent set of steps, however strange, before eating may be a better weight-loss strategy than adhering to a stringent diet." • The leap to religion is an easy one to make…
"Theft! A History of Music" (comic) [Center for the Study of the Public Domain], This comic lays out 2000 years of musical history. A neglected part of musical history. Again and again there have been attempts to police music; to restrict borrowing and cultural cross-fertilization. But music builds on itself. To those who think that mash-ups and sampling started with YouTube or the DJ's turntables, it might be shocking to find that musicians have been borrowing—extensively borrowing—from each other since music began. Then why try to stop that process? The reasons varied. Philosophy, religion, politics, race—again and again, race—and law. And because music affects us so deeply, those struggles were passionate ones. They still are…. You will read about the Holy Roman Empire's attempts to standardize religious music with the first great musical technology (notation) and the inevitable backfire of that attempt." * Cool, for this notation maven!
"After the bullets, the brushes: how the First World War transformed art" [New Statesman]. "The immediate postwar years were a period of artistic retrenchment and a retreat from the abstraction towards which Wyndham Lewis and Bomberg had been heading with their prewar paintings of skewed and stylised buildings and robotic people composed of rectangular, girder-like shapes. Only in Russia did the experimentation of the early 1910s take hold, because the new Soviet regime demanded an unprecedented art to accompany its grand social experiment."
"What's it like being the editor of a newspaper in Eve Online?" [Rock Paper Shotgun]. "Battle reports become much easier to piece together after the fight is over. There are player-developed intelligence tools which tell us which ships were destroyed and where, all using player account APIs. Basically, a ticker tape of death data. These are called "killboards". As a battle rages or a conflict emerges, the ships lost will be listed on the killboards of the alliances involved. So even if an alliance maintains total radio silence, their PVP activity is still public. Major losses can't be hidden. At this point, finding battles to report on is much easier as the losses become apparent. And once we're aware of a battle, and its participants, it becomes more straightforward to pursue the story." • Not like the real world, then? Readers?
* * *
Readers, feel free to contact me at lambert [UNDERSCORE] strether [DOT] corrente [AT] yahoo [DOT] com, with (a) links, and even better (b) sources I should curate regularly, (c) how to send me a check if you are allergic to PayPal, and (d) to find out how to send me images of plants. Vegetables are fine! Fungi are deemed to be honorary plants! If you want your handle to appear as a credit, please place it at the start of your mail in parentheses: (thus). Otherwise, I will anonymize by using your initials. See the previous Water Cooler (with plant) here. Today's plant (C.Hustle):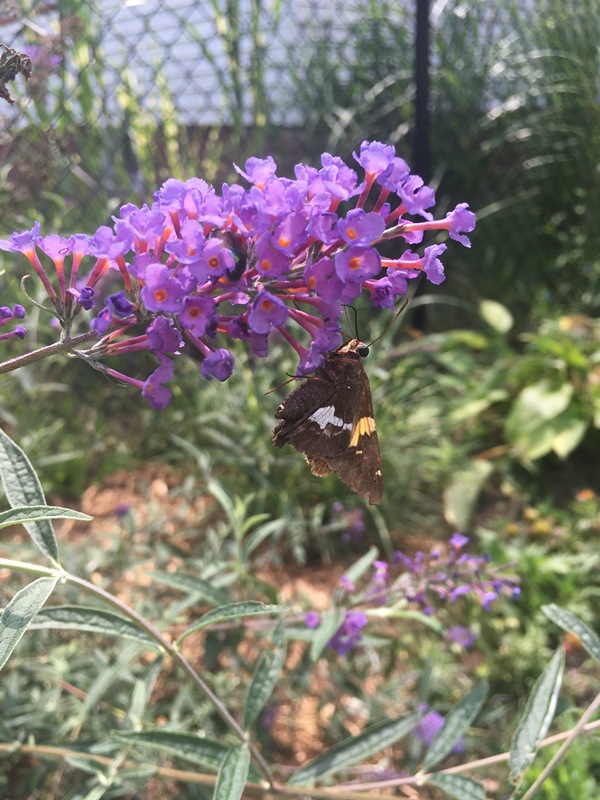 C.Hustle: "Attached is a pic of a butterfly bush doing what it does best." And as if on cue, the ginormous fritillary is checking out my sunflowers again!
Readers, I have an end-of-month expenditure I need to make. It's nothing big, so if just a few of you would click the hat, my stress and angst would be greatly reduced. Thank you!
* * *
Readers: Water Cooler is a standalone entity not covered by the annual NC fundraiser. So do feel free to make a contribution today or any day. Here is why: Regular positive feedback both makes me feel good and lets me know I'm on the right track with coverage. When I get no donations for five or ten days I get worried. More tangibly, a constant trickle of small donations helps me with expenses, and I factor that trickle in when setting fundraising goals. So if you see something you especially appreciate, do feel free to click the hat!

To give more, click on the arrow heads to the right of the amount.
If you hate PayPal — even though you can use a credit card or debit card on PayPal — you can email me at lambert [UNDERSCORE] strether [DOT] corrente [AT] yahoo [DOT] com, and I will give you directions on how to send a check.