By Lambert Strether of Corrente.
This is Naked Capitalism fundraising week. 1232 donors have already invested in our efforts to combat corruption and predatory conduct, particularly in the financial realm. Please join us and participate via our donation page, which shows how to give via check, credit card, debit card, or PayPal. Read about why we're doing this fundraiser and what we've accomplished in the last year, and our current goal, increasing our staffing, also known as burnout prevention
Trade
"Delta A220 introduction breaks with sworn statements" [FlightGlobal]. "Delta Air Lines is preparing to introduce its first Airbus A220-100 in January, a year after a US trade commission ruled that the aircraft did not compete with Boeing's 737 line… Atlanta-based Delta is preparing to take delivery of its first A220 in the coming weeks….Both the delivery and initial service plan, however, differ from Bombardier and Delta's sworn testimony to the ITC in 2017…. Neither Bombardier nor Delta have held to their statements to the commission… Statements to the ITC are made under oath making false testimony a potential criminal offense. However, few such cases are pursued as the commission must refer them to the US Department of Justice to investigate before any charges can be brought. 'From a practical perspective, there's not the means to chase these things,' a lawyer active in ITC cases tells FlightGlobal."
"American Steel Downgraded As Trade War Escalates" [Safe Haven]. "Any investors in the American steel industry who were celebrating Trump's tariffs jumped the gun a bit. If you follow this scenario through to its logical conclusion, there's no happy ending—only the threat of oversupply. That threat led Deutsche Bank to downgrade U.S. Steel earlier this month to 'Hold' from 'Buy', slicing its price target from $47 to $35. And then Monday, Credit Suisse followed suit, saying it expected steel prices to fall due to oversupply thanks to tariffs on Chinese imports…. Domestic steel production has already hit a four-year high, and new capacity is slated to come on line, while prices continue to slide, Woodworth noted."
"Uncertainty surrounds fine print of new, trilateral North American free trade deal" [Logistics Management]. "The USMCA is still far from a done deal. All three countries must sign the deal, and their legislatures must ratify it. If Democrats retake the House or the Senate in the midterm elections, the treaty would require bipartisan approval, which is hardly a given considering the House and or Senate could flip Democratic next month."
Politics
2020
"Clinton aide: Chances 'highly unlikely' but 'not zero' Hillary will run for president again" [The Hill]. "Philippe Reines, who served as a senior adviser to Clinton at the State Department…. thinks it is 'unlikely' that Clinton would mount a 2020 bid, but cautioned that it was not an impossibility. 'It's somewhere between highly unlikely and zero," he tells in the interview, 'but it's not zero.' Reines goes on to argue that Clinton remains a viable 2020 candidate due to her support base, pointing to the tens of millions of people who voted for her in the 2016 presidential election. Her support, he argues, remains higher than other potential Democratic contenders including Sens. Bernie Sanders (I-Vt.) and Elizabeth Warren (D-Mass.)" • Kill it with fire. But see below on Indivisible….

"Booker stirs South Carolina Democrats in pre-midterm debut" [Associated Press]. "Cory Booker had hundreds of Democratic activists nodding, applauding and eventually roaring — complete with a sermon-style call-and-response — as he entertained the Orangeburg County party barbecue to put the exclamation point on his first day in South Carolina as a potential presidential contender….. [W]hether Democrats nominate Booker or someone else, South Carolina will be key. It's the first state, and the only one of the first four to cast primary or caucus ballots, to feature a significant number of black voters. South Carolina went heavily for Obama in 2008 and for Hillary Clinton in 2016, previewing Southern sweeps that propelled each to the nomination."

Not bad turnout for a non-Presidential year:

Monster crowd in Bloomington, IN for Bernie and @LizForIndiana pic.twitter.com/AW9Xr7v0bI

— Ari Rabin-Havt (@AriRabinHavt) October 19, 2018

"Cuomo pushes Trump for Gateway funding with Hudson River tunnels tour" [AM New York]. "Cuomo wants Trump to make good on the deal to pay half the Gateway cost. Why does Cuomo believe that a video would convince the president? Cuomo's an optimist, he says. 'I'm an eternal optimist; I have to be,' Cuomo said. 'I'm governor of New York.'* The US DOT said in a statement that the [Environmental Impact Statement (EIS)] for the tunnel replacement project is progressing, but didn't seem to be any closer to accepting split funding responsibilities. 'There is no '50/50′ agreement between USDOT, New York, and New Jersey and the respective project sponsors,' the agency said in a statement. 'We consider it unhelpful to reference a non-existent 'agreement' rather than directly address the responsibility for funding a local project where 9 out of 10 passengers are local transit riders. Additionally, it is important to note that a 50 percent contribution would be considerably higher than existing precedent for past 'mega projects.'" • It's amazing to travel to Asia and see enormous public works projects. And The Greatest Country On Earth™ can't replace a tunnel that it knows is going to fail, and that its ruling elite rides through every day on the train. What do they think will replace the train? Scooters?
2018
17 days until Election Day. 17 days is a long time in politics. And remember that October is the month of surprises!

"8 Female Veterans and Federal Agents Appear Together in a Powerful New Campaign Video" [Cosmopolitan]. • How excellent. (Note by "Federal Agents" is meant Federal CIA agents Spanberger and Slotkin. The future is female war criminals, apparently; as Gina Haspel, who tortured her way through the glass celing at CIA, shows.

"For a Change, Democrats Seem Set to Equal or Exceed Republicans in Turnout" [New York Times]. "A wide range of evidence indicates that Democratic voters are poised to vote in numbers unseen in a midterm election in at least a decade. Democrats have largely erased the turnout deficit that hobbled them during the Obama presidency, according to results from more than 50 New York Times Upshot/Siena College polls of the most competitive House battleground districts. on Nov. 6. But it's not clear if this blue turnout surge will extend much further, particularly among young and nonwhite voters. Whether Democrats turn out broadly could make the difference between a fairly close fight for control of the House and sweeping Democratic gains of 40 or more seats." • Well, I'm sure two years' solid focus on Putin with a sudden pivot to MBS will bring those voters out. More: "Democrats have not enjoyed a particularly strong turnout among young and nonwhite voters in most of the special and general elections since Donald J. Trump won the presidency…. Democratic enthusiasm among white college-educated voters has helped the party pull ahead in several predominantly white well-educated suburban districts where Hillary Clinton won in 2016." • Thomas Frank keeps being right. Never change, Democrats! Never change.

"A Shift in GOP Fortunes" [Cook Political Report]. "Not long ago, the most likely outcome for the Senate was either no net change at all, or a shift of one seat, so the Senate would remain under GOP control, with the majority holding 50-52 seats. Today, a Republican net gain of a seat or two seems most likely, moving the GOP up to either 52 or 53 seats, though a gain of three seats or no net change are entirely possible…. In the House, Democrats remain heavily favored to capture a majority; the change is that their chances of blowing the House wide open with a gain of 40-50 seats or more have diminished. In the suburban-oriented districts where most of the competitive House races are, things remain extremely challenging for Republicans. A large gender gap driven by suburban, college-educated, and younger women remains a very strong dynamic. But the more rural- and small-town-oriented districts—those with substantial numbers of Republicans, conservatives, and Trump backers—are now fully awake and engaged, moving some of those districts back away from the edge of competitiveness…. Today, Democrats seem more in line to score a net gain of between 20 and 40 seats. Democrats need a pickup of 23 seats, so a continued Republican majority is possible, just fairly unlikely." • After an enormous deluge of third quarter cash!

CA Legislature: "Democratic Socialist Jovanka Beckles Could Upset Buffy 'the Bernie Slayer' Wicks in CA" [In These Times]. • Good profile, but no polling data at all. Buffy Wicks (in a must-read from Down with Tyranny), however, is awful.

UPDATE CA Legislature: "Meet the Pro-Kavanaugh Republican Running the Newest Buffy Wicks PAC" [East Bay DSA]. Voters in AD15 received a deluge of political mailers this week, so one in particular probably didn't stick out. It's a glossy sheet 8.5″ x 11″ sheet with a huge picture of a frothing Donald Trump and a small picture of a smiling Buffy Wicks. The cover says, 'With the Right Leaders, CA CAN DO A LOT TO STOP DONALD TRUMP.' You can't tell from looking at it, but this mailer, suggesting that Buffy can protect us from Trump, was conceived in an elite Republican law firm in Sacramento and paid for by an unholy alliance of right-wing billionaires, anti-public education crusaders, and big healthcare PACs. The whole process was overseen by Ashlee Titus, president of the Sacramento Federalist Society, who recently signed a letter in support of accused sexual predator Brett Kavanaugh." • Holy moley, that's good oppo. They don't mess around over there!

CA Senate: "Feinstein and de León debate in lopsided forum" [CalMatters]. "The divergent approaches to the ',' as it was billed, were in part a result of the format. Rather than the response/counter-response structure of more traditional campaign debates, this was a mediated discussion between the two candidates. This made for a fairly staid and largely amicable hour of policy discussion. That certainly favors Feinstein, who leads in the polls and name recognition." • Funny how "conversations" work.

GA: "Claims of Dirty Politics Fly in Georgia As Election Grows Closer" [Courthouse News]. " Secretary of State and current GOP candidate for governor Brian Kemp,… who has refused to step down from his position as Georgia's top election official during his campaign for governor, is in a neck-and-neck race against Democrat Stacey Abrams. A new poll released Wednesday showed Kemp one point ahead of Abrams. With Kemp on the campaign trail, multiple lawsuits a day have been filed in Atlanta federal court bringing various allegations of voter suppression against his office." • Not only would I fail an exact match test for a ballot, I'd fail a signature match test: I consciously revised my handwriting to be able to use an Apple Pencil on my iPad — important part of my workflow, another topic — and after I did that my signature changed.
2016 Post Mortem
I get mail:

Nice to have Indivisible's role cleared up. At least at the national level, it's Clintonism, rebranded.
Liberal Democrats Have Lost Their Minds
Words fail me:

Many groups on the right have revealed their true moral emptiness under Trump: tax-cutters, evangelicals, conservative law types, etc.. But on the whole the neocons — the people responsible for the Iraq war — have turned out to have genuine principles. Credit where it's due. https://t.co/xl9cgdM95H

— Paul Krugman (@paulkrugman) October 19, 2018
Realignment and Legitimacy
"Democratic Consulting Firm Teams Up With Hospital Industry to Battle Nurses Union" [The Intercept]. "DEWEY SQUARE GROUP, a prominent political consulting firm that often works with Democratic candidates, liberal groups, and labor unions, is leading the opposition campaign. Consultants from the firm have been paid over $800,000 since April for their efforts, according to state campaign finance data." • Because of course they are. Liberal Democrats hate working class people, and unions.

"Philly is ground zero in the Trump administration's war on sanctuary cities" [Philadelphia Inquirer]. "But the Inquirer and ProPublica found that the city's resistance to ICE's agenda comes with some surprising caveats: On two dozen occasions, police, probation officers, and even one of Kenney's top deputies have quietly provided tips to ICE about undocumented immigrants who were charged with crimes. Other forms of information-sharing still continue, which shows that even the most extreme of sanctuary cities eventually bend to comply with a federal law that says local governments cannot restrict sharing immigration status with ICE."

"All of the Above? The Ancient Voting Method One City Might Adopt" [Governing]. "Next month, Fargo voters will decide whether to adopt a ballot measure that would create a system known as "approval voting" for local elections. The idea is simple: Everybody can vote for as many candidates as they'd like. If there are four candidates for the city commission, you could choose to vote for one of them, or for two, or for the whole lot. Unlike the other multiple-choice method known as ranked-choice voting, which is gaining favor in some places, each vote would count the same. The person with the highest total would win."
Stats Watch
Existing Home Sales, September 2018: "Housing demand is flat at the very best with demand for resales clearly going into reverse" [Econintersect]. "Rising mortgage rates, now over 5 percent for 30-year fixed loans, are not helping the housing market, though the enormous strength of the labor market and the stock market along with very strong consumer confidence should all be positives for home sales. The lack of wage gains, however, is a negative for home buyers not to mention a of the 2018 economy given the increasing scarcity of available labor. And another of this year's economy is the lack of interest in home ownership." And: "The rolling averages have been slowing since the beginning of 2017. This month the rolling averages have slipped deeper into contraction. Housing inventory is historically low for Septembers – and if you do not have enough houses for sale – then that means home sales cannot improve. Combine this with higher mortgage rates – and home sales are declining" [Econintersect]. And: "This is a small YoY decline in sales to-date – it is likely that higher mortgage rates are impacting sales, and it is possible there has been an impact from the changes to the tax law (eliminating property taxes write-off, etc)" [Calculated Risk].
Retail: "Sears's Edward Lampert Was a Wizard. Now He's Coming to Terms With Failure." [New York Times]. "Thanks to his early successes, Mr. Lampert is still very, very rich; his fortune today is estimated at $1.1 billion, according to the latest Forbes survey. He will likely emerge from the Sears collapse with many more assets than most people realize. He owns lavish homes in Greenwich, Conn., and Indian Creek, Fla., just off Miami Beach. But he no longer makes the cut for Forbes's 400 richest Americans. His net worth has plunged by $3 billion since peaking at $4.5 billion in 2007, the magazine estimates. At Sears, all of his compensation was in stock. He never sold a share. The stock is now all but worthless." •˜Could be. But with all the self-dealing Lampert had going on, it makes you wonder if Sears was some kinda laundry. Speculating freely, of course.
Retail: "Walmart gains patent to eavesdrop on shoppers and employees in stores" [CNN].
Shipping: "UPS to hire 40K employees in one day" [Supply Chain Dive]. Interesting anecdote: "Tales of "ghosting" haunt recruiters and a recent survey revealed that candidates believe the practice is acceptable, with 40% saying it's perfectly fine to accept an offer then vanish. For recruiters, that may mean overstaffing to compensate for some hires that won't report on day one." • Why would not people find this "pefectly fine," given the givens?
Apparel: "Your Clothes Could Be Made in the USA Again" [Bloomberg]. "[A]s lead times gain importance, shortening them compensates for some of the labor cost disadvantage by increasing the share of clothes sold at the full price. Raising it by 6.1 percent for a garment that takes 60 minutes to produce would justify the transfer of production from China to the U.S., McKinsey calculated…. Eighty-two percent of the sourcing managers surveyed by McKinsey say the production of simple garments will be fully automated by 2025. If they're right, production is coming back — but the jobs aren't. And China isn't likely to fritter away its current advantage even as it becomes more expensive: Chinese garment companies are building factories in cheap labor countries closer to Europe such as Ethiopia. With these caveats, it's likely that the buyers of mass market clothes, not just expensive designer threads, will be dressing in garments from geographically closer countries soon."
The Bezzle: "Tearing Apart Teslas to Find Elon Musk's Best and Worst Decision" [Bloomberg]. "The trick now is turning this established technological advantage [in software and electronics] into consistent profits—and to do that Musk needs to hire executives with experience in the nuts and bolts of carmaking. If he does, Munro said, "he's not far away from making money." See, if you're going into the automobile manufacturing business, you've got to be able to manufacture automobiles at a profit. Interesting article.
Mr. Market: "Dow up triple digits as stock market marks anniversary of 1987's 'Black Monday' crash" [MarketWatch]. "U.S. stocks traded higher Friday, with the Dow Jones Industrial Average up more than a 100 points, as a rebound in China's main equity benchmarks assuaged dread about waning global growth, even as Beijing reported the worst rate of economic expansion since 2009…. China's central bank governor and banking and securities regulators said recent volatility in Chinese stocks didn't reflect the nation's economic fundamentals and a 'stable financial system.'" • Rational actors, every one.
Health Care
"Uwe Reinhardt, 80, Dies; a Listened-to Voice on Health Care Policy" [New York Times]. Of sepsis. "In 2015, the Republic of China awarded Professor Reinhardt its Presidential Prize for having devised Taiwan's single-payer National Health Insurance program. The system now provides virtually the entire population with common benefits and costs 6.6 percent of the nation's gross domestic product (about one-third the share that the United States spends)." • Of course, Taiwan is a First World country, and we're a Third World country, so we can't afford a program like that.
The 420
I went straight on to Nancy Drew from the Hardy Boys. How right I was:
TGIF pic.twitter.com/tELZpTTPGF

— Spooky Soniasuponia (@Soniasuponia) October 19, 2018
Gaia
"First Evidence of Sleep in Flight" [Nautilus]. "For the first time, researchers have discovered that birds can sleep in flight. Together with an international team of colleagues, Niels Rattenborg from the Max Planck Institute for Ornithology in Seewiesen measured the brain activity of frigatebirds and found that they sleep in flight with either one cerebral hemisphere at a time or both hemispheres simultaneously…. By carefully examining the movements of the frigatebirds, the researchers discovered clues to why they sleep unihemispherically in flight. When the birds circled on rising air currents the hemisphere connected to the eye facing the direction of the turn was typically awake while the other was asleep, suggesting that the birds were watching where they were going." • I wonder if the waking hemisphere can access dreams in the sleeping hemisphere… Assuming birds dream.
Water
"In the Heart of the Corn Belt, an Uphill Battle for Clean Water" [Yale Environment 360]. "'Health trumps politics,' said Iowa State Senator David Johnson before taking the stage at a raucous rally in Des Moines last winter to support strengthening the state's water quality. In the marble rotunda of the state capitol, he rose to denounce the nitrogen and phosphates that have been flowing in ever-increasing quantities into Iowa's public water supplies — and was cheered by the small crowd of family farmers, concerned mothers, and his new political allies, the legislature's drastically outnumbered Democrats. Johnson had been one of the longest-serving Republicans in Iowa until he left the party to become an independent in 2016 after defying it repeatedly on one of the most divisive issues in Iowa — the integrity of the state's water."
Class Warfare
"Updated: Teamster Brass Overrule Member 'No' Vote at UPS" [Labor Notes (updated version)]. "Exploiting a constitutional loophole, Teamsters brass have declared that the controversial tentative agreement covering 243,000 workers at the package giant UPS is ratified, despite members voting it down by 54 percent. Package Division Director Denis Taylor weirdly claimed that he planned to keep negotiating to improve the deal—but also that members wouldn't get a chance to vote on any further changes. Local 413 driver Nick Perry, one of several rank-and-file observers who attended the vote count, engaged Taylor in a "spirited debate" about this doublespeak moments after the news broke." • Always important to attend to vote count. More: "Hoffa himself has been quiet, letting Taylor take the fall. Days after the vote count he and top staffers jetted off on a 10-day trip to a conference in Singapore." • Ouch!
Francis Fukuyama interview: "Socialism ought to come back" [New Statesman]. Fukuyama conflates socialism and social democracy. More: "Fukuyama added, to my surprise: 'At this juncture, it seems to me that certain things Karl Marx said are turning out to be true. He talked about the crisis of overproduction… that workers would be impoverished and there would be insufficient demand.' Yet the only plausible systemic rival to liberal democracy, Fukuyama said, was not socialism but China's state capitalist model. 'The Chinese are arguing openly that it is a superior one because they can guarantee stability and economic growth over the long run in a way that democracy can't… if in another 30 years, they're bigger than the US, Chinese people are richer and the country is still holding together, I would say they've got a real argument.' But he cautioned that 'the real test of the regime' would be how it fared in an economic crisis."
""As if the Last 30 Years Never Happened": Towards a New Law and Economics, Part 1″ [Law and Political Economy]. • A really good piece; this paragraph jumped out: "[W]e ask that 'economics' as a whole not be conflated with the 1970s University of Chicago economics department – any more than legal scholarship as a whole should be conflated with the University of Chicago Law School faculty during that era."
"Too socialist for the suffragettes: the left's forgotten women" [New Statesman]. "For those unfamiliar with the period, it will be eye-opening to learn how heroines of women's suffrage – such as Emmeline and Christabel Pankhurst – reacted with fury to the insistence of their socialist colleagues on campaigning for universal suffrage no matter a man or woman's wealth or status, rather than the less threatening and more achievable goal of enfranchising older, propertied women alone." • Sounds eerily familiar….
News of the Wired
"How the Finnish survive without small talk" [BBC]. A whole country like the quiet car. Sounds ideal!
No:
*screams silently into the void* https://t.co/oNlHClSN4J

— Tim Maughan (@timmaughan) October 17, 2018
"Kickstarting the Makerphone: an open-source hardware phone kit, programmable with python and Scratch" [Boing Boing]. "$94 gets you a kit and the tools to assemble it; $99 gets you an assembled phone. The project's runners have previously delivered on kickstarted open source hardware kits, which bodes well for getting something for your money. The Makerphone is a pretty sweet-looking gadget, and it comes ready to be programmed with Scratch and python, providing a good progression from a fully graphic programming environment to a command-line language that's still beginner-friendly." • Hot diggity. This could solve some problems…
* * *
Readers, feel free to contact me at lambert [UNDERSCORE] strether [DOT] corrente [AT] yahoo [DOT] com, with (a) links, and even better (b) sources I should curate regularly, (c) how to send me a check if you are allergic to PayPal, and (d) to find out how to send me images of plants. Vegetables are fine! Fungi are deemed to be honorary plants! If you want your handle to appear as a credit, please place it at the start of your mail in parentheses: (thus). Otherwise, I will anonymize by using your initials. See the previous Water Cooler (with plant) here. Today's plant (WB):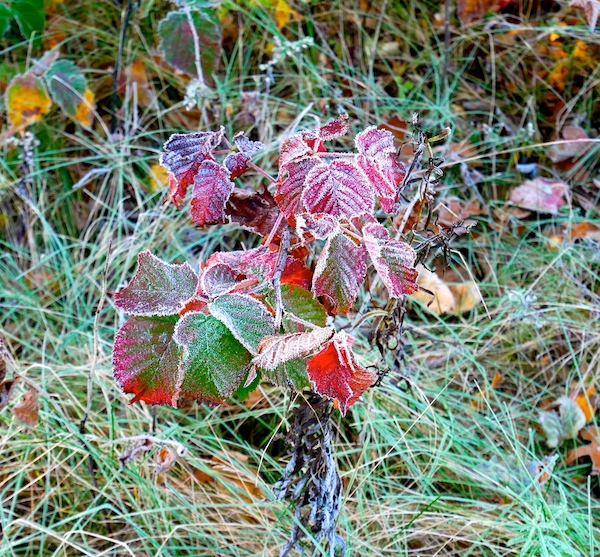 WB writes: "First frost." Gorgeous!
And a bonus plant from Iowa politics blogger Bleeding Heartland:
Five more Wednesdays before I put Bleeding Heartland's #Iowa #wildflowers series to bed for the winter. This week's installment featured a spectacular plant: https://t.co/mo6wLGJ57T

— Bleeding Heartland (@desmoinesdem) October 19, 2018