By Lambert Strether of Corrente.
Trade
"Cautious optimism in Beijing for US-China trade deal" [South China Morning Post]. "China's senior diplomat Wang Yi said on Monday that the latest round of trade talks with the US had provided "positive prospects" on Sino-American ties and the global economy, as state media reacted with cautious optimism. The talks between chief negotiators in Washington, described by Wang at a Beijing event as "achieving concrete progress", yielded an immediate delay to US President Donald Trump's planned extra tariffs on Chinese imports. Commentaries from top Communist Party mouthpieces like newspaper People's Daily and state news agency Xinhua said that the just-concluded round of talks in Washington sent a cautiously positive sign for a settlement to the friction between the world's two biggest economies, but also cautioned that any final deal would face criticism both within China and the US."
"Trump delays tariff hike initially scheduled for March" [Supply Chain Dive]. "Tariffs on $200 billion worth of imports from China will remain at the current level of 10% for the time being, after President Donald Trump tweeted Sunday evening he would delay the scheduled increase to 25%. He did not specify the future date until which the tariff hike might be delayed…. The tweets from Trump come in contrast to Lighthizer's repeated message that March 1 is a 'hard deadline' for the U.S. and China to hammer out a deal. The USTR had not released a statement on the tariff delay as of press time."
"Wary of Trump's Approach, Governors Seek to Forge Own Trade Agreements" [Governing]. "As the Trump administration seeks to renegotiate trade deals with countries around the world, governors have been stepping up their own efforts to promote their states abroad, acting as salesmen and women for home-state companies and trying to bring in foreign investment. Appearances by foreign leaders have become almost a standing feature of National Governors Association events. At the NGA's winter meeting in Washington this weekend, governors met with provincial counterparts and trade officials from Canada, Mexico and Japan."
Politics
"But what is government itself, but the greatest of all reflections on human nature?" –James Madison, Federalist 51
"They had one weapon left and both knew it: treachery." –Frank Herbert, Dune
2020
Trump: "Trump's Secret to Victory in 2020: Hispanic Voters" [Politico]. "Many expected Hispanics to vote overwhelmingly against Trump in 2016. A Latino Decisions poll conducted just before the 2016 presidential election found Trump had the support of just 18 percent of Hispanics. But the actual figure was 28 percent, which—given Trump's incendiary rhetoric about immigrants—some analysts and pundits refused to believe from exit polls until further studies confirmed it… A party that has staked its future on a belief that America's demographic picture is changing decidedly in its favor could find itself losing to a man whose politics of fear should be driving precisely those voters into the Democrats' waiting arms…. A party that has staked its future on a belief that America's demographic picture is changing decidedly in its favor could find itself losing to a man whose politics of fear should be driving precisely those voters into the Democrats' waiting arms." • It's occurred to me that the Venezuelan flap is more about irrendentist Latinx votes in Florida 2020 than anything else; remember that Florida Democrat fossil Donna Shalala, and the Democrats, tried to outdo Trump with anti-Maduro rhetoric (in effect giving him the green light) way back in January.

Biden:

Adding to this: Joe Biden has also made job offers in South Carolina, a source tells me. https://t.co/0V54h3Io27

— maxwell (@maxwellstrachan) February 26, 2019

Oh, good.

Warren: "Elizabeth Warren opens door to reparations for Native Americans" [WaPo]. "Sen. Elizabeth Warren said Friday evening that Native Americans should be "part of the conversation" on reparations, showing a willingness to expand the debate over whether minority groups that have faced discrimination should be financially compensated by the federal government. Warren is one of four Democratic presidential hopefuls who have said in recent days that they are open to providing some type of reparations to African Americans who are descendants of people who were enslaved in the United States, although they have offered varying levels of details about how the goal would be achieved."

Sanders (1):

There is still lingering bitterness among some HRC supporters from 2016; questions about his age and the practicality-or even wisdom-of his ideas. But, as he showed tonight, Bernie's a feisty old bird, who isn't going away.

— David Axelrod (@davidaxelrod) February 26, 2019

The responses are quite something, but (perhaps because) Axelrod is doing a very gentle form of reality therapy…

Sanders (2): "Wait, are you saying that CNN stacked the audience?" (unrolled Twitter thread) [@FaerieWhings (ST)]. Some kind soul investigated the bios of CNN's questioners: "Tara Ebersol, former biology professor. Let see just how complete that information is. Her LinkedIn… 'Chair, Baltimore County Democratic Party.'" • It does seem to me that CNN should have disclosed affiliations like that. Since Sanders has to run the gauntlet of the institutional Democrat Party, this doesn't bother me all that much — so far as I can tell, they didn't lay a glove on him — but the pretense that these are ordinary citizens should really be discarded. Sanders should really be running his own town halls, and selecting questioners using some form of sortition (you'd have to give the questioners time to prepare and a chance to refuse; not all like to speak in public). I bet the questions would be more interesting, too.

Sanders (3): "Bernie Sanders Raises $10 Million in Less Than a Week" [New York Times]. "By Monday, after less than a week as a presidential candidate, Mr. Sanders has collected $10 million from 359,914 donors, campaign officials said. But perhaps just as daunting a figure for his rivals is this: Nearly 39 percent of those donors used an email address that had never before been used to give to Mr. Sanders." • Hopefully all those email addresses aren't, er, burners…

Sanders (4): "Manafort Argues for Lighter Sentence; Sanders Town Hall; Biden Running out of Time; Trump Shows Strength in Polls" [CNN]. "perhaps the most surprising statistic, on the first day of his campaign, 12,000 of those donors were Republicans. And, keep in mind, the Sanders 2020 campaign, Alisyn, now only one week old." • Presumably the sort of suburban Republican to which the DCCC hopes to appeal?
Realignment and Legitimacy
"Getting Past the Door: How We Moved from Canvassing to Organizing Buildings" (PDF) [Metro DC DSA]. "For the past 18 months, volunteers from the Stomp Out Slumlords project have crisscrossed the District of Columbia, finding tenants facing eviction and talking to them about how they can defend themselves. We've knocked the doors of nearly 8,000 tenants being sued for eviction, we've spent hundreds of person-hours talking to tenants at landlord-tenant court, we've gotten to know militant tenants and worked alongside them to organize in their buildings. In the course of this work, we've learned a great deal about the dynamics of eviction and tenant struggle, and we've been forced to reevaluate core tenets of our project's original strategy. We have struggled to execute the plan we started out with, but we have succeeded beyond our expectations in areas of work we had not planned to take on." • This gives me hope for DSA. Imagine starting out with a theory of change, and then adjusting your theory based on experience!

"Political science teachers explain why more than half of Americans would fail a civics test and why that's not the end of the world" [Chicago Tribune (JB)]. "The Woodrow Wilson National Fellowship Foundation surveyed 41,000 Americans with basic questions about American history and government and only 40 percent passed. In Illinois, more than half failed, according to the foundation. Shameful? Or a reflection of how complex our government can be and how civics education often misses the mark?" • Broken by design, as programmers say.

"New Virginia poll: Northam approval weak, but Virginians not demanding his resignation" [Larry Sabato's Crystal Ball]. "A new University of Virginia Center for Politics/Ipsos poll of Virginia adults shows Gov. Ralph Northam (D) with weak approval numbers, but Virginians surveyed are not demanding his resignation and do not favor the state legislature removing him through impeachment. Meanwhile, a plurality of respondents say Lt. Gov. Justin Fairfax (D) should resign, but another quarter say he should not and a third are not sure what he should do, and the public is ambivalent on impeachment. Attorney General Mark Herring (D) seems the best-positioned of all three to remain in office, with less than one in five respondents believing he should resign or be impeached."

"Few Americans Want Open Borders— Democrats Included" [Medium]. "Trump repeatedly claims that Democrats "want open borders." But nobody in leadership on the left promotes open borders. Nobody. Let's clarify: not one or two people. Zero percent of the elected leadership of Democrats or independents have suggested the U.S. should have open borders. And there's certainly no policy of open borders embraced by the Democratic Party." • Well, the Identitarian Industrial Complex, deeply integrated into the dense tangle of NGOs that also comprises the Democrat party, as well as some segments of the press, does. (It does seem odd that nobody in the Open Borders crowd is calling for Maduro to open the Venezuelan border to Bolton and Abrams. Perhaps borders are good for something after all?)

UPDATE Sortition?!

An important day in the history of #democracy! A regional parliament in Belgium has unanimously voted to set up two new #deliberative institutions with citizens chosen by lot. #OstbelgienModell #delibdem #demopart #futureofdemocracy #sortition https://t.co/V0DYH1Nlv0

— Claudia Chwalisz (@ClaudiaChwalisz) February 25, 2019

Yeah, well, they put mayonnaise on their french fries….
Stats Watch
Richmond Fed Manufacturing Index, February 2019: "The Philly Fed buckled in last week's February report but the indications for manufacturing weakness are not being confirmed by this week's regional reports, whether from the Dallas Fed yesterday or today's Richmond Fed index which… easily beat the consensus" [Econoday]. And: "February 2019 Richmond Fed Manufacturing Survey Significantly Improves" [Econintersect]. "The important Richmond Fed subcategories growth improved but backlog remains in contraction. This survey was strong compared to last month."
Consumer Confidence, February 2018: "The government shutdown had a dramatic effect on consumer confidence, pushing down the Conference Board's measure sharply in January then pulling it back up after the reopening" [Econoday]. "The consumer confidence index has shown much more volatility than the rival consumer sentiment index but both are sending the same signal: a post-shutdown bounce to levels that are, however, low relative to the past couple of years." And: "February 2019 Conference Board Consumer Confidence Improves" [Econintersect]. "Consumer confidence had been on a multi-year upswing. The current volatility is showing uncertainty by consumers."
Housing Starts, December 2018: "Housing starts proved unexpectedly weak in December and will pull back residential investment in Thursday's GDP report" [Econoday]. "Today's report, a one that is truly mixed, points to trouble for immediate economic data — particularly fourth-quarter GDP — but also to building strength in coming data based on the strong showing for permits." And but: "Comments on December Housing Starts" [Calculated Risk]. "Even with the year end weakness, total starts were up 3.6% in 2018 compared to 2017. The weakness at the end of 2018 has been blamed on higher mortgage rates (that have since come down to around 4.5%), the stock market volatility (since stabilized), trade and immigration policies (impacting foreign buyers), and the partial government shutdown (started in December, but mostly in January). My sense is starts will pick up in Q1 compared to Q4 2018." And: "S and P CoreLogic Case-Shiller 20 City Home Price Index December 2018 Year-over-Year Growth Unchanged" [Econintersect]. "I continue to see this a situation of supply and demand. It is the affordability of the homes which is becoming an issue for the lower segments of consumers."
S&P Corelogic Case-Shiller Home Price Index, December 2018: "Like FHFA's report issued this morning, Case-Shiller's 20-city index is showing slowing rates of home-price appreciation" [Econoday]. "Case-Shiller data continue to show trouble for once high-flying names on the West Coast including San Francisco which has now posted three sharp monthly declines in a row…. Case-Shiller data continue to show trouble for once high-flying names on the West Coast including San Francisco which has now posted three sharp monthly declines in a row." • I hate the whole concept of houses as wealth. For one thing, houses matter as homes (not assets). For another, a house is a money pit!
FHFA House Price Index, December 2018: "Sellers were looking uneasy late last year based on this morning's home price data" [Econoday]. "Total year-on-year prices slowed to 5.6 percent growth which actually isn't bad at all in a low inflation, low wage growth economy. But the pace is definitely slowing."
Shipping: "Study: e-commerce trends are shrinking average length of truck trips" [DC Velocity]. "Emerging e-commerce shopping trends are changing the face of the trucking industry, with the growth of last-mile delivery cutting the average trucker's trip length by 37 percent since 2000, according to an industry study released today. Just as the average trucking haul distance has shrunk, the number of truck trips and urban vehicle miles traveled have increased for much of the same 19-year period, thanks to an increase in more regionalized retail supply chains and the proliferation of urban last-mile deliveries."
The Bezzle: "Let it go: Frozen Elizabeth Holmes wanders the snowy streets of NYC looking for a cab after ditching the private jets and personal drivers following the collapse of her billion-dollar Theranos blood testing empire" [Daily Mail] "It was a shocking sight to behold as Holmes desperately attempted to hail a cab while lugging her own suitcase…. She was seen exiting The Mark at around 4:30pm, where rooms start at just under $1,000 per night." • Looks like she's got some money stashed away somewhere….
The Bezzle: "Confessions of a location data exec: 'It's a Ponzi scheme'" [Digiday]. "I met with a programmatic leader at one of the agency networks recently who asked my firm to help him verify the location data in the bid stream because they believe up to 80 percent or more of the lat-long data available there is fake. No one has stopped to think about where that data has come from and why a publisher would choose to sell it all to a vendor who is going to build a business on top of their data. What's actually happening is these ad tech vendors are trying to pad out the limited data they already own with other data sets from competitive vendors or other unknown sources. Most reputable publishers would rather use their data across their own business than sell it to ad tech vendors, as the revenue potential is greater against their own content." • it would be pretty ironic if we destroyed the Fourth Amendment and the very notion of privacy, all to enable a Silicon Valley scam.
The Bezzle: "SEC wants Tesla CEO Elon Musk held in contempt for tweeting" [Associated Press]. "[T]he Securities and Exchange Commission asked a federal court in New York to hold Musk in contempt for violating a $40 million settlement he begrudgingly reached with the U.S. stock market's chief regulatory agency five months ago. Allegations that Musk broke the agreement by tweeting without company approval could renew a debate about whether he has become too reckless to continue as Tesla's CEO…. Contempt charges are typically brought against individuals who defy a court order. The SEC settlement was approved by a judge last fall, exposing Musk to potential fines or even jail time if he is found to be in contempt. 'He is looking like a repeat offender and a bad actor,' said Carl Tobias, a law professor at the University of Richmond. 'The SEC is taking action because it has a responsibility to protect the interests of consumers, investors and the public.'" • Repeat offender? Silicon Valley squillionaire? What?
Tech: "The Value Chain Constraint" [Stratechery]. "It is understandable why the Internet giants in particular move into seemingly adjacent territories: the growth imperative is strong, both for financial and strategic reasons, and the technology seems easy enough, particularly given the resources these companies bring to bear. And yet, the truth is that those massive resources do not stem, at least in the long run, from technical excellence, but rather integration in specific value chains that produces positive feedback loops and outsize profits…. It follows, then, that without that integration, the positive feedback loops quickly disappear, along with the profits, which is the exact pattern we see again and again. Microsoft spent billions on phones and consumer Internet services, Amazon spent billions on Whole Foods, Google has spent billions on not just Google Cloud but a whole host of initiatives that have nothing to do with Search, Facebook has spent billions on Watch and VR, and now Apple is getting in the game with billions spent on Video, and the expected outcome of all these should be that they will fail… What does work are (1) forward and backwards integrations into the value chain and (2) acquisitions. This makes sense: further integrations simply absorb more of the value chain, while acquisitions acquire not simply technology but businesses that are built from the ground-up for different value chains. And, by extension, if society at large wants to limit just how large these companies can be, limiting these two strategies is the obvious place to start." • Hmm. Maybe I should have filed this under concentration.
UPDATE Tech: "Facebook as an American geopolitical weapon" [Surveillance Valley]. "As I explain in my book, Facebook (and American Internet companies in general) have always been an instrument of American power. Yet for years, the company had tried to sell itself as a totally neutral platform devoid of any national and geopolitical interests. And for a while it succeeded. But these days it doesn't try to hide it anymore. After 2016, the mask has come off. Facebook now openly functions like an extension of American imperial power. What made this so obvious was the glaring double standard that's guiding Facebook's takedown of Maffick. On prodding from a U.S. government-funded thinktank, it suddenly demanded transparency for Pages run by a media company funded by Russia (and then shut them down with no warning). Yet Facebook continues to allow the U.S. government and powerful U.S. corporations to operate their Pages without hinderance — even when these Pages are obviously set up by lobby groups and government initiatives to covertly manipulate people and influence democracy." • Kinda like Google News using Polygraph.info, jointly sponsored by state organs Radio Free Europe and Voice of America, as a fact checker. It's right out in the open, isn't it?
Tech: "Algorithmic Justice Could Clear 250,000 Convictions in California" [Artificial Lawyer]. "'California has decriminalized recreational cannabis use, but a marijuana conviction continues to serve as a barrier to employment, housing, student loans and more. Lack of access to employment and housing are two primary drivers of recidivism, so until we clear these records it's government that is effectively holding these people back and impeding public safety. I'm hopeful that this partnership will inspire many prosecutors who have cited resource constraints to join this common sense effort and provide this relief,' [District Attorney George Gascón] added. And, Jennifer Pahlka, Founder and Executive Director, Code for America, said: 'At Code for America, we believe government can work dramatically better than it does today, and the criminal justice system is one of the areas where we are most failing the American people. By reimagining existing government systems through technology and user-centred design, we can help governments rethink incarceration, reduce recidivism, and restore opportunity.'" • The project automated filling out forms only (which I suppose is "justice"). Maybe this is OK?
The Biosphere
About Page [Youth Climate Strike]. Our Mission: "We, the youth of America, are striking because decades of inaction has left us with just 11 years to change the trajectory of the worst effects of climate change, according to the Oct 2018 UN IPCC Report. We are striking because our world leaders have yet to acknowledge, prioritize, or properly address our climate crisis. We are striking because marginalized communities across our nation —especially communities of color, disabled communities, and low- income communities— are already disproportionately impacted by climate change. We are striking because if the social order is disrupted by our refusal to attend school, then the system is forced to face the climate crisis and enact change. With our futures at stake, we call for radical legislative action to combat climate change and its countless detrimental effects on the American people. We are striking for the Green New Deal, for a fair and just transition to a 100% renewable economy, and for ending the creation of additional fossil fuel infrastructure. Additionally, we believe the climate crisis should be declared a national emergency because we are running out of time." • Today is my day to be nice, but I'll point out that these demands, too, do not put greenhouse gas reductions against policy proposals. (Yes, the numbers can be ballpark figures at most, but plenty of good projects go ahead on that basis.)
"Judge OKs $120 Million Deal Over Massive Methane Leak" [Courthouse News]. "A state court judge in Los Angeles approved a deal Monday in which Southern California Gas Company will pay $120 million to state and local agencies over the 2015 Aliso Canyon methane gas blowout that forced thousands of residents to flee their homes…. A portion of the $120 million agreement will go toward capturing methane expelled by dairy farms as mitigation of what was released during the blowout, but Earthjustice and other environmental groups argue this gives SoCal Gas a chance to take credit for reduction efforts that are paid in part by state funding." • Seems low.
"The Water Resource Right Outside the Window" [Governing]. "Landscape irrigation is estimated to account for almost one-third of residential water use — nearly nine billion gallons a day. And as much as half of the water used outdoors is wasted due to evaporation, inefficient equipment and overwatering… Local decision-makers may wonder if residents are truly ready to alter their landscapes. Our survey of more than 3,000 North American homeowners indicates that the time is ripe to promote a new landscape ideal. While beauty and appearance was the most important aspect of their landscapes, nearly half of respondents also wanted their landscapes to be water-conscious. And contrary to popular belief, for most people a beautiful outdoor space doesn't always conjure up visions of endless expanses of thirsty grass. More homeowners desired trees, flowers and functional spaces for entertaining." • Also pollinators?
"An Inside Look at How the Varroa Mite's True Diet Was Discovered" [Entomology Today]. The bottom line: "These discoveries provided the study with the very last line of evidence needed to say conclusively that Varroa are not blood-feeders but rather feed on fat." • This is a neat piece of detective work!
Health Care
"Underwood worries about debt as she considers universal healthcare" [Daily Herald (JB)]. "Underwood answered several health care questions by an audience that seemed largely in favor of universal health care. The problem, Underwood said, is universal health care means something different to almost everyone she speaks to. Some people want Medicare for everyone 55 and older, or 40 and older, or even from birth" • So liberal Democrats leverage the brand confusion they themselves created. More: "Underwood explained she's especially mindful of the costs given the growing federal debt. 'This tax plan put us in the hole read bad,' she said. 'It is unsustainable. This level of deficit spending is one that should make us pause. To be honest, part of the challenge in our ability to do our jobs is finding these pay-fors. My commitment is to put forward policies that don't make the situation worse.'" • Sigh…
Guillotine Watch
"Bill Gates: Being free from worry about financial things is a real blessing" [MarketWatch]. Gates: "Yes. I don't have to think about health costs or college costs. Being free from worry about financial things is a real blessing. Of course you don't need a billion to get to that point. We do need to reduce the cost growth in these areas so they are accessible to everyone." • "Accessible."
Class Warfare
"Listen to Ep. 92: Austerity and Class Agony: Writing the Crisis w/ Adam Rensch in Podcasts" (podcast) [Dead Pundits Society]. • I like this podcast a lot, and here they do cultural criticism: Friends (!) especially. And they really dislike Marie Kondo!
"The 'Hidden Mechanisms' That Help Those Born Rich to Excel in Elite Jobs" (interview) [The Atlantic]. "I think the image that we have—or the ideology, if you want to be political about it—is once you're 18 or so, you make your own way and your class origin is not an important part of how your career goes from there. But what my co-author Sam and I found was, that's not at all true. In the book, we talked about people pursuing acting, which is a very contingent, hard path to pursue. Most people, when they start, aren't making most of their money from acting, and so people who are able to rely on their parents to help them are much more able to pursue acting fully, because they don't have to worry about maintaining a regular, full-time job just to eat and live." • Another Friends subtweet?
News of the Wired
"Different Kinds Of Loneliness – Having Poor Quality Relationships Is Associated With Greater Distress Than Having Too Few" [ResearchGate]. "The first class – which they called "low loneliness" – was characterised by low scores on both types of loneliness, social and emotional. Just over half the participants fell into this category. The second class – "social loneliness" – making up 8.2 per cent of the sample, comprised people low on emotional loneliness, but high on social loneliness. The third class – "emotional loneliness" – made up just over a quarter of the total sample and was characterised by the opposite pattern of high emotional loneliness but low levels of social loneliness. People in the fourth and final "social and emotional loneliness" class, accounting for 12.4 per cent of the sample, scored high for both types of loneliness. The researchers found a clear gradient of psychological distress across the classes. People in the low loneliness class were, predictably, least distressed, followed by people in the "social loneliness" class, then the "emotional loneliness" class, and finally the "social and emotional loneliness" class. In fact, people in both these last two classes had levels of symptoms of depression, anxiety and negative psychological wellbeing that were reflective of a psychiatric disorder." • Another Friends subtweet?
"All You Will Ever Know of This Must Be Read from the Shape and Size of the Bubbles Which Rise Toward the Surface, Shimmering in a Lucent Green Dimension in Which the Course of Your Existence Is Steeped" [BLCKDGRD]. "Do you do this: open a novel somewhere in the (my habit) middle third and read a good page then start from the beginning for that deju vu tingle you read the page before? if no, try!" • No. And why? Don't I have enough excitement in my life already? Readers? (What I have done, often, is think of a passage in a book, and then open the book to that passage. How my memory does that I have no idea. I must really love books!)
"Choose Wisely" [Scalawag]. "Alright, boy, I talked it over with some people and it's been decided that you can invite someone to the cookout this year,' Pops hollered from the bathroom. Splashing water and the light tap of a razor blade bounce down the hallway. I heard him humming S.O.S. Band's 'Take Your Time.' 'DO IT RIGHT!' He hollered at the mirror. • A really fun piece.
* * *
Readers, feel free to contact me at lambert [UNDERSCORE] strether [DOT] corrente [AT] yahoo [DOT] com, with (a) links, and even better (b) sources I should curate regularly, (c) how to send me a check if you are allergic to PayPal, and (d) to find out how to send me images of plants. Vegetables are fine! Fungi are deemed to be honorary plants! If you want your handle to appear as a credit, please place it at the start of your mail in parentheses: (thus). Otherwise, I will anonymize by using your initials. See the previous Water Cooler (with plant) here. Today's plant (Carla):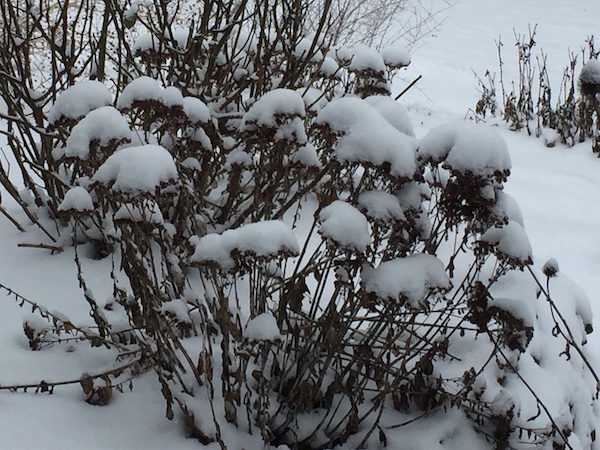 Carla writes: "Sedum on Presidents' Day." Finally, some real snow!
Thank you for all new plants, readers, especially people who sent in photos in for the first time!
* * *
Readers: Water Cooler is a standalone entity not covered by the annual NC fundraiser. So do feel free to make a contribution today or any day. Here is why: Regular positive feedback both makes me feel good and lets me know I'm on the right track with coverage. When I get no donations for five or ten days I get worried. More tangibly, a constant trickle of small donations helps me with expenses, and I factor that trickle in when setting fundraising goals. So if you see something you especially appreciate, do feel free to click below! (The hat is temporarily defunct, so I slapped in some old code.)
Or Subscribe to make a monthly payment!