By Lambert Strether of Corrente.
Trade
USTR to suspend China tariff hike 'until further notice' [Reuters]. "The U.S. Trade Representative's office said on Wednesday it would move to formally suspend a scheduled tariff increase on Chinese goods "until further notice" following President Donald Trump's decision to delay his Friday deadline for a U.S.-China trade deal amid progress in their talks. The statement was issued after U.S. Trade Representative Robert Lighthizer's testimony to the U.S. House Ways and Means Committee, in which he said USTR was following a legal process to implement the delay."
Politics
"But what is government itself, but the greatest of all reflections on human nature?" –James Madison, Federalist 51
"They had one weapon left and both knew it: treachery." –Frank Herbert, Dune
2020
Trump: Christmas music in the stores in July. Nevertheless:

Crystal Ball: A first look at the Electoral College – 248 R, 244 D, 46 Toss-up https://t.co/SjAYkMxwZz pic.twitter.com/k4c3atG0Kj

— Kyle Kondik (@kkondik) February 28, 2019

Trump may not be that strong a candidate. That does not mean his position is weak strategically. (Note that PA is a toss-up. Sanders' backing the Erie strikers — which oddly, or not, he is the only Democrat to do — is not only principled, it's smart politics. So is WI. Perhaps this time, candidates will visit?

Sanders (1): "It's time to complete the revolution we started" [Bernie Sanders, Guardian]. "The only way we will defeat Donald Trump and the special interests that support him is with a grassroots movement – the likes of which has never been seen in American history. We must stand together – women and men, black, white, Latino, Native American, Asian American, gay and straight, young and old, native born and immigrant – to address the challenges we face as a nation." • Something Tad Devine, et al., are completely incapable of delivering. If his new staff can — to the extent a movement can be a deliverable — then we are in for the ride of our lives through 2020.

Sanders (2): "Sanders: 'I fully expect' fair treatment by DNC in 2020 after 'not quite evenhanded' 2016 primary" [The Hill]. "'In 2016, I think I will not shock anybody to suggest that the DNC was not quite evenhanded. I think we have come a long way since then and I fully expect to be treated quite as well as anybody else,' he said during a CNN town hall Monday evening. Sanders gave the answer after an audience member asked whether Sanders believes he can get a 'fair shake' in the Democratic nomination process."

Harris: "Kamala Harris' big question mark" [Politico]. "Harris is a product of California campaigns, where TV ads and name ID are king. So one of the biggest unknowns about Harris is whether she can consistently nail the retail and performance pieces of presidential campaigning — and at the same time exhibit the nimbleness and policy depth to match the very high expectations she's already being held to." • I've commented before that if you watch Harris with the sound down, you'll be reminded of Clinton; others have said the same thing (and that they thought they were the only ones). Clinton, in the post Mark Penn 2008 phase, was actually a good retail politician, stomping through high school auditorium after high school auditorium, but had lost either the skill or the inclination by 2016. Read the next link for the technique Harris is using, which begs for a gotcha video.

"Iowa Will Make or Break Both Amy Klobuchar and Kamala Harris" [The Atlantic]. "Already in two weeks as a candidate, Klobuchar has started wearing creases into some of the lines she keeps using. Harris, meanwhile, has been delivering the same stump speech almost verbatim since hitting the midterm trail (including here in Iowa) in October, telling the same jokes, as if each time an ad lib has just come to her, like when she mocks smooth-talking candidates for sprinkling "lovely dust." Beyond the performance skills as a candidate that Harris is demonstrating as she continues to introduce herself to voters who've never seen her in person before, she notably does not vary the speech much, no matter who's in the crowd." • A reminder, however, that even a movement must win at the precinct level and at the state level. Filling stadiums is good, but not enough.
Health Care
"The Biggest Obstacle to Medicare for All Is Other Democrats" [Splinter News]. "the outlook of her fellow Democrats on single-payer is more proof that on top of batting the healthcare industry and the full force of the Republican Party on Medicare for All, lefty Democrats are going to have to fight colleagues in their own party tooth and nail in order to get a healthcare system that works for everyone." • Yep. As I showed with my worksheets over the summer. The DCCC didn't make being against #MedicareForAll a litmus test, but they certainly didn't encourage it, and at the very best, the center of gravity of the party did not shift toward it. (Note that apparently the idiots who think "we should do something that will pass" — a minor pharma reform, say — clearly can't walk and chew gum at the same time. Do both!)
2016 Post Mortem
Repurposing the video, which summarizes the 2016 campaign in visual form:

Into the Inferno is a 2016 documentary film directed by Werner Herzog. In it, Herzog explores active volcanoes from around the world, following volcanologist and co-director Clive Oppenheimer https://t.co/0o3CbZN8jz pic.twitter.com/cQUD65fRcS

— Massimo (@Rainmaker1973) February 27, 2019
Realignment and Legitimacy
"Democrats didn't get what they wanted out of Michael Cohen. Neither did Republicans." [The Week]. "While these and other august matters of state were discussed on Capitol Hill two nuclear powers in South Asia went to the brink of war and the president met with the dictator of another in a country we fought our second longest war with." • And let's not forget Venezuela!

"Michael Cohen Worries There Won't Be 'Peaceful Transition Of Power' If Trump Loses In 2020" [Yahoo News]. "'Given my experience working for Mr. Trump, I fear that if he loses the election in 2020, that there will never be a peaceful transition of power,' Cohen told the House oversight committee at the end of his hourslong testimony." • That strikes me as red meat for Cohen's new masters (long-time Clintonite fixer, Lanny Davis, let us remember, is Cohen's lawyer). David Brock did much the same thing when he changed his jersey from red to blue. And just as Brock was still Brock, so Cohen will still be Cohen. (For example, I think Cohen's tears at the close of the session were a bit over the top.)

"The Left's Latest Demand: Race-Based Reparations" [The American Conservative]. "The questions that instantly arise are: who would qualify as a beneficiary of reparations? And who would pay the immense transfer sums involved?" • They do, as do other questions. Nevertheless, remember Lincoln's words:

Fondly do we hope, fervently do we pray, that this mighty scourge of war may speedily pass away. Yet, if God wills that it continue until , as was said three thousand years ago, so still it must be said "the judgments of the Lord are true and righteous altogether."

"Sunk" in the sense of a debt paid off. Is it? Of course, debts that can't be paid, won't be. So there's that.
The Biosphere
"The Economic Case For The Green New Deal" [Forbes]. "Carbon pricing definitely has a role to play, but market approaches have limits. Markets are effective at allocating resources when the required adjustments are small and the outcomes clear and immediate. Yet, there's a reason that during World War II, the government built aircraft factories and allocated scarce materials like steel and rubber through the War Production Board. Closer to home, there's a reason that large businesses have professional managers to plan their operations, and don't rely on internal markets. The limits of leaving large-scale planning to markets should be even clearer today, especially after the experience of the housing bubble and crash, which demonstrated a colossal failure of financial markets to direct investment to productive uses. We shouldn't count on the same financial system that so mismanaged the housing market to guide the shift away from fossil fuels on its own." • I dunno. Crashing the human population might be a pretty good solution to our fossil fuels problems. And the pilot projects are going pretty well.
"Climate change means more floods, great and localized" [Waxahachietx Daily Light]. "One thing that local governments must do is use forecast tools that predict several different scenarios based on possible temperature rise, rather than relying on flood maps of the past, when severe inundations were rare, said Larry Larson, a former director and senior policy adviser for the Association of State Floodplain Managers. They also should be prepared to alter landscapes, divert runoff, and to buy up houses and other private properties that frequently end up under water, and to elevate those buildings if necessary, Larson said. 'These owners won't sell after the first flood; they think they have another 99 years to go,' he said. 'But they will sell after the second flood.'" • We're not at the point where they can't' sell before the first flood, I guess…
"Sub-Acute Effects of Psilocybin on Empathy, Creative Thinking, and Subjective Well-Being" [Journal of Psychoactive Drugs]. "Participants attending a psilocybin retreat completed tests of creative (convergent and divergent) thinking and empathy, and the satisfaction with life scale on three occasions: before ingesting psilocybin (N = 55), the morning after (N = 50), and seven days after (N = 22). Results indicated that psilocybin enhanced divergent thinking and emotional empathy the morning after use. Enhancements in convergent thinking, valence-specific emotional empathy, and well-being persisted seven days after use. Sub-acute changes in empathy correlated with changes in well-being. The study demonstrates that a single administration of psilocybin in a social setting may be associated with sub-acute enhancement of creative thinking, empathy, and subjective well-being. Future research should test whether these effects contribute to the therapeutic effects in clinical populations." • Volunteers, please!
"How DNA from snow helps scientists track elusive animals" [National Geographic]. "Scientists have now begun using a new technique to track these animals down, by detecting trace amounts of DNA left in the snowy tracks of these and other creatures…. [S]cientists from the U. S. Forest Service were able to confirm the presence of a lynx in the Northern Rockies through genetic analysis of snow it had stepped in. Experts say this non-invasive approach will improve the accuracy of wildlife surveys in snowy environments and help conservationists identify and preserve critical habitat for lynx and other snow-dwelling species."
MMT
Krugman needs to stay in his lane (which heads toward the exit). Thread:
1. Thread. A few thoughts on @paulkrugman's rejoinder to @StephanieKelton's rejoinder on MMT, regarding the natural rate of interest and the causal mechanisms behind interest rates. https://t.co/wd95OeNaaj

— Jeff Spross (@jeffspross) February 26, 2019
"Pavlina Tcherneva on MMT, Feminism, Intersectionality & Momentum" (podcast) [Macro n Cheese]. • Interesting combination of topics…
Guillotine Watch
"Sackler Embraced Plan to Conceal OxyContin's Strength From Doctors, Sealed Testimony Shows" [Pro Publica]. "Sackler had an email conversation with another company official, Michael Cullen, according to the deposition.' Since oxycodone is perceived as being a weaker opioid than morphine, it has resulted in OxyContin being used much earlier for non-cancer pain,' Cullen wrote to Sackler. "Physicians are positioning this product where Percocet, hydrocodone and Tylenol with codeine have been traditionally used." Cullen then added, "It is important that we be careful not to change the perception of physicians toward oxycodone when developing promotional pieces, symposia, review articles, studies, et cetera.' 'I think that you have this issue well in hand," Sackler responded." • Harvard's Sackler Museum should not merely remove the Sackler name; it should put up a plaque excoriating the Sacklers as murderers, and explaining that Harvard doesn't want their blood money.
"To Honor Gift, Public Library Will Add Donor's Name a 6th Time" [New York Times]. "Some of them are the five spots on the landmark building's floor and stone exterior where Mr. Schwarzman's name is inscribed, courtesy of his $100 million gift to the library system in 2008…. Now the library plans to carve his name onto the Stephen A. Schwarzman Building for a sixth time. 'It is silly and it is too much signage for a single benefactor,' said Layla Law-Gisiko, the chairwoman of the landmarks committee for the local community board, which was informed of the planned changes to the library building. Having the name so many times is crass.' … Mr. Schwarzman, the co-founder and chief executive of the Blackstone Group, a private equity firm, declined to comment.'" • Why stop at six?
Class Warfare
"Networked but Commodified: The (Dis)Embeddedness of Digital Labour in the Gig Economy" [Alex J Wood, Mark Graham, Vili Lehdonvirta Sociology]. "We use interview and survey data to highlight how platform workers in Southeast Asia and Sub-Saharan Africa are normatively disembedded from social protections through a process of commodification. Normative disembeddedness leaves workers exposed to the vagaries of the external labour market due to an absence of labour regulations and rights. It also endangers social reproduction by limiting access to healthcare and requiring workers to engage in significant unpaid 'work-for-labour'. However, we show that these workers are also simultaneously embedded within interpersonal networks of trust, which enable the work to be completed despite the low-trust nature of the gig economy."
"The biggest winners of a minimum wage hike might not be who you think" [MarketWatch]. "A mere 9% of the 39.7 million workers who would directly and indirectly benefit from the raise were 19 and younger. More than half of workers, 53%, who would benefit were between the ages of 25 and 54. Workers aged 55 and above accounted for the remaining 14.6% of estimated beneficiaries." • Walmart says "Hi!" to the 55+
"Stark black-white divide in wages is widening further" [Economic Policy Institute]. "Overall, the [EPI's new State of Working America (SWA) Wages] findings indicate wages are slowly improving with the growing economy, but wage inequality has grown and wage gaps have persisted, and in some cases, worsened. In this post, I will highlight one particular worsening wage gap and look at it from multiple dimensions. Since 2000, by any way it's measured, the wage gap between black and white workers has grown significantly. The findings here support the important research by Valerie Wilson and William M. Rodgers III, which shows that black-white wage gaps expanded with rising wage inequality from 1979 to 2015. Where their report is incredibly comprehensive, the trends outlined here are rudimentary, but reinforce the same basic truths." • Like a difference engine…
News of the Wired
"How I'm still not using GUIs in 2019: A guide to the terminal" [Lucas F. Costa]. "TL;DR: Here are my dotfiles. Use them and have fun. GUIs are bloatware. I've said it before. However, rather than just complaining about IDEs I'd like to provide an understandable guide to a much better alternative: the terminal." • One thing: The terminal is far more Jackpot-ready than GUIs. Portable skills, and less bloat means less powerful hardware is fine. VIM, though. I dunno….
"About Face" [Popula (JB)]. "This is about surface and style normalizing the language of force." A comic book (very good), so hard to quote from. Here's a panel: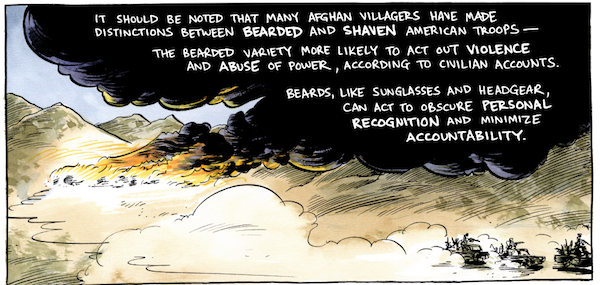 * * *
Readers, feel free to contact me at lambert [UNDERSCORE] strether [DOT] corrente [AT] yahoo [DOT] com, with (a) links, and even better (b) sources I should curate regularly, (c) how to send me a check if you are allergic to PayPal, and (d) to find out how to send me images of plants. Vegetables are fine! Fungi are deemed to be honorary plants! If you want your handle to appear as a credit, please place it at the start of your mail in parentheses: (thus). Otherwise, I will anonymize by using your initials. See the previous Water Cooler (with plant) here. Today's plant (PS):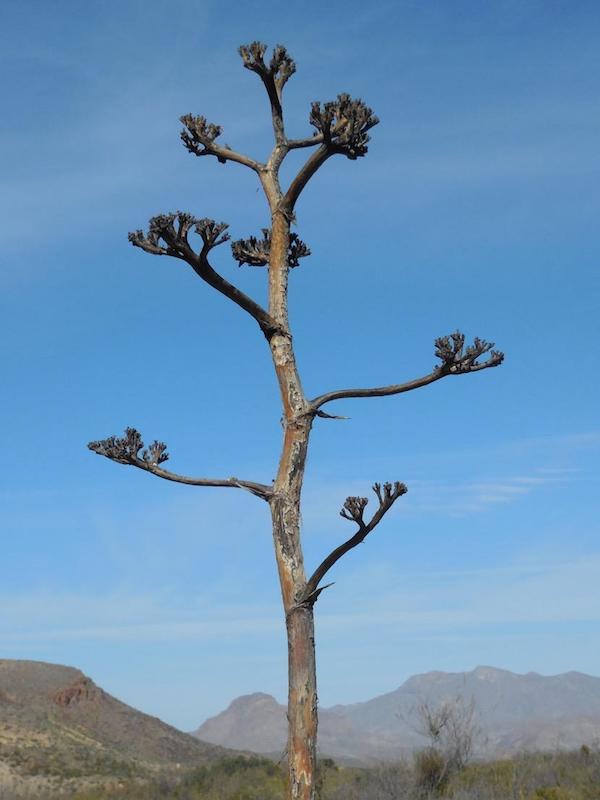 PS writes: "You asked for winter scenes; well, this is one although it might not look it!"
Thank you for all new plants, readers, especially people who sent in photos in for the first time!
* * *
Readers: Water Cooler is a standalone entity not covered by the annual NC fundraiser. So do feel free to make a contribution today or any day. Here is why: Regular positive feedback both makes me feel good and lets me know I'm on the right track with coverage. When I get no donations for five or ten days I get worried. More tangibly, a constant trickle of small donations helps me with expenses, and I factor that trickle in when setting fundraising goals. So if you see something you especially appreciate, do feel free to click below! (The hat is temporarily defunct, so I slapped in some old code.)
Or Subscribe to make a monthly payment!