By Lambert Strether of Corrente.
Readers, I had a very weird contretemps that caused my schedule to collapse. However, there's so much going on that I feel I can't simply punt to next Monday. So please talk amongst yourselves for now, and think of today as a 4:00 Water Cooler! –lambert UPDATE All done, a little slower than I hoped!
Trade
"China's Xi Signals Approval for Trump's Trade War Demands" [Bloomberg]. "Chinese President Xi Jinping addressed some 40 world leaders at the Belt and Road forum in Beijing, but his speech may have been aimed at a head of state not in the audience: U.S. President Donald Trump. Xi spent a large portion of his speech Friday addressing Chinese domestic reforms, pledging to address state subsidies, protect intellectual property rights, allow foreign investment in more sectors and avoid competitive devaluation of the yuan. All four are issues the U.S. is addressing in trade talks with Beijing. 'We will establish a binding enforcement system for international agreements,' Xi said, adding that China will standardize all levels of government in terms of issuing administrative licenses and market regulation, and also 'eliminate improper rules, subsidies and practices that impede fair competition and distort the market."
"Trump-Abe Talks at White House to Focus on Trade, Economic Ties" [Bloomberg]. "Meetings between the two leaders will include top trade and economic officials from both countries, according to a senior U.S. official who requested anonymity to discuss the talks. The U.S. is pushing to reduce its trade deficit with Japan and gain better access to the Asian nation's agricultural market. Japan is looking for a concrete promise that it won't be hit by possible U.S. tariffs on auto imports, after successfully winning an exemption to taxes imposed by the Trump administration last year on steel and aluminum."
Politics
"But what is government itself, but the greatest of all reflections on human nature?" –James Madison, Federalist 51
"They had one weapon left and both knew it: treachery." –Frank Herbert, Dune
2020
Biden (D)(1): "Joe Biden Raises $6.3 Million, Topping Rivals' First-Day Hauls" [New York Times]. "All told, Mr. Biden's campaign said 96,926 people had contributed in the first day, and that 65,000 of the donations were from people who were not previously on his email list of supporters. The campaign said that 97 percent of online donations were below $200, but it did not disclose the share of overall contributions that were below that threshold." • I would like to know how many of those 65,000 donations were "debundled."

Biden (D) (2): "The good, the bad and the Biden on former VP's first day on the trail" [CNN]. "But barely seven hours in, there came a reminder of some of Biden's most glaring vulnerabilities, with a flare-up of the 1990s drama surrounding Anita Hill that reverberated with racial and gender overtones." Biden calls Anita Hill to share his 'regret for what she endured and his admiration for everything she has done to change the culture around sexual harassment in this country.'" Hill responds: ""I cannot be satisfied by simply saying I'm sorry for what happened to you. I will be satisfied when I know there is real change and real accountability and real purpose." • Ouch. f Biden runs true to form, the first day of his campaign will also be the best day. So it's downhill all the way from here….

Biden (D)(3): "How Biden Plans to Steamroll the 2020 Democratic Field" [New York Magazine]. "But Biden's calls [to everyone he knows] are also part of a real, traditional show-of-force strategy to demonstrate, from his first week in the race, that he is in a category of his own — a pol to be reckoned with this time, complete with more institutional support in the form of endorsements, surrogates, and defenders than all the other candidates combined. "I think you will see a lot of key elected endorsements come out of the chute," said James Smith, the Biden friend and former South Carolina legislator who ran for governor unsuccessfully in 2018. Biden is wagering that in an age of digital fundraising, insurgent politics, and Trump's Twitter wars, this kind of thing still matters, especially when he's likely to be target No. 1 for the rest of the field. Yet in the Biden team's eyes, it's only natural: Their guy is in a unique position to approach even the top potential endorsers who are unlikely to weigh in for anyone else and say, "We've known each other forever, and I'm your best bet."

Biden (D)(4): "Biden Would be Arguably the Most Experienced New President Ever" [Larry Sabato's Crystal Ball]. The conclusion: "Biden effectively will be campaigning as a George H.W. Bush-style 'President We Won't Have to Train.' That may be the perfect message for the moment, and he may be the perfect man to deliver it. But there is also the danger that Biden is something else: "The Candidate Who Cannot Be Trained." If that is the case, all of his experience may have been for naught in this campaign." • If he becomes President, Biden will have 44 years in major elected office, eclipsing Martin van Buren, who had 31.

Buttigieg (D)(1): "A Rough Transcript of Every Interview With Pete Buttigieg" [McSweeney's Internet Tendency]. "If this piece were any fluffier, it'd have a thread count." • Every word a gem!

Buttigieg (D)(2): "O'Rourke avoids TV spotlight for small gatherings in risky 2020 gamble" [The Hill]. Yes, a Buttigieg nugget: "'He, in large part, has risen in prominence because he says yes to every single interview,' said Nate Lerner, who previously ran Draft Beto, a group that sought to recruit O'Rourke into the presidential race. 'He's relentless, going on TV, going on every single podcast.' That strategy appears to have fueled a recent rise in the polls for Buttigieg."

Buttigieg (D)(2): Don't rush into these things:

NEWS: His campaign tells me that @PeteButtigieg is returning to South Carolina next month for several events, with a focus on outreach to the state's African American community. pic.twitter.com/sk3Q5cjrUx

— Meg Kinnard (@MegKinnardAP) April 26, 2019

Or perhaps Mayo Pete is respecting somebody else's turf?

Sanders (D)(1): "Bernie Sanders plans big organizing weekend with house parties set for Vermont" [Burlington Free Press]. "Bernie Sanders is set to launch a major organizing drive on Saturday with more than 4,500 house parties in 50 states and 18 foreign countries." • Impressive. Here's a map.

Sanders (D)(2): "Bernie Sanders trolls Donald Trump's visit to Wisconsin" [Green Bay Press Gazette]. ""Donald Trump Lied To Wisconsin Workers," a front-page ad to run in Friday's Green Bay Press-Gazette and paid for by Sanders' campaign alleges. 'In a Bernie Sanders White House, we will end the corporate greed behind the Shopko closures, Kimberly-Clark layoffs and Foxconn scam.' The ad will run a day before Trump makes his first visit to Wisconsin as part of a re-election bid. The president won the state in the general election in 2016 — the first time Wisconsin voters picked a Republican candidate for president in three decades. Sanders, who won the state in its Democratic primary election, is seeking the matchup that could have been." • Wait, what? Somebody's visiting Wisconsin?

Sanders (D)(3):

I've been criticized for saying this, so let me say it again: Every American citizen should have the right to vote, even if they are in jail. pic.twitter.com/xyTA5wyYzU

— Bernie Sanders (@BernieSanders) April 25, 2019

And:

Please try to explain why prisoners should be counted as voters for purposes of drawing gerrymandered election districts, but those same prisoners should not then be allowed to vote in elections in those districts. I'll wait. https://t.co/8E1jQF8bXq

— David Sirota (@davidsirota) April 26, 2019

This issue does sharpen the contradictions, doesn't it?

Trump (R)(1): "At 72, Trump says he's 'a young vibrant man,' can beat Biden" [Associated Press]. "A reporter asked Trump at the White House on Friday how old is too old to be president of the United States. Trump said: 'I just feel like a young man. I'm so young. I can't believe it. … I'm a young vibrant man.'" • Vibrant?

Warren (D)(1): "Elizabeth Warren comes out swinging against Joe Biden — and makes clear the Democratic primary will be fierce" [Alternet]. "Warren is still highly critical of Biden for promoting a bill she believed favored large credit card companies over Americans who were struggling financially—and she reiterated her criticisms on Thursday, telling the reporter she 'got in that fight because' Americans who were hurting financially 'just didn't have anyone, and Joe Biden was on the side of the credit card companies. It's all a matter of public record.'" • Ouch!

Yang (D)(1):

— leon (@leyawn) April 25, 2019

The commentariat persuaded me that shipping container homes are a bad idea, superficially neat though they are.

"Renters Are Mad. Presidential Candidates Have Noticed." [New York Times]. "Renters hold little sway in Washington. They vote at lower rates than homeowners. They're generally represented in Congress by homeowners. They have no deep-pocketed lobbyists. And their problems, if anyone considers them at all, are typically waved off as problems for local government… Elizabeth Warren, Cory Booker and Kamala Harris, senators from some of the most expensive housing markets in the country, have proposed substantial bills to alleviate the housing crisis. They're not talking in gauzy terms about homeownership, the rare housing topic that usually gets a nod. They see unsustainable, raw-deal, skyrocketing rents, and they're not hesitant to sermonize about it." • If you call Harris's tax credits, so beloved by liberal Democrats, "substantial."
Realignment and Legitimacy
"Lipinski challenger squeezed by DCCC vendor policy" [Politico]. "[Challenger Marie] Newman told Campaign Pro's Laura Barrón-López that a consultant dropped her campaign as recently as Wednesday due to DCCC chair Cheri Bustos' (Ill.) new enforcement of what was considered a long-unwritten rule. 'I've had four consultants leave the campaign,' Newman said. 'We've now had two mail firms say that they couldn't work with us because of the DCCC issue, and then a [communications] group, a compliance group and several pollsters.' Consultants who planned to work with Newman said that the DCCC delivered the warning in the nicest terms possible — but that it was a very clear threat to their ability to do business with the DCCC." • "In the nicest terms possible…" That's our Democrats!
Stats Watch
GDP, Q1(a) 2019: "The consumer isn't on fire but still contributed to a very solid growth rate" [Econoday]. "A clearer look on underlying domestic demand comes from final sales to domestic purchases… Lack of consumer punch is a bit of a puzzle at least based on the strength of the labor market. Price readings in today's report are very subdued… The pace of the nation's economy isn't as strong today's headline suggests with questions over the consumer, first raised by the plunge in December retail sales, still persisting."
Consumer Sentiment, April 2019 (final): "Expectations improved in the last half of April while current conditions eased" [Econoday]. "April's month-end slowing in current conditions is not a favorable signal for either the month's retail sales nor perhaps for next week's employment report. Inflation expectations are mixed"
The Bezzle: "NY Attorney General sues Bitfinex and Tether to unearth 'fraud being carried out' by the firms" [The Block]. "The New York State Attorney General (NYSAG) is suing Bitfinex, the cryptocurrency exchange, and affiliated firm Tether, the company behind the stablecoin of the same name…. Details from the suit paint a picture of Bitfinex and Tether engaging in 'undisclosed, conflicted transactions to cover Bitfinex's losses by transferring money out of tether reserve funds.' According to the Attorney General's office (OAG) at least $700 million was drained from Tether's reserves."
The Bezzle: "A new lawsuit accuses the "Big Four" beef packers of conspiring to fix cattle prices" [New Food Economy]. "To understand the argument made in the epic, 121-page complaint filed on Tuesday in the U.S. District Court for the Northern District of Illinois, it helps to recognize one thing: Meatpacking companies live or die by the "meat margin," or the difference between the cost of live animals and the price they charge for packaged meat. In theory, when supply goes up, retail prices should go down. At least that's what we learned in Economics 101. But the Big Four meatpackers, who together slaughter more than 80 percent of feedlot cattle in the U.S., wield enormous power over the industry. This suit alleges that, shortly after prices reached record highs in early 2015, and through the present day, these companies used a broad range of coordinated methods to artificially suppress supply while continuing to enjoy the financial benefits of strong demand." • There are many examples of these "methods" in the article.
The Bezzle: "Uber Aims for $84 Billion Valuation in Year's Largest IPO" [Bloomberg]. "The No. 1 ride-hailing company plans to offer 180 million shares at $44 to $50 each, according to a regulatory filing Friday. The filing puts Uber on track to make its trading debut in May on the New York Stock Exchange in what is expected to be the year's biggest U.S. IPO. At the top of the range the listing would value Uber at almost $84 billion, based on the number of shares outstanding after the offering, as detailed in the filing. On a fully diluted basis, including the addition of stock options, restricted shares or other stakes not included in the outstanding total, the valuation could top $91.5 billion PayPal Holdings Inc. has agreed to buy $500 million of Uber's stock at the IPO price in a private placement. The investment is part of a deal to extend the payment company's partnership with Uber. The two companies plan to work together to develop a digital wallet for Uber, a spokesman for PayPal said." • I hope all the investors lose a very great deal of money. Because—
The Bezzle: "Uber's Plan to Lose Money on Each Transaction and Make It Up in Volume, Annotated" [New York Magazine]. "Money-losing start-ups whose business model is to sell services below cost constitute a mass transfer from venture-capital investors to consumers." • But maybe the VCs have ideological goals, like destroying public transportation or increasing traffic congestion…
The Bezzle: "Uber is heading into its IPO with engine trouble" [Quartz]. "According to an amended S-1 filing published today, growth in Uber's gross bookings and revenue both slowed down in the first quarter of this year. The company also recorded a $1 billion loss in the quarter, though losing money is nothing new for Uber. The top-line weakness may be more worrying, with first-quarter gross bookings—what customers spend on Uber rides, Uber Eats orders, and other Uber services—growing by 33% year over year, down from nearly 60% in the same quarter last year."
The Biosphere
"Internet of Things: Energy boon or bane?" [Nature]. "By 2020, there may be as many as 30 billion objects connected to the internet, all of which require energy. These devices may yield direct energy savings (3, 4), but it is much less clear what their net effect on the broader energy system will be….. IoT technologies promise to deliver energy savings by helping us to use our resources more efficiently, but it is unclear whether these savings outweigh indirect increases in ICT use, the production footprint of IoT devices, and rebound effects. Research about the effects of specific devices or interventions is available, but existing data on behavior and likely adoption scenarios are insufficient to understand the large-scale energy implications of the IoT." • The IoT is hardly Jackpot-ready in any case.
"Slowdown in Antarctic mass loss from solid Earth and sea-level feedbacks" [Science]. "Here, we present a new global simulation of Antarctic evolution at high spatiotemporal resolution that captures all solid Earth processes impacting ice sheets and show a projected negative feedback in grounding line migration of 38% for Thwaites Glacier 350 years in the future, or 26.8% reduction in corresponding sea-level contribution." • It's a complex world…
"EPA Decides Not to Regulate Fracking Wastewater as Pennsylvania Study Reveals Recent Spike" [DeSmog], This is well worth a read because it's all horrible. One nugget: "In 2017, 41 percent of the wastewater that drillers told Pennsylvania they produced wasn't tracked all the way through to disposal, researchers said." • Just think! Because of fracking, we can muscle oil-producing Iran and Venezuela — even though the fracking industry as a whole has never turned a profit!
"Five Steps to Making Your Garden a Carbon Sink" [JSTOR]. "Gardens can be very efficient carbon sinks–environments that absorb carbon dioxide from the atmosphere and store it in soils and plants…. The key to locking up carbon is soil—and there are several steps to making that soil store carbon… But if 81 million U.S. households that nurture small pieces of land adopt these practices, they can turn their properties into efficient carbon sinks. And they will also make their soils more nutrient-rich and reduce heat-trapping emissions from pesticides, fertilizers, and waste." • And "reconsider lawns"!
The 420
"The Weed Industry Is Burning Millions on DC Lobbyists and Getting Nowhere" [Vice]. "In recent years, a growing number of recently formed cannabis trade groups have enlisted the services of former staffers for top Republicans and Democrats, now working at some of K Street's most prominent lobbying firms, disclosure forms show. Cannabis lobbying groups are spending up to $60,000 a month apiece trying to win friends and persuade recalcitrant lawmakers to see their point of view. The results, however, have been pretty paltry: Cannabis is still illegal nationwide, businesses still can't bank or deduct expenses on their taxes like other merchants, and legitimate interstate cannabis commerce remains a distant dream. With few exceptions, bipartisan bills that would de-schedule the drug or give businesses tax relief are still withering in committee without hearings, let alone votes." • Hmm. Either money isn't enough, or the weed industry isn't offering enough money. To outbid Big Pharma, say.
"The CBD Industrial Complex" [East Bay Express]. "Times are weird for CBD, the increasingly popular, non-psychoactive component of the cannabis plant, which can be used to relieve pain, anxiety, seizures, and, perhaps, other ailments. Just a few years ago, most people hadn't even heard of it, but now, even though it's still of uncertain legality both nationally and in California, outlets like CVS and Walgreen's are gearing up to sell it, and producers are piling into the market…. Research on CBD is finally beginning to pile up, but there are still far more unknowns than knowns…. [T]here are strong indications that CBD can relieve problems like chronic pain, anxiety, nausea, lack of appetite, and insomnia. For other ailments, there is much less solid research."
Class Warfare
"Amazon's warehouse-worker tracking system can automatically fire people without a human supervisor's involvement" [Business Insider]. "Amazon's system tracks a metric called 'time off task,' meaning how much time workers pause or take breaks, The Verge reported. It has been previously reported that some workers feel so pressured that they don't take bathroom breaks…. If the system determines the employee is failing to meet production targets, it can automatically issue warnings and terminate them without a supervisor's intervention."
"I Work With Suicidal Farmers. It's Becoming Too Much to Bear." [The New Republic (GF)]. "But farmers have been calling me more and more recently because of low farm prices, the prolonged recession in agriculture, and more recently, because of the flooding that is occurring in major river systems in the Midwest. The number of calls has really increased since the beginning of March, when the flooding began. I think the behavioral health of farm people can be viewed as the canary of their economic well-being, because it's affected by agricultural prices that farmers can't control. Besides weather, the entities that control farm prices largely have to do with business interests that lobby heavily at the state and federal levels. If the behavioral health state of farmers is poor, you can bet those lobbies are winning."
"Nessel creates enforcement unit to crack down on payroll fraud" [Detroit News]. "Attorney General Dana Nessel launched a new unit Monday to tackle payroll fraud at Michigan businesses, a crime she said 'is committed with greater frequency than perhaps any other crime in Michigan.' It was a plan treated warily by at least one business group that noted the increasing complexity of payroll laws across the country. The unit will focus primarily on the misclassification of employees as self-employed independent contractors so an employer is able to avoid paying overtime, health benefits or worker's compensation, Nessel said in a Monday press conference. More common in construction, landscape and janitorial jobs, the practice bilks employees, undercuts legitimate businesses and deprives the state of millions of dollars in tax revenue, Nessel said." • "Increasing complexity." Of course!
News of the Wired
"Rein in the four horsemen of irreproducibility" [Nature]. "I think that, in two decades, we will look back on the past 60 years — particularly in biomedical science — and marvel at how much time and money has been wasted on flawed research." • I'm so old I remember when the Journal of Irreproducible Results was a niche humor magazine.
"Ethereum for humans" [Interfluidity]. "sbt-ethereum, this software I've been working on, is designed to encourage very bare-bones Ethereum projects. Someone, by definition a coder, has to write the 'smart contracts' — the Ethereum programs that coordinate interaction and value. But once such a smart contract exists, sbt-ethereum 'repositories' should be usable, and potentially modifiable and customizable, by a much broader range of technically comfortable users…. sbt-ethereum is not intended for the mythical mass end-user. It is intended for the people who invented the personal computer, and then invented the modern internet, and then disappeared. It is intended for hobbyists. And also for researchers." • Interfluidity is an interesting blog, so this project might be fun and even useful. As readers know, I'm allergic to the word "smart," and software contracts are contracts only notional (where is the meeting of the minds?) Nevertheless, there is a legitimate thing called programming by contract. Maybe if I have some free time….
Russia invented food delivery:
"Use food delivery services! Place an order – we will come and save you labor and time. Order in person or over the phone." Leningrad, USSR, 1937 pic.twitter.com/ARM99c2rxU

— Soviet Visuals (@sovietvisuals) April 26, 2019
Art History majors take note:
Art somehow makes a lot more sense now. pic.twitter.com/YXMoLc9gl2

— Street Art Magic (@streetartmagic) April 26, 2019
* * *
Readers, feel free to contact me at lambert [UNDERSCORE] strether [DOT] corrente [AT] yahoo [DOT] com, with (a) links, and even better (b) sources I should curate regularly, (c) how to send me a check if you are allergic to PayPal, and (d) to find out how to send me images of plants. Vegetables are fine! Fungi are deemed to be honorary plants! If you want your handle to appear as a credit, please place it at the start of your mail in parentheses: (thus). Otherwise, I will anonymize by using your initials. See the previous Water Cooler (with plant) here. Today's plant (SM):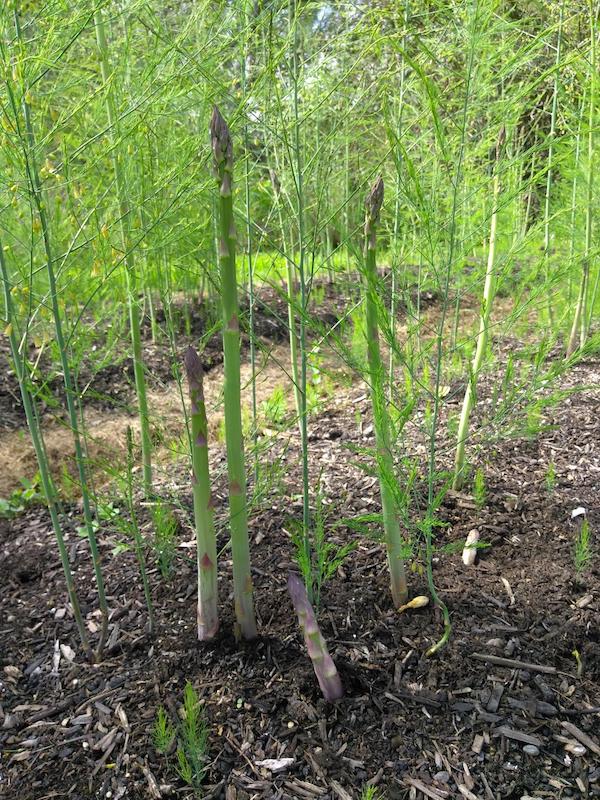 SM writes: "I took this photo of asparagus in a back yard in Napa yesterday." Yum!
* * *
Readers: Water Cooler is a standalone entity not covered by the annual NC fundraiser. So do feel free to make a contribution today or any day. Here is why: Regular positive feedback both makes me feel good and lets me know I'm on the right track with coverage. When I get no donations for five or ten days I get worried. More tangibly, a constant trickle of small donations helps me with expenses, and I factor in that trickle when setting fundraising goals. So if you see something you especially appreciate, do feel free to click this donate button:
Here is the screen that will appear, which I have helpfully annotated.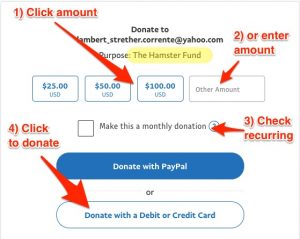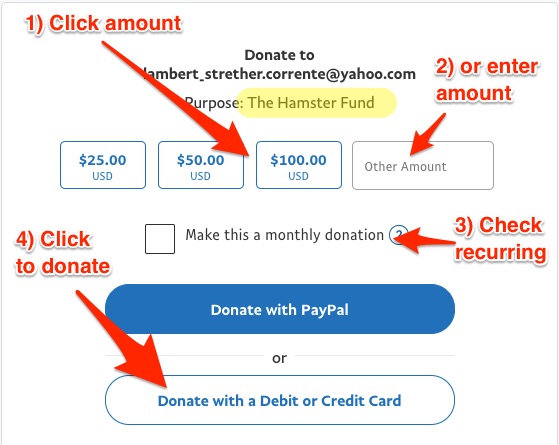 If you hate PayPal, you can email me at lambert [UNDERSCORE] strether [DOT] corrente [AT] yahoo [DOT] com, and I will give you directions on how to send a check. Thank you!