By Jerri-Lynn Scofield, who has worked as a securities lawyer and a derivatives trader. She is currently writing a book about textile artisans.
'Biodegradable ' plastic bags were still intact and capable of carrying shopping three years after being exposed to the natural environment, according to a study published this week by scientists at the UK's International Marine Litter Research Unit, School of Biological and Marine Sciences, University of Plymouth.
I usually rely on words more than pictures in my NC writings. Here, a picture really is worth a thousand words.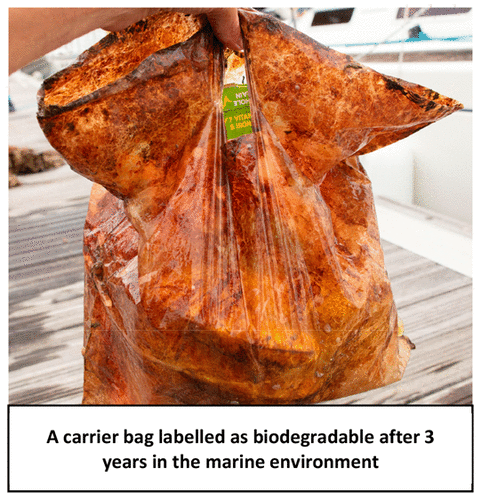 Source: Imogen E. Napper and Richard C. Thompson, "Environmental Deterioration of Biodegradable, Oxo-biodegradable, Compostable, and Conventional Plastic Carrier Bags in the Sea, Soil, and Open-Air Over a 3-Year Period," Environmental Science & Technology; link here.
The bag looks disgusting, but it is more or less intact.
What Does This Mean?
It means there's no technofix alternative if we wish to reduce or eliminate plastic waste in the marine environment to stopping most use of plastic now. Period.
Just as the recycling fairy won't rescue us – a notion I have previously debunked at length here. Many were shocked to find  the recycling they carefully sorted was not in fact, being recycled close to home – if it was being recycled anywhere. Instead, it was shipped to China and other destinations – where it was, shall we say, imperfectly processed. China then decided to forgo being the destination of choice for such waste and in 2017, stopped accepting most plastics imports for recycling.
What happened next? The US and other places shifted to shipping their plastic waste to Southeast Asia, as I discussed here. Many US cities and states eliminated or curtailed their recycling programs .And more recently, other countries have followed China's lead, including last month, India, as I discussed here, and stopped accepting plastic waste imports, thus exacerbating the global recycling crisis further.
Well, guess what folks: neither is the technofix fairy riding to the rescue anytime soon. This latest paper "examined biodegradable, oxo-biodegradable, compostable, and high-density polyethylene (i.e., a conventional plastic carrier bag) materials over a 3 year period." To be sure, the study did reveal some differences in the relative rates of disintegration, depending on whether different bags were buried, dumped in the sea, or simply exposed to air.
But the money quote (from the abstract):
Collectively, our results showed that none of the bags could be relied upon to show any substantial deterioration over a 3 year period in all of the environments. It is therefore not clear that the oxo-biodegradable or biodegradable formulations provide sufficiently advanced rates of deterioration to be advantageous in the context of reducing marine litter, compared to conventional bags.
The Guardian quotes Imogen Napper, leader of the study:
 "After three years, I was really amazed that any of the bags could still hold a load of shopping. For biodegradable bags to be able to do that was the most surprising. When you see something labelled in that way, I think you automatically assume it will degrade more quickly than conventional bags. But, after three years at least, our research shows that might not be the case."
I should mention that this account from Dazeen talks to makers of some bioplastics, who claim that their products do work if recycled at the proper facilities.
And Vice reports on this issue further:
According to Brandon Gilroyed, an associate professor at the University of Guelph's School of Environmental Sciences, the bar for being able to use these designations is pretty low. A product can be marketed as "biodegradable" as long as it breaks down over some unspecified period of time. "Compostable" means that under perfectly engineered industrial composting conditions, where products are subjected to several days of high heat, materials will break down.

"There's a disconnect between the definition that manufacturers have to meet to [label] that product, how it's marketed, and what the consumer expects from that product based on how those terms are used in pop culture," he told VICE.

Gilroyed says there's a level of public education that's missing; most consumers don't know that these products break down under very narrow circumstances.

He says the danger is that these labels can encourage people to be complacent, while making them feel like they're doing something good for the environment. "People think it's OK just to throw it away, because it's biodegradable, and they don't feel bad about it."
Yet consumers think they're doing the right thing by opting for such bags instead of the ordinary alternative. Most of them aren't going to peruse this study to determine exactly what type of bag they have, and how to dispose of it optimally. So I ask then: why place such faith in the use of such materials as solutions to the single-use plastic bag problem?
UK Consumers Say They Disdain Plastic Packaging
As I've discussed here, 62% of UK consumers say they're concerned about reducing plastic packaging and increasing use of recyclable materials. Over to The Guardian again:
About half of plastics are discarded after a single use and considerable quantities end up as litter.

Despite the introduction of charges for plastic bags in the UK, supermarkets are still producing billions each year. A survey of the top 10 supermarkets by Greenpeace revealed they were producing 1.1bn single-use plastic bags, 1.2bn plastic produce bags for fruit and vegetables and 958m reusable "bags for life" a year.

The Plymouth study says that in 2010 it was estimated that 98.6bn plastic carrier bags were placed on the EU market and about 100bn additional plastic bags have been placed every year since.
Look, I'm a consumer too, and I do my own food shopping. I go to the farmer's market or the food store, rather than pop on-line and have my order delivered. I like to pick out my own produce, fish, and meat. So I know how hard it is to avoid plastic packaging – especially in so-called developed countries, no matter how hard I try.  When I'm on the road in places such as Turkey, India, Thailand, or Indonesia, it is far, far easier to buy just what I need – and insist that it's not swathed in plastic, and merely placed in my well-used cotton carrier bags.
That aside, it only takes a bit of planning not to take single use carrier bags in the UK or the US. This is actually rather low-hanging fruit.
Now that you know the 'environmentally-friendly' ones aren't, exactly, enivornmentally-friendly? What can you do? The best answer I can come up with is to use fabric, string, or paper bags.
For readers new to this topic, I also include a short round-up of steps individuals can take to reduce their use of a wider range of single-use plastic here.
I harbor no illusions these steps alone or collectively each of us might take to reduce use of these environmental poisons will amount to more than some small dribbles into a very large bucket. What we need is sustained coordinated global regulation, and as I've previously discussed here and written here and here, even the EU – which purports to be a leader on this issue – has instead produced policies that don't begin to grapple with the scope of the problem.
The Long View
Now, in the longer run, scientists may indeed develop environmentally-friendly plastics. I really hope and wish they succeed.
But this study suggests: we're not there yet. Even in this one small area, where countries have banned the bags, or imposed a charge on their use. So there should have been plenty of incentives to develop compostable or biodegradable bags that actually performed as claimed.
And a hint to the cynical: even if they tell us some golly gee whizbang innovation is going to solve the plastic problem – without forcing the plastic pushers to stop producing plastics from fracked fuels – and instituting draconian bans on use of these poisons, guess what? I won't believe them.
Let me highlight another quote from The Guardian account, one to remember when told the technofix fairy offers a solution to a problem that otherwise would require major changes – especially when huge profits are at stake.
According to the Guardian, Prof Richard Thompson, head of the unit that conducted the biodegradable bags study "said the research raised questions about whether the public was being misled."
"We demonstrate here that the materials tested did not present any consistent, reliable and relevant advantage in the context of marine litter," he said. "It concerns me that these novel materials also present challenges in recycling. Our study emphasises the need for standards relating to degradable materials, clearly outlining the appropriate disposal pathway and rates of degradation that can be expected."
They have another deficiency, as reported by Dezeen:
Architect and recycling expert Arthur Huang recently warned that bioplastics could be worse for the environment than standard plastics made using fossil fuels.

"If we use them the same way [as conventional plastics] they are just as bad if not worse," he told Dezeen earlier this month. "They change the pH value of soil and water as they degrade, and they take away valuable food supplies."
Great! So they don't degrade, they also muck up the already-stressed recycling system, and they may also alter the pH of soil and water as well reduce food supplies. Any other good news to report?
The Last Word: The Scientists
After I wrote this post, I found this video, featuring Thompson and Napper. I want to allow them the last word.
There's no transcript, but it's only three minutes.  It's a great encouragement to critical thinking – which NC strives to promote. The worldview of the younger scientist, Napper, clearly changed as a result of this study – she now realises you can't accept the claims of makers of such products. I hope she develops that insight during a long, interesting scientific career.