By Lambert Strether of Corrente
Trade
"U.S. lawmakers are moving to eliminate a supply chain that has become an important source of transportation equipment for American public transit systems. Congress is preparing to bar the use of federal funds to buy Chinese buses and railcars" [Wall Street Journal]. "Backers say the ban is needed to protect American manufacturers from subsidized Chinese competition. They also claim it would protect Americans from potential surveillance by Beijing through apparatus installed on buses and trains…. One expert says the debate highlights 'the clash between globalization and local interests that we've always had, only now it's moved up the value chain.'"
"U.K. Defers Huawei 5G Decision, Seeks Clarity on U.S. Export Ban" [Bloomberg]. "The U.K. government postponed making a decision about Huawei Technologies Co.'s involvement in the country's fifth-generation mobile networks, citing a lack of clarity over the impact of a U.S. export ban affecting the Chinese company…. The U.K. Parliament's Intelligence and Security Committee said in a report issued Friday that banning Huawei could make U.K. networks less secure by reducing the number of available suppliers. Huawei is one of three potential 5G suppliers to the U.K., alongside Nokia Oyj and Ericsson AB. Meanwhile, all four U.K. carriers are building their 5G networks using equipment from Huawei. BT Group Plc's EE and Vodafone Group Plc have already gone live with 5G."
Politics
"But what is government itself, but the greatest of all reflections on human nature?" –James Madison, Federalist 51
"They had one weapon left and both knew it: treachery." –Frank Herbert, Dune
"2020 Democratic Presidential Nomination" [RealClearPolitics] (average of five polls). As of July 24: Biden flat at 28.6% (28.6), Sanders up at 15.0% (14.8%), Warren up at 15.0% (14.6%), Buttigieg up at 4.8% (5.0%), Harris down 12.2% (12.6%), others Brownian motion.
* * *
2020
Buttigieg (D)(1): "Can Democrats do anything to combat being painted as socialists?" [WaPo]. "As The Fix's Aaron Blake wrote earlier this month, Trump trails or is in a dead heat with each individual Democratic candidate tested in the last Washington Post-ABC poll. But he comes out ahead when voters are asked to say whether they would vote for Trump or a socialist…. 'If we adopt a platform that's way out to the left, they're going to say we're socialists. If we adopt a more moderate or conservative platform, they're going to say we're socialists,' Buttigieg said, eliciting laughs and applause from the crowd. 'So we might as well just do what we think is right, make the case for it and then let them do what they want.'"

De Blasio (D)(1): "'That Place Is A Disaster,' Says Bill De Blasio Watching Flooded NYC Subway On TV During Iowa Campaign Stop" [The Onion]. "'I can't believe how miserable and hopeless that place looks,' de Blasio said as he visited the Pleasant Hill Diner in Iowa, observing that if he were elected president, then perhaps New Yorkers wouldn't have to worry about such terrible things happening anymore. 'How can people there stand it? I know I don't want to live in a place like that. Somebody really ought to do something.'"

Sanders (D)(1): "Sanders makes 'last-minute' appearance at union rally with Warren" [Politico]. "Speaking to a rowdy crowd of several hundred union members and their supporters, the presidential candidates pledged to stand behind workers' demands for $15 an hour and better health care — two issues at the focal point of the Democratic primary — and endorsed their rallying cry of "one job should be enough…. Warren confirmed her attendance well before the rally at Reagan National Airport, as she continues to vie for the progressive wing of the party. In press materials sent out Monday morning, she was the headliner and no other candidates were listed as attending. But Sanders, one of her 2020 rivals, RSVP'd at the last moment, one union leader told POLITICO, and he stormed into the UNITE HERE rally to chants of 'Bernie! Bernie! Bernie!'"

Trump (R)(1): "Trump says he can name 20 more Dems who are like the 'squad'" [Associated Press]. "Trump is trying to turn the group into the face of the Democratic Party heading into the 2020 presidential election, using their views and policy positions to paint the party as extreme and its leaders as wrong for the future of the country. 'They have a big problem because they have others than these four," Trump said of Democrats during the nearly 80-minute speech. 'I could name another 20 right now. Without looking at a note I could name another 20 that I think are in many ways worse.'" • 20? Really?

Warren (D)(1): "Elizabeth Warren Bet Big on Impeachment. Will Mueller Pay It Off? [Vanity Fair]. "Elizabeth Warren has bet bigger on Robert Mueller than any of the other Democratic presidential contenders….. Getting out ahead on the issue was tactically smart back in the spring, when Warren's poll numbers were mired in the low single digits and she was struggling to attract attention. "Many of her 'I have a plan for that' agenda items were worked out months in advance," a Warren insider says. "But no one knew, coming into this year, that there would even be a Mueller report. The fact that she read it and reacted to it quickly was a very important opportunistic moment for her, and it is underappreciated in her rise."

* * *

"Lawyers bankroll 2020 Democrats with millions in campaign cash" [Open Secrets]. "[L]awyers and employees of law firms have already given $10 million to Democratic candidates, including $5.5 million between April and June. Only retirees — a much larger group — have contributed more to Democrats seeking the White House, giving $8.5 million during the second quarter and $22.6 million this cycle. Former Vice President Joe Biden has received $1.9 million from the legal field, the most of any candidate. He is followed by Sens. Kamala Harris and Cory Booker, who received $1.5 million and $1.1 million from the industry, respectively. South Bend, Ind., Mayor Pete Buttigieg received $955,000, while Sens. Amy Klobuchar (D-Minn.) and Kirsten Gillibrand (D-N.Y.) have both taken more than $700,000 this cycle…. Sen. Elizabeth Warren (D-Mass.), a former Harvard Law School professor, vowed to eschew the traditional big-donor fundraisers where some of her competitors have reaped in big bucks. But the Massachusetts senator has still managed to receive nearly $430,000 in contributions from lawyers and law firms this cycle. Sen. Bernie Sanders (I-Vt.) received just $167,000 from the lawyers and law firms, the least of any top-tier candidate."

"A Warren or Sanders presidency could cost Democrats a Senate seat" [NBC News]. "Both Massachusetts and Vermont have Republican governors who have the power to name a temporary replacement to fill Warren's or Sanders' vacant Senate seat with a Republican replacement. (Vermont's governor, Phil Scott, is up for re-election in 2020.) The other Democratic senators running for president — Kamala Harris (Calif.), Amy Klobuchar (Minn.), Cory Booker (N.J.), Kirsten Gillibrand (N.Y.) and Michael Bennet (Colo.) — all hail from states with sitting Democratic governors."
RussiaGate
"Robert Mueller's day of disappointments for Democrats" [Damon Linker, The Week]. "On Wednesday, Democrats will do their best to pull Mueller over to their side, pushing him to declare that his findings confirm their suspicions about the president and justify their desire to see him removed from office. To which Mueller is likely to respond, by implication at least, that it isn't his place to render that judgment — that the judgment has to be made by those posing the question. He has provided them with the evidence. The rest is not his business."

"4 big moments from Robert Mueller's testimony on obstruction" [Axios]. • I don't think any minds will be changed.
Realignment and Legitimacy
"After 48 Years, Democrats Still Haven't Gotten the Memo" [The New Republic]. "Democratic donors and elites are generally far too focused on federal elections, a particularly egregious oversight given the sizable governing power found at the state and local level. … Billionaire Democratic donor Tom Steyer jumping into the presidential race is but the latest illustration of the left donor class's inability to stay focused and act strategically… Right now, according to the ACS's Fredrickson, the left likes to fund 'projects,' and not 'general operating support.' Wealthy donors on the right will 'give their grantees really long lead time[s] to find success,' she said. On the left, however, 'if you don't produce in three months and show your metrics on this pet project … [they] cut you off. It's an incredible contrast.'"

The Left Cannot Win the Country by Campaigning Like Hillary Clinton Benjamin Studebaker. On the squad:

If Sanders loses, Medicare-For-All will not happen, and the Democratic Party will be left in the hands of a squad that campaigns precisely the same way Hillary Clinton campaigned:

By calling its opponents deplorable bigots.
By emphasising the historic nature of the diversity it represents.

This will not produce a Democratic Party that can win the senate and hold it, forcing the Republican Party to adjust its strategy and approach. Instead, it will ensure the Republican Party remains competitive in its current form.

This is compounded by the fact that the press pushes idpol, and won't report a focus on the working class even when it exists (see the coverage of AOC's interview with the New Yorker's er, deplorable David Remnick). That said, it's a candidates reponsibility to control the news cycle, and even more an electeds. I think it's time for "the squad" to fish or cut bait on its Presidential choices. Which side are they on?

"Actually, the Democrats Don't Care About Identity" [Jacobin]. "Is it really the case that Democrats and prominent liberals care most about identity and representation? They certainly talk a good game…. The truth is, as has been documented at length, Democrats and the liberal establishment that supports them don't really care about representation or issues related to identity, unless they can be used as a cudgel against those whom they politically disagree with, or can win them votes. After an entire year of claiming these matters were central to Democratic politics, the party went about making sure that diverse, progressive candidates were kept out of power in favor of less diverse, centrist, and often wealthy individuals, from needlessly killing Keith Ellison's bid for DNC chair to passing over Elizabeth Warren as Hillary Clinton's running mate in favor of a white man who was bad on abortion rights. Just like much of the Left, the Democrats believe someone's identity is less important than the politics they espouse; it just so happens the politics they favor are ones with worse outcomes for marginalized communities."

"The Franken Regrets Miss the Point of #MeToo" [Bloomberg]. "There are good men out there who've said or done stupid things. The whispered conversations among their friends are much the same as things Franken's friends and family say about him in the New Yorker piece. He's so devoted to his family. This will absolutely crush him. He never meant to cause any harm. That can all be true, and the behavior can still be enough to get the guy fired. You can be kind to many and oblivious to some, and good at some parts of your job and unprofessional at others. Losing your job doesn't make you a martyr. But when a good man loses his job for doing something dumb, people seem to think the process must have gone awry."
Stats Watch
Purchasing Managers Composite FLASH, July 2018: "Gradual deceleration to a standstill is the story of PMI manufacturing's sample" [Econoday]. "Production in manufacturing is lower this month and also at a 10-year low with employment ending six years of continual growth. Inventories of inputs are also down this month. Weakness in auto manufacturing and heightened global uncertainties were cited by the sample…. Slowing in global trade has been sending manufacturing PMIs falling across the world."
New Home Sales, June 2019: "The housing trend is visibly fading at the half-way point, opening the year on a solid rise before flattening out and slowing in May and June" [Econoday]. "Market fundamentals should be pointing to better results for new home sales: there's plenty of homes on the market, prices are soft, employment is strong, and mortgage rates have come down sharply. Yet today's report is consistent with anecdotal reports that foreign buyers, due to trade tensions, have been scaling back US home buying. In any case, these results do fit in with arguments for a rate cut, a cut that would likely pull mortgage rates even lower in what couldn't but help housing."
MBA Mortgage Applications, week of July 19, 2020: "The purchase index continues to pull back in what is an unfavorable indication for underlying home sales" [Econoday].
Retail: "How to Get a $5,000 Amazon Credit: Buy a House Through Realogy" [New York Times]. "On Tuesday, Amazon said that it was working with Realogy, the nation's largest residential real estate brokerage company and owner of Century 21, Coldwell Banker and other brands, to create TurnKey, a service that will help prospective home buyers find real estate agents. To entice customers, Amazon will give buyers up to $5,000 in home services and smart-home gear when they close. Amazon is now as much a search engine as it is a store, and the deal fits into the company's effort to capitalize on its status as an online destination by making money on advertising and other services. It's also a way to encourage people to adopt products like Alexa speakers and Ring doorbells and to promote its list of handymen, furniture assemblers and other home services." • Eating the world….
Shipping: "UPS adds Sunday service; forms commercial drone unit and files to expand operations" [Freight Waves]. "UPS Inc. (NYSE:UPS) late Tuesday rolled out extensive changes to its product portfolio that include ground pick-ups and deliveries on Sundays for the first time in its history, a new commercial drone unit and an application with the federal government to expand U.S. drone operations, extended hours for U.S. shippers tendering packages for next-day ground delivery, and a global product designed to support the rapid growth of lower-priced items moving in cross border e-commerce…. Taken together, the changes are arguably the most extensive ever announced by UPS at one time…. UPS said. UPS, FedEx and other parcel providers tender parcels to USPS for final-mile delivery to residences, instead of dispatching drivers and equipment to service areas that may have low population densities. By law, USPS must serve every address in the United States."\
Tech: "A bot on your office computer could be sizing you up" [Japan Times]. "Call it automating automation. It's McKinsey & Co.'s entry into robotic process automation, which is spreading "robots" from the factory floor to the office cubicle as advancing technologies make it easier and more economically feasible for software to perform cognitive tasks now done by humans. It's transforming office work across the world, including in the Philippines' offshoring business processing centers, which employ more than a million people and generate annual revenue equal to about 7.5 percent of the nation's gross domestic product. It could cost a lot of people their jobs, but as McKinsey noted in a report earlier this year, it could also help their companies stay competitive and even capture a bigger market share." • Thanks, McKinsey!
Tech: "Fighting for the Right to Repair Our Stuff" [The American Conservative]. "While much of the media coverage to date has focused on liberal advocates like Warren, and has garnered coverage in left-of-center publications like The New York Times, Right-to-Repair has been embraced just as actively by some conservatives. Of the 19 states that have introduced Right-to-Repair laws, many are red states like South Dakota and Georgia. Meanwhile, the American Farm Bureau Federation—no bastion of left-wing sympathies—has come out in support of the issue."
Tech: "Can Disney's Circle really deliver a porn-free Internet?" [Ars Technica]. "The biggest weakness I found in Circle's filtering was its apparent ignorance of DuckDuckGo. With no "force safe search mode" offered for DuckDuckGo, Circle leaves filtered people a single image search away from instant and very hardcore pornographic images. DuckDuckGo isn't a secret; it's been advertising itself on billboards in major US cities for the last eight years straight. Its absence from Circle's otherwise comprehensive controls—despite offering its own 'forced-safe' functionality—is perplexing." • Oopsie.
Intellectual Property: Speaking of Disney–
Osamu Tezuka, a Japanese animator, created the anime, "Kimba the White Lion," in 1965. Disney claims they knew nothing about Tezuka & prided that the Lion King was original content.

"While others search for what they can take, a true king searches for what he can give."
-Mufasa pic.twitter.com/HxoVpByOu7

— boop (@boopyape) July 22, 2019
Concentration: "How the FTC settlement could let Facebook off the hook" [Fast Company]. "Facebook has agreed to pay $5 billion and implement new practices to settle Federal Trade Commission allegations it violated a 2012 settlement on user privacy. But some privacy experts, including the FTC's two Democratic commissioners and former FTC chief technologist Ashkan Soltani, suggest the settlement goes too far by effectively exonerating Facebook and its executives for any other prior violation of the order. The language of the agreement, as Soltani pointed out on Twitter, says it resolves '' violated the 2012 settlement. That's unusual for such an agreement, writes FCC Commissioner Rohit Chopra in a dissenting opinion." • So, Facebook gets to pay a fine out of petty cash, and gets indemnified for everything it's done in the past? As Soltani tweets: "Holy crap!"
Concentration: "Breaking Up Amazon Doesn't Go Far Enough—We Must Put It Under Public Control" [In These Times]. "What should be done with Amazon? While some parts of the company should indeed be broken up, its sprawling scale is not its only problem. Much of what Amazon does is harmful for reasons inherent to the logic of private ownership, and would remain so at any scale. … By becoming the market, Amazon has effectively become the market's regulator. Such powers should belong to the public. Democratic public ownership of the marketplace platform could retool this infrastructure for public good. The People's Amazon—call it Ourmazon—could guarantee access to the marketplace for smaller producers rather than driving down the cost of their goods and services. As a public distribution network, Ourmazon could stabilize prices at a point that ensures viability and competitiveness for small businesses at a cost that benefits consumers."
Honey for the Bears: "AIA: Design Contracts Hit 10-Month Low" [Architect (Nippersmom)]. "AIA's monthly Architecture Billings Index (ABI) for June came in at a score of 49.1. This is a 1.1-point decrease from last month's score of 50.2, marking a contraction in demand for design services. The ABI is a leading economic indicator of construction activity in the U.S. and reflects a nine- to 12-month lead time between architecture billings and construction spending nationally, regionally, and by project type. A score above 50 represents an increase in billings from the previous month, while a score below 50 represents a contraction."
The Biosphere
Yikes:
The Ridgecrest Earthquake shattered desert floor. Some of the clearest images show long scars on the surface of the Mojave Desert, showing precisely the movement of the 30 miles of earthquake fault. https://t.co/Pj97xNUFEK pic.twitter.com/ZO9dncut9U

— Los Angeles Times (@latimes) July 23, 2019
"Air travellers may have to pay carbon charge to offset emissions" [Guardian]. "[UK] Air passengers may have to pay an extra "carbon charge" on flights as part of a government initiative to reduce CO2 emissions and tackle the climate crisis. Passengers could choose to pay more for travel tickets, which would then be used to offset greenhouse gas emissions. Or the scheme could work on an "opt-out" basis and also be applied to trains, buses and ferries. Ministers hope the plans will raise awareness about the effects of public transport on the environment. The extra funds could be used to spearhead eco-friendly projects such as planting trees to reduce the carbon footprint…. However, the transport secretary, Chris Grayling, has launched a call for evidence on offsetting carbon emissions produced by public transport. In addition, the government has expressed concerns consumers may not trust that their payments are supporting worthwhile causes."
"As climate change threatens California, officials seek 'sustainable insurance'" [Los Angeles Times]. "California regulators are teaming up with the United Nations to develop 'sustainable insurance' guidelines that would help address climate-change-related disasters such as coastal flooding and larger wildfires — the first such partnership of its kind between the international organization and a U.S. state, officials announced Tuesday…. 'A sustainable insurance road map will enable California to harness risk reduction measures, insurance solutions and investments by the insurance industry in order to build safer, disaster-resilient communities, and accelerate the transition to a low-carbon, sustainable economy,' said Butch Bacani, the leader of the U.N. initiative."
"Why Florida Crocs Are Thriving Outside a Nuclear Power Plant" [Smithsonian]. "[Florida Power & Light Co. (FPL)] wildlife specialists collected 73 crocodile hatchlings just last week, and are expecting dozens more to emerge into the world over the remainder of the summer. Twenty-five percent of the 2,000 American crocodiles that now live in the United States call Turkey Point home, and the FPL has been credited with helping down-list the species' status from 'endangered' to 'threatened'—a change that happened in 2007."
Games
"Asia's esports hubs rattled by the rise in game addiction" [Nikkei Asian Review]. "In May, gaming disorder was officially classified as a medical disease by the WHO, which defined it as 'a pattern of gaming behavior … characterized by impaired control over gaming [and] increasing priority given to gaming over other activities to the extent that gaming takes precedence over other interests and daily activities.' Mobile games derive the majority of their revenue by selling additional content to players, who have often accessed the base game for free; this means it is in their interests to nudge players toward compulsive actions. Tactics such as 'loot boxes' can be particularly compelling, according to Hideki Yasuda, senior analyst at Ace Research Institute."
Health Care
"Medicaid and Mortality: New Evidence from Linked Survey and Administrative Data" [NBER]. "Our analysis provides new evidence that Medicaid coverage reduces mortality rates among low-income adults. Our estimates suggest that approximately 15,600 deaths would have been averted had the ACA expansions been adopted nationwide as originally intended by the ACA. This highlights an ongoing cost to non-adoption that should be relevant to both state policymakers and their constituents." • Vox: "This is in line with a growing body of research that shows Medicaid expansion has not only vastly increased access to health insurance, but also improved health outcomes. About 13.6 million adults gained Medicaid coverage under Obamacare."
The 420
"Urgency of marijuana policy was on full display Tuesday" [Roll Call]. "Rachel Pross, the chief risk officer for Maps Credit Union in Salem, Ore., underscored some of the challenges. The credit union handles accounts for cannabis businesses that are legally operating under Oregon law. 'We have talked to numerous members who have opened accounts at Maps who have described that they had been storing cash in shoe boxes, empty mattresses,' Pross said.'There are unscrupulous third-party players involved in this who are selling cash vaulting type of services, and those are not true cash vaults. They are in fact storage units, just basic storage units, full of cash that are earmarked for various businesses.'… 'It's impossible to draw a clear line between what is cannabis-related and what is natural commerce that has nothing to do with cannabis,' Pross said. 'Not only does Walmart accept money from employees of cannabis businesses in states where it's legal, but Walmart very likely sells basic business supplies to legal cannabis entities.'"
Our Famously Free Press
"The Fall Of Mic Was A Warning" [HuffPo]. "Mic had already established itself as an improbable upstart in the crowded digital media marketplace by hiring a cadre of bright, passionate young journalists and zeroing in on the types of stories millennials wanted to share: compact pieces with sharp headlines focused on undercovered issues…. [U]ltimately, Mic's problems were more economic than generational. The colorful anecdotes, custom Nikes and gorgeous office space on the 82nd floor of the One World Trade Center distracted from one critical fact: Mic never developed into a sustainable business. Many of the more than three dozen former employees who spoke to HuffPost said they entered the company hungry and hopeful, only to feel twisted around by a publicly woke company that privately left them feeling exhausted, distrustful of leadership and desperate for financial security. Last November, the company was forced to face the hard truth: Its Facebook-fueled bet on a millennial news site had failed."
Guillotine Watch
"Schools Reject Offer to Pay Students' Late Lunch Bills, CEO Says" [TruthDig]. "The president of a Pennsylvania school board whose district had warned parents behind on lunch bills that their children could end up in foster care has rejected a CEO's offer to cover the cost…. Todd Carmichael, chief executive and co-founder of Philadelphia-based La Colombe Coffee, said he offered to give Wyoming Valley West School District $22,000 to wipe out bills that generated the recent warning letter to parents. But school board President Joseph Mazur rejected the offer during a phone conversation Monday, Carmichael spokesman Aren Platt said Tuesday. Mazur argued that money is owed by parents who can afford to pay, Platt said."
News of the Wired
"Kurt Vonnegut Diagrams the Shape of All Stories in a Master's Thesis Rejected by U. Chicago" [OpenCulture]. "The idea is so simple, in fact, that Vonnegut sums the whole thing up in one elegant sentence: 'The fundamental idea is that stories have shapes which can be drawn on graph paper, and that the shape of a given society's stories is at least as interesting as the shape of its pots or spearheads.'"
* * *
Readers, feel free to contact me at lambert [UNDERSCORE] strether [DOT] corrente [AT] yahoo [DOT] com, with (a) links, and even better (b) sources I should curate regularly, (c) how to send me a check if you are allergic to PayPal, and (d) to find out how to send me images of plants. Vegetables are fine! Fungi are deemed to be honorary plants! If you want your handle to appear as a credit, please place it at the start of your mail in parentheses: (thus). Otherwise, I will anonymize by using your initials. See the previous Water Cooler (with plant) here. Today's plant (JN):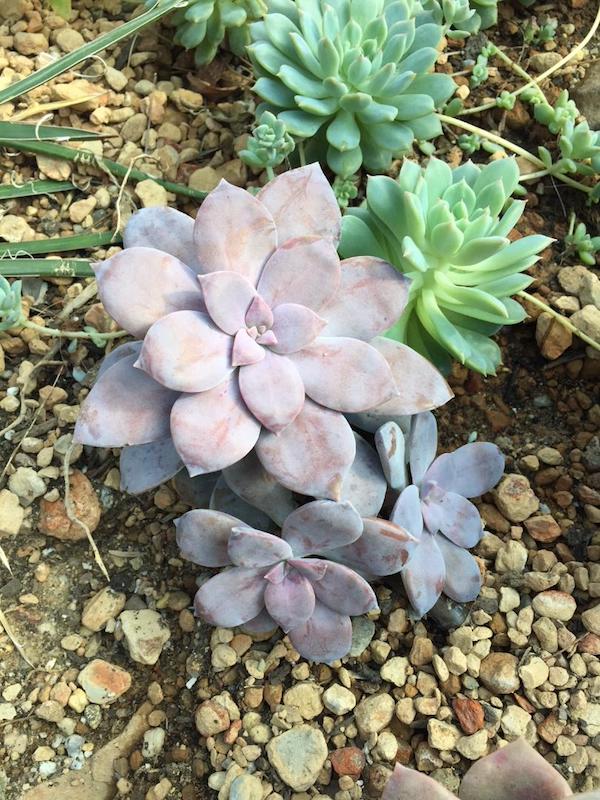 For those of you gardening in dry climates.
* * *
Readers: Water Cooler is a standalone entity not covered by the annual NC fundraiser. So do feel free to make a contribution today or any day. Here is why: Regular positive feedback both makes me feel good and lets me know I'm on the right track with coverage. When I get no donations for five or ten days I get worried. More tangibly, a constant trickle of small donations helps me with expenses, and I factor in that trickle when setting fundraising goals. So if you see something you especially appreciate, do feel free to click this donate button:
Here is the screen that will appear, which I have helpfully annotated.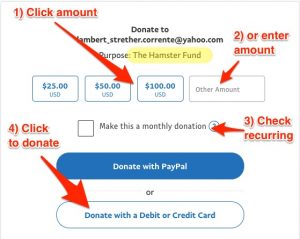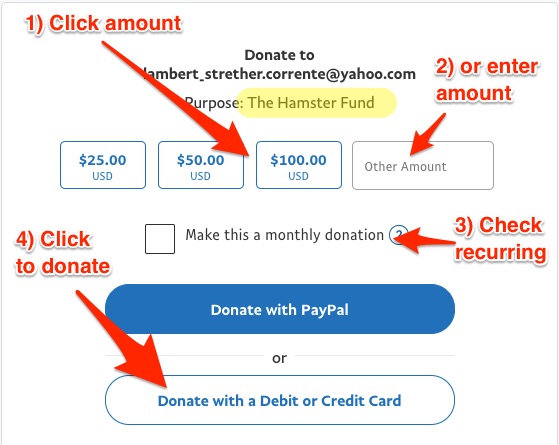 If you hate PayPal, you can email me at lambert [UNDERSCORE] strether [DOT] corrente [AT] yahoo [DOT] com, and I will give you directions on how to send a check. Thank you!