By Lambert Strether of Corrente.
Patient, this piece is a bit short, because I have a post on the global protests to finish. I'll make it up to you, I swear! –lambert
Politics
"But what is government itself, but the greatest of all reflections on human nature?" –James Madison, Federalist 51
"They had one weapon left and both knew it: treachery." –Frank Herbert, Dune
* * *
2020
Alert reader dk (not to be confused with DK) is in the process of developing the following interactive chart. Here is (are) the latest Dem Primary Polling as of 10/28/2019, 11:00 AM EDT:

I went to the daily instead of a 7-day average (for now) to see what was happening with Biden. And here are the poll results, as of 10/28/2019, 11:00 AM EDT:

October 22? It's like all the pollsters went on strike together at the same time!

I think dk has started a really neat project, and in the near future we'll seek your feedback (within reason) for the tool "live."

* * *

Biden (D)(1): "The Zombie Campaign Joe Biden is the least formidable front-runner ever. Will it matter?" [New York Magazine]. "In September, somebody had the bright idea to stage an afternoon event under the open sky at the Indian Creek Nature Center in sunny Cedar Rapids. It was the day after news of the whistle-blower broke, but Biden stuck to the event's topic, climate change, addressing all the usual themes. Then faces began turning upward to the birds overhead. Somebody from Showtime's The Circus told me the birds were bald eagles, but at the time I thought they looked like hawks, which, I guess, is a sort of glass-half-empty or -half-full dilemma. Eventually, word of the alleged bald eagles made its way to Biden, and with a look of optimism, he turned his face to the sky. He grew emotional. He said that at the Lake House, Beau used to sit by the water and watch the bald eagles fly overhead. The night Beau died, in 2015, Biden said he watched an eagle take off from the lake, circle in the sky, and then fly away. He hadn't seen another bald eagle since that night, he said, until now. Looking at the bird, he said, 'Maybe that's my Beau.'" • :-( A long read, worth reading in full.

Biden (D)(2):

Me too I asked but Obama was paragliding with that one tech billionaire who's trying to save middle schools via an app that organizes the children to make all the lunch/snack food before the first bell and do janitorial work after school in exchange for lunch/textbook credits. https://t.co/D4qlQOw74M

— Curse Of Tweethaven (@bombsfall) October 28, 2019

Ouch!

Sanders (D)(1): Naturally there has been a good deal of pearl-clutching over this from liberal Democrats:

Bernie Sanders tells black student to respect police officer "so that you don't get shot in the back of the head" https://t.co/bWxkeDR5py pic.twitter.com/FK9lkgZBJo

— CBS News (@CBSNews) October 27, 2019

From what I can tell from following Black Twitter, Sanders' remarks were entirely consistent with "The Talk" so many Black parents have to give their children. For example, this thread:

My 2-cents on Bernie's answer to "what should I do if pulled over by the police?"

This is personal & raw.

MOST of the ppl tweeting & writing about this did NOT grow up in black/brown projects.

I did.

Please read my thread. ??

— Ariän El-Tahry (@areltahry) October 27, 2019

I'm seeing plenty more like this. I think Sanders helped himself here.

Warren (D)(1): "Elizabeth Warren's Days Defending Big Corporations" [New York Times]. "Ms. Warren has twice released accounts of her practice — a partial list of cases during the 2012 Senate race and a fuller list of more than 50 cases posted to her presidential campaign website in May. Among her corporate clients were Travelers insurance and the aircraft maker Fairchild, as well as one of America's wealthiest families, the Hunts of Texas. She advocated for a railroad company that wanted to avoid paying for a Superfund cleanup, and advised Dow Chemical as its subsidiary Dow Corning dealt with thousands of complaints from women who said they had been harmed by its silicone breast implants. But she also worked on a number of cases involving consumer bankruptcy and victims' rights in asbestos litigation, served as an expert in a lawsuit against the cigarette maker Philip Morris and represented the lawyer whose battles with polluters inspired the film "A Civil Action." In very brief and simplified summaries, the lists cast much of her work — even for corporate clients — in terms that align with her pro-consumer narrative. Those descriptions have themselves become a focus of some contention. But a review by The New York Times, together with interviews with several of Ms. Warren's former compatriots in the rarefied world of self-described bankruptcy nerds, reveals a complex picture in which many cases defy simple black or white categorization. It also offers a look at a relatively unexamined aspect of her thinking. Her work, the scholars say, should be understood primarily as an effort to preserve the right to file for bankruptcy and the integrity of the bankruptcy system." • And that makes sense, if we recall Warren's speech to the Federalist Society.
Impeachment
"New York Times Confirms: It's Trump Versus the Deep State" [Robert Merry, The American Conservative]. "The New York Times on Thursday published a remarkable piece that essentially acknowledged the existence of an American 'deep state' and its implacable hostility to Donald Trump. The Times writers (fully five on the byline: Peter Baker, Lara Jakes, Julian E. Barnes, Sharon LaFraniere, and Edward Wong) certainly don't decry the existence of this deep state, as so many conservatives and Trump supporters do. Nor do they refrain from the kinds of value-charged digs and asides against Trump that have illuminated the paper's consistent bias against the president from the beginning. But they do portray the current impeachment drama as the likely denouement of a struggle between the outsider Trump and the insider administrative forces of government. In so doing, they implicitly give support to those who have argued that American foreign policy has become the almost exclusive domain of unelected bureaucrats impervious to the views of elected officials—even presidents—who may harbor outlooks different from their own." • Do note, however, alert reader BC's comment summarizing Snowden on Joe Rogan:

[Snowden] makes an interesting point about the "Deep State" that has been my experience too in that the IC is not a homogeneous family, rather a series of competing interests of career bureaucrats whose authorities outlast Presidential administrations. Human nature drives the rivalry between agencies that all wish each to portray themselves as the Country's premier go-to, can-do, agency. Their foremost priority is to protect their agencies, their power and secrecy, and their personal careers. They come together when there is a mutual threat to those priorities or an opportunity to further fortify them. When conspiratorial behaviors occur, it is typically not some grand plan as much as (the more reactionary) protection of interest.
RussiaGate
Sigh:

Getting him elected has long since surpassed 9-11 as the single most effective one-piece move in the history of asymmetrical warfare.

— William Gibson (@GreatDismal) October 27, 2019

Still waiting on Agency. I wonder why it's so hard to write…
Realignment and Legitimacy
"At Least 20 Billionaires Behind 'Dark Money' Group That Opposed Obama" [Forbes]. "A nonprofit group with a bland name, Americans for Job Security, spent $5 million supporting Republicans in the 2010 midterms and $15 million denouncing former President Obama in the 2012 election, but until this week, the group never had to file disclosures showing where its money was coming from…. The biggest individual donor to the group appears to be Charles Schwab, the brokerage titan worth an estimated $7.8 billion. Over the span of three months in 2012, he donated nearly $9 million. Gap cofounder Doris Fisher—along with her sons Robert, John and William—gave another $9 million."

Hell-o-o-o-o, Atlantic Council:

Department of Homeland Security cybersecurity director Christopher Krebs details the "war room" he hosted at DHS during the 2018 US midterm elections where state and US govt officials told social media platforms which alleged disinfo videos to take down pic.twitter.com/5fFzNvyvkN

— Max Blumenthal (@MaxBlumenthal) October 28, 2019

I didn't catch that this was happening at the time. I suppose this time, DHS will be determining whether e-voting totals have been hacked? What a reassuring prospect!

"Voting machines pose a greater threat to our elections than foreign agents" [The Hill (Furzy Mouse)]. "In August, North Carolina became the latest casualty. Voters and representatives from good-government groups pleaded with the state board of elections to adopt the type of voting system almost unanimously supported by election security experts, one that uses hand-marked paper ballots. They asked the board to reject ballot-marking devices that use barcodes and argued that hand-marked paper ballots are more secure, less expensive and less likely to create long lines at the polls. Nevertheless, Democratic chair Damon Circosta reached across the aisle to join two Republican commissioners in opening the North Carolina market to a barcode ballot-marking system. The vote presents a setback to a multi-year effort to provide secure, accurate elections for North Carolina voters." • In other words, both parties are in favor of having the capacity to steal elections.

Elections as a Keynesian beauty contest:

A frustrating thing about election discourse today is the way so many people see their role as diviners of outcomes, not agents of change. Not just talking about the punditry — I hear when I canvass that people prefer Bernie but worry others won't, dampening their enthusiasm.

— Meagan Day (@meaganmday) October 23, 2019
Stats Watch
International Trade in Goods, September 2019: "The good news is that the trade deficit in goods narrowed sharply…. but the bad news is both exports and imports, in an indication of economic slowing, fell sharply" [Econoday]. "[M]ore fundamentally the results speak of slowing US demand and will not be giving a lift to overall assessments of economic growth."
Chicago Fed National Activity Index, September 2019: "Industrial production once again pulled the national activity index sharply lower" [Econoday]. "Production-related indicators fell … reflecting in part a sharp decline in vehicle production tied to the GM strike."
Wholesale Inventories [Advance], September 2019: "Wholesales inventories … September versus a revised no change in August" [Econoday]. "The draw was centered in nondurable goods where price effects are often at play and where inventories."
Retail Inventories [Advance] September 2019: "Retail inventories rose" [Econoday]. "Retail inventories for autos… showed no immediate indication of dislocations tied to the GM strike."
Dallas Fed Manufacturing Survey, October 2019: "Texas manufacturing activity unexpectedly slowed in October" [Econoday]. "One bright note for the current conditions part of the survey was a rise … in capital expenditures…. But despite the general decline seen in current conditions, expectations regarding future business conditions were more optimistic in October."
Commodities: "What a Difference a Year Makes: Gloom and Doom at Metals Week" [Bloomberg]. "The outlook for some key metals is at the weakest since the financial crisis as the U.S.-China trade war and a synchronized global slowdown pummel consumption and investor sentiment. Economic bellwether copper is flashing warning signals, with demand growth stalling this year as manufacturing contracts."
The Bezzle: "Five reasons why Tesla's 'really cool' solar roof isn't a surefire hit" [Buffalo News]. This: "So Tesla needs to convince homeowners that its Solarglass roof, which hasn't shown outside of a laboratory that it can withstand the test of time, is just as reliable as a regular roof. This at a time when Tesla is facing lawsuits from customers whose conventional rooftop solar arrays have caught fire. With the solar roof and all the complexities that come with having solar modules built in, Tesla has decided to take on the responsibility for installing its solar roofs, at least initially. That's an entirely new line of work for the company, and it means Tesla will have to hire and train an entire corps of solar roof installers. That's getting away from Tesla's expertise in making cars and batteries." • Well, solar roofs don't require a paint shop, so…
The Bezzle: "WeWork Falls Furthest in a Year of Clipped Wings for Hot Startups" [New York Times]. "Across Wall Street, in Silicon Valley and at some of the world's largest companies, a reckoning is unfolding as valuations slide for the so-called unicorns — start-ups worth at least $1 billion — that everyone was once so eager to buy." • Short corrupt language…
The Bezzle: "The welfare effects of peer entry in the accommodation market: The case of Airbnb" [Brookings Institution]. "Farronato and Fradkin propose a simple demand and supply framework where accommodations can be provided by either dedicated or flexible supply – hotels vs peer hosts. They then use data from top US cities to test the model hypotheses about the entry of peer supply, and to quantify the effects of this entry on travelers, incumbent hotels, and peer hosts. They find that Airbnb generated $41 of consumer surplus per room-night and $26 of host surplus while reducing variable hotel profits from accommodations by up to 3.7 percent. This resulted in a total welfare gain of $137 million in 2014 from Airbnb in these cities and this effect was concentrated in locations (New York) and times (New Year's Eve) where hotel capacity was constrained. This paper informs the active policy debate regarding whether and how to regulate peer-to-peer accommodations. The result favors a regulatory framework that preserves the benefits of peer production during peak demand days while achieving a broader set of objectives such as consumer protection, affordable housing and fair competition."
Tech:
Apple made me convert to Catalina so that my KEYBOARD would work (some keys stopped functioning). They did not tell me that in doing so that all my software I paid for: the whole MS Office Suite & Final Cut Pro would become non-functional. I am so pissed.

— Jenna (@MomForProgress) October 28, 2019
Catalina seems to have been pulled from the oven before being entirely baked.
* * *
Today's Fear & Greed Index: 69 Greed (previous close: 62, Greed) [CNN]. One week ago: 56 (Greed). (0 is Extreme Fear; 100 is Extreme Greed). Last updated Oct 28 at 11:37am.
Rapture Index: Closes down one on Floods. "The lack of activity has downgraded this category" [Rapture Ready]. Record High, October 10, 2016: 189. Current: 183. Remember that bringing on the rapture is a good thing. I wonder when, in 2020, the index will start flirting with 190 again. So far, the latest impeachment push hasn't affected the Index. And wait 'til they get to the California wildfires!
The Biosphere
"California's Governor Wants Berkshire to Bid for Bankrupt PG&E" [Bloomberg]. "'We would love to see that interest materialize, and in a more proactive, public effort,' [Governor Gavin Newsome] said in an interview. 'That would be encouraging to see. They are one of the few that are in a position to make a significant run at this.' Berkshire has been raised as a possible suitor since PG&E's collapse, but the most vocal group seeking to take control of the utility is a collection of creditors led by Pacific Investment Management Co. and activist investor Elliott Management Corp. Newsom said Saturday that he'd like to see more than just hedge funds vying for the company." • Maybe they can put PG&E and CalPERS together in some kinda package deal.
"Study linking fracking to Permian Basin earthquakes stirs public debate" [Houston Chronicle]. "In a study released Tuesday afternoon, scientists with the TexNet Seismic Monitoring Program at UT Austin reported that some earthquakes in Reeves, Pecos and Culberson counties may have been caused by fracking, the process of pumping water, sand and chemicals at high pressures deep underground to crack shale rock and unlock and oil natural gas…. 'The research done through this new study in West Texas, using a statistical approach to associate (earthquakes) with oil and gas operations, suggests that some (earthquakes are) more likely related to hydraulic fracturing than saltwater disposal,' Alexandros Savvaidis, a research scientist and manager of the TexNet Seismic Monitoring Program, said in a statement."
"Wandering Space Rocks Help Solve Mysteries of Planet Formation" [Quanta]. "In 2017, a weirdly shaped rock with a strangely erratic orbit swept through the solar system, leaving as quickly as it arrived. Astronomers soon realized that it was not from around here…. But it turns out that the object, ['Oumuamua,] the first interstellar asteroid ever observed, was not unique. It may not even be all that rare… In a paper published in April in The Astrophysical Journal Letters, Bannister and Pfalzner argue that rocks like 'Oumuamua might be catalysts for planet formation. There are probably uncountable billions of such objects sailing through the cosmos, they say. When one intersects with a billowing envelope of gas and dust surrounding a young star, it might cause turbulence and shear that stirs the gas, sculpting it into patterns that later form planets."
"Principles of a Green New Deal Economy" [Verso]. "Principle Number One: A Steady State Economy. An economy that sustains life on earth will be a steady state economy and will not exceed the nine ecological boundaries: stratospheric ozone depletion; loss of biosphere integrity (biodiversity loss and extinctions); chemical pollution and the release of novel entities; climate change; ocean acidification; freshwater consumption and the global hydrological cycle; land system change; nitrogen and phosphorus flows to the biosphere and oceans; atmospheric aerosol loading." • Well worth a read.
Health Care
I don't think comparing #MedicareForAll to the DMV is the killer argument conservatives think it is. Thread:
The DMV: you go, get a number, and are seen. If you don't have the right documents, they walk you through what you need for next time.

Literally any interaction with private insurance: phone trees, interminable indefinite waits, deeply opaque policies, hours lost, relief denied.

— Kelsey D. Nuclear Aftermatherton (@AthertonKD) October 28, 2019
I think what really ticks conservatives off — and, to be fair, some liberals — is the very idea of taking a number. It means they can't buy their way to the head of the line.
"How bad teeth and a lack of dental care can lead to discrimination and poverty" [Fresno Bee]. "Many things can get in the way of advancing out of poverty: The lack of a car to get to work. Failing to secure a high school diploma or college degree. Even showing up to a job interview without a sharp-looking outfit. But in the U.S., there is one unspoken barrier that can do lifelong damage: Bad teeth. Interviews with Medi-Cal patients, advocates and dentists show that some people on Medi-Cal in Fresno have had to pull their own teeth. Others had their dentures stolen. They have tried to access dental services over the years, but were unable to navigate the complicated system, and lost faith when their only option was teeth removal. Others found coverage for more complicated services, but struggled to gain quality care. Diaz-Nino tried going to multiple dentists with her Medi-Cal card over the years, but what was a covered benefit during one visit was no longer covered the next time around. The only service dentists offered consistently were extractions. She considered having her teeth pulled to get a denture, but her friends told her horror stories of their ill-fitting dentures, and she wanted to keep the teeth she still had." • Now MediCal covers partial dentures and crowns. But very badly. Watch for dental coverage in competing #MedicareForAll "plans."
Games
"Betrayal at Krondor" [The Digital Antiquarian]. "The most widely publicized early example of [living out shared stories through games] was undoubtedly the one which involved a humble insurance salesman named Tom Clancy, who came out of nowhere with a techno-thriller novel called The Hunt for Red October in 1984. The perfect book for a time of resurgent patriotism and military pride in the United States, it found a fan in no less elevated a personage than President Ronald Reagan, who declared it 'my kind of yarn.' As the book topped the bestseller charts and the press rushed to draft their human-interest stories on the man who had written it, they learned that Clancy had gamed out its entire scenario, involving a rogue Soviet submarine captain who wishes to defect along with his vessel to the United States, with a friend of his named Larry Bond, using Harpoon, a tabletop wargame of modern naval combat designed by the latter. Clancy's follow-up novel, a story of open warfare between East and West called Red Storm Rising, was a product of the same gestation process. To the literary establishment, it all seemed extremely strange and vaguely unsettling; to many a wargamer, it seemed perfectly natural."
Guillotine Watch
"This home comes with yoga, sound baths, star energy healing — and 95 roommates" [Los Angeles Times]. "On a recent Friday evening, two dozen young men and women shuffled to a backyard patio aglow in string lights. Most were heavily tattooed and wearing several beaded bracelets. A few wore tie-dye tank tops. All carried a stainless steel water bottle like an adult security blanket. They listened attentively as celebrity chef Seamus Mullen conducted a cooking lesson, discussing the importance of food as "nourishment" while pointing to a bouquet of squash. Then, much like a home-economics class, the group was broken into four groups, each responsible for cooking an assigned dish. This is but one of many events at Haven Coliving, a fully furnished adult dorm in Venice dedicated to wellness. When these residents aren't sleeping in a pod-style room with up to half a dozen strangers, they're treated to a full lineup of Goop-friendly activities." • I didn't know where else to file this…
Mirrors are apotropaic for vampires:
I mean pic.twitter.com/ZKKnXZ0rYr

— Parker Molloy (@ParkerMolloy) October 27, 2019
"A billionaire who signed the Giving Pledge in 2012 said Bill Gates' philanthropy pact isn't 'growing as rapidly as we hoped'" [Business Insider]. "Bill Gates and Warren Buffett founded the Giving Pledge in 2010 to encourage billionaires to give away the majority of their fortunes, according to the organization's website. The pledge now has 204 signatories from 23 different countries, including Marc Benioff, MacKenzie Bezos, Sara Blakely, Richard Branson, Micheal Bloomberg, and Ray Dalio. The pledge could be worth up to $600 billion by 2022, research firm Wealth-X found. Those impressive stats aside, the pledge has come under criticism in the past for not verifying that signatories actually donate the money they pledge and for not accepting applications to become a signatory from the public. The late hedge fund manager Robert Wilson called the pledge "practically worthless" in an email exchange published by Buzzfeed News in 2014 because it allows donors to name their own foundations in their wills." • Lol.
Class Warfare
"Who suffers the most from California's high rents? It's not the middle class" [McClatchy]. "Only 4 percent of median income families in the state are 'severely' burdened by housing costs, meaning they spend more than half of their income on housing costs, the study says. Meanwhile, 76 percent of low-income households are strained by housing costs. The study defines those households as ones whose income is 30 percent or less of their community's median income. In Sacramento, that's $22,600."
"Wages at the Wheel: Were Spinners Part of the High Wage Economy?" [Oxford Economic and Social History Working Papers]. "[S]pinners' wages were low even compared with other women workers and did not follow a trajectory which could explain the invention and spread of the spinning jenny."
"The Socialist Agronomist Who Helped End Portuguese Colonialism" (interview) [Jacobin]. "I grew up hearing and reading a lot about the bloody war against the Portuguese colonizers. [Amílcar Lopes de costa Cabral 's] effective leadership played a central role in the outcome, which culminated not only in independence for the two West African nations formerly ruled from Lisbon, but also served as a vital catalyst for the downfall of almost half a century of fascist dictatorship in Portugal and the collapse of the Portuguese empire in Africa…. In the context of neoliberal triumphalism, knowledge of Cabral's visionary leadership qualities and progressive ideas have remained largely unknown in the world generally, and in postindependence Africa in particular, while in Guinea-Bissau and Cabo Verde, it has significantly faded."
News of the Wired
I heard just a snippet of this song in Scorses's Rolling Thunder Revue. Here is a complete version:
(Lyrics). And so we don't too serious, this from the National Lampoon:
It occurred to me that surely we have a good history of the Sixties; it's been long enough. But I can't think of one. Readers?
* * *
Readers, feel free to contact me at lambert [UNDERSCORE] strether [DOT] corrente [AT] yahoo [DOT] com, with (a) links, and even better (b) sources I should curate regularly, (c) how to send me a check if you are allergic to PayPal, and (d) to find out how to send me images of plants. Vegetables are fine! Fungi and coral are deemed to be honorary plants! If you want your handle to appear as a credit, please place it at the start of your mail in parentheses: (thus). Otherwise, I will anonymize by using your initials. See the previous Water Cooler (with plant) here. Today's plant (PS):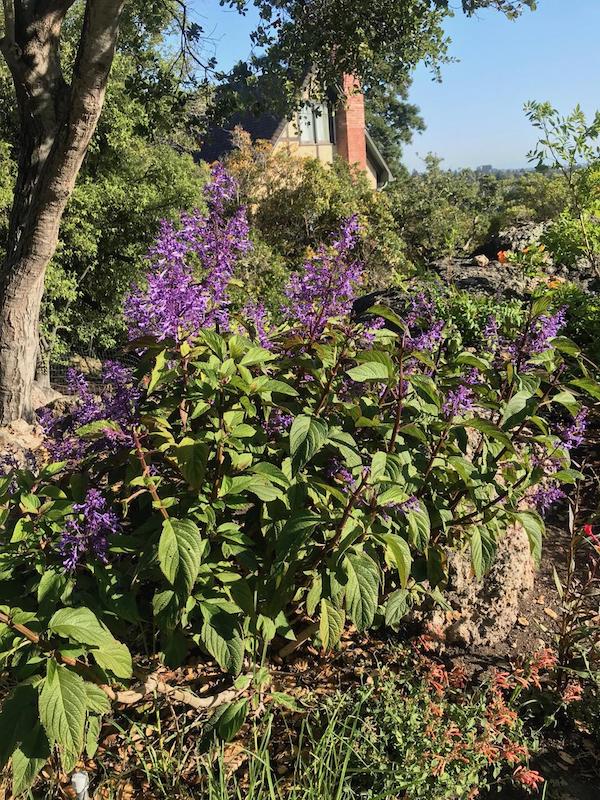 PS writes: "Plectranthus ecklonii, Berkeley, CA." Looks like a good plant to know about.
* * *
Readers: Water Cooler is a standalone entity not covered by the annual NC fundraiser (which has just concluded; thank you all very much!) Remember, a tip jar is for tipping! So if you see a link you especially like, or an item you wouldn't see anywhere else, please do not hesitate to express your appreciation in tangible form. Regular positive feedback both makes me feel good and lets me know I'm on the right track with coverage. When I get no donations for five or ten days I get worried. More tangibly, a constant trickle of donations helps me with expenses, and I factor in that trickle when setting fundraising goals:
Here is the screen that will appear, which I have helpfully annotated.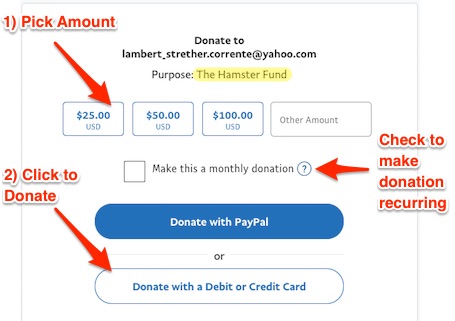 If you hate PayPal, you can email me at lambert [UNDERSCORE] strether [DOT] corrente [AT] yahoo [DOT] com, and I will give you directions on how to send a check. Thank you!