This is Naked Capitalism fundraising week. 1423 donors have already invested in our efforts to combat corruption and predatory conduct, particularly in the financial realm. Please join us and participate via our donation page, which shows how to give via check, credit card, debit card, or PayPal. Read about why we're doing this fundraiser and what we've accomplished in the last year, and our current goal, more original reporting.
Readers, I had toothgrindingly annoying issues uploading my images, so this is lighter than it should be. More later. –lambert
Trade
A long thread on the administration's new blacklist:
U.S. Blacklists 28 Chinese Entities Over Abuses in Xinjiang

The list also includes AI, voice recognition & data companies that have helped construct what amounts to a police state in Xinjiang. Includes ML startups Megvii, SenseTime and Yitu. @AnaSwansonhttps://t.co/LcRK51ZxK5 pic.twitter.com/KD6MJpkOPE

— hardmaru (@hardmaru) October 8, 2019
From the investor's standpoint:
I guess investors will have to find other ways to go long Chinese authoritarianism.

— hardmaru (@hardmaru) October 9, 2019
Politics
"But what is government itself, but the greatest of all reflections on human nature?" –James Madison, Federalist 51
"They had one weapon left and both knew it: treachery." –Frank Herbert, Dune
* * *
2020
Alert reader dk (not to be confused with DK) is in the process of developing the following interactive chart. Here is (are) the latest Dem Primary Polling as of 10/8/2019, 12:00 PM EDT:

Note that the implicit narrative of this chart diverges radically from the implicit narrative of RCP's chart.

Still waiting for the impact of Sanders heart attack. If there are no shifts by the end of the week, I'd say Sanders, er, dodges a bullet. Ditto for Warren's various difficulties with oppo, And here are the poll results:

Thanks to everyone for the good discussion yesterday.

I think dk has started a really neat project, and in the near future we'll seek your feedback (within reason) for the tool "live."

* * *

Biden (D)(1): "Feinstein officially endorses Biden: 'I've seen firsthand his legislative ability'" [The Hill]. "'I've worked closely with Vice President Biden and I've seen firsthand his legislative ability, his statesmanship, and most importantly his moral fortitude,' Feinstein said in a statement Tuesday. "'During his time in Congress and in the White House, Joe Biden has been a tireless fighter for hardworking American families.'" • Like condemning a generation college students to debt servitude; that bill was brilliantly crafted!

Buttigeig (D)(1): "Collin Martin, Openly Gay Pro Soccer Player, Is Endorsing Pete Buttigieg" [Buzzfeed]. "Collin Martin, a major league soccer player and the only openly gay man on a US professional sports team in the five majors, is endorsing Pete Buttigieg's presidential campaign. 'I've been following along with Pete for a bunch of months now, and I've been completely impressed by the guy,' Martin told BuzzFeed News over a phone call Tuesday morning. 'Obviously, I think we're at a really critical time in our country, not only concerning who's in the presidency now but just with issues like climate and upholding people's basic rights. And I think Pete's the man for the job. I've been completely enamored by him.' Martin pointed to Buttigieg's remarks in April aimed at Vice President Mike Pence, when he said, 'If you have a problem with who I am, your problem is not with me. Your quarrel, sir, is with my creator.' Martin said that as a gay man of faith that it was a moment when he thought to himself, 'This guy just really gets it.'"

O'Rourke (D)(1): "Exclusive: Beto O'Rourke unveils sweeping women's rights plan" [Salon]. "To expand access to reproductive health and rights, O'Rourke calls for repealing the Hyde Amendment — which bans federal funding for most abortions — and guaranteeing private insurance coverage for abortion…. [T]he former Texas congressman promises to champion the ratification of the Equal Rights Amendment (ERA) to the U.S. Constitution… O'Rourke proposes to allow the Equal Employment Opportunity Commission the ability to require large employers to 'automatically impose a remedy to close gaps, fining companies that fail to correct disparities.' He also wants to sign the 'Paycheck Fairness Act,' which he alleges would prohibit employers from seeking salary histories, protect workers from retaliation for discussing pay with coworkers, require employers to collect pay data for an annual EEOC report and 'prove pay gaps are job-related business necessities.' The former congressman vows to increase the minimum wage to $15 per hour, authorize negotiation programs for women and girls and make it illegal for employers to pay their part-time workers a lower hourly wage than full-time employees, and illegal to deny those workers opportunities for promotions or time off."

O'Rourke (D)(2): "O'Rourke: I won't run for Texas Senate seat" (video) [MSNBC]. • Reiteration.

Sanders (D)(1): "The pundit class continues to misunderstand Bernie Sanders – and it shows" [Nathan Robinson, Guardian]. "In part, the media underestimates Bernie because it can't understand Bernie. The new ad quotes CNN's Nia-Malika Henderson saying it's "really hard to imagine who the Bernie Sanders voter is at this point". And it's true: if you are, like Henderson, a Yale graduate living in Washington DC, or you are, like the New York Times' Sydney Ember, a former financial analyst for an investment bank, the source of Bernie's appeal must be mystifying. That's because Sanders returns again and again to issues that are of little interest to the political media, like environmental policy, social welfare, and education."

Trump (R)(1): Where's the lie?

….IN THE HISTORY OF OUR COUNTRY! We went to war under a false & now disproven premise, WEAPONS OF MASS DESTRUCTION. There were NONE! Now we are slowly & carefully bringing our great soldiers & military home. Our focus is on the BIG PICTURE! THE USA IS GREATER THAN EVER BEFORE!

— Donald J. Trump (@realDonaldTrump) October 9, 2019

Trump (R)(2): "Unpaid bills pile up in Trump rallies' wake" [Politics]. • "That makes me smart" works for taxes. Not bills.

Warren (D)(1): "In Shift, Warren Says She'll Forgo Big Money Events if Nominated" [New York Times]. "Senator Elizabeth Warren of Massachusetts, who has risen in the Democratic presidential primary on her pledge to forgo traditional big-money fund-raisers, said this week that if she became the nominee she would continue to skip such events, a reversal of what her position has been throughout 2019." • Good, but "events" is a bit more carefully worded than I would prefer.
2016 Post Mortem
"Clinton jokes she could 'obviously' beat Trump in 2020 'rematch'" [The Hill]. "'Obviously I can beat him again,' Clinton joked on 'PBS NewsHour' in an apparent reference to her earning a majority of the popular vote in the 2016 election. Trump won the Electoral College vote, 304-227." • Not a joking matter.
Our Famously Free Press
CBS. Note the color:

Here's Senator @BernieSanders' full answer on getting back to the trail, referenced above pic.twitter.com/pL7OfCo7hG

— Cara Korte (@CaraKorte) October 9, 2019

CNN. Note the saturation:

JUST IN: After returning from his visit to the cardiologist @BernieSanders tells us he is prepared to change the "nature" of his campaign. He said he plans to scale back his travel and the number of events he participates in. pic.twitter.com/IqUzM9stRN

— Ryan Nobles (@ryanobles) October 8, 2019

It's almost like they want to make him look like stroke material, isn't it?
Impeachment
"Whistleblower had 'professional' tie to 2020 Democratic candidate" [Byron York, Washington Examiner]. "Under questioning from Republicans during last Friday's impeachment inquiry interview with [the Intelligence Community's inspector general, Michael Atkinson, he] revealed that the whistleblower's possible bias was not that he was simply a registered Democrat. It was that he had a significant tie to one of the Democratic presidential candidates currently vying to challenge President Trump in next year's election. 'The IG said [the whistleblower] worked or had some type of professional relationship with one of the Democratic candidates,' said one person with knowledge of what was said. 'The IG said the whistleblower had a professional relationship with one of the 2020 candidates,' said another person with knowledge of what was said. 'What [Atkinson] said was that the whistleblower self-disclosed that he was a registered Democrat and that he had a prior working relationship with a current 2020 Democratic presidential candidate," said a third person with knowledge of what was said." • Well, that's interesting. National security advisor? Lawfare lawyer?

"Trump Finally Has His Lawyer" [The Atlantic]. "Whereas McGahn seemed to reflexively say no to the president's orders, current and former senior officials said, [Pat] Cipollone has been eager to bring Trump's vision to life—he is, as one former official put it, willing to 'play ball.' The officials rooted his willingness to cooperate in another quality that sets Cipollone apart from his predecessor: Cipollone, they said, came into office with no personal agenda in mind. 'The one thing with Pat is, it's not about him,' Jared Kushner, the president's senior adviser and son-in-law, told us. 'Things that go well are the president's accomplishments,' not Cipollone's. None of the current and former officials we spoke with could name a single issue about which he was particularly passionate." • Hmm. The very last thing Trump needs is a yes-man.
Realignment and Legitimacy
"George W. Bush Debuts New Paintings Of Dogs, Friends, Ghost Of Iraqi Child That Follows Him Everywhere" [The Onion]. • From 2014, still germane.

A-a-a-n-d about the odd connections of Bush's seat-mate, Ellen DeGeneres. Thread:

Ellen Degeneres and George W. Bush are the same thing:

[THREAD]

A leaked 2009 memo in an email exchange then Secretary of State Hillary Clinton singled out "The Ellen Degeneres Show" which could be used to "amplify and deliver messages that advance policymaking."

— Tiffany FitzHenry (@Tiff_FitzHenry) October 8, 2019

"Scapegoat Country" [Dissent]. "The subject of a Trump Country piece is usually white, disgruntled, and committed, still, to the jingoism the president embodies. The journalist rarely identifies the characteristics of that jingoism or shows much curiosity about the source of its appeal. This approach yokes rural America firmly to Trump in the public mind while sidestepping white nationalism. The stories are, as Ashley Feinberg of the Huffington Post wrote, a form of 'pornography,' produced 'less as a way of explaining the country to their audience than as a way for media outlets to gratify themselves, or perhaps to atone for the perceived sin of overlooking Trump supporters the year before.' Trump is not the president of just rural America. He won office because his message took root in coastal cities and suburbs, too. But national reporters found few occasions to explore the ascendant conservatism of these places. Consider Collier County, Florida, and McDowell County, West Virginia, two counties that voted heavily for Trump. Despite the fact that Collier County's voter turnout was more than twice that of McDowell County, only the latter drew national attention. . This selective interest in a particular type of Trump voter—and the synonymization of white conservatives with rural geographies—reinforced perceptions many onlookers already possessed. Location alters a place's material needs and shapes the struggles of its inhabitants, but rurality does not make a community simple." • This is very good. (I would imagine that both Republicans and liberal Democrats are vying for the attentions of Collier County.

"'Skeptics can be converted': Stacey Abrams says convincing Americans of voter suppression is crucial" [Yahoo News]. "Fair Fight [of the groups Abrams started after the 2018 election] is funding a $5 million effort to place four staff members inside the state Democratic Party apparatus in 20 battleground states over the next year to conduct 'voter protection operations.'" • As usual, liberal Democrats will never fight for universal benefits — like everyone deserving "voter protection" (whatever that means) — but only benefits for the worthy; in this case, those whose votes matter because they're in a battleground state. I'd also expect the NGO to be dissolved after the election, to ensure that nobody learns anything.
Health Care
"Massachusetts Unions: Medicare for All, or No Endorsement" [The Intercept]. "Members of the Massachusetts AFL-CIO recently passed a unanimous resolution to endorse a presidential candidate only if that candidate supports Medicare for All, marking a break from the labor federation's national leadership, which has equivocated on the question of whether to support universal health care." • See on Massachusetts Senator Warren's #MedicareForAll position here.
Stats Watch
JOLTS, August 2019: "Job openings remain plentiful but nevertheless continue to shrink" [Econoday]. "This report is not pointing to increasing capacity stress in the labor market and will offer doves at the Federal Reserve arguments that interest rates can continue to come down without risking an unwanted spike in wage pressures."
Wholesale Trade, August 2019: "Wholesale inventories rose" [Econoday]. "Sales at the wholesale level are subdued, unchanged in August to keep the stock-to-sales ratio in the sector unchanged."
MBA Mortgage Applications, week of October 4, 2019: "Purchase applications fell… though year-on-year growth … remains favorable [Econoday].
Shipping: "International Business Machines Corp. is taking steps to turn supply-chain management toward artificial intelligence. The company is bundling several of its supply-chain management tools into a single platform called the Sterling Supply Chain Suite…. extending tools aimed at navigating an increasingly complex landscape for the flow of goods and services. The suite is part of a broader push to automate business decisions between buyers and suppliers" [Wall Street Journal]. "The newest wrinkle for IBM is a program that can forecast how a hurricane or other event might disrupt a supply chain and then recommend alternative suppliers or other actions. That adds to the growing attention companies are paying to risk management in supply chains."
The Bezzle: "In a world full of strained relations between companies and their suppliers, the tensions between Tesla Inc. and Panasonic Corp. stand out. The partnership between the electric car maker and its automotive battery supplier is causing headaches for both companies… with the fortunes of the two very different operators now closely tied to a relationship that began in Tesla's early days more than a decade ago" [Wall Street Journal]. "The relationship that led Panasonic to invest billions in a shared Gigafactory battery plant in the Nevada desert has exposed a culture clash between the conservative, century-old Japanese conglomerate and the 16-year-old Silicon Valley upstart. The companies are pointing fingers at each other over the handling of battery production and remain at odds over pricing and expansion, adding stresses to supply-chain questions that loom over the futures of both businesses."
* * *
Today's Fear & Greed Index: 32 Fear (previous close: 23, Fear) [CNN]. One week ago: 34 (Fear). (0 is Extreme Fear; 100 is Extreme Greed). Last updated Oct 9 at 12:27pm.
The Biosphere
"Unprecedented power outages begin in California as winds bring critical fire danger" [Los Angeles Times]. "In an unprecedented move, Pacific Gas & Electric early Wednesday began shutting off power to about 800,000 customers across Northern California in an attempt to avoid wildfires caused by winds damaging power equipment…. Southern California Edison announced it, too, was considering preventive power outages." • Welcome to the Third World, California! (On California wildfires, see NC here, here, here, here, here, here, and here. But good for public libraries:
My Berkeley councilwoman says city libraries will provide power to charge devices and 24-hour wifi during the PG&E powerdown. pic.twitter.com/EW6vajn21C

— Adam Rogers (@jetjocko) October 9, 2019
Here is a map of the proposed outages. Note that "800,000 customers" = "800,000 accounts," i.e. households. So many more are affected.
"The human small intestinal microbiota is driven by rapid uptake and conversion of simple carbohydrates" [Nature]. "The human gastrointestinal tract (GI tract) contains several compartments with distinct anatomy and function, and is of utmost importance in supplying the body with energy and essential nutrients by converting and absorbing food components. The GI tract is colonized with approximately 1000 microbial species, commonly called the microbiota, and may harbor more than nine million unique genes." • At some point, we're going to discover that the gut microbiota is doing quantum computing, and then a lot of thinking will have to change…
Water
"How Stormwater Affects Your Rivers" [American Rivers]. "Rivers are dependent on their surrounding lands (known as the watershed) for a consistent supply of clean water. Altering a watershed does many things; one of the most significant is to alter the way stormwater soaks into the ground or flows to the local river. When managed properly, this water is a valuable resource. However, when stormwater is managed like a waste product, it exacerbates flooding and becomes contaminated with pollutants…. Impervious surfaces such as roads, parking lots, and roofs associated with sprawling urban development significantly change natural river flow patterns and the recharge of underground water supplies. Rainfall cannot soak into the ground through these surfaces and thus does not replenish groundwater supplies. Impervious surfaces also increase the amount and speed of water entering rivers and other water bodies." • Impermeable surfaces are bad, bad, bad!
Health Care
"D.C. to Move Disabled Medicaid Patients Into Private Managed Care Plans" [Washington City Paper]. "The District's health insurance program for low-income and disabled people will be fully managed by private companies beginning in October 2020. The rollout will take roughly five years. It's a massive change. The individuals that rely on this insurance are among D.C.'s most vulnerable: They have a disability, behavioral health diagnosis, or chronic illness like HIV. Some patient advocates are wary if private insurance companies should coordinate their care and services in exchange for a set fee per month, as the evidence is thin on whether these contractors can effectively do so…. 'We just can't do things the way we've been doing year upon year,' says Mary's Center Chief Medical Officer Tollie Elliott. 'Any time you have a change, there are always going to be associated with it … ultimately, a coordinated effort is going to drive down costs.'" • It's not your pain, champ.
"Between life and death, patients left with little choice on air ambulance costs in rural Nevada" [Nevada Independent]. "'[A]ny emergency situation it's hard to think about the cost when you're so focused on access to care. 'When you're in that situation, you're not thinking about the cost,' Wichman said. 'You're thinking about, 'I want to live.'" • "Nice little cut you've got there. It would be a shame if you bled out."
The 420
"Marijuana Business Seeks Full 10th Cir. Review in Overtime Case" [Bloomberg]. "A Colorado marijuana business wants the full Tenth Circuit to reconsider whether marijuana workers are covered by the Fair Labor Standards Act, even though their work violates federal drug laws. A three-judge panel of the U.S. Court of Appeals for the Tenth Circuit recently ruled that employers in the marijuana industry aren't excused from complying with the FLSA's overtime rules simply because their business practices are federally prohibited."
Our Famously Free Press
"WHYY says it will not recognize the union. Now what?" [Philadelphia Inquirer]. "It's hard to say why WHYY is doing this, but generally, employers want to keep unions out at all costs. Once unions are in, it's hard to get them out. That said, Braman said more than 80% is an overwhelming majority. WBUR's union had the same amount of support when it first declared its intent to unionize and won the election, 73-3." • WHYY sold a lot of tote bags, too….
Black Injustice Tipping Point
An experience I have never come remotely close to having. Thread:
1/
Last Sunday afternoon, I was riding in the car with my 12-year-old son. Just us 2, riding to our (super casual) church. And talking about his first week of school.

Best part: Seeing his friends.
Worst part: Having to wake up early again.

All of it was super normal.

Yup.

— Kimberly Manning, MD (@gradydoctor) August 18, 2019
Groves of Academe
"To Improve Our University We Must Move Massive Amounts of Human Waste Into Your Offices" [McSweeney's Internet Tendency]. • This is great. Everything you would expect it to be!
Class Warfare
"Kentucky Coal Miners End Blockade After More Than 8 Weeks, Still Owed Earned Wages" [Daily Wire]. "Kentucky coal miners demanding weeks in back pay have ended a high-profile railroad blockade despite still being owed their earned wages. The demonstration, which lasted eight weeks and three days, concluded on Thursday as the number of participants had significantly dwindled. According to one reporter at the protest site, many of the unpaid miners left 'to take new jobs, start classes, or move away from their coal-dependent communities.'… The parked coal, once valued at $1 million, will stay put until a federal bankruptcy judge decides its fate. The U.S. Department of Labor (DOL) argues the coal is considered 'hot goods' and must be 'cooled' – meaning those who mined it are paid their owed wages before the product can be transported in interstate commerce. The court is expected to rule on the DOL's motion in October. Felicia Cress, the wife of a former Blackjewel miner, told the Ohio Valley ReSource: 'This happened because we got shafted, which happens all the time,' she said. 'You got these rich people that s*** on these poor people, and people just overlook it.'" • See, there's your "economic anxiety," right there. Last to go was Chris Rowe, who played a somewhat equivocal role in the departure of the anarchists supporting the effort.
"Coal company offers deal that could pay hundreds of Kentucky miners for unpaid wages" [Herald-Leader]. "After months of litigation and weeks of protests in Harlan County, the deal could provide Blackjewel LLC with about $5.5 million that it would use to pay its former Kentucky employees. While the deal has yet to be finalized, officials with the U.S. Department of Labor said during Wednesday's court hearing that they expect to come to an agreement with Blackjewel as early as next week. Harlan County Judge-Executive Dan Mosley said Wednesday's proposed deal provides hope for a resolution that miners stood on the train tracks for weeks to accomplish: getting paid all their back wages and any other money they have been shorted, including 401(k) contributions. 'It's very, very encouraging,' he said of the proposal. "They deserve to get what they're owed.'" • Amazingly, Trump's Department of Labor actually did the right thing here, by declaring the train "hot goods."
* * *
"I ran a business. I know a CEO doesn't need to make 1,000 times more than his workers." [USA Today (S)]. "At the ripe old age of 98, I've now been around long enough to watch the American business landscape evolve over the grand sweep of time — and I haven't liked that evolution. Top executives today can pocket more for a morning's labor than their employees earn in an entire year. Last year, the Institute for Policy Studies reports, 50 major U.S. corporations paid their chief executives more than 1,000 times what they paid their typical workers. I never paid myself more than four or five times what my employees were making. I lived like my friends in my hometown of Spirit Lake, Iowa. I drove an older car, served as a scoutmaster and resided in a modest home. I had a good life. The younger me would have found today's corporate world — where share prices mean everything and workers and communities mean just about nothing — unimaginable."
"Reserve Army Of The Hungry" [Bond Economics]. "In the industrialised countries in the post-war era, providing workers with the resources to allow for 'food security' was not considered that big a deal. Hunger was an issue for the jobless. Although I am not an expert on the Soviet system, I believe that even the 1980s Soviet Union managed to feed its workers (a major concern was that they were dipping too much into the vodka rations). Courtesy of the economic policies provided by a highly educated economist class, this is no longer the case. We now have people who are employed, yet need to lean on assistance — either from charities, or governments — to get adequate nutrition. Meanwhile, I am unaware of any collapse in productivity in the agricultural sector that could explain this shift. The question is straightforward: does it matter what the official unemployment numbers are if the people who are working are dependent upon food aid? If we look at the chart at the top of the article…, we can see the explosion of SNAP recipients in response to the Financial Crisis, and the slow rate of decay. (I did not have time to better present the data, but by comparison, the official number of unemployed on the U-3 measure is currently bouncing around 6 million people.) . As a result. it is no surprise that forecasts of rising inflation based on NAIRU estimates would fail. My concern is that it is unclear that even the underemployment indicators will become misleading in this environment." Well worth a read.
News of the Wired
"'Collapse OS' Is an Open Source Operating System for the Post-Apocalypse" [Vice]. "According to the Collapse OS site, Dupras envisions a world where the global supply chain collapses by 2030. In this possible future—kind of a medium-apocalypse—populations won't be able to mass produce electronics anymore, but they'll still be an enormous source of political and social power. Anyone who can scavenge electronics and reprogram them will gain a huge advantage over those who don't… Collapse OS will work with Z80 8-bit microprocessors. Though less common today than 16- and 32-bit components, the 8-bit Z80 can be found in desktop computers, cash registers, musical instruments, graphing calculators, and everything in between. In a Reddit Q&A, Dupras explained that the Z80 was chosen "because it's been in production for so long and because it's been used in so many machines, scavenger have good chances of getting their hands on it.'" • News you can use!
* * *
Readers, feel free to contact me at lambert [UNDERSCORE] strether [DOT] corrente [AT] yahoo [DOT] com, with (a) links, and even better (b) sources I should curate regularly, (c) how to send me a check if you are allergic to PayPal, and (d) to find out how to send me images of plants. Vegetables are fine! Fungi and coral are deemed to be honorary plants! If you want your handle to appear as a credit, please place it at the start of your mail in parentheses: (thus). Otherwise, I will anonymize by using your initials. See the previous Water Cooler (with plant) here. Today's plant (Late Introvert):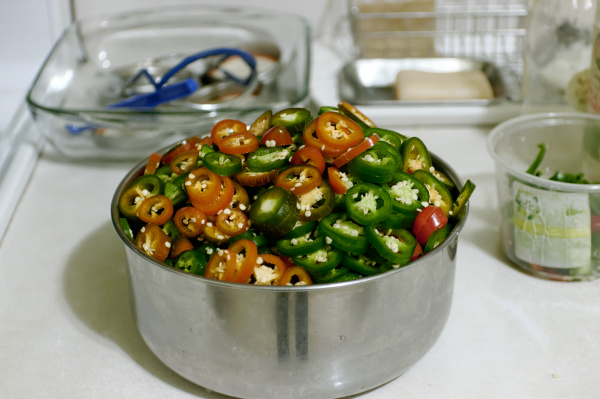 Late Introvert: "Way more jalapeños than I know what to do with, from 3 small plants.
Still more on the way. Suggestions welcome. I have a ristra of the older
red ones, that I will use for pepper flakes. Yum."