By Lambert Strether of Corrente.
Patient readers, normally I'd fill in the Politics section a little bit more, but I need to go in to complete a second Water Cooler mini-post, "Warren's #MedicareForAll Transition Plan Is Set Up to Fail" in what I hope will be an hour or so. –lambert UPDATE All done.
Trade
"The Case Is Only Growing for an Economic Forever War" [Bloomberg]. "President Donald Trump's trade war with China has become a bigger, broader economic forever war. It's hard to look ahead and see any outcome that undermines that emerging reality. A "phase one" deal may be in what U.S. officials say is its messy end stages. But that deal, if it comes, will be partial and more ceasefire than game changer. It also doesn't mean a larger peace is nigh. Moreover, there are three live truths that are becoming inescapable: 1. While both the U.S. and China have worked hard to maintain a wall between their trade talks and other political developments, that's becoming harder with each passing week…. 2. The art of the trade deal is the art of knowing how to exploit the domestic politics of your opponent…. 3. The search for survival strategies is afoot." • Those of you interested in this beat should read "The Right Way to Reduce Your China Product Costs," linked to at NC on 11-13. Despite the anodyne title, it's concerning.
Politics
"But what is government itself, but the greatest of all reflections on human nature?" –James Madison, Federalist 51
"They had one weapon left and both knew it: treachery." –Frank Herbert, Dune
Here is a second counter for the Iowa Caucus, which is obviously just around the corner:
* * *
2020
Alert reader dk (not to be confused with DK) is in the process of developing the following interactive chart. Here is (are) the latest Dem Primary Polling as of 11/18/2019, 12:00 PM EST. Ipsos has the Biden juggernaut slowing, with Sanders a clear second, Warren a clear third, and Buttigied still second-tier.

Here, the latest national results:

In Iowa, for Seltzer and YouGov, Buttigieg pulled ahead of Biden and Sanders (tied), Warren trailing, as of 11/18/2019, 12:00 PM EST. (On 11-13, Monmouth had Buttigieg, Biden, Warren, Sanders.)

Here are the Iowa results:

I think dk has started a really neat project, and in the near future we'll seek your feedback (within reason) for the tool "live."

* * *

Trump (R)(1): "Why you just can't trust the White House on Donald Trump's health" [CNN]. "President Donald Trump, according to the White House, made an unscheduled trip to Walter Reed hospital on Saturday for a 'quick exam and labs' as the first stage of his annual physical… Now consider what we know about Trump's visit to Walter Reed on Saturday. It was unscheduled. Unlike his past physicals, it was not on his public schedule and was not announced to reporters. The medical staff did not get a heads up that a "VIP" guest was coming, as they typically would. While White House press secretary Stephanie Grisham said the trip was simply Trump getting a jump on his annual physical, he did not have that physical done in phases or over multiple days in the past two years." • Yes, that "first stage" thing sounded bogus to me, too.

Warren (D)(1): "Inside Warren's secret big-donor fan club" [Politico]. "Elizabeth Warren prohibits special access for big donors — but her campaign treasurer and another close ally are organizing wealthy supporters for Warren behind the scenes while she rips on the rich. The pair, Boston businessman Paul Egerman and activist Shanti Fry, have maintained campaign titles as Warren's finance co-chairs… Fry and Egerman — a longtime friend of Warren's who helped build support for her first run for office — are courting big donors in the Northeast by organizing trips, hosting events and acting as conduits for information about the campaign… Last week, a crowd of Bostonians packed into the trendy Tiger Mama restaurant for a brunch benefiting Warren's campaign — without Warren herself, per campaign policy. Instead, the event, which focused on LGBTQ support and was open to small- and large-dollar donors, had the next best thing: a cardboard cutout of Warren, as well as face time with Egerman and Fry." • Brunch. Of course. "Cutout," of course, has a double-meaning: "In espionage parlance, a cutout is a mutually trusted intermediary, method or channel of communication that facilitates the exchange of information between agents." The cutouts in this case are Egerman and Fry, aren't they?
Impeachment
"Why this photographer brought a 1940s wooden camera to the impeachment inquiry" [CBC]. "David Burnett covered the impeachment hearings of former U.S. presidents Richard Nixon and Bill Clinton. He also captured crucial moments of the 1979 Iranian Revolution, and has taken photos at every Summer Olympic Games since 1984… But unlike the other photographers, Burnett had to wait a couple of days to see how his photos turned out — because he was using a 1940s-era large-format wooden camera." • This is really neat. Here's the camera:

At the opening of the House Impeachment, the ole wooden camera on the ole wooden witness table pic.twitter.com/Lht5DJ1xPt

— david burnett (@davidb383) November 13, 2019

The lens is a 7" (!!) f/2.5 Aero-Ektar lens, developed for aerial photography in World War II.

* * *

"Trump says he will consider testifying in impeachment hearing" [Reuters]. "U.S. President Donald Trump on Monday said he might be willing to testify in the impeachment inquiry 'even though I did nothing wrong,' although House Democrats leading the investigation have not publicly called him as a witness. 'Even though I did nothing wrong, and don't like giving credibility to this No Due Process Hoax, I like the idea & will, in order to get Congress focused again, strongly consider it!' Trump tweeted." • One can't help but be reminded of this:

"Transcript: Kent and Taylor public testimony in front of House Intelligence Committee" [WaPo]. From Taylor's testimony:

The Russians are violating all of the rules, treaties, understandings that they committed to that actually kept the peace in Europe for nearly 70 years.

2019 – 70 = 1949. Stalin died in 1953. If you take Taylor seriously, he's saying that Putin's Russia is worse than the USSR of Stalin, Kruschev, and Breshnev. The thing to remember about the Ambassadors, as well as The Blob generally, is that they're all crazypants. Even if they were dedicated public servants, which they, being self-serving, are not, they'd still be crazypants.
Obama Legacy
"Bernanke: Some Wall Street executives should've gone to jail over financial crisis" [Los Angeles Times]. "Former Federal Reserve Chairman Ben Bernanke says some Wall Street executives should have gone to jail for their roles in the financial crisis that gripped the country in 2008 and triggered the Great Recession…. Bernanke said he thinks that in addition to the corporations, individuals should have been held more accountable…. "It would have been my preference to have more investigations of individual actions because obviously everything that went wrong or was illegal was done by some individual, not by an abstract firm," Bernanke said." Asked if someone should have gone to jail, the former Fed chairman replied, "Yeah, I think so." He did not, however, name any individual he thought should have been prosecuted, and he noted that the Federal Reserve is not a law-enforcement agency." • Thanks, Obama. Liberal Democrats frothing and stamping about the rule of law should consider this. Nobody takes them seriously about the rule of law, because when they had the chance to enforce it — and the country would have been with them, all the way, across the politcal spectrum — they didn't govern. And all the people so derelict in their duty are still in charge, respected party elders, and very well-paid opinion-havers.
Stats Watch
Housing Market Index, November 2019: "A slight dip doesn't disturb the rising trend for home builders who all year, after a rough end to a poor 2018, have been enjoying improving conditions" [Econoday]. "Today's report should confirm expectations for acceleration into year end and perhaps a second straight positive contribution from residential investment to quarterly GDP."
Commodities: "The once high-flying companies that provide sand for fracking operations are crumbling as oil and gas drillers reset sourcing strategies" [Wall Street Journal]. "[T]he cumulative market value of six suppliers wholly or partly dependent on the business has fallen from $18 billion four years ago to below $800 million. The problem is that too much sand is being mined while drilling has slowed substantially." • Localities: "But we gave you tax breaks! Where did the jobs go?"
Retail: "A businesswoman proved a craft fair can attract 22,000 people to the struggling Bangor Mall" [Bangor Daily News]. "'I'd say our Saturday was a mini-Black Friday,' said Shawn Cahill, manager of the nearby Lamey Wellehan shoe store on Bangor Mall Boulevard, which saw its sales grow more than 10 percent over last year's Veterans' Day weekend. 'I haven't personally seen the mall that packed that early in the morning in maybe 10 years.'" • The population of Bangor is ~32,000, and Penobscot County ~152,000 so 22,000 is an amazing number.
Shipping: "The world's biggest container shipping line is focusing new investment on land rather than the water. A.P. Moeller-Maersk AS says it won't buy new ships over the near term and plans to focus on cost-cutting in its main port-to-port service" [Wall Street Journal].
Shipping: " Airlines around the world are shying away from buying more of the biggest jetliners because of slowing passenger growth and a slump in air cargo traffic" [Wall Street Journal]. "The cargo market isn't helping the jet makers, with freight demand falling throughout this year even as capacity has expanded.
The Bezzle: "Zombie Miles And Napa Weekends: How A Week With Chauffeurs Showed The Major Flaw In Our Self-Driving Car Future' [Jalopnik]. "Some surveys predicted only a few percentage points increase in [Vehicle Miles Traveled (VMT)] in a self-driving car future. Others, upwards of 90 percent. "[Mustapha Harb's] advisor, Professor Joan Walker, had an idea. What if they hired chauffeurs to drive random people around? The chauffeur, Walker outlined, will do the driving for you. And, just like the most optimistic AV future of fully autonomous robot cars zooming around, you don't even have to be in the car. 'All these things the self-driving car can do for you in the future,' Harb summarized, 'a chauffeur can do for you today.'… Using 13 volunteers (a very small sample size due to budgetary constraints) from the San Francisco Bay Area who owned cars, Harb and his team studied their travel patterns using GPS trackers on their cars and phones for one week, then gave them a chauffeur for a week who would drive the participants' personal vehicles for them….. when they had the chauffeur versus the week prior…. To put these findings in perspective, when researchers looked into the impact Uber and Lyft have had on urban congestion, they reported an increase in VMT in the single digits. San Francisco, which has seen some of the largest percentage increase of cars driving around in its downtown thanks to Uber and Lyft, had an increased VMT of 12.8 percent." • Holy moley! Imagine how that would affect Manhattan. Or Seattle. Or San Francisco.
* * *
Today's Fear & Greed Index: 83 Extreme Greed (previous close: 87, Extreme Greed) [CNN]. One week ago: 89 (Extreme Greed). (0 is Extreme Fear; 100 is Extreme Greed). Last updated Nov 18 at 2:00pm.
Rapture Index: Closes down 1 on Tribulation Temple. "The lack of news on the Tribulation Temple has downgraded this category" [Rapture Ready]. Record High, October 10, 2016: 189. Current: 181. Remember that bringing on the rapture is a good thing. I wonder when, in 2020, the index will start flirting with 190 again. So far, the latest impeachment push hasn't affected the Index.
The Biosphere
"There's Growing Evidence That the Universe Is Connected by Giant Structures" [Vice]. "But despite their differences, and the mind-boggling distances between them, scientists have noticed that some galaxies move together in odd and often unexplained patterns, as if they are connected by a vast unseen force…. some galaxies show dynamic links across distances too great to be explained by their individual gravitational fields. For instance, a study published in The Astrophysical Journal in October found that hundreds of galaxies were rotating in sync with the motions of galaxies that were tens of millions of light years away." • We don't know anything!
"Planet junk: a journey through discards" (review) [Nature]. "Sprinkled with sometimes counter-intuitive observations, [Secondhand] delivers a key insight early on from a professional home de-clutterer: we are all hoarders. The extent to which that becomes problematic is a matter of degree…. This is a mass behaviour, Minter shows, that is unprecedented in human history: keeping more possessions than we need, or can even contain in our homes. Between 1967 and 2017, he notes, US spending on stuff, from sofas to mobile phones, increased almost twenty-fold. He asserts that similar patterns of overconsumption are gathering steam worldwide. In one startling discussion on how consumers have bitten off more than they can chew, he looks at the US mini-storage warehouse industry that sequesters domestic overflow. By 2017, Minter reports, there were more than 54,000 home-storage businesses, generating annual income triple that of Hollywood's box-office revenues — which was US$12 billion in 2018."
"'Green' wind energy sending many giant blades to landfills" [Des Moines Register]. " upgrades for Iowa's growing wind industry, which is already among the nation's largest, are creating some unexpected challenges. MidAmerican's retired blades, destined for the Butler County Landfill near David City, Nebraska, about 130 miles away, are among hundreds that will land in dumps across Iowa and the nation. …. Wind energy generation, now topping 100 gigawatts nationally, will create 1 million tons of fiberglass and other composite waste, said Laird, director of the National Wind Technology Center at the National Renewable Energy Laboratory in Colorado… Landfill operators thought the composite blades, cut in 40-foot or larger sections, could be readily crushed and compacted. 'But blades are so strong — because they need to be strong to do their job — they just don't break,' said Amie Davidson, an Iowa Department of Natural Resources solid waste supervisor. 'Sometimes pieces fly off and damage equipment' in the compacting process, she said. 'Landfills are really struggling to manage them, and they just decide they can't accept them.'" • Maybe we could make planters out of them.
Water
"New, slippery toilet coating provides cleaner flushing, saves water" [Phys.org]. "Every day, more than 141 billion liters of water are used solely to flush toilets. With millions of global citizens experiencing water scarcity, what if that amount could be reduced by 50%?… "Our team has developed a robust bio-inspired, liquid, sludge- and bacteria-repellent coating that can essentially make a toilet self-cleaning," said Tak-Sing Wong, Wormley Early Career Professor of Engineering and associate professor of mechanical engineering and biomedical engineering…. Co-developed by Jing Wang, a doctoral graduate from Wong's lab, the liquid-entrenched smooth surface (LESS) coating is a two-step spray that, among other applications, can be applied to a ceramic toilet bowl. The first spray, created from molecularly grafted polymers, is the initial step in building an extremely smooth and liquid-repellent foundation. 'When it dries, the first spray grows molecules that look like little hairs, with a diameter of about 1,000,000 times thinner than a human's,' Wang said. While this first application creates an extremely smooth surface as is, the second spray infuses a thin layer of lubricant around those nanoscopic 'hairs' to create a super-slippery surface." • But it only works for 500 flushes…
Health Care
"Welcome to Molar City, Mexico, The Dental Mecca America's Health Care Costs Built" [HuffPo]. "Dental care has become big business here over the last two decades, so much so that American visitors have taken to calling it "Molar City." An estimated 600 dentists operate out of hundreds of clinics that fill the 1-square-mile town, which is home to fewer than 5,000 permanent residents…. For all forms of medical and dental treatment, Patients Beyond Borders estimates that U.S. patients can save 40% to 60% in Mexico." • And then there's the horror of the American medical system itself.
Keep the horror stories coming:
I just donated to a medical GoFundMe for another high school acquaintance. My graduating class was about 200 kids; this is the 3rd time I've done this in as many years, each for a different classmate. It's time for Medicare For All. #NotMeUs #Bernie2020

— Every nimble plane is a policy failure. (@KindAndUnblind) November 14, 2019
Reality check on "over-use" of health care:
The sensible economist is right, when M4A passes I'm gonna go to the doctor every fuckin day who's with me https://t.co/UB3EEIwWCj

— John Pat Leary (@JohnPatLeary) November 6, 2019
Our Famously Free Press
Waiting for the axe to fall:
Want to know how shit the media industry has been to an entire generation of writers? David is doing this for the second time in two years. On VICE Sports's last day, as he waited for his email to go see HR, he edited and published every freelance piece he could. https://t.co/baR4udibez

— Aaron W. Gordon (@A_W_Gordon) October 31, 2019
"One-in-five U.S. newsroom employees live in New York, Los Angeles or D.C." [Pew Research]. "New York, Los Angeles and Washington, D.C., are the financial, entertainment and political capitals of the United States – and that may help explain why they are home to a disproportionately large share of the nation's newsroom employees. About one-in-five newsroom employees (22%) live in these three metro areas, which, by comparison, are home to 13% of all U.S. workers… About four-in-ten newsroom employees who work in internet publishing live in the Northeast (41%)."
"How the Charleston Gazette-Mail overcame bankruptcy, layoffs and management changes to double digital subscriptions" [Poynter]. "But the changes that got the Gazette-Mail there were also fairly simple – a tightened paywall, aggressive subscription offers, collaboration across departments, national partnerships and a newsroom that's starting to embrace its role in saving itself." • This is very interesting. Local newspapers do not have to die (though local ownership is important).
Good idea:
Join @BaltSunVisuals this Saturday in Fells Point for a morning of photo fun. No cameras, photography experience or admission fee required: https://t.co/I0gJ2PKYnG

— The Baltimore Sun (@baltimoresun) October 31, 2019
"At the Times, a Hesitance to Hyperlink" [Vice]. "There's a joke in the journalism industry: It's not news until the New York Times says it is. This is because the Times often reports stories that other outlets already have without any acknowledgment that they're doing so…. Angry journalists regularly tweet (and sometimes write) about the bizarre practice, which comes up all the time. For instance, the Times recently wrote about how Kickstarter is unionizing. This was an important piece about an important topic; the main problem with it was that Slate's April Glaser wrote an in-depth investigation breaking news about the exact same topic a month earlier, to which the Times didn't bother linking until after Glaser publicly criticized them for not doing so."
"The Urgent Need for Worker-Owned Media" [Current Affairs]. "The [Deadspin] writers wanted money too, and the owners were just the kinds of scummy vulture capitalists who don't actually understand the companies they buy… I am reminded here of Maureen Tkacik's excellent reporting on Boeing, where a similar thing had happened. The people in charge of the company had no idea how it ran or how to make airworthy planes… The biggest threat to journalism today is not "technology." Journalists can innovate ways to use technology to produce excellent new work, and even to get people to pay for it. The big problem is ownership: The journalists don't own the companies. … If we are to stand a chance of having quality independent media, we must build the worker-owned, reader-funded model."
Police State Watch
"Some California Police Departments Don't Review Deadly Uses of Force" [KQED (JBird4049)]. "A new state transparency law, Senate Bill 1421, that's opened internal investigation documents for the first time in decades, is providing a key insight into the long-hidden world of California policing: Not all agencies review how their officers acted — and whether they violated department policies — when they kill or badly injure someone. Some sort of review of those incidents is set to become standard practice in California beginning in 2021, thanks to another new state law, but that legislation sets no standards for thoroughness or documentation. KQED and the Bay Area News Group analyzed records on officers' use of deadly force released by 122 agencies statewide, and found that 10% failed to internally investigate incidents that occurred between 2014 and 2018. The incidents included 16 fatal shootings, three deaths following fights with officers, and nine nonfatal events. For departments that did investigate uses of force, documents show a stark range of thoroughness, from a scant single-page checklist to an in-depth analysis of whether officers followed their training, used correct tactics and employed deadly force only as a last resort. Some of the most thorough departments ordered more training and held officers accountable if they failed to follow policy." • I don't see why there should be any variation between localities on this.
Class Warfare
"Is Your Employer Stealing From You?" [GQ]. "Wage theft isn't one of the crimes most prosecutors and politicians refer to when they talk about getting "tough on crime," but it represents a massive chunk of all theft committed in the U.S. A 2017 study by the Economic Policy Institute (EPI) found that in the ten most populous states, an estimated 2.4 million people lose a combined $8 billion in income every year to theft by their employers. That's nearly half as much as all other property theft combined last year—$16.4 billion according to the FBI. And again, EPI's findings are only for ten states. According to the institute, the typical worker victimized by minimum-wage violations is underpaid by $64 per week, totaling $3,300 per year. If its figures are representative of a national phenomenon, then EPI estimates that the yearly total for American wage theft is closer to $15 billion."
News of the Wired
"Every Mobile App You've Ever Used Has This One Feature" [OneZero]. "Some estimates say that each day the average person scrolls more than a mile with their thumb, which, thanks to our sedentary lifestyles, may be further than we walk over the same time period. And all of these apps, on all of these platforms, built by all of these billion-dollar Silicon Valley unicorns, have one thing in common. They are all built using the same fundamental component: . In fact, I can say — almost with a straight face — that this single user interface component may have become the foundation of contemporary Western society." • What would a philospher think of this, I wonder?
"Hokusai: old man, crazy to paint" [1843]. "The aim of Hokusai, a Japanese artist, was to live – and work – beyond the age of 100. He said… that 'until the age of 70, nothing I drew was worthy of notice.' Every year he worked, he improved. Older meant better. 'At 110, every dot and every stroke will be as though alive.' A new exhibition at the British Museum in London covering the last 30 years of his life bears him out." • Gorgeous prints!
* * *
Readers, feel free to contact me at lambert [UNDERSCORE] strether [DOT] corrente [AT] yahoo [DOT] com, with (a) links, and even better (b) sources I should curate regularly, (c) how to send me a check if you are allergic to PayPal, and (d) to find out how to send me images of plants. Vegetables are fine! Fungi and coral are deemed to be honorary plants! If you want your handle to appear as a credit, please place it at the start of your mail in parentheses: (thus). Otherwise, I will anonymize by using your initials. See the previous Water Cooler (with plant) here. Today's plant (ChiGal):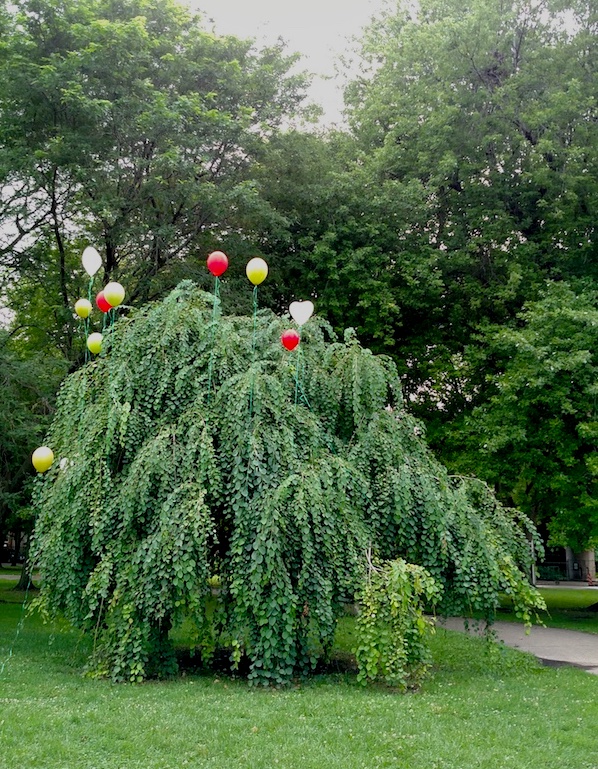 ChiGal writes: "Very special tree on a very special day: Weeping katsura this August in Nichols Park on the south side of Chicago, planted 19 years ago on what would have been my son's 20th birthday. Ut was a scrawny little thing, shorter than some of his friends and look at it now; last time for the balloons though; I did not know the planet was running out of helium." Since ChiGal mentioned this in comments, I don't feel it's oversharing. I think it's lovely.
* * *
Readers: Water Cooler is a standalone entity not covered by the annual NC fundraiser. So if you see a link you especially like, or an item you wouldn't see anywhere else, please do not hesitate to express your appreciation in tangible form. Remember, a tip jar is for tipping! Regular positive feedback both makes me feel good and lets me know I'm on the right track with coverage. When I get no donations for five or ten days I get worried. More tangibly, a constant trickle of donations helps me with expenses, and I factor in that trickle when setting fundraising goals:
Here is the screen that will appear, which I have helpfully annotated.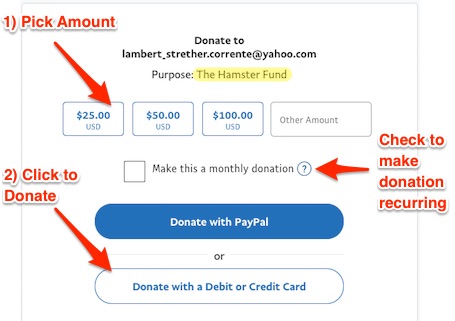 If you hate PayPal, you can email me at lambert [UNDERSCORE] strether [DOT] corrente [AT] yahoo [DOT] com, and I will give you directions on how to send a check. Thank you!