By Lambert Strether of Corrente.
Patient readers, with both Bloomberg and impeachment, I'm a little overloaded, so I'll have a bit more quite shortly. –lambert UPDATE All done!
Trade
"Shutterstock Employees Fight Company's New Chinese Search Blacklist" [The Intercept]. "The publicly traded company built a $639 million-per-year business on the strength of its vast — sometimes comically vast — catalog of images depicting virtually anything a blogger or advertiser could imagine. The company now does business in more than 150 countries. But in China, there is now a very small, very significant gap in Shutterstock's offerings. In early September, Shutterstock engineers were given a new goal: The creation of a search blacklist that would wipe from query results images associated with keywords forbidden by the Chinese government. Under the new system, which The Intercept is told went into effect last month, anyone with a mainland Chinese IP address searching Shutterstock for 'President Xi,' 'Chairman Mao,' 'Taiwan flag,' 'dictator,' 'yellow umbrella,' or 'Chinese flag' will receive no results at all. Variations of these terms, including 'umbrella movement' — the precursor to the mass pro-democracy protests currently gripping Hong Kong — are also banned."
Politics
"But what is government itself, but the greatest of all reflections on human nature?" –James Madison, Federalist 51
"They had one weapon left and both knew it: treachery." –Frank Herbert, Dune
* * *
2020
Alert reader dk (not to be confused with DK) is in the process of developing the following interactive chart. Here is (are) the latest Dem Primary Polling as of 11/8/2019, 11:00 AM EST:

Just as Warren pulls even with Biden, the media turns on her. Odd. Here, today's results, as of 11/8/2019, 11:00 AM EST:

Here is a new NV poll, as of 11/8/2019, 11:00 AM EST:

And here is the latest result, as of 11/8/2019, 11:00 AM EST. Look at Buttigieg go:

Biden juggernaut rolls on.

I think dk has started a really neat project, and in the near future we'll seek your feedback (within reason) for the tool "live."

* * *

Theory of Change, Sanders:

The billionaire class is scared and they should be scared.

— Bernie Sanders (@BernieSanders) November 7, 2019

Theory of Change, Warren;

Welcome to the race, @MikeBloomberg! If you're looking for policy plans that will make a huge difference for working people and which are very popular, start here: https://t.co/6UMSAf90NT

— Elizabeth Warren (@ewarren) November 7, 2019

There's even a button for Bloomberg ($52,000,000,000). Here is the result:

So, billionaire purchasing power will be undiminished. Politicians, political parties, think tanks, newspapers… Everything goes on as before!

* * *

Biden (D)(1): "I Have Fought for the Democratic Party My Whole Career" [Joe Biden, Medium]. "The other day I was accused by one of my opponents [Warren] of running in the wrong primary. Pretty amazing. On one level, it is kind of funny. I have fought for the Democratic party my whole career…. It's representative of an elitism that working and middle class people do not share: 'We know best; you know nothing'. '.' This is no way to get anything done. This is no way to bring the country together. This is no way for this party to beat Donald Trump." • Front-row, back-row.

Bloomberg (D)(1): "Leon Cooperman, who has been battling Elizabeth Warren, says he will support fellow billionaire Mike Bloomberg for president" [CNBC]. "Cooperman is one of several Wall Street executives who are already preparing to help Bloomberg in anyway they can if he runs for president. A private equity executive, who declined to be named in order to speak frankly about the situation, said he would likely support Bloomberg's campaign as well." • Say no more! Say no more!

Bloomberg (D)(2): "'I'd Do Her': Mike Bloomberg and the Underbelly of #MeToo" [The Atlantic]. From 2018, still germane: "From 1996 to 1997, four women filed sexual-harassment or discrimination suits against Bloomberg the company. One of the suits included the following allegation: When Sekiko Sakai Garrison, a sales representative at the company, told Mike Bloomberg she was pregnant, he replied, 'Kill it!' (Bloomberg went on, she alleged, to mutter, 'Great, No. 16'—a reference, her complaint said, to the 16 women at the company who were then pregnant.) To these allegations, Garrison added another one: Even prior to her pregnancy, she claimed, Bloomberg had antagonized her by making disparaging comments about her appearance and sexual desirability. 'What, is the guy dumb and blind?' he is alleged to have said upon seeing her wearing an engagement ring. 'What the hell is he marrying you for?' Bloomberg denied having made those comments, claiming that he passed a lie-detector test validating the denial but declining to release the results. (He also reportedly left Garrison a voicemail upon hearing that she'd been upset by the comments about her pregnancy: 'I didn't say it, but if I said it, I didn't mean it.') What Bloomberg reportedly did concede is that he had said of Garrison and other women, "I'd do her." In making the concession, however, he insisted that he had believed that to 'do' someone meant merely 'to have a personal relationship' with them." • I imagine we'll be cancelling Bloomberg shortly? This is a heck of a lot more than liberal Democrats had with Kavanaugh.

UPDATE Bloomberg (D)(3): "China to lift ban on state-owned firms buying Bloomberg terminals, source says" [South China Morning Post]. "China never explained the ban but it came shortly after the agency published a story on June 29, 2012, about the finances of the extended family of Xi Jinping – then the vice-president. … After the ban, the company withheld an investigative report about Wang Jianlin, the chairman of the Dalian Wanda Group and the one of the wealthiest tycoons well connected with Chinese leaders, in 2013, according to a report by The New York Times. Michael Forsythe, the key author of the investigative reports, left the company shortly afterwards. Bloomberg has never admitted the practice of self-censorship." • Hmm.

Clinton (D)(1): "Hillary Clinton: Warren's 'Medicare for All' plan would never get enacted" [The Hill]. "'You just don't think that that plan would ever get enacted?' interviewer Andrew Ross Sorkin asked Clinton at The New York Times DealBook Conference. 'No, I don't. I don't, but the goal is the right goal,' the former secretary of State responded." • So, Clinton and Warren are agreed that it's a long-term goal, but only Warren had the skills and the stones to create a "plan" that would make #MedicareForAll stay a goal. (Caveat that we are still waiting for Warren's plan for "transition.")

Sanders (D)(1): "Leftism Isn't Very Appealing to Nonvoters. But Bernie Sanders Is." [New York Magazine]. "[T]here's some reason to think that the class and social position of nonwhite (and/or working-class) nonvoters make them potential constituents for progressive politics, given sufficient engagement from trusted community institutions. But this does not mean that politically disorganized, low-income, and/or nonwhite Americans are especially likely to subscribe to the left-wing economic views that vulgar Marxists would ascribe to them — let alone to the across-the-board social and racial progressivism that is most commonly found among highly engaged, highly educated Democrats of all colors and income levels." • "Highly-educated" yet "of all income levels"? Huh? More: "[N]onvoting Democrats were also more likely to support single-payer and to approve of Bernie Sanders, who boasted a higher 'very favorable' rating among such Democrats than Joe Biden or Elizabeth Warren. In fact, " • That's the first confirmation I've seen of Sanders' theory of change. More: "Taken together, the Times' findings suggest that 'unreconstructed' Sandersism — which is to say, a bold, anti-Establishment message focused narrowly on health care and inequality — might be the party's best bet for reaching nonvoting Democrats and swing voters alike." • Plenty of nuance and qualification, though. (Osita Nwanevu: "I think it's absolutely critical to note that NYT's "nonvoters" were *registered* nonvoters and that their figures don't represent the preferences of the eligible but non-registered population.)

Sanders (D)(2): "Dem Presidential Primary 2020" [GoogleDocs]. • Volunteer compilation of all Sanders events.

Steyer (D)(1): "AP Exclusive: Steyer aide offered money for endorsements" [Associated Press]. "A top aide to Democratic presidential candidate Tom Steyer in Iowa privately offered campaign contributions to local politicians in exchange for endorsing his White House bid, according to multiple people with direct knowledge of the conversations. The overtures from Pat Murphy, a former state House speaker who is serving as a top adviser on Steyer's Iowa campaign, aren't illegal — though payments for endorsements would violate campaign finance laws if not disclosed."

Trump (R)(1): "The Twitter Presidency" [New York Times]. • Searchable archive of all Trump's tweets.

Warren (D)(1): "The Ivory Tower team of wonks behind Warren's policy agenda" [Politico]. From July, still germane: "Warren's campaign policy team—four people on staff, plus a close outside adviser who's a professor at Vanderbilt University Law School—[all] have degrees from Harvard or Yale, some two." * What, no adjuncts from state schools?

Warren (D)(2):

Asked which 3 African Americans she'd want in her White House, @ewarren says she won't name any current politicians, but drops @DevalPatrick's name, adds "someone like" @MelodyCBarnes pic.twitter.com/wkDOwuUNRS

— Zak Hudak (@cbszak) November 7, 2019

Bain Capital (Patrick) and Booz Allen (Barnes);

Warren (D)(3):

New: Warren wipes Harvard from populist pitch. On the trail, she refers to herself as a "teacher" instead of "professor," she asks for "Okies" in the crowd rather than ppl from Mass, when she wears college swag, it's often a Berkshire Comm College hat. https://t.co/emalJZXbnD

— Alex Thompson (@AlxThomp) November 7, 2019

* * *

"DNC Leaders Bury Heads In Hands After New Moderate Presidential Recruit Immediately Walks Into Oncoming Traffic" [The Onion].
Impeachment
UPDATE Plot twist:

Pres discloses he had another phone call with Ukraine Pres Zelenskiy before the July 25 call. Says if the impeachment inquiry wants the transcript of that one, it's okay by him. "I have no problem giving it to them." pic.twitter.com/8N1doK7gNV

— Mark Knoller (@markknoller) November 8, 2019

More narrative fragment reconfiguration:

Drop the Latin! "Quid" & "Quo" are distractions. Trump is guilty of Bribery and Extortion. Art II Sec 4 says "The President . . . SHALL be removed from Office on Impeachment for, and Conviction of, Treason, BRIBERY, or other high Crimes and Misdemeanors."https://t.co/nqS4y3sd3H

— Laurence Tribe (@tribelaw) November 8, 2019

Reasonable, actually, but who thought "quid pro quo" was a good idea?

Never Trumper agrees with Tribe:

Sondland describes a bribe. Delivery of something of value to Trump (cooked up oppo research for his campaign) in exchange for a public act (releasing aid). It is on that basis the House should proceed. Prosecution can go forward once he is out of office.

— Jennifer Rubin (@JRubinBlogger) November 5, 2019

"Inchoate," however, as alert reader David Soares explains, since noting of value was delivered, and there was no public act, ergo no exchange (basically on the level of Tom Steyer, supra).

UPDATE "Mick Mulvaney won't show up for impeachment probe testimony, despite subpoena" [NBC]. "Acting White House chief of staff Mick Mulvaney will skip a scheduled deposition Friday before the House committees leading the impeachment inquiry into President Donald Trump, despite receiving subpoena for his attendance, a senior administration official told NBC News." • I'm not seeing a lot of subpoena enforcement.

UPDATE "PBS, Televise Impeachment Hearings for All to See" [Bill Moyers]. "The House of Representatives has announced that public hearings in the impeachment inquiry will begin on Wednesday, November 13. We believe that for the sake of the nation, public television should not only broadcast them live as they happen but repeat them in primetime so that Americans who work during the day have a chance to watch and judge for themselves Donald Trump's guilt or innocence. There's an important and historic precedent for PBS to do this. We know because we were there. Each of us had just started in public broadcasting when Watergate was at the top of the news." • I'm torn. On the one hand, public and open are good. On the other, I remember Watergate as being a serious endeavor in a way that these impeachment proceedings are not (and not just because of polarization).

UPDATE "John Bolton's Old Rivals Say Trump Should Be 'Very, Very Worried'" [Medium]. "The biggest question hanging over the impeachment inquiry may be whether John Bolton details what he witnessed about a plot to extort Ukraine to benefit President Donald Trump. Bolton is reportedly willing to testify against the wishes of the White House, the Washington Post reported Thursday, and spill about conversations he had with Trump. But he's waiting on a court order sought by a lawyer working for Bolton and his former deputy at the National Security Council that will determine whether the pair must talk to Congress or abide by the White House's opposition on the grounds of executive privilege." •

UPDATE So the issue is really who conducts foreign policy, the President or The Blob?

Volker on his sense of why Bill Taylor was reluctant to serve as acting ambassador to Ukraine: "I think hanging over everyone's head on the expert community is, is there some grand bargain with Russia where we throw Ukraine under the bus." pic.twitter.com/0ypPnIA2ro

— Laura Rozen (@lrozen) November 7, 2019

(I love "the expert community.")

UPDATE Zaid is the "whistleblower"'s lawyer. From 2017:

#coup has started. First of many steps. #rebellion. #impeachment will follow ultimately. #lawyers https://t.co/FiNBQo6v0S

— Mark S. Zaid (@MarkSZaidEsq) January 31, 2017

Trump's not the only one who says the quiet part out loud, apparently.
Health Care
"Medicare for All Is a Strategy" [Jacobin]. "But Medicare for All is more than just a matter of fixing our broken health-care system. And it's more than just a good policy. It's the perfect fight to pick with our ruling class — one that can unlock the power of a mass, working-class movement in the United States. But on political grounds, if we want to take the nascent left renaissance in America and turn it into a durable, working-class movement in the 2020s — a precondition for addressing more morally and more scientifically urgent issues of the day — the fight for Medicare for All must be at the very top of the Left's priorities." • Yep.
Realignment and Legitimacy
UPDATE Party of the rich:

There are 700 Billionaires in the USA or 0.0002% of the population. With Bloomberg's entry, there are 18 Democrats running for president, 2 of whom are billionaires (or 11% of total).

— Jeet Heer (@HeerJeet) November 7, 2019

"Opinion: Trolling Is Now Mainstream Political Discourse" [Wired (Re Silc)]. "The number of real people who are participating, including those who inspire and galvanize others to take political action, like vote, is on the decline. Instead, social platforms are increasingly populated by machines: bots, conversational AI, etc. Their agenda includes silencing real people who voice opposition and support for certain views. They also serve as threat intel—connecting our conversations, discovered through the monitoring of our expressed feelings and shared posts, with political issues. In our latest study, we found more than half of some 100,000 tweets about two female Muslim congressional candidates in the 2018 midterms (both of whom would eventually win historic victories) involved outright hate speech. What's more, the bulk of the harassment and provocation came from a small cohort of troll-like accounts. These amplifiers didn't simply retweet news stories and spam links. Content wasn't necessarily their primary weapon; connectivity was." • I think any Sanders supporter who dealt with Clinton's million-dollar troll army in 2016 knows all about this.
Stats Watch
Consumer Sentiment, November 2019 (Preliminary): "Consumer sentiment is steady and favorable" [Economist]. "One in four respondents in the survey cited tariffs as an important issue for the economy, in continuing contrast to the impeachment proceedings where concern, according to the report, is 'virtually non-existent'."
Wholesale Trade, September 2019: "Wholesale inventories fell [sharply] in September against no change for wholesale sales, a mismatch not significant enough to change the stock-to-sales ratio" [Econoday].
The Bezzle: "Self-Driving Uber in Crash Wasn't Designed to See Jaywalkers" [Bloomberg]. • Oy.
Concentration: "Amazon Is Accused of Forcing Up Prices in Antitrust Complaint" [Bloomberg]. "In a letter sent to federal lawmakers, an online merchant has accused Amazon.com Inc. of forcing him and other sellers to use the company's expensive logistics services, which in turn forces them to raise prices for consumers. The 62-page document, reviewed by Bloomberg, lays out an antitrust case that emphasizes harm to consumers—the traditional basis for such cases in the U.S…. It accuses Amazon of "tying" its marketplace and logistics services together, an antitrust violation in which a company uses dominance in one market to give itself an advantage in another market where it's less established…. 'The most intimidating stick in Amazon's arsenal is the ability to suspend or threaten to suspend sellers,' that don't use Amazon logistics, the complaint states."
Fodder for the Bulls: "Recession Fears Are Receding. That Doesn't Mean They Were Unfounded." [New York Times]. "[Three months ago] some unusual swings in the market for United States Treasury bonds stirred a wave of economic pessimism. Three months later, things are looking a great deal better — and the odds of a recession, in the near term at least, appear more remote. The entire episode has some lessons for understanding the economy, and gives reason for optimism that the expansion, despite being more than a decade old and the longest on record, need not end anytime soon."
The Bezzle: "Saudi Arabia's sovereign-wealth fund is pumping $400 million into the new company of Uber Technologies Inc. co-founder Travis Kalanick… in a deal that could value his CloudKitchens startup at about $5 billion" [Wall Street Journal]. "CloudKitchens is a bet on the food-delivery boomlet. It buys cheap real estate, often near city centers, and builds commissary 'ghost' kitchens for restaurants that can prepare food exclusively for delivery. The attempt to add an industrial-production component to food delivery aims to solve key logistics hurdles by creating capacity that's not tethered to restaurants also serving sit-in diners." • Who on earth would want to eat food prepared by Travis Kalanick?
Today's Fear & Greed Index: 89 Extreme Greed (previous close: 91, Extreme Greed) [CNN]. One week ago: 80 (Greed). (0 is Extreme Fear; 100 is Extreme Greed). Last updated Nov 8 at 11:41am. Holy cow! I can't remember the last time Greed hit the 90s!
The Biosphere
"Anatomy and resilience of the global production ecosystem" [Nature]. This is the abstract: "Much of the Earth's biosphere has been appropriated for the production of harvestable biomass in the form of food, fuel and fibre. Here we show that . We argue that these features converge to yield high and predictable supplies of biomass in the short term, but create conditions for novel and pervasive risks to emerge and interact in the longer term. Steering the global production ecosystem towards a sustainable trajectory will require the redirection of finance, increased transparency and traceability in supply chains, and the participation of a multitude of players, including integrated 'keystone actors' such as multinational corporations." • I don't know why they don't just say "apex predators" instead of 'keystone actors.' And what we have built sounds an awful lot like a tightly coupled system; see NC here, here, and here. From the last link: "In tightly-coupled systems…. measures intended to reduce risk typically wind up increasing them because no one really understands how it operates."
"We mapped every wine country fire. They're larger and more destructive than ever" [Los Angeles Times]. "Seven of wine country's 10 biggest fires since 1950 occurred in the past five years…. The fires aren't just bigger — they're also reaching territory that hasn't burned in many years. Since 2000, wildfires have consumed more than 600,000 acres of wine country land that has been untouched since at least 1950… Experts say many of the losses are due to increased development, as more and more homes have been built in areas prone to fire. 'The homes are the fuels,' Moritz said. 'We see these burned neighborhoods where there are still shrubs and trees, and it's clear the homes propagated the fire.'" • That's sustainable.
Handy map:
Every Major Power Station In The US By Energy Source – https://t.co/yrqzjF9z1F

— Brilliant Maps (@BrilliantMaps) November 7, 2019
"ANALYSIS-As climate change hits crops, debate heats up over use of plant gene data" [Reuters]. "Rich and poor countries are at loggerheads over how to share benefits from genetic plant data that could help breed crops better able to withstand climate change, as negotiations to revise a global treaty are set to resume in Rome on Monday. The little-known agreement is seen as crucial for agricultural research and development on a planet suffering rising hunger, malnutrition and the impacts of climate change. 'We need all the 'genetics' around the world to be able to breed crops that will adapt to global warming,' said Sylvain Aubry, a plant biologist who advises the Swiss government… [CRISPR] could enable businesses to circumvent the International Treaty on Plant Genetic Resources for Food and Agriculture which stipulates that the benefits derived from using material from species it covers – including money and new technology – must be shared."
Black Injustice Tipping Point
"Talk of Reparations for Slavery Moves to State Capitols" [Pew Stateline]. "This year, Democratic lawmakers in California, New York and Vermont — states that either outlawed slavery before the Civil War or never allowed it — have introduced legislation that would apologize for their state's role in slavery; recognize the lasting, negative impact of slavery on current generations of African Americans; and explore monetary reparations…. To be sure, except for one California resolution that passed with bipartisan support, none of the state bills has yet made it past committee. All were introduced by Democrats… The state bills seem designed to ignite conversation about systemic racial injustices at a time when the nation is sharply divided over issues of race. Like the federal bill currently being considered in the U.S. House, the state measures would create commissions to study reparations and propose solutions."
Slave rebellion re-enactors:
My friend @DreadScottArt got sick of civil war reenactments, and decided to stage a slave rebellion reenactment.

On 11/8-9, hundreds of reenactors will march on New Orleans and recreate the the largest slave rebellion in US history. https://t.co/VsNEiNMDJ1

— Molly Crabapple?? (@mollycrabapple) October 26, 2019
And why not indeed?
"California Court Destroys Files in Historic Police Corruption Case" [The Appeal]. "n 2015, the Superior Court in Alameda County, California, quietly destroyed the criminal case files for three former Oakland police officers, known as "the Riders," who stood trial for beating, falsely arresting, and framing dozens of African American men in the late 1990s and early 2000s, The Appeal has learned. The files—which consisted of thousands of pages of hearing transcripts, motions, and evidence—were the best public record of the longest criminal trial in Alameda County history. The destruction of the Riders files is also an erasure of an extraordinary case of corruption that ended with the Oakland Police Department placed under a federal judge's oversight."
Guillotine Watch
"Jeff Bezos Dreams of a 1970s Future" [CityLab]. "The "O'Neill colonies" that he designed in response to this question, first with his students, and later with teams of architects, planners, engineers, and artists, were huge cylinders, spheres, and toruses with new surfaces for new kinds of civilizations inside. O'Neill's book about this work, The High Frontier, was read by millions and has remained in print almost continuously….. Jeff Bezos was one of Gerard O'Neill's students at Princeton in the mid-1980s…. Bezos's proposal is a version of O'Neill's project that somehow manages to look and feel less futuristic than its predecessor… Is it even possible to build new worlds from scratch, and if so, who would they be built for? Bezos is as much a real-estate developer as he is a tech leader. He mentions that Earth, in his scenario, would be "zoned light industrial and commercial," but what, specifically, would happen to the old world?"
Class Warfare
"As L.A. ports automate, some workers are cheering on the robots" [Los Angeles Times]. "Day after day, Walter Diaz, an immigrant truck driver from El Salvador, steers his 18-wheeler toward the giant ports of Los Angeles and Long Beach. Will it take him half an hour to pick up his cargo? Or will it be as long as seven hours? He never knows. Diaz is paid by the load, so he applauds the arrival of more waterfront robots, which promise to speed turnaround times at a port complex that handles about a third of the nation's imported goods. 'I'm for automation,' Diaz says. 'One hundred percent. One hundred percent.'" • Diaz has no union. Otherwise, he'd be paid by the hour, too.
News of the Wired
"Explaining the puzzle of human diversity" [Science]. "Schulz et al. present an intriguing thesis: The Western Catholic Church's Marriage and Family Program (MFP), launched during the Middle Ages (in 506 CE), can partially explain the distinctively individualistic and nonconformist psychology of Western, Educated, Industrialized, Rich, and Democratic (WEIRD) societies in modern times. The MFP radically altered the institution of marriage by prohibiting nuptials within extended families and often requiring newly married couples to set up independent households. Schulz et al. predict that longer exposure to the MFP, along with weaker kinship ties that presumably arose from such practices, would drastically alter human psychology, from one that emphasized in-group loyalty, obedience, and conformity, to one that was more individualistic, prosocial toward strangers, and less conforming…. . Although multiple religions have moralizing supernatural agents (6), the authors argue that Western Christianity is unique in its emphasis on specific marriage practices and kinship structures that have shaped psychological profiles lasting for generations." • Fascinating!
Kill them with fire:
Here's more footage of MIT's Mini Cheetahs cavorting, frolicking, back-flipping, playing soccer and generally acting fun and cute, courtesy of the Biomimetic Robotics Lab @MITMechE #robots #robotics pic.twitter.com/8ZQzDvCDVW

— Robot&AIWorld (@RobotAndAIWorld) November 7, 2019
* * *
Readers, feel free to contact me at lambert [UNDERSCORE] strether [DOT] corrente [AT] yahoo [DOT] com, with (a) links, and even better (b) sources I should curate regularly, (c) how to send me a check if you are allergic to PayPal, and (d) to find out how to send me images of plants. Vegetables are fine! Fungi and coral are deemed to be honorary plants! If you want your handle to appear as a credit, please place it at the start of your mail in parentheses: (thus). Otherwise, I will anonymize by using your initials. See the previous Water Cooler (with plant) here. Today's plant (EW):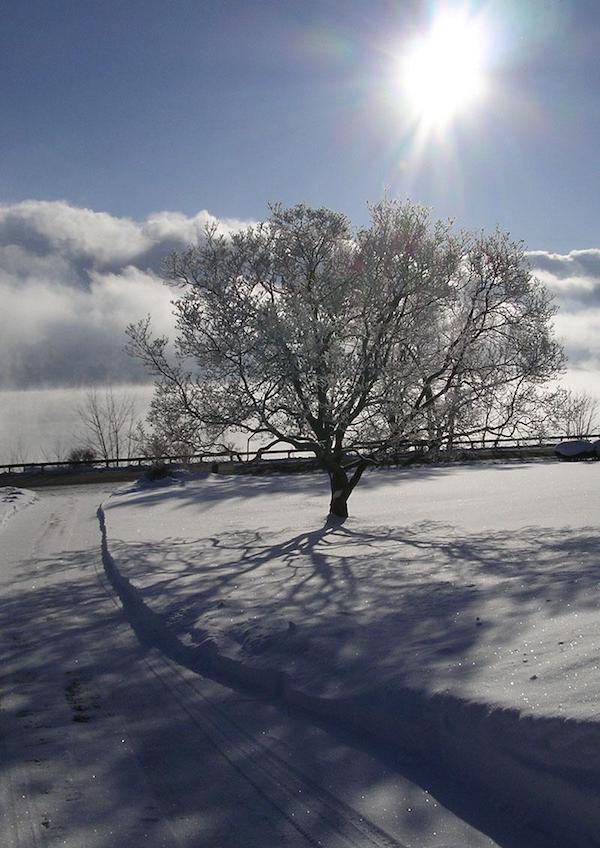 EW: "A magnolia tree and lake effect on Cayuga Lake. As they say in GoT, 'winter is coming'."
* * *
Readers: Water Cooler is a standalone entity not covered by the annual NC fundraiser. So if you see a link you especially like, or an item you wouldn't see anywhere else, please do not hesitate to express your appreciation in tangible form. Remember, a tip jar is for tipping! Regular positive feedback both makes me feel good and lets me know I'm on the right track with coverage. When I get no donations for five or ten days I get worried. More tangibly, a constant trickle of donations helps me with expenses, and I factor in that trickle when setting fundraising goals:
Here is the screen that will appear, which I have helpfully annotated.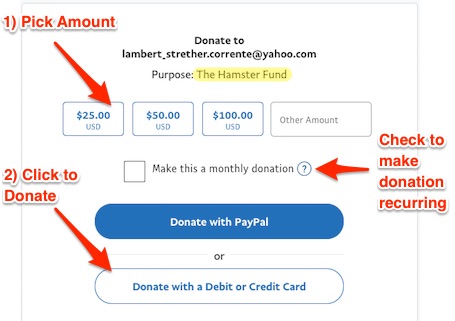 If you hate PayPal, you can email me at lambert [UNDERSCORE] strether [DOT] corrente [AT] yahoo [DOT] com, and I will give you directions on how to send a check. Thank you!