By Lambert Strether of Corrente
Patient readers, this was originally going to be a pure cavalcade of stupid Tweets on Iraq — as usual, the problem was too much noise and not enough signal or, to put matters more structurally, the interference patterns generated by multiple and overlapping disinformation campaigns — but then events intervened, in the form of a vote in Iraq's parliament to expel U.S. troops. As we shall see, this vote may be more equivocal than we think, but it's surely significant, even historic, and so I'll cover it first. Then I'll segue into the cavalcade. (Also, for grins and to show that not all hope for humanity is lost, I will intersperse the occasional item that is not stupid.)
First, Iraq's parliament. From (sigh) the New York Times, "Iraqi Lawmakers Urge End to U.S. Troop Presence as Iran Mourns a Slain General." The Times, at least, consolidates a lot, though "Lawmakers Urge" implies that no legislative action was taken, which is untrue:
Lawmakers in Iraq voted on Sunday to require the government to end the presence of American troops in the country after the United States ordered the killing of the Iranian leader of the elite Quds Force, Maj. Gen. Qassim Suleimani, on Iraqi soil…

The vote is not final until Prime Minister Adel Abdul Mahdi of Iraq signs the bill. But since he drafted the language and submitted the bill to Parliament, there was little doubt he would sign it.
From what seems to be a Turkish source, more detail on the resolution:
Decisions of the Iraq Parliament;
1-Termination of operations and training against DAESH with coalition forces
2-No foreign country will be in military #Iraqi territory
3-Complain the US to the UN
4-High-level investigation of US attack
5-Decisions will be implemented immediately pic.twitter.com/FRyd8Y92ST

— DAVUT PAŞAHAN (@davutpasahan) January 5, 2020
And more detail on Abdul Mahd's speech:
The information that #Iran Qassem Soleimani had an appointment with the PM in Baghdad and came to #Iraq to meet him the next day with established appointment, following a request of Trump for mediation, has been read to all MPs today by the #Iraq/i PM himself. pic.twitter.com/IoELuzm4ag

— Elijah J. Magnier (@ejmalrai) January 5, 2020
Big if true; I don't see good reasons to believe Presidents in general. That said, whacking a host's invited guest is hardly in keeping with Middle Eastern traditions of hospitality.
Back to the Times: The vote is more equivocal than it might seem.
Although the vote was 170-0 in Parliament, many of its 328 members, primarily Kurds and Sunnis, did not attend the session and did not vote, showing the division in Parliament on the demands to oust American troops.
'And:
The legislation threads a fine needle: While using strong language demanding that the government "end any foreign presence on Iraqi soil and prevent the use of Iraqi airspace, soil and water for any reason" by foreign forces, it gives no timetable for doing so.
Indeed, Abdul Mahd's bill would seem to be what in America we would call "centrist":
But the measure would leave in place the Strategic Framework Agreement, which allows an American troop presence in Iraq in some form.
For example, "Iraq's Sadr Calls for 'Humiliating' US Troop Exit":
Populist Iraqi Shi'ite cleric Moqtada al-Sadr said on Sunday a parliamentary resolution calling on the government to end foreign troop presence did not go far enough and called on local and foreign militia groups to unite.

"I consider this a weak response insufficient against American violation of Iraqi sovereignty and regional escalation," Sadr, who leads the largest bloc in parliament, said in a letter to the assembly read out by a supporter.

Sadr said a security agreement with the United States should be canceled immediately, the U.S. embassy should be closed down, U.S. troops must be expelled in a humiliating manner, and communication with the U.S. government should be criminalized.
As a sidebar: Couldn't Sadr take a page from the Hong Kong playbook, and starve the U.S. embassy out? Block all the gates:
Lunch is cooked and served for the protestors infront of the #US Embassy which is an indicator that they might prolong their stay at that location

The Iraqi government have promised to protect the Embassy and the PM demanded the protestors to leave immediately #Iraq #PMF pic.twitter.com/VdURriN9A3

— Farhad Alaaldin (@farhad965) January 1, 2020
True, the U.S. could helicopter supplies in. Until one of them falls from the sky… End sidebar.
To the cavalcade–
Former real estate developer and wrestling promoter Donald J. Trump puffing the U.S. military:
The United States just spent Two Trillion Dollars on Military Equipment. We are the biggest and by far the BEST in the World! If Iran attacks an American Base, or any American, we will be sending some of that brand new beautiful equipment their way…and without hesitation!

— Donald J. Trump (@realDonaldTrump) January 5, 2020
Talking about our weaponry like it was Louis Quinze-style gold-plated bathroom taps. Which in a way it is, I suppose… .
House Leader Nancy Pelosi with a plea for civility:
American leaders' highest priority is to protect American lives and interests. But we cannot put the lives of American servicemembers, diplomats and others further at risk by engaging in provocative and disproportionate actions. https://t.co/o0R8YVJMNW

— Nancy Pelosi (@SpeakerPelosi) January 3, 2020
Since when have our actions in the Middle East been anything other than "provocative and disproportionate"?
Nancy Pelosi's daughter Christine Pelosi loyally reinforces liberal Democrat messaging:
Trump ordered the assassination of an Irani general in Iraq in the hopes that we would forget that he abused his power with respect to withholding military aid to Ukraine. https://t.co/KLioh1dX86

— Christine Pelosi (@sfpelosi) January 3, 2020
Pelosi's butchered the impeachment so badly that there's no dog to wag, for pity's sake. (Of course, a Senate trial in the next thirty days could wreak havoc on any Senators — ***cough*** Sanders and Warren ***cough*** — with a stake in the Iowa Caucuses, but when did liberal Democrats ever manipulate schedules to affect an election? #Kidding!)
UAE-funded thuggish enforcer Neera Tanden on strategery:
Which entities wants American troops totally removed from Iraq? Iran and ISIS. https://t.co/UaTkc8qQCH

— Neera Tanden (@neeratanden) January 5, 2020
So our national interest is determined by what others say is not our national interest. Nothing game-able here!
Mitch McConnell shares a historical perspective:
Soleimani made it his life's work to take the Iranian revolutionary call for "death to America" and "death to Israel" and turn them into action. No man alive was more directly responsible for the deaths of more American servicemembers than Qassem Soleimani. https://t.co/L4TgJLevhc

— Leader McConnell (@senatemajldr) January 3, 2020
George W. Bush is dead?
Atlantic editor David Frum reminds us that everybody who was wrong about the Iraq War was richly rewarded with power and status, and everybody who was wrong was punished and relegated to obscurity:
Here's the article about Iraq & Iran that @brianstelter discussed with me just now on CNN https://t.co/syR8kYf1zZ

— David Frum (@davidfrum) January 5, 2020
"Take It From an Iraq War Supporter…" Salt on the wounds.
Seeing from the vote that Iraq's Sunni/Shia/Kurdish division persists, Marco Rubio advocates continuing the Great Game by breaking up Iraq entirely:
Maybe it's time for a fully independent #Kurdistan in what is currently Northern #Iraq? https://t.co/3SExH5WId4

— Marco Rubio (@marcorubio) January 5, 2020
Concluding our survey of elite opinion with the New York Times Editorial Board:
Trump has no interest in seeking wise counsel, so influential senators must force him to listen to it, to stop his rush to war with Iran. https://t.co/niCxVZ8YYh

— New York Times Opinion (@nytopinion) January 5, 2020
Reread the above. Where is this "wise counsel" to be found? With the apparatchiks who want to impeach Trump because he didn't want to go to war in Ukraine? Where, exactly?
Machiavelli with zero (0) followers:
President Trump promised to get the US out of Iraq. While taking out a military combatant, Gen. Soleimani wouldn't have been my first choice, Iraq Parliament makes the decision to leave easier. The end justifies the means.

— MWA Gearhead (@GearheadMwa) January 5, 2020
So, if the United States leaves Iraq, is that so bad?
A Machiavelli with considerably more followers:
For most of Trump's presidency, ending US military presence in Iraq is something he wanted.

Whether he wants it when forced by Iran & Iraq is another question.

— ian bremmer (@ianbremmer) January 5, 2020
(Liberal Democrats no doubt working up the "Who lost Iraq?" talking points even as we speak.) Again, if the United States leaves Iraq, is that so bad?
Opposite World Machiavelli:
The killing of General Suleimani, intended as a shot against Iran, could accelerate one of Iran's long-term objectives: pushing the United States military out of Iraq. https://t.co/ZTOTRW8f64

— New York Times World (@nytimesworld) January 5, 2020
"Shocked," I say! Once more, if the United States leaves Iraq, is that so bad?
Shifting over to the non-stupid, Nassim Nicholas Taleb asks a good question:
Can Trump's unpredictability and randomness of reactions be an effective foreign policy?

From Fooled by Randomness (INCERTO, vol 1).
How injecting uncertainty in your decision making is a potent deterrent as others don't know how you OVERREACT. pic.twitter.com/9zrF6YPxqw

— Nassim Nicholas Taleb (@nntaleb) January 5, 2020
(I would have thought that whacking foreign leaders would put "skin in the game" on, oh, war crimes and stuff, but Talen didn't go there.) I don't know the answer to Taleb's question, however.
And continuing with the non-stupid, Beto O'Rourke:
This is just crazy, and will end in massive death and suffering if we do not stop him and stop this country from going to war. There is no good reason to go to war with Iran. No good reason to assassinate a senior leader of a sovereign country. We can stop this. https://t.co/4bSSd7Vs4t

— Beto O'Rourke (@BetoORourke) January 5, 2020
Good for Beto. Somehow, however, I don't think he's the sort of Senator the Times Editorial Board had in mind.
* * *
It will be amusing to watch The Blob attempt to maintain our presence in Iraq over the next weeks and months, and it will be especially amusing to see liberal Democrats like Pelosi and conservative Repubilcans like McConnell working together to that end. If the United States leaves Iraq now, is that so bad? Compared to what might come?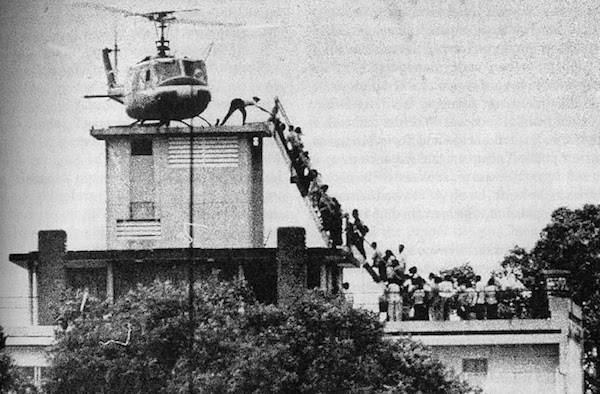 Why wait?