By Lambert Strether of Corrente.
Here is the latest Johns Hopkins "Global Cases" tracker on the spread of #2019-nCoV (I'm using that hashtag in proses, insted of Wuhan Corona Virus, or Corona Virus, because I think it gives me the best hits on the Twitter).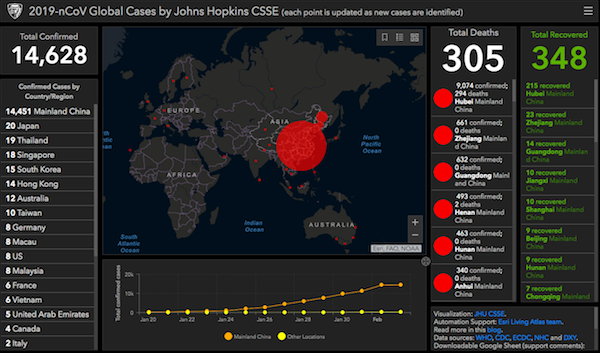 There's every reason to think that the cases are under-reported, since health facilities where the virus has hit are overwhelmed, and testing kits are scarce; see the story of Zhang Chi's 10-day quest for treatment at Sixth Tone. ("Fortunately, as president of a local soccer fans' club with over 1,000 members, Zhang had a lot of friends." So one can only wonder how the poor and working class are doing.) Numbers aside, the Lancet's assessment of last week remains in force:
Given that 2019-nCoV is no longer contained within Wuhan, other major Chinese cities are probably sustaining localised outbreaks. Large cities overseas with close transport links to China could also become outbreak epicentres, unless substantial public health interventions at both the population and personal levels are implemented immediately. Independent self-sustaining outbreaks in major cities globally could become inevitable because of substantial exportation of presymptomatic cases and in the absence of large-scale public health interventions. Preparedness plans and mitigation interventions should be readied for quick deployment globally.
In this morning's Links, I provided a look at the mainstream #2019-nCoV news; here is one addition from Bloomberg: "China's $22 Billion Injection May Help Ease Global Market Rout"
A $22 billion injection into Chinese markets won't be enough to prevent the country's stocks and currency falling on Monday, but it may ease a global sell-off sparked by the spread of the coronavirus.

That's according to analysts after the People's Bank of China and other regulators announced a slew of measures to shore up their financial markets when they re-open following the Lunar New Year holiday.

The central bank said Sunday it will use reverse repurchase agreements to supply 1.2 trillion yuan of liquidity on Monday, with the figure coming to 150 billion yuan ($21.7 billion) on a net basis, according to Bloomberg calculations.

"This is well beyond the band-aid fix," said Stephen Innes, a Bangkok-based chief market strategist at Axicorp. "If this deluge doesn't hold risk-off at bay, we are in for a colossal beat down. In addition, the PBOC will likely intervene in the currency market, so I would expect them to layer the soothing market balm thick and heavy."….

In a containment scenario — with a severe but short-lived impact — it could take China's first-quarter gross domestic product growth down to 4.5% year-on-year, according to Bloomberg Economics. That would be the lowest quarterly figure since at least 1992.
(At least according to David Harvey, China was the force that prevented global collapse after our Great Financial Crisis. If we have another one such this year — not on the horizon, I admit — it seems unlikely they will be able to play that role again.) Anyhow, in this post I'm going to collect some of the more estoric items I gleaned in my travels looking for Links and trying to keep up with the situation generally: Transmission methods, travel bans, the danger of mutation, and the bioweapon CT. I'll conclude with a brief remark on institutional factors.
Transmission Methods
First, there is the possibility that the virus may be transmitted by touching surfaces. MedPage Today:
[Maria Van Kerkhove, of WHO's emerging diseases and zoonosis division] said that evidence indicates the virus can be transmitted through the respiratory route, via droplets, and physical contact between people, but also from fomites, as the virus can live on surfaces for a short period of times
Sidebar for the word of the day: fomite:
Any inanimate object, that when contaminated with or exposed to infectious agents, such as pathogenic bacteria, viruses or fungi, can transfer disease to a new host. In addition to objects in hospital settings, other common fomites for humans are door knobs, light switches, handrails, elevator buttons, television remote controls, pens, and other items that are frequently touched by different people and that may be infrequently cleaned.

Researchers have discovered that smooth (non-porous) surfaces like door knobs transmit bacteria and viruses better than porous materials like paper money because porous, especially fibrous, materials absorb and trap the contagion, making it harder to contract through simple touch.
So far as I know, there is no case of #2019-nCoV with a history of fomite transmission, so we will have to look to other viruses for indications. End sidebar.
From the American Society for Microbiology, "Significance of Fomites in the Spread of Respiratory and Enteric Viral Disease" (2007), a review of the literature:
There is now growing evidence that contaminated fomites or surfaces play a key role in the spread of viral infections.

Virus spread by person-to-person contact can be interrupted with isolation of the viral carrier. Yet, isolation may prove to be impractical or difficult if there are many people or if the source of infection is unknown (69). Consequently, interrupting disease spread via indoor fomites is one of the more practical methods for limiting or preventing enteric and respiratory viral infections.

A majority of respiratory viruses are enveloped (parainfluenza virus, influenza virus, RSV, and coronavirus) and survive on surfaces from hours to days….

Studies have demonstrated that viral transfer from hands to surrounding surfaces is possible in 7 out of 10 viruses reviewed. Generally, research evidence suggests that a large portion of enteric and respiratory illnesses can be prevented through improved environmental hygiene, with an emphasis on better hand and surface cleaning practices.
(So clean your keyboards, light switches, etc. besides washing your hands!) For a corona virus, although not #2019-nCoV specifically, from the American Society for Microbiology, "Effects of Air Temperature and Relative Humidity on Coronavirus Survival on Surfaces" (2010):
The potential reemergence of SARS or the emergence of new strains of pandemic influenza virus, including avian and swine influenza viruses, could pose serious risks for nosocomial disease spread via contaminated surfaces. However, this risk is still poorly understood, and more work is needed to quantify the risk of exposure and possible transmission associated with surfaces.
From the American Society for Microbiology, "Human Coronavirus 229E Remains Infectious on Common Touch Surface Materials":
Animal coronaviruses that "host jump" to humans result in severe infections with high mortality, such as severe acute respiratory syndrome (SARS) and, more recently, Middle East respiratory syndrome (MERS). We show here that a closely related human coronavirus, 229E, which causes upper respiratory tract infection in healthy individuals and serious disease in patients with comorbidities, remained infectious on surface materials common to public and domestic areas for several days. The low infectious dose means that this is a significant infection risk to anyone touching a contaminated surface.
Again, however, we don't have any kind of case data whatever, so for now I'm putting this into the category of things one might worry about (as opposed to things one should absolutely not do, like standing next to a coughing person from Wuhan for any period of time). Fascinatingly, the article concludes:
However, rapid inactivation, irreversible destruction of viral RNA, and massive structural damage were observed in coronavirus exposed to copper and copper alloy surfaces.
So if your bathroom fixtures are made out of copper, you're good. Alternatively, one could visit the local home and garden store and experiment…. (Kidding! Copper sprays are poisonous!)
The second route of transmission is a bit less esoteric: Fecal transmission. Once again, from Bloomberg:
The novel coronavirus was detected in the loose stool of the first U.S. case — a finding that hasn't featured among case reports from Wuhan, China, the epicenter of the outbreak. However, that doesn't surprise scientists who have studied coronaviruses, nor doctors familiar with the bug that caused SARS.

Squat latrines, common in China, lacking covers and hands that aren't washed thoroughly with soap and water after visiting the bathroom could be a source of virus transmission, said [John Nicholls, a clinical professor of pathology at the University of Hong Kong], who was part of the research team that isolated and characterized the SARS virus.

A virus-laden aerosol plume emanating from a SARS patient with diarrhea was implicated in possibly hundreds of cases at Hong Kong's Amoy Gardens housing complex in 2003. That led the city's researchers to understand the importance of the virus's spread through the gastrointestinal tract, and to recognize both the limitation of face masks and importance of cleanliness and hygiene, Nicholls said.
I wouldn't classify face masks as virtue signaling, exactly, but the more I read, the more 19th-Century basic hygiene measures assume salience. (I'm not sure whether fecal matter as such would be considered a fomite, as opposed, say, to the metal handle of a flush toilet.)
Travel Bans
From STAT News:
Travel and trade restrictions can lead to dire economic consequences for countries involved, creating a disincentive for them to quickly disclose potential outbreaks to the WHO or other nations. They can hinder the sharing of information, make it harder to track cases and their contacts, and disrupt the medical supply chain, potentially fueling shortages of drugs and medical supplies in the areas hit hardest by the outbreak. They also send a punitive message, which could contribute to discrimination and stigmatization against Chinese nationals, experts warned.

Any effort and money spent crafting and enforcing travel and trade restrictions also take away already-stretched resources from public health measures that have been proven to be far more effective, experts said. Those measures include providing assistance to countries with weaker health systems, accelerating the development of a vaccine or rapid diagnostic test, and clearly communicating with the public about when and how to seek care.
I've gotta say I'm of two minds about this. I accept the argument that a travel ban will only slow, and not stop, the acceleration of a virus (since original propagators will have already been in-country). And apparently the Chinese interpreted Trump's punitive message all too clearly. Still, if increased social distance is a good method to stop an epidemic, what social distance is easier to increase than that between countries? (Perhaps an exception could be made for scientists and medical personnel.) For example:
[T]ravel has made the world far more interconnected than in 2003, accelerating the rate of infection. China — the starting point for both viruses — has become the world's largest outbound tourism market and one of the engines driving the global economy. In the intervening years since the SARS outbreak, global airline capacity into China is 3.8 times larger than it was in 2005. China flights now account for 12 percent of total worldwide available seat kilometers versus only five percent 15 years ago, according to PlaneStats.com, Oliver Wyman's aviation data portal.
Is mass tourism that important?
The Danger of Mutation
One of the issues with viral epidemics is that the viruses mutate, sometimes becoming more lethal. Sadly, there is a path for #2019-nCoV to do this. From, once again, the American Society for Microbiology, "Novel Coronavirus (2019-nCoV) Receptors Show Similarities to SARS-CoV, According to New Analysis" (Jan. 30, 2020):
Decade-long structural studies by Fang Li of the University of Minnesota, et al. have shown how the SARS virus (SARS-CoV) interacts with animal and human hosts in order to infect them. The mechanics of infection by the Wuhan coronavirus appear to be similar. These investigators used the knowledge they gleaned from multiple SARS-CoV strains—isolated from different hosts in different years—and angiotensin-converting enzyme-2 (ACE2) receptors from different animal species to model predictions for the novel Wuhan coronavirus. (Both viruses use ACE2 to gain entry into the cell, but it serves normally as a regulator for heart function.)

"Our structural analyses confidently predict that the Wuhan coronavirus uses ACE2 as its host receptor," the investigators wrote. That and several other structural details of the new virus are consistent with the ability of the Wuhan coronavirus to infect humans and with some capability to transmit among humans.

"Alarmingly, ," the investigators write. For this reason, Wuhan coronavirus evolution in patients should be closely monitored for the emergence of novel mutations at the 501 position in its genome, and to a lesser extent, the 494 position, in order to predict the possibility of a more serious outbreak than has been seen so far.
Ulp. Great work on the science, though!
No, #2019-nCoV Is Not a Bioweapon
At least one finance-adjacent blog (not this one) promoted a bioRxiv pre-print entitled "Uncanny similarity of unique inserts in the 2019-nCoV spike protein to HIV-1 gp120 and Gag", containing the inflammatory passage "The finding of 4 unique inserts in the 2019-nCoV, all of which have identity/similarity to amino acid residues in key structural proteins of HIV-1 is unlikely to be fortuitous in nature." That paper has now been withdrawn. From Richard Sever, Assistant Director of Cold Spring Harbor Laboratory Press, Editor of CSH Perspectives, bioRxiv Co-Founder:
Authors of disputed "uncanny" 2019-nCoV preprint to voluntarily withdraw preprint:
"It was not our intention to feed into the conspiracy theories…we appreciate the criticisms…and will get back with a revised version" https://t.co/zGcT1440D0

— Richard Sever Ⓤ (@cshperspectives) February 1, 2020
Here is what one bioinformatics research had to say about the now-withdrawn paper:
The 2019-nCoV genome does not contain remarkable genomic properties which need explaining, and for which we'd look to some kind of bioengineering as a cause.

The virus has a close 96% sequence overlap to a naturally occurring bat coronavirus, and coronaviruses have been known to jump from bats to humans by way of intermediates before, like the SARS coronavirus. The differences between the genome sequences, including the ones identified by the Indian study, are in variable regions of the genome that we'd expect to differ, and the 4% difference in the genomes is hard to call as "high" or "low," given that we don't know exactly which bats the 2019-nCoV strain came from or when it diverged from its closest known ancestor.

Nor is it surprising that the known 2019-nCoV sequences all contain the same genomic changes relative to a known relative. They all came from the same outbreak from the same animal reservoir, i.e. they only diverged from each other a few months ago at most. It's not surprising that they haven't evolved very much away from each other.

Nor does the clinical presentation of 2019-nCoV have novel features which need explaining. Its symptom profile, degree of transmissibility, severity, mortality rate, duration, incubation and latent period, ability to jump from animals to humans, and ability to transmit asymptomatically and by skin contact are all within the precedents established by other human coronaviruses.

That is, the 2019-nCoV genome and the way it affects humans have, by themselves, no special anomaly which needs explaining.
(More on 2019-nCoV and bat corona viruses here.) Further, from Infection, Genetics and Evolution, "Full-genome evolutionary analysis of the novel corona virus (2019-nCoV) rejects the hypothesis of emergence as a result of a recent recombination event":
The levels of genetic similarity between the 2019-nCoV and [BatCoV] RaTG13 suggest that the latter does not provide the exact variant that caused the outbreak in humans, but the hypothesis that 2019-nCoV has originated from bats is very likely. We show evidence that the novel coronavirus (2019-nCov) is not-mosaic consisting in almost half of its genome of a distinct lineage within the betacoronavirus.
Conclusion
There's been a good deal of dunking on how China's government and health care system has handled the #2019-nCoV epidemic (or pandemic). For example, from the China Media Project, a really interesting media critique, "As an Epidemic Raged, What Kept Party Media Busy?". It concludes:
On January 25, there were at last two reports about the epidemic on the right-hand side of the People's Daily front page. Either of these stories would have merited top billing on the page, but this was not the case. Priority was given instead to a report in the anti-poverty propaganda series, "The General Secretary Visited Hour Home."

During this key period, from January 21 to 25, many party members, cadres and ordinary people were full of suspicions. They wondered how it was that no member of the CCP Standing Committee had yet managed to visit the scene of the epidemic in Wuhan, something that had happened in the case of both the SARS epidemic and the 2008 Wenchuan earthquake. When people felt fearful and at a loss, why was there all this focus on peace and happiness?

The blame certainly does not fall on the shoulders of the top editors of these Party papers. Since the start of the year, the pages of China's Party newspapers have been given their "assigned seats." The activities in which leaders would take part had already been fixed, and the themes to be emphasized had been more or less carved in stone. Inspections, greetings, expressions of condolence, banquet speeches – everything had already been planned. There would be no detracting from the prestige of the "leader."

.

All of the deception and miscalculation that has happened in the wake of the revealing of the epidemic has been a source of immense public anger.
However, NC readers have are familiar with and have expressed a rather robust critique of the health care system in the United States. Can we — a country that until last year was experiencing dropping life expectancy — say we would do better than China?