By Lambert Strether of Corrente.
Thank you, readers, for making this year's Water Cooler fundraiser a great success, and also for the many kind comments, and helpful suggestions. I feel much better about the stresses of the coming year (and will also be able to help some others, as I said). Thank you, thank you, thank you! –lambert P.S. Of course, if you missed the fundraiser, the tip jar is below. There's still time!
#COVID-19
At reader request, I've added this daily chart: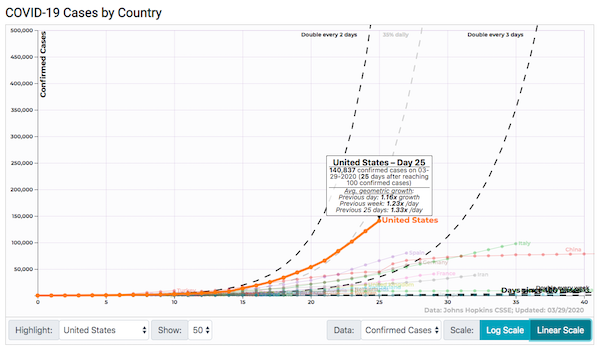 The data is the John Hopkins CSSE data. Here is the site. I am using a linear, not a logarithmic scale, because the linear scale conveys the alarming quality of the multiplication better (don't @ me, math nerds). I did not adjust for population, because it seems to me that the epidemics spread through a population in a fractal matter; within reasonable limits, the shape of the curve will be the same. Show me I'm wrong!
Politics
"But what is government itself, but the greatest of all reflections on human nature?" –James Madison, Federalist 51
"They had one weapon left and both knew it: treachery." –Frank Herbert, Dune
"They had learned nothing, and forgotten nothing." –Charles Maurice de Talleyrand-Périgord
Key dates coming fast now, so I added some counters:
* * *
2020
We encourage readers to play around with the polling charts; they are dynamic, and there are a lot of settings, more than I can usefully show here. Here is a link to alert reader dk's project. You can also file bug reports or feature requests using the same contact process as for Plants, below. Thanks — but no promises!

We have a new national poll from ABC, as of 3/30/2020, 11:00 AM EDT. The sample size is miserably small:

The numbers:

It does seem that the strategy of keeping Biden out of the public eye pays off. Earlier in the year, we often had occasion to comment on the mysterious strength of the Biden Juggernaut, on display here; but it's also true that Biden's ups and downs have been of much greater amplitude than other candidates.

* * *

Biden (D)(1): "Joe Biden is the worst imaginable challenger to Trump right now" [Ryan Cooper, The Week]. "A Pew poll, for instance, found that Democratic and Democratic-leaning voters nearly doubled their approval of Trump over the last few weeks, from 7 to 12 percent. As has been made abundantly clear, Democratic voters tend to take their cues from Democratic elites. The party rallied around Biden in lockstep right before Super Tuesday, and voters fell in line. Biden won multiple states he has not visited in months and in which he had no campaign offices. And now that he's the probable nominee, Biden is not savaging Trump's response. On the contrary, his campaign says they are hesitant to even criticize him at all. "As much as I dislike Trump and think what a bad job he's doing, there's a danger now that attacking him can backfire on you if you get too far out there. I don't think the public wants to hear criticism of Trump right now," one adviser told Politico."

Rent + bills are due in 4 days + 3.3 MILLION people have filed for unemployment, and Biden is STILL asking people for campaign donations.

Last time I saw Bernie ask for $ for himself was 3/17. He's using his campaign to rai$e for multiple non-profits helping with #Coronavirus. https://t.co/hmEQncVe4O

— The Bern Identity (@bern_identity) March 29, 2020

I just wrapped up tonight's CNN town hall, where we discussed COVID-19 and how we move forward. I know times are tough, but the stakes in this election have never been higher. If you could chip in a few dollars I would really appreciate it. https://t.co/1PoT5yD9CO

— Joe Biden (@JoeBiden) March 28, 2020

Biden (D)(2):

Since Joe Biden has been credibly accused of sexual assault, his campaign advisor, Symone Sanders, just completely scrubbed her timeline of any mention of her ardent support of Christine Blasey Ford.

Appalling.#MeToo #IBelieveTara #TaraReade #JusticeForTara #IBelieveTaraReade pic.twitter.com/dcpiMoH2rT

— cursed-dem social distancer (@kallllisti) March 29, 2020

Cuomo (D)(1): "Even in a Pandemic, Andrew Cuomo Is Not Your Friend" [Jacobin]. "It's an effective public relations campaign — so effective that you could almost forget that this is Andrew Cuomo we're talking about. The man who summarily disbanded the corruption commission he'd ran on creating when it began to investigate his allies. The man who made a host of videotaped promises in exchange for the Working Families Party's endorsement only to turn around and break them all. And lest you thought he had turned a new leaf, Governor 1 percent is insisting on taking an ax to the state Medicaid budget even at the cost of $6.7 billion in emergency federal aid — and lying about it. In the most unequal state in the nation, he is fighting to protect the rich and impose austerity on everyone else. Make no mistake: even in a pandemic, Andrew Cuomo is not your friend." • Even Indivisible gets this:

While we appreciate @NYGovCuomo's stability in this crisis, real superheroes don't cut Medicaid during a pandemic.

URGENT: Call your reps today and demand they: Raise new revenue. Make no Medicaid cuts. And reject the transfer of budget powers. Call now: https://t.co/j6kRN5rl07 pic.twitter.com/7vsmZLtN5p

— Empire State Indivisible (@es_indivisible) March 30, 2020

Sanders (D)(1):

.@McDonalds give your workers paid sick leave. https://t.co/2YmWpvCLY4

— Bernie Sanders (@BernieSanders) March 25, 2020

Sanders (D)(2): "We Need to Talk About Joe" [The Intercept]. Aja Monet: "You know, years ago that I would expect myself to be endorsing or supporting an older white man [Sanders] for president. You know, rhetorically, that sounds crazy, right? But in actuality, identity is an entry point. It is not the end. It is the way by which we are informed of how the world and power dynamics affect our daily lives. What makes someone a true comrade, what makes someone who's willing to be in solidarity with you as someone that understands the interrelations of power, how power changes and transforms based on the people that you are in conversation and movement with. And I think Sanders has built a coalition of people who are constantly in struggle with one another to understand the different power dynamics, to understand our relationship to white supremacy, to understand our relationship to patriarchy, to understand our relationship to capitalism, etc. And we're breaking those things down, day to day, person by person." • Philosphers have interpreted the world…

Sanders (D)(3): The headline: "This Is What an Opposition Party Is Supposed to Sound Like" [The Nation]. The deck: "Bernie Sanders's moral outrage and devastating sarcasm struck back against a GOP assault on poor and low-income workers." • I bet if Stoller read that, he nearly stroked out. "Devasting sarcasm"! There's a precedent for this:

Vercotti: Doug (takes a drink) I was terrified of him. Everyone was terrified of Doug. I've seen grown men pull their own heads off rather than see Doug. Even Dinsdale was frightened of Doug.

Interviewer: What did he do?

Vercotti: He knew all the tricks, dramatic irony, metaphor, bathos, puns, parody, litotes and satire.

Well and good. But Doug has a brother, Dinsdale:

Interviewer: Stig, I've been told Dinsdale Piranha nailed your head to the floor.

Stig: No, no. Never, never. He was a smashing bloke. He used to give his mother flowers and that. He was like a brother to me.

Interviewer: But the police have film of Dinsdale actually nailing your head to the floor.

Stig: Oh yeah, well – he did that, yeah.

Interviewer: Why?

Stig: Well he had to, didn't he? I mean, be fair, there was nothing else he could do. I mean, I had transgressed the unwritten law.

Sanders needs to be Doug and Dinsdale. He needs to nail Biden's head to the floor. Politics ain't beanbag.

* * *

"Is the U.S. Headed Toward a Short British-Style Election?" [New York Times]. "Many Democratic leaders now doubt their national party convention will take place as planned in July, while President Trump's determination to hold the Republican convention could collide with life-and-death realities… The duration of the election season itself is likely to shrink significantly. The presidential campaign, which typically dominates news coverage for much of the year, could look more like one of Britain's six-week general election sprints. Should the two major American candidates return to the stump before the fall, they will most likely be crowded out by the grim accounting of the country's worst pandemic in over a century…. But until the spread of the virus slows, there is likely to be little interest in the presidential race and even less in state and local races." • I would think there would be an enormous amount of interest, at least among those clever enough to see opportunity.
Realignment and Legitimacy
"Sirens in the silence: As we settle in for a plague year, the empire strikes back" [Salon]. "[Hoover Institution fellow and NYU law professor Richard A. Epstein] argued that the coronavirus pandemic wasn't really a pandemic: There would be "well under 1 million" cases worldwide, and about 50,000 deaths. In his original post, he predicted that there would be fewer than 500 deaths in the United States — and, oh goodness, each of those would be a personal tragedy, no doubt! But in the larger scheme of things, nothing to worry about, and definitely no justification for the 'current course' of widespread economic shutdown." • I would be much more sympathetic to liberal Democrat horror at this line of thinking if they had not systematically ignored falling life expectancy, and if they were not perfectly OK with losing 68,000 lives a year, every year, for years and years, because they won't support #MedicareForAll.

The Democrat Establishment. Thread:

Did you know that all of the moderate candidates who dropped out and endorsed Joe Biden all are represented by the same legal counsel? Each of these campaigns has paid out hundreds of thousands of dollars to the same firm pic.twitter.com/JgqlAoQug1

— jack allison (@jackallisonLOL) March 12, 2020

Interestingly, the Clinton campaign laundered the Steele Dossier through Perkins Coie.
Stats Watch
At reader request, I added some business stats back in. Please give Econintersect click-throughs; they're a good, old-school blog that covers more than stats. If anybody knows of other aggregators, please contact me at the email address below.
Manufacturing: "March 2020 Texas Manufacturing Plummets" [Econintersect]. "Important subindices new orders significantly declined (and are now in contraction) and unfilled orders insignificantly improved and remains deep in contraction. This should be considered a much worse report relative to last month."
Housing: "February 2020 Pending Home Sales Growth Strong. Wait Until Next Month To See The Affect [sic] of Coronavirus" [Econintersect]. "The year-over-year growth is in positive territory. The data is very noisy and must be averaged to make sense of the situation. Shorter-term trends are now improving. However, we expect the pending home sales index to collapse with the March data."
* * *
Real Estate: "The World Needs Warehouses Now, and Blackstone's Got Them" [Bloomberg]. "Last year, Blackstone Group Inc. bought more than $25 billion worth of industrial properties, which include warehouses and logistics facilities, according to Real Capital Analytics. The private equity firm now owns more of this space in the U.S. than any group except real estate investment trust Prologis Inc., which has also been getting bigger through acquisitions. The two companies have about a billion square feet between them, more than their next 10 largest competitors combined, according to CBRE Group Inc."
Retail: "The coronavirus pandemic may be providing supermarkets a view of a future that depends heavily on digital grocery shopping. Soaring demand for online ordering is giving grocers a lesson in how far they are from handling e-commerce efficiently… with many companies straining to turn surging web traffic into profitable sales and deliveries" [Wall Street Journal]. "Consulting firm Bricks Meets Clicks says the number of U.S. households ordering groceries online reached 40 million this month, roughly double the level recorded just last August. Although supermarkets have invested heavily in their online businesses, it is proving harder to ramp-up capacity quickly online than in physical stores. The trend-setting U.K. online grocer Ocado stopped taking new customers and Walmart Inc. and Amazon Fresh customers have seen delays."
Shipping: "Scared drivers press on toward looming freight cliff" [Freight Waves]. "Trucking companies last week began to accept loads they would have rejected two weeks ago. There are fewer loads to choose from as the coronavirus pandemic shuts down all but essential businesses like grocery stores and pharmacies. Manufacturers of most expensive items like cars and trucks are shut down. Their suppliers have no choice but to cease production….. None of the drivers who spoke with FreightWaves wanted to drive a load to New York, where the coronavirus spread leads the nation." • Hmm. I wonder how much food there is in warehouses that serve New York.
Manfacturing: "The coronavirus relief package coming out of Washington provides a big boost to troubled U.S. aerospace supply chains. The $2 trillion measure makes billions of dollars available to aircraft manufacturer Boeing Co. and its fast supplier network…. providing a safety net for a sector under pressure from plummeting demand for air travel" [Wall Street Journal]. "Whether Boeing will tap into the federal money remains a question, and the company is looking at private financing so it doesn't have to take funding with big strings attached. The jet maker's suppliers may need help, however, since many have been strained by the crisis over the grounding of Boeing's 737 MAX jets. The high value of aerospace components leaves some suppliers with little financial room to ride out the coronavirus lockdowns, and may make it harder to resume operations quickly once demand returns."
Manufacturing: "40 years ago, a fabulist named Robert Bork dreamed up an imaginary history of US antitrust law in order to justify dismantling it" [Cory Doctorow, ThreadReader]. • A thread about the extremely bad behavior of Covidien, the big company that bought up a small company whose mission was to build cheap ventilators, to kill their product. Reminds me of the horror stories in voting machine companies.
Tech: "Venmo, Square Cash Vie For Stimulus Funds Distribution" [PYMNTS.COM]. "Venmo and Cash App want to be considered as ways the U.S. government could deliver its stimulus funds to help the coronavirus-wrecked economy…. The parent companies of both apps have discussed this possibility with the Treasury Department, though it is unclear if the proposition has been seriously considered…. Though the money is planned to be distributed via direct deposit, that option may not be feasible for everyone. Fourteen percent of Americans making under $40,000 a year don't have a bank account, according to figures published by the Federal Reserve in 2019, and Venmo, Cash App and other such services are available to even those without bank accounts. Erica York, an economist with the Tax Foundation, said there could be potential for experimental thinking outside the box when it comes to people who don't have normal bank accounts. However, with the size and scope of the crisis, she was unsure if the government had the requisite time to adapt to a whole new form of distribution because of the changes that would be needed to adapt to the apps."
* * *
Today's Fear & Greed Index: 24 Extreme Fear (previous close: 23 Extreme Fear) [CNN]. One week ago: 5 (Extreme Fear). (0 is Extreme Fear; 100 is Extreme Greed). Last updated Mar 30 at 11:39am. Stimulus!
Rapture Index: Closes unchanged [Rapture Ready]. Record High, October 10, 2016: 189. Current: 182. Remember that bringing on the rapture is a good thing. An index that measures the likelihood of the Apocalypse has been stable in the midst of what, in Biblical terms, should surely be a plague. Very odd.
The Biosphere
It really bugs me the way #COVID19 has driven all the climate news off the science sites. Because #COVID19 is just the first wavelet of a tsunami.
"Climate vs coronavirus: Why massive stimulus plans could represent missed opportunities" [Nature]. "But there is a danger that governments will fall back on high-carbon projects that are ready to go. Mountford notes that India and China have plenty of plans for coal-fired power plants that have been shelved in pursuit of renewable energy, and they could be revived quickly if the focus is purely on economic growth and jobs…. This dynamic is already playing out in the aviation industry, which has been at the front of the queue for government relief in the COVID-19 crisis. In Europe, Livingston says, airlines are asking politicians to shelve looming carbon taxes, which would apply to flights within Europe and the European portion of external flights."
"Rare ozone hole opens over Arctic — and it's big" [Nature]. "A vast ozone hole — likely the biggest on record in the north — has opened in the skies above the Arctic. It rivals the better-known Antarctic ozone hole that forms in the southern hemisphere each year…. "From my point of view, this is the first time you can speak about a real ozone hole in the Arctic," says Martin Dameris, an atmospheric scientist at the German Aerospace Center in Oberpfaffenhofen…. [T]his year, powerful westerly winds flowed around the North Pole and trapped cold air within a 'polar vortex'. There was more cold air above the Arctic than in any winter recorded since 1979, says Markus Rex, an atmospheric scientist at the Alfred Wegener Institute in Potsdam, Germany. In the chilly temperatures, the high-altitude clouds formed, and the ozone-destroying reactions began."
"The northern-hemisphere winter of 2019-20 was the warmest ever on land" [The Economist]. "The winter-that-wasn't of 2019-20 is not yet a new normal. The main factor determining the severity of northern winters is the "Arctic oscillation": the relative pressure of Arctic and sub-tropical air. When pressure is higher in the Arctic, cold air from the North Pole pushes south, bringing harsh, dry winters to many places. When pressure is higher towards the sub-tropics, warm air pushes northwards, hemming in cold air around the pole. These two patterns flip back and forth irregularly. For reasons that are not yet clear, pressure in the sub-tropics this year was much stronger than in the Arctic. And researchers have not yet determined how rising temperatures affect the Arctic oscillation. Until a few years ago, climate models tended to show pressure in the Arctic strengthening, reducing the amount of warming during winter at temperate northern latitudes. The latest models find the reverse."
"Read All About Arctic on ASI Blog" [Arctic Sea Ice Forum (PI)]. PI writes: "For the past year or so I have been following the Arctic Sea Ice forum, in particular their data thread. They track the rise-and-fall of the ice up north, and compare it to previous years we've had data for."
Health Care
"Coronavirus: The state had 21 million N95 masks stockpiled. All are expired." [San Francisco Chronicle]. "As the coronavirus pandemic slammed into California and doctors and nurses sounded the alarm on a dire shortage of masks, Gov. Gavin Newsom announced the release of the state's emergency stockpile of 21 million N95 respirators. What he didn't mention then: They are all expired. Every one of the masks stored in the state's climate-controlled warehouse in a secret location has surpassed its wear-by date…. What could limit the expired masks' use in this pandemic is quite simple — an elastic band. The resilience of the band that holds the mask in place can wear over time and prevent a tight fit on the nurse or doctor wearing the mask."
"Meet the doctor who ordered the Bay Area's coronavirus lockdown, the first in the U.S." [San Jose Mercury News]. "It was [Sara] Cody, [Santa Clara County's Public Health Officer since 2013,] who would eventually lead her Bay Area cohorts to pull the trigger March 16 on the historic seven-county legal order — the first of its kind in the country — that required residents to 'shelter-in-place,' days ahead of Gov. Gavin Newsom's similar mandate for the entire state."
Screening Room
There is a Netflix movie, Tiger King: Murder, Mayhem and Madness. The Hunter Thompson of Circus-Circus days would approve. Here are two threads about it:
There's a motherlode of "You can't look away" material on this thread:
To anyone currently bingeing #tigerking on Netflix:

I spent four years working on a podcast and a long magazine story about Joe and Carole. I spent a week living at the zoo. I've spoken with almost everyone you're seeing in the doc, and I attended the trial. Ask me anything!

— ?????? ???? (@robertmoor_) March 21, 2020
This thread is like listening to somebody react without being able to see what's on the screen:
Just shirtless men rubbing animals. Is no one going to unpack this???

— Tressie McMillan Cottom (@tressiemcphd) March 29, 2020
Groves of Academe
"Mayor: New Haven asks for coronavirus housing help; Yale says 'no'" [New Haven Register]. "An angry Mayor Justin Elicker said he asked Yale University President Peter Salovey whether police officers and firefighters who are asymptomatic, but who have a family member exposed to COVID-19, or who are not symptomatic, but have been exposed to the virus, or are waiting for test results, if they could use a dormitory at the university. The answer was no. He said he then called UNH President Steve Kaplan, "who in the first 5 minutes of the conversation, said 'yes. We will make this happen. This is important for the community.'" • Corey Robin:
Rich people firing nannies and housekeepers w/o severance. Harvard laying off dining hall workers (tho it was finally pressured to pay them through the end of the semester). And now this from Yale. Elites are mimicking the sociopathy of the White House. https://t.co/U57k6b4od5

— corey robin (@CoreyRobin) March 28, 2020
I think the normally astute Corey Robin has this reversed. Elites are not mimicking Trump. Rather, Trump is the pure expression of elite sociopathy, with the public relations and the pretense of moral superiority ripped away. Hence their hatred of him, I would guess.
Class Warfare
"COVID-19 and Circuits of Capital" [Monthly Review]. Word:
The failure to prepare for and react to the outbreak did not just start in December when countries around the world failed to respond once COVID-19 spilled out of Wuhan. In the United States, for instance, it did not start when Donald Trump dismantled his national security team's pandemic preparation team or left seven hundred CDC positions unfilled.9 Nor did it start when feds failed to act on the results of a 2017 pandemic simulation showing the country was unprepared.10 Nor when, as stated in a Reuters headline, the United States "axed CDC expert job in China months before virus outbreak," although missing the early direct contact from a U.S. expert on the ground in China certainly weakened the U.S. response. Nor did it start with the unfortunate decision not to use the already available test kits provided by the World Health Organization. Together, the delays in early information and total miss in testing will undoubtedly be responsible for many, probably thousands, of lost lives.

The failures were actually programmed decades ago as the shared commons of public health were simultaneously neglected and monetized. A country captured by a regimen of individualized, just-in-time epidemiology—an utter contradiction—with barely enough hospital beds and equipment for normal operations, is by definition unable to marshal the resources necessary to pursue a China brand of suppression.
The leadership debate fracas in the press and the political class does seem a little… superficial.
"Nurses Die, Doctors Fall Sick and Panic Rises on Virus Front Lines" [New York Times]. "'I feel like we're all just being sent to slaughter,' said Thomas Riley, a nurse at Jacobi Medical Center in the Bronx, who has contracted the virus, along with his husband." • That has always been the case. That's why life expectancy isn't dropping for the 10% on up, and is dropping for everyone else. It's just happening out in the open now, and a lot faster.
News of the Wired
"Upgraded Google Glass Helps Autistic Kids "See" Emotions" [IEE Spectrum]. • Just the kind of power we want to give the Marketing Department.
"Tilde Sites – Geocities 2.0, or SDF for the 2020s?" [The Dork Web]. • I don't know quite what to make of this. It seems that tilde sites are real and exist today, and use the gopher protocol? (This seems to be SDF). It all seems very retro. But that's not a bad thing at all.
Going stir-crazy already:
new days of the week:

sunday
monday
monday II
monday III
trash day
thriday
pre-sunday

— shrill kingdom come (@theshrillest) March 28, 2020
I think there are some missing days. Where's Banday?
* * *
Readers, feel free to contact me at lambert [UNDERSCORE] strether [DOT] corrente [AT] yahoo [DOT] com, with (a) links, and even better (b) sources I should curate regularly, (c) how to send me a check if you are allergic to PayPal, and (d) to find out how to send me images of plants. Vegetables are fine! Fungi and coral are deemed to be honorary plants! If you want your handle to appear as a credit, please place it at the start of your mail in parentheses: (thus). Otherwise, I will anonymize by using your initials. See the previous Water Cooler (with plant) here. Today's plant (TH):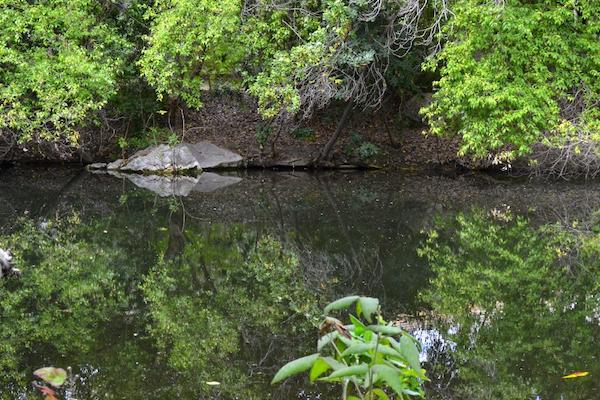 TH writes: "This one was taken at a Nature Center in Long Beach, California—El Dorado Park. There's something about greenery bordering water that draws me in every time. (I'm not sure how I feel about the out of focus foreground, but I don't think I was supposed to step off the path and didn't want to trample anything to avoid it.")
Here is another reader project (stillfeelinthebern):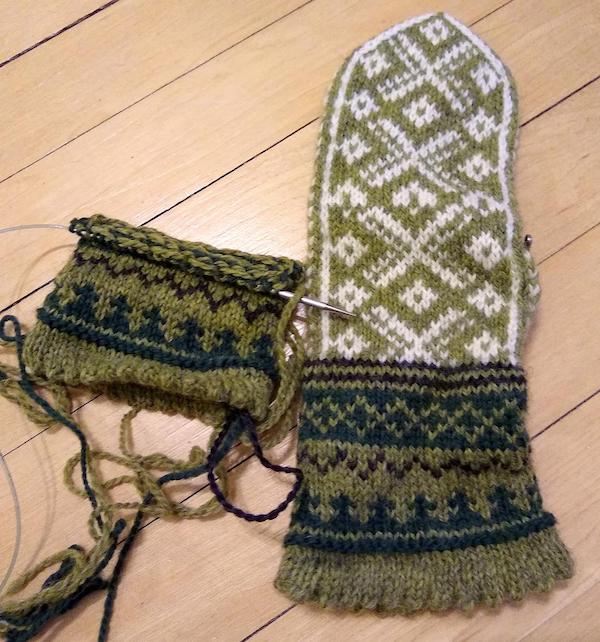 stillfeelinthebern writes: "I see Katiebird's mittens. Here are mine. These are a take on traditional Latvian mittens. Knit circular, on a circular needle with a loop, not the traditional 4 needles. That why you see only one needle in the picture. Lambert, you are correct that knitting is a complicated data structure. I started knitting at age 7 and really believe that all the math and symbolic pattern reading prepared me to be a scientist (and artist too!)." Thank you!
* * *
Readers: Water Cooler is a standalone entity not covered by the annual NC fundraiser. So if you see a link you especially like, or an item you wouldn't see anywhere else, please do not hesitate to express your appreciation in tangible form. Remember, a tip jar is for tipping! Regular positive feedback both makes me feel good and lets me know I'm on the right track with coverage. When I get no donations for five or ten days I get worried. More tangibly, a constant trickle of donations helps me with expenses, and I factor in that trickle when setting fundraising goals:
Here is the screen that will appear, which I have helpfully annotated.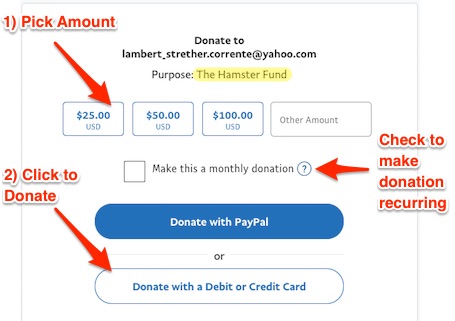 If you hate PayPal, you can email me at lambert [UNDERSCORE] strether [DOT] corrente [AT] yahoo [DOT] com, and I will give you directions on how to send a check. Thank you!