By Lambert Strether of Corrente.
#COVID-19
At reader request, I've added this daily chart: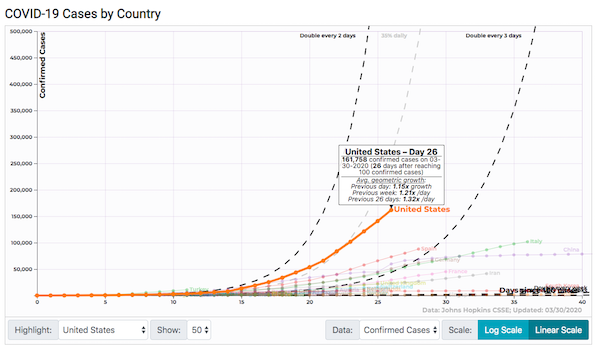 The data is the John Hopkins CSSE data. Here is the site. I am using a linear, not a logarithmic scale, because the linear scale conveys the alarming quality of the multiplication better (don't @ me, math nerds). I did not adjust for population, because it seems to me that the epidemics spread through a population in a fractal matter; within reasonable limits, the shape of the curve will be the same. Show me I'm wrong!
Politics
"But what is government itself, but the greatest of all reflections on human nature?" –James Madison, Federalist 51
"They had one weapon left and both knew it: treachery." –Frank Herbert, Dune
"They had learned nothing, and forgotten nothing." –Charles Maurice de Talleyrand-Périgord
Key dates coming fast now, so I added some counters:
* * *
2020
We encourage readers to play around with the polling charts; they are dynamic, and there are a lot of settings, more than I can usefully show here. Here is a link to alert reader dk's project. You can also file bug reports or feature requests using the same contact process as for Plants, below. Thanks — but no promises!

We have a new national poll from HarrisX, as of 3/31/2020, 11:00 AM EDT. The sample size is miserably small:

The numbers:

It does seem that the strategy of keeping Biden out of the public eye pays off. Earlier in the year, we often had occasion to comment on the mysterious strength of the Biden Juggernaut, on display here; but it's also true that Biden's ups and downs have been of much greater amplitude than other candidates.

* * *

Biden (D)(1): Joe Biden steps on another rake:

For those interested, here is @JoeBiden's full answer to @YasminV on opposing single payer health care: pic.twitter.com/gxjTN83NCg

— Sahil Kapur (@sahilkapur) March 30, 2020

Biden (D)(2): "Poll: Biden leads Trump by 10 points as economic pessimism grows" [The HIll]. "The latest Harvard CAPS-Harris Poll finds Biden getting 55 percent support, versus 45 percent for Trump. Biden has 96 percent support from Democrats, while Trump has 89 percent support from Republicans. Independents break for Biden by a 54 to 46 percent margin…. Sen. Bernie Sanders (I-Vt.), who has yet to drop out of the race for the Democratic presidential nomination, also leads Trump, winning 53 percent to Trump's 47 percent." • So, Democrats can pick a second FDR, or somebody Obama-adjacent. They're picking somebody Obama-adjacent. The irony is that, in 2008, many — including non-delusional people like Thomas Frank — thought Obama was a second FDR. The most successful con in American political history…

UPDATE Biden (D)(3): "Wall Street Donors Sit Tight Just When Biden Needs Cash the Most" [Bloomberg]. "With stocks falling, businesses shrinking and unemployment soaring, donors of all sizes are feeling the effects. Billionaires counted on to fuel super PAC spending have seen their net worth plummet by anywhere from 10% to as much as 75%." • That's a damn shame. I wonder if that's one reason the donor class is consolidating (see below).

UPDATE Biden (D)(5): "Joe Biden has a #MeToo problem" [The Week]. "As a practical matter, though, it behooves Democrats to make a rigorous investigation — inasmuch as it is possible — of Reade's accusation. Trump and his allies will almost certainly use the story against him. In 2016, when the notorious Access Hollywood tape surfaced, Trump responded by bringing Bill Clinton's accusers to his next debate with Hillary Clinton. The president won't hesitate to utilize similar tactics against Biden. If only for the sake of winning the election, Democrats have to make a real effort to resolve this allegation — and do it in a way that doesn't drag Reade's name through the mud. If her story is found to have merit, Biden should be forced out of the race. Truthfully, that seems unlikely to happen. Too much time has passed to arrive at a definitive answer. But the party of 'believe women' will lose all credibility if it simply brushes off Reade and makes no effort at all to ascertain the truth" • I think the Democrat Establishment "lost all credibility" a long time ago. The loyalists who gave Biden his 30% pop won't care about this, any more than the same loyalists cared about the Big Dog's unsavory and well-documented history; "It's OK if our guy does it." I think the damage will come from Sanders supporters who'll find getting on board the Biden bandwagon something they just don't have the stomach for. It also gives Sanders a reason, if he is looking for one, to rethink his commitment to the Democrat nominee.

UPDATE Cuomo (D)(1): "Cuomo Helped Get New York Into This Mess" [The Nation]. "The same Cuomo who is racing to expand New York's hospital capacity and crying out for more federal resources is quietly trying to slash Medicaid funding in the state, enraging doctors and nurses, and elected officials of his own party. The same Cuomo who holds press briefings at a major New York City convention center, now the home of a temporary 1,000-bed hospital, presided over a decade of hospital closures and consolidations, prioritizing cost savings over keeping popular health care institutions open….What's striking to [Sean Petty, a pediatric nurse at a public hospital in the Bronx and a high-ranking member of the state's politically active nurses' union] and other health care experts is how Cuomo has not backed off his plan to cut Medicaid, despite the horrific Covid-19 outbreak. Earlier this year, Cuomo empaneled what is called a Medicaid Redesign Team to slash Medicaid spending in New York after a $6 billion budget shortfall, driven largely by rising Medicaid costs, became evident in late 2019. Medicaid enrollment has been growing about 13 percent a year and is now a $70 billion program in the state. More than 6 million New Yorkers are on Medicaid, which has meant just 4.7 percent of the state is uninsured, a historic low. The Affordable Care Act has boosted Medicaid enrollment in New York. Though Medicaid is a federal program that provides low-cost, comprehensive health care to the poor, the state still picks up almost half the costs, with county governments also bearing a small share. Some of the budgetary abyss has been the Cuomo administration's own making: postponing Medicaid payments and . Despite his reputation as a big-government progressive, Cuomo has held to a self-imposed caps on state spending and property tax increases, putting additional strains on local governments trying to fund municipal services." • That's our Democrats….

UPDATE Sanders (D)(1): "One Big Reason Bernie Sanders Must Stay in the Race" [Larry Cohen, In These Times]. "But Bernie should remain in the race for at least one important reason. All the rules changes that resulted from the 2016 movement to make the Democratic Party more democratic have been written into the rules for the 2020 convention but not for those conventions in 2024 and beyond. If delegates at this year's convention fail to make these reforms permanent, we could be back to business as usual—on superdelegates, caucus and primary voting rules, party registration and much more…. Without action by the DNC convention rules committee (of which I am a member) the changes we implemented this on the recommendation of the Unity Reform Commission (of which I was vice chair) will, following the convention, be left to the sole discretion of the regular party Rules Committee." • And Perez purged all Sanders supporters from the RBC.

UPDATE Sanders (D)(2): Good individual effort:

While @BernieSanders fights for us in the Senate, his foot soldiers (me) are supporting striking tenant organizers in the ground with groceries. #Rentstrike #teamwork pic.twitter.com/y70hcrIQYE

— Moumita?Bernie for President (@disruptionary) March 30, 2020

* * *

Grifters gotta grift:

2 top Democratic groups — Unite the Country and American Bridge — are partnering to help elect Joe Biden. The partnership will be co-chaired by Deval Patrick, who dropped out of the 2020 race in February, and former Gov. Jennifer Granholm of Michigan. https://t.co/DocWetVZt4

— The New York Times (@nytimes) March 30, 2020

American Bridge, for those who came in late, is sleaze merchant David Brock's outfit. Unite the Country is a Biden SuperPAC. Axios comments:

This partnership is another example of the consolidation of Democratic groups in 2020 to try to concentrate power. Earlier this month, former New York City Mayor Michael Bloomberg announced he will donate $18 million to the Democratic National Committee instead of creating his own PAC.

But imagine thinking Trump could be defeated with oppo…

UPDATE "Congress eyes avoiding Washington for at least a month" [Politico]. • Shows you who's essential, I guess…
RussiaGate
I'm shocked (MR):

Remember when the newly beloved liberal heroes of the security state — the FBI, NSA & DOJ agents who now make up huge parts of CNN & MSNBC and the liberal pantheon — kept telling you the FISA process is very rigorous & immune to abuse?

They lied: https://t.co/nbgDukahfx pic.twitter.com/xsZLSmGKSY

— Glenn Greenwald (@ggreenwald) March 31, 2020

Many Biden voters being big believers in that liberal Pantheon, no doubt.
Realignment and Legitimacy
"Pelosi Floats New Stimulus Plan: Rolling Back SALT Cap" [New York Times]. "Speaker Nancy Pelosi suggested the next package include a retroactive rollback of a tax change that hurt high earners in states like New York and California. A full rollback of the limit on the state and local tax deduction, or SALT, would provide a quick cash infusion in the form of increased tax rebates to an estimated 13 million American households — nearly all of which earn at least $100,000 a year." • Nice to see Pelosi focusing on property owners, not wage workers. Clarifying about where she sees her base.

"The Coronavirus Killed the Progressive Left" [Tyler Cowen, Bloomberg]. "The egalitarianism of the progressive left also will seem like a faint memory. Elites are most likely to support wealth redistribution when they feel comfortable themselves, and indeed . But when these people feel threatened in their lives or occupations, or when the futures of their children suddenly seem less secure, redistribution will not be such a compelling ideal." • Coastal elites — globalizers — are not the backbone of the Sanders campaign. Pehaps libertarian Cowen is so confused he things liberals and the left are the same, and that's why he falls back on weird formulations like the "progressive left" (the reactionary left?).

"What Happens in November if One Side Doesn't Accept the Election Results? [Salon]. "Vote by mail is an important step in ensuring that even if the virus keeps people away from physical polling places, millions of Americans will have a means of avoiding disenfranchisement. But it is not perfect. Vote-by-mail ballots are more likely to be rejected than other ballots because of problems like signature mismatches. We also know that rejection rates for signature mismatches can disproportionately affect minority voters. Some states do not alert a voter whose ballot has been rejected about the rejection, failing to give the voter a chance to cure something like a purported signature mismatch. Signature matching is also a notoriously subjective endeavor. Even before the coronavirus pandemic, the issue has led to litigation over whether those voters are being unconstitutionally denied their right to vote." • I've said it before and I'll say it again: The only voting technology either party will accept must enable election fraud. That is the fundamental requirement, and that is why hand-marked paper ballots, hand-counted in public, are anathema to them. For example, here's how you'd work fraud with mail-in ballots and signature matching:

14/ Another scary hack is the automated signature verification equipment. It can be set to require varying levels of exactness. (Easy to filter/hack by party or zip code, etc). Not nearly enough controls on such systems. pic.twitter.com/xHAO3bRLUR

— Marilyn Marks #StayHome (@MarilynRMarks1) March 27, 2020
Stats Watch
At reader request, I added some business stats back in. Please give Econintersect click-throughs; they're a good, old-school blog that covers more than stats. If anybody knows of other aggregators, please contact me at the email address below.
Consumer Confidence: "March 2020 Conference Board Consumer Confidence Declines Sharply Due To Coronavirus" [Econintersect]. "Consumer confidence had been on a multi-year upswing, the upswing paused in 2019 – but the coronavirus killed the upswing."
Manufacturing: "March 2020 Chicago Purchasing Managers Barometer Remains In Contraction" [Econintersect]. "The Fed manufacturing surveys were mostly in contraction this month because of the coronavirus impacts."
Housing: "S and P CoreLogic Case-Shiller 20 City Home Price Index January 2020 Year-over-Year Growth Now 3.1%" [Econintersect]. "All home price indices are continuing to show home price growth is accelerating year-over-year. It will be interesting to watch the effect of the coronavirus on home prices."
* * *
Commodities: "There's no shortage of demand around the world for farming's staple grains, but getting it to the right places is proving a problem. Consumers are loading up on pasta, rice and bread, and the WSJ's Jacob Bunge and Jesse Newman report the stockpiling is pressuring broader grain markets and pushing some countries to restrict agriculture exports. Industry analysts say there is plenty of wheat around the world, but disrupted supply lines are driving up wheat and rice prices, bucking a coronavirus-induced downturn that has hurt commodity markets" [Wall Street Journal]. "Difficulties moving grain, coupled with frenzied consumer buying, could exacerbate the impact of the pandemic on food markets. Quarantine measures have made it difficult to transport grain in countries such as France, where truck transport is in short supply and truckers are raising rates to carry farm goods to ports because there is little to carry back inland"
Commodities: "The Oil Glut Is Filling Up the World's Supertankers Fast" [Bloomberg]. "The world's oil tankers are being filled with crude at a record pace as the options to store a glut on land rapidly diminish, one of the industry's largest owners said. A combination of surging production from key producers worldwide and capitulating demand in the face of the coronavirus outbreak means that land storage is being overwhelmed, said Robert Hvide Macleod, Chief Executive Officer of Frontline Management AS. The world is likely overproducing by about 20 million barrels a day, or 20% of normal consumption, he said, echoing wider industry views."
Shipping: "Urgent Demand for Medical Equipment Is Making Air Cargo Fees 'Absolutely Crazy'" [Bloomberg]. "'Chartered prices have been pushed up from less than $300,000 four to six weeks back to $600,000 to $800,000 in the last few days,' Anthony Lau, chairman and founder of logistics company Pacific Air (HK) Ltd., said in an interview Friday. 'It is absolutely crazy.'"
Tech: "Nextdoor, the network for neighbors, grows in age of social distancing" [Agence France Presse]. "Daily usage of the network — an ad-supported privately held start-up which touts itself as a a local alternative to Facebook — soared 80 percent in March as people looked to connect more with neighbors…. Nextdoor is free. The only caveat is that users must verify who they are and live in the real-world location that comports with the boundaries of the online neighborhood network they wish to join…. Launched in late 2011 as a variation on town squares where people could get to know neighbors and catch up on local news, San Francisco-based Nextdoor now boasts 260,000 neighborhoods across 11 countries including Australia, Britain, France, Italy, Spain, and the US."
Manufacturing: "There is little overlap between making cars and the labor-intensive job of building ventilators. But car companies are being called on because they typically work with thousands of parts suppliers and are accustomed to manufacturing at a large scale" [Wall Street Journal]. • Oh:
An underrated storyline during this pandemic is how US manufacturing is so destroyed that it cannot even manufacture basic stuff like cotton swabs, which (partly) caused the testing kit shortage.

— T.K. of AAK! (@AskAKorean) March 29, 2020
Honey for the Bears: "Goldman Sachs Sees 34% Plunge in U.S. GDP and 15% Unemployment" [Bloomberg]. "The world's largest economy will shrink an annualized 34% in the second quarter, compared with an earlier estimate of 24%, economists led by Jan Hatzius wrote in a report. Unemployment will soar to 15% by mid-year, up from a previous forecast of 9%, they wrote. The economists, however, now expect a stronger recovery in the third quarter, with gross domestic product expanding 19%."
* * *
Today's Fear & Greed Index: 26 Fear (previous close: 25 Extreme Fear) [CNN]. One week ago: 13 (Extreme Fear). (0 is Extreme Fear; 100 is Extreme Greed). Last updated Mar 31 at 12:30pm. Finally, the transition to mere fear.
The Biosphere
"Coronavirus lockdowns have changed the way Earth moves" [Nature]. "The coronavirus pandemic has brought chaos to lives and economies around the world. But efforts to curb the spread of the virus might mean that the planet itself is moving a little less. Researchers who study Earth's movement are reporting a drop in seismic noise — the hum of vibrations in the planet's crust — that could be the result of transport networks and other human activities being shut down. They say this could allow detectors to spot smaller earthquakes and boost efforts to monitor volcanic activity and other seismic events… Data from a seismometer at the observatory show that measures to curb the spread of COVID-19 in Brussels caused human-induced seismic noise to fall by about one-third, says Lecocq. The measures included closing schools, restaurants and other public venues from 14 March, and banning all non-essential travel from 18 March (see 'Seismic noise')." • Another proxy for successful social distancing (although not for remote stations, of course).
"Lead pollution in ancient ice cores may track the rise and fall of medieval kings" [Science]. "800 years ago, the wild moors and wooded gorges were "covered in toxic lead pollution," says archaeologist Chris Loveluck of the University of Nottingham. 'The royal hunting forest near the castle was an industrial landscape.' Here, farmers mined and smelted so much lead that it left toxic traces in their bodies—and winds blew lead dust onto a glacier 1500 kilometers away in the Swiss Alps. Loveluck and his colleagues say the glacier preserves a detailed record of medieval lead production, especially when analyzed with a new method that can track deposition over a few weeks or even days…. Lead tracks silver production because it is often found in the same ore, and the team found that the far-flung lead pollution was a sensitive barometer of the medieval English economy. As they report in a study published this week in Antiquity, lead spiked when kings took power, minted silver coins, and built cathedrals and castles. Levels plunged when plagues, wars, or other crises slowed mining and the air cleared. "This is extraordinary—lead levels correlate with the transition of kings," says historian Joanna Story of the University of Leicester, who was not part of the study…. For example, when Mayewski showed on a graph that lead pollution plummeted in 1170, Loveluck and Harvard historian Michael McCormick immediately knew why: '1170 was the year that Henry the II's assassins killed the archbishop of Canterbury [Thomas Becket] and Henry was excommunicated,' Loveluck says. 'Nobody paid any taxes.' Mining stopped." •
"Stuck inside? Tips for indoor gardening to bring green to your space while quarantined" [USA Today]. • Lots of good tips, like remembering to dust leaves (which I never did; perhaps that's why I never had good luck with houseplants). And from this article–
"Gardening Promotes Neuroendocrine and Affective Restoration from Stress" [Journal of Health Psychology]. I don't know the number of study participants, because only the abstract is available: "Thirty allotment gardeners performed a stressful Stroop task and were then randomly assigned to 30 minutes of outdoor gardening or indoor reading on their own allotment plot. Salivary cortisol levels and self-reported mood were repeatedly measured. Gardening and reading each led to decreases in cortisol during the recovery period, but decreases were significantly stronger in the gardening group. Positive mood was fully restored after gardening, but further deteriorated during reading. These findings provide the first experimental evidence that gardening can promote relief from acute stress."
Health Care
If you need any incentive to wear your mask and wash your hands:
This is how far back we have to put the swab to test you for #COVID19.

You might want to follow medical recommendations and #StayHome. pic.twitter.com/gCMqUdpsEk

— Jessica Peck, DNP APRN CPNP-PC (@DrPeckPNP) March 29, 2020
Darwin Award (1):
A must read.

The decision by the school's president, Jerry Falwell Jr., to partly reopen his evangelical university enraged residents of Lynchburg, Va. Then students started getting sick. https://t.co/g9DZ1kbMJ9

— Yamiche Alcindor (@Yamiche) March 29, 2020
Darwin Award (2):
so we're just going to be in quarantine forever huh pic.twitter.com/loykFYkNRD

— internet baby (@kirkpate) March 30, 2020
Darwin Award (3):
How about these? Just search "Pier 90" on the Instagram location tags pic.twitter.com/XUTCT8VKMH

— GRETCHEN CONNELIE (@GCONNELIE) March 30, 2020
Yes, Manhattan flocks to Pier 90 to see the Hospital Ship come to treat victims of #SARS-COV-2, sans masks, sans social distancing, sans everything…. Many of them, no doubt, having snickered at the rubes from Lynchburg in that morning's Times.
Our Famously Free Press
"Gannett Announces Pay Cuts and Furloughs Across Entire Media Company" [Daily Beast]. "In an email to staff, obtained by The Daily Beast, Gannett CEO Paul Bascobert said that the company will ask staff to make a 'collective sacrifice' to keep the mass-media holding company intact amid the crisis by cutting pay 'as soon as this week.' … According to Monday's memo, many staffers will be furloughed for five days a month through June. The CEO also told workers that he will not take an annual salary until the furloughs and reductions had been reversed, and that other Gannett executives will take a 25-percent pay reduction." • Just when we need reporting most….
Podcasters, too:
Commuting is the lifeblood of podcasting. https://t.co/ir9k6nl7t1

— Mike Duncan (@mikeduncan) March 31, 2020
Guillotine Watch
"New York Quickly Builds Thousands Of Emergency Hamptons Mansions To Shelter Wealthy" [The Onion (RH)]. • They got you, didn't they?
Class Warfare
"'Seize It': Progressives Urge Philadelphia City Govt. to Take Hahnemann Hospital After Owner Demands $1 Million a Month in Rent" [Common Dreams]. "Sen. Bernie Sanders on Monday joined a rising chorus of progressives demanding the city of Philadelphia seize the shuttered 500-bed Hahnemann hospital from its owner, investment banker Joel Freedman, and reopen the facility to handle the coming peak infections of the coronavirus in the city." • Isn't this why we have eminent doman? Pennsylvania seems unlucky in its rentiers:
The private equity billionaires at Cerebus threaten to murder a bunch of Americans if they don't get a bailout for their hospital. https://t.co/dOeAvbhafa

— Matt Stoller (@matthewstoller) March 31, 2020
UPDATE "Opinion: If you're 'essential' enough to work through a pandemic, you're essential enough to be paid a living wage" [Los Angeles Times]. "'You guys deserve a serious raise,' I told the worker who bagged my groceries. 'Did you get one?' She didn't look up. 'We got a onetime bonus,' she eventually answered, her eyes still lowered. 'It was a couple of hundred bucks.' A couple of hundred bucks to put her life on the line to prevent mass upheaval and panic." • "Her eyes still lowered." Third World stuff….
News of the Wired
Yeast we forget–yeast we forget:
Today I achieved* something that I've been trying to do for a year. The slice of bread here was made with leavening cultures sampled from ancient Egyptian baking vessels, using ancient Emmer wheat, with an ancient Egyptian recipe, using ancient Egyptian baking tools, and NO OVEN. pic.twitter.com/msZpvlyK0F

— Seamus Blackley (@SeamusBlackley) March 30, 2020
* * *
Readers, feel free to contact me at lambert [UNDERSCORE] strether [DOT] corrente [AT] yahoo [DOT] com, with (a) links, and even better (b) sources I should curate regularly, (c) how to send me a check if you are allergic to PayPal, and (d) to find out how to send me images of plants. Vegetables are fine! Fungi and coral are deemed to be honorary plants! If you want your handle to appear as a credit, please place it at the start of your mail in parentheses: (thus). Otherwise, I will anonymize by using your initials. See the previous Water Cooler (with plant) here. Today's plant (JU):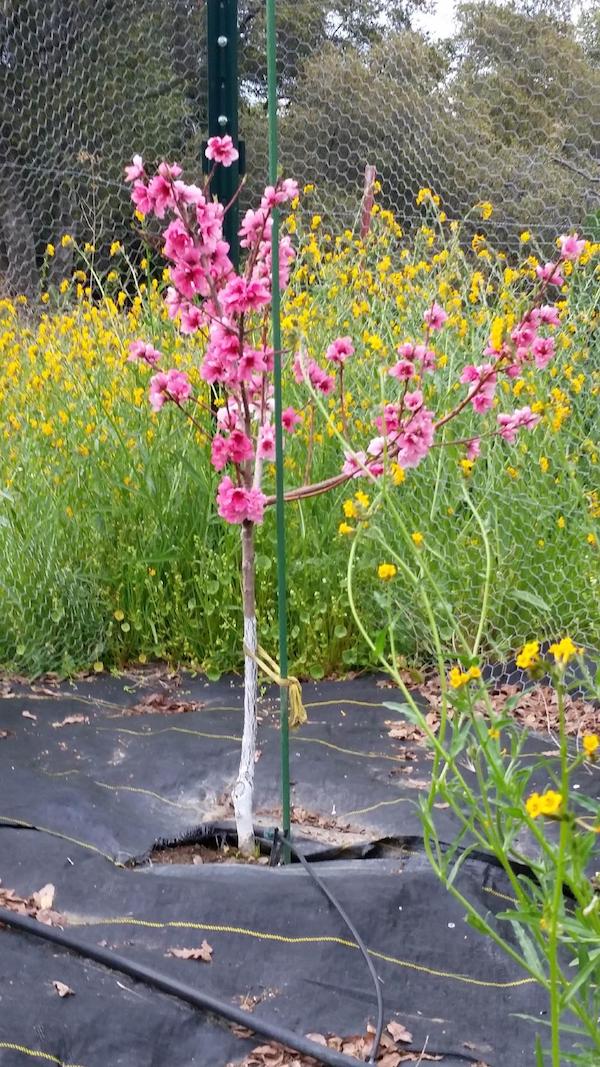 JU writes: "Arctic Snow White nectarine tree, with Fiddleneck flowers behind."
Here is another reader project "while on lock-down (SS):

SS writes:
This site* said that vacuum cleaner bags are good filter material.

So I worked up a plan to make masks out of shop vac filter bags. You
can use a sewing machine but I think sewing machine and hot melt glue
is fastest. I'm really bad at sewing, but it works anyway.

Once I knew I could make my own, I gave my factory models to the local hospital.
SS went the extra mile and wrote up directions; here is a PDF you can download.
mask_making

* I know there's discussion about the Smart Air Filters site, but I think since SS gave the factory masks he had to hospital personnel, that plus his own masks net out positive. In any case, an imperfect mask will still catch droplets from your coughing or sneezing, protecting others.
* * *
Readers: Water Cooler is a standalone entity not covered by the annual NC fundraiser. So if you see a link you especially like, or an item you wouldn't see anywhere else, please do not hesitate to express your appreciation in tangible form. Remember, a tip jar is for tipping! Regular positive feedback both makes me feel good and lets me know I'm on the right track with coverage. When I get no donations for five or ten days I get worried. More tangibly, a constant trickle of donations helps me with expenses, and I factor in that trickle when setting fundraising goals:
Here is the screen that will appear, which I have helpfully annotated.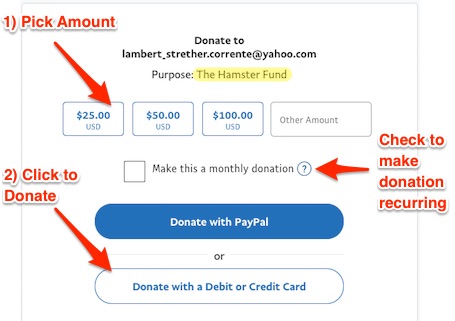 If you hate PayPal, you can email me at lambert [UNDERSCORE] strether [DOT] corrente [AT] yahoo [DOT] com, and I will give you directions on how to send a check. Thank you!