CLOs: ground zero for the next stage of the financial crisis? FT
JPMorgan Is Now Banking for Bitcoin Exchanges Coinbase, Gemini Bloomberg
America's digital Sputnik moment The Hill
Wall Street Bets Virus Meltdown Gives Landlords a Chance to Grow WSJ
If Landlords Get Wiped Out, Wall Street Wins, Not Renters Bloomberg
European investment plunge raises fears for future growth FT
More than 300 lawmakers urge IMF, World Bank to cancel poor countries' debt Channel News Asia
Citigroup Turns to Mediating Cheap Loans as African Deals Dry Up Bloomberg
Manhattan Faces a Reckoning if Working From Home Becomes the Norm NYT (Re Silc). The norm for PMC symbol manipulators, that is. It's hard to fill a shelf with groceries from home.
How the Coronavirus Could Permanently Cut Near-Retirees' Social Security Benefits Andrew Biggs, Wharton Pension Research Council Working Papers. Yikes:
[D]ue to how the Social Security benefit formula interacts with the sharp economic downturn due to the Coronavirus, some groups of near-retirees are likely to suffer substantial permanent reductions to their Social Security retirement benefits. Assuming a 15 percent decline in the Social Security Administration's measure of economywide average wages in 2020, a middle-income worker born in 1960 could have his annual Social Security benefits in retirement reduced by around 13 percent, with losses over the retirement period in excess of $70,000.
That's terrible. How can we fund nursing home Petri dishes if Social Security benefits are cut?
#COVID19
Reopening:

Coronavirus Models Are Nearing Consensus, but Reopening Could Throw Them Off Again NYT

* * *

Spread:

How Coronavirus Spreads through the Air: What We Know So Far Scientific American. But see also:

Now that's three CDC studies—from a Chinese restaurant, a Korean call center, and an American choir practice—all finding that talking, laughing, singing in close quarters, in unventilated interiors, for many hours, is the perfect storm for a COVID super-spreader event. pic.twitter.com/PdpAmXlBY8

— Derek Thompson (@DKThomp) May 12, 2020

Links are in the thread. For any given space, assess air volume, exposure time, and people in the space.

* * *

Masks:

Should All Fashion Brands Be Selling Masks? Business of Fashion

Column: Vaccines 'are poisonous' and other views of a business owner who banned masks in his shop Los Angeles Times

* * *

Vaccine:

What Is 1 Day Sooner? Scientists Seek Volunteers to Become Infected with Coronavirus to Speed Up Vaccine Development Newsweek

* * *

Supply chain:

Gilead inks deals with generics makers to supply COVID-19 therapy remdesivir for 127 countries Fierce Pharma. This preprint is the best published/non-Gilead study on remdesivir I can find (readers please correct). So we're locking up global manufacturing capacity for Gilead because Fauci ramped its stock?

* * *

Economic effects:

COVID-19 Impacting Weather Forecasts The Maritime Executive

Virus unleashes wave of fraud in US amid fear and scarcity AP

We Can't Stop the Coronavirus Unless We Stop Corruption Foreign Policy. Especially in failed states like our own.

* * *

Corporate response:

We maintained or increased IT spending, say seven-in-ten pros, execs polled mid-crisis. PS: We love Microsoft most The Register

* * *

Political response:

Trump Administration Wants Bosses to Snitch on People Scared to Go to Work Vice. Shovel tens of trillions to the 1%, then worry about whether Joe and Jane Sixpack boost an extra grand. Nothing must interfere with the sacred C-M-C', or increase worker power v. capital!

Five takeaways as Senate panel hears from Fauci, Trump health officials The Hill

* * *

Exit strategy:

We need a radically different model to tackle the COVID-19 crisis James Galbraith, Defend Democracy Press

We can't restart Britain's economy until we get coronavirus under control Simon Wren-Lewis, Guardian

* * *

Remedies and ameliorations:

Exhaustion, uncertainty mark coronavirus survivors' journeys AP.

17 questions to ask yourself as you declutter your closet NBC. My closet is fully decluttered, thank you!

Judy Mikovits, Disgraced Doctor at the Center of 'Plandemic,' Has a Bestselling Book on Amazon Rolling Stone (Re Silc).
China?
Leaked Chinese Virus Database Covers 230 Cities, 640,000 Updates Foreign Policy
Philippines extends coronavirus lockdown in Manila and two high-risk areas South China Morning Post
India
A district that learnt Covid lessons and one that didn't Times of India

Early Reaction to India's Massive Stimulus Broadly Positive Bloomberg
Syraqistan
EXCLUSIVE: British propaganda efforts in Syria may have broken UK law Middle East Eye
EU/UK
A Very Political Prosecution Craig Murray

One Billionaire Leader Is Having a Good Virus Crisis Bloomberg. "Billionaire leader." What's "Crassus" in Czech?
Putin Withdraws From the Coronavirus Crisis in a Political Abdication Moscow Times
About the Wise Monkey Who Came Down from the Mountain Russian International Affairs Council
RussiaGate
Trump Transition
Trump orders federal pension fund not to invest in Chinese stocks FT
Democrats in Disarray
Pelosi unveils $3 trillion coronavirus relief plan amid squeeze from left and right Politico. Of course, Pelosi has bailed out K Street. So it's a message bill, just not a message the left wants to hear. I'm not the only one who picked up on "Rooseveltian":

A true "Rooseveltian" relief package would end mass unemployment, give people ongoing cash assistance—and allow the jobless to enroll in Medicare.

Instead they offered funding for health insurance monopolies and this gift allowing Cuomo to cut Medicaid: https://t.co/Q45IIayIqQ

— Claire Sandberg (@clairesandberg) May 13, 2020

If Pelosi wanted any of this stuff to pass, it would have been in the first or second bills. So we're looking at Integrity Theatre.

A sternly worded letter from the Progressive Caucus to Pelosi:

New letter from Progressive Caucus chairs @PramilaJayapal & @MarkPocan fighting to make House COVID bill much better.

Requests delay in vote, full caucus mtg on amendments.

Progressive movement must fight alongside them to add Paycheck Guarantee & monthly checks at minimum. pic.twitter.com/ThoRmyx8No

— Kai Newkirk #NotMeUs (@kai_newkirk) May 12, 2020

We have had the good luck to speak with those who crafted the bill speak behind closed doors, regarding their legislative philosophy:

made a Rube Goldberg machine pic.twitter.com/gWRNnmm5Ic

— COLiN BURGESS (@Colinoscopy) April 30, 2020

Eight surprises in House Democrats' $3T coronavirus relief bill The Hill. This is the Christmas tree part. Not that there's anything wrong with a few presents under the tree.

Democrats Unveil Giant New Coronavirus Relief Bill HuffPo

'No Excuse for This': House Dems Unveil 1,815-Page Bill That Would Bail Out Corporate Lobbyists But Omits Key People-First Priorities Common Dreams

War Is Peace & K Street Is A Small Business David Sirota, Too Much Information
2020
Kushner, Law Aside, Doesn't Rule Out Delaying 2020 Election NYT

Ignoring Trump and Right-Wing Think Tanks, Red States Expand Vote by Mail Pro Publica

More Americans than ever are expected to vote by mail this year, which means we probably won't know who won the 2020 presidential race until days after election night Business Insider

DNC committee approves rule changes that could allow for virtual convention CNN

AOC joins Biden's climate policy panel NBC. It's not a "panel," as in a government panel, it's a "task force." Maybe let Biden pick out the White House drapes all on his own?
Big Brother Is Watching You Watch
The Confessions of Marcus Hutchins, the Hacker Who Saved the Internet Wired

Mitch McConnell Moves to Expand Bill Barr's Surveillance Powers The Daily Beast.
Health Care
Why the U.S. Health Care System Failed the Coronavirus Test Foreign Pollicy

Job lock:

1 in 3 #cancer survivors have experienced job lock (staying at a job to prevent losing their #healthinsurance). This finding was more common among women, people who were sicker, and nonwhite persons. #healthdisparities #oncoalert @JAMAOnc https://t.co/x0p9idWMwD pic.twitter.com/PeJAcfkras

— Ross Harrison (@RossFH) April 27, 2020

Hence, no #MedicareForAll. Nothing must disturb the sacred C-M-C'!

Here's How to Cover Uninsured Americans During the Pandemic Politico. Idea: "Let's expand COBRA!" (said nobody outside the Democrat Establishment, ever).
Guillotine Watch
Stranded Super-Rich Confront Tax Chaos After Virus Lockdowns (2) Bloomberg Law
Class Warfare
If Your Boss Is Putting Your Life at Risk – Read This Tribune. From the UK.
How Evolution Helps Us Understand and Treat Cancer Smithsonian
Antidote du jour (via):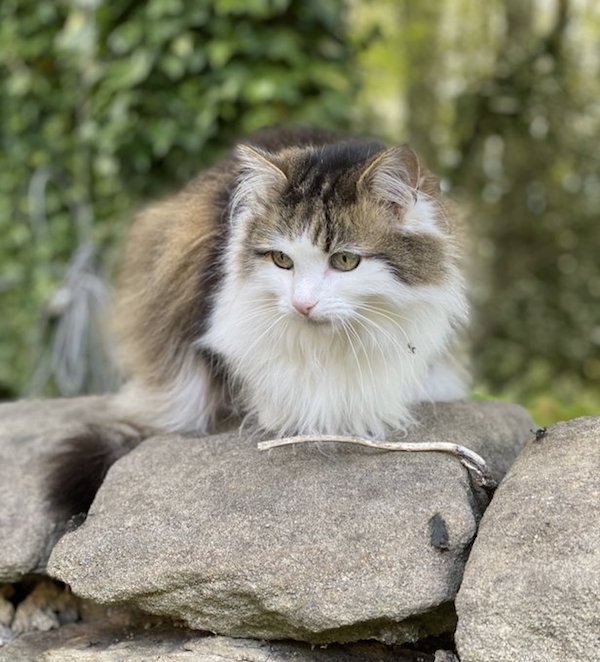 "Twiggy is watching the hens from a safe distance."
Bonus antidote:
Still having the company meetings online. pic.twitter.com/aR3LfuSdKl

— Andrew Cotter (@MrAndrewCotter) May 11, 2020
Try herding cats into a video conference!
See yesterday's Links and Antidote du Jour here.