New species of "supergiant" isopod uncovered National University of Singapore. The pictures…
Don't freak out, but it's almost time for tarantulas to crawl around Colorado in search of love Denver Post
Will Uber and Lyft shut down in California? Fortune
Citibank sent a hedge fund $175 million by mistake. Now it's struggling to get the money back CNN. This keeps happening.
Magpie-swooping season could be worse in Victoria this year as face masks confuse birds Guardian
#COVID19
The pandemic appears to have spared Africa so far. Scientists are struggling to explain why Science
Pourquoi le vraquier n'a-t-il pas été arraisonné et pourquoi avoir attendu 15 jours pour monter à bord? L'Express. Google translation (or at least it ought to be; I can't get Google to translate). Colonel Smithers: "More and more questions are being asked. As per this article by a Belgian captain, why did the ship's captain cease communications with Mauritian authorities for at least two hours and enter Mauritian waters without permission and it took so long for the authorities to board the vessel. The author also wonders if people or illegal cargo were being dropped. The former may explain the life raft and jackets from ship found washed ashore nearby and reported by a local doctor after a stroll."
Mauritius Arrests Officers and Tows Wakashio as Questions Persist The Maritime Executive
China?
China, the World Bank, and African Debt: A War of Words The Diplomat

US and China to double weekly flights, handing lifeline to grounded carriers facing industry's worst travel slump South China Morning Post

China Seeks to Use Access to Covid-19 Vaccines for Diplomacy WSJ
How Japan Talks About Security Threats The Diplomat
The Koreas
Cluster infection originating in Seoul's Sarang Jeil Church spreads nationwide The Hankyoreh
Syraqistan
How Did the Eastern Mediterranean Become the Eye of a Geopolitical Storm? Foreign Policy

UAE deal shows– world leaders see Israel lobby as a gatekeeper in Washington Mondoweiss

Why U.A.E. Struck a Deal With Israel and Why It Matters Bloomberg
UK/EU
New Cold War
Putin warns western leaders over 'meddling' in Belarus FT

Belarus: Are neoliberalism and nationalism the only options? Yasha Levine, Immigrants as a Weapon

The Return of Great-Power Competition—Cold War Lessons about Strategic Antisubmarine Warfare and Defense of Sea Lines of Communication (PDF) Naval War College Review
RussiaGate
Senate report describes closer ties between 2016 Trump campaign, Russia The Hill

Clinesmith, the Russia Lie, and the Deep State National Review

Justice Delayed or Justice Denied? A Response To Andrew Weissmann And Ryan Goodman Jonathan Turley
Trump Transition
I Have Spent My Career Advocating for Fair Housing. It's Good to See Obama's Rule Go. Planetizen
Democrat National Convention
Democrats nominate Biden for epic challenge to oust Trump AP

Democrats Drop Demand To End Fossil Fuel Subsidies From Party Platform HuffPo (MT). "Incorrectly included." Well done, well done. Fire the intern.

"They have learned nothing…."

Elizabeth Warren just spoke at the DNC Native American Caucus Meeting pic.twitter.com/7VoIYpwmBO

— jordan (@JordanUhl) August 18, 2020

"… and forgotten nothing." Thread:

So @NBCNews how are you going to fix the incredible amount of damage and misinformation that you are now responsible for?

Because a 1:15am tweet to slip under the radar after blowing up a totally false and divisive narrative across networks isn't it. https://t.co/zf6Wqiotvv

— Alexandria Ocasio-Cortez (@AOC) August 19, 2020

Here's a blow-by-blow description of NBC's AOC debacle:

Absolute brain worms in this comment thread. This is how primaries work, this was planned and part of the ceremonial crap. How are you people so confident to post while being so incredibly ignorant? https://t.co/2B1Ye4eC8e

— Greg C (Cable News Sufferer) (@greg06897) August 19, 2020

The Convention Has Finally Become What It Always Was The Atlantic
2020
Election Beat 2020: Focus on America's two largest recent immigrant groups Journalist's Resource
Our Famously Free Press
How We Could Wind Up Banned From Discussing An October Surprise On Social Media This Election Caitlin Johnstone

The Press that Cried Wolf Matt Taibbi. This:

CNN, MSNBC, the New York Times and the Washington Post are now following the same script with the Trump panics. The pattern is consistent. Day one involves spectacular claims of corruption. By day two, placard-bearing protesters are hitting the streets… Almost always, by day three or four, key claims are walked back: maybe there was no direct "promise" to a foreign leader, or the CIA doesn't have "direct evidence" of Russian bounties, or viral photos of children in cages at the border were from 2014, not 2017. By then it doesn't matter. A panic is a panic, and there are only two reportable angles in today's America, total guilt and total innocence. Even when the balance of the information would still look bad or very bad for Trump, news outlets commit to leaving out important background, so as not to complicate the audience response.

By now, my killer T-cells go to work on minute one of hour one of day one…. Unfortunate if there's the media equivalent of a cytokine storm, but here we are.
USPS
Big Brother Is Watching You Watch
Groves of Academe
New law requires students to complete ethnic studies to graduate from California State University NBC
Sports Desk
Imperial Collapse Watch
SOCOM didn't consistently document whether more than $800 million in gear met key performance metrics or not Task and Purpose

Democracy Always Prevails In Great Power Competition—Well, Almost Always The American Conservative
Guillotine Watch
Bookstore Operator Denies Raiding Little Free Libraries for Stock Washingtonian
Class Warfare
Will you pay my mortgage? Bank of mum and dad withdrawals squeeze sandwich generation FT

Covid-19 rips through motel rooms of farmworkers who pick nation's produce The Counter
The Unprecedented Gun and Ammo Shortage by Larry C Johnson Sic Semper Tyrannis
Antidote du Jour (via):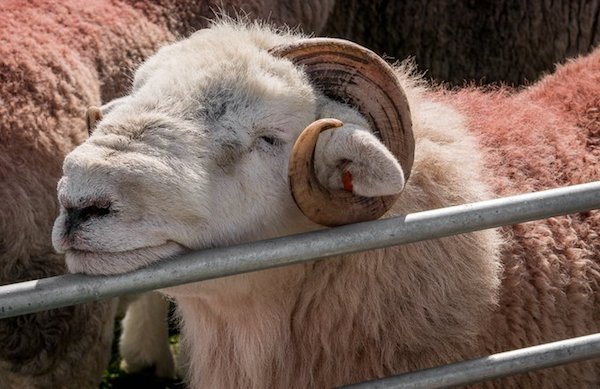 Not strictly an antidote, but surely functionally so:
Fill em up please ?? pic.twitter.com/DTaUxI6CoL

— CCTV_IDIOTS (@cctv_idiots) August 19, 2020
See yesterday's Links and Antidote du Jour here