By Lambert Strether of Corrente
Bird Song of the Day
Sounds more like a rubber bicycle horn to me, not a trumpet. But I am not a birder!
#COVID19
At reader request, I've added this daily chart from 91-DIVOC. The data is the Johns Hopkins CSSE data. Here is the site.
Here are the United States regions: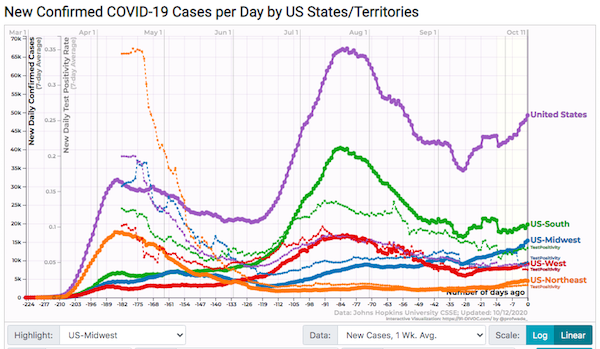 Unmistakable rise in all regions now. Ugh. Super-ugh.Gonna be interesting to see what happens if the virus is really cranking in November or December, and the FDA says a vaccine is ready…
Here are the Swing States as I conceive them (see below):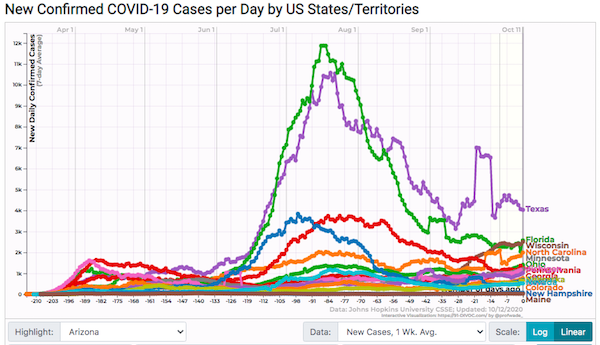 Unmistakable rise everywhere…
Here are Southeast Asia and East Asia, with the United States for comparison: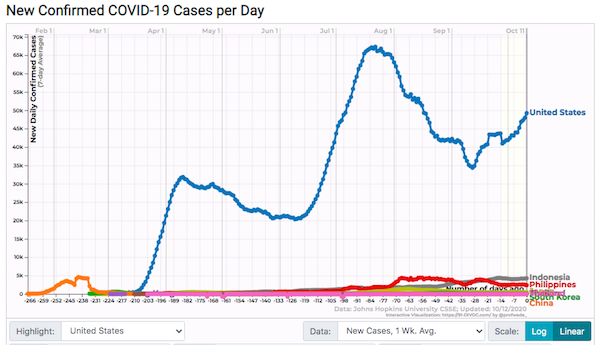 Which ruling elite did better by its people?
–>
Politics
"But what is government itself, but the greatest of all reflections on human nature?" –James Madison, Federalist 51
"They had one weapon left and both knew it: treachery." –Frank Herbert, Dune
"They had learned nothing, and forgotten nothing." –Charles Maurice de Talleyrand-Périgord
The electoral map. July 17: Georgia, Ohio, ME-2 move from Leans Republican to Toss-up. Continued yikes. On July 7, the tossup were 86. Only July 17, they were 56. Now they are 91. This puts Biden at 278, i.e. over 270. August 18: Still no changes. August 31: Indiana moves from Likely to Safe Republican. September 9: No changes. September 14: No changes. September 21: No changes. September 22: Ohio moves from Toss-up to Leans Republican. September 25: Ohio moves from Leans Republican to Toss-up. September 30: Iowa moves from Leans Republican to Toss-up. October 3: Indiana moves from Safe to Likely Republican; Iowa moves from Toss-up to Leans Republican. October 6: Arizona moves from Toss-up to Leans Democratic; Iowa from Leans Republican to Toss-up; Indiana from Likely to Safe Republican; New Mexico from Likely to Safe Democratic. . I would say the election is no longer static.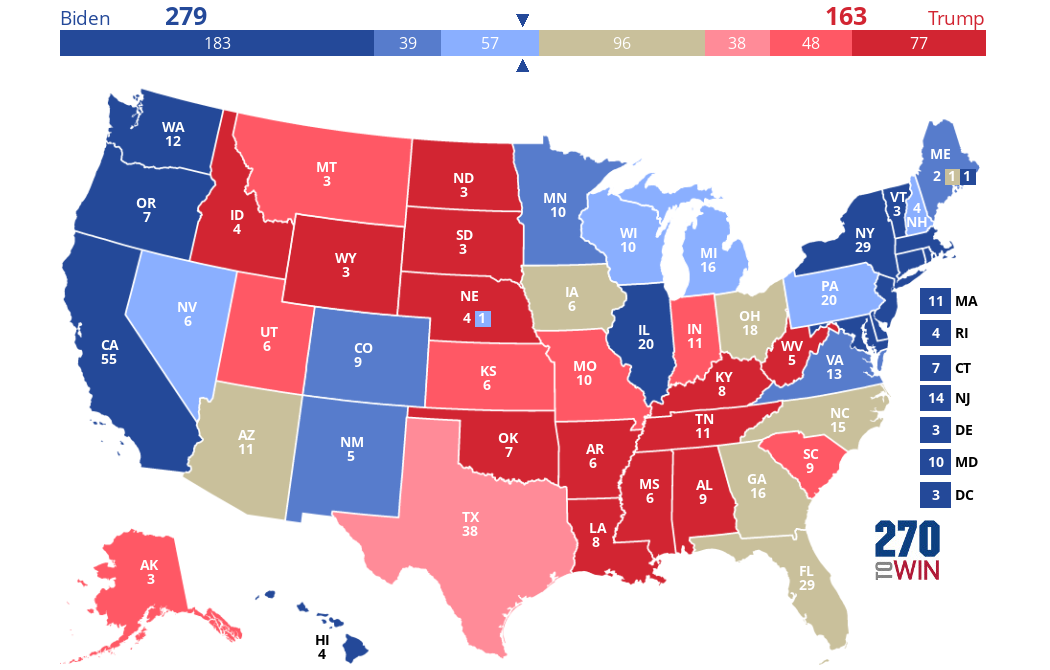 Click the map to create your own at
270toWin.com
The election countdown:
Here is an early voting calendar. Maybe we'll have a whole series of October surprises, since election day is gradually being devalued as an event.
And here are mail-in voting ruies, which naturally differ state by state.
NEW "2020 General Election Early Vote Statistics" [U.S. Elections Project (SlayTheSmaugs)].
"How to Vote in 2020: Everything You Need to Know" [Bloomberg]. "Casting a ballot in the U.S. isn't always easy, with a complex web of varying state rules governing how and when you can vote. The Covid-19 pandemic has introduced even more complexity in 2020, as many states have made significant changes to allow for more early voting or voting by mail. More changes could come as lawsuits in several states wind their way through the courts. That's why Bloomberg News is answering these critical questions so you'll know what you need to do to make sure your vote is counted in the 2020 election."
Here are is an enormous spreadsheet on voting equipment, so you can check your own jurisdiction (hat tip, UserFriendly. I should really aggregate these onto a map…).
UPDATE California Ballots Mailed and Returned Tracker" [Political Data]. • California only, sadly.
UPDATE "2020 General Election Early Vote Statistics" [U.S. Election Project]. With handy map: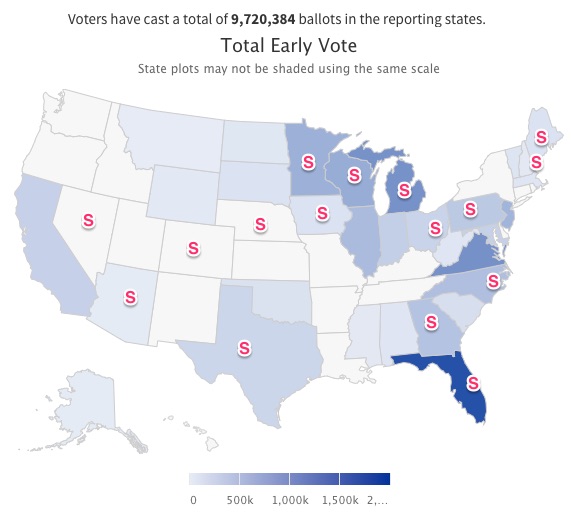 I marked the Swing States. Look at Florida!
UDPATE "State Fact Sheets" [Georgetown Universitty]. "[F]act sheets for all 50 states explaining the laws barring unauthorized private militia groups and what to do if groups of armed individuals are near a polling place or voter registration drive."
2020
Swing States

Here is my list of Swing States, with votes in the Electoral College and selected ballot initiatives in parentheticals):

Arizona (11) (marijuana; taxes(=)
Colorado (9) (taxes, lottery, abortion, paid medical leave)
Florida (29) (minimum wage)
Georgia (16) (declaratory relief)
Iowa (6) (Constitional convention)
Maine-02 (1) (vax)
Michigan (16) (privacy)
Minnesota (10)
Nebraska-02 (1) (payday lending; gambling)
Nevada (6) (marriage)
New Hampshire (4)
North Carolina (15)
Ohio (18)
Pennsylvania (20)
Texas (38)
Wisconsin (10)

Inspired by the thread starting with Arizona Slim's comment here, I went to Ballotpedia and added selected, hopefully hot button, ballot initiatives, because sometimes they affect turnout. If you live in a swing state, please comment if I got the hot buttons wrong!

There are a lot of people playing Electoral College games. Here's one:

Biden's Path
Hillary(232, hold NV)
Then he needs 38 more
1. TX(38) = about 5~10% chance of winning
2. Win one of FL/GA/NC -> likely win
3. AZ+PA+WI or MI = 41~47
4. AZ+WI+MI+NE2 or ME2 = 38
5. MI+PA+WI=46#Election2020 #270toWin

— StatesPoll,com (@StatesPoll) October 10, 2020

Lots of paths to victory for Biden, there.

* * *

Here are two swing state populations whose past behavior as been well understood, but whose behavior may change due to Covid.

Nursing homes: "Pandemic Erects Barriers for Prized Bloc of Voters in Nursing Homes, Senior Facilities" [KHN]. "ccording to AARP, 71% of Americans 65 and older voted in the 2016 presidential election, compared with 46% of people 18-29… Many seniors who need help to get or fill out their ballots may be stymied by shifting rules about family visits…. Facilities that used to host voting precincts likely won't do so this year because of concerns about the spread of COVID-19…. In years past, civic groups such as the League of Women Voters would stop by to give presentations on what's on the ballot. Candidates for local office would hit nursing homes to make pitches. "In the context of a pandemic, we just can't do it this year," said Michelle Bishop, voter access and engagement manager with the National Disability Rights Network. Before the pandemic, nursing homes and assisted living facilities also often served as polling places. Residents could easily access voting booths, often set up in a lobby or community room. That was especially important because nursing homes are likely to be accessible to people with mobility problems, Bishop said." • As it turns out, swing states are also high in nursing home residents:

Seniors are upset with Trump's handling of Covid, especially in nursing homes. But the Covid-driven senior vote may be smaller than we think. For example, this exchange:

Honestly, I think this is a terrible mistake. It is extremely obvious that the mail-eday vote will be biased in ways that go way beyond our prior experiences, expectations, or what's implied by the party registration. Just wait for it to finish.https://t.co/putci8ttYS

— Nate Cohn (@Nate_Cohn) October 10, 2020

Students: Here are the swing states with high out-of-state student populations. Chart from KFF:

Presumably, student voters are more likely to vote for Biden than Trump. But if they aren't in their swing state colleges because of the virus, and are back home, Biden's swing state student vote may again me small than we think.

CO: "High-Stakes Race in Colorado Could Help Flip the Senate" [Courthouse News Service]. "A Democrat, two-term mayor of Denver and two-term governor of Colorado, Hickenlooper ended a run for the White House last year in time to pivot for a shot at Gardner's Senate seat. With a background in geology, brewing and business, Hickenlooper was recruited to run for Senate last year by 314 Action, a pro-science political action committee based in Washington." • Everybody thinks Biden an Harris being pro-fracking is all about PA, but being anti-fracking could make trouble for Hickenlooper, too.

GA: "Explainer: How Georgia could leave voters guessing until January about U.S. Senate control" [Reuters]. "Two Senate seats in [Georgia] are up for grabs at the same time, and if no candidate wins 50% of the vote, state law forces a run-off election on Jan. 5 – two days after the rest of Congress is sworn in. Some 10 Senate races are rated competitive this year, giving Democrats a chance of erasing Republicans' 53-47 majority. That could lead to a bitter post-Nov. 3 political fight in the largely Republican state with a growing Democratic electorate." • And this is before we get to the voting machines–

GA: Ugly, very ugly:

For the record, this is the accurate tweet that I was forced by Twitter to delete… pic.twitter.com/PCPVtxibZ4

— Brad Friedman (@TheBradBlog) October 12, 2020

UPDATE MI: "One Suburban County Controls the Michigan House of Representatives" [Elections Daily]. "[T]he House elections will be the most important non-federal elections in Michigan taking place this year. Republicans hold a 58-51 majority in the House, with one vacant, Safe Democratic seat. This means Democrats will need to net four seats to gain a clear majority. There's a clear path toward this goal, and it will rely heavily on suburban seats. They will be defending one highly competitive seat while contesting five. Of these five seats, three are in one heavily suburban county. This county is of course Oakland County, just north of Detroit. Oakland County has been a bright spot for Democrats in recent years, remaining static as the state has shifted rightward. At the same time though, it is very difficult to gauge politically, due to several competing forces occurring there. The county has minority filled areas, diversifying areas, heavily white liberal suburbs, and heavily white conservative exurbs. The county voted narrowly against George Bush twice but has since moved to the left. Hillary Clinton won Oakland County by 8.1 points, while Governor Gretchen Whitmer won it by 16.9 points. Recent polling has shown that Joe Biden will win the county by impressive margins. If this holds true, and Democratic support carries downballot, this would be very good for Democrats' hopes of flipping the State House."

UPDATE MN: "Republicans Aim to Flip Minnesota Blue-Dog Democrat's House Seat" [Bloomberg]. "So far, [Representative Collin Peterson's] social and fiscal conservatism has helped him fend off Republican challengers as his largely rural district in Minnesota has gone deep red. Trump swept the district by 31 points four years ago, making this the most Republican House district in America still represented by a Democrat. Will enough Trump voters split their tickets this time around and send Peterson back to Washington? Republicans are betting no. They see 2020 as their moment to flip the seat."

WI: "In Wisconsin, Trump's economic edge is blunted by COVID" [Los Angeles Times]. "Both here and nationwide, the economy has bounced back some from the devastation of the spring. In Wisconsin, unemployment surged to more than 13% in April, but it has steadily fallen over the summer to 6%, roughly double what it was for most of Trump's presidency."

ICYMI: @melmason traveled to Wisconsin to talk to voters. Trump's edge with the economy may not be enough in the battleground state, where voters are weighing it against his response to the COVID-19 crisis.https://t.co/ctMDoHVXJH

— Melissa Gomez (@MelissaGomez004) October 9, 2020

WI: "List maintenance or voter suppression: How the practice of maintaining voter lists became polarized" [Wisconsin Examiner]. "That left-right divide raises the temperature on any effort to maintain the voter rolls, but even without the polarization, the process can be imperfect and can have real harms when people are wrongly removed. When mistakes are made in the maintenance of voter lists, that harm disproportionately touches two groups that are likely to sit out a few elections and to frequently move — Black and brown communities and young people, according to a report from the Brennan Center for Justice."

* * *

UPDATE Biden (D)(1): "What Would Biden's Foreign Policy Look Like? Just Look at His Supporters" [John Kiriakou, Consortium News]. "Earlier this month, a group of Republican former senators and congressmen endorsed Biden for president, saying that he was better equipped that Trump to run the country. At around the same time, a large group of intelligence and foreign policy professionals, most of whom had worked for Republican presidents, also endorsed the former vice president. That sounds pretty impressive. But let's look at what it really means. It means that they believe Biden will continue an interventionist, neoliberal, pro-war foreign policy….. If you think things will change in foreign policy under a President Biden, think again. It'll be the same old expansionist, militarist policy that we had under Bill Clinton and Barack Obama. So go into the voting booth with your eyes open."

UPDATE Biden (D)(2): "How Biden could end 2020 on election night — and why Trump's path is unlikely" [Politico]. "[I]f there is a winner declared on Nov. 3, it will almost certainly be bad news for the president. While vote counting could be delayed in many states due to a glut of mail ballots, Biden is challenging Trump in several fast-counting, Republican-leaning swing states the president carried four years ago. Election administrators in those states, especially Florida and North Carolina, are confident they should have most of the vote counted on election night. Meanwhile, the most important states that tipped the Electoral College to Trump in 2016 — Michigan, Pennsylvania and Wisconsin — allow, at best, extremely limited pre-processing of mail ballots. That means it could take days to actually declare a winner in those states…. If Biden can net Florida on election night — no sure thing regardless of timing — Democrats could secure the other 15 electoral votes in three ways: winning North Carolina, Ohio or the combination of Arizona and Iowa."

UPDATE Biden (D)(3):

It's a not too new idea. The words come from the Japanese.

— Kipkemoi Kiptum (@kkiptum) October 10, 2020

No wonder Biden's slogan makes no sense in English.

UPDATE Sanders (D)(1): "Sanders endorses more than 150 down-ballot Democrats" [The Hill]. "The endorsed candidates are running for an array of positions, including state representative, state senator, county attorney, city council, sheriff and more. The candidates are running in Arizona, California, Colorado, Florida, Maine, Michigan, New Hampshire, New York, Pennsylvania, Rhode Island, South Carolina, Texas, Vermont, West Virginia and Wisconsin."

Trump (R)(1): Election theft–

I love that the strategy Democrats fear Trump will deploy on election day — using unsettled results to call the election in his favor — is exactly what Pete Butteigieg did in Iowa.

— ??Briahna Joy Co-pay ?? (@briebriejoy) October 11, 2020

* * *

UPDATE "Gallup editor says independents less interested in 2020 election than past races" [The Hill]. "[Gallup Editor-in-Chief Mohamed Younis] told Hill.TV's 'Rising' that Gallup found 64 of independents said they have given a lot of thought about the upcoming election, compared to 83 percent of Republicans and 81 percent of Democrats. At this point in the election cycle in 2008, 77 percent of independents said they had given a lot of thought about the race."

"Pennsylvania, Texas and Ohio See Court Rulings Over Mail Ballots" [Wall Street Journal]. "Courts in several key states issued weekend rulings that could affect how votes are cast and counted for next month's election, including mixed outcomes on the hotly contested issue of drop boxes for mail ballots. In one closely watched case, the Trump campaign and Republicans were on the losing end of a Pennsylvania ruling that rejected their challenge to state voting rules on drop boxes, ballot signatures and poll watchers. In Texas, a federal judge lifted newly imposed limits on drop-box locations, though an appeals court quickly put the ruling on pause for now. A different federal appeals court permitted Ohio to enforce similar limits. All three cases could see additional legal wrangling."

"Trump campaign ready to unleash thousands of poll watchers on Election Day" [Politico]. With the lifting of a decades-old consent decree, the Republican National Committee is now free to engage in poll watching. To that end, the campaign has established what it says is a 50,000-plus army of volunteer observers across an array of battleground states like North Carolina and Pennsylvania, where operations are already underway. Poll watchers monitor everything from voting machines to the processing of ballots to checking voter identification. They are not permitted to interact directly with voters but, depending on local regulations, they can relay problems to local election officials or campaign higher-ups. The Trump deployment is the culmination of mon

ths of detailed planning, aggressive volunteer recruitment, and reconnaissance trips to key states. President Donald Trump has been personally briefed on the program, which is overseen by nearly two dozen full time staffers…. For months, Biden's campaign has been assembling its own program that includes a poll-watching operation and a heavy stable of attorneys. Advisers say it numbers thousands of people, though they wouldn't be more specific. In one recent recruitment effort, more than 400 Boston-based attorneys and supporters convened a conference call to discuss fanning out to Michigan, New Hampshire, Pennsylvania and Maine. They agreed to monitor polling sites, staff voter assistance hotlines or be ready to go to court at a moment's notice."
Realignment and Legitimacy
How was brunch?

Can you imagine how nice it will be to have concerts again in the White House? Musicians, artists, authors, innovators, people who seek to contribute joy and beauty and positivity to our world.

— Steven Beschloss (@StevenBeschloss) October 11, 2020

UPDATE Fun with idpol:

The Washington Post erases Kamala Harris's Tamil heritage and the cultural heritage of the woman who raised her and who gave her a Sanskrit name and Indian sociocultural education.

See everyone can play this game. https://t.co/unjp8EsCnU

— Zaid Jilani (@ZaidJilani) October 8, 2020

"Advice for the People's Party" [Alice Marshall]. This is interesting: "We need to reach out to the homeless. It is a myth that homeless people do not vote, most don't, but some do. We need to reach out to them and also have a special voter registration drive. We need to help them obtain IDs (which often involves helping them obtain their birth certificate). So we need to set up a special fundraising drive for this. Due to covid, fires, and hurricanes the number of homeless people is going to soar. Once people become homeless they cease to exist politically from the point of view of the kleptocracy. If we can persuade them to vote we can shift the entire country."
Stats Watch
At reader request, I added some business stats back in. Please give Econintersect click-throughs; they're a good, old-school blog that covers more than stats. If anybody knows of other aggregators, please contact me at the email address below.
There are no statistics of note today.
* * *
* * *
.
Today's Fear & Greed Index: 59 Greed (previous close: 54 Neutral) [CNN]. One week ago: 44 (Fear). (0 is Extreme Fear; 100 is Extreme Greed). Last updated Oct 12 at 1:02pm.
Rapture Index: Closes up one on inflation. "Money printing is putting upward pressure on commodity prices." [Rapture Ready]. Record High, October 10, 2016: 189. Current: 182. (Remember that bringing on the rapture is a good thing.)
The Biosphere
"Sweltering heat, power outages greet Louisiana evacuees returning from Hurricane Delta" [Reuters]. "Delta knocked out power to more than 600,000 homes and businesses, but electricity had been restored by Sunday to about half those customers, Edwards told a news conference. The power outages appeared to be a factor in the pace of evacuees returning home…. Insured losses from Delta were projected to run to $2 billion, while Laura's losses were estimated at around $10 billion, including over $2 billion to offshore energy production facilities, said Steve Bennett, chief product officer for the Demex Group, a technology company."
Health Care
"An analysis of three Covid-19 outbreaks: how they happened and how they can be avoided" [El Pais]. "A crowded restaurant to celebrate the Chinese New Year; 100 workers infected inside a 19-story building; a group of devout Buddhists travelling by bus for a religious ceremony. These were the scenarios for three outbreaks of Covid-19 that have been carefully documented by the authorities. What happened in each one? What were the risk factors? What lessons can be learned, now that we are trying to get back to normal and return to restaurants, offices and other shared spaces?" • Readers will be familiar with these incidents, but this is a really good overview with good diagrams.
The Swiss Cheese Model:
This is the best image I've seen to convey how multiple measures work best, rather than any single measure. It's missing fresh air/ventilation though, which should definitely be in there pic.twitter.com/MJgb5FRVxz

— ɪᴀɴ ᴍ. ᴍᴀᴄᴋᴀʏ, ᴘʜᴅ ?????? (@MackayIM) October 10, 2020
There are some missing parts; glasses help, for example, and ventilation matters too. But that's just a matter of adding a two more slices of cheese, no? The fundamental metaphor remains strong.
Class Warfare
"The radical mysticism of identitarian reductionism" [Carl Beijer]. "It is hard to overstate how historically and ideologically bizarre — how breathtaking in its counterintuition and metaphysical ambition — this doctrine of identitarian reductionism actually is. This is not just the usual identitarian claim that there are causal forces in our politics that cannot, ultimately, be traced back to the material economy. This is a second declaration: that somehow, the material economy is not also playing a role in our politics. At all. The fear, misery, and bitterness of poverty; the anxiety over one's precarious standing in the so-called middle class; the insular luxury and jealous ambition of wealth; the concentration of wealth, the evaporation of jobs, and so on — none of this, evidently, plays any role whatsoever in the emergence of demographic tribalism, in interpersonal attitudes, in voting behavior, and so on. This is obviously not the socialist position, but it is not even an ordinary capitalist position." • Fun stuff, well worth a read.
Holy cow, the tactics:
take a look at this absolutely insane, totally incredible organizing strategy from the UMW in their 1913 campaign to organize the Colorado oilfields: pic.twitter.com/5G0RaoI0bk

— lex ?? (@postlexical) October 10, 2020
News of the Wired
https://katex.org
"KaTeX: The fastest math typesetting library for the web" [Katex]. "KaTeX renders its math synchronously and doesn't need to reflow the page. KaTeX's layout is based on Donald Knuth's TeX, the gold standard for math typesetting." • If you've ever done mathematical typsetting, this is really, really cool.
"Herbert Geddes' "Life in Japan" Collection: Hand-Coloured Glass Transparencies of the Meiji-Era" (gallery) [The Public Domain Review]. "The luminous effect of such coloring on glass, such as in Geddes' collection, are particularly stunning. The depth of field in some of the images, combined with the artists' attentive shading and sense of tone, make it seem they could have been taken yesterday on color film."
* * *
Readers, feel free to contact me at lambert [UNDERSCORE] strether [DOT] corrente [AT] yahoo [DOT] com, with (a) links, and even better (b) sources I should curate regularly, (c) how to send me a check if you are allergic to PayPal, and (d) to find out how to send me images of plants. Vegetables are fine! Fungi and coral are deemed to be honorary plants! If you want your handle to appear as a credit, please place it at the start of your mail in parentheses: (thus). Otherwise, I will anonymize by using your initials. See the previous Water Cooler (with plant)
here
. Today's plant (Tertium Squid):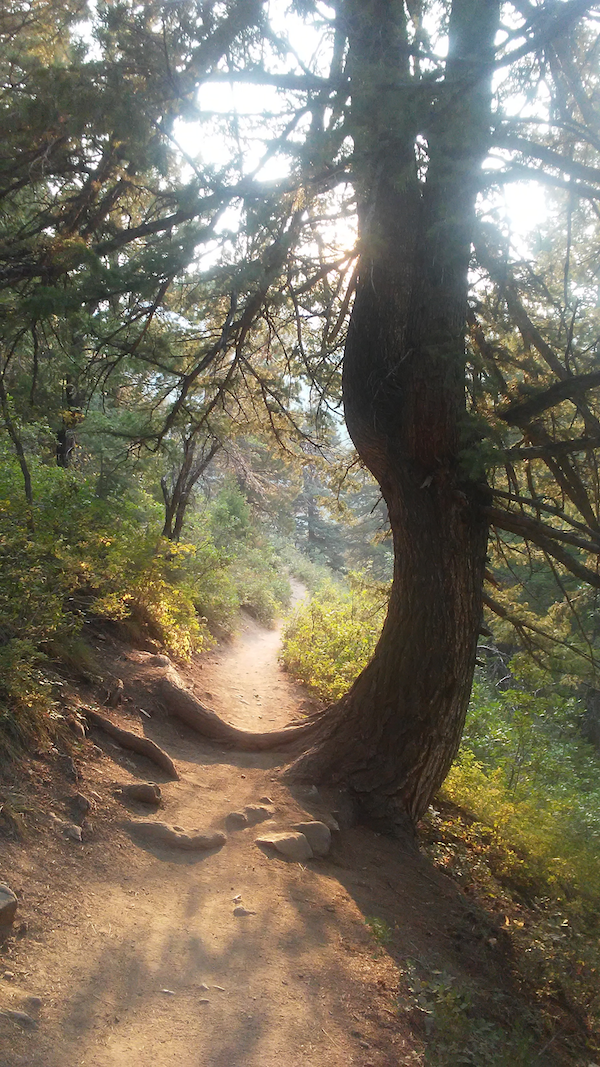 Tertium Squid: "One gets to Utah's Desolation Lake through this dimensional portal." Gorgeous! (And every other dimensional portal I've seen has backlighting exactly like that.)
* * *
Readers: Water Cooler is a standalone entity not covered by the recently concluded and — thank you! — successful annual NC fundraiser. So if you see a link you especially like, or an item you wouldn't see anywhere else, please do not hesitate to express your appreciation in tangible form. Remember, a tip jar is for tipping! Regular positive feedback both makes me feel good and lets me know I'm on the right track with coverage. When I get no donations for five or ten days I get worried. More tangibly, a constant trickle of donations helps me with expenses, and I factor in that trickle when setting fundraising goals:
Here is the screen that will appear, which I have helpfully annotated.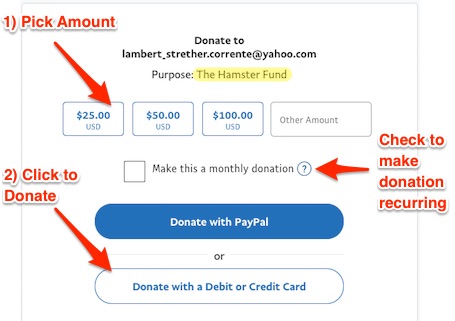 If you hate PayPal, you can email me at lambert [UNDERSCORE] strether [DOT] corrente [AT] yahoo [DOT] com, and I will give you directions on how to send a check. Thank you!