By Lambert Strether of Corrente
Bird Song of the Day
A Yellow-rumped Warblers were mentioned the other day; here's one.
#COVID19
At reader request, I've added this daily chart from 91-DIVOC. The data is the Johns Hopkins CSSE data. Here is the site.
Here are the United States regions: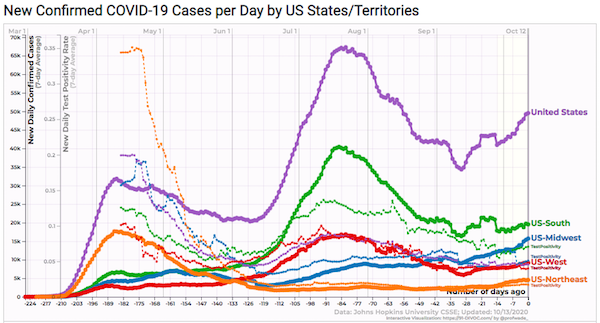 Unmistakable rise in all regions now, including the Northeast. Ugh. Super-ugh. Gonna be interesting to see what happens if the virus is really cranking in November or December, and the FDA says a vaccine is ready…
Here are the Swing States as I conceive them (see below):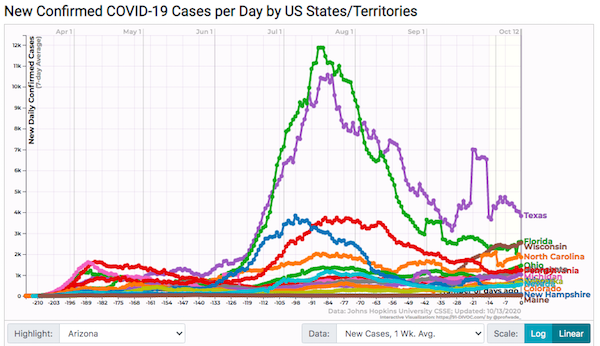 Unmistakable rise everywhere…
Here are Southeast Asia and East Asia, with the United States for comparison: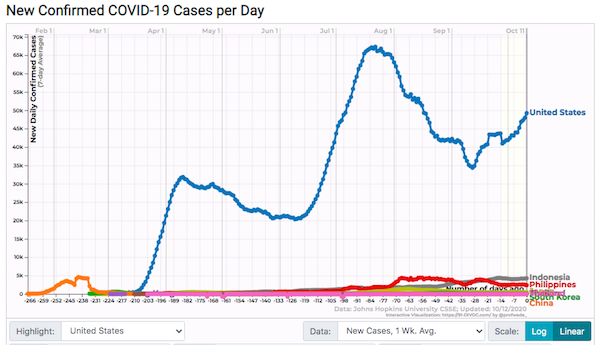 Which ruling elite did better by its people?
–>
Politics
"But what is government itself, but the greatest of all reflections on human nature?" –James Madison, Federalist 51
"They had one weapon left and both knew it: treachery." –Frank Herbert, Dune
"They had learned nothing, and forgotten nothing." –Charles Maurice de Talleyrand-Périgord
The electoral map. July 17: Georgia, Ohio, ME-2 move from Leans Republican to Toss-up. Continued yikes. On July 7, the tossup were 86. Only July 17, they were 56. Now they are 91. This puts Biden at 278, i.e. over 270. August 18: Still no changes. August 31: Indiana moves from Likely to Safe Republican. September 9: No changes. September 14: No changes. September 21: No changes. September 22: Ohio moves from Toss-up to Leans Republican. September 25: Ohio moves from Leans Republican to Toss-up. September 30: Iowa moves from Leans Republican to Toss-up. October 3: Indiana moves from Safe to Likely Republican; Iowa moves from Toss-up to Leans Republican. October 6: Arizona moves from Toss-up to Leans Democratic; Iowa from Leans Republican to Toss-up; Indiana from Likely to Safe Republican; New Mexico from Likely to Safe Democratic. October 8: NE-2 moves from Toss-up to Leans Democratic. I would say the election is no longer static.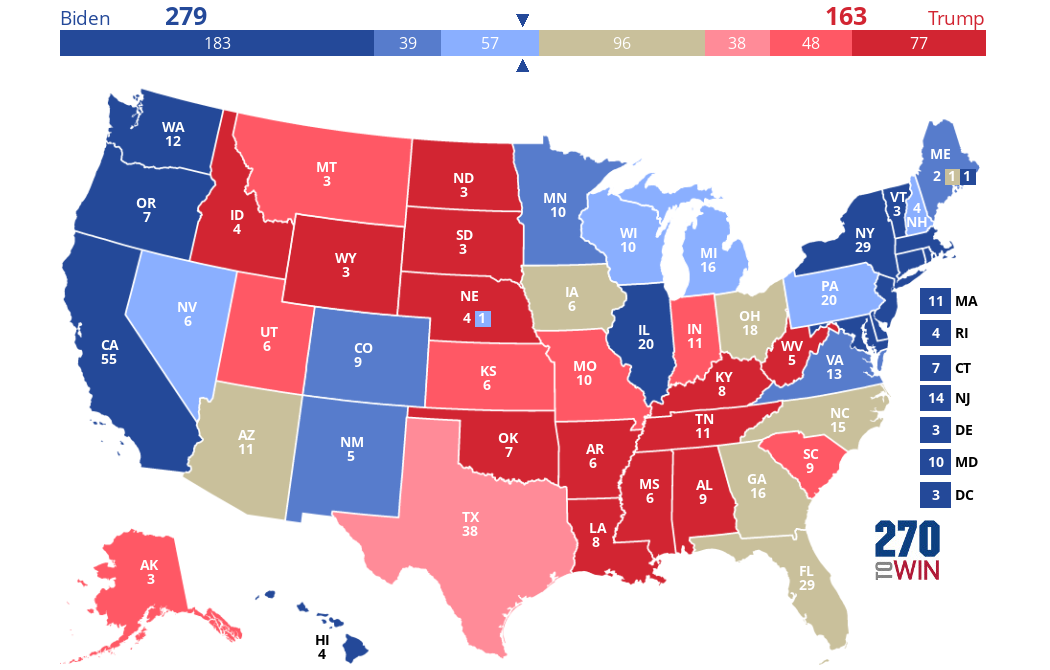 Click the map to create your own at
270toWin.com
The election countdown:
Here is an early voting calendar. Maybe we'll have a whole series of October surprises, since election day is gradually being devalued as an event.
And here are mail-in voting ruies, which naturally differ state by state.
"2020 General Election Early Vote Statistics" [U.S. Elections Project (SlayTheSmaugs)].
"How to Vote in 2020: Everything You Need to Know" [Bloomberg]. "Casting a ballot in the U.S. isn't always easy, with a complex web of varying state rules governing how and when you can vote. The Covid-19 pandemic has introduced even more complexity in 2020, as many states have made significant changes to allow for more early voting or voting by mail. More changes could come as lawsuits in several states wind their way through the courts. That's why Bloomberg News is answering these critical questions so you'll know what you need to do to make sure your vote is counted in the 2020 election."
Here are is an enormous spreadsheet on voting equipment, so you can check your own jurisdiction (hat tip, UserFriendly. I should really aggregate these onto a map…).
California Ballots Mailed and Returned Tracker" [Political Data]. • California only, sadly.
UPDATE "2020 General Election Early Vote Statistics" [U.S. Election Project]. With handy map: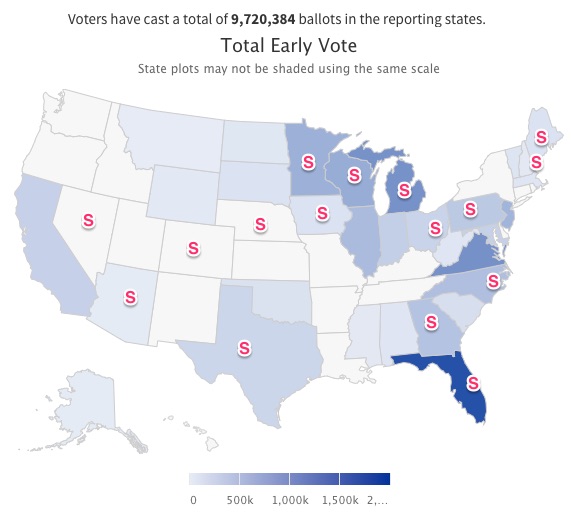 I marked the Swing States. Look at Florida!
"State Fact Sheets" [Georgetown Universitty]. "[F]act sheets for all 50 states explaining the laws barring unauthorized private militia groups and what to do if groups of armed individuals are near a polling place or voter registration drive."
2020
Swing States

Here is my list of Swing States, with votes in the Electoral College and selected ballot initiatives in parentheticals):

Arizona (11) (marijuana; taxes(=)
Colorado (9) (taxes, lottery, abortion, paid medical leave)
Florida (29) (minimum wage)
Georgia (16) (declaratory relief)
Iowa (6) (Constitional convention)
Maine-02 (1) (vax)
Michigan (16) (oil and gas royalties; privacy)
Minnesota (10)
Nebraska-02 (1) (payday lending; gambling)
Nevada (6) (marriage)
New Hampshire (4)
North Carolina (15)
Ohio (18)
Pennsylvania (20)
Texas (38)
Wisconsin (10)

Inspired by the thread starting with Arizona Slim's comment here, I went to Ballotpedia and added selected, hopefully hot button, ballot initiatives, because sometimes they affect turnout. If you live in a swing state, please comment if I got the hot buttons wrong!

UPDATE GA: "Lawsuit over long voting lines in Georgia dismissed in federal court" [Atlantic Journal-Constiution]. "A federal judge dismissed a lawsuit Tuesday over long lines at the polls in Georgia, deciding that election officials — not courts — are responsible for voting equipment, training and backup plans. U.S. District Judge Michael Brown said he disagreed with the plaintiffs' contention that lines are 'all but certain' to occur on Nov. 3 after election officials made improvements since Georgia's primary election. Brown wrote that election officials have recruited more poll workers, added tech support staff, increased voting locations and improved absentee voting options…. 'The evidence shows defendants have taken extensive measures to address the issues that caused long lines in the past,' Brown wrote in a 78-page order. 'It is possible, of course, these measures will ultimately prove insufficient and long lines will still arise. But that is not the point; no one, including this court, can guarantee short lines.'" • This is ridiculous:

Night has fallen, but voting lines continue in Marietta, Georgia. The @WCKitchen team just finished serving dinner. They met someone walking out who arrived at 8am — he waited 12 hours to vote today. We must do better! Until then, #ChefsForThePolls will try to keep everyone fed. pic.twitter.com/RcnG8BFSWW

— Nate Mook (@natemook) October 13, 2020

(It's also an example of the maxim that Democrats steal primaries, but Republicans steal the general. Readers will recall long lines both in Los Angeles and Michigan in Sanders-voting areas.

This is ridiculous too:

A collective sigh of frustrationby some voters as a arena official explains the issue with the machines. He said there's a software issue countywide. He said they have identified issue and working to figure it out. #11Alive pic.twitter.com/boNycsulCo

— Nick Sturdivant (@N_SturdivantTV) October 12, 2020

Bug? Or feature? Or incipient court challenge? (Recall that GA installed new, untested software in its machines immediately before the vote.)

MN: "Federal Judge Upholds Minnesota's Deadline Extension For Counting Ballots" [NPR]. "A federal judge in Minnesota on Sunday upheld a seven-day deadline extension for counting mail-in ballots after it was challenged by a pair of Republicans. Minnesota extended its deadline for receiving mail-in ballots after rights groups raised concerns that the state's previous deadline could disenfranchise voters as the state receives an unprecedented number of absentee ballots. In past elections, absentee ballots would be counted only if received by 8 p.m. on Election Day. However, a state court agreement reached with Minnesota Secretary of State Steve Simon allowed ballots postmarked by Election Day to be counted if received within seven days."

UPDATE OH: "The seven political states of Ohio" [WaPo]. "we've broken Ohio into seven political "states." Democrats rack up big margins in just two of them, the metro areas of Cleveland and Columbus. Two of them backed Barack Obama for president twice but have backed Republicans since 2016 — eastern and northwest Ohio. The two largest regions, central Ohio and Appalachia, are now Republican strongholds, with Democrats competing just to lose them by a little less. And the Miami Valley, where most of the vote comes from the cities of Cincinnati and Dayton, is the only one where the GOP's old coalition may be fraying." • This is a really good series from WaPo.

UPDATE PA "Judge Blocks Trump Campaign Attempt To Limit Use Of Drop Boxes In Pennsylvania" [NPR]. "A federal judge in Pennsylvania has thrown out a lawsuit by the Trump campaign that tried to limit the swing state's use of drop boxes in the current presidential election. The lawsuit also challenged the Pennsylvania secretary of state's guidance that mail-in ballots shouldn't be rejected if the voter's signature doesn't match the one on file, and a state restriction that poll watchers be residents of the county where they are assigned. All of these claims turned on a common theme: the idea that without sufficient security measures, people might commit voter fraud. The campaign argued that that fraud would then "dilute" lawfully cast votes, in violation of the state and U.S. constitutions. In reality, voter fraud is extremely rare, though President Trump has repeated baseless claims about it being widespread." • I lknow the "fraud is rare" argument, but I don't think much of it. For one thing, it seems to have migrated from voter fraud (which is genuinely rare) to election fraud (which is infrequent, but most definitely not rare). The issue is not whether fraud is "rare," but whether fraud exists and can affect election outcomes. Interfluidity writes: "But because single-winner, first-past-the-post voting yields a two-party system, we should expect that the most consequential elections will frequently be evenly matched." Given the enormous stakes of a Presidential election, it make sense to have safeguards.

* * *

Sanders (D)(1):

This mailer in CA is a lie and I call on Uber and Lyft to publicly denounce the deception. I'm opposed to Prop 22 because people working full time deserve decent wages and good benefits. CALIFORNIA: If you oppose corporate greed, vote no on Prop 22.https://t.co/SQplhIjkOE

— Bernie Sanders (@BernieSanders) October 12, 2020

If only there were a prominent Democrat still on the trail, maybe even from Califormia, who could call out this disgusting behavior by Uber and Lyft…

Trump (R)(1): "Anthony Fauci criticises Donald Trump for using his words out of context" [Guardian]. "'In my nearly five decades of public service, I have never publicly endorsed any political candidate,' Fauci said in a statement to CNN on Sunday. 'The comments attributed to me without my permission in the [Republican] campaign ad were taken out of context from a broad statement I made months ago about the efforts of federal public health officials.' In the video released on Saturday, Fauci can be heard saying "I can't imagine that … anyone could be doing more" as the advert boasts of Trump's response to Covid-19, which has claimed the lives of more than 214,000 Americans and infected more than 7.7m people. The clip came from an interview Fauci gave to Fox News, in which he was describing the work that he and other members of the White House coronavirus task force undertook to respond to the virus, not Trump."

Trump (R)(2): "Top general did not give his consent to be used in Trump political ad" [Politico]. "President Donald Trump's campaign is running an online political ad that uses an image of his vice president, his Pentagon chief and his most senior military adviser watching the raid on ISIS leader Abu Bakr al-Baghdadi from the Situation Room on Oct. 29, 2019…. But the campaign didn't seek approval from Joint Chiefs Chairman Gen. Mark Milley to use his image in the ad, a defense official said. 'This photo, like many others, was not used with [Milley's] knowledge or consent,' said the official, who requested anonymity to speak about a sensitive topic."

* * *

KY: What is election day?

We're three weeks from Election Day in Kentucky with 100s of thousands already casting an absentee ballot and early voting starting today…

…and KREF still hasn't posted any non-candidate committee reports to see who is spending money on this election. #Fail

— Joe Sonka ? (@joesonka) October 13, 2020

Given the horrid proliferation of early voting, it's clear that other calendars have to be driven by it, so the last voters have the same resources as the first.

VA: Welcome to the Third World (that being the most charitable interpretation):

NEW: It's the last day for Virginia voters to register to vote and the commonwealth's online portal is down. @CBSNews has learned that a cut fiber has caused the outage. Techs are on site working to repair.

Response from @vaELECT: pic.twitter.com/LR0brP9G8v

— Cara Korte (@CaraKorte) October 13, 2020

Of course, hand-marked paper ballots don't require power….
Realignment and Legitimacy
"Amy Coney Barrett's Judicial Neutrality Is a Political Fiction" [Eric Levitz, New York Magazine]. "Barrett is hardly unique in selling herself as a disinterested umpire. Justices both left and right have offered the Senate similar avowals of judicial modesty. But as a self-described 'originalist,' Trump's nominee puts exceptional weight on her supposedly disinterested adherence to the 'original public meaning' of the U.S. Constitution." •¨ This is a good assult on originalism by Levitz. What I don't see is why Democrats don't have ideological litmus tests for nominees. They will focus on cases (Roe) but never on judicial philosophy. The baseline attitude is: If you've got the credentials, you're good to go. Why is it not possible to say (for example) "I will never vote for a member recommended by the Federalist Society, because their jurisprudence is antithetical everything I think this country should be about"? One imagines today's Democrats, at Roger Taney's confirmation hearings, making sure he went to the right school, but never asking him about slavery.
Stats Watch
At reader request, I added some business stats back in. Please give Econintersect click-throughs; they're a good, old-school blog that covers more than stats. If anybody knows of other aggregators, please contact me at the email address below.
Smalll Business Optimism: "September 2020 Small Business Optimism Improves, Uncertainty Index Remains High" [Econintersect]. "The NFIB Optimism Index rose 3.8 points to 104.0 in September, a historically high reading. Nine of the 10 Index components improved and one declined. The NFIB Uncertainty Index increased 2 points to 92, up from 75 in April….. Said NFIB Chief Economist William Dunkelberg: "As parts of the country continue to open, small businesses are seeing some improvements in foot traffic and sales. However, some small businesses are still struggling financially to operate at full capacity while navigating state and local regulations and are uncertain about what will happen in the future."
Debt: July 2020 Loan Performance: Late-Stage Delinquencies Spiked To Highest Level Since 1999″ [Econintersect]. "The Loan Performance Insights Report for July 2020 shows on a national level, 6.6% of mortgages were in some stage of delinquency (30 days or more past due, including those in foreclosure). This represents a 2.8-percentage point increase in the overall delinquency rate compared to July 2019, when it was 3.8%."
Inflation: "September 2020 CPI: Year-over-Year Inflation Rate Marginally Grows to 1.4%" [Econintersect]. "The index for used vehicles was the primary reason for the month-over-month increase of the CPI-U. Medical care services cost inflation changed from 5.3 % to 4.9 % year-over-year."
* * *
Retail: "First it was toilet paper—now we're running out of fridges. Here's why" [CNBC]. "'People are spending more time at home and we've seen a record number not just for fridges but dishwashers, washing machines and dryers. If appliances are 15 to 20 years old, the more people they use them, the more likely they need to be replaced.' [John Taylor, senior vice president of LG Electronics USA] said that in lieu of spending on family vacations, dinners out or movies and concerts, people are looking to invest in their homes and focus on energy savings. 'When you're looking at how to invest in your home, appliances are at the top of the list,' he said. Taylor said there has been an industry-wide disruption in the supply chain, from factories to warehouses."
The Bezzle: "PPP Scammers Made Fintech Companies Their Lenders of Choice" [Bloomberg]. "Financial technology companies handled 75% of the approved PPP loans that have been connected to fraud by the U.S. Department of Justice, a Bloomberg analysis of more than 100 loans at the center of the cases shows. The fintech companies arranged just 15% of PPP loans overall. They include Kabbage and BlueVine Capital, as well as banks and nonbank lenders that work with such companies, including Cross River Bank, Celtic Bank, and Ready Capital. In many cases, a simple Google or state records search would have suggested an applicant's business didn't exist or was dormant. One borrower facing charges allegedly got approval for $3 million from Ready Capital Corp. for a business in Beaumont, Texas, even though the company had no website or presence on social media and the business address provided, according to Google Maps, was for a single-family residence. (Investigators intervened before the loan was funded.) Another borrower in Little Rock, Ark., received almost $2 million from Kabbage Inc. and BlueVine Capital Inc. for businesses that weren't in good standing with the secretary of state. Borrower fraud doesn't mean lenders broke the rules of the program, and they haven't been accused of wrongdoing. The U.S. let them rely on self-certifications by applicants attesting that they were eligible for the loans."
The Bezzle: "Her Amazon Purchases Are Real. The Reviews Are Fake." [Buzzfeed]. "Third-party sellers know what it takes to make it on Amazon: Get good reviews and a high search ranking. But attracting genuine customers is tough, so some sellers use a reliable cheat — bribes. Because of Amazon's vast scale, inscrutable algorithms, and capricious enforcement of its own rules, unscrupulous sellers and paid shills largely get away with it…. Jessica's activity, as far as Amazon is concerned, looks legitimate. She makes purchases from her own Amazon account and credit card, so her reviews are labeled as a "verified purchase." After the sellers confirm Jessica has left a 5-star review, the payment is made out of Amazon's view. The credit card, an Amazon-branded rewards card, gives Jessica an extra bonus for the purchase. In other words, third-party sellers aren't the only ones paying her to leave fake reviews and superficially boost sales — Amazon is too." • Another platform with a big, big moderation problem…
Tech: "Amazon introduces the Amazon One, a way to pay with your palm when entering stores" [World Economic Forum]. "In the middle of a pandemic when customers are often wearing plastic gloves to stores alongside their face masks, Amazon's physical retail team is introducing a new biometric device that will allow shoppers to pay at Amazon Go stores using their palm. The company introduced its purportedly "contactless" Amazon One, a scanner of sorts where you'll first insert your credit card, then hover your palm over the device to associate your palm signature with your payment mechanism. Once your card is on file, you'll be able to enter the store in the future just by holding your palm above the Amazon One device for a second or so." • So when the database is inevitably hacked and my identity is stolen, I buy a new hand?
Manufacturing: "Pontifications: Boeing's latest forecast raises more doubt than hope" [Leeham News and Analysis].
Business Formation: "The number of new businesses in America is booming" [The Economist]. "Less noticed is a once-in-a-generation surge in startups. The government regularly releases figures on new-business formation, derived from applications for tax registrations. And "high-propensity" business applications—those displaying characteristics typically associated with firm-creation and the employment of staff—recently reached their highest quarterly level on record…. Some of these may represent people trying to claim stimulus funds, and a backlog of unprocessed applications had probably built up in March and April. Nonetheless they reflect a genuine rise in American entrepreneurship. Based on a different survey Goldman Sachs, a bank, finds that the share of respondents starting a new business in the past three months has also risen sharply. Other evidence shows that about as many Americans now work for themselves as before the pandemic, even as overall joblessness remains high."
Honey for the Bears: "Biden Economic Bounce Is Possible, With Hefty Deficit Price Tag" [Bloomberg]. "Financial markets are warming to the idea that the U.S. economy could get a Biden bounce — but it hinges on a new government being able and willing to run big budget deficits. Democratic challenger Joe Biden is promising more than $3 trillion in extra spending over a four-year term if he beats President Donald Trump next month. On top of that, pandemic relief measures worth another couple of trillion — which got stalled in the current legislature for months — are likely to get pushed through, especially if Democrats win Congress as well as the White House." • Hmm. I believe I linked to the Bank of International Settlements on "sound money" the other day…..
* * *
.
Today's Fear & Greed Index: 54 Neutral (previous close: 54 Neutral) [CNN]. One week ago: 44 (Fear). (0 is Extreme Fear; 100 is Extreme Greed). Last updated Oct 13 at 12:26pm.
The Biosphere
"Ending hunger: science must stop neglecting smallholder farmers" [Nature]. "The researchers found many studies that conclude that smallholders are more likely to adopt new approaches — specifically, planting climate-resilient crops — when they are supported by technical advice, input and ideas, collectively known as extension services. Other studies found that these farmers' incomes increase when they belong to cooperatives, self-help groups and other organizations that can connect them to markets, shared transport or shared spaces where produce can be stored. Farmers also prosper when they can sell their produce informally to small- and medium-sized firms. That seems to be because such companies share information with farmers and provide sources of credit. There was one finding, however, that surprised and troubled the Ceres2030 team. Two-thirds of people who are hungry live in rural areas. Of some 570 million farms in the world, more than 475 million are smaller than 2 hectares. And, in low-income countries, more than two-thirds of workers are employed on the land. Rural poverty and food insecurity go hand in hand, and yet the Ceres2030 researchers found that the overwhelming majority of studies they assessed — more than 95% — were not relevant to the needs of smallholders and their families. Moreover, few studies included original data. By contrast, the project team found a preponderance of studies on new technologies. Every year, food rots in the field, or later on, because of inadequate storage. But nearly 90% of interventions aiming to reduce these losses looked at how well a particular tool, such as a pesticide or a storage container, worked in isolation. Only around 10% compared the many existing agricultural practices to evaluate what works and what doesn't."
Health Care
"UMD Department Chair Fights COVID-19—and Not Just in the Lab" [University of Maryland]. "'I don't know how I was infected. I took every precaution,' said Jonathan Dinman, professor and chair of the University of Maryland's Department of Cell Biology and Molecular Genetics. 'The irony of the virologist being infected with COVID-19 does not escape me, that's for sure….. 'I was standing in line to get into the grocery store,' Dinman said. 'I was masked, I was socially distanced appropriately, they had tape every six feet, but I do remember the wind was blowing straight up the line, and I remember thinking, 'Oh no, if somebody upwind of me has the coronavirus, I'm in trouble.' A few days later, the symptoms started…. 'I don't want to get anything like that again,' he said. 'It was the worst thing possible. Just a horrible experience.'" • Not "like the flu." At all.
Class Warfare
"Where Platform Capitalism and Racial Capitalism Meet: The Sociology of Race and Racism in the Digital Society" [Tressie McMillan Cottom, Sociology of Race and Ethnicity]. "My argument puts forth that there are two turns in the political economy of race, ethnicity, and racism: networked capital that shapes a global racial hierarchy that varies across spatial geographies and the privatization of public and economic life. Internet technologies produced the first turn, and they accelerate the second turn. Internet technologies are central to the political economy of race and racism because Internet technologies are the politics and capital of capitalism as we presently experience it. The very scale of this relationship begs for a theoretical program that can capture its complexity and particularity…. Racial capitalism can feel good to both the oppressor and the oppressed. That is especially true in the digital society, where platforms and monopoly power have distilled the efficient mining of human desire for profit." • Interesting read about a research agenda. Cottom is a scholar….
"In Search of Thomas More's Utopia" [Tribune]. • This is really interesting. Amazingly, it connects Utopia to wool and the enclosure movement!
"Labor organizations and Unemployment Insurance" (PDF) [Washington Center for Equitable Growth]. ""An especially glaring problem with Unemployment Insurance involves low rates of applications for benefits and the actual take-up of those benefits. Many workers who are eligible to receive benefits do not apply for them in the first place. There are two key points that affect one's ability to receive UI benefits. The first is the worker's decision whether to apply. The second is the state's decision whether the worker is eligible to receive benefits, which ultimately translates to the receipt of unemployment benefits. Labor organizations and Unemployment Insurance: A virtuous circle supporting U.S. workers' voices and reducing disparities in benefits. In between each of these decision points, there are a variety of administrative hurdles that workers must clear. One is the potential difficulty of completing an application and undergoing recertification each week to demonstrate continued eligibility to receive benefits. Another is the potential difficulty of properly adjudicating eligibility decisions and disbursing benefits on the part of the state." • Bureaucratic barriers — classtrops? — seem to be cropping up everywhere these days. In health care, here, and in voting, as well. "Access" to health care, "access" to unemployment insurance, "access" to voting…
"A B.C. research project gave homeless people $7,500 each — the results were 'beautifully surprising'" [CBC]. "The New Leaf project is a joint study started in 2018 by Foundations for Social Change, a Vancouver-based charitable organization, and the University of British Columbia. After giving homeless Lower Mainland residents cash payments of $7,500, researchers checked on them over a year to see how they were faring… "I had no expectations and really high hopes," said Claire Williams, CEO of Foundations for Social Change, on CBC's The Early Edition on Tuesday…. Not only did those who received the money spend fewer days homeless than those in the control group, they had also moved into stable housing after an average of three months, compared to those in the control group, who took an average of five months. Those who received the money also managed it well over the course of a year. 'We saw people retain over $1,000 for 12 months, which is remarkable in the Lower Mainland,' said Williams." • Hmm.
And here we are:
The 2008 Financial Crisis, but make it woke https://t.co/QKySVUxnWf

— Class Siddaktionist (@SiddakAhuja) October 9, 2020
News of the Wired
"US game theory specialists win Nobel prize in economics" [Guardian]. • Guys, the Sveriges Riksbank Prize in Economic Sciences in Memory of Alfred Nobel is not, in fact, a Nobel Prize. Apparently, though, "It's Time For Some Game Theory"!
Really a bonus plant:
Living root bridge.

Children cross a bridge grown from the roots of a rubber tree in Nongsohphan Village, Meghalaya, India. pic.twitter.com/n1BTzurLDK

— Thos Major (@ThosMajor) October 12, 2020
Has anyone else noticed this?
Someone should do the study on how a socio-technical affordance like digital calendars defaulting to a one hour meet time reshaped modern work expectations. https://t.co/A1kpbWM1XE

— Tressie McMillan Cottom (@tressiemcphd) October 12, 2020
* * *
Readers, feel free to contact me at lambert [UNDERSCORE] strether [DOT] corrente [AT] yahoo [DOT] com, with (a) links, and even better (b) sources I should curate regularly, (c) how to send me a check if you are allergic to PayPal, and (d) to find out how to send me images of plants. Vegetables are fine! Fungi and coral are deemed to be honorary plants! If you want your handle to appear as a credit, please place it at the start of your mail in parentheses: (thus). Otherwise, I will anonymize by using your initials. See the previous Water Cooler (with plant)
here
. Today's plant (TW):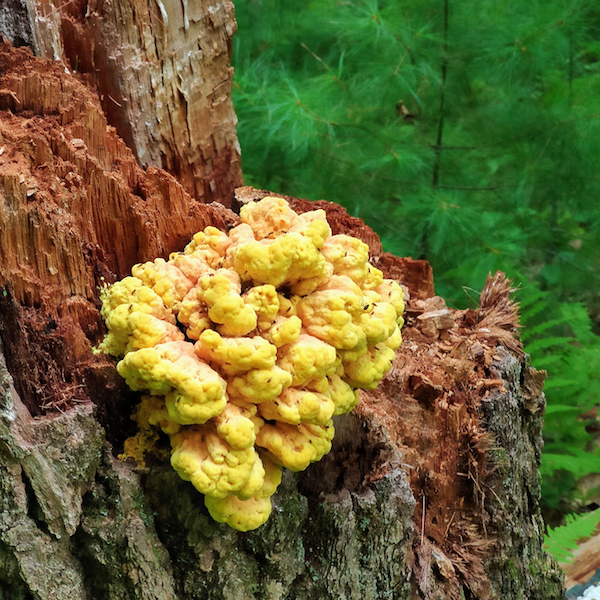 TW writes: "Saw this on our walk with the dogs this morning at Blue Hills Reservation in Mass. Dunno what it is other than fungus growing on dead wood. About 10 inches wide, iirc." Stumps and fungus. It doesn't get better than that!
* * *
Readers: Water Cooler is a standalone entity not covered by the recently concluded and — thank you! — successful annual NC fundraiser. So if you see a link you especially like, or an item you wouldn't see anywhere else, please do not hesitate to express your appreciation in tangible form. Remember, a tip jar is for tipping! Regular positive feedback both makes me feel good and lets me know I'm on the right track with coverage. When I get no donations for five or ten days I get worried. More tangibly, a constant trickle of donations helps me with expenses, and I factor in that trickle when setting fundraising goals:
Here is the screen that will appear, which I have helpfully annotated.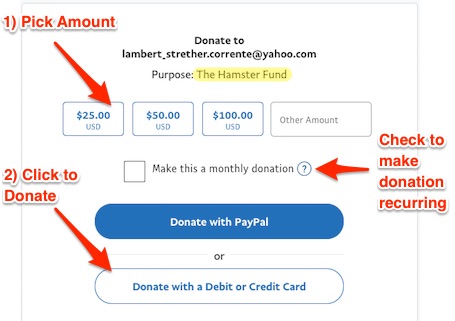 If you hate PayPal, you can email me at lambert [UNDERSCORE] strether [DOT] corrente [AT] yahoo [DOT] com, and I will give you directions on how to send a check. Thank you!