By Lambert Strether of Corrente.
Continuing the 2020 pantry clearout… More to come! –lambert
Bird Song of the Day
#COVID19
At reader request, I've added this daily chart from 91-DIVOC. The data is the Johns Hopkins CSSE data. Here is the site.
Case count by United States region: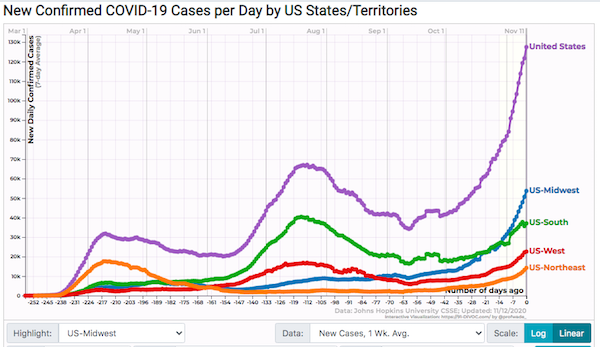 Slight decrease in slope
Test positivity by region: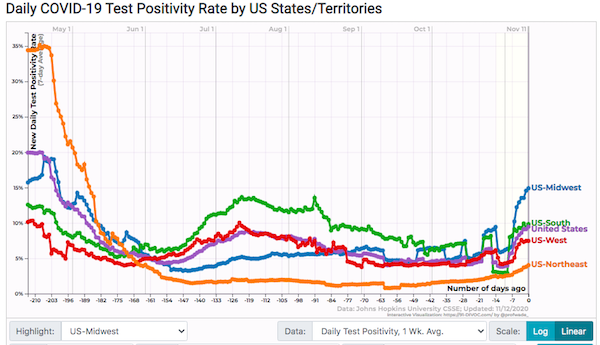 I don't understand why the sudden dip around a week ago, in every region except the (organge) Northeast (and why does the Northeast keep being the exception?)
Case fatality rate by region: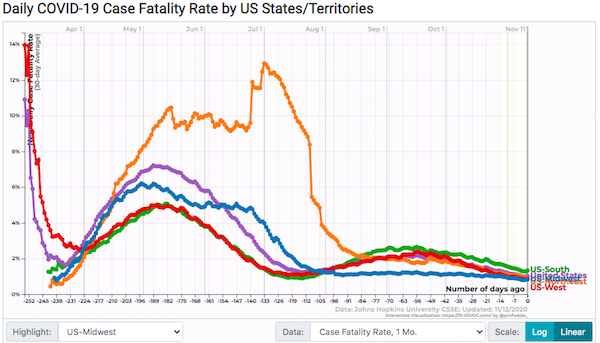 The Northeast (orange) really stands out. We'll need to watch this to see if it changes with the increased case count.
Hospitalization by region: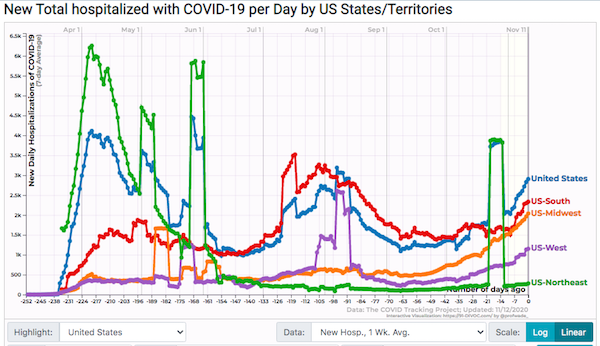 It's odd that the Northeast hospitalization rate is so low. If the third wave is due to returning students, why is the Northeast seemingly not affected, since it's such a college-heavy area? Do Northeastern college kids not party? Also, the Northeast (green) stands out for its enormous spikes.
Politics
"But what is government itself, but the greatest of all reflections on human nature?" –James Madison, Federalist 51
"They had one weapon left and both knew it: treachery." –Frank Herbert, Dune
"They had learned nothing, and forgotten nothing." –Charles Maurice de Talleyrand-Périgord
Election Legitimacy
"What you need to know about when states finalize their election results" [Politico]. "The most tightly contested battlegrounds have deadlines looming in the next 10 to 20 days to officially conclude the vote count and declare the winner, which would put an end to Trump's legal complaints." • With a good state-by-state summary.

MI (1): "The Trump campaign has released 234 pages of affidavits regarding alleged voting regularities in Michigan. Here's what they say." [The Blaze]. Finally the full set of affidavits (PDF). "By my count, the 234 pages contain affidavits from 101 individuals. The majority of them appear to be handwritten impressions of the counting process… This list constitutes the entire body of potential actual fraud allegations raised in the affidavits. The testimony contained in these affidavits clearly pertains to fewer than 1,000 total ballots…" • Not impressive.

MI (2): "This list constitutes the entire body of potential actual fraud allegations raised in the affidavits. The testimony contained in these affidavits clearly pertains to fewer than 1,000 total ballots" [The Hill]. "The newest suit, which targets the Democratic stronghold of Wayne County and Michigan Secretary of State Jocelyn Benson (D), contains additional affidavits that allege irregularities in the tabulation of votes. Observers claim in the affidavits that they were unable to get close enough to watch votes being tabulated and claim Republican observers were improperly harassed." • See above.

"No, Dominion voting machines did not cause widespread voting problems." [New York Times]. "Dominion, originally a Canadian company that now has its effective headquarters in Denver, makes machines for voters to cast ballots and for poll workers to count them, as well as software that helps government officials organize and keep track of election results." • Our electronic voting machines are perfect. Perfect! [puts head in hands].

"Less than 0.4% of Kentucky absentee ballots were rejected this election. Here's why" [Courier-Journal]. "For the general election, the State Board of Elections established a robust cure process which mandated county clerks' offices to reach out to a voter to "cure all absentee ballot irregularities," if there were any present, up until Monday evening. Ballot irregularities include missing or mismatched signatures and not including all components — the individual ballots, envelopes, flaps — when submitting. According to the State Board of Elections, 3,946 voters were contacted about curing their ballots after irregularities were identified, and more than 1,500 of those voters ended up doing so. Dearing said his staff is still working to assign voter credit and estimated the number of cures counted will increase by a few hundred."

It's possible to create a horrid UI/UX on paper, too:

Rather than being grouped by the office sought, NJ has these weird things call County Lines.

The vast majority of voters find the complete column & vote for the candidates in it. It is always occupied by the establishment candidates.

Join @FairBallotProj & #AbolishTheLineNJ. pic.twitter.com/FMtKB8cQge

— Hector Oseguera, Esq. (@Oseguera2020) November 11, 2020

Do we have any New Jersey voters who can explain how this works?

Epistemological crises:

If you're wondering whether the president's strategy of alleging fraud and filing lawsuits is working, consider this @YouGov poll. About 80% of his supporters are not confident that the election he lost was "held fairly." pic.twitter.com/OddL8FVp7y

— Brad Heath (@bradheath) November 11, 2020

I presented the figures for Democrats on RussiaGate yesterday; they're similar.

UPDATE "When the news is what the news did" [Felix Salmon, Axios]. "The media plays a crucially important yet unformalized role in terms of declaring the outcome of elections. Donald Trump might not like it, and no one officially gave them the job, but it's undeniably the case." • As I put it, more pointedly: "Election legitimacy is determined by extra-Constitutional actors." Salmon goes on: "News organizations tend to be a little uncomfortable with the idea that they actually manufacture the news, rather than simply report it. But the job needs to be done, and there's no one better to do it." • I think Salmon isn't really generalizing here; "the news" is the election call. Nevertheless, why not just wait for the States to certify their counts? They're absolutely "better suited" to do that then the press.
2020 Democrats in Disarray
"Democrats need to stop worrying and get behind legal pot" [Ryan Cooper, The Week]. "here was one bright spot in the 2020 election results that has thus far gotten buried in all the usual Donald Trump madness: legal marijuana. This was on the ballot in four states — Montana, South Dakota, Arizona, and New Jersey — and passed in every one, by large margins. It was closest in conservative South Dakota, and still passed there by over nine points. And yet much of the Democratic elite, including President-elect Joe Biden, is dragging its feet on endorsing fully legal, regulated weed. This is both bad policy and political malpractice — wedge issues as perfect as this one do not come along very often."

"'A Loss Is A Loss': Democratic Senators Frustrated After Party Falls Short" [HuffPo]. "The party had hopes of winning a dozen Republican-held seats on Election Day after spending hundreds of millions of dollars of both grassroots and big-donor money to put the GOP on defense. Instead, Republicans have swept most of the competitive races, and Democrats have only netted a single seat after losing incumbent Sen. Doug Jones in Alabama and ousting Republicans in Colorado and Arizona… Murphy said he was hoping to refocus small-dollar donor energy and cash toward ' rather than just channeling it toward the flavor-of-the-week candidate.'" • Remember when Obama and Rahm Emmanuel dismantled Howard Dean's 50-state-strategy immediately in 2009? And then proceeded to lose 1000 seats? Good times.
Biden Transition
"Elizabeth Warren and Bernie Sanders to be frozen out of Biden cabinet, report says" [The Independent]. "Left-wing politicians Elizabeth Warren and Bernie Sanders are reportedly set to be frozen out of president-elect Joe Biden's cabinet amid concerns the party could lose more seats in upcoming elections."

"Marijuana Reform Omitted From Biden Transition Plan On Racial Equity Despite Campaign Pledges" [Marijuana Moment]. "Marijuana reform advocates have been looking for signs that an incoming president-elect Joe Biden will make good on his campaign pledge to pursue cannabis policy changes since the former vice president has been projected to win the election. But they didn't get any such sign in a new racial equity plan his transition team has put forward. While Biden emphasized on the campaign trail that cannabis decriminalization and expungements would be part of his racial justice agenda, the plan released over the weekend omits any specific mention of marijuana reform. Many of the proposals are broadly described, however, and it's possible that a policy like decriminalization could be folded into broader commitments to eliminate "racial disparities and ensuring fair sentences," for example." • Let the walkbacks begin!

Once again:

This, but unironically. https://t.co/XCWpqB6BaV pic.twitter.com/62tLQglA2H

— Mike Pompeo Watcher (@queeralamode) November 11, 2020
2020
Trump (R)(1): "Will Trump quit? A chess master, pro poker player, boxing coach and Monopoly champ on the art of throwing in the towel" [MarketWatch]. "Assessing whether a fighter still has a chance can be difficult. One reason for that is what [Ryan O'Leary, boxing coach, former member of the board of directors for USA Boxing] calls the 'puncher's chance.' 'I had a guy, he was outboxed in the first two rounds, completely outclassed, but the kid he was fighting had no punch at all, he wasn't hurting my guy. My guy was getting outboxed, and I was pretty sure he was going to continue to get outboxed. But my guy was a hard puncher, so he had a puncher's chance. If he landed the right punch at the right time, he probably could have taken out this prospect. We lost practically every round, but he was in the fight the whole time.' When asked whether or not Trump still has a puncher's chance in the 2020 election fight, O'Leary said: 'Do I think he can pull this out? There's no way at this point. It's time for him to just throw in the towel; he doesn't have a puncher's chance. He's defeated now.'"

Trump (R)(2): "No, the 'Hail Mary' plan for Trump isn't going to work" [Greg Sargent, WaPo]. "What happens if, say, the GOP legislature in Pennsylvania goes rogue and appoints a separate pro-Trump slate of electors for the electoral college, in defiance of the state's popular vote? The attorney general of Pennsylvania, Josh Shapiro, has shot down this idea. In a statement, he flatly noted that 'there is no legal mechanism" for the state legislature "to act alone and appoint electors. None.'… [N]ote that GOP state legislators themselves have recently been saying that they have no role in this process. And it's true: By state law, they do not." • If Sargent is damping this down, it really is hysteria.

UPDATE Trump (R)(3): "Trump spent less per vote than Biden" [Yahoo Finance]. "Overall, Biden and groups working on his behalf spent about $1.15 billion on the campaign. Biden won about 77.4 million votes. That works out to about $14.85 per vote. The Trump side spent about $809 million, with Trump winning about 72.2 million votes. That's about $11.20 per vote, or $3.65 less than Biden. Trump is president, of course, able to command free media coverage worth many millions of dollars. So to some extent, Biden needed to raise more money just to be on par with Trump's media presence…. In 7 crucial swing states—Arizona, Florida, Georgia, Michigan, North Carolina, Pennsylvania and Wisconsin—Biden outspent Trump on media, $581 million to $339 million…. On average in those 7 states, Biden spent $28.61 in advertising for each vote he won. Trump spent just $17.41 for each vote…. Trump's best performance in terms of ad spending per vote is the opposite of Biden's worst performance. Trump won Florida's 29 electoral votes while spending $15.88 per vote, less than half what Biden spent. Trump did worst in Arizona, where he spent $25.09 per vote—the most among these seven swing states—but failed to carry the state. Biden spent more in Arizona—$36.39 per vote—and won the state, for a costly but crucial win." • So it looks like Biden's Swing State spending was money well spent?

* * *

UPDATE CA: "'Proposition 22 Is a Backlash to Victories Workers Have Had" (interview) [FAIR]. Rey Fuentes, Partnership for Working Families: "That's what we think is the worst component of the ballot initiative; it's really actually two things that have not received as much attention as possible. And, again, the quick efforts by these companies to spin the narrative as something about protecting employee freedom and independence, and protecting flexibility, have really provided the type of misdirection that has prevented people from realizing that, exactly as you described, the proposition contains a 7/8ths supermajority vote requirement. So . And I heard somebody say something pretty funny, but horrible in this situation, that you couldn't get a 7/8ths majority vote for a Happy Mother's Day Proclamation from the state legislature. So it's difficult to imagine important social legislation protecting workers passing by that threshold in our current legislature. And the other thing that it does, that I also think was underreported, was the fact that : All the things that local governments are best suited to do in their jurisdiction, they now do not have the power to do it, because the ballot initiative preempts those laws. So they've essentially knocked out any way to change the law from the top, or any way to improve it from localities on the ground. That's why we've described it as an attempt to essentially deregulate these industries, and at least as of Tuesday, they were successful, but I don't think the fight ends there." • Well, no wonder these people want to expand Proposition 22 everywhere." • Harris and Pelosi were remarkaby silent on this, weren't they?

UPDATE GA "Democratic megadonors target Georgia U.S. Senate fight after helping Joe Biden" [CNBC]. ""The DSCC will play a pivotal role in Democrats' [get out the vote] programs in Georgia and we need your help to maximize our efforts," the committee told donors and financiers in a recent email that also points contributors to the Ossoff-Warnock Victory Fund. The fund is a joint fundraising committee between Ossoff, Warnock and the DSCC, where donors can write big checks." • The DSCC has done a great job so far…

PA:

Among Pennsylvania's 24 largest counties, only one swung toward Trump from 2016 to 2020.

It's Philadelphia—from D+67 to D+63, with 98+% reporting. pic.twitter.com/LmPCIyyhls

— Derek Thompson (@DKThomp) November 11, 2020

* * *

UPDATE "The Election Nobody Won" [The Nation]. "Now, with the promised gains in the House and Senate disappearing, Biden's ceiling has been lowered even further. He can replace the half-clown, half-convict crew of people that surrounds Trump in the White House, and he offers a baseline level of sanity and competence that many Americans have missed over the past four years. But this election outcome forces us to be brutally honest: This is a country with serious problems. And they're not getting fixed anytime soon. That is why the potential defeat of Donald Trump hasn't inspired the kind of celebrating that we might have expected. What is more, Democrats expecting a big-blowout repudiation of Trump were curiously out of step with the conservative, careful choice of nominating Biden and having his campaign aim to run as safe a race as possible. Simply showing up with a warm body on the ballot doesn't produce 40-state landslides; in reality, Biden's campaign did what it set out to do: play it safe and win back three states Clinton lost narrowly in 2016: Michigan, Wisconsin, and Pennsylvania. That it added Arizona to the Democratic column is more than such a tepid, low-risk campaign could have been expected to do."

UPDATE "Who won working class voters? An open challenge" [Carl Beijer]. "Joe Biden won poor voters. Everything even remotely resembling sound evidence confirms this. And it is completely in line with longstanding and well-documented trends of Democratic presidential candidates winning big margins with them. As I noted yesterday, for example, exit polls are telling us that Biden outperformed Trump among poor voters by a whopping 15%. It's entirely plausible that this margin was smaller than exit polls suggest — they are often somewhat inaccurate, and have to be taken with a big grain of salt. And there are credible reasons to believe that Republicans have made some inroads among poor voters in recent years. But the claim that this strong and enduring partisan preference not only eroded this year, but completely reversed itself — that the polls were not only marginally wrong, but exactly wrong — is absolutely extraordinary, and the evidence it would take to overthrow it just isn't there." • I think it's fair to say that the Democrat Party no longer considers the working class part of its base (epistemologically or operationally) and hence the working class is there for the taking by Republicans. That doesn't mean they've taken the opportunity.

UPDATE "Black Voters: "Contrarian" Men and "Communal" Women" [Glen Ford, Black Agenda Report]. "is beyond question that Black men are more likely than Black women to break with the Democrats. Black women are significantly more "communal" (my term) than Black men in their political behavior – especially when "politics" is broadly defined to describe relations among humans. High levels of Black female participation in church and in social movements, is an aspect of communalism. The lived Black experience confirms that Black women are significantly more likely to join in behaviors that they believe are in the larger group interest, most especially regarding children. That same lived experience cannot fail to note that a significant portion of Black males are what I call "contrarians": men that take positions at odds with the general Black political consensus – often quite loudly and ostentatiously. If voting for Obama had not been so universally seen as a "once in a lifetime" Black experience that could not be missed, the First Black President would not have gotten 95 percent of Black male support in 2008. The Black male "contrarian" vote kicked in later, when good reasons could be found to be angry with Obama and the Black Democratic echo-chamber – but only Black males actually voted Republican in significant numbers." • Hmm.
Obama Legacy
"I'm Not Yet Ready to Abandon the Possibility of America" [Barack Obama, The Atlantic]. Excerpt from Obama's new book: "Repeatedly my memories would toss up seemingly incidental details (trying to find a discreet location to grab an evening smoke; my staff and I having a laugh while playing cards aboard Air Force One) that captured, in a way the public record never could, my lived experience during the eight years I spent in the White House." • Oh, I thought Obama gave up smoking. Guess not:

There is a weird irony to the fact Obama couldn't quit smoking but also his official policy position was that working class people who are too weak willed to quit smoke don't deserve affordable health care, unlike him and other rich smokers who still deserve care. https://t.co/OhUc1SLyo6

— Jon Walker (@JonWalkerDC) November 12, 2020

(This episode is a neat little example of Invariant #1 in "Neoliberalism Expressed as Simple Rules": "The rules of neoliberalism do not apply to those who write the rules.")
Realignment and Legitimacy
"The Catholic Sex Abuse Crisis Is Far From Over" [Elizabeth Bruenig, New York Times]. "The church stands at a crossroads. It can continue to fight legislation that would empower victims to seek redress and respond to abuse long after the fact, such as the suspension of statutes of limitation in sex abuse cases. Or it can confess the way it asks us to confess, and repent the way it asks us to repent: Fully, openly, over and over again, as often as it takes, as painful as it is." • And people wonder why major institutions have trust issues, and why theories of pervasive elite abuse take root.

"Scrambling Vatican Quickly Establishes Child Molestation As New Sacrament" [The Onion].
Stats Watch
At reader request, I added some business stats back in. Please give Econintersect click-throughs; they're a good, old-school blog that covers more than stats. If anybody knows of other aggregators, please contact me at the email address below.
Unemployment: 31 October 2020 Initial Unemployment Claims Continue To Improve" [Econintersect]. "Market expectations for weekly initial unemployment claims (from Econoday) were 725 K to 765 K (consensus 745 K), and the Department of Labor reported 709,000 new claims. The more important (because of the volatility in the weekly reported claims and seasonality errors in adjusting the data) 4 week moving average moved from 788,500 (reported last week as 787,000) to 755,250."
Inflation: "Last updated Nov 12 at 12:06pm" [Econintersect]. "According to the BLS, the Consumer Price Index (CPI-U) year-over-year inflation rate was 1.2 % year-over-year (down from the reported 1.4 % last month). The year-over-year core inflation (excludes energy and food) rate improved from 1.7 % to 1.6 %…. The indices for medical and energy were the primary reasons for the month-over-month increase of the CPI-U. Medical care services cost inflation changed from 4.9 % to 3.7 % year-over-year."
Marketing: "Portland Bookseller Reminds the World That 'Amazon's Gonna Be Fine, Folks'" [AdWeek]. Powells perfume. "The idea is: if you can't shop there in person, you can at least get a whiff of Powell's when you receive your online order. 'Everybody talks about the smell going to Powell's," remarked [Rob] Palmer…. 'It was one of those first ideas that we came across. And it's ridiculous, but it never went away. One for the copywriters, the deliciously eccentric copy (from the Archie McPhee school) instructs people on how to wear it: 'This scent contains the lives of countless heroes and heroines. Apply to the pulse points when seeking sensory succor or a brush with immortality.' 'The right idea for Powell's needed to help move the needle from a sales perspective without sacrificing creativity,' said Emma Siolka, who wrote the perfume copy. 'And beyond being clever and (so far) effective, Powell's by Powell's is a solid reminder that physical places and experiences are what make Portland, Portland.' The one-ounce, limited-edition bottle retails online for $24.99 and is described as having notes of wood, violet and Biblichor (which refers to the smell of old books, though we stand by that Dead comment)."
The Bezzle: "Virgin Hyperloop Has Invented The World's Crappiest High-Speed Rail" [Defector]. "Shocking news! In an incredible breakthrough for American mass-transit engineering, the transportation technology company Virgin Hyperloop this past weekend successfully moved two people 500 meters across the barren Las Vegas desert at a top speed of just over 100 mph, setting a new world record for the absolute most pitiful thing anyone not named 'Elon Musk' has ever tried to pass off as 'high-speed rail.'" • That's the lead. It gets more fun.
Tech: "Is AI finally closing in on human intelligence?" [Financial Times]. "Thanks to recent advances in machine learning, language generation systems are becoming increasingly commonplace. Narrative Science's Quill can ingest data on the performance of a portfolio of stocks and write summaries for investors, for example. But for sheer adaptability none can match GPT-3, unveiled in May by OpenAI, a San Francisco-based research company. At an estimated cost of $12m, the model contains 175 billion language parameters, 100 times more than the previous prototype. It is, to adapt a phrase of the pioneering British computer scientist Alan Turing, the most impressive 'imitation' machine yet built…. Founded in 2015 with a $1bn funding commitment from several leading West Coast entrepreneurs and tech companies, OpenAI boasts the madly ambitious mission of developing [Artificial General Intelligence (AGI)] . Its earliest billionaire backers included Elon Musk, the mercurial founder of Tesla and SpaceX (who has since stepped back from OpenAI), Reid Hoffman, the venture capitalist and founder of LinkedIn, and Peter Thiel, the early investor in Facebook and Palantir." • Well, with leadership like this…
UPDATE "TikTok is luring Facebook moderators to fill new trust and safety hubs" [CNBC]. "Many Facebook content moderators who work at outsourcing firms like Accenture, CPL, Hays, and Voxpro have been leaving to take in-house roles at TikTok, according to LinkedIn analysis by CNBC. The outsourcing firms are under contract to Facebook and the social media giant refers to them as contractors. Content moderation has become one of the biggest challenges for social media companies. Firms like Facebook, Instagram, TikTok, Twitter, YouTube and Quora use a combination of software and thousands of humans to spot and remove videos, photos and other content that breaches their rules. That includes everything from posts by President Donald Trump to hate speech, terrorism, child abuse, self-harm, nudity, and drug abuse. Over 25 people have left roles where they worked on Facebook content to join to TikTok, according to LinkedIn analysis. Their reasons for leaving are unclear as they did not respond to a CNBC request for comment." • 25? That's it?
UPDATE Tech: "Google curtails free photo storage, pushes users to buy more space" [Reuters]. "Alphabet Inc's GOOGL.O Google will start limiting how many high-quality photos users can store on the company's cloud back-up service starting next June, it announced on Wednesday, in a move that could help protect profit margins. 'Growing demand for storage' means Google Photos can no longer honor a years-old policy of unlimited capacity for high-quality images, the company said in a blog post. Storage of images, along with files in Google's document editing services, will instead be capped at a combined total of 15 gigabytes. 'Original quality' images, or incredibly high-resolution copies, were the only ones to previously count against the limit. Google's plans for additional storage, dubbed Google One, start a $2 a month. More than 1 billion people use Google Photos each month, but the company estimated fewer than 20% of them will need to upgrade for extra storage in the next three years."
UPDATE "New device puts music in your head — no headphones required" [Associated Press]. "Imagine a world where you move around in your own personal sound bubble. You listen to your favorite tunes, play loud computer games, watch a movie or get navigation directions in your car — all without disturbing those around you. That's the possibility presented by 'sound beaming,' a new futuristic audio technology from Noveto Systems, an Israeli company. On Friday it will debut a desktop device that beams sound directly to a listener without the need for headphones…. The listening sensation is straight out of a sci-fi movie. The 3-D sound is so close it feels like it's inside your ears while also in front, above and behind them…. By changing a setting, the sound can follow a listener around when they move their head. It's also possible to move out of the beam's path and hear nothing at all, which creates a surreal experience." • Don't tell marketers….
UPDATE Mr. Market: "How Hedge Funds Seek Covid Clues in Alternative Data: QuickTake" [Bloomberg]. "For investors, nothing has underscored the immediacy and utility of so-called alternative data as much as the coronavirus lockdowns that throttled economic activity overnight. Traditional sources of market-moving information such as monthly or even weekly government reports were outdated before publication. Those seeking a more real-time pulse turned to the torrents of terabytes produced every day by web searches, tweets, credit-card purchases and satellites for insights on such metrics as foot traffic at shopping malls or how many people were eating out at any given time."
Travel: "New United Ultra Economy Class Tickets Lets Passengers Get Dragged Behind Plane By Giant Rope" (podcast) [The Topical].
* * *
.
Today's Fear & Greed Index: 61 Greed (previous close: 65 Greed) [CNN]. One week ago: 39 (Fear). (0 is Extreme Fear; 100 is Extreme Greed). Last updated Nov 12 at 12:06pm. Tooling along nicely now.
The Biosphere
"Evolution favors new diseases of 'intermediate' severity" [Phys.org]. "New epidemic diseases have an evolutionary advantage if they are of "intermediate" severity, research shows. Scientists tested the theory that pathogens (disease-causing organisms) that inflict intermediate levels of harm on their host are the most evolutionarily successful. The study, by the University of Exeter, Arizona State University and Auburn University, found that natural selection favors pathogens of intermediate virulence (how much harm a pathogen causes) at the point the disease emerges in a new host species. This occurs because virulence and transmission are linked, with virulence arising because pathogens need to exploit hosts to persist, replicate and transmit. While too-low virulence will be detrimental for pathogens if they cannot transmit, virulence that is too high will also be a disadvantage if infection kills hosts so fast that the pathogen does not have time to transmit."
"San Francisco Bans Natural Gas Use in New Buildings" [Bloomberg]. "San Francisco will ban the use of natural gas in new buildings starting next year, becoming the latest city in California to clamp down on the heating and cooking fuel because of climate concerns. The measure will require all-electric construction for buildings — with exceptions for restaurants — starting in June 2021… California towns and cities remain at the forefront of a push to phase out the use of gas in homes and buildings as a means to cut down on greenhouse gas emissions. At least 38 municipalities, including San Francisco, have passed measures that will restrict gas hookups."
"The Universe Is Getting Hotter, Scientists Say" [Independent]. "The universe is getting hotter as it gets older, scientists have said." I know what they mean!
Health Care
UPDATE "'Proning' Covid Patients Seems to Save Lives. But How Many?" [Wired]. "[O]ne trend line is mercifully falling: A much smaller proportion of these critically ill patients are dying from the disease, as compared to the spring. It would be helpful if we could say exactly why. Here's one thing we know: The fancy, brand-name drugs that have garnered so much attention aren't likely to have done this on their own…. But there's another Covid-19 treatment that has become more widespread since the spring, and which experts say could be making a decisive difference. It doesn't get much attention these days, in part because it barely sounds like a medical procedure at all. It's proning—the practice of flipping people over so that they are lying on their stomachs—and it's possible, at least, that this simple maneuver has played an important role in changing the course of the pandemic. Proning, as an emergency medical procedure, is far from new. … The method is thought to work by using gravity to pull fluids away from the back of the body, where there's generally more lung tissue, thereby clearing up more space in the lungs for oxygen. Since the lungs of patients with severe Covid are at risk of fatal fluid buildup, nurses and doctors realized early on that the same approach might be very helpful." • I can't find who to raise my hat to, but the first time I read about proning was in the NC comments section — many months ago.
"Wrong Masks and 'Missing' Ventilators: NYC's Billion-Dollar COVID Gear Bungle" [The City]. Oops:
DCAS records, internal emails and recordings of virtual staff meetings obtained by THE CITY paint a portrait of taxpayer-funded chaos:

City taxpayers paid for millions of surgical masks that turned out to be non-surgical masks. By April, unopened boxes of masks hospitals didn't want began to stack up in DCAS' mammoth 300,000-square-foot Queens warehouse.
At one point, DCAS lost track of 100 ventilators. "I don't know how someone could misplace 100 of these items," an agency supervisor said during a meeting.
Millions of dollars of medical equipment wound up collecting dust in the storehouse long after the need for the devices had passed — including machines that could have been repurposed as ventilators.
Boxes of equipment got lost in the shuffle, going missing within the storehouse or getting shipped out without anyone recording what was in them.
One supplier of masks that didn't meet surgical standards as promised was an electronics company headed by a major donor to Mayor Bill de Blasio's campaigns. De Blasio appointed the donor earlier this year to the board of the city Economic Development Corp.

To date, DCAS has awarded $1.4 billion in contracts for COVID-related emergency goods — far more than any other city agency, records show.
Class Warfare
"Can the Bank of Solidarity smash payday lenders?" [Alice Marshall]. "After Bernie withdrew from the Presidential race I began to look for ways I could make a difference. I remain convinced that electoral activism is part of how we take America back; but for the immediate future all meaningful progress will come out of direct action. I have started to get active with the DC Tenants Union and Stomp Out Slumlords, because it is clear that our elected leaders have no plan to cope with the coming eviction crisis. However, eviction resistance was not enough for me, so I decided to join DC Mutual Aid. You have to fill out a form and be approved, to prevent law enforcement from infiltrating the group. DC Mutual Aid grew out of the local Black Lives Matter organization. Every mutual aid group will reflect the community that created it…. Once a week people are allowed to post requests for cash. (the Cash App, Pay Pal, Venmo, or whatever they are using). Usually they are short of their electricity bill or have some other emergency where you really need cash. It seems there is some controversy about this, traditionally Mutual Aid does not involve cash. But speaking for myself, I am glad for it, because otherwise I would not be able to participate in the work of the group. Every Friday I give what little I can spare and feel a little less helpless…. The more I thought about it the more I realized how important the Friday cash requests are to the movement. When someone is in a bind what choice do they have? Too often it is go to a Pay Day Lender. When they come to Mutual Aid we can take care of their need and deprive Pay Day lenders of a victim. Could we build up the group enough to smash the local Pay Day lenders? I don't know, but it is worth a try."
"Non-Competes and Other Contracts of Dispossession" [SSRN]. "Employers have used non-compete clauses to deprive tens of millions of workers of the freedom to change jobs or start their own businesses. In occupations ranging from home health aide to journalist and sandwich shop worker, employers have used this legal power to their great benefit. Non-compete clauses reduce worker mobility, help employers keep wages and wage growth down, deter small business formation, entrench potentially abusive, discriminatory, or hostile work environments, and fortify market power to the detriment of workers, rivals, consumers, and broader society…. Non-competes are merely one example of abusive contractual terms that the legal system has condoned or tolerated. Other terms, such as mandatory arbitration, class action waivers, confessions of judgment, and unilateral modification, reflect a ubiquitous economic and political problem. Corporations use these contractual terms to unilaterally rob consumers, suppliers, and workers of a wide range of constitutional and statutory rights. Like non-competes, these contractual terms are established in an environment of radical inequality between a corporation and a worker, consumer, or small business and are often contingent and non-salient to the person or business who must accept them. The result of these contracts of dispossession is the loss of legal recourse for wrongdoing, loss of possessions, and the imposition of unaccountable private governments."
Averages conceal:
Agreed, I've been using this graphic to connect the dots between the 'Swoosh' and the 'K' pic.twitter.com/UXGOUs2zkV

— Ryan Connelly (@Rycon) November 8, 2020
"Susan B. Anthony appealed to white supremacists, sure we'd make up for it later. When?" [Kansas City Star]. "After the Civil War, Elizabeth Cady Stanton and Susan B. Anthony campaigned for the women's vote with the support of their huckster ally George Train, whose unambiguous slogan was 'Woman First and Negro Last.' In 1869, Stanton argued, 'Think of Patrick and Sambo and Hans and Yung Tung, who do not know the difference between a monarchy and a republic, who cannot read the Declaration of Independence or Webster's spelling book, making laws' for their female betters. They often blamed immigrants for their setbacks. And to win crucial support, Susan B. Anthony and other white suffragists sold Southerners on the idea that the votes of highly educated women — mostly white, of course — would guarantee the future of white supremacy. (Maybe that's why President Donald Trump just pardoned Anthony, who voted illegally in 1872?)"
News of the Wired
"Inside the Secret Math Society Known Simply as Nicolas Bourbaki" [Quanta]. "Antoine Chambert-Loir's initiation into one of math's oldest secret societies began with a phone call…. The group is known as "Nicolas Bourbaki" and is usually referred to as just Bourbaki. The name is a collective pseudonym borrowed from a real-life 19th-century French general who never had anything to do with mathematics…. Whatever their motivation, the founders of Bourbaki began to write. Yet instead of writing textbooks, they ended up creating something completely novel: free-standing books that explained advanced mathematics without reference to any outside sources."
"A vindication of the right to see women naked: the statue for Mary Wollstonecraft has set us back centuries" [Independent]. "People are baffled as to why the mother of feminism, whose words would go on to inspire the fight for women's enfranchisement some 100 years later, has been commemorated with a naked woman, especially when the woman it is designed to honour wrote so passionately about how female objectification belittled women, making them 'literally speaking, slaves to their bodies", and how 'men endeavour to sink us lower, merely to render us alluring objects for a moment'. To add insult to injury, the woman in the statue embodies all the damaging beauty standards that have been thrust upon us for millennia. More than just naked, the statue appears to have a personal trainer or at least to have purchased a Peloton bike during lockdown. She has abs, not of bronze, but steel, perfectly toned and with a miraculously perfect thigh gap to boot." • (The sculptor is a woman.) I looked at the Wollstonecraft staute; I put it in the same bucket as Michelangelo's figleaf-free David. Neither are especially alluring to me, but both embody power.
* * *
Readers, feel free to contact me at lambert [UNDERSCORE] strether [DOT] corrente [AT] yahoo [DOT] com, with (a) links, and even better (b) sources I should curate regularly, (c) how to send me a check if you are allergic to PayPal, and (d) to find out how to send me images of plants. Vegetables are fine! Fungi and coral are deemed to be honorary plants! If you want your handle to appear as a credit, please place it at the start of your mail in parentheses: (thus). Otherwise, I will anonymize by using your initials. See the previous Water Cooler (with plant) here. Today's plant (EH):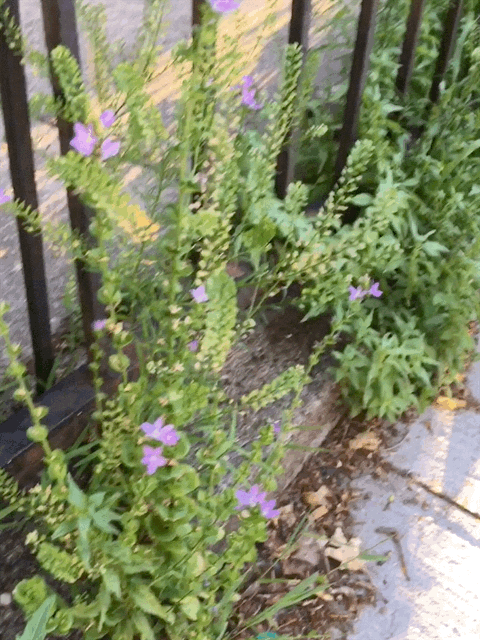 EH writes: "Shepherd's Purse and Venus's Looking Glass —two pretty weeds —growing in a crack in the sidewalk on our Brooklyn street."
* * *
Readers: Water Cooler is a standalone entity not covered by the recently concluded and — thank you! — successful annual NC fundraiser. So if you see a link you especially like, or an item you wouldn't see anywhere else, please do not hesitate to express your appreciation in tangible form. Remember, a tip jar is for tipping! Regular positive feedback both makes me feel good and lets me know I'm on the right track with coverage. When I get no donations for five or ten days I get worried. More tangibly, a constant trickle of donations helps me with expenses, and I factor in that trickle when setting fundraising goals:
Here is the screen that will appear, which I have helpfully annotated.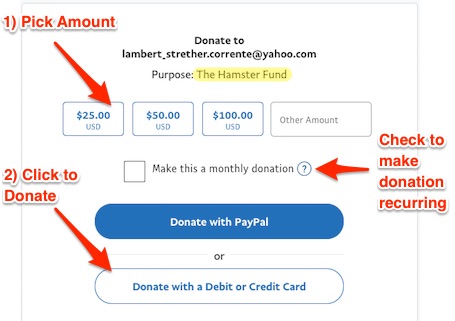 If you hate PayPal, you can email me at lambert [UNDERSCORE] strether [DOT] corrente [AT] yahoo [DOT] com, and I will give you directions on how to send a check. Thank you!