By Lambert Strether of Corrente.
Bird Song of the Day
26 minutes (!) of a Snow Oil foraging and feeding its young. Impressive dedication.
#COVID19
At reader request, I've added these daily charts from 91-DIVOC. The data is the Johns Hopkins CSSE data. Here is the site.
I feel I'm engaging in a macabre form of tape-watching…. (A reader asked the source of the data: Johns Hopkins CSSE. DIVOC-91 does allow other data sets to be used, like Our World in Data and The Atlantic, and where they provide visualizations similar to those below, a cursory comparison shows that the shape of the curves is the same.)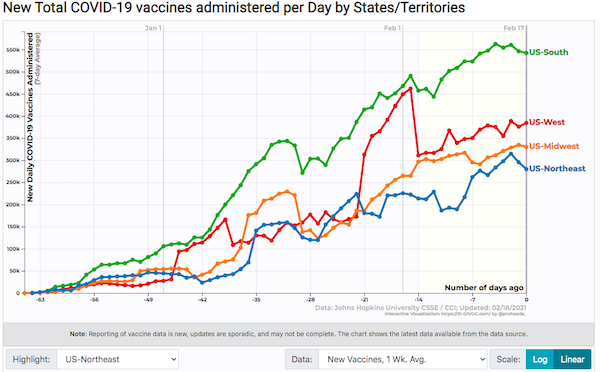 No doubt snow accounts for the drops. OTOH, there's no better social distancer than a really good blizzard!
Case count by United States region: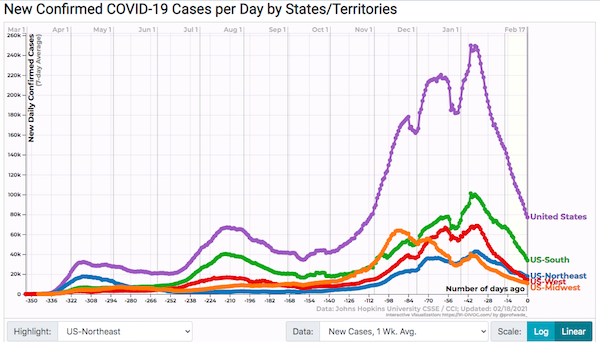 The South seems to have resumed its downward trajectory. Looks like alert reader Lou Danton was right!
Here is another attempt at understanding the drop in case count. A thread:
THINK LIKE AN EPIDEMIOLOGIST: Lately I have been asked why we are seeing a dramatic turnaround in cases in the US. Is it vaccines? Herd immunity? An artifact due to a drop in testing? Behavior change? Weather?? A few tweets about how I step through this question. 1/6 pic.twitter.com/AJ12wvFPX2

— Natalie E. Dean, PhD (@nataliexdean) February 17, 2021
Big states (New York, Florida, Texas, California):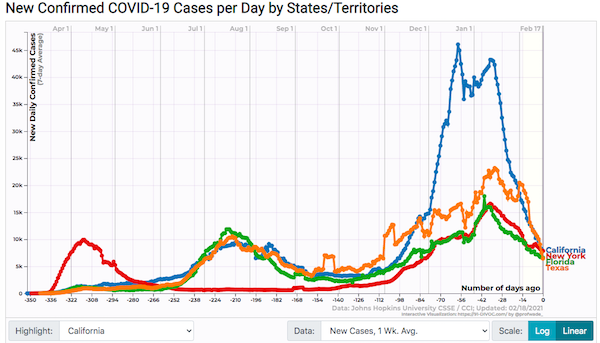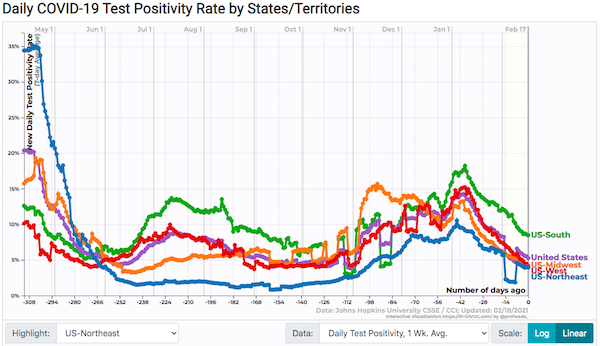 Regional averages approach 3%, which is what we want to see. (Alert reader TsWkr pointed out it's time to update my test positivity comment, which I just did).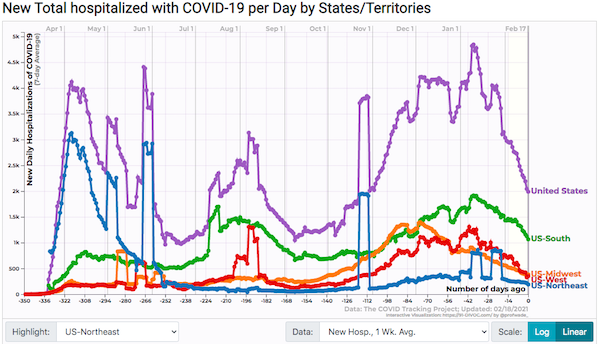 The South has resumed its downward trajectory. Hospitalization is discretionary; they may also be reducing their admissions rate — relative to cases we cannot see in this data! — to preserve future capacity; or because hospitals have figured out how to send people home.
Case fatality rate (plus deaths):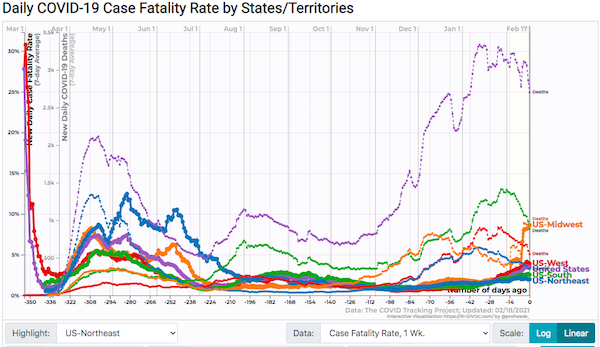 Again, this chart is giving me the creeps. The fatality rate in the West (red, at the bottom) is now distinctly separate the others and accelerating upward. The Northest is going down. Why?
* * *
https://www.latimes.com/homeless-housing/story/2021-02-15/la-homeless-covid-vaccine-distribution-extra-difficult?utm_id=23914&sfmc_id=1742376
Politics
"But what is government itself, but the greatest of all reflections on human nature?" –James Madison, Federalist 51
"They had one weapon left and both knew it: treachery." –Frank Herbert, Dune
"They had learned nothing, and forgotten nothing." –Charles Maurice de Talleyrand-Périgord
Capitol Seizure
"How the 1871 Ku Klux Klan Act is being used in this latest Trump lawsuit" [NBC]. "The statute was first passed following the Civil War to combat KKK violence and allow Black people to take action against hate groups who use "force, intimidation, or threat" to prevent leaders from doing the duties of their office, Levin explained. Particularly, it prohibits people from using violence and conspiracies to keep Congress members from doing their jobs. The law was passed at a time when the KKK was openly, violently terrorizing Black people and Congress members while seeking to block Reconstruction-era reforms for Black people in the South." • Again, I think this is a much better theory of the case than the farcical Article of Impeachment.
Biden Adminstration
"Biden looks past anger at Silicon Valley to get help on vaccines" [Politico]. "President Joe Biden's administration is considering a new approach as it struggles with a messy vaccine rollout — setting aside his harsh criticisms of the tech industry and taking Silicon Valley up on its latest offers to help fight the pandemic." • So and as usual, the Democrats have no idea how to govern?

UPDATE "Democrats introduce an immigration overhaul bill. Here's what would change" [NBC]. "Congressional Democrats introduced a comprehensive bill to remake the U.S. immigration system with the endorsement of President Joe Biden, wading into a politically thorny issue that has bedeviled the last three administrations. Named the U.S. Citizenship Act of 2021, the bill was unveiled on Thursday by Sen. Bob Menendez, D-N.J., and Rep. Linda Sánchez, D-Calif., and includes an eight-year pathway to citizenship for people in the country unlawfully who arrived by Jan. 1 of this year. It would lift hurdles for workers to legally immigrate to the U.S., add resources for border screening and replace the word 'alien' with 'noncitizen' in law. 'We have an economic and moral imperative to pass big, bold and inclusive immigration reform,' Menendez told reporters in a virtual press conference, describing the measure as an attempt to modernize the system and move beyond former President Donald Trump's 'hateful horror show.' Menendez said Democrats have failed on this issue in the past because 'time and time again, we have compromised too much and capitulated too quickly to fringe voices' who deny the humanity of immigrants and instead listen to white nationalists." • Meanwhile, over here on pandemic relief compromise and capitulation are the order of the day. Odd.

UPDATE "White House says Biden supports study of slavery reparations" [Reuters]. "[White House spokeswoman Jen] Psaki told reporters that Biden 'continues to demonstrate his commitment to take comprehensive action to address the systemic racism that persists today.' Reparations have been used in other circumstances to offset large moral and economic debts – paid to Japanese Americans interned during World War Two, to families of Holocaust survivors and to Blacks in post-apartheid South Africa. But the United States has never made much headway in discussions of whether or how to compensate African Americans for more than 200 years of slavery and help make up for racial inequality." • Meanwhile, over here on pandemic relief, those $2,000 checks just haven't appeared. Odd.

UPDATE "Democratic drive for Biden's $1.9 trillion stimulus plan could leave progressive priorities behind" [Reuters]. "One Senate Democratic aide predicted that Sanders' proposal would wither in the 50-50 Senate and that backers would be better off negotiating a lower rate, possibly around $12 an hour, that would win 50 votes, plus Vice President Kamala Harris' tie-breaking vote for passage. White House spokeswoman Jen Psaki acknowledged that a lower figure may be necessary, telling reporters on Wednesday that the proposal 'may not look exactly the same on the other end when it comes out of the sausage-making machine.' The U.S. Chamber of Commerce was more blunt. 'If the advocates stick with that position of $15 or bust, they may wind up with a minimum wage increase of zero,' said the group's vice president, Glenn Spencer, who said his organization was open to a 'reasonable increase' somewhere below $15." • Should have asked for twenty.

UPDATE "Ex-Sanders aide: Biden trying to find 'most unsympathetic character' to avoid cancelling student loan debt" [The Hill]. "The president said that he didn't have the power to cancel up to $50,000 in student loan debt, but was prepared to forgive $10,000 instead. 'It's not true, Joe Biden has the authority to cancel all student loan debt,' Gray said. Gray explained that the government is now deciding that student loans are a 'risky behavior' that shouldn't be rewarded after allowing students to take out debt on the belief that education drives the workforce. Gray said the government is using the 'specter of the occasional Harvard student' as an excuse not to cancel debt for the majority of students that didn't go to more affluent schools. 'It is almost as though Joe Biden is trying to find the most unsympathetic character in the world to justify not pursuing a very sympathetic program,' Gray said." • Do the universal program, use the tax system for clawbacks (and blow away the entire means-testing apparatus). Commentary:

It is crucial to means-test debt relief so that there is a cohort of better-off professionals to resent not getting relief, to provide political cover for eliminating it later.

— Mass for Shut-ins (Podcast) (@edburmila) February 18, 2021

So how's that meritocracy thing workin'out for ya, Chelsea Ella?

Kamala Harris' stepdaughter Ella Emhoff makes NYFW debut. https://t.co/KIqSaZACql

— ABC News (@ABC) February 18, 2021
Democrats en Deshabille
"Checkmate" [The Baffler]. "Surely, the reductive nature of the [$2000] checks argument has something to do with how terrible online forums are for having discussions about policy. But it was also the fault of Democratic party politicians, who for most of 2020 were virtually silent about how the federal government might help people. So, into this vacuum of intellect, imagination, and leadership rushed the most straightforward idea. The failure to act for most of 2020, the dilapidated systems to protect workers from poverty, and the absence of clear and convincing public statements on the part of politicians demonstrate the inner workings of a society that has––for decades––accepted a staggeringly high level of poverty and extreme inequities of all kinds. No real long-term, permanent change has been seriously proposed; the scale and duration of whatever public investment we'll see next is bound to be small and short. Even the trillions Biden has promised to spend will eventually run out. The size of the stimulus only matters a little, compared to the form it takes: the dismal recovery after the financial crash of 2008 was due to inadequate long-term investment by the federal government, and it likely set the stage for the mass of frustration and anger that helped bring Trump into the White House in the first place. So the stakes are high. A question for the new administration, in short, is whether they will fix a patchwork unemployment insurance system that has the potential to reduce poverty and deliver people money continuously until their crisis is over. Or will they simply commit to another temporary spending bill that expires in a couple months and doesn't really help those suffering in a meaningful way?" • Gee, I wonder.
Republicans [something-or-other]
"Something-or-other" because I really do need a similar bucket to "Democrats en Deshabille," but I couldn't come up with anything clever. Conservadämmerung, for example, presumes an outcome (i.e., that Republicans will not display adaptability, unlikely to be true, given their history).

UPDATE "Ted Cruz flew to Cancun with family amid Texas power crisis" [FOX]. Cruz statement: ""With school cancelled for the week, our girls asked to take a trip with friends. Wanting to be a good dad, I flew down with them last night and am flying back this afternoon. My staff and I are in constant communication with state and local leaders to get to the bottom of what happened in Texas. We want our power back, our water on, and our homes warm. My team and I will continue using all our resources to keep Texans informed and safe." • Blaming his daughters?! (I can't figure out whether Cruz has completely failed to read the room, or whether he's testing the loyalty of his supporters (a test he believes he will pass).
Obama Legacy
Why are these people smiling:

If you want to know who gave Mark Zuckerberg this obscene and dangerous amount of power, he's sitting to Obama's right in this photo from 2011. This was all arranged ten years ago pic.twitter.com/PysUdeueDf

— The Fight for $35/hour Minimum Wage (@DoctorFishbones) February 18, 2021
Realignment and Legitimacy
"In praise of negativity" [Crooked Timber]. "The book, which I've mentioned previously, is Hugo Mercier and Dan Sperber's The Enigma of Reason…. Mercier and Sperber's basic argument is, as I understand it, as follows. First – that reasoning has not evolved in the ways that we think it has – as a process of ratiocination that is intended independently to figure out the world. Instead, it has evolved as a social capacity – as a means to justify ourselves to others. We want something to be so, and we use our reasoning capacity to figure out plausible seeming reasons to convince others that it should be so. However (and this is the main topic of a more recent book by Hugo), together with our capacity to generate plausible sounding rationales, we have a decent capacity to detect when others are bullshitting us. In combination, these mean that we are more likely to be closer to the truth when we are trying to figure out why others may be wrong, than when we are trying to figure out why we ourselves are right."
Stats Watch
At reader request, I added some business stats back in. Please give Econintersect click-throughs; they're a good, old-school blog that covers more than stats.
Employment Situation: "13 February 2021 Initial Unemployment Claims Rolling Average Improves" [Econintersect]. "Market expectations for weekly initial unemployment claims (from Econoday) were 725 K to 822 K (consensus 757 K), and the Department of Labor reported 861,000 new claims. The more important (because of the volatility in the weekly reported claims and seasonality errors in adjusting the data) 4 week moving average moved from 836,750 (reported last week as 823,000) to 833,250." • Commentary:
What is the real unemployment rate? Not 6.3%.

How can we know? Look around. Millions of people on unemployment benefits. Lines at food banks. Countless workers out of the labor force taking care of families.

This is a long way from full employment.

— Mary C. Daly (@MaryDalyEcon) February 17, 2021
Quite right.
Manufacturing: "February 2021 Philly Fed Manufacturing Survey Index Marginally Declined" [Econintersect]. "The Philly Fed Business Outlook Survey marginally declined but remains in expansion…. Overall, this report was about the same as last month but key elements moderated."
Housing: "January 2021 Residential Building Growth Mixed" [Econintersect]. "Headline residential building permits improved and construction completions declined. The rolling averages worsened for permits and construction completions…. We seem to be seeing and bad month, followed by a good month, and then another bad month. The backward revisions this month were small. It is always difficult to understand the trends as the backward revisions sometimes reverse trends month-to-month. The nature of this industry normally has large variations from month-to-month (mostly due to weather) so the rolling averages are the best way to view this series. The rolling averages say this sector is growing but rollercoastering."
Inflation: "January 2021 Import Year-over-Year Inflation Now +0.9%" [Econintersect]. "Year-over-year import price indices inflation remained in contraction and grew from -0.3 % to +0.9 %."
* * *
Commodities: "Lumber Price: Latest Futures Prices, Charts & Market News" [Nasdaq (Re Silc)]. Re Silc writes: "Torn between buying bitcoin and 2x4s at home depot." Texas is gonna need a lot of wood. And pipe. And building materials generally.
Real Estate: "Tony Hsieh's family to sell nearly 100 Las Vegas properties" [Las Vegas Review-Journal]. "Tony Hsieh was one of the biggest property owners in downtown Las Vegas. Now, a few months after the former Zappos boss died from injuries suffered in a house fire, his family wants to unload his holdings…. Hsieh, who did not leave a will, was the face of downtown's revival. It could not be confirmed Wednesday what a bulk sell-off would mean for his former side venture DTP Companies, his vehicle for buying real estate throughout downtown and for other investments in the area."
Shipping: "Container shipping emerges triumphant from a disrupted 2020" [Hellenic Shipping News]. "Volumes in the second half of the year were up 4.2% from 2019. Much of this growth was concentrated on just a few trade lanes, with congestion and imbalances on these spilling out and causing disruption on other trades. BIMCO expects that 2021 will be even better for container shipping than 2020, as the current backlog will take months to clear and carriers are using the current strength of the market to lock in long-term contract rates for the coming 12 months at higher levels than in 2020. By far the largest volume growth was seen on the Far East to North America trade. On this route, volumes rose by 3.6m TEU in the second half of the year compared with the first, while volumes rose 2.1m TEU compared with the second half of 2019, enough to bring full year growth into positive (+1.4m TEU). The second half growth caused major disruptions in many US West Coast ports, as they were unable to keep up with record high volumes while implementing social distancing among workers at the same time, due to the pandemic. Furthermore, lower manufacturing and containerised exports in H1 2020 meant that the imbalance on the trade got even worse, leading to equipment shortages as containers were stuck in the wrong places."
Tech: "A Relational Turn for Data Protection?" [European Data Protection Law Review]. "While most approaches to privacy and data protection focus on the data, we explore an alternative approach: focusing on relationships. it looks at how the people who expose themselves and the people that are inviting that disclosure relate to each other. It is concerned with what powerful parties owe to vulnerable parties not just with their personal information, but with the things they see, the things they can click, the decisions that are made about them. It's less about the nature of data and more about the nature of power. And it can make data protection work better. We call this the relational turn in privacy law. The relational approach has deep roots in American and English law, and a growing group of scholars in North America are starting to appreciate the virtues of such an approach, whether framed in terms of privacy as trust or information fiduciaries. . Relational models of this sort protect against self-dealing and duties of care protect against dangerous behavior. Data protection regimes like the American 'notice and choice' model or the more robust GDPR, by contrast, target, imbalances of power within relationships more indirectly by looking to the nature of the data. We think a relational turn for data protection would be superior to the current model."
Manufacturing: "Shortage of giant plastic bags threatens global vaccines rollout" [Financial Times]. "Vaccine manufacturers are struggling to secure supplies of giant plastic bags used in bioreactors that mix pharmaceutical ingredients, creating a bottleneck that threatens the rollout of Covid-19 shots around the world. Some vaccine makers have been days away from stalling production because of the shortage of the bags, which can hold up to 2,000 litres of material, according to three people familiar with the matter. Covid-19 jabs developed by companies including BioNTech/Pfizer, Moderna and Novavax are made in the bags — which are used as sterile liners in the tanks where the vaccines are produced — although they use differing sizes." • Like giant garbage can liners, amazing….
Manufacturing: "The Uberization of Private Jets Might Be Here to Stay" [Wall Street Journal]. "The sharing economy started as a way to fill spare bedrooms and reuse old power drills. It now includes the rich flying around in private jets. Last week, troubled Canadian manufacturer Bombardier said it would cease production of its storied Learjet before the end of 2021, and would cut 1,600 jobs. The writing had been on the wall for the light-jet line for some time, as buyers shifted toward heavier private planes. Ironically, some now see better prospects for the Learjet's market segment than for most in the embattled aviation industry. Analysts at Jefferies expect private aircraft deliveries to rise 10% this year, after a 24% decline in 2020, led by light and medium-size jets. Heavy ones are forecast to keep falling."
Manufacturing: "Most of the World's Bread Clips Are Made by a Single Company" [Atlas Obscura]. "Bread clips! Consider them for a moment, if you will. They're those flat pieces of semi-hard plastic formed into a sort of barbed U-shape—you know the ones. They can be found keeping bread bags all over the world closed and safe from spoilage, smartly designed to be used and reused. They're all around us, constantly providing an amazing service, and yet still, they're taken for granted. And it turns out they're almost exclusively all produced by a single, family-owned company. Kwik Lok, based in Yakima, Washington, has been manufacturing these little tabs ever since [founder Floyd Paxton] whittled the first one from a credit card. Without giving specific numbers, Kwik Lok says that they sell an almost unimaginable number each year. 'It's in the billions,' says Leigh Anne Whathen, a sales coordinator for the company, who says she personally prefers plastic clips to their natural enemy, the twist tie, because they last longer…. As for Floyd Paxton himself, he died in 1975, spending much of the last years of his life promoting his strict conservative politics as a member of the John Birch Society, including mounting four unsuccessful congressional campaigns." • Oh well.
Supply Chain: "Biden to order review of U.S. reliance on overseas supply chains for semiconductors, rare earths" [CNBC]. "President Joe Biden will direct his administration to conduct a review of key U.S. supply chains including semiconductors, high-capacity batteries and rare earth metals. The White House plans to review gaps in domestic manufacturing and supply chains that are dominated by or run through 'nations that are or are likely to become unfriendly or unstable.' Though the order does not mention China, the directive is likely in large part an effort by the administration to determine how reliant the U.S. economy and military are on Chinese exports."
Intellectual Property: "The Last Cassette Player Standing" [The American Conservative]. "The Tanashin mechanism was produced until 2009, and it has become infamous among the small but dedicated cassette-audiophile community for its ubiquity and relatively low performance specs…. [W]hile vinyl and turntables remained diminished but alive over the decades—meaning that lots of factory equipment and accumulated know-how remained—cassettes fell off a cliff. Vital intellectual property around the technicalities of cassette-deck manufacturing was discarded or forgotten. Companies folded or decisively moved on. The industrial ecosystem in which exemplary equipment could be made evaporated. And it's virtually impossible to bring that back, especially with only a small hobbyist market remaining today. Tanashin, on the other hand, continued to produce low-cost mechanisms for basic devices, even as the broader industry collapsed around them. And they held out long enough for the Chinese clones of their product to see the cassette tape revival, such as it is. There are several lessons here. The most politically salient is that in manufacturing, as in cooking, it is possible to 'ose the recipe.' And with an accelerating pace of technological progress, it is possible to lose it in an alarmingly short span of time. This is perhaps the strongest argument for some form of industrial policy or trade protection: the recognition that the national value of manufacturing often lies not so much in the end product itself, but in the accumulated knowledge that goes into it, and the possibility of old processes and knowledge sparking new innovation." • Kudos to TAC for this neat little excursion into the history of technology.
Intellectual Property: "Taylor Swift's two versions of Love Story compared" [BBC]. "[Taylor Swift's] master recordings were sold against her will in 2019, prompting her to return to the studio and make new recordings of her first six albums….. [Y]ou can switch between the two songs and barely notice the difference. Which is exactly what Swift wanted: The new recordings are intended to diminish the value of her original master tapes."
Today's Fear & Greed Index: The Fear and Greed screen is blank again! (previous close: 71 Greed) [CNN]. One week ago: 56 (Greed). (0 is Extreme Fear; 100 is Extreme Greed). Last updated Feb 18 at 11:48am.
Health Care
"Who Was I Before This Pandemic – And Who Am I Now?" [Molly Jong-Fast, Vogue]. "It's been a year that, at least for the privileged, vacillated between extreme suffering, intense grief, and mind-numbing boredom. It's been both the saddest year of my life and also one of the most revealing. This juxtaposition has been strange, but I appreciate the hell out of things I used to take for granted, things like going to the museum. I hope that my appreciation for the small and mundane never goes away."
"Moralization of Covid-19 health response: Asymmetry in tolerance for human costs" [Journal of Experimental Social Psychology]. "We hypothesized that because Covid-19 (C19) remains an urgent and visible threat, efforts to combat its negative health consequences have become moralized. This moralization of health-based efforts may generate asymmetries in judgement, whereby harmful by-products of those efforts (i.e., instrumental harm) are perceived as more acceptable than harm resulting from non-C19 efforts, such as prioritizing the economy or non-C19 issues. We tested our predictions in two experimental studies. In Study 1, American participants evaluated the same costs (public shaming, deaths and illnesses, and police abuse of power) as more acceptable when they resulted from efforts to minimize C19's health impacts, than when they resulted from non-health C19 efforts (e.g., prioritizing economic costs) or efforts unrelated to C19 (e.g., reducing traffic deaths). In Study 2, New Zealand participants less favorably evaluated the quality of a research proposal empirically questioning continuing a C19 elimination strategy in NZ than one questioning abandoning an elimination strategy, although both proposals contained the same amount of methodology information. This finding suggests questioning elimination approaches is morally condemned, a similar response to that found when sacred values are questioned."
"Accelerated Overdose Deaths Linked With COVID-19" [JAMA]. "More than 81 000 people died of drug overdoses in the US between June 2019 and May 2020, a record-breaking number that CDC officials suggested is related to the coronavirus disease 2019 (COVID-19) pandemic…. Historically, deaths involving illicit fentanyl have been concentrated in states east of the Mississippi River, but during the 12 months ending in May 2020, fentanyl-related overdose deaths increased by 98% in 10 Western states, according to a CDC health advisory. Overdose deaths involving cocaine increased by 27%; many were the result of mixing synthetic opioids with cocaine. Methamphetamine overdoses increased by 35% between June 2019 and May 2020."
The Biosphere
This is a good question:
So far this seems to be the closest analogue. https://t.co/X0tCUxRkgi

— T.K. of AAK! (@AskAKorean) February 17, 2021
I was in Montréal for that famous ice storm, and I doubt very much the effects in Houston are comparable. For example, I had no heat or power for 24 hours, but I did have an insulated apartment; the entire city is organized around beating the cold. Not so in Texas.
"A Census of Sea Slugs Is Helping Scientists to Track Climate Change" [Euronews]. "Sea slugs in the waters around Australia are being used to help researchers better understand climate change. Since 2013 the Sea Slug Census, a citizen science programme powered by volunteers, has documented observations of these gastropods along the Australian coast. It was established by Professor Steve Smith of Southern Cross University in New South Wales and more than 40 census events have taken place so far. The scheme has recorded more than 630 species, helping improve distributional data for sea slugs and even the discovery of new species too. Nudibranchs, which are a group of colourful and striking molluscs, have been particularly useful in understanding the impacts of global warming. This is because they typically have a life span of less than a year, which means they respond more rapidly to changes in their environmental conditions." • Citizen science! Yay!
"Gas Guzzling Gaia, or: A Prehistory of Climate Change Denialism" [Critical Inquiry]. "This article tells the story of the oil and gas origins of the Gaia hypothesis, the theory that the Earth is a homeostatic system. It shows how Gaia's key assumption—that the climate is a fundamentally stable system, able to withstand perturbations—emerged as a result of a collaboration between the theory's progenitor, James Lovelock, and Royal Dutch Shell in response to Shell's concerns about the effects of its products on the climate. The article explains how Lovelock elaborated the Gaia hypothesis and gave it evidential depth through a series of Royal Dutch Shell-funded research projects meant to identify organisms whose biological activities might double as climate-regulating mechanisms. The article goes on to show how this research subsequently laid the foundation for a distinct genre of climate change denialism, in which corporations sowed doubt not by denying the phenomenon of global warming but by naturalizing it." • Well, that's depressing. Granted, it's from the University of Chicago. More: "This essay thus approaches Gaia as a study in agnotology, the strategic production of ignorance."
"In My Opinion: How 'Big Waste' degraded US recycling" [Resource Recycling]. "A new report from the Institute for Local Self-Reliance (ILSR) explores the problem of concentrated corporate power in the waste sector. Called 'How Waste Monopolies Are Choking Environmental Solutions, And What We Can Do About It,' the analysis explains how a small number of giant waste companies came to dominate the industry, and how policymakers and consumers can address the problem….. n response to growing societal pressure, city governments began integrating recycling into their solid waste collection systems, a step they believed would be a modest add-on to the existing city services. Industry and the U.S. EPA persuaded them that people would at best achieve a 10% recycling level. The federal government, meanwhile, failed to incentivize recycling by giving billions of dollars in subsidies to cities and private companies to build incinerators that allowed cities to maintain their existing collection system, with a detour from giant landfills to giant burn sites. Despite these obstacles, by the 1980s the recycling movement had demonstrated its collective strength by successfully defeating over 100 proposed incinerators (and by 1996, over 300 proposed incinerators were rejected). By the early 2000s the U.S. recycling rate was 35% and in some cities it exceeded 50%….. Parallel to the growth of this decentralized recycling system, however, was the consolidation of the existing waste hauling industry." • [cue scary music]. Our Maine local waste company, Casella, was not only given control of the State's landfill, it destroyed recycling (and incidentally destroyed all the local mulch companies by buying them up and selling chemical-laced processed sewage, which destroyed the only bed I was stupid enough to put it on). Allegedly, allegedly, you [family bloggers].
"On Wishcycling" [Discard Studies]. "Wishcycling, sometimes called aspirational recycling, emerged from the U.S. waste and recycling industry, where managers critiqued the 'poor' sorting and binning practices of recyclers sending materials their way. The earliest instance of 'wishcycling' that I've located in (at least digitized) print was a 2015 story by the journalist, Eric Roper. Roper told me he heard the term while reporting on the financial strain experienced by the beleaguered industry."
Police State Watch
"Amazon Told Police It Has Partnered With 200 Law Enforcement Agencies" [Vice]. "At least 200 law enforcement agencies around the country have entered into partnerships with Amazon's home surveillance company Ring, according to an email obtained by Motherboard via public record request. Ring has never disclosed the exact number of partnerships that it maintains with law enforcement. However, the company has partnered with at least 200 law enforcement agencies, according to notes taken by a police officer during a Ring webinar, which he emailed to himself in April. It's possible that the number of partnerships has changed since the day the email was sent. The officer who sent the email told Motherboard that the email was a transcribed version of handwritten notes that he took during a team webinar with a Ring representative on April 9. Additional emails obtained by Motherboard indicate that this webinar trained officers on how to use the "Law Enforcement Neighborhood Portal." This portal allows local police to see a map with the approximate locations of all Ring cameras in a neighborhood, and request footage directly from camera owners. Owners need to consent, but police do not need a warrant to ask for footage." • Makes you wonder about Ring in and near Bessemer, AL, eh?
Class Warfare
"Amazon accused of anti-union activities through website" [AL.com]. "A charge filed with the National Labor Relations Board alleges that Amazon attempted to intimidate workers in Bessemer with anti-union messages related to the ongoing union vote. Law360 is reporting that an unnamed person made the charge last week before the NLRB, which mentions a website the company created in connection with the union vote. Balloting began last week for a mail-in vote among more than 5,000 Amazon workers at the company's fulfillment center in Bessemer. . If approved, the workers would be represented by the Retail, Wholesale and Department Store Union (RWDSU)." • Late March is a long time away.
"Amazon's anti-union campaign violates global labor & human rights standards" [Pando Daily]. "Amazon, whose profits have increased by 70 percent over the past year, is no exception to this trend. Amazon claims to be 'guided' by the Ruggie Principles and to 'respect and support the Core Conventions of the International Labor Organization (ILO), the ILO Declaration on Fundamental Principles and Rights at Work, and the UN Universal Declaration of Human Rights.' Amazon also claims to 'respect freedom of association and our employees' right to join, form, or not to join a labor union or other lawful organization of their own selection, without fear of reprisal, intimidation, or harassment.' Despite its documented commitments, Amazon's behavior in the current Retail Wholesale and Department Store Union (RWDSU) campaign to organize workers in Bessemer, Alabama – its first union election since 2014 and perhaps the most important union campaign in the U.S. for several decades — and its anti-union behavior over the past several years, suggest that these stated commitments are simply a PR exercise. " • Shocking, I know. Quite a bill of particulars.
"Newswire: February 20, National Day of Solidarity with Bessemer, Alabama warehouse workers" [Green County Democrat]. "The Southern Workers Assembly has issued a call for a National Day of Solidarity with Alabama Amazon Workers on Saturday, February 20. Actions are being planned across the South and the U.S. on that day at Amazon facilities (warehouses, distribution centers, Whole Foods, etc.). There is a demonstration planned at the Whole Foods Store at 1450 Taylor Road, near Eastchase Shopping Center in Montgomery, Alabama, at Noon on Saturday February 20th."
"Strength in numbers" [Cory Doctorow, Pluralistic]. "One thing the Exchequer paper reveals is that accountants bat for both teams: team clarity and team obscurity. As many finance scandals and finance dramas have reminded us, accounting can be turned to obscuring and dazzling rather than revelation. After all, somewhere in HM Exchequer is a team of accountants who know exactly how money works – and know that it's nothing like the account produced by economists or politicians. They know it because they are in charge of it. They do money, all day long. When accountants go rogue, things get bad. And thanks to neoclassical economics – and its emphasis on the "efficiency" of monopolies – we are living through a golden age of ghastly accounting fraud." • This is a terrific thread on accounting, well worth a read. Not for nothing did Lord Vetinari conceal Some Observations on the Art of Invisibilty between the covers ot Anecdotes of the Great Accountants, Vol. 3!
News of the Wired
I remember this post when it come out, back in the green — or, in this case, baby blue — and salad days of the blogosphere.
Happy birthday @Atrios https://t.co/OzNeJj3Nfa pic.twitter.com/BY67V4h5Kp

— Matt Stoller (@matthewstoller) February 18, 2021
Atrios was my blogfather, and is still a master of the art:
"The soul in the stomach" [Wellcome Collection]. "According to van Helmont, emotions did not arise in the heart, as ancient philosophy stated. Nor were they located in the brain, despite the growing consensus among university-educated anatomists and physiologists of the time. Rather, he insisted, the processes of emotion, perception and imagination took place in the organs of digestion. The stomach, he argued, was far more than just a factory for the processing of food. It was, in fact, the seat of that mediator between the physical and the spiritual realms: the sensitive soul….. And yet the idea of the digestive organs as a seat of emotional experience no longer seems quite so mad or foolish. Over the past decade, research into the gut microbiome and enteric nervous system points to a dynamic and multidirectional relationship between belly and brain, and scientists are now taking a fresh look at the role of gut health in both mental and physical wellbeing. Once little more than a metaphor, the 'gut feeling' might be a medical reality. Although van Helmont's theory has no connection to modern scientific research, his story is a reminder that each person has an intuitive relationship with their own body that can be difficult to express, and even more difficult to convey to others. But this doesn't mean that we shouldn't still try. Even when our gut feelings seem to be at odds with the knowledge of our day, they might well be able to tell us something about our own bodies that is fundamentally true." • Very interesting article. What do readers think?
* * *
Readers, feel free to contact me at lambert [UNDERSCORE] strether [DOT] corrente [AT] yahoo [DOT] com, with (a) links, and even better (b) sources I should curate regularly, (c) how to send me a check if you are allergic to PayPal, and (d) to find out how to send me images of plants. Vegetables are fine! Fungi and coral are deemed to be honorary plants! If you want your handle to appear as a credit, please place it at the start of your mail in parentheses: (thus). Otherwise, I will anonymize by using your initials. See the previous Water Cooler (with plant) here. Today's plant (IM):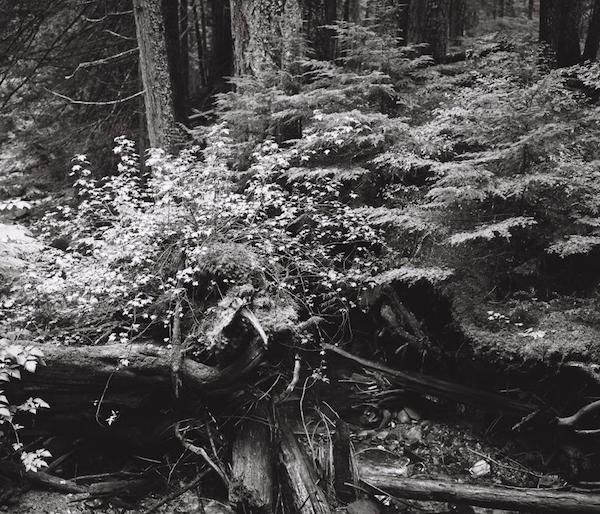 IM writes: "Stump!"
* * *
Readers: Water Cooler is a standalone entity not covered by the recently concluded and — thank you! — successful annual NC fundraiser. So if you see a link you especially like, or an item you wouldn't see anywhere else, please do not hesitate to express your appreciation in tangible form. Remember, a tip jar is for tipping! Regular positive feedback both makes me feel good and lets me know I'm on the right track with coverage. When I get no donations for five or ten days I get worried. More tangibly, a constant trickle of donations helps me with expenses, and I factor in that trickle when setting fundraising goals:
Here is the screen that will appear, which I have helpfully annotated.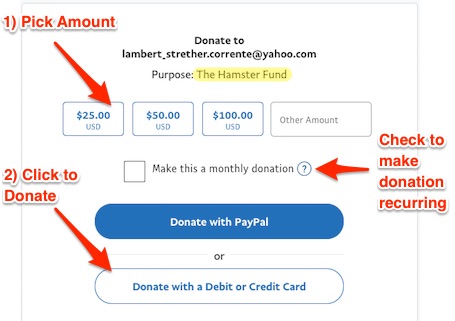 If you hate PayPal, you can email me at lambert [UNDERSCORE] strether [DOT] corrente [AT] yahoo [DOT] com, and I will give you directions on how to send a check. Thank you!