By Lambert Strether of Corrente.
Bird Song of the Day
Some city birds.
#COVID19
At reader request, I've added these daily charts from 91-DIVOC. The data is the Johns Hopkins CSSE data. Here is the site.
I feel I'm engaging in a macabre form of tape-watching…. (A reader asked the source of the data: Johns Hopkins CSSE. DIVOC-91 does allow other data sets to be used, like Our World in Data and The Atlantic, and where they provide visualizations similar to those below, a cursory comparison shows that the shape of the curves is the same.)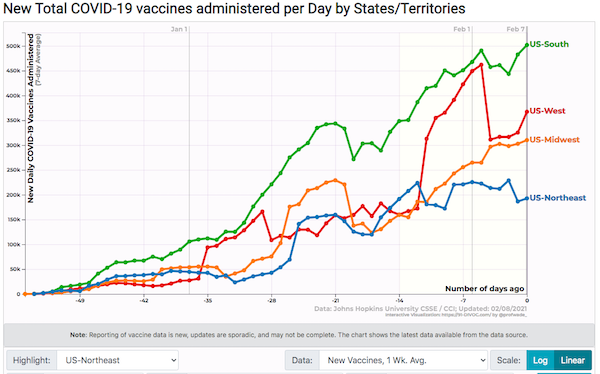 Snow makes the Northeast what it is, but at least the other regions aren't dropping.
Here is vaccination in the (US Census-defined) South: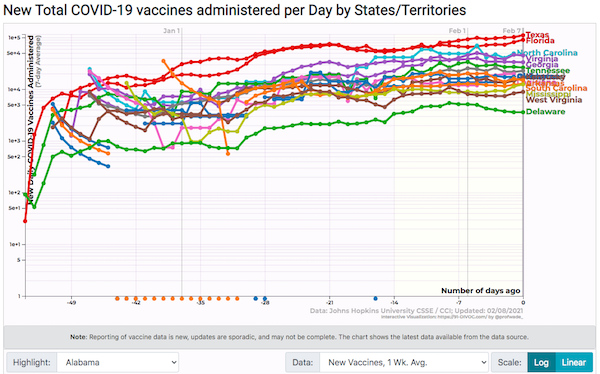 Log view to unbunch the curves, and also to make the slopes easier to compare.
At some point, say by the third week in February*, we're going to need to see these curves going more vertical, or else we can conclude that the vaccination rate is basically a function of our extraordinarily [family-blogged] health care system, and "competence" and "leadership" operate only at the margin. Needless to say, I'd like to see the curves going more vertical. NOTE * "He's only been President ___ weeks, give him time."
Case count by United States region: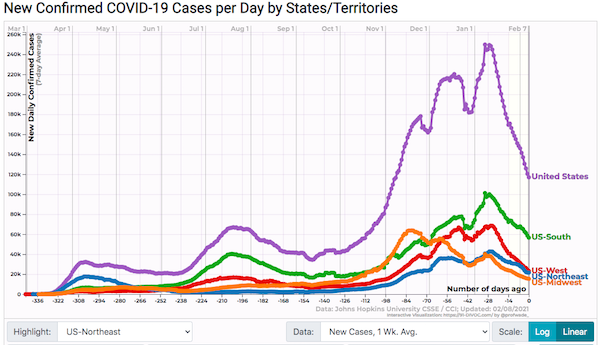 At some point I should try to find a chart of city case counts, and see what the cities with direct flights from the UK are doing, to get a reading on B117. The calm before the storm?
Big states (New York, Florida, Texas, California):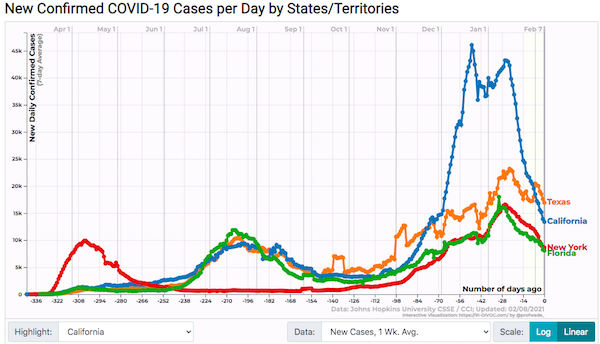 Texas going down again. That's a relief.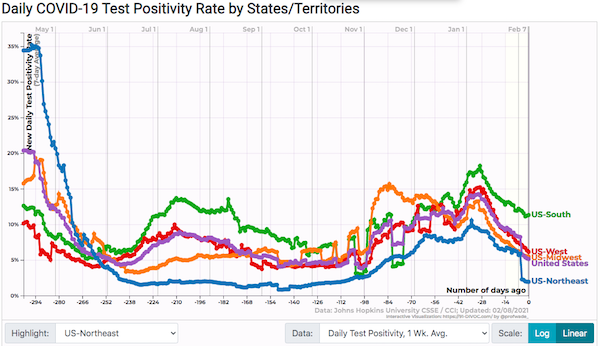 The Northeast falls off a cliff, again I assume due to snow.
Nowhere near 3%, anywhere.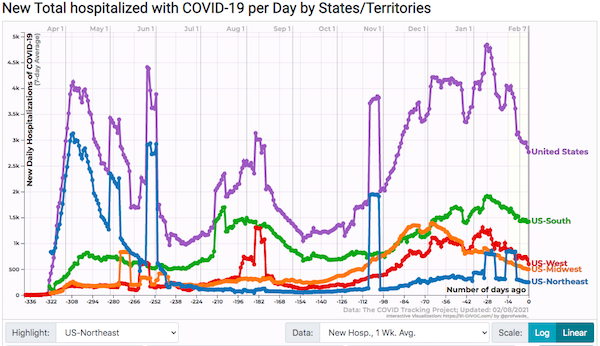 Hospitalization is discretionary; they may also be reducing their admissions rate — relative to cases we cannot see in this data! — to preserve future capacity; or because hospitals have figured out how to send people home.
Case fatality rate (plus deaths):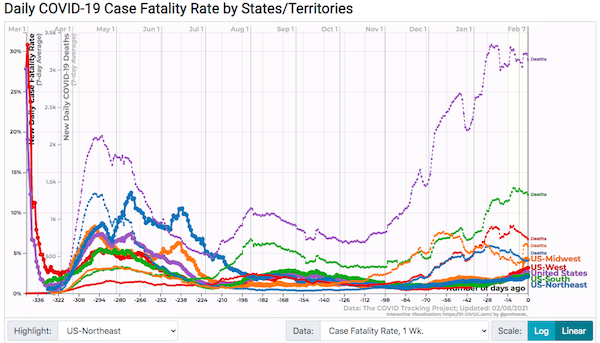 Deaths plateau, and should really be starting to fall at some point. Plus, the case fatality rate has markedly increased, albeit slowly. I don't like that at all.
Politics
"But what is government itself, but the greatest of all reflections on human nature?" –James Madison, Federalist 51
"They had one weapon left and both knew it: treachery." –Frank Herbert, Dune
"They had learned nothing, and forgotten nothing." –Charles Maurice de Talleyrand-Périgord
Impeachment
"Trump trial set to consume Capitol" [The Hill]. "Forty-five out of 50 Senate Republicans have already voted to advance a motion to dismiss the trial on the grounds that it is unconstitutional, making it extremely unlikely that 17 Republicans will join Democrats this week to convict."

"Trump's lawyers argue in pretrial brief that his January 6 rally speech 'was not and could not be construed to encourage acts of violence' at the Capitol" [Business Insider]. "In their pretrial brief, Trump's defense lawyers said he had only 'used the word 'fight' a little more than a handful of times and each time in the figurative sense.'" • Just like Democrats, then? More: "'It was not and could not be construed to encourage acts of violence,' they wrote. The brief went on to say that 'the real truth is that the people who criminally breached the Capitol did so of their own accord and for their own reasons, and they are being criminally prosecuted.' • Throwing the rioters under the bus. More: 'Democrats cannot pretend that they were confused by the word 'fight' in the context President Trump used it in his speech,' the brief said. 'Speaker Pelosi has used this word multiple times herself in the context of election security, and the well-known nonprofit started by rising Democratic darling Stacey Abrams and endorsed by none other than Speaker Pelosi is literally called 'Fair Fight,' and it asks people to join the 'fight for free and fair elections.'" • Yeah, but everbody khows Democrats don't mean it; "fight for" is always just puffery. Anyhow, here is the brief (PDF), which also argues: "Absent an imminent threat, therefore, it is expressly within the First Amendment to advocate for the use of force; similarly, it is protected speech to advocate for violating the law; and as Mr. Trump did neither of these things, his speech at all times fell well within First Amendment protections. He thus cannot be subject to conviction by the Senate under well-established First Amendment jurisprudence." • Not that liberal Democrats care about the First Amendment, of course.
Transition to Biden
"Biden Wants Harris to Have a Major Role. What It Is Hasn't Been Defined" [New York Times]. "President Biden was rattling off a list of his priorities for a coronavirus relief bill in one of his first meetings with reporters as commander in chief when he stopped midsentence to correct himself. Those items, Mr. Biden said, are what 'we think the priorities are,' putting the emphasis on the pronoun. Then, turning to face Vice President Kamala Harris, standing a few socially distanced feet behind him, he apologized. It was a rare slip for the president, who has worked to include Ms. Harris in nearly all his public appearances, and stress that . Those recurring scenes are the most tangible result of Mr. Biden's efforts — and a presidential directive — to treat Ms. Harris, the first woman and Black vice president, as as he works to knit together the nation's political rifts, address racial inequalities and bring the coronavirus pandemic to heel." • (No, you can't "knit together" a "rift," which is a geological feature; no doubt the author has a dim memory of "bind up the nation's wounds," but chose to use a dead metaphor instead.) The mind boggles at the concept of a Constitutional officer as a "stakeholder," but let that pass. What is boggling my mind is that "our democracy" is apparently capacious enough to normalize a President-in-Waiting who dropped out of the Presidental race because she knew she'd get clobbered in her home state. To be fair, they loved her in the Hamptons! Anyhow, the last "two-fer" we had was Billary. How'd that work out?
2020
UPDATE "Did the Democrats Misread Hispanic Voters?" [Ruy Teixeira, The Liberal Patriot]. "Clearly, this constituency does not harbor particularly radical views on the nature of American society and its supposed intrinsic racism and white supremacy. Rather, this is a population that overwhelmingly wanted to hear what the Democrats had to offer on jobs, the economy and health care." • OMG, that's why they voted for Sanders!* More: "But the Democrats could not make the sale with an unusually large number of Latino voters in a year of economic meltdown and coronavirus crisis. This suggests there was an opportunity cost to the political energy devoted to issues around race which simply were not that central to the concerns of Hispanic voters and the more radical aspects of which were unpopular with these voters." • Well, since the country is now being run like an HR Department where the only* things forbidden by the company manual are race-based — see, e.g., the 1619 project — it would seem Hispanics are going to be out in the cold for some time. NOTE * OK, I exaggerate. It sure is odd, though, that "deaths of despair" and falling life expectancy have never gotten any traction politically. At some point, somebody clever is going to go to work on that, and not necessarily one of the good guys, either.

UPDATE "Claudia Tenney wins New York House race' [The Hill]. "New York Republican Claudia Tenney will be certified as the winner in the race to represent the state's 22nd Congressional District, according to a ruling from the state Supreme Court on Friday. The decision by State Supreme Court Justice Scott DelConte ordering counties and the state elections board to certify her victory ends a three-month legal battle with another House flip for Republicans, whittling the Democratic majority to 221-212. Tenney will unseat first-term Rep. Anthony Brindisi (D). DelConte panned local elections boards for "systemic violations of state and federal election law," including the Oneida County's failure to process more than 2,400 voter applications. However, the judge ruled it is not the court's job to rectify those errors. 'Every single valid vote that was cast in New York's 22nd Congressional District has been accounted for, and counted,' DelConte wrote." • Brindisi will appeal.
2022
I am here for Butter Gritty:

In @JohnFetterman announcement email: "When the people of Pennsylvania demanded a Gritty statue made of butter, I got them a Gritty statue made of butter. ?" https://t.co/YcBJO4yBkb

— Krystal Ball (@krystalball) February 8, 2021
RussiaGate
UPDATE "Ex-FBI lawyer gets probation for falsifying Carter Page surveillance application" [NBC News]. "Kevin Clinesmith admitted last August that he had altered an internal FBI email in the course of seeking a court's permission to continue government surveillance of Carter Page, a former Trump campaign adviser. The warrant for approval from the Foreign Intelligence Surveillance Court has been a flashpoint for conservative critics of the FBI and the Mueller investigation." • In other words, the FBI perpeprated a fraud on the Court But fraudsters rejoice: "Federal District Court Judge James Boasberg said that while Clinesmith's actions were serious, without his misstatement. Boasberg also serves as the presiding judge of the Foreign Intelligence Surveillance Court." • The "It Would Have Happened Anyway" doctrine is a defense against fraud? Good to know! (If a convenience store clerk thinks you passed a bad check, a cop can put his knee on your neck until you die. But if a Judge thinks you gave fake evidence for a warrant, you claim your Get Out Of Jail Free card.
Obama Legacy
"The Obamanauts" [Corey Robin, Dissent]. Re-upping from 2019. "[This was the] third element of Obama's public philosophy: a moral minimalism that rendered him not so much ill-prepared for a fight with the Republicans as ideologically indisposed to the very idea of a fight. … 'The true genius of America,' he told the DNC in 2004, is 'an insistence on small miracles; that we can tuck in our children at night and know that they are fed and clothed and safe from harm.' No one-off, that turn to the slight but simple truth of children being safe was a recurring theme of Obama's presidency, arguably its epistemological ground. 'There's only one thing we can be sure of,' he said after Sandy Hook, 'and that is the love that we have for our children. . . . The warmth of a small child's embrace, that is true.' These were not just comforting words to a grief-stricken nation. They emanated from the idiom of bare life, the wariness of deep foundations that had come to characterize liberalism in the wake of the New Deal order and the end of the Cold War. In retrospect, it seems obvious that such a smallness of vision could never withstand the largeness of the right. But, for Obama, opposing largeness with smallness was the point." • I'm wondering whether this applies to Biden, or not.
Realignment and Legitimacy
DSA take note:

One of the issues the left always has, well, issues with is the hagiography of its own agency. When revolution or radical reform happens, the left sees itself as the prime protagonist. But the truth is, when the left is able to successfully exercise agency, it's often because

— corey robin (@CoreyRobin) February 7, 2021

So the question becomes: Is the United States as weak as Czarist Russia, say after the Battle of Tsushima?

UPDATE "How The US Legalized Corruption" [Indi Samarajiva]. "Americans have this thing called a fundraiser where you put a pile of bribes on a table, wave a wand of asparagus over it, and it just disappears. Access is still bought, but somehow because people ate food, it's not corruption anymore. The press will literally report on the food. "In New York last weekend, $100,000 got donors a plate of grilled chicken and asparagus, a posed picture with President Trump in a palatial, 60-foot-long entryway, and a 20-minute group chat with the president. (Washington Post). WTF is this? In any other country you wouldn't report on the chicken, you'd report on the corruption."
Stats Watch
At reader request, I added some business stats back in. Please give Econintersect click-throughs; they're a good, old-school blog that covers more than stats.
There are no official statistics of note today.
* * *
Commodities: "Supply and demand fundamentals are turning around in oil markets. Crude prices have pushed to their highest levels since near the start of the coronavirus pandemic … as production curbs among big exporters collide with recovering demand and a faster-than-forecast drawdown in stockpiles" [Wall Street Journal]. "Global appetite for oil remains below pre-pandemic levels, but the rising crude prices are reaching transportation markets. Average diesel fuel prices across the U.S. hit their highest level in nearly a year at the beginning of February
Shipping: "Port of Long Beach has best January on record" [Freight Waves]. "The Port of Long Beach began 2021 the same way it ended 2020 — by setting records. The port reported this week it just had its best January on record, moving 764,006 twenty-foot equivalent units (TEUs), a 21.9% jump from the same month last year. It was the first time the nation's second-busiest seaport handled more than 700,000 TEUs in the month of January, surpassing the previous record set in January 2018 by a whopping 106,176 TEUs. …. The port attributed the strong January to the ongoing rise in American consumers' online spending. Imports were up 17.5% year-over-year to 364,255 TEUs. Exports were up too, an increase of 7% year-over-year to 116,254 TEUs."
Shipping: "The hiring binge at U.S. logistics operations appears to be hitting a wall, at least for now. Parcel-delivery, warehousing and trucking companies lost a combined 34,000 jobs last month, by government measures… in an abrupt halt to a hiring boom among companies tied to surging e-commerce demand" [Wall Street Journal]. "The pullback comes as businesses are weighing how much of the digital shopping upswing will outlast the pandemic. The logistics sector typically has a hiring hangover after the holidays, and January's loss of 17,400 jobs by warehousing and storage companies followed five straight months of gains when that sector's payrolls grew by 129,700 jobs. But broader numbers in the overall jobs report suggest near-term economic demand remains a concern."
Tech: "Overhauling Twitter" [Scott Galloway, No Mercy / No Malice]. "Twitter has let toxic content run amok because doing so is in its interest: The company depends on the engagement it generates…. Anyone who has been on Twitter will recognize the compulsion to refresh the page just one more time and get that dopamine hit, hate-reading enemies and enjoying the glorious dunks on everyone else. The algorithm knows it, too: It learns from our every tap and dials up the doom. Even if an ad-based model did not produce this kind of digital exhaust, it would still be destined to fail by Twitter's insufficient scale. While the company's reach is large compared to that of traditional media, it is dwarfed by that of Google and Facebook, which dominate digital advertising. Choking on the dust of a duopoly is a difficult position from which to build a business. Twitter needs to move from an ad model to a subscription model, with subscription fees for accounts of a certain size. The platform would still be free for the majority of users, but accounts over 200K followers (or even 50K followers) should pay for the audience that Twitter provides them with. This would lead to better financial results because recurring revenue is reliable, profitable, and earns a higher multiple than transaction revenue." And then there's the CEO: "Mr. Dorsey's insistence on managing (or not) Twitter from far-flung retreats should alone make the case for his removal as CEO. I can't believe I even have to say this: We should remove a part-time CEO. Twitter's management, enabled by legacy board members, has demonstrated an alarming disregard for the commonwealth, weak strategic thinking, and an inability to create a fraction of the shareholder value that is possible for the platform. Twitter's financial weakness gives it a chance for redemption. It's time." • I have managed to detach from Twitter's toxicity, but for me it remains the closest parallel to the old blogosphere, because anyone can talk to anyone, very much unlike [ick] Facebook. Twitter is often genuinely funny, again like the old blogosphere, and very much unlike Facebook. So, I would like it to be fixed, and Galloway's suggestions seem sensible to me.
Manufacturing: "How will 'chipageddon' affect you?" [BBC]. "[J]ust before Christmas, it emerged the resurgent car industry was facing what one insider called 'chipageddon'. New cars often include more than 100 microprocessors – and manufacturers were quite simply unable to source them all. Since then, one technology company after another has warned they too face constraints. Samsung is struggling to fulfil orders for the memory chips it makes for its own and others' products." • Hard to extract because the implications are so diverse across industries and markets. And then there are geopolitical concerns (Taiwan, Korea). Worth reading in full, and contemplating. Good thing we moved our chip manufacturing out of this country into small countries next to China, good job elites.
Manufacturing: "The new jet aimed at getting Boeing's supply chains moving again has become the manufacturer's latest big problem. Development of the 777X has been stretched out and the bet on the updated version of the twin-engine wide-body is souring… complicating Boeing's bid to navigate an aerospace market ravaged by the Covid-19 pandemic" [Wall Street Journal]. "The company's 777X woes aren't directly related to apparent design missteps or but from the pandemic's hit to travel and broader market fallout, as well as stiffer regulatory oversight the company faces because of problems in the 737 MAX program." • The "other programs" being the 737 and the 787, neither of which I would fly.
Manufacturing: Why some techies are obsessed with mechanical computer keyboards — and how I learned to build my own" [CNBC]. "Earlier this year an Indian company called Market Research Future predicted that the mechanical keyboard market would grow to $1.36 billion by 2023, up from $705 million in 2017."
UPDATE Pharma: "The next act for messenger RNA could be bigger than covid vaccines" [MIT Technology Review]. "[M]essenger RNA may offer a new approach to building drugs. In the near future, researchers believe, shots that deliver temporary instructions into cells could lead to vaccines against herpes and malaria, better flu vaccines, and, if the covid-19 germ keeps mutating, updated coronavirus vaccinations, too.But researchers also see a future well beyond vaccines. They think the technology will permit cheap gene fixes for cancer, sickle-cell disease, and maybe even HIV." • I smell business model:
mRNA vaccines are the new frequent security updates.

— Steve Randy Waldman (@interfluidity) February 6, 2021
* * *
Today's Fear & Greed Index: 53 Neutral (previous close: 53 Neutral) [CNN]. One week ago: 39 (Fear). (0 is Extreme Fear; 100 is Extreme Greed). Last updated Feb 5 at 12:36pm. Last updated Feb 8 at 11:57am.
Rapture Index: Closes down one on Global Turmoil. "The lack of activity has downgraded this category" [really?] [Rapture Ready]. Record High, October 10, 2016: 189. Current: 185. (Remember that bringing on the rapture is a good thing, so high is better.
The Biosphere
"Why embracing the Nordic concept of 'friluftsliv' could be the secret to better mental health during lockdown 3.0" [Stylist]. From the UK. "[Friluftsliv], which translates roughly to 'open-air living,' is widely popular across the Nordic countries where, despite freezing temperatures and very few hours of sunlight throughout the winter months, getting outside and embracing the outdoors is part of life all year around…. Not only does embracing friluftsliv mean more time spent getting active and therefore staying healthy, but it also means spending more time surrounded by nature – a habit which has been proven to benefit our mental health…. Whether or not you're a typically 'outdoorsy' person, it seems making the outdoors a priority and subscribing to the idea of friluftsliv – even if it's initially just for the next four weeks – could help us all to make the most of our lives during lockdown 3.0. With daily exercise still allowed and plenty of places to explore, why not invest in a thick winter coat and get exploring?" • Well, I don't know about exploring; that's next door to adventure. But I do think getting out and moving is a good idea, if only for a walk to and from the store. And be sure to look up in the air, not down at your feet (modulo ice).
"This Teenager Helped Launch Seed Libraries in Every State" [Modern Farmer]. "[Alicia] Serratos, who is just 14, came up with the idea to start 3 Sisters Seed Box in 2019. Her goal: Send out enough starter kits to have at least two seed libraries in all 50 states. It started out as a Girl Scout project and turned into a nationwide movement. Seed Savers Exchange donated heirloom seeds for the project and the Community Seed Network mapped all of the seed library locations. Since she started her campaign, requests have flooded in via social media from communities eager to start their own seed libraries. The first 3 Sisters Seed Box was installed in Pennsylvania in April 2020 and the last, installed in Auburn, New Hampshire, was shipped in January 2021. To date, Serratos has shipped 108 seed library starter kits to communities nationwide. Although seed libraries are not new—a librarian in New York established a seed library in 2004 and Serratos established seed libraries at three elementary schools near her home in Orange County, California, seven years ago—the concept has exploded during the pandemic. '[The seed libraries] have expanded so much because people are gardening during quarantine,' Serratos says. Seed libraries are free and open to the public, and no membership is required. Gardeners are encouraged to save seeds and contribute them to the library so others can access them. Not everyone who takes seeds will save them and add them, so 'stewards'—who manage seed libraries—often purchase seeds or request donations from seed companies to keep the libraries stocked." • Yes, managing a seed library can be problematic, but they are still wonderful. Which reminds me! It's not too late to order your seed catalogs! (See NC here and here.) Planning a garden can be a real antidote to the darkness and gloom of February — this February, especially. And if you over-order, which I always do, you can give the surplus to a seed library!
"Biodynamics' dirty secret: ecofascism, karmic racism and the Nazis" [Word on the Grapevine]. • I never liked biodynamics woo woo. Now I know why.
"Company Behind NC Pipeline Spill Inspected Less Than 50% In 2019, Improperly Kept Records" [Robbie Jaeger]. • The article is good, but can this picture possibly be real: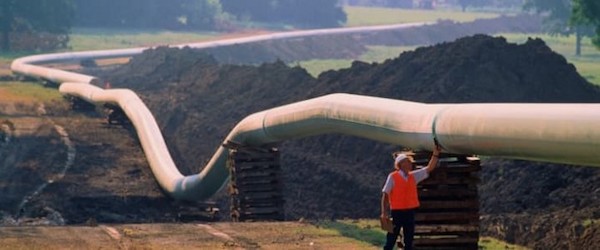 An above-ground pipeline supported by stacks of wood? Is that what I'm seeing?
Health Care
"Putin's Once-Scorned Vaccine Now Favorite in Pandemic Fight" [Joe Weistenthal, Bloomberg]. "President Vladimir Putin's announcement in August that Russia had cleared the world's first Covid-19 vaccine for use before it even completed safety trials sparked skepticism worldwide. Now he may reap diplomatic dividends as Russia basks in arguably its biggest scientific breakthrough since the Soviet era. Countries are lining up for supplies of Sputnik V after peer-reviewed results published in The Lancet medical journal this week showed the Russian vaccine protects against the deadly virus about as well as U.S. and European shots, and far more effectively than Chinese rivals. At least 20 countries have approved the inoculation for use, including European Union member-state Hungary, while key markets such as Brazil and India are close to authorizing it. Now Russia is setting its sights on the prized EU market as the bloc struggles with its vaccination program amid supply shortage…. Unlike the Pfizer/BioNTech vaccine, Sputnik V can be stored in a fridge rather than a freezer, making it easier to transport and distribute in poorer and hotter countries. At around $20 for a two-shot vaccination, it's also cheaper than most Western alternatives. While more expensive than AstraZeneca, the Russian inoculation has shown higher efficacy than the U.K. vaccine."
UPDATE "Confusion and chaos: Inside the vaccine rollout in D.C., Maryland and Virginia" [WaPo]. "This account, based on 30 interviews with government officials and hospital and medical workers, shows how public health officials battered by months of fighting the pandemic were caught unprepared for the arrival of the vaccine that could stop it in its tracks. Again and again, officials made an initial choice about how to distribute scarce doses, then reversed course when their hastily made plans led to unforeseen problems. If the United States and the region had prepared well for the vaccines while scientists were developing them, University of Maryland public health professor Donald Milton argues, residents would have registered for their shots months before the vials arrived." • For all that, we're #3 world-wide, after Israel and the UK: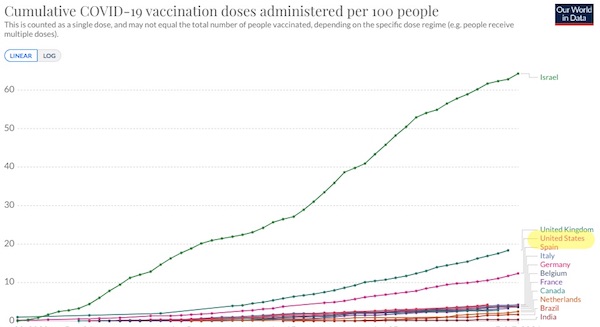 "Science Not Politics: How Dr. Rochelle Walensky is Saving the CDC" [Vogue]. "She cries as she gets the vaccine." And the hagiography goes on from there. If you want to believe that Walensky is absolutely the wrong person to head the CDC, read this. The CDC is a sclerotic institution that has repeatedly failed in central-to-mission efforts: The test kits, aerosols, and its Vaccine Administration Management System (VAMS). Of these three, only aerosols are even arguably caused by [shudder] "politics." Wakensky's scientific skills and warm personality will not be enough to fix a broken institution: Walensky's position at Mass General was of insufficient scale and scope to give her the skills, even the bureaucratic knife-fighting skills, required. See Yves here. UPDATE To be fair to Walansky, she has seemed to be sound on aerosols but the proof of the pudding will be CDC guidance.
"Don't "Trust the Science," Trust Science While You Hone Your Critical Thinking Skills":
Almost 1 year ago, Feb 26, 2020, authors wrote in a top journal that the coronavirus posed "limited threat outside of China" & "wearing mask in public does not prevent people from getting" #COVID19

➡️We should have listened to the actual aerosol scientists instead on masks! ??‍♂️ pic.twitter.com/CZ93ZYoPdg

— Eric Feigl-Ding (@DrEricDing) February 7, 2021
Whoops. To my shame, I fell for this; but I did self-correct. Unlike many, and not just maskless deplorables!
Sports Desk
"Tampa mayor frustrated by maskless fans after Super Bowl" [Associated Press]. " So much for the mayor's order requiring masks at Super Bowl parties. Throngs of mostly maskless fans took to the streets and packed sports bars as the clock inside Raymond James Stadium ticked down on a hometown Super Bowl win for the Tampa Bay Buccaneers. 'It is a little frustrating because we have worked so hard,' Tampa Mayor Jane Castor said during a Monday morning news conference with the Super Bowl Host Committee. 'At this point in dealing with COVID-19, there is a level of frustration when you see that.' Some 200,000 masks were handed out ahead of the game, and 'a majority' of people and businesses followed the rules, she said. To meet coronavirus protocols, the NFL capped the crowd at under 25,000 in a stadium that normally holds some 66,000 fans, and required masks. But outside the stadium, crowds of fans who weren't wearing masks or practicing social distancing could be seen celebrating the Buccaneers' 31-9 win over the Kansas City Chiefs on Sunday night. Folks cheered, crammed into bars and hugged in several hotspots around the city — and swarmed the streets — all without masks. In hopes of curbing so-called super-spreader events, Castor had signed requiring people wear face coverings during the Super Bowl festivities, even while they're outdoors. She pleaded with people to celebrate safely, noting the city could issue fines of up to $500. It wasn't clear on Monday how many citations the city handed out, if any." • Another Half-Assed Lockdown. "In Florida, the scientists estimate that more than 4% of cases are now caused by B117. The national figure may be 1% or 2%, according to his team's calculations," #1 in the United States (even if our data is lousy). Well done, all.
UPDATE "Send in the Bombers!" [Bracing Views]. "This year, I noted how the Air Force is selling the story of a female pilot, Captain Sarah Kociuba, who will pilot a B-2 stealth bomber to open the festivities. She'll be joined by a B-1B Lancer and a B-52 Stratofortress. The message, of course, is "pride" in America….Look! Up in the sky! It's American-made WMD. Led by a highly-qualified female pilot. Diversity! America!" • Presumably the DNC is on the phone with Kociuba*, right now…. Muscle-bound, as Hudson says. NOTE: "Every pilot is given a unique 'call sign' to identify themselves while communicating in the air. Captain Kociuba's call sign is 'Gucci' for her flying and personal style."
Groves of Academe
"Harvard issues report on sexual harassment" [Harvard Gazette]. "The committee's report is incredibly thorough, and I would encourage community members to read it in its entirety. It clearly outlines several cultural and organizational factors that allowed [Jorge] Domínguez to escape accountability for so long, and suggests concrete, actionable steps that Harvard can take to create an environment free from harassment and discrimination. These recommendations include: fostering greater "psychological safety" across our Schools and units, better communicating processes for reporting misconduct, achieving greater faculty gender balance, establishing standardized processes for vetting candidates, improving transparency around investigations and sanctions, monitoring employees with past infractions, and accelerating progress toward a culture that is intolerant of sexual and gender-based harassment, broadly. Some of these things we have been working on already. Other recommendations will be the foundation for new initiatives." DeLong comments: "I confess that I am so effing naïve. Jorge Dominguez's harassment of Terry Karl came to light in 1983: he told her 'come across or your tenure case is toast.' I assumed that things thereafter would be under control." • Whoops.
Class Warfare
"Why Memes Will Never Be Monetized" [Jacobin]. "Another striking example of the disconnect between corporate advertisers and the cultural trend they try to employ is the 'Such HealthCare.gov' meme campaign, launched by the US Department of Health and Human Services. This utilized another popular meme depicting a Shiba Inu dog ("Doge") and its internal monologue, filled with incorrect and infantile English expressions. The campaigners failed to understand the ironic nature of the meme and used it to promote Obamacare — to the bemusement of the younger audience it was targeting." • Oy. "Memes resist traditional marketing tactics because of their unique linguistic structure: they convey messages through allegories, and so cannot be understood in isolation from the digital and sociocultural environment from which they originated. This makes memes a form of cultural expression that is inherently unprofitable, because it negates two paradigms of modern capitalist markets: intellectual property and control over access. Memes do not have creators or owners; they also, in their spontaneous articulations and ramifications, do not strive to be understood by any one target audience. Memes, like art, exist only because there is an urge to communicate something and, as such, escape the logic of profit."
News of the Wired
Hard to imagine maps like these in the West:
3D Tokyo subway stations maps are so endlessly coolhttps://t.co/cXCO2QNGAY pic.twitter.com/R7O3ApvueJ

— Nathaniel M. Smith (@NathanielMSmith) February 5, 2021
It isn't, that's the point:
i simply do not understand how it is humanly possible to stay on top of exercising and eating and cleaning and washing and admin and work and keeping in contact with people whilst also having time to 'sleep' and 'rest' how are the rest of you people doing this

— Ben Smoke (@bencsmoke) February 7, 2021
Kill the "arm-like protrusions" with fire:
WATCH: Robotics company @BostonDynamics unveiled a new version of the four-legged dog-like robot Spot with a new arm-like protrusion. Spot can now manually or semi-autonomously grasp, lift, carry, place, and drag objects https://t.co/sZiEwYW8r6 pic.twitter.com/xWhNkptdUW

— Reuters (@Reuters) February 7, 2021
Everything was going great, until Spot put the turkey in the crib and the baby in the oven.
Colorless grey ideas sleep furiously:
Behold the gray—the most mysterious and elusive of all colours… Gustave Caillebotte's 'Rooftops in the Snow' (1878/1879) is a Symphony in Gray Major pic.twitter.com/ivcu3M2CB2

— Federico Italiano (@FedeItaliano76) December 18, 2020
* * *
Readers, feel free to contact me at lambert [UNDERSCORE] strether [DOT] corrente [AT] yahoo [DOT] com, with (a) links, and even better (b) sources I should curate regularly, (c) how to send me a check if you are allergic to PayPal, and (d) to find out how to send me images of plants. Vegetables are fine! Fungi and coral are deemed to be honorary plants! If you want your handle to appear as a credit, please place it at the start of your mail in parentheses: (thus). Otherwise, I will anonymize by using your initials. See the previous Water Cooler (with plant) here. Today's plant (IM):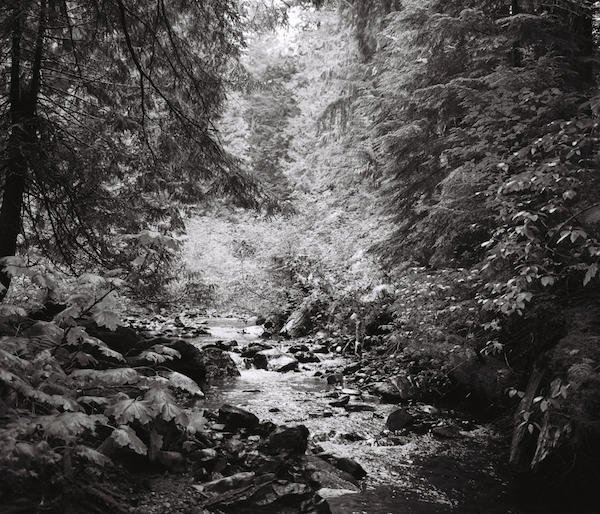 IM writes: "From deepest darkest British Columbia, a broody assemblage of green rendered in black and white. I had no tripod and this is a 1/30 second exposure to get the depth of field I wanted. Kept it steady!"
* * *
Readers: Water Cooler is a standalone entity not covered by the recently concluded and — thank you! — successful annual NC fundraiser. So if you see a link you especially like, or an item you wouldn't see anywhere else, please do not hesitate to express your appreciation in tangible form. Remember, a tip jar is for tipping! Regular positive feedback both makes me feel good and lets me know I'm on the right track with coverage. When I get no donations for five or ten days I get worried. More tangibly, a constant trickle of donations helps me with expenses, and I factor in that trickle when setting fundraising goals:
Here is the screen that will appear, which I have helpfully annotated.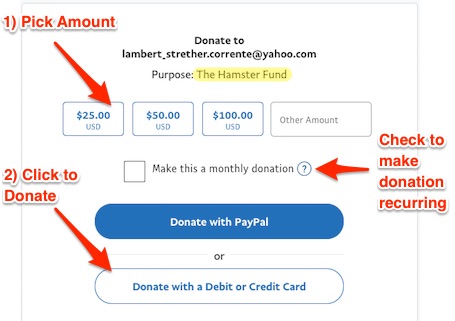 If you hate PayPal, you can email me at lambert [UNDERSCORE] strether [DOT] corrente [AT] yahoo [DOT] com, and I will give you directions on how to send a check. Thank you!