By Lambert Strether of Corrente.
Bird Song of the Day
This concludes Owl Week at the Naked Capitalism Water Cooler: A Great Grey Owl, Montana, along with what is either a very loud and persistent insect, or a drone!
#COVID19
At reader request, I've added this daily chart from 91-DIVOC. The data is the Johns Hopkins CSSE data. Here is the site.
I feel I'm engaging in a macabre form of tape-watching. If we are in the eye of the storm, we are still in the eye of the storm.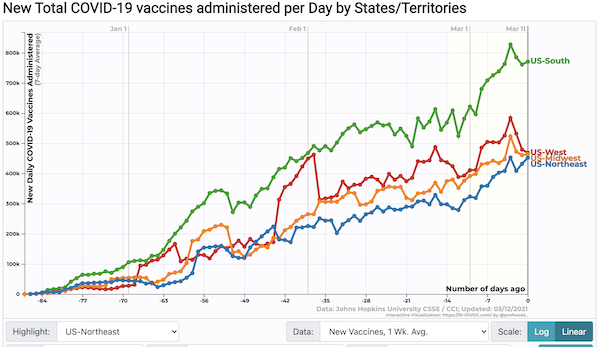 Early in February, I said a simple way to compare Biden's performance to Trump's on vaccination would be to compare the slopes of the curves. If Biden accelerated vaccine administration, post-Inaugural slopes would get steeper. They have not. The fragmented, Federalized, and profit-driven lumbering monstrosity that we laughingly call our "health care" "system" has not responded to "energy in the executive," but has continued on its inertial path.
Case count by United States regions: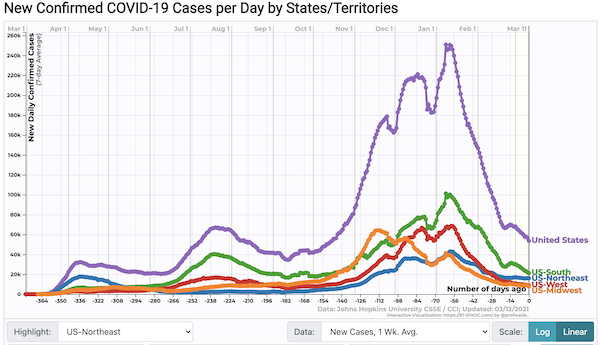 South heads downward again, Northeast flat.
Big states (New York, Florida, Texas, California):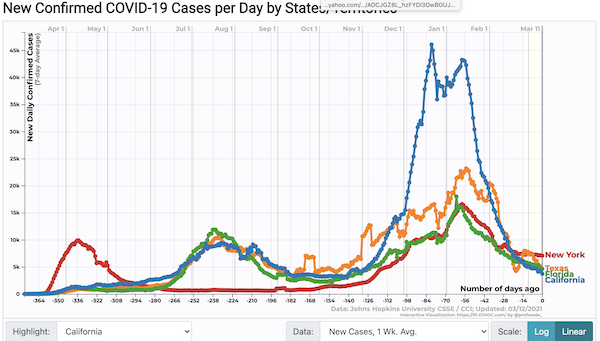 Texas has dropped below New York.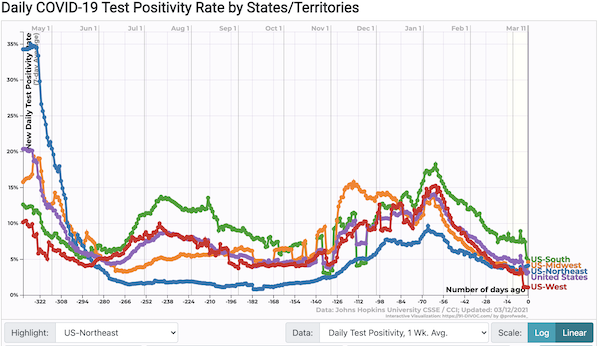 Jumps in the South. Humongous drop in the West, but is this a data artifact?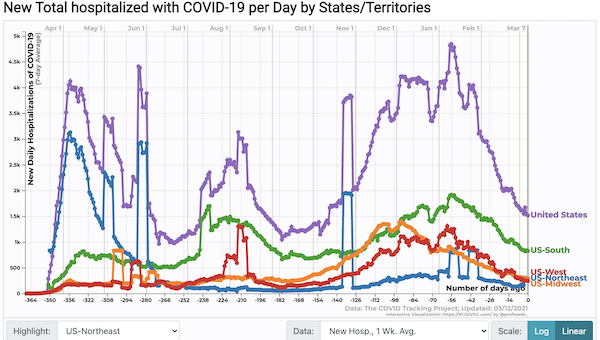 Hospitalization is discretionary; they may also be reducing their admissions rate — relative to cases we cannot see in this data! — to preserve future capacity; or because hospitals have figured out how to send people home.
Case fatality rate (plus deaths):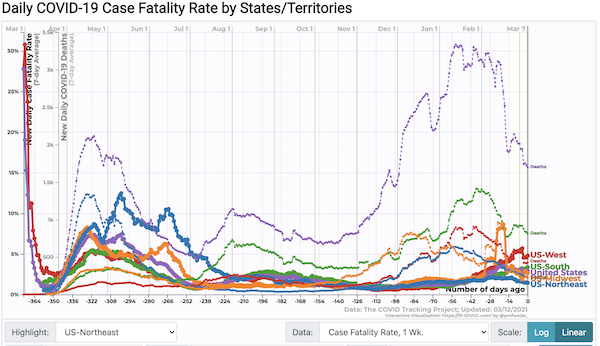 That fatality rate in the West (red) is now jumping around, but it's still high, which worries me. It's not going vertical, which is what I feared. Is the reason nobody else is worrying about this is that it's not really a problem? Is this some sort of statistical artifact as well?
* * *
Politics
"But what is government itself, but the greatest of all reflections on human nature?" –James Madison, Federalist 51
"They had one weapon left and both knew it: treachery." –Frank Herbert, Dune
"They had learned nothing, and forgotten nothing." –Charles Maurice de Talleyrand-Périgord
More to come. –lambert
Capitol Seizure
"Dozens of Capitol rioters were turned in by childhood friends, family members, colleagues and ex-lovers who watched them storm the building" [WaPo]. "[O]ne of dozens of Capitol riot suspects who were reported to authorities by their own close personal contacts. According to court documents, the FBI has arrested many based on tips from family members, work colleagues, childhood friends and ex-lovers who called authorities after watching their acquaintances participate in the siege on TV or, in some cases, on the rioters' own social media accounts." • The cultivation of snitching will no doubt come in handy when it comes time to begin the campaigns against reading unauthorized content. Kidding! I hope.

"At least 100 more to be charged in Capitol attack investigation, DOJ expects" [ABC]. "The Justice Department expects to charge at least 100 more still-unidentified individuals connected to the Jan. 6 attack at the U.S. Capitol, federal prosecutors revealed in a court filing Friday. They also describe the investigation as likely "one of the largest" investigations and prosecutions in U.S. history. Facing an unprecedented and continuously growing caseload in the U.S. attorney's office in D.C., prosecutors in the government's conspiracy case against members of the Oath Keepers militia group outlined the investigation's scope as they requested a judge delay scheduling a trial in the case for at least 60 more days. 'The investigation and prosecution of the Capitol Attack will likely be one of the largest in American history, both in terms of the number of defendants prosecuted and the nature and volume of the evidence,' the filing states. 'Over 300 individuals have been charged in connection with the Capitol Attack. The investigation continues and the government expects that at least one hundred additional individuals will be charged.'" • Meanwhile:

Here @TeamYouTube "confirms after careful review" that @StatusCoup's HISTORIC Capitol attacks footage shot by @JonFarinaPhoto—which DOZENS of corporate outlets picked up —"violates our Community Guidelines"

Why or how? We're not going to tell you! https://t.co/PWZ3rvTHHv

— Jordan (@JordanChariton) March 12, 2021

So the official record will be the only record. How convenient.

"Putin: Riot at US Capitol was a 'stroll'" [The Hill]. • Because, by Russian standards, it was, even if the Hill does get all huffy about it.
Biden Administration
'Joe Biden's Line Of The Night Shows His Biggest Difference From Donald Trump" [HuffPo]. Biden: "I promise I will do everything in my power, I will not relent until we beat this virus, but I need you, the American people. I need you. I need every American to do their part. That's not hyperbole. I need you. I need you to get vaccinated when it's your turn and when you can find an opportunity, and to help your family, your friends, your neighbors get vaccinated as well." • I didn't watch or listen to the speech. How did Biden look and sound?

"Power Up: Save the date: Biden sets July 4 as return to some normal life after pandemic year" [WaPo]. "Biden noting that he keeps the coronavirus death toll in the U.S. written on a card he carries in his pocket every day." • Nobody ever did that for deaths of despair. I wonder why?

"Biden: States must designate all adults eligible for vaccine by May" [Axios]. "President Biden directed states and tribal governments to designate all adult Americans eligible for a vaccine no later than May 1 during his primetime address on the passage of the American Rescue Plan Act on Thursday…. Biden also announced that the federal government will launch a website before May 1 to make it easier for people to find vaccination sites and schedule appointments." • Good idea! Hopefully, the website doesn't crash on launch, like ObamaCare's. More: " his Department of Education will focus on opening the majority of elementary and middle schools across the U.S." Hopefully, they'll do something about ventilation, unlike the feckless CDC./

"Fact-checking Biden's first prime-time address" [CNN]. "Biden's speech, which ran for just shy of 24 minutes, did not include a large number of fact-checkable assertions." This one, though: 'Biden said the new law "will cut child poverty in this country in half, according to the experts.' Facts First: Biden was correct about the experts' predictions, at least with regard to child poverty in 2021. Scholars at the Urban Institute think tank and Columbia University's Center on Poverty and Social Policy separately estimated Thursday that certain key elements of the American Rescue Plan Act would reduce child poverty by more than half in 2021. It's worth noting that ." • FDR, for example, didn't go all triumphalist after passing a Social Security program that expired after 365 days. Come on, man.

"Police groups endorse Biden's pick for civil rights chief" [Associated Press]. "Some of the largest law enforcement groups in the U.S. are throwing their support behind President Joe Biden's nominee to run the Justice Department's civil rights division. The support for Kristen Clarke, who is nominated to be assistant attorney general for civil rights, includes some of the nation's most powerful law enforcement organizations, including the Major Cities Chiefs Association and the executive director of the International Association of Chiefs of Police…. And the National Association of Police Organizations, a coalition of police unions and organizations across the country, which was critical of Biden's policing policies during the campaign, said Clarke has 'already been open and welcoming to our views.' 'We both realize that we may not always agree with each other on every issue, but at the same time I believe we share a common goal of fair, effective, ethical and safe law enforcement,' the group's executive director, Bill Johnson, said." • Hmm.

From #BidenCalm:

Joe Biden is doing such an amazing job that he even brought David Brooks into reality to write this astonishingly good column.#BidenCalm https://t.co/ou0h2JKjS4

— Grant Stern (@grantstern) March 12, 2021

Taibbi (see link under "Our Famously Free Press") has a different interpretation: Brooks wants to keep his job. The #BidenCalm thread is…. interesting.

"DNC to kick off new ad campaign touting Biden COVID-19 relief bill" [The Hill]. "The DNC is planning a three-week paid and earned media campaign, called "Help is Here," focused on educating the American public on the benefits from the American Rescue Plan and slamming the GOP for voting against it." • Wow, I can't imagine a better advocate.

Not clear how the Child Tax Credit (CTC) will actually be disbursed:

Over 1/3 of children in poverty and 1/2 of children living in deep poverty live in households that don't file taxes. It's really not clear how many of these families will actually get the benefit https://t.co/cyiQilMe37 pic.twitter.com/jn5mZh8eEC

— Pamela Herd (@pamela_herd) March 11, 2021

Why not (as Rashida Tlaib suggested) give people cards. And set the transaction fee to 0%, too.
Democrats en Deshabille
"INVESTIGATION: Cuomo Gave Immunity to Nursing Home Execs After Big Donations — Now People Are Dying" [David Sirota, The Daily Poster]. We linked to this a year ago when Sirota posted it, but there's no harm re-upping it: "Less than two years after that flood of cash from the Greater New York Hospital Association (GNYHA), Cuomo signed legislation last month quietly shielding hospital and nursing-home executives from the threat of lawsuits stemming from the coronavirus outbreak. The provision, inserted into an annual budget bill by Cuomo's aides, created one of the nation's most explicit immunity protections for health care industry officials, according to legal experts…. Democratic assemblyman Ron Kim said that 'the language of the (immunity) bill and the entire proposal was drafted, submitted, and negotiated into law by Governor Andrew Cuomo and his staff.'" • Not to minimize, but I have to wonder why "inappropriate touching" is centered in the Cuomo firestorm, and not this nursing homes debacle. The fact that there's no moral panic about whacking thousands of helpless old people — surely "inappropriate"? Or, given or elite's track record of late, not — might lead the cynical or mistrustful to conclude that #MeToo campaigns are not always conducted entirely in good faith.

Regardless, it looks like Cuomo could be on the ropes:

So, to recap, in the past ten minutes, NINE Democrats in Congress from New York have called on Cuomo to resign.

They are: Nydia Velazquez, Yvette Clarke, Adriano Espaillat, Carolyn Maloney, AOC, Jamaal Bowman, Mondaire Jones, Grace Meng, and Jerry Nadler.

— Dan Clark (@DanClarkReports) March 12, 2021

Bowman and AOC at least have the decency to mention the nursing homes:

So, to recap, in the past ten minutes, NINE Democrats in Congress from New York have called on Cuomo to resign.

They are: Nydia Velazquez, Yvette Clarke, Adriano Espaillat, Carolyn Maloney, AOC, Jamaal Bowman, Mondaire Jones, Grace Meng, and Jerry Nadler.

— Dan Clark (@DanClarkReports) March 12, 2021
Republican Funhouse
"Amazon should face unionization drive without Republican support" [Marco Rubio, USA Today]. "When the conflict is between working Americans and a company whose leadership has decided to wage culture war against working-class values, the choice is easy — I support the workers. And that's why I stand with those at Amazon's Bessemer warehouse today." • Nice try, Little Marco. Now let's talk about wages and working conditions.
Stats Watch
Producer Price Index: "February 2021 Producer Price Final Demand Increased Significantly" [Econintersect]. "The Producer Price Index (PPI) year-over-year inflation increased from +1.7 % to +2.8 %. Year-over-year inflation pressures significantly grew this month."
Rail: "Rail Week Ending 06 March 2021 – A Better Week" [Econintersect]. "Week 9 of 2021 shows the same week total rail traffic (from the same week one year ago) improved according to the Association of American Railroads (AAR) traffic data. Total rail traffic has been mostly in contraction for over one year – and now is slowly recovering from the coronavirus pandemic although economic intuitive sectors are not doing well….. Shortly, we will see great rail growth as the data is being compared to the coronavirus lockdown period last year."
* * *
Shipping: "The Pandemic Fueled a Boom in Empty Ghost Shipping Containers Traveling the High Seas" [Gizmodo]. "n 2020, 668,086 empty containers were shipped to foreign ports around the world, 12 times more than in 2019. At the height of this empty container frenzy, in November 2020, 87,000 ghost containers were exported, 87 times more than at same time in 2019…. Usually, domestic shippers would wait to send the giant boxes across the ocean until they were loaded up with U.S. goods to be sent overseas. But since that's taking much longer these days and shippers abroad are desperate for containers to refill with the goods Americans are buying and are willing to pay a premium for them, it's more lucrative now for the shipping companies to simply send empty containers overseas. Increasingly, carriers are emptying ships at ports in Long Beach and Los Angeles, then immediately putting the unloaded, empty containers back onto the vessels to go back to Asia."
Shipping: "Number of the day: $5.19 billion. Overall container shipping importing costs into the U.S. in February, up from $1.95 billion the year before, according to Panjiva" [Wall Street Journal].
The Bezzle: "Buyer of $69 million Beeple NFT is a crypto investor using the pseudonym Metakovan" [CNBC]. "Metakovan's real identity is not known, but the investor is the co-founder of the NFT collection called Metapurse, which collects NFTs to display in the metaverse through virtual museums. An NFT by the artist Beeple sold at Christie's on Thursday for over $60 million, making it the most expensive NFT ever sold at auction.
The sale capped two weeks of frenzied online bidding and ushers in a new era in collectibles, where prices for blockchain-based digital images now rival prices paid for Picassos and Monets." • Added bonus: They help cook the planet!
The Bezzle: "What are NFTs and why are some worth millions?" [BBC]. "A digital-only artwork has sold at Christie's auction house for an eye-watering $69m (£50m) – but the winning bidder will not receive a sculpture, painting or even a print. Instead, they get a unique digital token known as an NFT. Where Bitcoin was hailed as the digital answer to currency, NFTs are now being touted as the digital answer to collectables… NFT stands for non-fungible token. if something is non-fungible, this is impossible – it means it has unique properties so it cannot be interchanged with something else. It could be a house, or a painting such as the Mona Lisa, which is one of a kind. You can take a photo of the painting or buy a print but there will only ever be the one original painting. NFTs are "one-of-a-kind" assets in the digital world that can be bought and sold like any other piece of property, but they have no tangible form of their own. The digital tokens can be thought of as certificates of ownership for virtual or physical assets." • Comment:
it's like if I put the name of every state capital on an index card, and then sold the index cards to people

that's what NFTs are

people are spending millions of dollars on them

— Will Stancil (@whstancil) March 12, 2021
Or, more to the point, not index cards but laundry receipts?
Tech: "Study links adaptive cruise control to increased crash risk" [The Hill]. "The study's authors calculated that the level of increased speeding using adaptive cruise control (ACC) and partial automation drivers meant the technology led to a 10 percent higher risk of a fatal crash." • Seems to be that the same logic would apply to robot cars at Levels 2, 3, and 4, all the way up to taking the driver out of the loop entirely at Level 5, which (IMNSHO) is not attainable without optimizing the built environment for the algorithm.
Manufacturing: "Qualcomm struggles to meet chip demand as shortage spreads to phones: sources" [Reuters]. "Qualcomm Inc is struggling to keep up with demand for its processor chips used in smartphones and gadgets, as a chip shortage that first hit the auto industry spreads across the electronics business….. Demand for Qualcomm's chips has soared in the past months as Android phone makers seek to win over customers abandoning phones produced by Huawei Technologies Co Ltd due to U.S. sanctions. Qualcomm has found it hard to meet this higher-than-expected demand, in part due to a shortage of some subcomponents used in its chips."
Concentration: "Uber, Lyft agree to share info on banned drivers in safety push" [Reuters]. • And no doubt union organizer data, too.
The Economy: "Blowout Jobs Report Signals Economic Resilience in Canada" [Bloomberg]. "Canada's labor market roared back to life in February after authorities began lifting lockdowns, in perhaps the most striking sign of the nation's economic resilience to the second wave of the pandemic. The economy added 259,200 jobs, Statistics Canada reported Friday in Ottawa, well ahead of expectations for a 75,000 gain…. The unemployment rate fell to 8.2%, the lowest since the very beginning of the pandemic, down from 9.4% in January." • This could happen to us, perhaps.
The Economy: "Apollo Bets a New Roaring '20s Will Revive Vegas After Vaccines" [Bloomberg]. "The Venetian Las Vegas isn't the resort it was a year ago. But that didn't stop Apollo Global Management Inc. and its real estate partner, Vici Properties Inc., from plunking down $6.25 billion to purchase the property, the neighboring Palazzo and the adjacent Sands Expo Convention Center from Las Vegas Sands Corp. last week…. Apollo managers think they're buying more at the bottom than the top, with a new Roaring '20s set to dawn. " • 
* * *
Today's Fear & Greed Index: 56 Greed (previous close: 56 Greed) [CNN]. One week ago: 51 (Neutral). (0 is Extreme Fear; 100 is Extreme Greed). Last updated Mar 12 at 12:15pm.
The Biosphere
"Bee data from backyards in six US states shows that native mason bees are declining" [Massive Science]. "In a recent study published in Scientific Reports, [Kathryn LeCroy, a PhD student at the University of Virginia] and her colleagues tracked the populations of mason bees using data collected in Delaware, Maryland, Virginia, West Virginia, and Washington, D.C. over 13 years. They found that six species of native mason bees, in the genus Osmia, steadily decreased in population year after year. At the same time, the scientists studied two related species that made their way from Asia to North America in the 20th century. The horned-face bee, which was brought to the United States to pollinate fruit crops, stayed at a constant population over time. But the population of Osmia taurus, a non-native species that was accidentally introduced to the U.S., has grown by an average of 17% each year of the study — an 800% increase in total abundance." • So there's hope? The interesting part, to me: "To track the bees' populations over time and space, LeCroy and her collaborators sifted through three sets of data collected by a wide range of research groups and volunteers over the years…. The most recent data included in the study was collected in 2017. This effort took LeCroy driving all over the state of Virginia to hand-deliver sampling materials to dozens of volunteers. ." • Citizen science at its finest (which the headline should reflect). More like this, please. Much more.
"The New Trend in Home Gardens—Landscaping to Calm Anxiety" [Wall Street Journal]. I was prepping a joke that, given the source, readers should understand that calmness comes from the garden, not from hiring a gardener, but the tips are actually pretty good: "'When a view is partially screened, you establish a sense of perspective and discovery,' said Los Angeles landscape architect Patricia Benner. Designer John Sharp, a fellow Angeleno, favors trails that wind through the landscape. He introduces structure with plants like spiring Italian cypress trees or voluminous Mexican bush sage, and he softens hard edges—fencing, walls, sheds, staircases—with greenery. Mr. Hollander stresses the concept of journey. 'You can't come out of the house and be in that space. You have to go somewhere, even if it's only three steps.'" • This is advice we can all take, without necessarily hiring a designer.
Our Famously Free Press
"The Sovietization of the American Presa" [Matt Taibbi, TK News]. " Soviet newspapers were wrought with such anvil shamelessness that it's difficult to imagine anyone ever read them without laughing. A good Soviet could write almost any Pravda headline in advance. What else but "A Mighty Demonstration of the Union of the Party and the People" fit the day after Supreme Soviet elections?… Some of the headlines in the U.S. press lately sound suspiciously like this kind of work: "Biden stimulus showers money on Americans, sharply cutting poverty," "Champion of the middle class comes to the aid of the poor," "Biden's historic victory for America." And this: "Those still clinging to mainstream jobs in a business that continues to lay people off at an extraordinary rate read the gist of all of these stories clearly: if you want to keep picking up a check, you'd better talk the right talk." • Another headline:
PROPAGANDA, EXPLAINED:

You're just below the poverty line.

No healthcare. Struggling to get by.

You get a one-time financial boost in a pandemic that technically props you above the poverty line.

PRESTO! YOU'RE SAVED!!

And the politician who signed the bill is a "crusader." pic.twitter.com/NqnXWJKJO1

— Peter Daou (@peterdaou) March 11, 2021
Yep.
Zeitgeist Watch
"Health Officials Warn It's Still Too Early To Stop Languishing In State Of Unceasing Despair" [The Onion]. Walensky: "We know it's been a challenging year, but if we start feeling like life might possibly be worth living at this stage, then this pandemic may never end"
Class Warfare
"Philly vaccine map: Richer neighborhoods are getting more doses" [Billy Penn]. "Roughly 3 in 10 people in wealthier downtown areas have already received their first dose. A few miles away, in a predominantly Black pocket of Southwest Philly, the rate plummets to only about 3 out of 50 residents — the lowest ratio among the city's ZIP codes, as of this week…. Reasons for the persistent inequities are numerous, including limited supply, language barriers, transportation issues, and spotty data collection, along with registration systems that have allowed suburban residents to secure a large chunk of the city's allotted doses…. The last two weeks have seen the geographic disparity improve. Some of the most impoverished areas have doubled or tripled the percent of residents who've gotten the shot. Fairhill's 19133 ZIP code, for example, went from 250 doses per 10k residents to more than 700 doses per 10k."
News of the Wired
Good one, Dad:
— garbagio (@papagarbage1) March 10, 2021
And no sheeple jokes!
And speaking of digitized art:
Roy Lichtenstein, Haystack #7 from Haystack Series, 1969 https://t.co/kXfS4sXvC4 #museumofmodernart #museumarchive pic.twitter.com/XAKaobGhEv

— Roy Lichtenstein (@artlichtenstein) March 12, 2021
* * *
Readers, feel free to contact me at lambert [UNDERSCORE] strether [DOT] corrente [AT] yahoo [DOT] com, with (a) links, and even better (b) sources I should curate regularly, (c) how to send me a check if you are allergic to PayPal, and (d) to find out how to send me images of plants. Vegetables are fine! Fungi and coral are deemed to be honorary plants! If you want your handle to appear as a credit, please place it at the start of your mail in parentheses: (thus). Otherwise, I will anonymize by using your initials. See the previous Water Cooler (with plant) here. Today's plant (TH):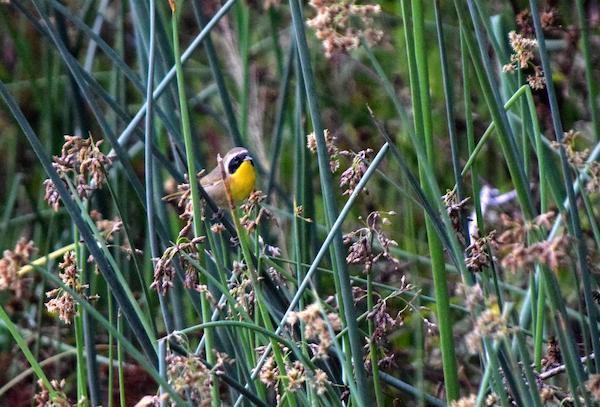 TH writes: "Tule / Sedge / California bulrush. Whatever you call it, the common yellowthroat loves it." Nice touch of color!
* * *
Readers: Water Cooler is a standalone entity not covered by the recently concluded and — thank you! — successful annual NC fundraiser. So if you see a link you especially like, or an item you wouldn't see anywhere else, please do not hesitate to express your appreciation in tangible form. Remember, a tip jar is for tipping! Regular positive feedback both makes me feel good and lets me know I'm on the right track with coverage. When I get no donations for five or ten days I get worried. More tangibly, a constant trickle of donations helps me with expenses, and I factor in that trickle when setting fundraising goals:
Here is the screen that will appear, which I have helpfully annotated.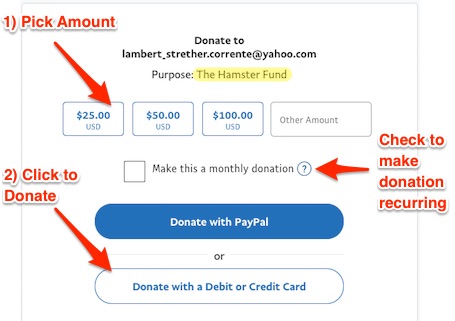 If you hate PayPal, you can email me at lambert [UNDERSCORE] strether [DOT] corrente [AT] yahoo [DOT] com, and I will give you directions on how to send a check. Thank you!