By Lambert Strether of Corrente.
Bird Song of the Day
From Ethopia. I thought cranes would have more interesting calls than they do, but they all honk in more or less the same way.
* * *
#COVID19
At reader request, I've added this daily chart from 91-DIVOC. The data is the Johns Hopkins CSSE data. Here is the site.
I feel I'm engaging in a macabre form of tape-watching. All the charts are becoming dull — approaching nominal, if you accept the "new normal" of cases, for example.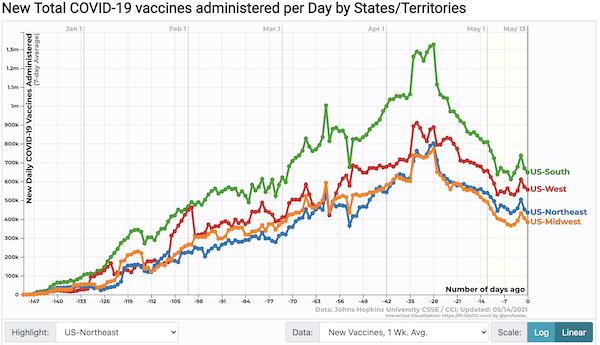 Still whoops. I guess we'll see if Biden abandoning masks provides sufficient incentive.
"Nearly 3 in 5 Unvaccinated Adults Say a Big Financial Incentive Would Sway Them to Get a COVID-19 Shot" [Morning Consult]. "57% of unvaccinated adults said a $1,000 savings bond would sway them to get a COVID-19 shot, while 43% said as much about a smaller $50 reward." • Quite a spread.
"They Haven't Gotten a Covid Vaccine Yet. But They Aren't 'Hesitant' Either" [Amy Harmon and Josh Holder, New York Times]. Actual reporting:
According to a new U.S. census estimate, some 30 million American adults who are open to getting a coronavirus vaccine have not managed to actually do so. Their ranks are larger than the hesitant — more than the 28 million who said they would probably or definitely not get vaccinated, and than the 16 million who said they were unsure…. If the attention has centered on the vaccine hesitant, these are the vaccine amenable. In interviews, their stated reasons for not getting vaccines are disparate, complex and sometimes shifting….

They are, for the most part, America's working class, contending with jobs and family obligations that make for scarce discretionary time. About half of them live in households with incomes of less than $50,000 a year; another 30 percent have annual household incomes between $50,000 and $100,000, according to an analysis of the census data by Justin Feldman, a social epidemiologist at Harvard. Eighty-one percent do not have a college degree. Some have health issues or disabilities or face language barriers that can make getting inoculated against Covid-19 seem daunting. Others do not have a regular doctor, and some are socially isolated.

"I know you're trying to find out the reason people aren't doing it," Mr. Grayson said on a recent afternoon. "I'm going to tell you. People are trying to take care of their household. You don't have much time in the day."

"What might help this situation," added Mr. Grayson, "is if it was like Domino's Pizza and you could call someone and say, 'Can I get my shot?' And they come give it to you."
The PMC didn't give consideration to "equity" in vaccine delivery for working class people as such. Shocker!
Another case where — hear me out — talking to people (here a focus group of 20 young women) produced interesting results:
14/ Not having to wear a mask was NOT an incentive to get vaccinated.

One woman said that she didn't mind masking and socially distance indefinitely.

Several felt that they had CONTROL over mitigation measures like masking & social distancing but not over COVID vaccines.

— Céline Gounder, MD, ScM, FIDSA (@celinegounder) May 13, 2021
I pulled out this Tweet because it's relevant to today's masking discussion, but the whole thread is worth reading.
"Ohio's million-dollar idea: Lottery prizes for vaccinations" [Associated Press]. "Ohio Gov. Mike DeWine unveiled a lottery system Wednesday to entice people to get COVID-19 shots, offering a weekly $1 million prize and full-ride college scholarships in a creative bid to overcome the vaccine hesitancy that remains a stubborn problem across the nation. The move comes as governors, health officials and community leaders are coming up with creative incentives to get more shots in arms, including insider access to NFL locker rooms and an Indianapolis 500 garage, cash incentives, various other promotions." • Maybe listen to Mr. Grayson?
Case count by United States regions: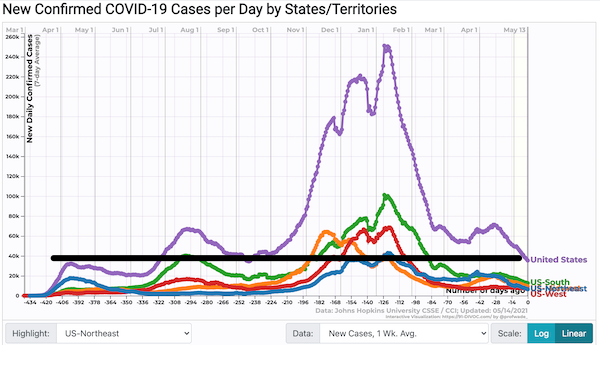 Continued good news. I have added an anti-triumphalist black line; as far as cases go, we are at the same level of the first wave.
The Midwest in detail: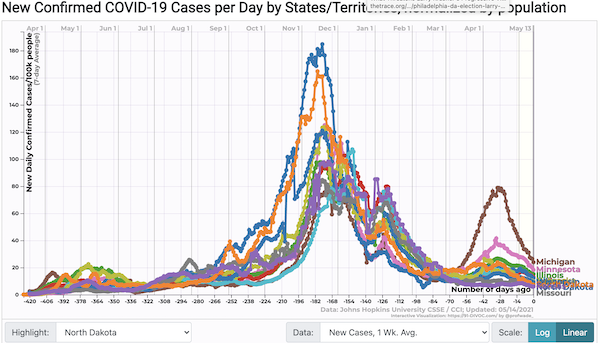 Continued good news. Looks like I can abandon this chart when Michigan is no longer an outlier.
Big states (New York, Florida, Texas, California):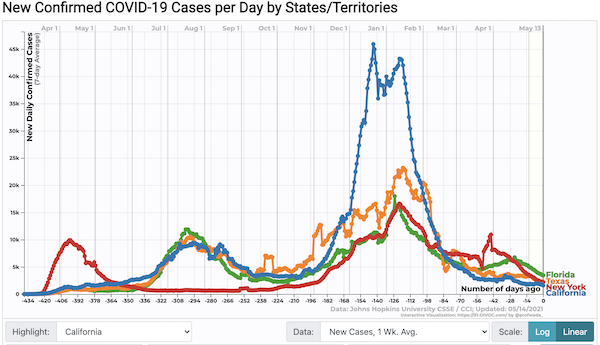 Continued good news.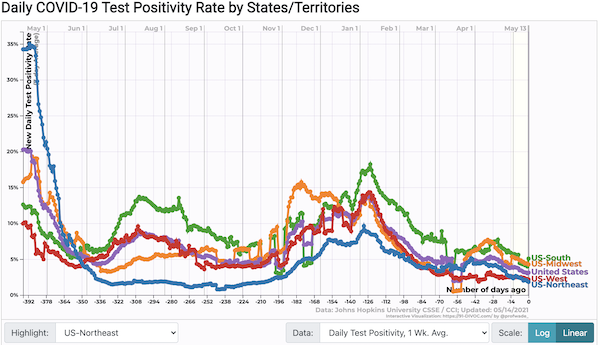 Down, except for the West, now flat.
DIVOC-91 no longer updates hospitalization and death so I went and found some substitutes; neither provide regional data.
Hospitalization (CDC):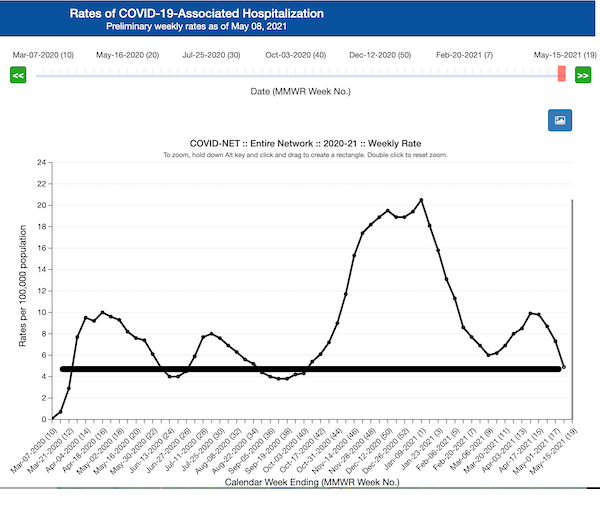 I have helpfully added an anti-triumphalist black line.
Deaths (Our World in Data):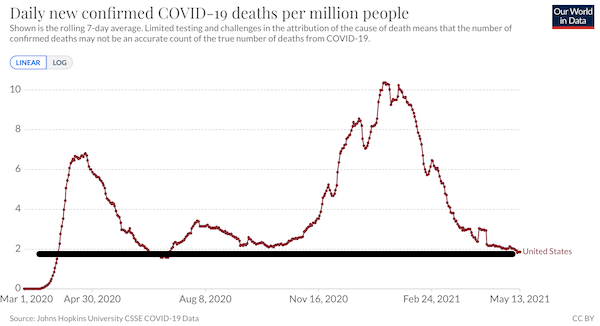 I have helpfully added an anti-triumphalist black line.
* * *
Politics
"But what is government itself, but the greatest of all reflections on human nature?" –James Madison, Federalist 51
"They had one weapon left and both knew it: treachery." –Frank Herbert, Dune
"They had learned nothing, and forgotten nothing." –Charles Maurice de Talleyrand-Périgord
Biden Administration
"CDC lifts indoor mask guidelines for fully vaccinated people. What does it actually mean?" [USA Today]. "The Centers for Disease Control and Prevention announced new masking guidelines Thursday that carry welcome words: Fully vaccinated Americans, for the most part, no longer need to wear masks indoors…. Health experts say the new CDC guidelines may encourage more people to get vaccinated by enticing them with tangible benefits, but it may also add to the confusion of mask etiquette in the United States." • I have to say, it's not clear to me how this decision was made. The science did not change. So far as I can see, the numbers show there's plenty of virus out there, vaccination or no (and that's leaving aside the entry of variants of concern like B.1.617). Just like school re-opening, the idea appeared in the zeitgeist, and then was a done deal. Science, apparently, did not enter. That makes me nervous, since it feels to me like an emanation from the hive mind of the PMC, the Democrat base, who Thomas Frank labels "the fuck-up class," and for good reason. Hence, I've file this under "Biden Administration," not "Health Care," since I assume that Biden was the driver, not CDC, and that the reasoning was political. Political, as for example:

America has been waiting for this day for a long time pic.twitter.com/aiTiAIZzxk

— Jen Psaki (@PressSec) May 13, 2021

UPDATE And political, as for example:

Biden speaks about new CDC guidance that fully vaccinated Americans no longer need to wear masks in most situations: "We've had too much conflict, too much bitterness, too much anger, too much politicalization of this issue about wearing a mask. Let's put it to rest." pic.twitter.com/YWHb1Am7Wk

— CBS News (@CBSNews) May 13, 2021

Put it to rest by abandoning it?

"Remarks by President Biden on the COVID-19 Response and the Vaccination Program" (transcript) [Whitehouse.gov]. • Policy aside, this is a very good speech, albeit very Biden. This caught my eye:

I need to single out one more group to praise: the American people. The American people. For more than a year, you've endured so much and so many lost jobs, so many businesses lost, so many lives upended, and so many months that our kids couldn't be in school. You couldn't see your friends or family. All the moments that mattered so much — from birthdays to weddings to graduations — all postponed.

I've been whinging about this, so — you're welcome!

What Biden said (1):

The rule is now simple: get vaccinated or wear a mask until you do.

The choice is yours.

— President Biden (@POTUS) May 13, 2021

I'm extremely dubious about this. Since when is it a good idea to frame a shift in public health policy as a transaction? I can hear Trump saying this (try it in Trump's voice).

What Biden said (2):

Folks, if you're fully vaccinated — you no longer need to wear a mask.

If you're not vaccinated yet — go to https://t.co/4MYpWqXVVo to find a shot, and mask up until you're fully vaccinated. pic.twitter.com/qcyG2WyCG2

— President Biden (@POTUS) May 13, 2021

What the CDC said:

UPDATE: If you are fully vaccinated against #COVID19, you can resume activities without wearing a mask or staying 6 feet apart, except where required by federal, state, local, tribal or territorial laws, incl. local business and workplace guidance. More: https://t.co/FJMon7WlFO

— CDC (@CDCgov) May 13, 2021

You'll notice this is not what Biden said.

I am with Fiegl-Ding on this. I don't get "Why now?," I don't see the science, and I don't see health benefits:

2) This is too risky in my opinion. asymptomatic transmission efficacy is only in the 70s-80s even for the best vaccines. Much lower for others and for some variants. https://t.co/DnQPASecqj

— Eric Feigl-Ding (@DrEricDing) May 13, 2021

Notice that the CDC — before the masking announcement — stopped tracking "breakthroughs" in vaccinated people. You'd think that, if we were going to make an enormous policy change on masking, we'd want more data, and not less.

The new mask guidelines also shove enforcement right back onto frontline essential workers:

Now the federal govt is basically saying, "If you still have to wear a mask, it's b/c that business told you to…get mad at them"

…and people absolutely will.

They're specifically creating incentive to eradicate masks (literally the opposite of what we should be doing).

— DP'd by Moderna (@angryblkhoemo) May 13, 2021

UPDATE And essential workers aren't happy about that:

Union representing 1.3 million grocery and retail workers calls CDC mask announcement "confusing" pic.twitter.com/oD476kVoX8

— davidshepardson (@davidshepardson) May 13, 2021

UPDATE And how do we back out if there's another resurgence in the Fall?

The @CDCgov guidance can be debated as to whether it was too soon, should've ben tailored to local epidemiology, etc. But MY biggest concern is the missed opportunity to communicate how fluid the situation still is & manage expectations about possible return to "abnormalcy" 🧵(1/ https://t.co/NmuUHCeLup

— Josh Barocas, MD (@jabarocas) May 14, 2021

* * *

"Jared Bernstein on Taxes, Spending and Inflation" (transcript) [Tracy Alloway and Joe Weisenthal, Bloomberg]. (I like their Odd Lots podcast.) Bernstein: "Which is that when comes to managing inflation, that is first and last, beginning and end — I want to just really emphasize this, the remit of the Federal Reserve, not the White House. Clearly we are tracking, carefully-monitoring inflationary developments, and by the way, not just in the data, which we're doing with the regular data, the high-frequency data, but also anecdotes — I mean, this is something we're tracking extremely carefully. But when it comes to managing price pressures, that's the job of the Federal Reserve. So that kind of independence of the Fed is a huge value of, of course, our administration."
Republican Funhouse
UPDATE The World's Greatest Troll™:

This post by Trump was shared in the big QAnon influencers Telegram group — a group with 215,000 of Trump's most hardcore supporters. How do we think it will be received there? pic.twitter.com/mjY8MucBXe

— Arieh Kovler (@ariehkovler) May 14, 2021

Trump, hilariously, fails to mention either Big Pharma or scientists in general. With those qualifications, Trump is again in the mode of saying the unspeakable truth. (Also, do read the responses from Q. To me, it looks like with this statement, Trump (a) is betting on continued vaccine success, and (b) throwing Q under the bus. Presidential timber?)
Stats Watch
Manufacturing: "April 2021 Headline Industrial Production Improves" [Econintersect]. "The headlines say seasonally adjusted Industrial Production (IP) improved month-over-month – and remains in expansion year-over-year due to comparison to the pandemic lockdown period one year ago. Our analysis shows the three-month rolling average improved."
Inflation: "April 2021 Import Year-over-Year Inflation Grows To +10.6%" [Econintersect]. "Year-over-year import price indices inflation grew from +7.0 % to +10.6 %."
Retail: "Headline Retail Sales Unchanged in April 2021" [Econintersect]. "Retail sales was little changed according to US Census headline data. The three-month rolling average improved. Year-over-Year growth also significantly improved mostly due to comparison to the lockdown period one year ago."
* * *
Employment Situation:
ICYMI: the disincentive explanation for the April drop-off in payroll gains fails to fit the sectoral data. If a $300 weekly supplement was having that effect, we should see it more visibly in low-wage sectors, but we don't. Mid- & high-wage sectors account for bulk of slowdown pic.twitter.com/A6QLRHjWnF

— Skanda Amarnath ( Neoliberal Sellout ) (@IrvingSwisher) May 12, 2021
Commodities: "Colonial Pipeline did pay ransom to hackers, sources now say" [CNN]. "The company halted operations because its billing system was compromised, three people briefed on the matter told CNN, and they were concerned they wouldn't be able to figure out how much to bill customers for fuel they received. One person familiar with the response said the billing system is central to the unfettered operation of the pipeline. That is part of the reason getting it back up and running has taken time, this person said." • Validating Zero Day's suggestion in Water Cooler on 5/10. Now do hospitals…
Commodities: "Citgo secures U.S. government's second Jones Act waiver amid fuel crunch" [Reuters]. "The Biden administration granted oil refiner Citgo Petroleum a Jones Act shipping waiver allowing it to move fuel between U.S. ports on a foreign flagged vessel, two sources told Reuters on Friday, making it the second company to secure one this week. The waivers are intended to help ease distribution of fuel after a major pipeline serving the U.S. East Coast was forced shut by a cyberattack last week, triggering widespread shortages of gasoline, diesel and jet fuel."
Shipping: "Mississippi River Reopens to Vessel Traffic in Memphis as Backed Up Barges Top 1,000" [gCaptain]. "The U.S. Coast Guard lifted the waterway restriction on the Mississippi River near I-40 bridge in Memphis, Tennessee after it was deemed safe for vessels to transit beneath the bridge. The Mississippi River is now open to all vessel traffic with no restrictions. As of Friday, there were 62 vessels and 1,058 barges in queue prior."
Retail: "Walmart to Buy Virtual Fitting-Room Startup to Help Apparel Unit" [Bloomberg]. "Walmart Inc. agreed to acquire Zeekit, an Israeli startup whose technology lets customers try on clothing without ever entering a store's fitting room…. Shoppers can upload a picture of themselves, or choose a model that best represents their height, shape and skin tone…. As part of the deal, Walmart will halt Zeekit's work with other apparel retailers, a representative said. It's unclear exactly when Walmart customers will be able to use the service."
The Bezzle: Uber:
Uber is not a business in the traditional sense. It's a "bezzle" ("the magic interval when a confidence trickster knows he has the money he has appropriated but the victim does not yet understand that he has lost it").

— Cory Doctorow (@doctorow) May 13, 2021
Nice to see Doctorow (who has been on fire lately) using "bezzle" as a term. There are rather a lot of bezzles about.
* * *
Today's Fear & Greed Index: 40 Fear (previous close: 40 Fear) [CNN]. One week ago: 55 (Neutral). (0 is Extreme Fear; 100 is Extreme Greed). Last updated May 14 at 11:45am.
Health Care
"Where Are We in the Quest for Coronavirus Treatments?" [Bloomberg]. • Dudes. No Ivermectin. Not saying it's a panacea, but it deserves to be on the list. In fact, the whole idea of repurposing existing drugs doesn't appear.
"The 60-Year-Old Scientific Screwup That Helped Covid Kill" [Wired]. On the battle to have aerosols recognized as the main mode of Covid transmission. Lots of detective work and twists and turns! Here is one such: "Still, the droplet dogma reigned. In early October, Marr and a group of scientists and doctors published a letter in Science urging everyone to get on the same page about how infectious particles move, starting with ditching the 5-micron threshold. Only then could they provide clear and effective advice to the public. That same day, the CDC updated its guidance to acknowledge that SARS-CoV-2 can spread through long-lingering aerosols. But it didn't emphasize them." • Trench warfare, it is. And they're still screwing it up; recall Biden promoting useless and dangerous Plexiglass barriers the other day, which are no protection against aerosols at all.
"How Did We Get Here: What Are Droplets and Aerosols and How Far Do They Go? A Historical Perspective on the Transmission of Respiratory Infectious Diseases" [SSRN]. Covering the same ground as the previous article, but as scholarship. The Abstract:
The COVID-19 pandemic has exposed major gaps in our understanding of the transmission of viruses through the air. . In particular, current recommendations have been based on four tenets: 1) respiratory disease transmission routes can be viewed mostly in a binary manner of "droplets" versus "aerosols"; 2) this dichotomy depends on droplet size alone; 3) the cutoff size between these routes of transmission is 5 μm; and 4) there is a dichotomy in the distance at which transmission by each route is relevant. Yet, a relationship between these assertions is not supported by current scientific knowledge. Here, we revisit the historical foundation of these notions, and how they became entangled from the 1800s to today, with a complex interplay among various fields of science and medicine. .
One reason I like the aerosol thought collective is that conspicuously justify meet Mr. Roger's injunction: "Look for the helpers." Which WHO and CDC consistently have failed to do.
"A paradigm shift to combat indoor respiratory infection" [Science]. "There is great disparity in the way we think about and address different sources of environmental infection. Governments have for decades promulgated a large amount of legislation and invested heavily in food safety, sanitation, and drinking water for public health purposes. By contrast, airborne pathogens and respiratory infections, whether seasonal influenza or COVID-19, are addressed fairly weakly, if at all, in terms of regulations, standards, and building design and operation, pertaining to the air we breathe. We suggest that the rapid growth in our understanding of the mechanisms behind respiratory infection transmission should drive a paradigm shift in how we view and address the transmission of respiratory infections to protect against unnecessary suffering and economic losses. It starts with a recognition that preventing respiratory infection, like reducing waterborne or foodborne disease, is a tractable problem." • The stupidest possible outcome is what we forget everything we learned about aersols during the pandemic, so place your bets.
More vaccinated people with asymptomatic infections:
Anecdote….. I do a lot of asymptomatic PCR testing of people in workplaces. The majority of people infected are vaccinated. The big difference is vaccinated people are NOT becoming symptomatic. The million dollar question is can they transmit? CT's at peak at 25…. so, yes?

— Erin Bromage Ph.D. (@ErinBromage) May 13, 2021
Covid and domestic air travel:
A wonderful map from @PatriciaTreble 's @macleans article on covid spread within Canada via domestic air travel. This is a huge issue for variants, and for risk to the Atlantic and North. https://t.co/ZFU9YsEXIl pic.twitter.com/rL7Cb8ctlx

— David Fisman (@DFisman) May 14, 2021
The Biosphere
"'Microfarms' come to South L.A. frontyards, bringing fresh produce to food deserts" [Los Angeles Times]. "The Asante Microfarm is not a vegetable garden for private use, a large urban farm or community garden for a small group of green thumbs. Rather, Hargins has designed an urban farm just big enough to fit in a front yard, real estate most people use for decoration… The crops grow from nutrient-rich sacks of compost and the whole farm is supported by an irrigation system that not only recycles water but uses just 8% of the water previously used for grass. The farm was built using part of a $50,000 LA2050 grant from the Goldhirsh Foundation but will be sustained by subscriptions that cost $36 per month and $43 with delivery. For that, subscribers get a 3-pound mix of greens and vegetables every week." • This is what to do with front lawns!
L'Affaire Joffrey Epstein
"The Women Who Enabled Jeffrey Epstein" [Politico]. "Dozens of these women worked for Epstein, formally or informally. If you think of this group as a pyramid, at the top sits Maxwell, a longtime Epstein employee and confidante who now stands accused of recruiting minors for Epstein and sex-trafficking a 14-year-old girl, charges she denies. Below her were women Epstein employed as assistants, who allegedly scheduled and managed dozens of minors for Epstein to abuse. There were also women like Oh who brought friends to meet Epstein and received gifts or access to his wealth. These women aren't household names, even for people following Epstein's story. But his victims say they were key to grooming and deceiving them and allowing Epstein to operate with impunity. In fact, most of Epstein's victims were introduced to him through other women, according to the 12 victims I've spoken with over the past year and a half, as well as dozens of allegations in court and in the media. Often, victims say, it was the women around Epstein who tried to make them feel comfortable, as if what they were experiencing was normal or harmless."
Guillotine Watch
"Former investment executive gets 3 months in college scam" [ABC]. "A former private equity executive who cofounded an investment fund with U2′s Bono was sentenced Wednesday to three months in prison for his role in the college admissions bribery scheme. William McGlashan, Jr. appeared at times to fight back tears as he told the judge he was deeply sorry for his actions and was ready to serve his punishment behind bars. 'In a world where fairness is in short supply what I did is totally unacceptable,' McGlashan said in the hearing held via videoconference. 'I'm totally committed to using my resources and time to making a positive impact in the world the rest of my life,' he said. McGlashan, a former TPG Capital senior executive, admitted in February to paying $50,000 to have someone secretly correct his son's ACT answers. Among more than 60 letters of support for McGlashan filed by his lawyers was a letter from McGlashan's son, who told the judge that nothing other than 'parental insanity' explains his father's involvement in the scheme."
Class Warfare
"Dissatisfied retail workers are leaving the industry because of abusive customers and low pay, and that's making the labor crunch worse" [Business Insider]. "The final straw for leaving the job, she said, was realizing how her pay compared to the increasingly pricey drinks Starbucks sells. 'The thing that really radicalized me was that our starting wage ($9) is less than one average customer's ticket,' she told Insider." • Now do surplus value.
"Culture, Politics, and the Unreal Economy" [The Bellows]. "How should contemporary materialism address this contradiction? For starters, the cornerstone of Marx's teaching—the famed theory of surplus value, or otherwise known as the principle of self-ownership of one's labor—has been rendered preposterous in today's growing economy of fragmented gig work, crowdsourced content cults of Patreon and Onlyfans, and the left's leviathan pact with institutional media, higher education, and well-salaried professional-managerial coalitions. As independent contractors, gig workers and freelance content creators technically "control" and "own" their labor. This makes their central grievance precarity, and not "exploitation" in the strict Marxian sense, which refers to the extraction of surplus value by an employer." • Hmm. See above.
"The Republican theory of unemployment is classic Marx" [Ryan Cooper, The Week]. "[I]nstead of calling for better wages, or setting up child care systems, or anything else, Republicans are trying to fix the problem by starving out people on unemployment — taking their money so they will have no choice but to immediately look for work, and capitalists will once again have the industrial reserve army at their beck and call. It's like conservatives have been reading Marx not to learn why they should overthrow the bourgeoisie, but as a sort of manual for how best to exploit the working class."
"Judge approves UAW watchdog, triggers referendum vote on direct elections" [Detroit News]. "A federal judge judge Wednesday appointed a government watchdog to oversee the corruption-plagued United Auto Workers on Wednesday, one day after former President Dennis Williams was sentenced to 21 months in prison. The move by U.S. District Judge David Lawson to appoint New York attorney Neil Barofsky is part of a broader deal reached between federal prosecutors and the UAW to settle a long-running criminal investigation targeting the union. The appointment sets in motion a process that could give UAW members the first chance in the union's history to directly elect new leaders. Within six months of selecting the monitor, the UAW must hold a referendum vote on amending the constitution to allow for the direct election of the UAW's executive board." • Neil Barofksy.
"Space tourist guides and lab meat scientists: These are the jobs of the future" [CNBC]. "The data was cited in Bank of America's "Future of Work" report, published Wednesday, which looked even further ahead, considering the creation of new roles. It referred to World Economic Forum findings which showed that nearly two-thirds of children now starting school will work in jobs that have not even been invented yet. The Bank of America strategists who authored the report pointed out that many next-generation technologies, such as artificial intelligence, the internet of things, augmented and virtual reality, are still in their infancy. However, they argued it would be key to anticipate the jobs needed to work in these areas of innovation so people can 'adapt their skillset with the relevant education for the workplace of tomorrow.'" •  "Infancy" is rather begging the question, no?
News of the Wired
"Compsci boffin publishes proof-of-concept code for 54-year-old zero-day in Universal Turing Machine" [The Register (R)]. "[Pontus Johnson, a] computer science professor from Sweden has discovered an arbitrary code execution vuln in the Universal Turing Machine, one of the earliest computer designs in history – though he admits it has 'no real-world implications.'" • Oh? More: "'The universal Turing machine is generally considered to be the simplest, most abstract model of a computer,' wrote Johnson in his paper. Through exploiting the Minsky-spec UTM's lack of input validation, he was able to trick it into running a program he had put together." • Rather like a SQL injection. More: "Philosophically, Johnson's vuln (which has been assigned as CVE-2021-32471) raises deeper questions for hardware and firmware designers alike to think upon, he told us: 'Some people say that security needs to be built in from the start; you can't add it later. But in this case, all the mitigations of this that I could think of, they need to be add-ons, you can't build it into this machine. And if this is the mother of all computers, then it seems to me that you cannot build security in from the start.'" … Professor Alan Woodward of the University of Surrey [commented:] 'It seems to support the adage that nothing is totally secure once it's actually implemented.'" • Seems pretty real-world to me…
* * *
Readers, feel free to contact me at lambert [UNDERSCORE] strether [DOT] corrente [AT] yahoo [DOT] com, with (a) links, and even better (b) sources I should curate regularly, (c) how to send me a check if you are allergic to PayPal, and (d) to find out how to send me images of plants. Vegetables are fine! Fungi and coral are deemed to be honorary plants! If you want your handle to appear as a credit, please place it at the start of your mail in parentheses: (thus). Otherwise, I will anonymize by using your initials. See the previous Water Cooler (with plant) here. Today's plant (AM):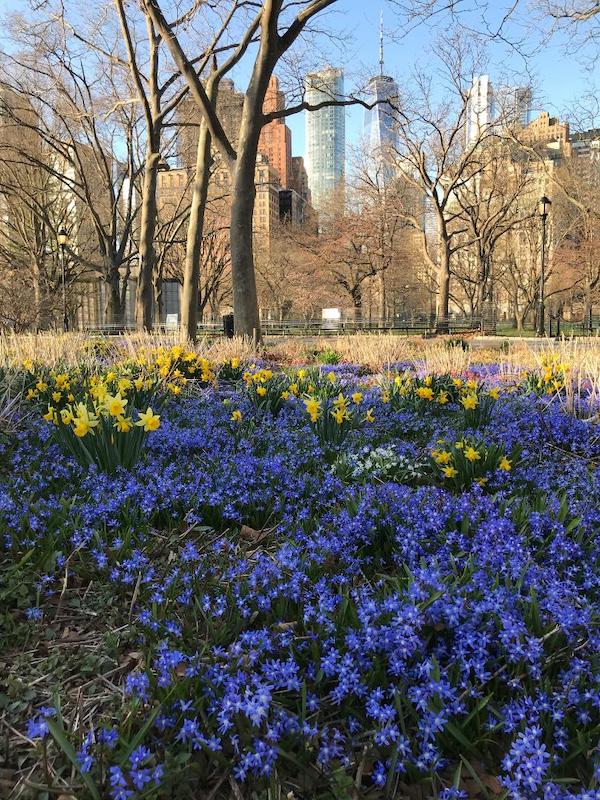 AM writes: ""Bed of purple flowers with daffodils or jonquils (I struggle to differentiate) and in the distance, One World Trade. Taken in The Battery, social distanced version, April 3, 2021. Perfect Spring day." This makes me nostalgic for Manhattan.
* * *
Readers: Water Cooler is a standalone entity not covered by the recently concluded and — thank you! — successful annual NC fundraiser. So if you see a link you especially like, or an item you wouldn't see anywhere else, please do not hesitate to express your appreciation in tangible form. Remember, a tip jar is for tipping! Regular positive feedback both makes me feel good and lets me know I'm on the right track with coverage. When I get no donations for five or ten days I get worried. More tangibly, a constant trickle of donations helps me with expenses, and I factor in that trickle when setting fundraising goals:
Here is the screen that will appear, which I have helpfully annotated.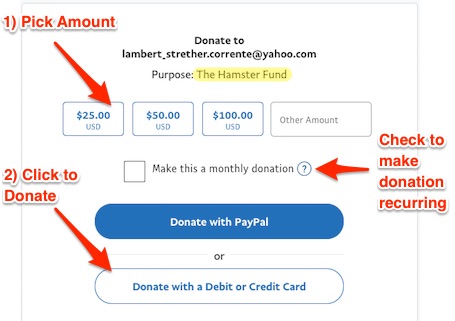 If you hate PayPal, you can email me at lambert [UNDERSCORE] strether [DOT] corrente [AT] yahoo [DOT] com, and I will give you directions on how to send a check. Thank you!