The Democrats, flushed with triumph at having taken Medicare for All "off the table" — during a pandemic! — when they "beat the socialist," have initiated a process that will culminate in Medicare's complete privatization. (This after having implemented an NHS-style "free at the point of care" vaccination program, too.) In this post, I'll first look at the current state of Medicare; the neoliberal infestation is bad. Then, I'll look at the Democrat's privatization scheme. (I am looking at Medicare through the lens of political economy; sadly, I cannot give advice on Medicare for your individual state, but there is a program of volunteers who can do that. I believe we have at least one reader in this program.) This will be a long post, but I feel it's important to lay down some markers, here.
The Structure of Medicare and Medicare Advantage
Being of a certain age, I have always pictured my health care journey as being like Eliza's in Uncle Tom's Cabin: Hopping from ice floe to ice floe in the rushing river, until I reach the safety of the farther shore: Medicare. Sadly, it turns out that Medicare, though not as horrid and grift-ridden as the rest of our health care system, is nonetheless possessed by an extremely noxious neoliberal infestation[1], as we shall see. Here is one graphic picturing the Medicare system: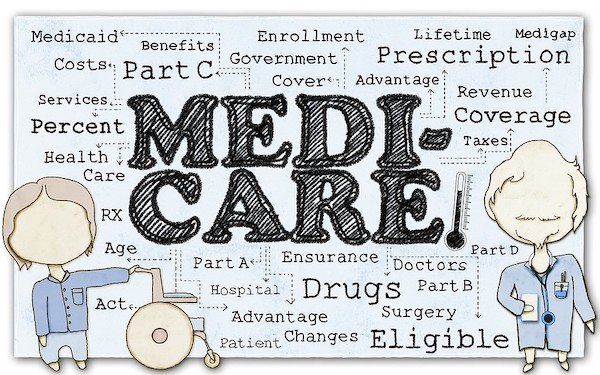 This one is all over the Twitter, primarily from health insurance brokers (here, Holliman Financial), and is clearly meant to steer you toward their services. Just look at the chaos. Here is a more structured diagram: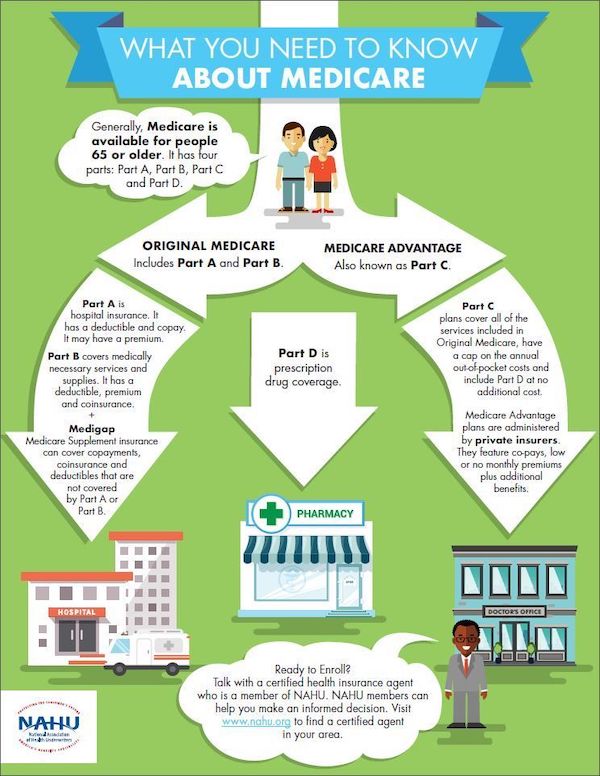 Those of you who followed my coverage of ObamaCare will remember that I often used the trope of two tracks, one leading to HappyVille, and the other to Pain City, and may think that this diagram suggests these two tracks. But — plot twist — in this diagram both tracks lead to Pain City, although in varying amounts and degrees. (The entire system is best thought of as a diabolically designed minefield. The lucky will get through, and bless the system. The unlucky will not.)
The pain of Pain City on the left (or sinister) hand, "Original Medicare," side is clear enough: For Medicare A, Deductibles, co-pays, and premiums. For Medicare B, deductibles, premiums, and co-insurance. Of course, to make that pain go away, you can purchase Medigap, which "can cover" that pain, but the purchase price is its own pain. (Deductibles, co-pays, premiums, and co-insurance all create a class of fee-collecting gatekeepers whose only purpose in life is to deny you care. The entire system should be dynamited — as it was, when it came time for "jabs in arms.")
The pain of Pain City on the right (or correct) hand, "Medicare Advantage," is more diffuse and less clear. (The diagram inexplicably omits one major pain point: Medicare Advantage has networks, and you could end up paying full freight for out-of-network services.) First, I will look at two pain points in choosing between Original Medicare and Medicare Advantage: Clairvoyance and location. Then, I will look at Medicare Advantage as a system, and at the pain you could experience when you discover how Medicare Advantage really works (both as a person conscious of policy, and as an enrollee).
Choosing between Original Medicare and Medicare Advantage requires clairvoyance. You have to know how much care you will need before you get care. (This is true for ObamaCare as well. their term for clairvoyance is "smart shopping.") From the Kaiser Family Foundation:
In the case of inpatient hospital stays, Medicare Advantage plans generally do not impose the Part A deductible, but often charge a daily copayment, beginning on day 1. Plans vary in the number of days they impose a daily copayment for inpatient hospital care, and the amount they charge per day. In contrast, under traditional Medicare, when beneficiaries require an inpatient hospital stay, there is a deductible of $1,484 in 2021 (for one spell of illness) with no copayments until day 60 of an inpatient stay (assuming no supplemental coverage that covers some or all of the deductible).

In 2021, virtually all Medicare Advantage enrollees (99%) would pay less than the traditional Medicare Part A hospital deductible for an inpatient stay of 3 days, and these enrollees would pay $747 on average (Figure 3). But slightly more than half of all Medicare Advantage enrollees (53%) would pay more than they would under traditional Medicare (with its $1,484 deductible) for stays of 6 or more days, with average cost sharing of $1,763, among those enrollees with costs above traditional Medicare.

.

This analysis does not take into account the fact that a majority of people in traditional Medicare would not pay the deductible if hospitalized because they have supplemental coverage, although those with Medigap or retiree health would have the additional cost of a monthly premium.
Obviously, the smart shopper would know in advance that they would need hospital stays of ten or twenty days, and pick Medicare A. How how many smart shoppers are there? (It would be very, very interesting to know how Covid has turned out for those who chose Medicare Advantage. I'm guessing not well.)
Choosing between Original Medicare and Medicare Advantage also requires that you live in the right state, since coverage — as with ObamaCare — is random with respect to jurisdiction. (Of course, you could always "just move.") Here is a handy map: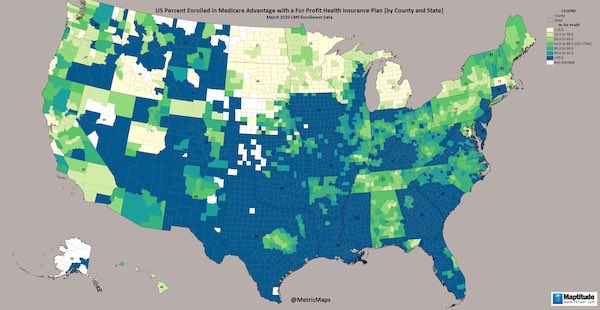 Now let us look at the salient features of Medicare Advantage as a system. They are much as we might expect for a profit-driven system, with a few special twists. Summarizing:
1) Medicare Advantage is a rapidly growing, capitated, for-profit system
2) Medicare Advantage's data is so bad that it cannot be effectively regulated
3) Medicare Advantage cost $220 billion in 2020 and is characterized by capitation fraud and enormous overhead.
4) Medicare Advantage customers are "traditionally marginalized"
5) Medicare Advantage insurance companies often deny care without justification, especially to "traditionally marginalized" customers
6) Medicare Advantage delivers worse outcomes to "traditionally marginalized" customers
7) Medicare Advantage is heavily and successfully marketed to the "traditionally marginalized"
8) Medicare Advantage penalizes lack of clairvoyance
In detail:
1) Medicare Advantage is a rapidly growing, capitated, for-profit system. From JAMA:
Medicare Advantage (MA) is rapidly growing. Enrollment in the program has increased from 26% of Medicare in 2012 to 42% in 2021, now including more than 24 million beneficiaries. In MA, private plans are paid on a capitated basis by the Centers for Medicare and Medicaid Services (CMS) to cover the health care needs of their enrollees. In addition to capitated payment, MA differs from the traditional Medicare (TM) program in that plans can use selective contracting to set specific networks of providers and can offer supplemental benefits not available in TM, such as dental coverage, vision coverage, gym memberships, transportation, and meals services. Medicare Advantage plans often have lower premiums than TM and include annual out-of-pocket payment caps. These differences in costs and additional benefits have contributed to the rapid growth in MA enrollment. The Congressional Budget Office projects that approximately half of Medicare beneficiaries will elect to enroll in MA by 2030.
As we go through the points that follow, we'll see that although some Medicare Advantage customers (or "enrollees," as we say) do make it to Happyville, many others go to Pain City. It's the luck of the draw, something every right-thinking American loves in a health care system.
2) Medicare Advantage's data is so bad that it cannot be effectively regulated. From the Journal of the American Geriatrics Society, the epigraph to their article:
in MA—Medicare Payment Advisory Commission, Report to the Congress, March 2020, and again, March 2021
And from their article:
The one element that is critical to addressing all of these areas of concern and effectively regulating MA programs is robust data. Unfortunately, MA data have many problems and remain somewhat of a "black box." While administrative data on traditional Medicare enrollees have been available for decades, MA programs were not required to submit data to Medicare until recently. This has changed with MA "encounter" data being made available as of 2015, but . This might have been acceptable when MA plans only included a very small percentage of Medicare beneficiaries, but is inadequate when almost half of Medicare beneficiaries are enrolled in MA. The Center for Medicare and Medicaid Services must put resources toward ensuring MA plans are submitting accurate data and making that data easily accessible to researchers. They also need to ensure that data on demonstration projects, such as the hospice carve-in, are promptly available to researchers so they can conduct evaluations in real time.
Shorter: Medicare Advantage insurance companies, because there's no data and thus no regulation, are free to move the quality of care downward to maximize profit.
3) Medicare Advantage cost $220 billion in 2020 and is characterized by capitation fraud and enormous overhead.. From Dave Lindorff at Tarbell:
The big carrot is a bonus paid annually to insurance companies for enrolling patients who are characterized as sicker, frailer, older or more seriously injured — a bonus that traditional government Medicare does not get.

Companies offering Medicare Advantage plans received an annual fee of over $12,000 for each subscriber from the federal government. But at the same time they have been raking in those fees, the industry also stands accused of sucking up more federal money by misclassifying upward the medical problems of their subscribers, for which they then receive higher reimbursements for coverage of the patient medical bills. Federal investigators claim that over the past three years, Medicare Advantage insurance firms have bilked taxpayers and the Medicare program by over $30 billion by inflating patient health conditions and risk classifications that led to over-compensation by Medicare for their costs of covering subscriber hospitalizations. In 2015 an audit by the Health and Human Services Inspector General's Office found Humana, another major player in the Medicare Advantage business, bilked Medicare of $200 million just for its plan in Florida by overstating how ill their patients actually were. And those princely sums are not all the fraud that is going on through this scam. The feds were only auditing some of the accounts, not the whole system.

The annual fees alone for signing up 24 million elderly and disabled people into MA plans and keeping them or luring them off the traditional government Medicare rolls came to $288 billion in 2020. Total spending on Medicare that year was $776 billion, meaning that the payment to the MA industry for patient care to their covered patients that year represented more than a third of the total federal outlay on the program, not counting the fraud for subscriber medical condition inflation.
4) Medicare Advantage customers are "traditionally marginalized". From Health Affairs:
Expansion of the Medicare Advantage program during 2009–18 saw greater enrollment among racial/ethnic minorities and other traditionally marginalized groups. Growth was more rapid among Black, Hispanic, and dually enrolled beneficiaries than among White and non-dual beneficiaries. The implications of greater heterogeneity in the program for enrollee outcomes are uncertain.
5) Medicare Advantage insurance companies often deny care without justification, especially to "traditionally marginalized" customers. From the Kaiser Family Foundation:
Overall, about one in six Medicare beneficiaries (17%) reported a cost-related problem [jargon for denial of care] in 2018, with a somewhat lower rate among traditional Medicare beneficiaries (15%) than Medicare Advantage enrollees (19%), attributable to a lower rate of cost-related problems among the majority of traditional Medicare beneficiaries with supplemental coverage (12%). The rate of cost-related problems is highest (30%) among traditional Medicare beneficiaries without supplemental coverage, who account for about 10 percent of the Medicare population.

A smaller share of Black beneficiaries in traditional Medicare (24%) than in Medicare Advantage (32%) reported cost-related problems. Rates of cost-related problems were lower among Black beneficiaries in traditional Medicare with Medicaid and other forms of supplemental insurance (20%).

One in five Hispanic beneficiaries overall reported a cost related problem (21%) and the share was similar among those in traditional Medicare with supplemental coverage (18%) and Medicare Advantage (22%).

The share of Black Medicare beneficiaries reporting cost-related problems was higher than among White beneficiaries in both traditional Medicare and Medicare Advantage. Additionally, the difference in the share of Black beneficiaries reporting cost-related problems in Medicare Advantage compared to traditional Medicare with supplemental coverage was larger than for White beneficiaries.

Half of Black Medicare Advantage enrollees in fair or poor self-assessed health reported cost-related problems, compared to one-third of Black beneficiaries in traditional Medicare overall and just over one-fourth of Black beneficiaries in traditional Medicare with supplemental coverage.
6) Medicare Advantage delivers worse outcomes to "traditionally marginalized" customers. From JAMA:
Medicare Advantage star ratings, which are designed to reflect overall performance in a plan, are only modestly associated with quality for racial/ethnic minorities and enrollees of low SES in the same plan.

Medicare Advantage plans enroll higher proportions of racial/ethnic minorities and enrollees with lower income and education than the traditional Medicare program, and prior work has found substantial disparities in the quality of care in the MA program. These disparities in care have been found within plans (disparities in quality of care for enrollees in the same plans), and between plans (disparities driven by disproportionate enrollment of minorities in plans with worse quality).

We build on past work detailing disparities in the MA program in several key ways. First, we found that the disparities are evident not just in some selected outcomes, but across aggregate plan quality and in a composite metric (the star rating) that determines the distribution of $6 billion in annual bonus payments to MA plans. Second, to our knowledge, this is the first study to demonstrate that MA plans with higher-measured quality have larger magnitudes of disparity in quality within their enrolled populations. Third, we found a low correlation between a plan's rating for its enrollees of low SES and Black and Hispanic enrollees, and its enrollees of high SES and White enrollees, although this may be largely due to the low reliability of the simulated scores.

There are many factors that could explain disparities in quality, including access to care, plan cultural competence, access to high-quality or racially concordant health care professionals,28,29 and other facets of structural racism. .
7) Medicare Advantage is heavily and successfully marketed to the "traditionally marginalized". Dave Lindorff at Tarbell:
If Medicare Advantage plans were in truth better or were better deals financially than traditional Medicare Parts A and B, plus Part D, the companies offering them wouldn't be resorting to the aggressive and costly promotional campaigns they currently employ, with sales reps calling older people's phones day and night endlessly and making major ad buys on TV networks and the internet. They wouldn't be resorting to costly come-ons like offers of free gym memberships and dental and drug insurance coverage either (which Congress in its "wisdom" bars government Medicare from doing in its traditional plans). The health care industry is the biggest advertiser on television and ads for Medicare Advantage are a big part of that spending, especially on networks whose viewership skews heavily toward older persons, like CBS.
And the marketing works. From the Journal of the American Geriatric Society:
MA plans are appealing to many patients for their lower co-pays for physician visits, and their coverage of services such as routine dental care, eyeglasses, and hearing aids. With newly expanded benefits such as transportation to physician visits and caregiver supports, MA plans are attractive to those who do not qualify for Medicaid but are in dire need of additional financial benefits to pay for services. Indeed, MA enrollees are more likely to have incomes below $40,000, be from racial and ethnic minority groups, and have lower levels of education. These individuals may be financially induced to enroll in MA without understanding the implications of enrollment. Furthermore, navigating MA may be particularly challenging for populations with cognitive impairment, as they are more likely to make disadvantageous choices for themselves when selecting a MA plan compared to those without cognitive impairment. These populations warrant particular research and monitoring focus.
I should make it clear that I don't blame the customers at all. Clearly the TV advertising is a scam, but I can see myself making the exact same decision: No cash now, and trust to luck that I don't have a major illness. Unfortunately–
8) Medicare Advantage penalizes lack of clairvoyance. Daily Kos (sorry) summarizes in plain English:
You may be okay for a time and save money monthly – as long as you don't get sick. Once you need to use the plan, you will discover the problems that come from being in a for-profit plan that makes more when it denies you care. Your choice of physicians will be restricted to a list. The specialist you need may not be anywhere near where you live. The hospitals and rehabs centers will be limited. The post-hospitalization facility available to you is likely to be the one with the worst reputation. The drugs you need may now cost a fortune.
So you might want to switch back to Medicare from Medicare Advantage with a program called Medigap taking up any slack in coverage. Not so fast. The government has imposed enormous switching costs on you. From eHealth, and I'm quoting an enormous slab of this to show how Kafkaesque the process is:
To switch from Medicare Advantage is a multi-step process. First, you need to drop your Medicare Advantage plan and return to Original Medicare, Part A and Part B. Then, you can apply for a Medicare Supplement insurance plan.

In most cases, you can only leave a Medicare Advantage plan during certain times of the year, such as:

The Medicare Advantage Open Enrollment Period (OEP) between January 1 and March 31.

The Annual Election Period (AEP), between October 15 and December 7. This is also called the Open Enrollment Period for Medicare Advantage and Medicare Prescription drug coverage.

Outside these periods, you can only switch between Medicare Advantage and Original Medicare if you meet certain requirements like moving outside your plan's service area. You may also lose your Medicare Advantage plan if it leaves your area or ends its contract with Medicare. You'll get returned to Original Medicare….

Once you've left your Medicare Advantage plan and enrolled in Original Medicare, you are generally eligible to apply for a Medicare Supplement insurance plan. Note, however, that in most cases, when you switch from Medicare Advantage to Original Medicare, you lose your "guaranteed-issue" rights for Medigap. You generally have guaranteed-issue rights for six months when you are both 65 or older and enrolled in Medicare Part B. Guaranteed-issue rights ensure that you can buy any plan sold in your state, and that you won't be charged higher premiums based on your health status.

Without guaranteed-issue rights, your insurance company may require medical underwriting before it sells you a plan. During medical underwriting, the insurer looks at your past medical history and current health status. If the company determines the risk of covering you is too high, it can refuse to sell you the plan you want, or it may charge you much higher premiums for the coverage.
Lol, Medigap has tests for pre-existing conditions. At age 65. For "marginalized populations"! Dave Lindorff once more:
You could, theoretically, do what is recommended at the time you first apply for your Medicare at 65, which is to purchase a Supplemental Medigap insurance policy, but unfortunately, these plans are unregulated by the federal government, but rather by each state. Thanks to the Obama administration and Congress, Medigap plans were exempted by Congress and all but four state legislatures from putting limits on coverage for "pre-existing" conditions, or from increasing premiums exorbitantly for those with such conditions. In other words, if you waited until you got older and sicker or became disabled with chronic conditions, and then try to switch back to traditional government Medicare and and buy a Medigap plan to cover all those extra bills not covered by traditional Medicare, as well as the cost of meds, you may find yourself priced out of the marker or not even allowed to by such coverage.

The Obama administration did a big favor to Medicare Advantage companies when it passed the Affordable Care Act, with its ban on the ability of insurers to exclude from coverage "pre-existing conditions," probably the most widely appreciated part of the ACA, but exempted so-called Medigap plans intended to cover the holes in traditional Medicare from that same ban.
Thanks, Obama! The bottom line that you should think long and hard about the Medicare Advantage choice. Before it's too late:
Susan Rogers, president of Physicians for a National Health Plan (PNHP), says, "People who reach Medicare eligibility need to know that when they sign up for the program and are deciding whether to go with the traditional government or a private Medicare Advantage plan, they're buying health insurance not for today but for the future. If they're relatively healthy at 65 and select an attractively marketed Medicare Advantage plan that works for them at first, they are going to run into trouble as they get older, trailer, and sicker. Also, the premium they initially are looking at can go up, and there's nothing they can do about it."
And now for the fun and easy part: Democrat betrayal and perfidy!
The Democrat Plan to Privatize Medicare
Here is Dave Lindorff's scoop in Tarbell (the reason an alert reader sent us the link):
"Starting next year," [PNHP's Susan Rogers] warns, "." The idea is presented as a test to see how that system works.

"," she says, "a process that with voluntary sign-up for Medicare Advantage plans is already well underway."
Now, I have to say that although I yield to nobody in my mistrust of liberal Democrats on health care policy, I was left a little skeptical. For one thing, Rogers is a single source. For another, I can't find any mention of "the deal" via (the admittedly crapified and grossly compromised) Google. For a third, there's no additional supporting material. However, I went looking, and old-time health reporter Trudy Lieberman has the goods. Please forgive the length of this quotation, especially after that great load of vile dreck on Medigap:
That entity, which could be a physician group, insurance company, managed care organization, or accountable care organization, would deliver all the care for those in the plan and receive one payment from the government for giving that care. The goal is to boost quality and lower costs. It would work sort of like Medicare managed care does now, but unlike people in Medicare managed care who have chosen to be in that program, .

This proposal, The Commonwealth Fund report said, is "one of the most significant changes to the way Medicare beneficiaries receive health care since managed care was introduced into Medicare in the 1970s," adding the model was "raising critical questions particularly among beneficiary groups." Perhaps due to the wonky nature of the discussion, the proposed change has generated almost no media coverage although it would upend the health insurance for millions of Americans. CMS is scheduled to start testing the new program in 2022.

"," said Diane Archer, who founded the Medicare Rights Center and is now president of Just Care USA, an independent digital hub that covers health care. "The purported goal is to see whether these entities which will come between doctors and their patients will be able to reduce costs and improve quality." Archer noted that "many government and independent analyses of Medicare Advantage plans show that people who need complex care tend to leave them in disproportionately higher rates." Unlike Medicare Advantage plans, however, which include many HMOs, all the Geo plans are supposed to work like PPOs, which allow members to go out of network for care, said Gretchen Jacobson, one of the authors of the Commonwealth Fund report.

But there are enough similarities between Medicare Advantage plans and this new program to raise real concerns.
And since personnel is policy:
At the beginning of March Elizabeth Fowler, one of the authors of the [Commonwealth Fund] report, started a new job at the CMS office that will be in charge of creating and implementing the new model.
Ah, Liz Fowler. An old friend and an especially scaly Flexian who makes Jon Gruber look like a cute little gecko:
When the legislation that became known as "Obamacare" was first drafted, the key legislator was the Democratic Chairman of the Senate Finance Committee, Max Baucus, whose committee took the lead in drafting the legislation. As Baucus himself repeatedly boasted, the architect of that legislation was Elizabeth Folwer, his chief health policy counsel; indeed, as Marcy Wheeler discovered, it was Fowler who actually drafted it… What was most amazing about all of that [or not] was that, before joining Baucus' office as the point person for the health care bill, Fowler was the Vice President for Public Policy and External Affairs (i.e. informal lobbying) at WellPoint, the nation's largest health insurance provider (before going to WellPoint, as well as after, Fowler had worked as Baucus' top health care aide). … More amazingly still, when the Obama White House needed someone to oversee implementation of Obamacare after the bill passed, it chose . . . Liz Fowler. Now, as Politico's "Influence" column briefly noted on Tuesday, Fowler is once again passing through the deeply corrupting revolving door as she leaves the Obama administration to return to the loving and lucrative arms of the private health care industry: "Elizabeth Fowler is leaving the White House for a senior-level position leading 'global health policy' at Johnson & Johnson's government affairs and policy group."
Liz Fowler, the Typhoid Mary of neoliberal health care policy…
Meanwhile, in New York, we see the not only state Democrat leadership nobbling single payer, but the public sector unions doing what looks for all the world like running a test case for Liz Fowler's efforts at CMS:
New York City public sector unions are pushing a plan to move retirees from Medicare to privatized health insurance, drawing intense protest from thousands of members. The move, which could affect 200,000 municipal retirees — including retired teachers, sanitation and park workers, firefighters, and staff from the City University of New York — and their 50,000 dependents, could be finalized as soon as July 1. But many members are hoping to stop it. In New York City, public sector retirees are insured by Medicare, the federal government's program for people over 65, and the city reimburses for outpatient care, as well as for a supplemental "Medigap" plan that offers additional services. The proposed switch would move retirees to privatized health insurance through a program known as Medicare Advantage.
Well done, Democrats!
Conclusion
As I have said before:
We are blessed, on this continent, with the closest thing you can get to a controlled experiment in the real world on how to do health care right, and how to do it wrong. We have two countries, of continental scale, both from the English political tradition, each with a Federal system of government, and similar economies. The two countries are similar enough culturally that their citizens can move with ease from one country to another. Canada has a single payer system; the United States has a private health insurance system. And Canada "bent the cost curve" in the mid-70s, when it adopted single payer, and the United States did not.

[O]ur private health insurance system is purely parasitic; it is useless; it exists solely for the purpose of rental extraction from its host, the body politic. Abolish it, and you bend the cost curve to look like Canada's. If single payer had been adopted in 2009, and given a year to implement (like Medicare) the country would already have saved a trillion dollars, and several thousand people would not be dead.
But we can't learn from the success of others, I suppose. Perhaps that's it. Maybe we should go all Shirley Jackson and make lottery tickets for decent health care a free gift at co-pay time. Why not? Medicare Advantage: You may already have won!™
NOTES
[1] The Medicare for All campaign organizers really need to rethink their approach. Although they always have wanted to improve Medicare — to make it more like what the innocent young, perhaps, think that it is — that's clearly not enough. Nor is it enough simply to add dental to it, although incrementally that is a good thing. Nor, apparently, did Medicare for All appeal to all "marginalized populations." I don't recall the Sanders campaign mentioining Medicare Advantage once.
Atlanta
Dallas
Houston
Los Angeles
Miami
Orlando
Philadelphia
Phoenix
San Diego
Tampa
APPENDIX
When doing the research for this post, I had a very odd experience with Google. Searching on '"medicare advantage" privatization' I got a search result with the following snippet: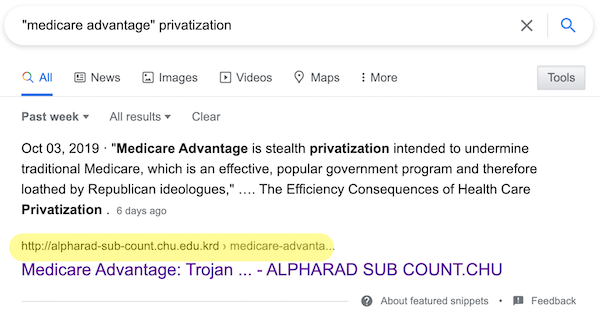 When I clicked on the highlighted link (or, a second time) the bold title ("Medicare Advantage: Trojan….") Google redirected me to this site (DON'T CLICK THE LINK):
https://iqbroker.com/lp/mobile-partner/en/?aff=194306&afftrack=&clickid=&aff_model=cpa
which is some cheesy finance site, and nothing to do with what the snippet promises, or my search. Although I didn't fall off the turnip truck yesterday, and didn't allow the IQ broker entity to infect my machine with their cookies, they went ahead and did so anyhow. Thanks, Google!

Interestingly, after poking around, I found the post I wanted, at Common Dreams, which has been blacklisted by Google. Speculating freely on technical matters, it would be a neat trick for Google to sell blacklisted URLs to scam artists, both for the pure joy of it and to pollute the discourse, though I confess I hadn't given consideration to the idea that Google would use its precious snippet system to embed their redirects.