By Lambert Strether of Corrente.
Bird Song of the Day
Sorry for the "LMS Catalog number…" human voice at the start, but the best recordings often have this. There's also something that I swear is a descending jet plane in the background, but perhaps it's just a giant tropical insect.
* * *
#COVID19
At reader request, I've added this daily chart from 91-DIVOC. The data is the Johns Hopkins CSSE data. Here is the site. I feel I'm engaging in a macabre form of tape-watching….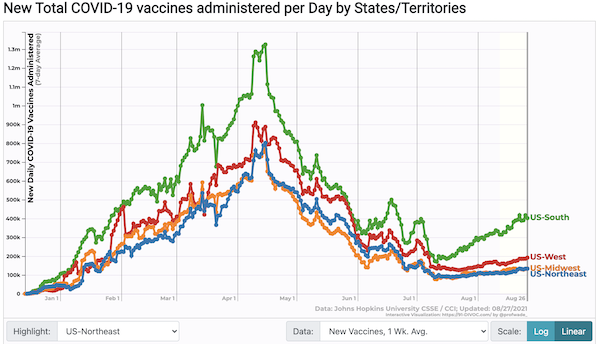 South still fiddling and diddling.
51.9% of the US is fully vaccinated, a big moment, breaking the psychological 51% barrier. Every day, a tenth of a percentage point upward. However, as readers point out, every day those vaccinated become less protected, especially the earliest. So we are trying to outrun the virus… (I have also not said, because it's too obvious, that if by Bubba we mean The South, then Bubba has done pretty well.)
Case count by United States regions: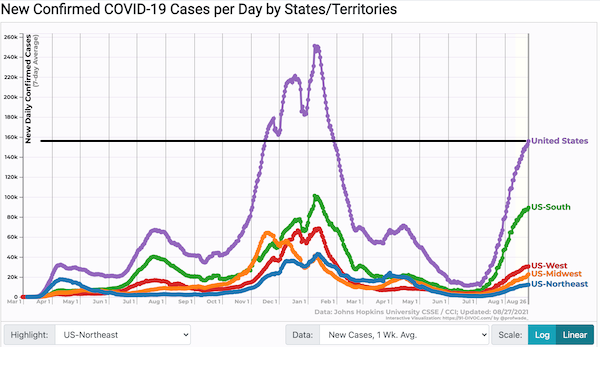 I have added an ant-triumphalist black line to show that we are 20,000 cases away from reaching the "First Step." I would say we've moved off the vertical a bit, much in the same way that a golf drive does approaching its peak, conforming to the drop in "Rapid Risers," the drop in positivity, and the decrease in hospitalization in Florida and Texas. The South begins to slow, but other regions still rise. Still lots of momentum. As far as reaching the peak of January 8, 2021, with 295,257 cases per day … I'm not that pessimistic (modulo a new variant brought into the country by our ridiculously lax policies on international quarantines). What we might call, after Everest, the "First Step" (November 25, 2019) with 178,466 looks in striking distance, especially if the case count purple line continues go near vertical. If things go on as they are, we should hit the first step just in time for Labor Day. But what do I know, I'm just a tape-watcher.
Covid cases top ten states: for the last four weeks (hat tip, alert reader Lou Anton):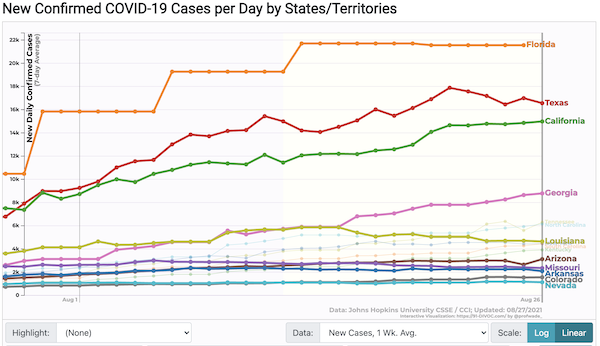 Cooking time for Florida's data seems to have increased. Texas down again. Meanwhile, Georgia and Louisiana have diverged.
FL: "Florida COVID update: 901 added deaths, largest single-day increase in pandemic history" [Miami Herald]. "Florida on Thursday reported 21,765 more COVID-19 cases and 901 deaths to the Centers for Disease Control and Prevention, according to Miami Herald calculations of CDC data. All but two of the newly reported deaths occurred after July 25, with about 78% of those people dying in the past two weeks, according to Herald calculations of data published by the CDC. The majority of deaths happened during Florida's latest surge in COVID-19 cases, fueled by the delta variant. It is the largest single-day increase to the death total in the state's COVID pandemic history." • At some point, cooking the books gets overwhelmed by anecdote.
From CDC: "Community Profile Report August 25, 2021" (PDF), "Rapid Riser" counties, this release: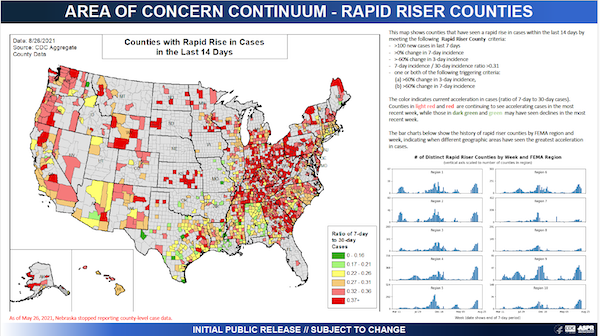 Lots and lots of yellow and green, especially in the South and the Acela Corridor. Florida is almost clear (which I should have mentioned already). Northern Maine (quite lightly populated. suddenly turned red. I hate to be optimistic, but it looks like this fever has broken (thought the back to school bump, IMSHO, has yet to really take hold.) Remember, however, that this chart is about acceleration, not absolute numbers, so the case chart still has momentum. This map, too, blows the "Blame Bubba" narrative out of the water. Not a (Deliverance-style) banjo to be heard. Previous release: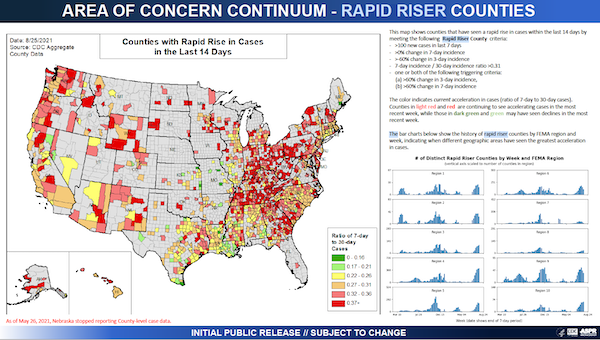 (Red means getting worse, green means bad but getting better. This chart updates Tuesdays and Fridays, presumbly by end-of-day.)
"The Maine Center for Disease Control on Thursday reported 390 new coronavirus cases across the state. Aroostook County has 51 new infections and three more hospitalizations" [Q96.1]. "With one week left in August, there have been 298 new COVID-19 cases reported this month in Aroostook County. Active cases in the County are estimated to be around 190, as of Thursday. Presque Isle area schools have made masks mandatory after four students tested positive for COVID-19 in the first week after classes opened. Northern Maine continues to have among the highest transmission rates of COVID-19 in the state in the past few weeks. Penobscot County added 90 new cases on Thursday. Rural Somerset County recorded 29 new infections. Maine hospitals are seeing the highest number of critical COVID-19 cases in four months. CDC Director Dr. Nirav Shah said Thursday there are 133 people hospitalized with the disease in Maine. Fifty-nine of those patients are in intensive care and 27 are on ventilators."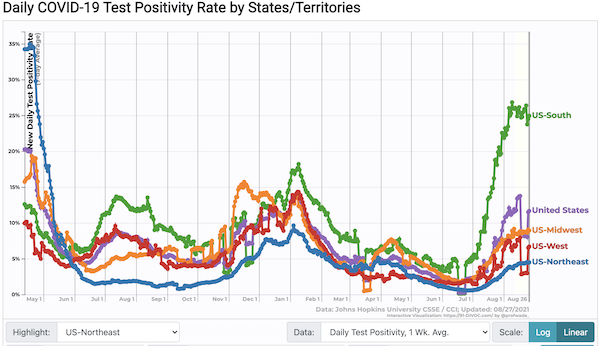 The South is now fiddling and diddling at more or less the same level, and the enormous drop in the West indeed turned out to be reporting problems.
NEW Hospitalization (CDC): Dammit, this one's gone dark; the last data I see is for the week of August 14. I wish CDC wouldn't do this. Here the CDC's hospitalization visualization, from the source above: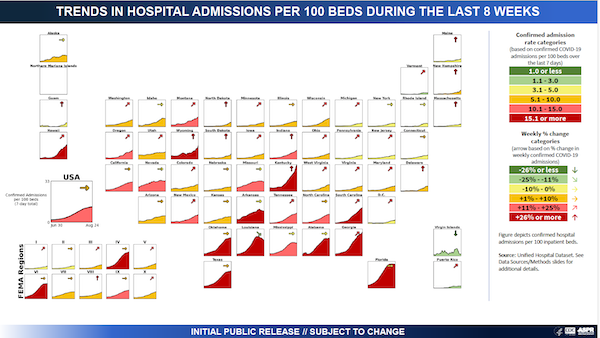 The Gulf Coast is red, but moderating. Several states in the West is pink and increasing, except for Colorado, which is red.
"U.S. coronavirus hospitalizations hit eight-month high over 100,000" [Reuters]. "The number of coronavirus patients in U.S. hospitals has breached 100,000, the highest level in eight months, according to the Department of Health and Human Services, as a resurgence of COVID-19 spurred by the highly contagious Delta variant strains the nation's health care system…. U.S. COVID-19 hospitalizations have more than doubled in the past month. Over the past week, more than 500 people with COVID were admitted to hospitals each hour on average, according to data from the Centers for Disease Control and Prevention…. The U.S. South is the epicenter of the latest outbreak but hospitalizations are rising nationwide."
Deaths (Our World in Data):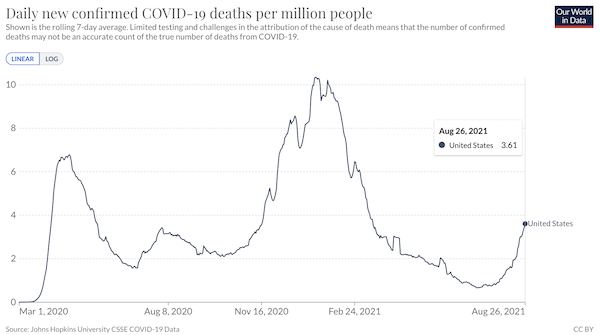 Deaths on trend rising. (Adding: I know the data is bad. This is the United States. But according to The Narrative, deaths shouldn't have been going up at all. Directionally, this is quite concerning. Needless to see, this is a public health debacle. It's the public health establishment to take care of public health, not the health of certain favored political factions.)
Covid cases worldwide: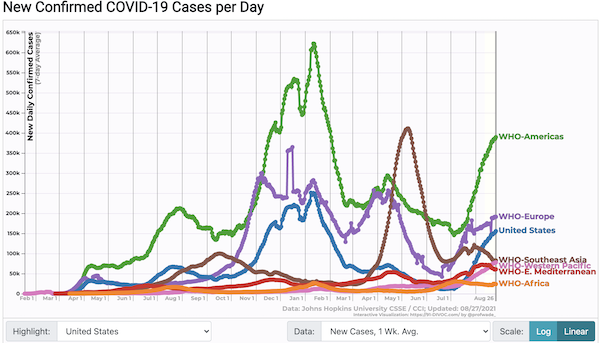 Southeast Asia doing better, I presume because little-covered Indonesia is past a peak. US sphere of influence under the Monroe Doctrine not doing so well.
* * *
Politics
"But what is government itself, but the greatest of all reflections on human nature?" –James Madison, Federalist 51
"They had one weapon left and both knew it: treachery." –Frank Herbert, Dune
"They had learned nothing, and forgotten nothing." –Charles Maurice de Talleyrand-Périgord
Capitol Seizure
"'She was posing a threat' — Capitol officer Michael Byrd, who shot pro-Trump rioter Ashli Babbitt, goes public" [CNN]. • Cops always say that.

UPDATE "What was Trump's role during the Capitol riot? The House plans to find out" [NBC]. "On Wednesday, the House committee investigating the Jan. 6 attack on the U.S. Capitol demanded that various federal agencies hand over documents related to the riot. The numerous requests target then-President Donald Trump, members of Trump's family, members of Congress and congressional staff members, among others. These questions are key because almost all legal violations (with a few exceptions) require that the accused acted with some degree of intent or knowledge. The specifics of these demands suggest that the big questions on the minds of committee members are what did Trump — and White House officials — know about the attack on the Capitol, and when did they know it? These questions are key because almost all legal violations (with a few exceptions) require that the accused acted with some degree of intent or knowledge. The law, for obvious reasons, treats accidental injuries differently from those inflicted intentionally."
Biden Administration
"Obama says he's 'heartbroken' after attack in Kabul" [CNN]. • Oh, Barry. I'm so sorry.

"Who Takes the Blame?" [The Atlantic]. "Biden's decision to withdraw from Afghanistan is one that a large majority of Americans favor, and have for years. It's something he's long wanted to do. In 2009, he spoke privately to Barack Obama about the then-president's plans to temporarily add 30,000 troops to the U.S. forces in Afghanistan. As he walked with Obama from the White House residence into the Oval Office, Biden tried to dissuade the president from a 'surge' that proved to be a futile attempt to beat back the Taliban. Warning Obama about the advice coming from the military, Biden said: 'If you let them roll you, you'll be their puppy for the next four years,' according to a person familiar with the conversation. 'Joe, I'd like to see you be president for five minutes to see how you'd do it,' this person said was Obama's reply." • Looks like Barry remembered that conversation, and just settled the score.

UPDATE "Biden shedding support from independent voters as Delta variant spreads – Reuters poll" [Reuters]. "President Joe Biden is shedding support from independents, a crucial voting bloc that helped Democrats win the White House and Congress last year, as a resurgence of COVID-19 cases slows the country's return to normal from the pandemic, Reuters/Ipsos polling shows…. The national opinion poll, conducted Aug. 13-19, found that Biden's net approval among independents dropped by 14 percentage points overall since June, and by 19 points for his handling of the coronavirus. Still, a slim majority of independents – 53% – said they approve of Biden's pandemic response." • Better get some horse's heads ready for those moderate nine Democrats, then, and ram the reconciliation bill through. No time to waste (and bipartisanship didn't buy a thing on the infrastructure bill so forget about it.)

"How Vaccine Mandates Can Promote Police Reform" [Jonathan Chait, New York Magazine]. "The public-health benefits of a vaccine mandate are obvious enough. The subtler, but longer-lasting, effect of the mandate would be to push out police officers who refuse vaccines. While most police officers are trying to protect people and treat the public fairly, a disturbingly large minority are authoritarian bullies with overtly or covertly racist beliefs. The central obstacle to reforming police practices, and restoring trust between Black communities and the people entrusted with their protection, is ridding departments of their worst members. Police unions often make it virtually impossible to remove or even discipline abusive cops. If cops decide to walk away over the vaccine mandate, they'll have accomplished what decades of reform efforts have failed to do: weed out the most dangerous cops.'" • See, if only we clear out the bad apples… Theory of change aside, this is yet another example of the increasingly obvious liberal Democrat tendency to wish death and suffering on their political opponents as a means to an end (while simultaneously managing to keep their hands, and more importantly their self-images, clean. "They did it to themselves because they did not obey us!")
Democrats en Deshabille
UPDATE In Minneapolis, Democrat loyalists embrace Republican talking points to smear a police reform bill, what a surprise. Thread:

So something is happening here in Minneapolis that really shows how too many Democrats have responded to last summer's protests: by ostentatiously embracing police and opposing police reform, in the name of savvy politics.

— Will Stancil (@whstancil) August 27, 2021
Realignment and Legitimacy
"Time's Up: Boss quits over ties to scandal-hit governor Andrew Cuomo" [BBC]. "Tina Tchen, the head of anti-sexual harassment campaign group Time's Up, has resigned over its ties to scandal-hit New York governor Andrew Cuomo. Ms Tchen, a lawyer and the former chief of staff for Michelle Obama, reportedly offered advice to Mr Cuomo as he battled to keep his job…. Ms Tchen is not the first major figure from Time's Up to have resigned over a connection with the US politician." • Some say "cynical," some say "realistic"….
Stats Watch
Consumer Confidence: "Final August 2021 Michigan Consumer Sentiment Shows A Stunning Loss Of Confidence" [Econintersect]. "The final University of Michigan Consumer Sentiment for August came in at 70.3, little changed from the preliminary's 70.2, and significantly down from July's 81.2…. Surveys of Consumers chief economist, Richard Curtin, makes the following comments: 'There was no lessening in late August in the extent of the collapse in consumer sentiment recorded in the first half of the month. The Consumer Sentiment Index fell by 13.4% from July, recording the least favorable economic prospects in more than a decade.'" • That's not good. And I can't imagine it's Afghanistan.
Leading Indicators: "20 August 2021 ECRI's WLI Growth Rate Decline Continues" [Econintersect]. "ECRI's WLI Growth Index which forecasts economic growth six months forward continues to decline but remains in expansion…. This index accurately forecast that the economy would be in expansion year-over-year in the first and second quarters of 2021. It is currently forecasting an ever slowing rate of economic growth for the rest of this year and into next."
Inflation: "July 2021 Real Income And Expenditures – Inflation Continues To Impact" [Econintersect]. "The data continues to be affected by the pandemic as comparisons are to the recovery period one year ago with inflation significantly impacting growth as it is now 4.2 %."
* * *
Shipping: "Frustrated shippers and logistics operators are turning to increasingly creative strategies to get around long delays in container shipping markets. Trucking and logistics provider Schneider National is taking an unusual dive into the use of ship charters….with the use of dedicated general cargo ships to get goods and the company's intermodal containers across the Pacific" [Wall Street Journal]. "The operation is the first of its kind for Schneider, and it highlights the growing urgency at companies facing long delays, tight capacity and skyrocketing rates on trans-Pacific lanes. Direct shippers Walmart, Home Depot and most recently Dollar Tree have turned to dedicated charter operations to move goods around the bottlenecks." • Turning boats into bridges…
Shipping: "Growing numbers of companies are looking to the skies for a way around the unrelenting disruptions that have locked down supply chains. Businesses including apparel brand owner VF and children's clothing maker Carter's have sharply scaled up their airfreight spending… as they try to meet strong consumer demand amid ongoing production delays and acute congestion in maritime operations" [Wall Street Journal]. "The move toward air transport carries big financial questions for shippers as rates remain high and capacity is tight because carriers are operating fewer passenger flights than before the pandemic. But skyrocketing ocean container rates may be closing the gap with airfreight prices, and U.S. importers fear their store shelves will be bare this fall without quick action."
Supply Chain: "The global supply chain, it turns out, can be squeezed into a single hot tub. Bullfrog Spas has seen demand for its devices soar during the pandemic as homebound consumers upgraded their backyards and sought relief from a stressful environment" [Wall Street Journal]. "On a typical day, its Herriman, Utah, factory takes delivery of 40,000 gallons of chemicals, 400 sheets of plastic and up to 60,000 additional components, some from as close as 80 miles away but many from far-flung suppliers. For its M9 model, parts come from seven countries and 14 states, and the company estimates they travel a cumulative 887,776 miles to make one hot tub." • Not fragile at all!
Tech: "Apple will change its App Store practices in legal settlement" [MarketWatch]. "Apple Inc. will change its App Store policies in a legal settlement, the first major concession the iPhone maker has made amid multiple antitrust investigations. In a proposed settlement of a 2019 class-action lawsuit from developers, Apple AAPL, 0.56% agreed to allow app makers to direct their consumers to payment options outside the App Store, which could allow them to avoid paying fees of up to 30% that Apple charges developers for online purchases in iOS apps. The company also agreed to a democratic approach to the App Store's search function, greater pricing freedom and an annual transparency report about the companies' app-review policies and their effects. Perhaps the biggest concession from Apple would let developers finally communicate directly with customers about alternative payment options, with their permission, using information collected inside their apps. The changes apply to developers worldwide — not just small developers in the U.S. covered by the settlement."
* * *
Today's Fear & Greed Index: 53 Neutral (previous close: 39 Fear) [CNN]. One week ago: 23 (Extreme Fear). (0 is Extreme Fear; 100 is Extreme Greed). Last updated Aug 27 at 1:41pm.
The Biosphere
UPDATE "The EPA is banning chlorpyrifos, a pesticide widely used on food crops, after 14 years of pressure from environmental and labor groups" [The Conversation]. "As evidence accumulated that low levels of chlorpyrifos were probably toxic to humans, regulatory scientists at the EPA and in California reviewed it – but they took very different paths. At first, both groups focused on the established toxicity mechanism: acetylcholinesterase inhibition. They reasoned that preventing significant disruption of this key enzyme would protect people from any other neurological effects. Scientists working under contract for Dow Chemical, which manufactured chlorpyrifos, published a complex model in 2014 to estimate how much of the pesticide a person would have to consume or inhale to trigger acetylcholinesterase inhibition. But some of their equations were based on data from as few as six healthy adults who had swallowed capsules of chlorpyrifos during experiments in the 1970s and early 1980s – a research method that now would be considered unethical. California scientists questioned whether risk assessments based on the Dow-funded model adequately accounted for uncertainty and human variability. They also wondered whether acetylcholinesterase inhibition was really the most sensitive biological effect. In 2016 the EPA released a reassessment of chlorpyrifos's potential health effects that took a very different approach. It focused on epidemiological studies published from 2003 through 2014 at Columbia University that found developmental impacts in children exposed to chlorpyrifos. The Columbia researchers analyzed chlorpyrifos levels in the umbilical cord blood at birth, and the EPA attempted to back-calculate how much chlorpyrifos the babies might have been exposed to throughout pregnancy." • "Scientists working under contract for Dow Chemical" is not a contradiction in terms?
UPDATE Giving the planet a breather:
Under #COVID19 restrictions that temporarily reduced atmospheric pollution, China experienced a brighter, greener, and earlier spring in 2020 than it has in recent years, according to an analysis of atmospheric and vegetation data in @ScienceAdvances. https://t.co/K5Qv71JwRS pic.twitter.com/vefi8CUrgJ

— Science Magazine (@ScienceMagazine) August 27, 2021
Health Care
On the public health establishment:
Public health at the local and state level is in free-fall and has been for decades. Unless we deal with this no amount of flexibility will help us. 3/ https://t.co/XvZCBzmyF3

— Gregg Gonsalves (@gregggonsalves) August 27, 2021
And NIH:
I agree we need them to be flexible, but just realize the constraints that exist in the system now. In fact, many researchers—sssshhh–were using their non-COVID grants to do COVID related work over the past year. They were told to cease and desist. Not. Flexible. 5/

— Gregg Gonsalves (@gregggonsalves) August 27, 2021
And FDA:
OK, a little harsh, but the @US_FDA really sees itself as a handmaid of the drug, device and biologics industries, with speed of approval the over-riding metric for success (efficacy, meh). 7/

— Gregg Gonsalves (@gregggonsalves) August 27, 2021
That thread was set off by an Yglesias post (but I'll be damned if I'll pay to read Yglesias).
From 2020, everything's going according to plan:
One thing missing from many of the "what went wrong with American COVID-19 response" takes:

United States has been flattening the life expectancy curve for years. The foundation for the COVID-19 disaster (divestment from prevention/support systems) was laid long long ago https://t.co/cSSVAbiIrs

— Leo Beletsky (@LeoBeletsky) August 10, 2020
"Airborne transmission of respiratory viruses" [Science (allan)]. Magisterial and readable. From Abstract: "[Reviews] recent advances in understanding airborne transmission gained from studying the spread of severe acute respiratory syndrome coronavirus 2 (SARS-CoV-2) infections and other respiratory pathogens. The authors suggest that airborne transmission may be the dominant form of transmission for several respiratory pathogens, including SARS-CoV-2, and that further understanding of the mechanisms underlying infection from the airborne route will better inform mitigation measures." • Extremely measured language that translates to "Get the [family blog] going!" Long, but well worth a read (especially if, at 12-pages long, you need something impressive to drop at your school board meeting).
"Show Me the Data!" [Zeynep Tufecki, New York Times]. "To see the dangers of insufficient data and the powers of appropriate data, consider the case of dexamethasone, an inexpensive generic corticosteroid drug. In the early days of the pandemic, doctors were warned against using it to treat Covid patients." • So, today they would be dogpiled for spreading misinformation. More: "The limited literature from SARS and MERS — illnesses related to Covid — suggested that steroids, which suppress the immune system, would harm rather than help Covid patients." That assessment changed on June 16, 2020, when the results of a large-scale randomized clinical trial from Britain, one of all too few such efforts during the pandemic, demonstrated that dexamethasone was able to reduce deaths by one-fifth among patients needing supplemental oxygen and an astonishing one-third among those on ventilators." • Fortunately, Trump didn't endorse dexamethasone, or the PMC would have lost their minds, RCT or no RCT. Finally: "To cut through this fog of pandemic more effectively, we need to invest in a national infrastructure to coordinate and encourage systematic data collection." • I will be interested to see if the reconciliation bill includes such an investment. I'm long stupid on this.
"Having SARS-CoV-2 once confers much greater immunity than a vaccine—but no infection parties, please" [Science]. We linked to this preprint in 8/26, so I'm pleased to see Science hoist it. That said, here are the qualifications: "'The differences are huge," says Thålin, although she cautions that the numbers for infections and other events analyzed for the comparisons were 'small.' For instance, the higher hospitalization rate in the 32,000-person analysis was based on just eight hospitalizations in a vaccinated group and one in a previously infected group. And the 13-fold increased risk of infection in the same analysis was based on just 238 infections in the vaccinated population, less than 1.5% of the more than 16,000 people, versus 19 reinfections among a similar number of people who once had SARS-CoV-2…. 'We continue to underestimate the importance of natural infection immunity … especially when [infection] is recent,' says Eric Topol, a physician-scientist at Scripps Research. 'And when you bolster that with one dose of vaccine, you take it to levels you can't possibly match with any vaccine in the world right now.'" • It remains to be seen how long this natural immunity can last. Another missing data point: The actual number of people already infected in the United States. Since our testing system is so miserably inadequate, we have no idea. I would imagine it's a large number, especially among essential workers.
"Episode 213: Aint Free Yet But Close" (podcast) [Trillbilly Worker's Party]. • At 58:44, a discussion starts that shows how hard the health care establishment makes it for the pro-vax to support vaccination. Or to defend the administration.
Our Famously Free Press
"How the FDA Manipulates the Media" [Scientific American]. From October 2016, still germane: "It was a faustian bargain—and it certainly made editors at National Public Radio squirm. The deal was this: NPR, along with a select group of media outlets, would get a briefing about an upcoming announcement by the U.S. Food and Drug Administration a day before anyone else. But in exchange for the scoop, NPR would have to abandon its reportorial independence. The FDA would dictate whom NPR's reporter could and couldn't interview….. NPR took the deal. "I'll be at the briefing," [NPR reporter Rob Stein] wrote… Later that day in April 2014, Stein—along with reporters from more than a dozen other top-tier media organizations, including CBS, NBC, CNN, the Washington Post, the Wall Street Journal and the New York Times—showed up at a federal building to get his reward. Every single journalist present had agreed not to ask any questions of sources not approved by the government until given the go-ahead." • Under [genuflects] Obama, one notes.
Feral Hog Watch
"Labour shortages leave UK farms with 70,000 surplus pigs" [Financial Times]. "The UK's pig producers have warned they are weeks away from culling healthy animals after labour shortages in abattoirs caused a backlog of 70,000 surplus animals on farms. The National Pig Association is the latest group to sound the alarm over the effects on its members from a lack of workers that has hit food production and haulage, with knock-on effects to many UK supply chains. Zoe Davies, chief executive of the association, said some slaughterhouses were running as much as a quarter below normal capacity, leaving about 15,000 extra pigs per week stuck on farms." • I suppose we can't just let them loose…
Naked Capitalism Cooking Community™
Seems like the people who wrote the droplet textbooks are writing cooking history too:
4. Most historians of food disagree for the following reasons:

Spices don't cover the smell of rotting flesh. Only people who don't use spices think so.

— Krishnendu Ray (@Raykris1) August 25, 2021
The whole thread is interesting. These people really care about spices!
Class Warfare
"Anger boils over at People magazine owner after workers stiffed on bonuses" [New York Post]. "The boss of the media giant that publishes People and Entertainment Weekly sparked a ruckus when he announced he was handing out a round of "thank you" bonuses to most employees — but meanwhile jilted a small group of unionized, rank-and-file workers, The Post has learned. Insiders said more than 200 unionized employees at Meredith — the publishing behemoth whose titles also include Better Homes & Gardens, InStyle and Real Simple — are fuming because they aren't getting the $1,000, one-time cash bump, despite working long hours and taking on more work during the pandemic."
Hysteris coming:
the nursing subreddit is full of dire stories. the stress of the pandemic is just burning up medical staff pic.twitter.com/UIwn1gu2zK

— ryan cooper (@ryanlcooper) August 27, 2021
UPDATE "Frito Lay Strike: Sign of a Growing Fightback" [Socialist Alternative]. "The strike ended on July 23 when a majority of union members voted "yes" to a revised contract that guaranteed all workers at least one day off per week. However, the vote was purportedly close, according to one union official. Two days prior to the end of the strike, multiple workers on the picket line were not satisfied with the revised contract being offered and were planning to vote "no." The new contract does not put an end to forced overtime, and the proposed wage increases are still insufficient. Multiple workers expressed a need to continue fighting to get what they need. This particular struggle is occurring in the context of the shameful treatment of workers by U.S.corporations during the pandemic. It also comes in the context of a growing fightback by workers. There have been several other large strikes during the summer, some of which are still ongoing, including the St. Vincent's strike in Massachusetts and the coal miners at Warrior Met in Alabama. The Frito-Lay strike caused a shortage of products throughout the entire Kansas City region. This shows the power of an organized workplace, where workers can win by hitting the boss where it hurts: their profits. While the gains made by this strike were very limited, the workers' willingness to fight in their own interests was no doubt part of the inspiration for the ongoing strike of Oreo and Chips Ahoy workers at Nabisco plants. Major unions should throw their weight behind supporting these strikes, as a victory in any workplace can have a tremendous ripple effect, giving confidence to workers across the country to fight back."
UPDATE "The Epic Family Feud Behind an Iconic American Weight-Loss Camp for Kids" [Bloomberg]. "Until its abrupt closure this summer, Camp Shane was America's longest-running weight-loss camp for kids. Thousands of children trekked to those 42 acres in Ferndale, Sullivan County, from 1968 to 2019, when the camp relocated. They lost weight together, usually regained it, and returned to lose it all again. Fad diets and fitness crazes came and went, but Shane was a constant. At its peak it hosted more than 500 campers, enrolled the children of celebrities, and netted $2 million a year for its owner. … A lucrative enterprise will create enemies, and Camp Shane has made many. Alumni bitter about the deprivation they experienced, and a few who now allege more serious abuses. Competitors who swiped trade secrets and poached campers. But the bitterest rivalries were among members of the Ettenberg clan, who carried on a multidecade feud that included the alleged theft of a grandchild's safari souvenirs, acrimonious lawsuits, a suspected arson attempt, the eviction of another grandchild, a crashed bar mitzvah, a possible IRS tipoff leading to a felony tax evasion conviction, disinheritance, and the endowment of a multimillion-dollar foundation whose beneficiaries have included a charity that provides helper monkeys." • American gentry.
UPDATE "On Design Thinking" [n+1]. From 2019, still germane. "By embracing "design thinking," we attribute to design a kind of superior epistemology: a way of knowing, of "solving," that is better than the old and local and blue-collar and municipal and unionized and customary ways. We bring in "design thinkers" — some of them designers by trade, many of them members of adjacent knowledge fields — to "empathize" with Kaiser hospital nurses, Gainesville city workers, church leaders, young mothers, and guerrilla fighters the world over. Often, as in Gainesville, the implicit goal is to elevate the class bases of the institutions that have organized their informants' lives. Only within this new epistemology can such achievements be considered unambiguously good." • I had no idea that the concept of "wicked problems" originated in the "design community." I'm not sure this article is a hammer for any particular nail, but it's a good piece of intellectual history.
News of the Wired
""Rewilding Your Attention" [Clive Thompson]. "Instead of crowding your attention with what's already going viral on the intertubes, focus on the weird stuff. Hunt down the idiosyncratic posts and videos that people are publishing, oftentimes to tiny and niche audiences. It's decidedly unviral culture — but it's more likely to plant in your mind the seed of a rare, new idea. I love the idea of 'rewilding your attention'. It puts a name on something I've been trying to do for a while now: To stop clicking on the stuff big-tech algorithms push at me." • The blogs are still out there!
* * *
Readers, feel free to contact me at lambert [UNDERSCORE] strether [DOT] corrente [AT] yahoo [DOT] com, with (a) links, and even better (b) sources I should curate regularly, (c) how to send me a check if you are allergic to PayPal, and (d) to find out how to send me images of plants. Vegetables are fine! Fungi and coral are deemed to be honorary plants! If you want your handle to appear as a credit, please place it at the start of your mail in parentheses: (thus). Otherwise, I will anonymize by using your initials. See the previous Water Cooler (with plant) here. Today's plant (paddlingwithoutboats):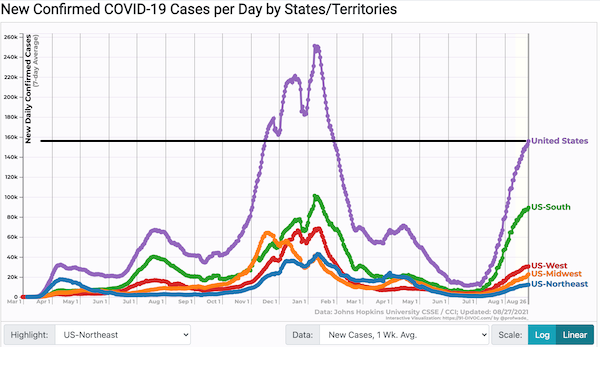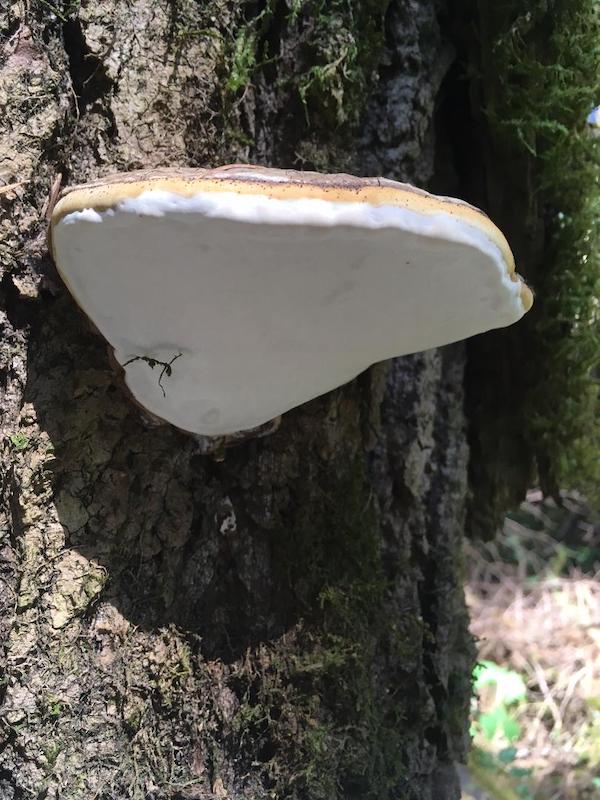 paddlingwithoutboats writes:
These are from Vancouver Island, one of the parks. Unfortunately, hereabouts, park is code for dog poop parade ground. Sad contrast. And now we're 'opened up again', (gag language, sounds like how a resistant sexual target would be described), so we now have the double deck diesel tour busses fogging the city. Cruise ships are coming.

But the trees are around and hosting lovely ecosystems.

The fungi:

The first may be an incarnation of the second, they were close, a shelf fungus. Stroking the underside of the shelf form was incredible; firm but unbelievably silky, like infant skin or earlobes. Strikingly white without a blemish.
* * *
Readers: Water Cooler is a standalone entity not covered by the recently concluded and — thank you! — successful annual NC fundraiser. So if you see a link you especially like, or an item you wouldn't see anywhere else, please do not hesitate to express your appreciation in tangible form. Remember, a tip jar is for tipping! Regular positive feedback both makes me feel good and lets me know I'm on the right track with coverage. When I get no donations for five or ten days I get worried. More tangibly, a constant trickle of donations helps me with expenses, and I factor in that trickle when setting fundraising goals:
Here is the screen that will appear, which I have helpfully annotated.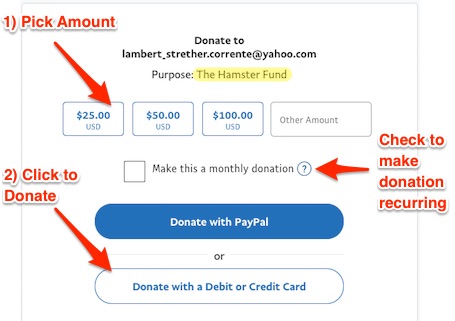 If you hate PayPal, you can email me at lambert [UNDERSCORE] strether [DOT] corrente [AT] yahoo [DOT] com, and I will give you directions on how to send a check. Thank you!2:00PM Water Cooler 6/8/2021