New York officer rescues fallen man from subway train (video) BBC. More important, I think, is that the officer had civilian assistance.
Large OneCoin Transactions Worth Over $10 Billion Related To Cryptoqueen Traced To Seychelles Finance Feeds
Rain fell at the normally snowy summit of Greenland for the first time on record CNN (dk).
Afghanistan
Afghanistan: The End of the Occupation Anne Bonny Pirate (Darth Bobber).

Taliban coffers swelled by proceeds of Afghanistan's shadow economy FT

The Taliban are sitting on $1 trillion worth of minerals the world desperately needs CNN. "The world."

Taliban 2.0: Older, media-savvy and still duplicitous Politico. So, a State like any other?

Teamwork makes the dream work:

This thread is to clarify the location of DAB (Central Bank of Afghanistan) international reserves

I am writing this because I have been told Taliban are asking DAB staff about location of assets

If this is true – it is clear they urgently need to add an economist on their team

— Ajmal Ahmady (@aahmady) August 18, 2021

Afghanistan updates: Protesters fly Afghan national flag in defiance of Taliban ABC

'The Taliban doesn't control the whole country': SAS-trained Afghan commandos join armed guerrilla resistance movement led by deposed Vice-President Saleh in Panjshir Valley Daily Mail

Apparently, the Afghan Military Had Something in Common With the Massachusetts State House Charles Pierce, Esquire
#COVID19
U.S. Public Health Professionals Routinely Mislead the Public about Infectious Diseases: True or False? Dishonest or Self-Deceptive? Harmful or Benign? Peter Sandman. From 2016, still germane. This is not CT. It's a careful albeit unsparing examination of how the public health establishment approaches ethical issues in scientific communication. Accepting its premises, I'd speculate that a combination of sclerotic institutions, the dangers/opportunities of a pandemic, and The American Tradition Of Rugged Individualism have stressed existing public health "norms" to the breaking point. And, of course, forty years of neoliberalism.

How CDC data problems put the U.S. behind on the delta variant WaPo (Urblintz). No surprise to NC readers: See here (hospital data) and here (VAERS).

* * *

New SARS-CoV-2 variants have changed the pandemic. What will the virus do next? Science (dk). Since we don't know, we have naturally not bet the farm on a single solution, vaccines, but are also bringing new treatments online (especially repurposed drugs already proven to be safe), along with stressing Non-Pharmaceutical Interventions, like improved ventilation and masks. Oh, wait….

White House rolls out COVID-19 booster plan, but the FDA and CDC have yet to have their say Fierce Pharma. Facts on the ground….

Why Covid regulations may be around longer than you think FT. We don't have regulations in the ordinary meaning of the word; see above. What we have is whatever the hive mind of Philosopher Kings in the PMC have decided is this month's good idea and promulgated in the press.

* * *

Those anti-COVID plastic barriers probably don't help and may make things worse New York Times (AM).

Normalizing Community Mask-Wearing: A Cluster Randomized Trial In Bangladesh (PDF) NBER. n=341,830. From the Results: "Our intervention demonstrates a scalable and cost-effective method to promote mask adoption and save lives, and identifies a precise combination of intervention activities that were necessary. Comparisons between pilots shows that free mask distribution alone is not sufficient to increase mask-wearing, but adding periodic monitoring in public places to remind people to wear the distributed masks had large effects on behavior. The absence of any further effect of the village police suggests that the operative mechanism is not any threat of formal legal sanctions, but shame and people's aversion to a light informal social sanction. The persistence of effects for 10 weeks and after the end of the active intervention period, as well as increases in physical distancing, all point to changes in social norms as a key driver of behavior change."

New Study Sheds Light on the Roots of Today's Vaccine Hesitancy Bloomberg. On Wakefield.

* * *

Baby pangolins on my plate: possible lessons to learn from the COVID-19 pandemic Journal of Ethnobiology and Ethnomedicine (Ignacio). From 2020, still germane.
China?
Vietnam's biggest city issues stay-home order as COVID-19 deaths soar Reuters
The slow decay of the Malay political establishment Asia Link
Myanmar
Myanmar military 'can be punished for atrocities' UCA News. Via the International Criminal Court.

Expert economists: Military's management of Myanmar's banking system is catastrophic and incompetent Myanmar Now. And our own bankers set a high bar!
New Zealand's Ardern vows to stamp out Delta COVID-19 variant as outbreak widens Channel News Asia. Meanwhile: 1pm Daily Update IMDB (vlade). Plot summary:
Set in a dystopian world where autocratic and populist leaders are in charge of the USA, China, UK, Brazil and many other nations. 1pm Daily Update takes place in the imaginary island nation of New Zealand, a utopian society where science, facts, strong leadership and a genuine care for its people and environment take precedence over money and big business.
Dang. I don't see "billionaire bolthole" in there, or "bunkers." Perhaps in some future episode, when the casting is firmed up?
The Koreas
S.Korea to grant legal status to animals to tackle abuse, abandonment Reuters
Syraqistan
Scoop: CIA director raised China concerns with Israeli prime minister Axios

Iran hopes to defeat COVID with home-grown crop of vaccines Nature
UK/EU
Dominic Raab under pressure to quit after delegating 'rescue call' for Afghan translators Guardian

Ken Loach: Keir Starmer Is Mr Bean Trying to Act Like Stalin Jacobin
The Caribbean
Biden Administration
FTC Alleges Facebook Resorted to Illegal Buy-or-Bury Scheme to Crush Competition After String of Failed Attempts to Innovate (press release) FTC. When Lina Kahn's FTC amends a complaint, it doesn't [family blog] around.
We're already paying for it Interfluidity. Back-of-the-envelope calculation:
On the face of it, the United States collects taxes equal to just under a quarter of its GDP, while social democracies like Denmark or Norway collect taxes that amount to 40% to 50% of GDP. But how much do Americans pay once the plutocracy tax is taken into account? A recent study by Carter C. Price and Kathryn A. Edwards suggests that between 1975 and 2018, the share of taxable income paid to the top 1% grew by 13 percentage points, from 8% to 22%. Treating that additional income as our plutocracy tax, and naively summing it with the overt tax share of GDP, we get a total tax share of 38%, within spitting distance of Norway."
Well worth a read.
Man surrenders after claiming to have bomb near US Capitol AP
Imperial Collapse Watch
Assabiya Wins Every Time The Tablet
Guillotine Watch
Jeff Bezos' house has artisan soft-serve ice cream on tap now New York Post. With rocket-shaped sprinkles?
Class Warfare
U.S. Probes Trafficking of Teen Migrants for Poultry-Plant Work Bloomberg

Nabisco workers strike around the nation Northwest Labor Press

Mapping the Best and Worst Bus Stops in San Francisco Bloomberg
Encountering infinity: the aspects of reality we cannot comprehend Physics World
Antidote du jour (via):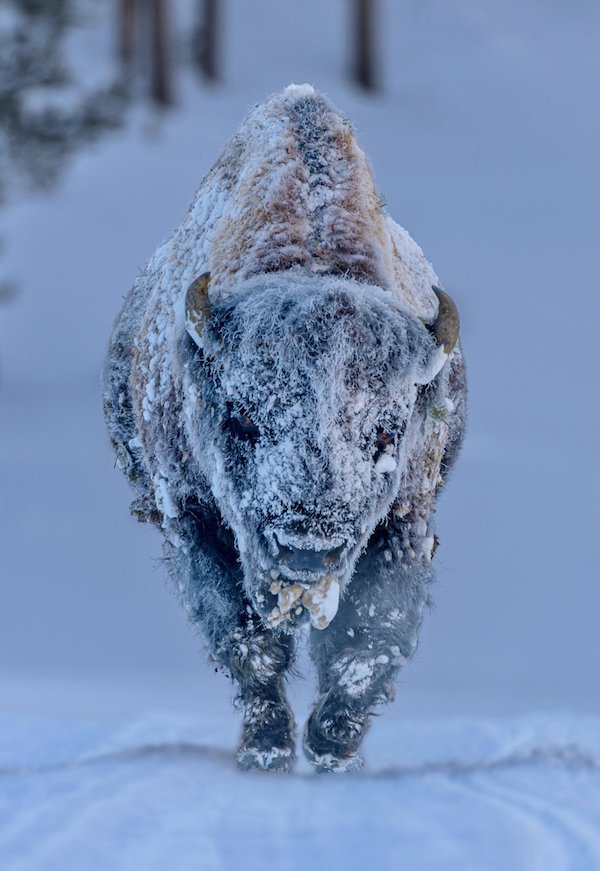 Winter is coming.
See yesterday's Links and Antidote du Jour here.