By Lambert Strether of Corrente.
Patient readers, I will have more on health care in a few minutes. There's a lot. –lambert UPDATE All done!
Bird Song of the Day
* * *
#COVID19
At reader request, I've added this daily chart from 91-DIVOC. The data is the Johns Hopkins CSSE data. Here is the site. I feel I'm engaging in a macabre form of tape-watching….
We already start to an instant rebound from Labor Day, I assume because reporting is returning to normal. Nevertheless, Labor Day, as the end of summer, also signals life changes for Americans, so those changes will affect the numbers too. We shall see!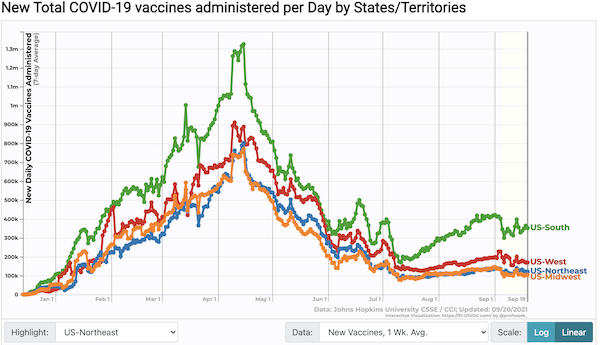 Flat everywhere but the South.
54.6% of the US is fully vaccinated (mediocre by world standards, being just below Ecuador, and just above Switzerland and Malaysia). We are back to the 0.1% stately rise per day. This is the number that should change if Biden's mandates "work." However, as readers point out, every day those vaccinated become less protected, especially the earliest. So we are trying to outrun the virus… (I have also not said, because it's too obvious, that if by Bubba we mean The South, then Bubba has done pretty well.)
Case count by United States regions: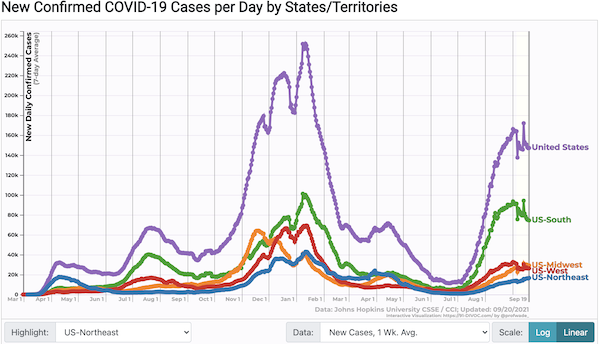 Fiddling and diddling! We could get lucky, as we did with the steep drop after the second week in January. The populations are different, though. This one is more vaccinated, and I would bet — I've never seen a study — that many small habits developed over the last year (not just masking). Speculating freely: If the dosage from aerosols drops off by something like the inverse square law, not linearly, even an extra foot of distance could be significant if adopted habitually by a large number of people. And if you believe in fomites, there's a lot more hand-washing being done. On the other hand, Delta is much more transmissible.
NEW From CDC: "Community Profile Report September 17, 2021" (PDF), "Rapid Riser" counties, this release: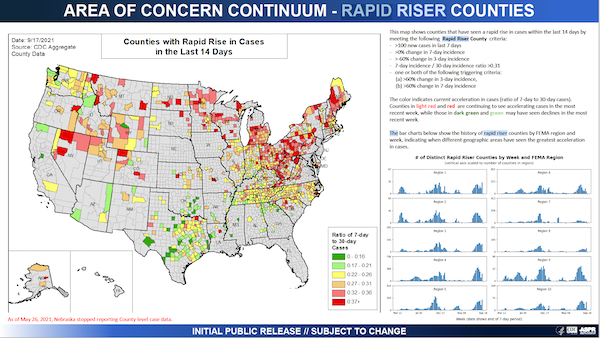 Lower Ohio Valley less red. Northern Main still suffering. The South mostly yellow or green (cases, not hospitalization). Rockies under siege. Remember, however, that this chart is about acceleration, not absolute numbers. This map, too, blows the "Blame Bubba" narrative out of the water. Not a (Deliverance-style) banjo to be heard. Previous release: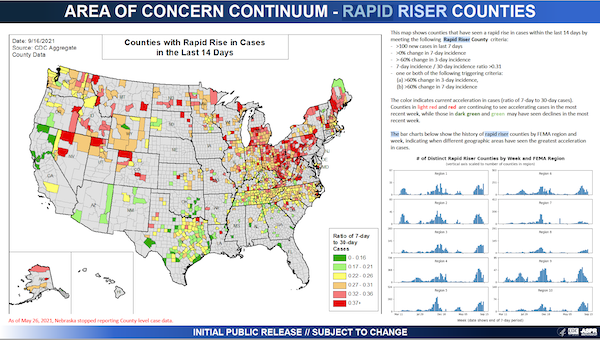 (Red means getting worse, green means bad but getting better.)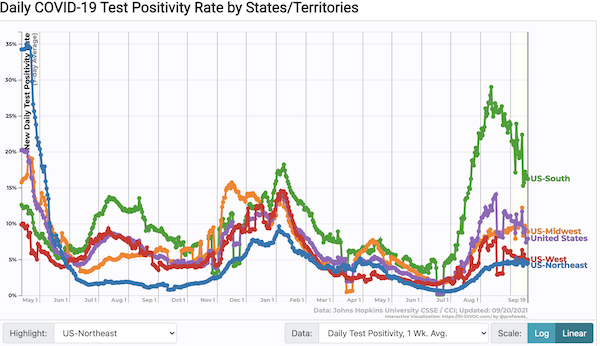 The South, the leader, steadily dropping.
Hospitalization (CDC). This is last week's. Ever since the CDC "improved" this chart, it's been consistently offline: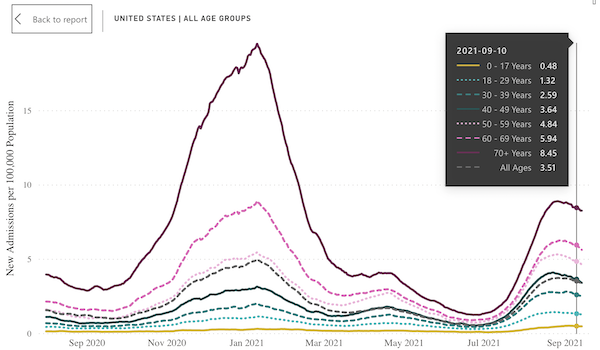 Here the CDC's hospitalization visualization, from the source above: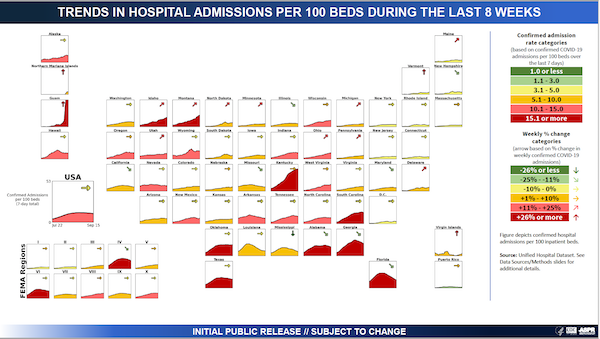 Alabama now headed down, fortunately. Things are picking up in the West.
Death rate (Our World in Data):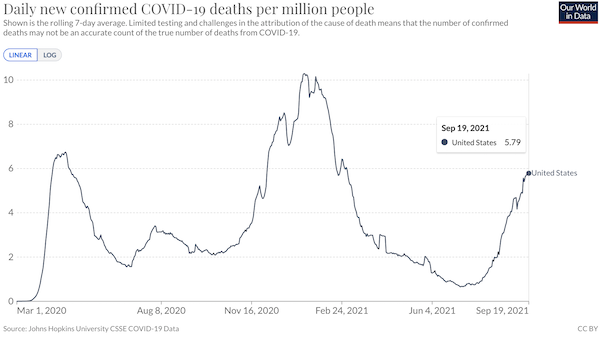 Total: 692,012. We are approaching the same death rate as our first peak last year. Which I am finding more than a little disturbing. (Adding: I know the data is bad. This is the United States. But according to The Narrative, deaths shouldn't have been going up at all. Directionally, this is quite concerning. Needless to see, this is a public health debacle. It's the public health establishment to take care of public health, not the health of certain favored political factions.) (Also adding: I like a death rate because it gives me a rough indication of my risk should I, heaven forfend, end up in a hospital. I should dig out the absolute numbers, too, now roughly 660,000, which is rather a lot.)
Covid cases worldwide: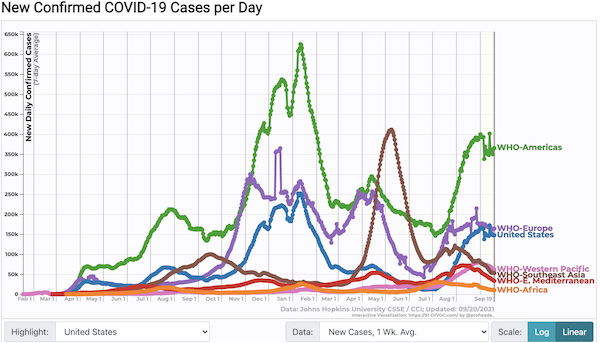 American exceptionalism?
* * *
Politics
"But what is government itself, but the greatest of all reflections on human nature?" –James Madison, Federalist 51
"They had one weapon left and both knew it: treachery." –Frank Herbert, Dune
"They had learned nothing, and forgotten nothing." –Charles Maurice de Talleyrand-Périgord
Capitol Seizure
Pretty small crowd, if you ask me:

Earlier at "Justice for J6" defendants rally:

Police surround masked man reportedly armed with a firearm.

He tells them where the gun is, and they pull out his badge.

He's undercover law enforcement.

Without disarming or handcuffing him, police extract him from the event. pic.twitter.com/F1n4PeuXkt

— Ford Fischer (@FordFischer) September 18, 2021

IIRC, at the Capitol riot, the rioters brought no guns. So, hmm.

"Far-right rally draws small crowd, large police presence at Capitol" [The Hill]. "Several hundred pro-Trump demonstrators gathered outside the Capitol on Saturday to protest the treatment of those charged in connection with the deadly Jan. 6 insurrection — a crowd that seemed to be dwarfed by the outsize presence of the news media and police forces on hand to monitor the event." • Not exactly an organized militant tendency.
Biden Administration
Lambert here: Say what you will about the former guy, but no FDA Commissioners resigned on his watch, and no Ambassadors were recalled over anything he said, let alone did. And on the pandemic, I'm not seeing anything comparable to Operation Warp Speed in scale or ambition, either. Maybe we should send the adults out of the room again?

UPDATE "Biden's Entire Presidential Agenda Rests on Expansive Spending Bill" [New York Times]. "No president has ever packed as much of his agenda, domestic and foreign, into a single piece of legislation as President Biden has with the $3.5 trillion spending plan that Democrats are trying to wrangle through Congress over the next six weeks. The bill combines major initiatives on the economy, education, social welfare, climate change and foreign policy, funded in large part by an extensive rewrite of the tax code, which aims to bring in trillions from corporations and the rich. That stacking of priorities has raised the stakes for a president resting his ambitions on a bill that could fail over the smallest of intraparty disputes…. as Democrats are increasingly seeing, the sheer weight of Mr. Biden's progressive push could cause it to collapse, leaving the party empty-handed, with the president's top priorities going unfulfilled. Some progressives fear a watered-down version of the bill could fail to deliver on the party's promises and undermine its case for a more activist government. Some moderates worry that spending too much could cost Democrats, particularly those in more conservative districts, their seats in the 2022 midterm elections, erasing the party's control of Congress." • Don'r forget: The Democrat Party was constructed. It is the way that it is because that's how its leadership wants it. it's more auto-kinbaku-bi; the Democrat jouissance from tying themselves up, and rendering rhemselves helpless (filibuster; Parliamentarian; moderates). It's not merely pragmatic; I swear they actually get a thrill, a guilty pleasure, out of it.

UPDATE "Democrats confront 'Rubik's cube on steroids'" [The Hill]. One nugget: "The House bill creates a new federal health insurance program to provide Medicaid coverage in the 12 states that didn't expand it under former President Obama's health care law." • Wait. Another health care system? Kidding, right?

"Unions Are Helping Big Pharma Fight Democrats' Prescription Drug Bill" [HuffPo]. "A host of powerful unions are helping the pharmaceutical industry battle a key plank of President Joe Biden's agenda, a display of how broad the powerful lobby's reach extends into Democratic politics. The unions, mostly in the building trades, are members of a joint advocacy group, the Pharmaceutical Industry Labor-Management Association, that is airing television ads attacking the House Democratic plan to empower the federal government to negotiate lower prescription drug prices. The group, known as PILMA, grew out of the industry's use of union labor to build and maintain its research and manufacturing facilities."

UPDATE "Drug companies on verge of sinking longtime Democratic priority" [The Hill]. • Well, I guess they were never serious about it, then.

UPDATE "Sinema tells White House she's opposed to current prescription drug plan" [Politico]. "Both she and Sen. Joe Manchin (D-W.Va.), who met with the president the same day, delivered what one source described as a sobering message for the White House about the fate of the reconciliation bill and its $3.5 trillion price tag, which they both say is too high. The social spending plan is designed to pass without GOP votes through budget reconciliation, meaning that Biden will need to win all 50 Senate Democratic votes to secure its passage…. The drug price negotiation changes that Sinema is coming out against are a major component of the bill's envisioned financing. Democrats are counting on them to raise as much as $700 billion over 10 years to pay for the party-line bill's ambitious programs. Axing it could imperil the health care reform components in the social spending plan, such as a proposal from Sen. Bernie Sanders (I-Vt.), and supported by Biden, that would expand Medicare coverage to hearing, dental and vision."

UPDATE "Guess what the three Democrats blocking lower medication prices have in common?" [David Sirota and Andrew Perez, Guardian]. "The three conservative Democratic lawmakers threatening to kill their party's drug pricing legislation have raked in roughly $1.6m of campaign cash from donors in the pharmaceutical and health products industries. One of the lawmakers is the House's single largest recipient of pharmaceutical industry campaign cash this election cycle, and another lawmaker's immediate past chief of staff is now lobbying for drugmakers. The threat from Democratic representatives Kurt Schrader (Oregon), Scott Peters (California) and Kathleen Rice (New York) comes just as the pharmaceutical industry's top lobbying group announced a seven-figure ad campaign to vilify the Democratic legislation, which aims to lower the cost of medicines for Americans now facing the world's highest prescription drug prices. Schrader and Peters are among the two biggest recent Democratic recipients of pharmaceutical industry donations

At issue is House Democrats' initiative to let Medicare use its bulk purchasing power to negotiate lower prescription drug prices. That power – which is used by other industrialized countries to protect their citizens from exorbitant prices – has been promised by Democrats for years, and party leaders have been planning to include it as part of their sprawling $3.5tn infrastructure reconciliation effort. On Wednesday, Schrader, Peters and Rice helped vote the measure down in the powerful energy and commerce committee, blocking the legislation before it could come to the House floor for a vote." • "Promised by Democtats," lol.

"Pandemic Roundup: September 16, 2021" [Violet Blue]. If anything, more brutal than I was. "President Joe Biden last Thursday released a six-point Covid-19 plan and announced it with a fiery speech, triggering a full-scale Republican meltdown. It's called Path out of the pandemic: President Biden's Covid-19 action plan. The plan will make a dent, but it falls far short of what we need to get out of the pandemic in several key areas, not least of which is its lack of comprehensive guidelines and unified, verifiable enforcement. I am not the only person saying this." More: "Biden's announcement speech stated that breakthrough infections are "only one in 5,000" — this is false because the US still does not have this data. New York Times opinion columnist David Leonhardt admitted the number was an "idea" in his column downplaying the risks of breakthrough infections; the sources Leonhardt loosely cited show this number is a fantasy. This is a problem because it will lead to underreporting (and missed diagnosis) of breakthroughs, and continue the spread. It's an even bigger problem because vaccine skepticism is best predicted by lack of trust. Transparent communication, especially about vaccines, builds trust." • This round-up is a good follow.

"U.S. authorities accelerate removal of Haitians at border with Mexico" [Reuters]. • Policy and morality aside, I don't hear or see any NGOs given space to yammer about the babies anymore. Why would that be? Meanwhile:

We are deeply disappointed in this decision but the fight to provide lawful status for immigrants in budget reconciliation continues.

We will continue fighting to pursue the best path forward to grant them the ability to obtain lawful status.

My statement: pic.twitter.com/5VZjx0D6JT

— Chuck Schumer (@SenSchumer) September 20, 2021

Wowers, that dang Parliamentarian. Obviously, we need to elect more Democrats to get rid of her.
Democrats en Deshabille
"India Walton still has a general election to win, and Buffalo's elite aren't making it easy" [City and State NY]. "On June 28, Brown said he would wage a write-in campaign in November's general election, with some prominent Buffalo figures – former mayor and current lobbyist Anthony Masiello and Common Council Member Joseph Golombek among them – standing by his side. After a controversial ruling from U.S. District Court Judge John Sinatra, the brother of real estate developer and major Brown donor Nick Sinatra, it looked like he would have a line on the ballot under the newly formed Buffalo Party, despite submitting his petitions nearly three months after the deadline set by the state Legislature. Sinatra addressed the appearance of a conflict of interest by saying he considered the guidelines for recusal, spoke to another federal judge about the matter and he saw no reason to recuse himself. He ruled that the deadline was too early to allow for late-emerging candidates to take part and it limited the participation of voters, particularly Republicans and independents who cannot vote in the Democratic primary. However, Brown will not appear on the ballot after a state appellate court overturned that ruling and the 2nd U.S. Circuit Court of Appeals granted a stay on the Sinatra decision, clearing the way for the Erie County Board of Elections to begin mailing ballots without Brown's name on them. Walton's camp cheered the outcomes, taking to Twitter and issuing a press release celebrating the victories." But: "Developers realize there are limits to what she can accomplish through the powers of the office, [Rob Galbraith, a senior researcher with the Public Accountability Initiative,] said. 'They know that just because a socialist steps into an elected office, she doesn't have the power to seize all the productive capital in Buffalo,' he said."

"India Walton has a new campaign manager" [WIVB]. "There's six weeks left before the Buffalo mayoral election on Nov. 2, and Democratic primary winner India Walton is bringing on a new campaign manager to oversee the remainder of the campaign. In a press release Monday, Walton announced that she's making Drisana Hughes her campaign manager. Hughes served as the Deputy Campaign Manager for Alvin Bragg's campaign for Manhattan District Attorney earlier this year and was the organizing director for the mayoral campaign of New York City Comptroller Scott Stringer. 'Her wealth of experience in Democratic campaigning, her deep understanding of political organizing, and her shining intelligence are exactly what this campaign needs to win in November with a strong mandate to build the safe, healthy Buffalo we all need and deserve,' Walton said of Hughes in her statement. Walton's campaign is undergoing a broader staff reorganization that will involve other staff members taking on new titles and responsibilities, the press release adds."

* * *

"Scoop: Sources say Beto plans Texas comeback in governor's race" [Axios]. Former Rep. Beto O'Rourke is preparing to run for governor of Texas in 2022, with an announcement expected later this year, Texas political operatives tell Axios. O'Rourke's entry would give Democrats a high-profile candidate with a national fundraising network to challenge Republican Gov. Greg Abbott — and give O'Rourke, a former three-term congressman from El Paso and 2020 presidential candidate and voting rights activist, a path to a political comeback." • Commentary:

Why in the name of God did he leak this to them? https://t.co/6gmAl7i22i

— Richard M. Nixon (@dick_nixon) September 20, 2021

Donors? Axios is platform, so Beto wanted to stand on it?
Republican Funhouse
"Ducey canceled federal unemployment benefits and promised back-to-work bonuses instead. He's only paid 222 of them" [Arizona Agenda]. "When Gov. Doug Ducey announced in May that he was cutting Arizonans off from the federal government's additional $300 per week in pandemic-related unemployment insurance, he promised a sweeping new program that would provide "return-to-work bonuses," child care subsidies and education scholarships to incentivize people to get jobs. But four months after Ducey announced the program, and more than two months after he cut off additional federal unemployment benefits, only 222 people have received a bonus for pulling themselves up by their bootstraps. The state so far has doled out $422,000 in bonuses for people who got a job and got off unemployment, according to the Arizona Department of Economic Security, which is charged with administering the fund. That's less than 0.15% of the $300 million Ducey promised for the program. And it's far less than the federal benefits would have paid out to needy Arizonans struggling through a worldwide pandemic…"
Realignment and Legitimacy
"The Liberal Attack on Government" [The Atlantic]. "It was against this conjunction of administrative power—the postwar alliance of big government, big business, and big labor—that best-selling writers such as Rachel Carson and Ralph Nader rose up in full-throated opposition in the early '60s. Excessively close ties between government and industry, Carson argued in her 1962 best seller, Silent Spring, exacerbated a misguided vision of a simplified, pest-free environment…. Carson's skepticism about the government adequately representing the public interest echoed through the growing environmental movement over the next decade… Nader and other citizen activists searched for ways to build something larger than individual crusades. They aimed to enlist energetic young researchers and professionals to press government agencies to fulfill their public missions and regulatory roles. The media, the courts, and administrative and legislative processes would be their field of operation. Civil-rights and anti-war movements fueled their belief that the government could not be trusted and needed to be watched over and held accountable. Notable liberal foundations, including Ford and Carnegie, played important roles launching this new public-interest law movement." • The difficulty here is that NGOs are not only not democratic, they're dependent on the whims of wealthy philanthopists. And so, over and over again, the #MeToo saga repeats. I don't think there's anything an NGO can do that the State and/or political parties could do and should do. Of course, that assumes either function, but they will never be made to function by NGOs. As we see all too clearly.

UPDATE Genocidal elites a parsimonious explanation? Thread:

🧵COVID-19: how do you convince people that the people in power actually want them to die?

This may seem dramatic but it isn't & given that we* have lost the war against COVID to the GBD & Co, we can't cushion this.

*Everyone trying to control the pandemic & save lives.
(1/25)

— Hisham Ziauddeen (@HZiauddeen) September 19, 2021

The difficulty is thinking this idea through materially without resorting to Bond villains in bunkers or yarn diagrams. Though there are not very many of the Shing…
Stats Watch
There are no official statistics of interest today.
* * *
The Bezzle: A parable:
Later, his neighbor steals it, but worried that he might be caught, puts a sign on top saying "the silver that has gone missing was not stolen by your neighbor."

— New York Times Asia-Pacific Pitch Bot (@Mont_Jiang) September 18, 2021
The Bezzle: "Wall Street Journal Eviscerates Facebook" [The Ad Contrarian]. For those of you who, like me, don't have a WSJ subscription, this is a summary of last week's multipart series. The conclusion: "Zuckerberg's record of lying and cheating his way to success is the great business scandal of our age. From the day it was born, Facebook has been a crooked operation. Facebook has never allowed third party validation of its audience claims. How any marketer or advertiser can be stupid enough to believe anything Facebook says about their advertising or audience metrics is beyond me. The shame of our industry is on full display here. If our industry "leaders" – the 4As, the ANA, the pathetic holding company aristocrats — had an ounce of integrity they would have questioned Facebook's probity years ago…. Our industry has been the silent partner to the decay of civil society engendered by Facebook. We are the hidden hand."
The Bezzle: "Troll farms reached 140 million Americans a month on Facebook before 2020 election, internal report shows" [Technology Review]. "[A]fter the 2016 election, Facebook failed to prioritize fundamental changes to how its platform promotes and distributes information. The company instead pursued a whack-a-mole strategy that involved monitoring and quashing the activity of bad actors when they engaged in political discourse, and adding some guardrails that prevented 'the worst of the worst.' But this approach did little to stem the underlying problem, the report noted. Troll farms—professionalized groups that work in a coordinated fashion to post provocative content, often propaganda, to social networks—were still building massive audiences by running networks of Facebook pages. Their content was reaching 140 million US users per month—75% of whom had never followed any of the pages. ." • Now do YouTube. Why on earth the platforms don't operate like the blogosphere and RSS do, and just put up posts in chronological order from accounts you subscribe to… Well, we know why.
Manufacturing: "The Next Best Electric Car Battery Is Here, Cheaper Than Ever" [Bloomberg]. "There's no shortage of excitement for electric vehicle battery startups or multibillion dollar investments in the industry, as companies, backers and scientists look for the winning play. China, though, is already moving on to the next leg in the race — one that isn't dependent on a big, bold breakthrough — with sodium-ion batteries. Done right, this technology could lead to widespread adoption in a market largely dependent on subsidies and where EV sales are still a fraction of all cars. China's Contemporary Amperex Technology Co., or CATL, the world's largest battery manufacturer, unveiled its latest product in July — a sodium-ion battery. The following month, China's Ministry of Industry and Information Technology said it would drive the development, standardization and commercialization of this type of power-pack, providing a cheaper, faster-charging and safe alternative to the current crop on offer, which continue to be plagued by a host of problems, not least, faulty units catching fire.
Manufacturing: Just pathetic:
During opening ceremony of new gantry cranes in USA. A sudden gust of wind blew away the board covering Chinese brand name. You can see the board is black on one side and has American flag on the other.

What an embarrassment trying to hide the Chinese made cranes. pic.twitter.com/jp4wVMvdJR

— TT (@JustnEqual4all) September 19, 2021
This video seems to be from 2016. Fundamentally, nothing has changed. The country that invented the shipping container and the modern supply chain can't even manufacture its own cranes.
Mr. Market: "Why Evergrande has suddenly exploded into a potential global financial market crisis" [MarketWatch]. "On one level, Evergrande—which reportedly faces at least $83.5 million in interest payments due on Thursday, with a 30-day grace period — is raising concerns about a liquidity crisis among all Chinese and Hong Kong property companies, as markets quickly turn off access to dollar funding. In a more macro way, the firm's woes are bringing to the fore China's wide-scale regulatory crackdown across most of its businesses, starting with technology giant Alibaba Group Holding Ltd. 9988, -2.19%, which is rattling confidence in the world's second-largest economy. China's crackdown on property developers, without a known endgame, is what's sapping liquidity from thinly traded securities like Evergrande bonds, which are held in passive emerging-market-index exchange-traded funds and separately managed accounts at U.S., European and Asian money-management firms." • I don't play the ponies, so this comment is worth even less than you might think. That said, Xi is surely capable of dealing with a liquidity crisis, should one arise (and is the Evergrande more like the mortgage crisis, or the Savings and Loan crisis? If the latter, then we face the pleasing prospect of a lot of real estate developers going to jail). For the rest of it, the West seems to have a problem with China having a government that governs. We'll see how that goes.
* * *
Today's Fear & Greed Index: 20 Extreme Fear (previous close: 34 Fear) [CNN]. One week ago: 37 (Fear). (0 is Extreme Fear; 100 is Extreme Greed). Last updated Sep 20 at 12:36pm. First Extreme Fear in awhile.
Rapture Index: Closes unchanged [Rapture Ready]. Record High, October 10, 2016: 189. Current: 187 (Remember that bringing on the rapture is a good thing, so higher is better.)
Health Care
UPDATE "Intelligence agencies can help stop future pandemics. Here's how." [Scott Gottlieb, WaPo]. The main takeaway from Gottlieb's book. "Our government has the capacity to gather epidemiological facts even when other nations don't want to share them. Deploying intelligence agencies and assets to monitor outbreaks would advance our public health goals and help guard against adversaries who would try to exploit the chaos brought on by a health crisis." • Now we're doing to start seeing "news" stories on pandemics sourced to anonymous intelligence officials. Swell.
UPDATE "How Access, Advocacy, And Innovation Can Help Us Achieve Health Equity" [Health Affairs]. "The COVID-19 pandemic exacerbated deep disparities that have existed for generations—disparities that will not fade with the pandemic if we do not act with urgency. Results of a recent CareQuest Institute for Oral Health consumer survey revealed that six million people lost their dental coverage as a result of the pandemic. This points to serious challenges ahead as our recovery continues." • Bad teeth are a well-known class marker.
"Association of Nursing Home Characteristics With Staff and Resident COVID-19 Vaccination Coverage" [JAMA]. From the Results:
Among the more than 14 900 nursing homes reporting vaccination data by July 18, 2021, 60.0% of staff and 81.4% of residents were fully vaccinated on average. Average vaccination coverage was lowest among CNAs (49.2%) and registered nurses and licensed practical nurses (61.0%), with higher coverages noted among therapists (70.9%) and physicians and independent practitioners (77.3%).

After adjustment, for-profit ownership was associated with a decrease of 2.5 (95% CI, −3.2 to 1.8) and 3.3 (95% CI, −4.0 to 2.6) percentage points for staff and resident vaccination coverages, respectively, compared with nonprofit facilities.

Greater percentages of staff and residents who were non-White (ie, American Indian or Alaska Native, Asian, Black, Pacific Islander or Native Hawaiian, and 2 or more races) were associated with lower vaccination coverages for both groups.

UPDATE "Covid gives us a chance to fix indoor air pollution forever" [Wired]. "We spend almost all our lives indoors – about 90 per cent, in fact. Take your age, multiply it 0.9, and that's your indoor age, or how many years you've lived indoors. So the quality of the air you're inhaling is pretty important. But for the most part, that quality tends to be poor. Indoor air can be packed full of harmful pollutants, which make us sick and hamper our productivity. 'It's influencing us constantly; I just don't think people have thought much about it. And then when Covid hit, I think it opened a lot of eyes,' says [Joseph Allen, director of the Healthy Buildings programme at the Harvard T.H. Chan School of Public Health]. Our buildings haven't always been so stuffy. After the energy crisis in the 1970s, it transpired that our infrastructure wasn't particularly energy-efficient; buildings were leaky, with heat spilling out of poorly-insulated walls. To fix this, architects made buildings smaller, a little bit more airtight. But this also entailed choking off air supplies and lowering ventilation. And so when the pandemic hit, it became harder to ignore how our stuffy buildings were negatively impacting our lives. While it's now well-established that Sars-CoV-2 transmits through droplets in the air, it also has this in common with many other viruses, such as the cold and flu that travels around your office and schools every winter. What if we could stop that from happening? Bumping up ventilation and filtration rates in buildings could easily reduce the spread of airborne pathogens that regularly make us sick. In a May letter to the journal Science, almost 40 experts, including Allen, called for a 'paradigm shift' in improving indoor ventilation standards to control the spread of infectious disease." • Stopping all drafts and adding insulation hasn't made the house stuffy — it's too old and enormous ever to be sealed — but it sure has saved on the fuel bill. So, now what do those of us who did the right thing to save energy do in the winter? Open the doors and windows in the winter? Really?

UPDATE FDA erases aerosols and ventilation:

Take simple steps to help slow the spread of #COVID19. Get vaccinated. Wash your hands often with soap & water. Cover your mouth & nose with a mask. Avoid crowds & practice social distancing. https://t.co/8tyHLJPOYT pic.twitter.com/nKC0YXsfFf

— U.S. FDA (@US_FDA) September 16, 2021

UPDATE WHO erases aerosols and ventilation:

Dear WHO
The virus is AIRBORNE. It is the height of irresponsibility to put out public health messages about "safe schools" which make no mention of ventilation, crowding, time spent indoors or the heightened dangers associated with singing and speaking. pic.twitter.com/b37R34j1ae

— Trisha Greenhalgh (@trishgreenhalgh) September 19, 2021

UPDATE Yes, WHO is still at it:

Misinformation on twitter?

The first thing that comes to mind is @WHO's horribly harmful March 28 tweet.

It got 45000 likes and was retweeted 40300 times.

To this day @WHO never clearly admitted that this was terribly wrong, and they never expressed any regret or apologized. https://t.co/mEWxoW70xR pic.twitter.com/MKmNbKeRQ1

— Maarten De Cock (@mdc_martinus) September 19, 2021

UPDATE A unified theory of aerosol transmission put in layperson's terms:

1/ Inhalation Dose
It's been about inhalation dose from day 1. We have not kept our eye on the ball. Critical pre-vaccination. Critical post-vaccination. Been writing & speaking about this for nearly 20 mos. Reducing inhalation dose is a must. Come on folks, just do it!

— Dr. Richard Corsi (@CorsIAQ) September 19, 2021

UPDATE "Rich People Are Leading the Anti-Vaccine Movement — and Experts Have a Theory Why" [Money]. From 2019, still germane: "Disease experts say the parents least likely to vaccinate their kids live in some of the most affluent neighborhoods in the country. They're well-educated, and have exceptional access to healthcare. And while some pockets of low-income communities of color are 'under vaccinated' for religious or financial reasons, studies published in places like the American Journal of Public Health show that the parents opting out for 'philosophical reasons' are mostly white and mostly wealthy…. Parents who opt out of vaccines tend to "believe, simply, that they can make the scientific determinations about the efficacy and dangers of vaccines for themselves," she says. They have more free time on their hands than lower income parents — time that can be spent poring over anti-vaccine forums and websites, and applying for state-specific exemptions required to bypass school immunization laws…. When an outbreak does happen, rich families aren't the only ones affected, of course. Usually, they aren't even the hardest hit. This underscores a more sinister theory about why rich Americans are opting out of vaccines. A string of research referenced in the Washington Post last year suggests that wealthy people simply have less empathy than everybody else. They're more likely to cheat on their taxes, and their spouses. And they give lower proportions of their income to charity. 'Wealth is basically a mechanism for power, and ,' the social psychologist Adam Galinsky told the Post.'"It takes away the constraints of society and frees people to act according to their dominant desires.' If you're rich, the consequences of 'opting out' aren't particularly dire. After all, it's easier to rationalize the risks of bypassing immunization if you can afford a lengthy hospital stay, or to pull your kid out of daycare if her classmate gets sick. And while the U.S. has a long history of stigmatizing poor parents—'free range parenting,' versus neglect, 'welfare moms' versus stay at home mothers—if you're a wealthy anti-vaxxer, you probably won't face any social ramifications either." • How it plays out:

Me to my children: "What has this year taught you about people?"

13yo: "PEOPLE SUCK"

7yo: "People are stupid. They won't get the vaccine or wear a mask."

— Denise Dewald, MD 🗽 (@denise_dewald) September 19, 2021

Groves of Academe

"Maspeth HS diplomas 'not worth the paper' they're printed on" [New York Post]. "Maspeth High School created fake classes, awarded bogus credits, and fixed grades to push students to graduate — "even if the diploma was not worth the paper on which it was printed," an explosive investigative report charges. Principal Khurshid Abdul-Mutakabbir demanded that teachers pass students no matter how little they learned, says the 32-page report by the Special Commissioner of Investigation for city schools, Anastasia Coleman. 'I don't care if a kid shows up at 7:44 and you dismiss at 7:45 — it's your job to give that kid credit,' the principal is quoted as telling a teacher. Abdul-Mutakabbir told the teacher he would give the lagging student a diploma 'not worth the paper on which it was printed' and let him 'have fun working at Taco Bell,' the report says. The teacher 'felt threatened and changed each student's failing grade to a passing one.' The SCI report confirms a series of Post exposes in 2019 describing a culture of cheating in which students could skip classes and do little or no work, but still pass." • Worst of all, this is a public school, not a charter.

Class Warfare

"Harms of AI" [Daron Acemoglu, NEBR]. "I argue that if AI continues to be deployed along its current trajectory and remains unregulated, it may produce various social, economic and political harms. These include: damaging competition, consumer privacy and consumer choice; excessively automating work, fueling inequality, inefficiently pushing down wages, and failing to improve worker productivity; and damaging political discourse, democracy's most fundamental lifeblood…. I also suggest that these costs are not inherent to the nature of AI technologies, but are related to how they are being used and developed at the moment – to empower corporations and governments against workers and citizens." • Well, er, would we be developing AI if it did not "empower corporations and governments against workers and citizens"? Dude, come on.

"The Unimaginable" [Cory Doctorow]. "It is easier to imagine the end to the world than it is to imagine a nonviolent end of capitalism. But we should still try.

In many ways, we are already living in a postcapitalist society. Many of our most important jobs — parenting, caring for elderly relatives of friends — are unpaid. And virtually none of our great businesses or their industries would be profitable save for vast state subsidies: the huge public subsidy inherent in the climate emergency. Companies profit by pushing off the highest cost of doing business to the rest of us, in the form rising seas, hurricanes, wildfires and droughts. If companies had to carry this cost on their balance sheet, most firms would have to drastically restructure or go out of business. It's a bloody form of postcapitalism, one where vital hard work is unwaged and only costs — not profits — are socialized. But there is an alternative. We just have to imagine it." • "Men make their own history, but they do not make it as they please; they do not make it under self-selected circumstances, but under circumstances existing already, given and transmitted from the past." –The Bearded One

Guerilla grazing:

News of the Wired

There is a punchlineL

R.I.P. Norm MacDonald,

Fortunately, virtue is its own reward:

There was a man who worked for the post office in a British village whose job was to process all the mail that had illegible addresses.

— RC deWinter (@RCdeWinter) September 18, 2021

* * *

Readers, feel free to contact me at lambert [UNDERSCORE] strether [DOT] corrente [AT] yahoo [DOT] com, with (a) links, and even better (b) sources I should curate regularly, (c) how to send me a check if you are allergic to PayPal, and (d) to find out how to send me images of plants. Vegetables are fine! Fungi and coral are deemed to be honorary plants! If you want your handle to appear as a credit, please place it at the start of your mail in parentheses: (thus). Otherwise, I will anonymize by using your initials. See the previous Water Cooler (with plant) here. Today's plant (johnnyme):

johnnyme writes: "Looks like another breakthrough case."

* * *

Readers: Water Cooler is a standalone entity not covered by the recently concluded and — thank you! — successful annual NC fundraiser. So if you see a link you especially like, or an item you wouldn't see anywhere else, please do not hesitate to express your appreciation in tangible form. Remember, a tip jar is for tipping! Regular positive feedback both makes me feel good and lets me know I'm on the right track with coverage. When I get no donations for five or ten days I get worried. More tangibly, a constant trickle of donations helps me with expenses, and I factor in that trickle when setting fundraising goals:

Here is the screen that will appear, which I have helpfully annotated.

If you hate PayPal, you can email me at lambert [UNDERSCORE] strether [DOT] corrente [AT] yahoo [DOT] com, and I will give you directions on how to send a check. Thank you!2:00PM Water Cooler 6/8/2021