By Lambert Strether of Corrente.
"… forced to learn a difficult trade in a driving hurry…" –Patrick O'Brian, Post Captain
This post is a companion piece to an earlier post, "The Romance of Shipping Containers," where I was quite taken with how shipping containers "embodied two subjects I really enjoy: Transportation, and international standards" (I'm terrific at parties). I was also taken with the modularity of stacking up (more or less) identical containers. I did not, however, consider the material realities — the physicality — of moving shipping containers from Port A to Port B, whether oceanic or human, which I hope to do now, while still digging into some standards. (The shipping industry is gloriously complex and has a long history, so I'm going to give readers plenty of opportunities to remedy any errors or omissions.)
A ship at sea moves — or rather, is moved, by the ocean — in six degrees of motion: heave, sway, surge, roll, pitch and yaw. Here is a handy diagram, from Freight Forwarder: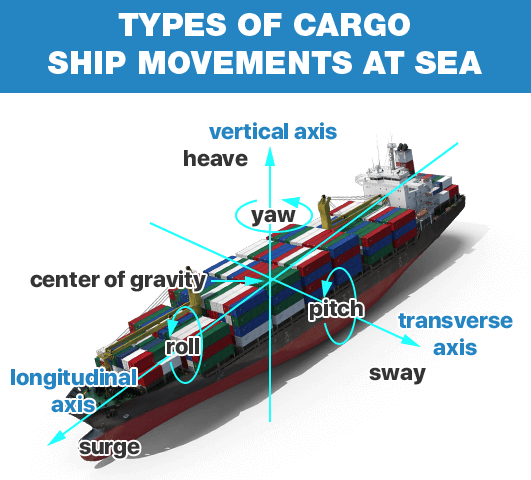 You can see at once that if containers were simply stacked up like children's blocks, the materiality of the sea would cause them to slide off the deck in short order, never mind what a storm might do. Hence, some method must be used to secure the containers. This method is called "container lashing," or "lashing." From Marine Insight:
When a container is loaded over ships, it is secured to the ship's structure and to the container placed below it by means of lashing rods, turnbuckles, twist-locks etc. This prevents the containers from moving from their places or falling off into the sea during rough weather or heavy winds.
Not just lashing rods, but also wires, chains, ropes, and straps. There is, apparently, a myriad of proprietary lashing systems, necessarily compatible with the standardized fittings of the containers, but otherwise incompatible.. Here is a diagram of one rod system: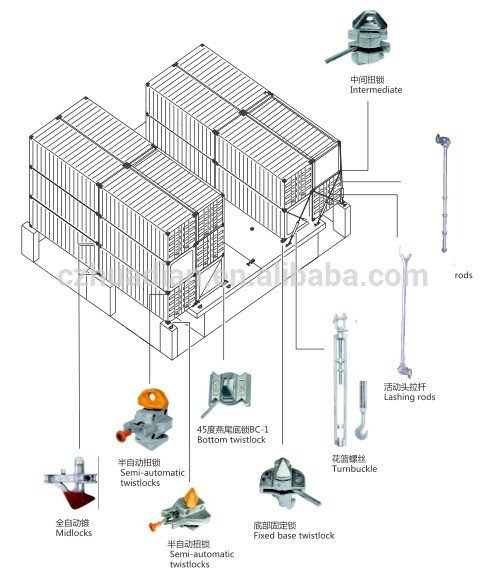 (Presumably sold on Ali Baba, hence the watermark).
Alert reader Charlie Sheldon described working with a rod lashing system:
a huge part of preparing a ship for sailing is "lashing" which is done by longshoremen when loading the containers and then checked by the ship's deck crew once underway. Lashing refers to these 12 to 20 foot long one inch diameter rods, with turnbuckles threaded at each end with shackles, which are fastened to the corners of containers and then placed on the ships walkways between stacks of containers, and tightened using big rods turning the tunrbuckle, such that these long rods are drawn as tight as possible to attach the stacks of containers not only to each other but to the ship, too. Between each stack of containers on a ship is a space, about 6-7 feet wide (?) which yu can see when a ship crosses in front of you and you see it side-on, and in that space, rising three or four levels about the main deck, is a gantry platform, with a level at each container level, and railings, accessed by ladders at each end of the gantry (ie at each side of the ship) and this is the thing those lashings are fastened to, and tightened from. It is hard work, but essential because if the weather gets bad those stacks will move and sway, and, unless held down, will come loose, and often they come loose anyway if the weather is really bad. When I sailed we ran the east coast of the US (New York, Charleston, Savannah, Norfolk and then we crossed the Atlantic through the Straits of Gibraltar to the Suez Canal on our way to Singapore) and when we left Norfolk we'd turn to to check all the lashings and make sure they were tight. This took two or three days, actually. Then we'd check everything again before we reached Gibraltar, and it was astounding how much those lashings would go slack because of the ship's motion. I don't know if you can call this work highly skilled, but it is hard physically and tough to do properly, and that gear is heavy and dangerous. If a section of one of those lashings, say if the turnbuckle and shackle are unthreaded from the rod, that turnbuckle section and shackle alone weighs 30 pounds, and if it drops or falls and your hand is in the way youl'd lose your hand. I almost lost mine, three times.
(This is the physicality I said I would center.) Here's some detail on the safety precautions that should be taken by workers doing container lashing. From Marine Insight:
Wear all the required Personal protective equipment (PPE) such as a reflective vest, steel toe shoes, hard helmet, gloves etc.
.
It's like the workers are professional athletes…
Try using a back support belt and always use your knee to lift.
Be cautious while walking around the ship as the ship structure can be a tripping hazard.
Be careful from slip, trip and fall while boarding or leaving ship from gangway with carrying loads
Do not walk under suspended load i.e. gantry, hanging container etc.
Work platforms, railings, steps, and catwalks must be inspected prior to the starting of operations.
All manhole cover or booby hatches to be closed while lashing.
Be careful while walking over the rods and twist locks while working. Always keep the lashing equipment in their assigned place or side of the walking path.
Understand the plan and order of lashing and unlashing.
The reefer containers require extra attention and coordination for plugging and unplugging when loading or unloading is carried out.
Beware of trip hazard due to reefer container power cord.
Do not touch any electrical equipment or power chord until it is instructed that it is safe to work on.
All the lashing and other materials must be removed and secured from the top of the hatch cover prior to the removal of the same.
Be careful of fall hazards when lashing outside containers on the hatch cover or pedestal.
Fall arrester or safety harness must be used by workers when operating aloft.
Always be at a safe distance from co-workers during lashing or unlashing containers as the long rods can be hazardous if not handled properly.
It is a normal practice not to lash or unlash any closer than at least 3 containers widths away from another co-worker.
Always work in pairs when handling rods and turnbuckles.
Always walk the bars up, slide them down and control the rods at all time.
Do not leave or throw the rod or other equipment until you are sure that it is safe to do so and no one is around the vicinity.
Do not lose a turnbuckle and leave the rods hanging. When securing a rod, the turnbuckle must be tightened right away.
Always report defective lashing gear, defective ship's railing, or any other inadequate structure or system involved in the operation to the concerned person or ship's staff.
Less than 0.001% of the estimated 226 million containers carried every year are lost overboard each year. Nevertheless, when containers are lost, carriers are unhappy, and anxious to share their unhappiness with others. Here's one example of an accident caused by bad lashing, from Container News in 2020:
According to the MAIB accident report the loss of 42 containers and the damage to 34 others, on the 7,024TEU Evergreen container ship, Ever Smart, …
Boy, those Evergreen guys… They have all the luck, don't they?
…most likely occurred during a period of heavy pitching and hull vibration in the early morning of 30 October 2017 [Pesky ocean! –lambert].

The United Kingdom government agency said that a combination of factors resulted in a loss of integrity for the whole deck cargo bay; in particular, . In addition, the container lashings might not have been secured correctly, said the accident report.
"Cargo securing manual," you say? That brings me to the world of international standards.
The Cargo Securing Manual (CSM)
Here is functional definition of a Cargo Securing Manual, from Wartsila:
[Cargo Securing Manual (CSM)] required on all types of ships engaged in the carriage of all cargoes other than solid and liquid bulk cargoes. Cargo units, including containers, shall be loaded, stowed and secured throughout the voyage in accordance with Cargo Securing Manual approved by the Administration.
And here is a technical documentation house's descrlption of the institutions involved, and its deliverables:
A cargo-securing manual is a document that must be certified by classification societies….
We'll get to classification societies next.
….and is required to be equipped on all oceangoing vessels carrying cargo (containerships, pure car carriers, conventional cargo ships, refrigerated-cargo vessels, steel-product carriers, timber or log carriers, box-shaped ships) except bulk carriers. We at MTI offer our customers a service for producing cargo-securing manuals for newly built ships by taking advantage of our experience and know-how in marine transportation technologies for various types of cargoes. The manual we prepare satisfies requirements by the NK, LRS, DNV, and ABS classification societies. A manual for other classification societies can be prepared upon request. Send us a drawing of the ship, and we can provide a full range of support from the production of the manual to the acquisition of the necessary certificate from the classification society.
Notably, each ship has its own CSM, unique to it (quite different from the modularity of containers; the ships are not modular at all). Note that the CSM defines the lashing pattern for the ship — i.e., the location, sizes, and weights of the containers, and their arrangement such that the stack does not destabilize — but not the actual lashings involved (which, you will recall, are proprietary). From Ships Business:
The Cargo Securing Manual issued on ship's delivery does not detail the minimum quantity of portable securing/lashing devices that should exist onboard. There is no minimum industry quantity of lashing stipulated nor guidance on the required percentage of spares. The minimum quantity of portable securing/lashing devices is defined by the commercial needs of the ship and therefore, the minimum quantity of portable securing/lashing devices is that required to secure the intended stow of containers following the lashing pattern given in the approved CSM.
The CSM requires that there be a list of lashing devices, but doesn't specify what's on the list. You can see a lot depends on the tacit knowledge of the workers actually doing the lashing, and their commitment to doing it properly. The wording of a CSM "Model Manual" (presumably a template to be modified ship-by-ship) from Det Norske Veritas underlines this point:
2.3 General Information

1 The guidance given herein should by no means rule out the principles of good seamanship, .
Professional Mariner makes the same point in a different way:
Cargo stowage inside containers causes problems, as a container stack is only as strong as its weakest container…. [T]he container securing manual (CSM) must be followed accurately, and further stowage guidelines should be sought for problematic cargoes. One of the challenges is that container carriers largely depend on shippers, freight forwarders or [i.e, the workers –lambert] to pack and secure cargoes adequately. Errors are inevitable.
And from one of the insurance companies that will end up paying for the "errors," Steamship Mutual, on one particular sort of error, overweight containers:
It is, of course, good ship's practice not to allow loading operations to commence without receipt of a proposed stowage plan or, at least, a stowage plan for those containers about to be worked. This plan must then be checked against the ship's computer loading/lashing programme and/or CSM to ensure that permissible limits are not exceeded…. However, wrongly declared container weights are difficult if not impossible to identify. in terms of adequate supervision of loading. If feasible, loaded containers should be cross-checked against the stowage plan and computer programmes and the CSM used to ensure that the ship's requirements are being complied with.
And now to the standards bodies that require the necessary but not sufficient documentation, the CSM.
Standards Bodies
As we said, classification societies require and approve CSMs as part of their general process of approving a ship's classification. From Marine Insight:
Maritime classification societies were born out of a need to ensure the continued safety and security of the maritime domain with respect to the vessels and the various marine aiding constructions. The role of a classification society is thus quite set and of utmost importance.

In the absence of classification societies for ships, there would be no benchmark or guideline standards for vessels and other constructions to adhere to.

At present, more than 50 classification societies exist. A classification society is required to notate grades or classes for vessels, vessel structuring and its maintenance along with the structuring aspect of various constructions located in the high seas.
(Lloyd's ranks classification socities by ship's tonnage classified. So, I certainly hope their not like the ratings agencies before the Great Financial Crash. In that case, however, there are the Big Three. Perhaps 50 entities in different jurisdictions are more likely to keep each other honest.)
However, the structure of CSM document type — instances of which type are approved by the classification agencies — is determined by the International Maritime Organization. Here is the origin of the language quoted above in Det Norske Veritas's Model! From the International Maritime Organization's MSC.1/Circ.1353/Rev.2 7 December 2020, "REVISED GUIDELINES FOR THE PREPARATION OF THE CARGO SECURING MANUAL":
1.3 General information

This chapter should contain the following general statements: 1 "The guidance given herein should by no means rule out the principles of good seamanship, neither can it replace experience in stowage and securing practice."
So, once again, beneath the boilerplate, and not reducible to it, are the material realities of the ocean and the workers doing the lashing. And not, I might add, the brokers, the executives, or the finance people in their havens.
Conclusion
So Tom Brady's retiring. Boo hoo. There are workers on container ships who are twice the athlete Brady ever was, if you go by physical risk and skills, let alone the ratio of physical risk to paycheck. Or the social utility of provisioning people's material needs, as opposed to fan service. And the workers play in a game where the ocean makes the rules, which can't be bent.
APPENDIX
I found this video fun and interesting — even if it does at points break into Cyrlliic subtitles — but I can't determine its provenance, and so I didn't quote from it. But it might be worth watching for a more systematic view: