By Lambert Strether of Corrente
Patient readers, a lot on truckers today. –lambert
Bird Song of the Day
* * *
Politics
"But what is government itself, but the greatest of all reflections on human nature?" –James Madison, Federalist 51
"They had learned nothing, and forgotten nothing." –Charles Maurice de Talleyrand-Périgord
"When the going gets weird, the weird turn pro." –Hunter Thompson
Biden Adminstration
"Psaki says binge-watching 'The West Wing' got her back into politics" [The Hill]. "Psaki says binge-watching 'The West Wing' got her back into politics. The White House press secretary said during a recent appearance on Rob Lowe's 'Literally!' podcast that she was a latecomer to the former NBC political drama, only getting her Bartlet administration fix after leaving the Obama White House in 2011. 'I'm working at this consulting firm and I started watching 'The West Wing.' And I don't know what prompted me to watch it, but I binged the entire thing,' Psaki said. Before going on her viewing spree, Psaki said she had been 'exhausted' by the work on Obama's campaign and at 1600 Pennsylvania Ave. 'In a crazy way, [the show] really brought me back to come back to politics and I ended up coming back and doing the 2012 campaign, and traveling with then-President Obama on his reelection.'" • The West Wing was a truly vile show. Allow me to recommend another podcast: TThe West Wing Thing, which is going through every single episode of the show. Here's an early sample: "The Portland Trip," "In which Josh (the one on The West Wing, not our beloved co-host) explodes in a fit of misogynistic rage. Hilarity ensues." Interestingly, misogyny really is a constant on the show, as the hosts show in excruciating detail. So it's hard to see what Psaki saw in the show. More on the West Wing–

"The Obamanauts" [Cory Robin, Dissent]. From 2019, still germane: "Obamanauts have a range of references to demonstrate their devotion. Hogwarts and St. Elmo's Fire loom large. The West Wing is clearly the touchstone, however. Gautam Raghavan, who began working for Obama during the 2008 campaign, writes, "Working in Barack Obama's White House was like watching Aaron Sorkin's The West Wing brought to life. It had all the necessary elements: the brilliant, articulate professor in chief with an unapologetically progressive vision of America; a narrative arc rooted in ongoing themes of idealism and public service; but most importantly, a cast of patriotic Americans who labored every day, as members of the President's staff, to serve the country they loved." One collection of testimonials, edited by Raghavan, is called West Wingers; another memoir is called West Winging It." • Yes, the West Wing has a lot to answer for….

"Squad member to deliver response to Biden SOTU" [Politico]. "In the speech, given on behalf of the left-wing group Working Families Party, Rep. Rashida Tlaib (D-Mich.) is expected to hammer moderate Democrats who have stymied Biden's social spending and climate change package. Tlaib will praise Biden's stimulus bill and make the case that liberals have pushed aggressively for his agenda, according to a summary of her remarks shared exclusively with POLITICO. She is also planning to argue that Republicans and a handful of intransigent Democrats have blocked progress on lowering the cost of housing, health care and prescription drugs. The speech will put on display the deep rifts within the Democratic Party that have marked Biden's presidency…. While the party out of power typically gives a rebuttal to the president's State of the Union address, it is unusual for members of the president's own party to offer an official response. It is not the first time that the Working Families Party has done so, however: Last year, Rep. Jamaal Bowman (D-N.Y.) gave such a speech following Biden's first joint address to Congress. During her talk, Tlaib is expected to criticize some Democrats by name…."
Truckers
The only systematic overview of all the Convoy's I've been able to find (no doubt due to the enormous collective circle-j**k over Ukraine):

Trucker Convoy Updates: Summary of departure/arrival dates and other important info (as of today)

🚨 Community Alert: The first (likely small) group of truckers is planning to arrive tomorrow🚨 pic.twitter.com/l7uscADl3o

— DC Anti-Fascist Action (@DC_AFA) February 22, 2022

From antifa, naturally (accurate or no, this is what we have). And routes:

Routes pic.twitter.com/0YykedbLM2

— DC Anti-Fascist Action (@DC_AFA) February 22, 2022

More from antifa:

Want to help out with mutual aid efforts during the incoming convoy? We're looking for people ready to help flier, run supplies, shop for groceries, escort neighbors, man the hotline, and work as safe houses.

Email DCConvoyMutualAid@protonmail.com pic.twitter.com/4p3T3L2gea

— tent-free zones = criminalization (@shanthropology) February 23, 2022

"Safe houses"? Not looking forward to a trucker v. antifa meltdown. We'll see.

* * *

"The vibe shift will favor truck drivers" [Rachel Premack, Modes]. "The [Canadian] #FreedomConvoy is the most successful North American trucker protest in decades — no question. The most recent successful strike dates back to 1973-1974, when drivers nationwide, protesting soaring gas prices, snarled supply chains…. The Freedom Convoy showed to truck drivers that, if they want to capture public attention, they need to talk about things the public understands. As Montreal-based truck driver Rick Blatter told me, this protest was about 'freedom' — not a trucking regulation that public doesn't understand…. Truck drivers who want to protest now understand how to communicate with politicians, journalists, and the public at large. And it seems like some of us are finally ready to listen to them. In my years covering the trucking industry, I've been consistently baffled as to why more politicians specifically don't court truck drivers (and journalists, for that matter). There are nearly two million truck drivers in the US. As anyone who has written an article about truckers and received hundreds of emails can tell you, they are incredibly engaged. Hundreds of thousands of them are small business owners. The majority of truck drivers are white, and many are over the age of 60. Following demographic trends, that means this truck drivers are more likely to vote…. It's a massive win for the right that they've aligned themselves with truck drivers. Drivers have been right-leaning for years, but the Freedom Convoy has been an opportunity for the right to profess their solidarity with truck drivers, an otherwise ignored group….. Blatter, the Canadian truck driver, told me the point of the #FreedomConvoy isn't just vaccine mandates. It's about how truck drivers have seen worsening treatment amid the pandemic — despite all your #ThankATrucker memes. While pay has largely increased for truck drivers, there's still a lack of respect. Blatter, who also heads public relations for the Canadian Truckers Associations, said major multinational corporations have relegated waiting truck drivers to portapotties amid COVID concerns, even as temperatures drop in Canada to negative 20. He said some companies banned drivers from their cafeterias, even though they might keep them expecting their load for up to eight hours — unpaid. 'We are delivering essentials and medication, but we have no toilets, no showers, no food,' Blatter told me." • Little bit of a sandbag on Blatter's position, there. And there's the synecdoche again: The assumption that "the truckers" (part) are representative of truckers (whole), demographically, ideologically, whatever-ally. That needs to be shown, not assumed.

"Convoy in the USA" [Freight Waves]. "The U.S. may get a taste of Canada this week via a trucker convoy forming in Barstow, California. The People's Convoy's press release states, "American truckers are launching The People's Convoy, a peaceful and unified transcontinental movement, on Wednesday, February 23, 2022, from the Adelanto Stadium in Southern California." The convoy's current itinerary has it arriving at the D.C. Beltway area on March 11. What's the message? According to the group's press release, the message is "lifting all mandates and ending the state of emergency" around COVID-19…. Truck protests rarely stick and they often fizzle out…. So, has the Freedom Convoy empowered American truckers and has the Canadian government's response galvanized protesters' resolve? Will it actually happen? — When the Department of Homeland Security initially warned of a convoy at the Super Bowl, I thought that was ridiculous. There had been zero realistic talk about that among any truckers or trucking groups I communicate with. The People's Convoy may be a much different story. Truckers I know who are on the scene don't have exact numbers on how many they think will arrive but they're calling it 'highly organized' and 'definitely rolling tomorrow.'…. What also makes numbers hard to nail down is that there are multiple convoy routes as well as convoys. For example, truck parts company owner Bob Bolus told Fox News that his group plans to depart from Scranton, Pennsylvania, for D.C. tomorrow." • This is a good wrap-up (though surprisingly unskeptical of Bolus).

* * *

Not a lot of local coverate that I can find; perhaps readers will do better:

"Truck convoy delayed after organizer gets two flat tires in Pa." [WSET]. "The Scranton, Pa. truck driver leading a convoy to DC reported two flat tires and was waiting on more truckers to show up at the staging point — delaying the start of their journey. The group ended up leaving at 10:30 a.m. and are expected to arrive by 3 p.m. Bob Bolus tells 7News he's leading a convoy to protest federal COVID-19 mandates, inflation and illegal immigration. The convoy is now expected to leave Scranton sometime around 9 or 10 a.m. making stops in Harrisburg and Baltimore before arriving in the DC region. Bolus said about 10 to 20 trucks showed up at the starting point in Scranton, Pa. He waited for two hours because Bolus said that's wasn't enough trucks to warrant a D.C. Beltway protest." • Leveraging his position in Scranton to arrive in DC first?

"Alabama arm of nationwide truckers' convoy sets out from Dodge City on Saturday" [Cullman Times]. "Cullman County will serve as the jumping-off point for the Alabama contingent of the Freedom Convoy to DC, a nationwide truckers' movement calling for an official end to all mandates and restrictions related to the COVID-19 pandemic. Set to get underway today in southern California and head eastward, the "peaceful and unified transcontinental movement," according to organizers, is a coordinated effort of conservative and constitutional civil liberties groups including The Unity Project, The America Project, Advocates for Citizens' Rights, U.S. Freedom Flyers, The American Foundation for Civil Liberties & Freedom, as well as truckers, trucking companies, and various faith groups from across the U.S…. "The People's Convoy will abide by agreements with local authorities, and terminate in the vicinity of the DC area, but will NOT be going into DC proper," organizers said in a press statement at the convoy's website, thepeoplesconvoy.org. Cummings said that local coordinators already have contact the Cullman County Sheriff's Office to request assistance with traffic control at Saturday's local event, which he said includes law enforcement in its chain of communication…. To follow the Alabama convoy's progress, as well as learn more about the movement's policy goals, find the event by searching "PC AL 2022" on Facebook." • Not a lot of local coverage. Here's another–

"High Desert activist group opposes 'People's Convoy' that begins Wednesday in Adelanto" [Daily Press]. "A local activist group is opposing the People's Convoy, a cross-country protest by semi-truck drivers against government COVID-19 mandates that begins Wednesday at Adelanto Stadium. Dubbed the Hi-Desert Science Appreciators, the group says that the convoy and public send-off at the city-owned stadium could be a 'super spreader' event of COVID-19 and a threat to public safety. Activist Yolette Rios told the Daily Press she is concerned about the convoy and that her group is calling on the City of Adelanto to put its residents first and to ensure public safety. 'It's time to mobilize and to let city leaders know that now is not the time to have a mass gathering,' Rios said. 'COVID-19 is not over; yet people want to rush things to end this pandemic. It's not safe yet. Our other concern is the safety of those on the roadways as hundreds of trucks make their way out of Adelanto toward Washington, D.C.' Rios is a member of the High Desert Progressive Democrats club, which participated in the Jan. 6 Vigil for Democracy in Victorville, the first anniversary of the U.S. Capitol attack that left five people dead and sent lawmakers fleeing." • And another–

"Truck convoy protesting COVID mandates set to depart California" [Las Vegas Review-Journal]. "More than a thousand truckers are expected to join "The People's Convoy" as it makes its way from a town about 85 miles east of Los Angeles toward the nation's capital, where the convoy is scheduled to disperse on March 5. The convoy is not expected to actually enter the capital city, however. About a dozen trucks were in a meeting spot for the event early Tuesday afternoon. Maureen Steele, national organizer for the convoy, said the goals of the demonstration are freedom, liberty, accountability, ending a national emergency declaration for COVID-19 and for the Constitution 'to reign supreme.' She said she hopes the convoy leads to congressional hearings on the handling of the pandemic and investigations at the local, state and federal levels. 'We can't have what's happened over the last two years ever happen again in the future, and we need to put safeguards in place to ensure that it doesn't,' Steele said. 'And in the end, I'd like to see freedom restored, the freedoms and liberties that we've lost over the last two years.'"• I'd like to see Congressional hearings, too. Maybe they can explain how two administrations combined to produce a death toll of a million.

* * *

"Pentagon approves National Guard deployment ahead of DC trucker convoy" [The Hill]. "According to the DOD, the approval will allow about 400 D.C. National Guard members to 'provide support at designated traffic posts, provide command and control, and cover sustainment requirements.' Beginning at 1 p.m. on Feb. 26, '50 large tactical vehicles' will be placed at these traffic posts on a 24-hour basis. The deployment has been approved to last through March 7. The deployed troops will not carry firearms, take part in law enforcement or carry out domestic surveillance activities. Aircraft have not been approved for use." • I suppose the real action will be in the DHS fusion centers? That's how Obama dealt with Occupy.

"How Canada's Freedom Convoy could be a wake-up call for the Teamsters" [The Week]. "The trucker convoy protests have little to do with traditional labor issues, and lots of Teamsters view them with disdain; many of those participating in the protests are nonunion owner-operators. The Ottawa convoy's target is not the boss, but an elected federal government with an incentive to project strength by rejecting demands of a group that are damaging the economy. The disruption caused by the trucker protests was not sufficient to force the Canadian government into serious concessions, and they're even less likely to do so in D.C. The Teamsters facing off against UPS, on the other hand, have better odds. The union is unlikely to officially support blockades due to potential liability, but legal mass pickets and community campaigns are likely, and it is possible to imagine some truckers (indeed, possibly some of the same truckers — there are, Sasha notes, labor unionists of all races, genders, and political orientations) taking matters into their own hands and shutting down access to major shipping corridors. With the union withdrawing its labor, militant disruptions, and public sympathy, the company could be forced into major concessions. Anyone hoping that the trucker convoys will turn into a durable expression of working-class power is deluding themselves, whether they be naive leftists who see a revolution around every corner, or conservative populists offering ludicrous pronouncements about the Republican Party being a "workers' party." But history sometimes takes strange courses, and it is possible to imagine that this display of economic disruption by anti-mandate truckers in Canada and the United States could be remembered as a wake-up call for labor." • In one of life's little ironies, it's the owner-operators who are leveraging control over the means of production for political ends. And if the Teamster leadership — and Big Labor generally — had an ounce of solidarity in their veins, they would have used their muscle on behalf of, say, PPE and paid time off for nurses (also unionized). In the face of a debacle like that, the upcoming UPS contract negotiations seem rather beside the point.
Democrats en Déshabillé
I have moved my standing remarks on the Democrat Party ("the Democrat Party is a rotting corpse that can't bury itself") to a separate, back-dated post, to which I will periodically add material, summarizing the addition here in a "live" Water Cooler. (Hopefully, some Bourdieu.) It turns out that defining the Democrat Party is, in fact, a hard problem. I do think the paragraph that follows is on point all the way back to 2016, if not before:

The Democrat Party is the political expression of the class power of PMC, their base (lucidly explained by Thomas Frank in Listen, Liberal!). ; if the Democrat Party did not exist, the PMC would have to invent it. . ("PMC" modulo "class expatriates," of course.) Second, all the working parts of the Party reinforce each other. Leave aside characterizing the relationships between elements of the Party (ka-ching, but not entirely) those elements comprise a network — a Flex Net? An iron octagon? — of funders, vendors, apparatchiks, electeds, NGOs, and miscellaneous mercenaries, with assets in the press and the intelligence community.

Note, of course, that the class power of the PMC both expresses and is limited by other classes; oligarchs and American gentry (see 'industrial model' of Ferguson, Jorgensen, and Jie) and the working class spring to mind. Suck up, kick down.

* * *

"What Defines the Democratic Party?" [Sam Rosenfeld, The New Republic]. "The party's durability, borne of ruthless adaptability more than consistency of cause, may indeed be its one enduring trait across two centuries of electoral life. "Tenacious" is an apt descriptor for the Democratic Party in much the way it is for a weed, or termites… Long the party of religious, regional, and ethnic outgroups, Democrats made a virtue of necessity by turning bargaining and practical-minded teamsmanship—the back scratched, the favor returned—into bedrock ethics of politics." • Wait. "The party of outgroups." I stopped reading there….
2024
"The 2024 presidential race has already started online" [Politico]. Awesome. More: "A half-dozen potential GOP candidates, most of whom won't be on the ballot in 2022, still spent more than $1.4 million each on email list rentals, digital consulting and online fundraising in 2021, according to a POLITICO analysis of campaign finance disclosures. Some were building an online base from scratch, while others were expanding on existing programs. But all of them are already running a race to build the type of fundraising base that can sustain a national campaign and test their appeal to a national audience. The prime example is Sen. Ted (R-Texas), whose campaign committee spent a whopping $13.6 million overall in 2021 — more than almost every senator running for reelection in 2022, even though Cruz's seat isn't up for two more years. At least $3.3 million of that went into digital services, while Sen. Josh 's (R-Mo.) campaign spent $1.7 million online last year. Two PACs started by contenders currently out of office, former U.N. Ambassador Nikki and former Secretary of State Mike , spent $2.4 million and $1.4 million online, respectively. And hanging over everything is former President Donald , whose Save America political operation spent $6.4 million on digital politicking in 2021, including $2.8 million on ads, according to data shared by Bully Pulpit Interactive, a Democratic firm that tracks these expenditures…. Nothing approaching the activity on the Republican side is happening in Democratic politics, with President Joe Biden indicating he plans to run for reelection in 2024 and freezing other activity in the party. Still, prominent Democrats aren't letting their email lists go stale. For example, Sen. Amy Klobuchar (D-Minn.), who ran for president in 2020, spent nearly $2 million out of her campaign account last year, even though she's not up for reelection until 2024."

"NYC Mayor Eric Adams says he 'can't wait' to get rid of the vaccine mandate" [MarketWatch]. "'. Every morning I meet with my health professionals because I always say I'm going to follow the science. I'm not going to get ahead of the science because I'm ready to get ahead of all of this and get back to a level of normalcy. But they're giving us clear instructions. They gave us benchmarks, we're going to follow those benchmarks,' Adams continued." • Note the underlined portion, a message that has distinctly not come from the Biden Administration (prove me wrong on this one, I'm a little jaundiced).
Realignment and Legitimacy
Maybe I should be filing the trucker material here, but I think that remains to be seen.
#COVID19
Case count by United States regions: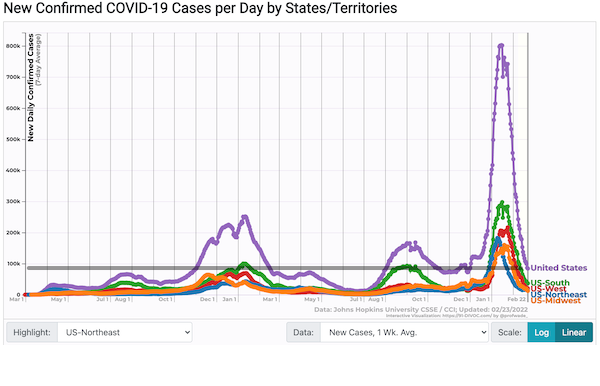 Rise like a rocket, and fall like a stick; the slope of the downward curve is more or less the same as the upward curve. Previous peaks — how small the early ones look now — have been roughly symmetrical on either side. But the scale of this peak, and the penetration into the population, is unprecedented. I wonder if there will be plateau when BA.2 takes hold. Since the Northeast has form, that is probably the region to watch for this behavior first.
The official narrative was "Covid is behind us," and that the pandemic will be "over by January" (Gottlieb), and "I know some people seem to not want to give up on the wonderful pandemic, but you know what? It's over" (Bill Maher) was completely exploded. What a surprise! This time, it may be different. But who knows?
MWRA (Boston-area) wastewater detection: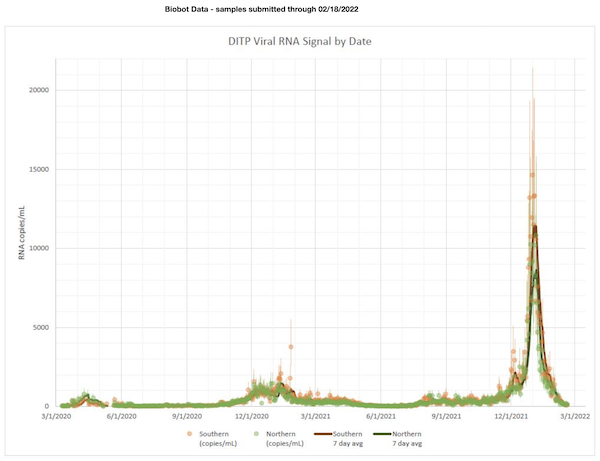 Continues encouraging (and independent from the CDC).
The Massachusetts Water Resources Authority (MWRA) service area includes 43 municipalities in and around Boston, including not only multiple school systems but several large universities. Since Boston is so very education-heavy, then, I think it could be a good leading indicator for Covid spread in schools generally.
From CDC Community Profile Reports (PDFs), "Rapid Riser" counties: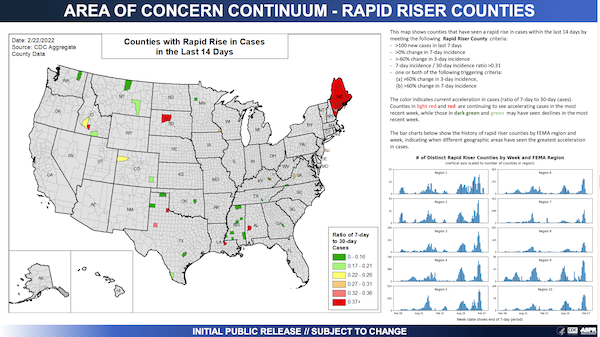 The little cluster around DC went away. Maine is a data problem. (Remember that these are rapid riser counties. A county that moves from red to green is not covid-free; the case count just isnt, well, rising rapidly.)
The previous release: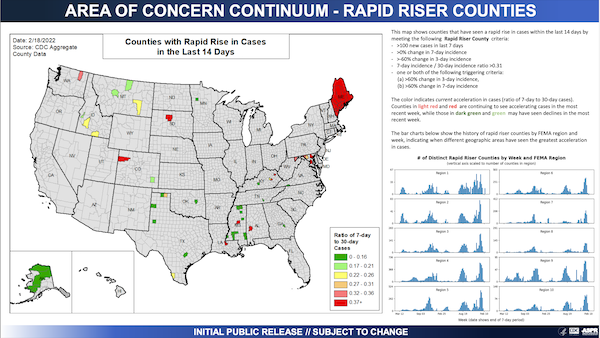 Here is CDC's interactive map by county set to community transmission: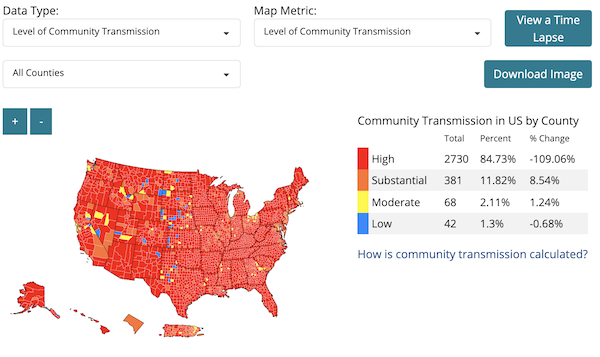 A few more speckles of improvement in the solid red.
Hospitalization (CDC Community Profile):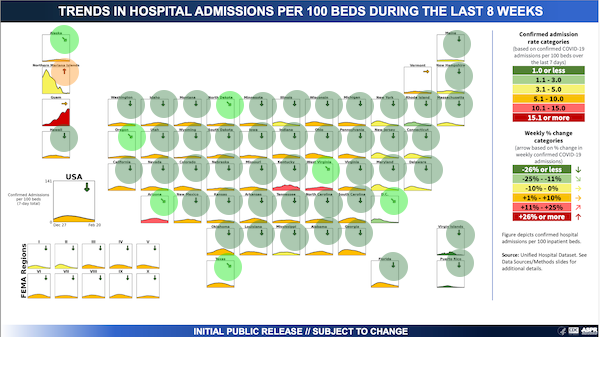 Sea of green once more, except for the Northern Marianas. From the point of view of our hospital-centric health care system, green everywhere means the emergency is over (and to be fair, this is reinforced by case count and wastewater). However, community transmission is still pervasive, which means that long Covid, plus continuing vascular damage, are not over. (Note trend, whether up or down, is marked by the arrow, at top. Admissions are presented in the graph, at the bottom. So it's possible to have an upward trend, but from a very low baseline.)
Death rate (Our World in Data):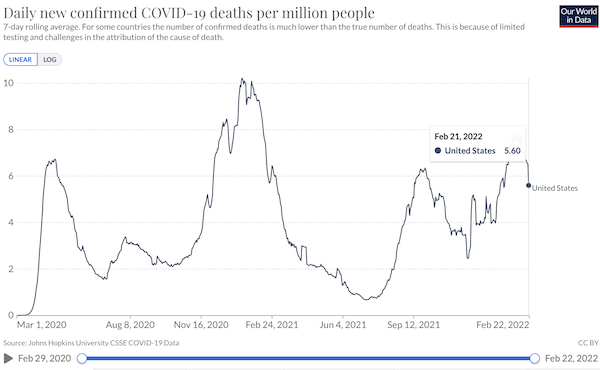 Total: 963,371 960,157. A continous drop in the death date, which is good news. Sadly, as of February 22, 1,000,000 – 960,157 = 39,843, and 39,843 / 6 days until Biden's State of the Union Speech is 6,640.5, so I guess we won't break a million in time. I was hoping for a ribbon cutting ceremony of some kind. Maybe the West Wing staff could have staged a photo op with funny hats and noisemakers. Walensky's staff could have joined in by Zoom. Ah well, nevertheless.
Covid cases in top us travel destinations (Statista):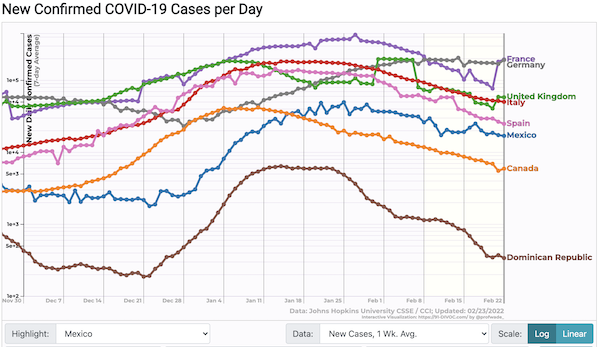 Stats Watch
There are no official statistics of note today.
* * *
Mr. Market: "Traders leave US penny stocks in sign speculative fever is cooling" [Financial Times]. "Trading in unlisted US shares has dropped almost three-quarters from its peak at the height of last year's retail trading frenzy, as investors rein in speculative bets and regulators crack down on potential fraud in penny stocks. January marked the 11th consecutive monthly decline in volumes of "over-the-counter" equity trades, according to data from Finra, the watchdog for US broker-dealers and exchanges. The total number of trades was 70 per cent below the all-time high set last February. Many of the riskiest areas of financial markets experienced a surge in activity at the height of the coronavirus pandemic, with amateur traders attracted by rebounding asset prices, government stimulus cheques and an escape from lockdown boredom. However, the Finra figures are the latest sign of their retreat as volatility rises and the Federal Reserve prepares to raise interest rates"
* * *
Today's Fear & Greed Index: 30 Fear (previous close: 35 Fear) [CNN]. One week ago: 41 (Fear). (0 is Extreme Fear; 100 is Extreme Greed). Last updated Feb 23 at 1:27pm.
The 420
"Inside California's Cannabis Crisis" [Rolling Stone]. " In the indoor Puffco Pavilion nearby, buyers are examining jars full of frosty nugs and haggling over cannabis seeds and plant cuttings, some of which are selling for up to $1,000. There's weed everywhere you look. California's enormous marijuana market, which reached an estimated $4.4 billion in sales in 2020, has seemingly reached peak cannabis capitalism. The mood is decidedly different in a neighboring building where mom-and-pop cultivators were just accosted by uniformed agents from the Department of Cannabis Control. Moments before, they'd entered the room clad in olive green jackets and navy caps, going around to each of the booths — which were given to 27 grows for free as part of the Cup's new Small Farms Initiative — and insisted that they put away any actual marijuana on display. Since the small farms don't have retail licenses, which cost upwards of $100,000 a year, event organizers had told them they were permitted to show flower samples at their tables, and direct buyers to a nearby dispensary booth for purchases. They were wrong. The farmers, most of whom had traveled long distances from rural Northern California to show their weed to buyers, were baffled by the agents' demands. 'How are you supposed to sell a product that you can't display?' asks Nevada County grower Donna Panza. 'People want to look at it, they want to smell it. Are we supposed to show them a photograph?' The scale of the DCC enforcement seemed to be indicative of the bureaucratic overreach that's sinking small farms around the state." • In my green and salad days, I always pictured legalization as liberating the small growers. Silly me. This is America.
Zeitgeist Watch
"The case against American truck bloat" [The Week]. "This behemoth design trend — particularly the very tall, square front end seen in so many SUVs and trucks today — is both pointless and dangerous. Manufacturers have known for years that this style of vehicle is much more dangerous to pedestrians and cyclists, yet they keep making them bigger, taller, and heavier. Trucks and SUVs now make up fully 70 percent of all new cars sold in the U.S. Their bloated design is killing people, especially pedestrians…. [T]he specific design trend of the massive hood sticking way out in front of the driver, with a cliff-face front grille obstructing the view several feet out in front of the wheels, is entirely a marketing gimmick. The explicit point is to create an angry, aggressive face that will intimidate others, especially pedestrians. Don't take it from me, take it from the guy who designed the latest GM Sierra HD: 'The front end was always the focal point… we spent a lot of time making sure that when you stand in front of this thing it looks like it's going to come get you. It's got that pissed-off feel,' he told Muscle Cars & Trucks." More: "It does seem rather far-fetched to think that automakers are building their biggest trucks to be more dangerous to pedestrians, but that is actually the case."• Worth reading in full.
"Accused of extortion, Louisville's top prosecutor drops charges – but keeps cash" [Kentucky Center of Investigative Reporting]. "Two years ago, prosecutors offered a St. Matthews man a deal: give up $380,000 in cash through asset forfeiture, and criminal charges just filed against his family would be dropped. The case has now been resolved, with no criminal convictions for anyone involved — but police and prosecutors still kept the bulk of the cash…. Kentucky state law gives police agencies broad authority to take and keep money if they suspect it's tied to drugs. For defendants, fighting the seizure is often fruitless and the cost can outweigh the benefit of getting the cash back. "
News of the Wired
"Impostor syndrome and pretense" [Inquiry]. "Many people in professions or roles that require special expertise suffer from impostor syndrome (IS). In spite of the fact that they possess the credentials required by their profession, or an impressive record of accomplishment within it, they feel (or believe) that they are a fake or a fraud, and fear being found out. They may feel (or believe) that their accomplishments are more due to luck than skill, and/or that they are unlikely to be able to repeat them in the future. " • All true so far. Look at our national security establishment!
* * *
Contact information for plants: Readers, feel free to contact me at lambert [UNDERSCORE] strether [DOT] corrente [AT] yahoo [DOT] com, to (a) find out how to send me a check if you are allergic to PayPal and (b) to find out how to send me images of plants. Vegetables are fine! Fungi and coral are deemed to be honorary plants! If you want your handle to appear as a credit, please place it at the start of your mail in parentheses: (thus). Otherwise, I will anonymize by using your initials. See the previous Water Cooler (with plant) here. Today's plant (KS):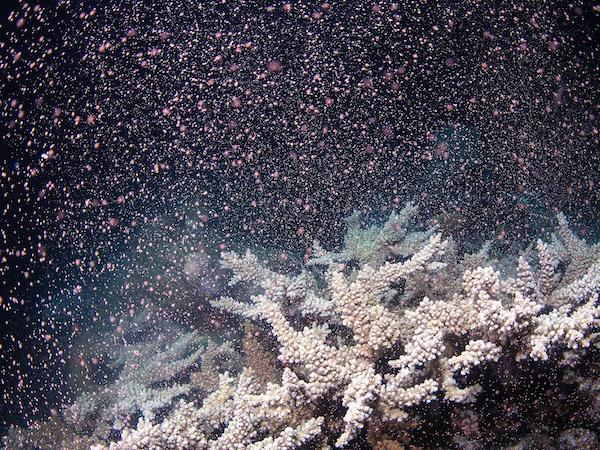 KS writes: "Coral spawning in the Great Barrier Reef."
* * *
Readers: Water Cooler is a standalone entity not covered by the recently concluded and — thank you! — successful annual NC fundraiser. So if you see a link you especially like, or an item you wouldn't see anywhere else, please do not hesitate to express your appreciation in tangible form. Remember, a tip jar is for tipping! Regular positive feedback both makes me feel good and lets me know I'm on the right track with coverage. When I get no donations for five or ten days I get worried. More tangibly, a constant trickle of donations helps me with expenses, and I factor in that trickle when setting fundraising goals:
Here is the screen that will appear, which I have helpfully annotated.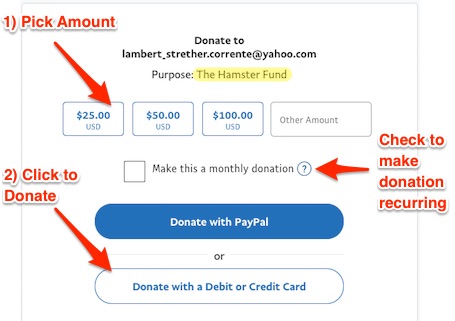 If you hate PayPal, you can email me at lambert [UNDERSCORE] strether [DOT] corrente [AT] yahoo [DOT] com, and I will give you directions on how to send a check. Thank you!