By Lambert Strether of Corrente
Bird Song of the Day
This is Hawaiian Bird Week at Naked Capitalism. I confess I like this as an audioscape: There are cows, cars, and something splashes. There are also a lot of strange and interesting bird sounds. I wish I could tell you which ones were the (juvenile) loon!
* * *
Politics
"But what is government itself, but the greatest of all reflections on human nature?" –James Madison, Federalist 51
"They had learned nothing, and forgotten nothing." –Charles Maurice de Talleyrand-Périgord
"When the going gets weird, the weird turn pro." –Hunter Thompson
Capitol Seizure
"Jan. 6 Panel Has Evidence for Criminal Referral of Trump, but Splits on Sending" [New York Times]. "The leaders of the House committee investigating the Capitol attack have grown divided over whether to make a criminal referral to the Justice Department of former President Donald J. Trump, even though they have concluded that they have enough evidence to do so, people involved in the discussions said. The debate centers on whether making a referral — a largely symbolic act — would backfire by politically tainting the Justice Department's expanding investigation into the Jan. 6 assault and what led up to it." • This is always an issue when there are parallel Congressional and DOJ investigations. Did Pelosi not think this through when she set up the Committee?
Biden Adminstration
This'll carry the day in the midterms, no lie:

My dad in the ER & intensive care! 50 pages of itemized billing in 21 days! If I did not sign a DNAR they would have continued to pump him with drugs to milk the insurance! They knew what they were doing & played with our hope while we were in the sadest moment in our lives!

— Stan Rosholt (@StanRosholt) April 12, 2022

There shouldn't even be "medical debt" (except for things like botox or cosmetic surgery).

"Joe Biden's 'Cardboard Box' Presidency" [Politico]. "It was a key theme of Joe Biden's 2020 campaign, unstated but powerful, and a vivid contrast with the public-train-wreck incumbent: If elected, he was going to be boring. Promise kept…. But 18 months into Biden's weekends-in-Wilmington, nana-and-pop, no-superspreader- events-at-the-White-House presidency, the drawbacks of that style are also becoming clear: A boring presidency is, um, boring. Which carries a political cost in a Permanent Washington that, for better or worse, thrills to displays of executive-branch social fireworks. It's not just the boss, either. Biden's coterie of insiders is not particularly newsy. Close aides like White House Counselor Steve Ricchetti could likely walk down a street without being recognized…. [T]he cumulative effect is downright disorienting in a place that treats presidencies as cultural eras as well as political ones. Nowhere was Biden's implicit promise of dullness more popular than inside the Beltway, a place traumatized by Donald Trump. But it turns out that what the city wanted was less back-to-sleep than back-to-normal. And normal, in the folkways of political Washington, includes a number of things the locals find quite exciting: Presidential sightings at local restaurants! Zingers at black-tie banquets! Glamorous new aides, preferably with active social schedules and newsworthy romantic lives! Laugh if you will, but they're all part of how an administration can command attention and project energy. An ideal chief executive, in this universe, might also introduce a new culinary trend or help popularize some unlikely author. A truly transformational one could kick-start a fashion, like the fedora-free JFK did. Ironically, Biden's status as a veteran Washington hand may be responsible for the same things that are causing some of Washington's own ennui." • The press are little children. And they're bored. "Mommy, I'm b-o-o-r-r-r-r-e-d." Holy moley.

"Hunter Biden controversy explained" [The Hill]. "The Hunter Biden story is sufficiently murky that, if the radical right wing of the Republican Party takes control of the House of Representatives in November, it will no doubt turn this into a 24/7 political blood bath for Democrats." • If Putin wants to be cheeky, he could sanction Hunter Biden.
Democrats en Déshabillé
I have moved my standing remarks on the Democrat Party ("the Democrat Party is a rotting corpse that can't bury itself") to a separate, back-dated post, to which I will periodically add material, summarizing the addition here in a "live" Water Cooler. (Hopefully, some Bourdieu.) It turns out that defining the Democrat Party is, in fact, a hard problem. I do think the paragraph that follows is on point all the way back to 2016, if not before:

The Democrat Party is the political expression of the class power of PMC, their base (lucidly explained by Thomas Frank in Listen, Liberal!). ; if the Democrat Party did not exist, the PMC would have to invent it. . ("PMC" modulo "class expatriates," of course.) Second, all the working parts of the Party reinforce each other. Leave aside characterizing the relationships between elements of the Party (ka-ching, but not entirely) those elements comprise a network — a Flex Net? An iron octagon? — of funders, vendors, apparatchiks, electeds, NGOs, and miscellaneous mercenaries, with assets in the press and the intelligence community.

Note, of course, that the class power of the PMC both expresses and is limited by other classes; oligarchs and American gentry (see 'industrial model' of Ferguson, Jorgensen, and Jie) and the working class spring to mind. Suck up, kick down.

* * *

"Lt. Gov. Benjamin Arrested in Campaign Finance Scheme" [New York Times]. "Lt. Gov. Brian A. Benjamin of New York, the state's second-in-command to Gov. Kathy Hochul, surrendered early Tuesday morning to face a federal indictment charging him with bribery, fraud and falsification of records in connection with a scheme to funnel illegal donations to a previous campaign. The five-count indictment accused Mr. Benjamin of conspiring to direct state funds to a Harlem real estate investor in exchange for orchestrating thousands of dollars in illegal campaign contributions to Mr. Benjamin's unsuccessful 2021 campaign for New York City comptroller." More: "A graduate of Ivy League schools, Mr. Benjamin, spent much of his career in banking and affordable housing development before winning a State Senate seat representing most of Harlem in 2017." • Oh, I believe it.

The party of betrayal:

If Biden were President in 2020 I have no doubt that Covid vaccines would have a co-pay, a co-insurance, and lots of forms to get reimbursed. Dems would be whining that Manchin/Sinema were blocking more subsidies to undocumented immigrants.

Trump just made it free.

— Matt Stoller (@matthewstoller) April 12, 2022

It's unbelievable to me that Trump did better than Biden on Covid, but he did. And when Trump delivered the vaccines to Biden, Biden squandered the opportunity to buy time to beat Covid with a multilayered strategy that included NPIs and treatment with his "Vax-only" policy debacle, one that is still in place. If "squander" is not far too charitable. More from Stoller:

Nobody cares what you say if you never follow through on anything. Marketing doesn't matter if you are promising pie and delivering turds. This is an obvious point that most Dems miss because they rely on the New York Times and Yale Law to tell them how to think.

— Matt Stoller (@matthewstoller) April 12, 2022

That's hardly fair. One thing Democrats know how to deliver: Covid infections. To themselves (at the Gridiron Club) and also the rest of us. I mean, that's what "live with Covid" means.
2022
"Democrats need to run on the war" [Noah Smith, Noahpinion]. "Unfortunately, the Dems' typical appeals don't seem to be working. The Dems' basic selling point is economic: Vote for us, and we'll make sure you have a job and a social safety net. On the jobs part, Dems have certainly delivered (or at least stood back and refrained from interfering while the economy delivered). They should trumpet this achievement much more loudly and confidently. Currently, people don't seem to realize how good the job market is. But if the actual fact of a booming job market hasn't penetrated Americans' consciousness yet, my guess is that Americans are simply expressing their general dissatisfaction with the economy. And it's pretty clear what they're mad about: Inflation. Or to be more precise, falling real wages." Drumroll: "What else could Democrats run on? Well, if there's one thing that unites Americans right now, it's opposition to Vladimir Putin and his brutal invasion of Ukraine….. Dems can use this Putinist faction of the GOP as a foil, against which to contrast their own resolute and effective stand against Russian aggression. That is the kind of patriotic liberal narrative that broadly appeals to the American electorate. In fact, there's a historical precedent for this sort of messaging: World War 2….. So Dems should amp up the Ukraine war, and the struggle against Russian aggression, in their midterm messaging." • RussiaGate continues to pay dividends (meaning, that if the Democrats pull 2022 out of the fire, they will owe the intelligence community big time.
Our Famously Free Press
"The Defense Industry's Ukraine Pundits" [The Lever]. "With stories about Russia's invasion dominating the news, networks have had tons of pundit slots to fill. Those spots have largely gone to high-ranking ex-military officials, who often find lucrative careers in the influence industry working on behalf of defense contractors — and who tend to spout hawkish rhetoric that aligns with how corporate media generally covers conflict. Most of the time, however, the networks have failed to divulge how such martial bombast could aid these former officials' private-sector employers." • Ka-ching. The wonderful thing about our coming victory in Ukraine is that it will empower the best that there is in our society.

"The Race to Archive Social Posts That May Prove Russian War Crimes" [Wired]. ""Capturing social media from Ukraine is an incredible source of evidence," says Alex Whiting, deputy prosecutor at the Kosovo Specialist Prosecutor's Office in the Hague, and a visiting professor at Harvard University. A deluge of TikTok and Telegram posts could vastly increase the amount of evidence of alleged Russian war crimes—but they will only aid prosecutions if judges accept such material in court. War crime cases are usually built with witness testimony, documents, and conventional forensic evidence, but all are hard to collect after the chaos of war. Open source investigation methods that combine clues across social posts and other sources could fill crucial gaps, says Whiting. But they have rarely featured in such cases to date, and material posted by persons unknown has been seen as unreliable and at risk of manipulation. Rabomizo and others working on the conflict in Ukraine, including open source investigators at Bellingcat, believe they can change that with new, more rigorous protocols and technology for archiving posts. "Ukraine will probably be the first time open source evidence will be tested extensively in court," says Nadia Volkova, director of the Ukrainian Legal Advisory Group. She's been helping Rabomizo and others document potential war crimes through an alliance of Ukrainian human rights organizations called the 5AM Coalition, named for the moment on February 24 that the first explosions rocked Kyiv." • Putting a CIA cutout like Bellingcat, along with a gaggle of Ukraine operatives, in charge of the archives is a lot like the CIA building backdoors into encryption algorithms. Nothing about any such archives should be trusted, because like anything else the spooks touch, it will all be about "perception management."

UPDATE "Please Just Throw Me a Bone with the Wesleyan Argus Controversy" [Freddie DeBoer]. " You have to understand this to understand our media class: the number one priority in their entire lives, above and beyond literally any other, is to earn insider status with other people in media. That's it. That is their lodestar, their true north. They want other people in media to see them as cool and smart and fuckable, and most of all they want to have the right opinions, the opinions that the group doesn't laugh at. The mirror image of the desperation to be considered cool is the intense, all-consuming fear of being made fun of by cool people in media. Look at the way they write, report, communicate with each other; these people are absolutely terrified that someone's going to take something they say and hold it up for mockery on Twitter. This seems to me to be pretty much exactly the opposite attitude you should want among writers and journalists, who literally can only perform their function when they are pissing most people off. But that's the professional culture of media, a culture defined by the fear of being made fun of. And that's why, when these debates go down, they never, ever say "well this scenario wasn't ideal, I agree, but…." They can't admit exceptions. Demonstrating themselves to be good and upstanding members of the in-crowd to which they relentlessly aspire forces them to deny the very notion of an exception." • A Keynesian Beauty Pageant? With all the social ills of the pageant world?
2024
Iowa Primary (1): "Drop Iowa. Make DC first" (locked) [Noah Berlinsky, The Editorial Board]. • I can't get in, but I think the headline does it. Interesting idea. Would give DC residents the power to be the sans culottes they always should have been.

Iowa Primary (2):

🧵ok I succumb. 1) corn is the greatest plant on planet earth and maybe the galaxy. pic.twitter.com/p3piZ8n9il

— Jonesingforthetruth (@RiverRaccoon) April 12, 2022
Clinton Legacy
UPDATE Why not build on the Democrat reputation for strength in foreign policy by electing the person who lit the fuse for war with Russia in 2016?

Yesterday Hillary Clinton said the 2016 election was stolen from her. I'm old enough to remember when Democrats said these kind of comments were unacceptable and a direct attack on our democracy: pic.twitter.com/5ZkgdzZKN4

— Clay Travis (@ClayTravis) April 10, 2022

For those who came in late, this is from the New York Times archive of Russian memes that supposedly switched caused Clinton's loss:

I mean, come on.
Health Care
Nice get:

Meet @J_ManPrime21 NFL running back and #MedicareForAll activist. Thank you for the excellent interview Justin!
Learn more https://t.co/y2gfjW8d1i@RedBeretsM4All @WholeWashington @DrDooleyMD @ProudSocialist @vanguard_pod @SavageJoyMarie1 @DrJoeQJarvis @jimmy_dore @SusanSarandon pic.twitter.com/WKxJF49cz9

— Kenny Ballentine 🎥🎬 (@KennyBallentine) May 5, 2021
Realignment and Legitimacy
"Was the Infiltration of the Secret Service Part of an Iranian Plot to Kill John Bolton?" [The Tablet]. The headline is the agenda, fine, fine. But the detail: "The nature of Taherzadeh and Ali's activities in Washington, D.C., is certainly suggestive of an intention to infiltrate the U.S. Secret Service. Starting in February 2020, according to the affadavit filed in support of the arrest warrants, they worked out of a building in the southeast quadrant of Washington, D.C., in the fashionable Navy Yard district that is home to federal agents, congressional aides, and other government employees. Falsely representing themselves as agents from the Department of Homeland Security (DHS), the two men provided Secret Service agents—including agents connected to President Joe Biden's security detail—as well as a DHS employee with rent-free apartments each worth more than $40,000 per year. According to the April 5th arrest warrant, they provided Secret Service agents with iPhones, surveillance systems, a drone, a flat-screen television, a generator, and what they said were "official government vehicles." They also proposed buying an assault rifle for a Secret Service agent assigned to First Lady Jill Biden. that these actions barely raised the suspicions of the numerous federal agents living in the building. Taherzadeh told one DHS employee in the building that he had a list of all of the federal agents in the apartment complex, along with codes to the elevators that gave him access to every floor, and surveillance footage from around the building. After the DHS employee tried to verify that the two men worked for the agency by searching internal DHS databases, Taherzadeh said that his name was redacted due to his undercover status. But as the DHS employee might have known, had Taherzadeh really been working undercover, it's unlikely he would've identified himself as an undercover agent—or shown building residents his tactical gear, surveillance equipment, and a high-powered telescope, as well as a handgun he claimed had been issued by a U.S. agency. •  But what if — just spitballing here — Taherzadeh and Ali's behavior was, in their milieu, completely normal? What if our organs of state of security are staffed up with people who are crazy as loons and corrupt to the bone?

"Give War A Chance" (excerpt) [Matt Taibbi, TK News]. • A fine dissection of the PMC's war boner that ends on a curiously equivocal note: "For most of the nineties living in Russia, I found myself gaining an appreciation for America. I thought: 'As messed up as our country is, at least you can't openly pay bribes in court, and people aren't often boiled alive when hot water pipes burst under sidewalks.' Then I went home not long after 9/11 and, watching George Bush, soon found myself missing Russia, thinking: "At least Boris Yeltsin was too busy drinking and stealing to try to conquer the planet." Now the worst of both worlds are on a collision course. People like Igor Strelkov are shouting the Russian equivalent of 'Bring it On' to the free-worlders, and armchair warriors like Robert Kagan are shouting their own provocations back. God save us from people who dream big, without the brains to match." • I mean, General Jack D. Ripper was on the wrong side. Unequivocally.
#COVID19
"Herd immunity now seems impossible. Welcome to the age of Covid reinfection" [Devi Sridhar, Guardian]. "Relying on herd immunity to manage Covid-19 rather than on the strategies of east Asian countries to suppress it until a vaccine was available was a gamble that Britain took early in March [if gamble it was] and unfortunately lost. Especially given the presence of variants, Sars-CoV-2 will just keep circulating and reinfecting people…. the problem we face has shifted from mass mortality to a question of how to keep essential services and workplaces running." We hope. "As a group of fellow scientists and I suggest in a new paper for Nature Medicine (REF), several steps can help manage this seemingly intractable situation. First, governments must use the triad of testing, therapeutics (in particular, rapid antiviral pills) and vaccines to manage Covid-19 and replace the cruder non-pharmaceutical interventions of 2020 with scientific progress…. Second, rapid response plans must be prepared in order to react to a gamechanging new variant which could alter the trajectory of the pandemic, just as Alpha, Delta and Omicron did…. Third, rapid testing to detect infectiousness and one-way masking should continue to be used to protect those most at risk of infection…. Finally, long Covid hasn't received the attention it deserves." • Sridhar thinks "crude" is a pejorative. I think "crude" implies rugged, reliable, and cheap, unliike high tech medicine. Further, what's "crude" about fixing ventilation systems so they don't spread lethal pathogens? Why on earth is Sridhar turning her nose up at that?
If you missed it, here last week's post on my queasiiness with CDC numbers, especially case count, which I (still) consider most important, despite what Walensky's psychos at CDC who invented "community levels" think. But these are the numbers we have.
* * *
Case count by United States regions: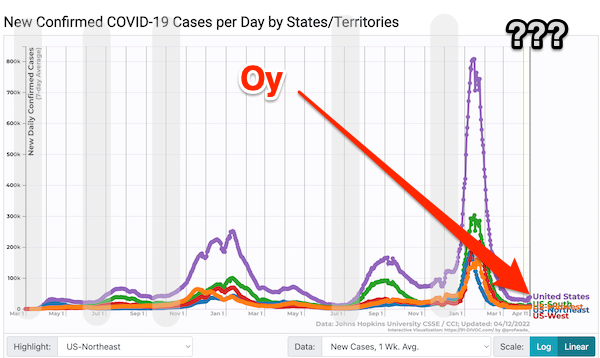 Uh oh. (For fans of seasonality, I added grey bars at the starting points of previous peaks. Here are the cases for the last four weeks: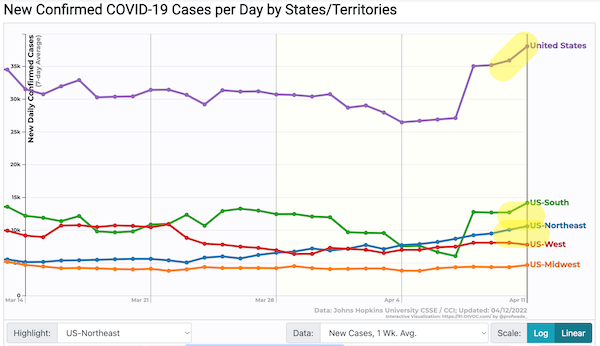 The South extends the right hand of good fellowship to the Northeast, and the national case count (which is certainly underestimated) trends up,
NOTE I shall most certainly not be using the CDC's new "Community Level" metric. Because CDC has combined a leading indicator (cases) with a lagging one (hospitalization) their new metric is a poor warning sign of a surge, and a poor way to assess personal risk. In addition, Covid is a disease you don't want to get. Even if you are not hospitalized, you can suffer from Long Covid, vascular issues, and neurological issues. For these reasons, case counts — known to be underestimated, due to home test kits — deserve to stand alone as a number to be tracked, no matter how much the political operatives in CDC leadership would like to obfuscate it.
MWRA (Boston-area) wastewater detection: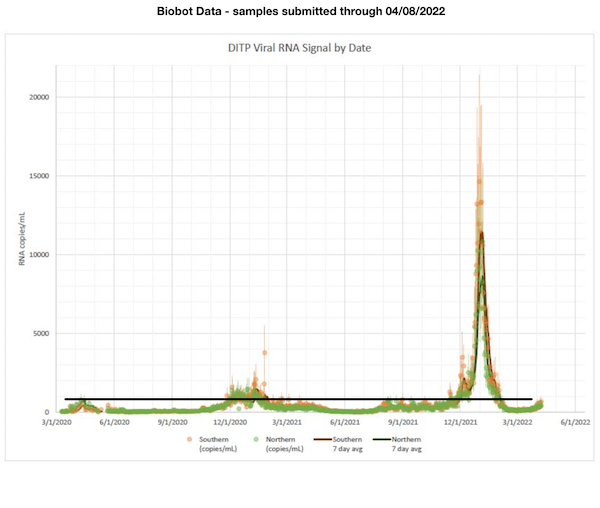 As I said on 4/8: "Too soon for a Fauci line? I'd give it a week." I was too conservative. As usual, the crisis of the past is the normal of the present.
The Massachusetts Water Resources Authority (MWRA) service area includes 43 municipalities in and around Boston, including not only multiple school systems but several large universities. Since Boston is so very education-heavy, then, I think it could be a good leading indicator for Covid spread in schools generally.
For grins, here is the national biobot data:
Same message as in case counts.
From CDC Community Profile Reports (PDFs), "Rapid Riser" counties: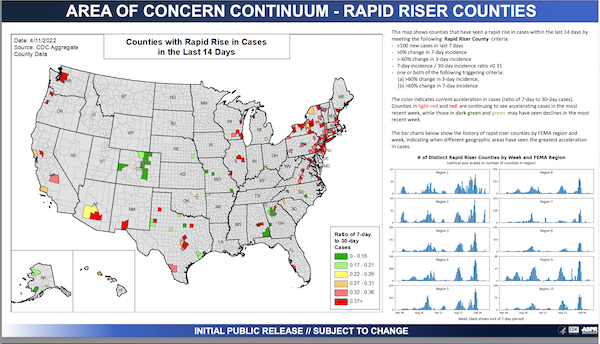 The Northeast isn't looking too good. I wonder how many Gridiron Club attendees took the Acela home the following morning? Every so often I think of doing away with this chart, and then there's another flare-up. Hello, Santa Barbara County in California! I remember using the metaphor of flying coals in a forest fire — many land, but sputter out; a few catch, and the first spreads. What I notice about this round of flare-up is that the "coals" are the size of multiple counties, not, as previously, single ones. FWIW! (Remember that these are rapid riser counties. A county that moves from red to green is not covid-free; the case count just isnt, well, rising rapidly.)
The previous release: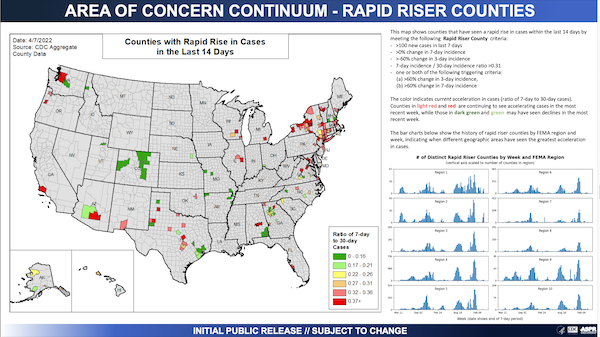 Here is CDC's interactive map by county set to community transmission. This is the map CDC wants only hospitals to look at, not you: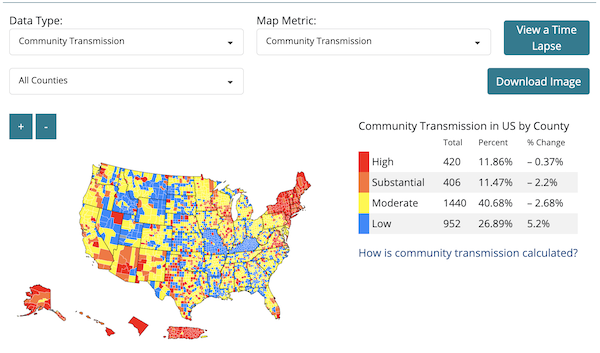 Continuing slow improvement as the map shifts from mostly red to mostly yellow (assuming the numbers aren't jiggered). However, look at the Northeast, which remains stubbornly red. It looks like "personal risk" brain genius Fauci bought into CDC's "community level" metric, which paints (and is designed to paint) the whole country green. Had Fauci used community tranmission he would have seen this (probably):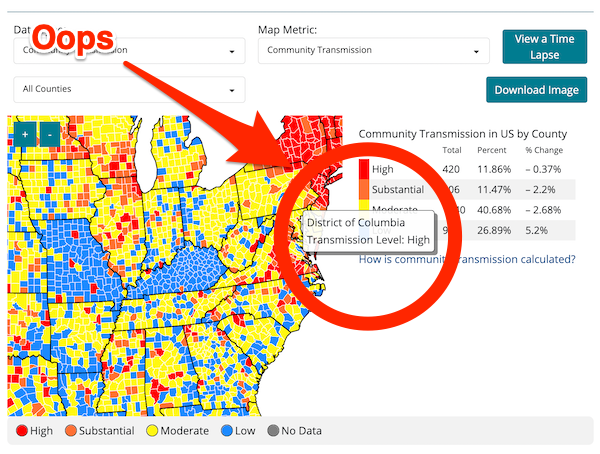 (I say "probably" because CDC's time lapse feature is broken at this writing, so I can't roll the map back to the date of the Gridiron Club superspreading debacle, which Fauci attended. However, I believe from other sources that DC's tranmission level has been worrisome for some time.)
Hospitalization (CDC Community Profile):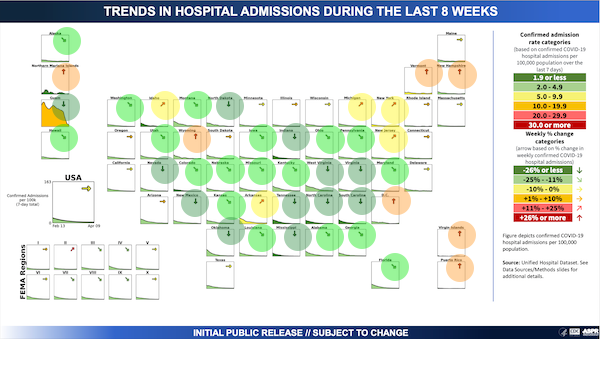 Again, I don't like these sudden effloresences of yellow and orange. I don't care that the baseline is low. From the point of view of our hospital-centric health care system, green everywhere means the emergency is over (and to be fair, this is reinforced by case count and wastewater). However, community transmission is still pervasive, which means that long Covid, plus continuing vascular damage, are not over. (Note trend, whether up or down, is marked by the arrow, at top. Admissions are presented in the graph, at the bottom. So it's possible to have an upward trend, but from a very low baseline.)
Death rate (Our World in Data):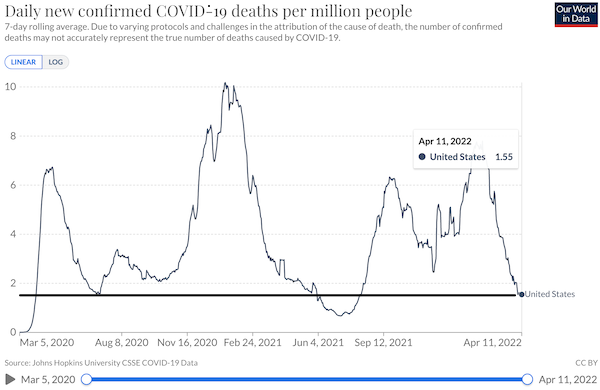 Total: 1,012,461 1,011,112. We did it. Break out the Victory Gin. have added an anti-triumphalist Fauci Line. Even if the numbers have gone down, they're still democidally high.
Covid cases in top us travel destinations (Statista):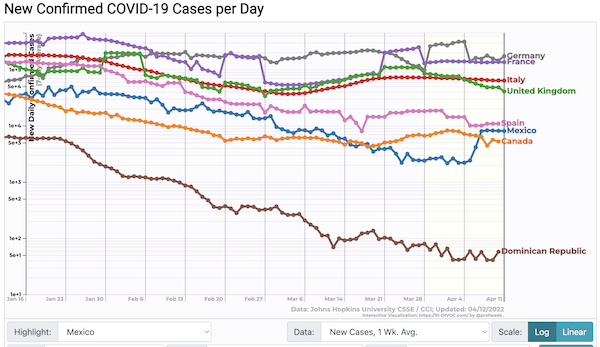 Stats Watch
Inflation: "United States Inflation Rate" [Trading Economics]. "The annual inflation rate in the US accelerated to 8.5% in March of 2022, the highest since December of 1981 from 7.9% in February and compared with market forecasts of 8.4%. Energy prices increased 32%, namely gasoline (48%) and fuel oil (70.1%) as Russia's invasion of pushed crude oil prices higher. Also, food prices jumped 8.8%, the most since May 1981." • I could wish that Vicky and Tony's Excellent Adventure led to a mid-term loss for Democrats driven by inflation, followed by a purge of the State Department and the victory of realism…. But that's not the stupidest possible outcome, so it won't happen.
Business Optimism: "United States NFIB Business Optimism Index" [Trading Economics]. "The NFIB Small Business Optimism Index in the United States declined for a 3rd straight month to 93.2 in March of 2022, the lowest since April of 2020, from 95.7 in February. The percentage of owners expecting better business conditions over the next six months decreased to -49%, the lowest level on record. Inflation is seen as the most important problem by 31% of business owners, the biggest share since the first quarter of 1981."
Economic Optimism: "United States IBD/TIPP Economic Optimism Index" [Trading Economics]. "The IBD/TIPP Economic Optimism Index in the US increased to 45.5 in April of 2022 from 41 in March which was the lowest reading since October 2013, as inflation could start slowing soon. Still, pessimism maintained its grip for an eighth straight month. While economic confidence may have bottomed in March, as gas prices spiked following Russia's invasion of , household financial stress hit the highest level since April 2020, at the outset of the pandemic."
* * *
The Bezzle: "Amazon Drone Crashes Hit Jeff Bezos' Delivery Dreams" [Bloomberg]. • That's a damn shame.
* * *
Today's Fear & Greed Index: 46 Neutral (previous close: 46 Neutral) [CNN]. One week ago: 51 (Neutral). (0 is Extreme Fear; 100 is Extreme Greed). Last updated Apr 12 at 2:23pm.
Rapture Index: Closes unchanged [Rapture Ready]. Record High, October 10, 2016: 189. Current: 187. (Remember that
"We Don't Deserve Dogs"
"The best boy in the world":
My dog, who does not pay rent or bills and is, himself, a bill, has sighed three times in the past five minutes.

— Victoria M. Walker (@vikkie) April 12, 2022
Cats don't sigh, a point in their favor.
The Gallery
"Reexamining the Wilderness Aesthetic" [The Met]. "Thomas Cole's The Oxbow, painted in 1836, was a view from the top of Mount Holyoke, looking southwest to the Oxbow, which is a section of the Connecticut River just south of Northampton, Massachusetts. And it's regarded as one of the most iconic landscapes painted by an American artist. In this work Cole made many breakthroughs. He introduced the panoramic view of the landscape, which would become a signature for the later Hudson River School painters. He also introduced a shocking bifurcated scene of wilderness on one side and settled land on the other. The left side is elevated, the wilderness side, and it's very lushly painted. And then you look far below, down into the valley, and you see very aggressive cultivation of the landscape. On the distant mountain, you see direct signs of clear-cutting deforestation going on. And then of particular interest is that he introduces himself in a very distinctive self-portrait, where he gazes directly out at the viewer." • Very interesting (though I think the authors are better art critics than they are social critics).
The curls look like the curls in Jupiter's beard:
Pablo Picasso, The Bull, from Histoire naturelle, 1936 https://t.co/KjCkhcSbWn #artinstituteofchicago #museumarchive pic.twitter.com/TkewQvgmBX

— Pablo Picasso (@pablocubist) April 12, 2022
This glorious bull is not, I think, a Third World, working bull.
Zeitgeist Watch
"Live Updates: 16 People Are Injured, Including 10 Shot, in Attack on Brooklyn Subway" [New York Times]. "At around 8:24 a.m., as the train pulled into the 36th Street Station in the Sunset Park neighborhood, the man, who was wearing a construction vest, put on a gas mask before firing shots that hit people on the train and the nearby platform, said Police Commissioner Keechant L. Sewell. The Fire Department said that five people were in critical condition, but none of them had suffered life-threatening injuries." • Just remember there's never a second shooter….
News of the Wired
"The Amateur Radio Operators Preparing for the Worst" [The Atlantic]. "The advantages of ham radios in a disaster situation are twofold: They're free from large infrastructure, and they're incredibly flexible bits of technology. 'An emergency operation system might need a big generator to keep things going, but we can get by with batteries or solar power,' Corey explains. If a natural or man-made disaster takes out power, Internet, or phone lines, "We can do global communications with nothing between the two systems but ether….. Volunteering is in many ways at the heart of ham radio. There's no commercial aspect to the hobby—hams aren't paid for their work. There's a reason thousands of hams across the nation spend their time helping out at bike events or to do disaster drills: They need to make themselves present to demonstrate just how essential their skills really are. The average person doesn't like dwelling on the worst-case scenario. But when and if one happens, the most dedicated hams will be ready, radios in hand, to turn a quirky hobby into a network of lifesavers." • Ham radio sounds Jackpot-ready. Something to learn, or (like plumbing) encourage your children to learn.
* * *
Contact information for plants: Readers, feel free to contact me at lambert [UNDERSCORE] strether [DOT] corrente [AT] yahoo [DOT] com, to (a) find out how to send me a check if you are allergic to PayPal and (b) to find out how to send me images of plants. Vegetables are fine! Fungi and coral are deemed to be honorary plants! If you want your handle to appear as a credit, please place it at the start of your mail in parentheses: (thus). Otherwise, I will anonymize by using your initials. See the previous Water Cooler (with plant) here. From the Nation via Bob or Janet: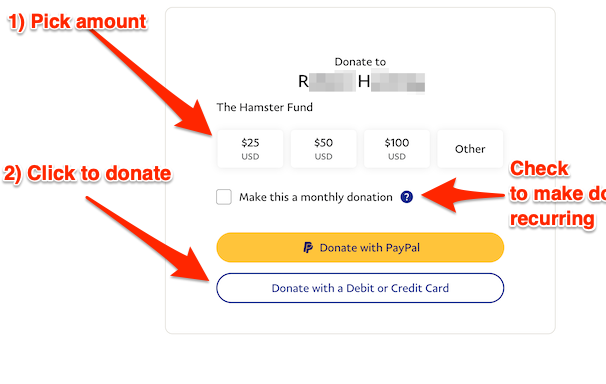 Don't try this at home!
* * *
Readers: Water Cooler is a standalone entity not covered by the recently concluded and — thank you! — successful annual NC fundraiser. So if you see a link you especially like, or an item you wouldn't see anywhere else, please do not hesitate to express your appreciation in tangible form. Remember, a tip jar is for tipping! Regular positive feedback both makes me feel good and lets me know I'm on the right track with coverage. When I get no donations for five or ten days I get worried. More tangibly, a constant trickle of donations helps me with expenses, and I factor in that trickle when setting fundraising goals:
Here is the screen that will appear, which I have helpfully annotated.
If you hate PayPal, you can email me at lambert [UNDERSCORE] strether [DOT] corrente [AT] yahoo [DOT] com, and I will give you directions on how to send a check. Thank you!