By Lambert Strether of Corrente
Bird Song of the Day
This is Evening Grosbeak Week at Naked Capitalism. Apparently, there are four types of Evening Grosbreak; these are dawn "chatters" and "trills" from type four.
* * *
Politics
"But what is government itself, but the greatest of all reflections on human nature?" –James Madison, Federalist 51
"They had learned nothing, and forgotten nothing." –Charles Maurice de Talleyrand-Périgord
"When the going gets weird, the weird turn pro." –Hunter Thompson
Biden Adminstration
"FDA authorizes Pfizer Covid booster for children 5 to 11 years old" [NBC]. "The FDA's decision will now go to the Centers for Disease Control and Prevention, which will make a recommendation about how the boosters should be used for the age group. The CDC's independent group of advisers, known as the Advisory Committee on Immunization Practices, is expected to discuss the booster during a scheduled meeting Thursday. CDC Director Dr. Rochelle Walensky is expected to issue a final recommendation following that meeting. Shots could begin as early as Friday…. [Dr. Paul Offit, a vaccine expert at Children's Hospital of Philadelphia] said the additional dose in children should raise antibody levels enough to provide a high level of protection against mild disease for at least 'a few months.'" • Oh.

"The federal government is offering another round of free COVID tests" [NPR]. "Americans can once again order free COVID-19 tests from the federal government by visiting COVIDtests.gov. In this round, the U.S. Postal Service will deliver eight free rapid antigen tests to any household in the U.S. that wants them, according to the website. That brings to sixteen the total tests offered per household so far. The site suddenly appeared active Monday to offer the third round of free tests without a prior announcement. The White House is expected to make it official Tuesday, but the site was ." • Certainly a first for the Biden Administration.

"US Set to Extend Covid-19 Public Health Emergency Past July" [Bloomberg]. "The US government will extend the Covid-19 public-health emergency past mid-July, continuing pandemic-era policies as the nearly 2 1/2-year outbreak drags on. The Department of Health and Human Services has repeatedly renewed the public-health emergency since implementing it in January 2020. The declaration allows the US to grant emergency authorizations of drugs, vaccines and other medical countermeasures, as well as administer those products to millions of people at no out-of-pocket cost. It's also enabled millions of Americans to get health coverage through Medicaid, among other benefits. On April 16, HHS extended the public-health emergency an additional 90 days through mid-July. The declaration will be extended beyond that period, according to a person familiar with the matter, who asked not to be identified because the details aren't public. That means various measures to relax restrictions in how care is accessed across the health system will continue. An HHS spokesperson said the public-health emergency remains in effect, and the department will continue to provide a 60-day notice to states before any possible termination or expiration."
2022
* * *

From back in February: "One eye on midterms, Dems ease up on approach to virus" [Associated Press]. While Omicron was falling, but had not reached its "valley," which came in April (see the case chart). "Democrats are now increasingly supportive of easing mandates as they struggle to address voter frustration with the lingering pandemic. They're hoping a shift in policy could serve to blunt incoming political attacks with the midterm elections — when control of Congress is at stake — now less than nine months away." • And whaddaya know. We eased up too soon again, with results that were entirely predictable.

"Fight or find common ground? Oregon race a referendum on the direction of Democrats" [Los Angeles Times]. "Soon Democrats will decide a series of primary contests — in Oregon, Pennsylvania, Texas and elsewhere — that will gauge not just the strength of the political left but also what little remains of the vanishing center in Congress. After a series of elections in which beating Trump was the epoxy holding Democrats together, the party has splintered along familiar lines, between those saying it needs to appeal more to the middle and others arguing Democratic success lies in rallying the liberal base." Yes, let's just erase the working class entirely. More: "That fight over strategy and direction will have one of its first tests Tuesday, when Schrader faces a stiff challenge from Jamie McLeod-Skinner, an attorney and emergency-response expert running as a progressive alternative to the party-bucking incumbent — or, as she describes it, as a real Democrat…. But the angry mood of many Democrats has made Schrader's talk of bipartisan cooperation a much tougher sell. In an unusual move, four of the six county Democratic parties in the district have endorsed McLeod-Skinner, changing their rules to do so." More: "McLeod-Skinner also claims Schrader has lost touch. Although Schrader owns a farm in Clackamas County, McLeod-Skinner scoffed at a campaign mailer showing the lawmaker outside a red barn bucking hay barehanded. ',' she said during a joint appearance before the Willamette Week editorial board, which turned to discussion of the weight of hay bales and the technique for wrangling them. 'People in central Oregon are laughing at those photos.'" • That's gotta sting!

NY: "Crypto industry wields its influence in Washington after pouring over $30 million into campaigns" [CNBC]. "U.S. Rep. Ritchie Torres, D-N.Y., called on New Yorkers to support the cryptocurrency market in a March op-ed in the New York Daily News titled, 'A liberal case for cryptocurrency.' 'With a multi-billion dollar market capitalization, crypto is here to stay. It's not going anywhere. New York City should and must embrace crypto if it is to remain the financial capital of the world,' wrote Torres, who sits on the House Financial Services Committee. Torres failed to mention two upcoming fundraisers industry backers were throwing for him in April. Crypto investors Ben Horowitz, Anthony Albanese and Chris Dixon — leaders at venture capital firm Andreessen Horowitz — hosted the "Ritchie Torres Ethereum Fundraiser" at the swanky private nightclub Zero Bond in New York City on April 13, according to invitations viewed by CNBC. One of the invites promised 'cocktails and conversation' with Torres, asking donors to contribute between $500 and $5,800 to attend the event. Another invite suggested donors contribute in ether, a type of cryptocurrency that's trading at around $2,000." • That's nice.

PA: "News of Fetterman's Stroke Brought Out the Best in His Senate Rivals. Will it Last?" [Time]. "[M]ost of Fetterman's rivals—on both sides of the political divide—put out seemingly sincere wishes for his fast return. This is not always the case…. Part of this is attributable to timing. The primary is Tuesday, and many votes have already been cast. It's never a good look—although it can be an effective one—to kick an opponent while he's recovering. The results at this point in the primary give Fetterman an advantage that almost nothing could shake, although Democrats are privately skeptical of the polling that portrays him as an unstoppable force." • It will be interesting to see whether Democrat loyalists would rather see Fetterman lose, or would rather keep control of the Senate. At the very least, this will be a tough call for them.

PA: "'He is unconventional': John Fetterman's unique persona is put to the test in Pennsylvania Democratic Senate primary" [CNN]. "This is not Fetterman's first run for Senate or the first time his uniqueness has been a question headed into an election day — he ran and lost in 2016 to Democrat Katie McGinty. McGinty's primary campaign manager, Mike Mikus, said their focus groups at the time showed Fetterman's style was both a clear strength and a nagging question. Mikus said multiple women would comment in these groups about how a woman candidate 'could never get away with dressing like that.' 'That happens with candidates like him. There are people who are just a little more traditional. Even if they want to buck the system, they still want someone who looks that part," he said. "With some voters, he will have some work to do and he will need to convince them just because of the way he dresses and the way he looks and the tattoos that he is serious.'"

PA: "Democrats are getting crushed in rural areas. John Fetterman hopes to change that" [Yahoo News]. "The slogan on Fetterman's campaign signs reads, "Every county. Every vote." In areas like this, those votes have become increasingly harder for Democrats to get in recent years, making Fetterman part of a growing effort trying to win back rural electorates and motivate existing Democrats in the parts of the country where opinion of the party has curdled." • The vote, after all, is statewide. So why not get some margin from Republican counties?

PA: "Summer Lee Faces AIPAC Spending Onslaught in Final Days of Pennsylvania Primary" [The Intercept]. "At the end of March, EMILY's List, the Democratic organization that backs women candidates who support abortion rights, commissioned a poll to test the state of the U.S. House race in Pennsylvania's 12th District. What they found heartened them: The group's pick, state Rep. Summer Lee, enjoyed a commanding 25-point lead over her closest competitor, attorney Steve Irwin, drawing 38 to his 13 percent…. In less than a month, the United Democracy Project — the political action committee for the American Israel Public Affairs Committee, or AIPAC — poured more than $1 million into ads in Pennsylvania's 12th District. The bulk of the messaging attacked Lee." • Ugh. No data on how the polls shifted, though.

PA: "GOP blame game erupts in Pennsylvania governor's race" [Politico]. "With far-right state Sen. Doug Mastriano on the verge of capturing the Pennsylvania GOP gubernatorial nomination, Republicans are lashing out, furious that he could cost them a shot at a competitive race in the perennial swing state. Last-ditch efforts to stop Mastriano seemed doomed from the start. But the final blow likely came on Saturday, when former President Donald Trump threw his support behind Mastriano, who has been one of the chief boosters of conspiracy theories about the 2020 election and was also at the Capitol on Jan. 6. Some prominent Pennsylvania Republican individuals and donors are even considering publicly supporting Josh Shapiro, the presumptive Democratic gubernatorial nominee, if Mastriano wins the primary, several party sources told POLITICO." • What fun.
2024
"Possible 2024 contender Nikki Haley returning to Iowa for Randy Feenstra fundraiser" [Des Moines Register]. "'Randy Feenstra is a bold, conservative voice for rural America and hardworking Iowa families,' Haley said in a statement. 'Since day one, he's delivered on his promises to uplift farmers and small business owners, and punch back against Pelosi's socialist agenda. I'm proud to call Randy a friend and can't wait to see everyone at the Feenstra Family picnic this June!'" • Pelosi's socialist agenda… I wish! (So we are to assume the Iowa caucus will remain as first in the nation?)
Democrats en Déshabillé
I have moved my standing remarks on the Democrat Party ("the Democrat Party is a rotting corpse that can't bury itself") to a separate, back-dated post, to which I will periodically add material, summarizing the addition here in a "live" Water Cooler. (Hopefully, some Bourdieu.) It turns out that defining the Democrat Party is, in fact, a hard problem. I do think the paragraph that follows is on point all the way back to 2016, if not before:

The Democrat Party is the political expression of the class power of PMC, their base (lucidly explained by Thomas Frank in Listen, Liberal!). ; if the Democrat Party did not exist, the PMC would have to invent it. . ("PMC" modulo "class expatriates," of course.) Second, all the working parts of the Party reinforce each other. Leave aside characterizing the relationships between elements of the Party (ka-ching, but not entirely) those elements comprise a network — a Flex Net? An iron octagon? — of funders, vendors, apparatchiks, electeds, NGOs, and miscellaneous mercenaries, with assets in the press and the intelligence community.

Note, of course, that the class power of the PMC both expresses and is limited by other classes; oligarchs and American gentry (see 'industrial model' of Ferguson, Jorgensen, and Jie) and the working class spring to mind. Suck up, kick down.

* * *
RussiaGate
"Lawyer Marc Elias takes center stage in Durham trial" [Washington Examiner]. How odd that there's no detailed coverage like this in the Times or WaPo. "Marc Elias, the top lawyer for Hillary Clinton's 2016 presidential campaign, is expected to testify today in special counsel John Durham's case against Democratic cybersecurity lawyer Michael Sussmann. Elias, who last year started the Elias Law Group, was the Clinton campaign's general counsel and hired the opposition research firm Fusion GPS, which hired Christopher Steele in 2016. Elias testified he was aware of Fusion's plans to have Steele brief reporters during the 2016 contest, met with Steele in 2016, and periodically briefed the campaign about the findings from Fusion and Steele. Elias coordinated closely with his former Perkins Coie law firm colleague Sussmann on anti-Trump research in 2016….. Sussmann was charged last year with concealing his clients, Clinton's 2016 presidential campaign and 'Tech Executive-1,' known to be former Neustar executive Rodney Joffe, from FBI general counsel James Baker when he presented debunked allegations suggesting a secret back channel between the Trump Organization and Russia's Alfa-Bank during a September 2016 meeting. Durham said members of the Clinton campaign, Fusion, and Perkins played a coordinated role in pushing collusion claims and that Elias was part of the 'joint venture' in 2016. Sussmann and Elias worked for Perkins at the time, and Fusion pushed Alfa-Bank claims, too." • IANAL, but "joint venture" seems like a way to jackhammer apart the layers of indirection and cutouts that liberal Democrats typically surround themselves with.
Realignment and Legitimacy
"AP Exclusive: Black Lives Matter has $42 million in assets" [Associated Press]. "The foundation started by organizers of the Black Lives Matter movement is still worth tens of millions of dollars, after spending more than $37 million on grants, real estate, consultants, and other expenses, according to tax documents filed with the IRS. In a new, 63-page Form 990 shared exclusively with The Associated Press, the Black Lives Matter Global Network Foundation Inc. reports that it invested $32 million in stocks from the $90 million it received as donations amid racial justice protests in 2020. That investment is expected to become an endowment to ensure the foundation's work continues in the future, organizers say… The tax filing shows that nearly $6 million was spent on a Los Angeles-area compound. The Studio City property, which includes a home with six bedrooms and bathrooms, a swimming pool, a soundstage and office space, was intended as a campus for a Black artists fellowship and is currently used for that purpose, the board member said…. For all the questions raised about its oversight, the BLM foundation's tax filing shows its stewards haven't squandered donations. Instead, it granted tens of millions of dollars to BLM chapters, Black-led grassroots organizations and families of police brutality victims, whose names rallied the larger movement. 'This 990 reveals that (the BLM foundation) is the largest Black abolitionist nonprofit organization that has ever existed in the nation's history. What we're doing has never been done before," said Shalomyah Bowers, who serves as the foundation's board secretary." • The house still looks bad. But that money is actually being disbursed is a positive note. Being skeptical, I would want more detail on who, exactly, these "Black-led grassroots organizations" are.
#COVID19
I've been treating the charts as topic areas and putting relevant snippets of content under them. But I'm afraid readers miss the snippets. So I decided to put bullets in front of the snippets in the #COVID19 section, as here:
• Maskstravaganza:
37% of U.S. adults say it bothers them a lot or some when people in public do not wear a mask around them; a much larger share (63%) say this bothers them not too much or not at all. https://t.co/wHplbRK5yn pic.twitter.com/lMkbbM0jmq

— Pew Research Center (@pewresearch) May 14, 2022
Propaganda works….
* * *
Lambert here: I am but a humble tape-watcher, but if some trusting, non-realist soul tells you that "Covid is over," you can tell them that cases are up, transmission is up, test positivity is up, hospitalization is up, rapid riser counties are up, and wastewater is up, too. And this is all from data designed to support the narrative that "Covid is over," and gamed within an inch of its life. So, if signals like that are flashing red, consider what the real signal must be like. (Note also this is all with BA.2 only, and with what the establishment considers an "immune wall" made from vaccination and prior infection. Since semper aliquid novi Africam adferre, and we've let 'er rip at the airports…. Well, I just hope we get lucky with BA.4 and BA.5. "God has a special providence for fools, drunkards, and the United States of America." –Otto von Bismarck.
* * *
If you missed it, here's a post on my queasiness with CDC numbers, especially case count, which I (still) consider most important, despite what Walensky's psychos at CDC who invented "community levels" think. But these are the numbers we have.
* * *
Case count by United States regions: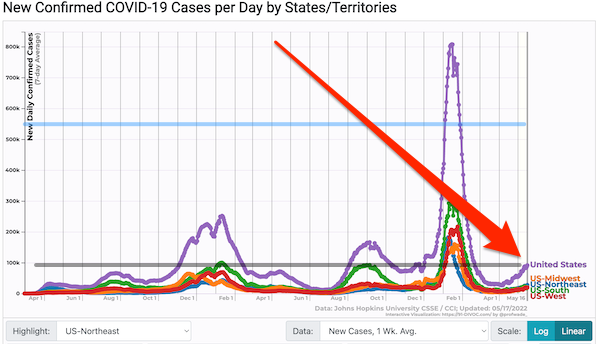 The train is really rolling, now. Remember these data points are weekly averages, so daily fluctuations are smoothed out. Also remember, it's 100% certain the cases numbers are significantly understated. They've always been gamed, but it's worse than before. One source said they though cases might be undercounted by a factor of six. Gottlieb thinks we only pick up one in seven or eight. The black "Fauci Line" is a counter to triumphalism, since it compares current levels to past crises. The blue "Biden Line" shows what the case count would be if it were 91,000 * 6 = 546,000, i.e. not gamed.
• "Why the fight against COVID appears to have stalled in the U.S" (interview) [Eric Topol, PBS].
So we have trouble right now. As you mentioned, we are seeing at least 600,000, 700,000 real cases a day, and, likely, it's going to continue to increase in this country as we confront this so-called BA.2.12.1 variant, one of the several of the Omicron family.
So the flames are rising from Topol's hair even more than they are from mine; his Biden Line would be even higher.
Here are cases for the last four weeks: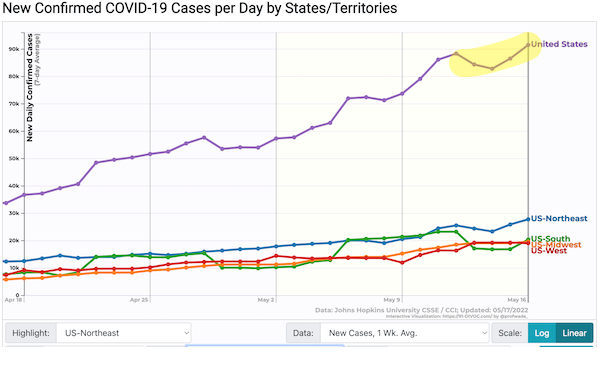 Worth noting that cases have doubled tripled in four weeks.
• Like "Yankee candle reviews," signaling loss of sense of smell:
People in gardening group reporting a bizarre lack of scent in their lilacs this year and I'm thinking it isn't the lilacs…

— Charlene Teglia (@CharleneTeglia) April 25, 2022
Interesting anecdote. And can any readers, heaven forfend, confirm?
• "CDC to all domestic travelers: Test close as possible to departure time" [CNN]. "The agency now urges all domestic travelers to "consider getting tested as close to the time of departure as possible (no more than three days) before your trip," according to its Covid-19 website updates this month." • This is so pathetically weak (or functionally democidal, take your pick).
NOTE I shall most certainly not be using the CDC's new "Community Level" metric. Because CDC has combined a leading indicator (cases) with a lagging one (hospitalization) their new metric is a poor warning sign of a surge, and a poor way to assess personal risk. In addition, Covid is a disease you don't want to get. Even if you are not hospitalized, you can suffer from Long Covid, vascular issues, and neurological issues. For these reasons, case counts — known to be underestimated, due to home test kits — deserve to stand alone as a number to be tracked, no matter how much the political operatives in CDC leadership would like to obfuscate it. That the "green map" (which Topol calls a "capitulation" and a "deception") is still up and being taken seriously verges on the criminal. Commentary:
Our leading public health agency just tweeted the green map of kittens and rainbows again. It's a lie that takes away the agency of people to protect themselves by obfuscating the real conditions on the ground until it's too late. The green map is camouflage for incompetence. pic.twitter.com/eHa60CGCcF

— Elizabeth Jacobs, PhD 🏴‍☠️ (@TheAngryEpi) May 16, 2022
From the Walgreen's test positivity tracker: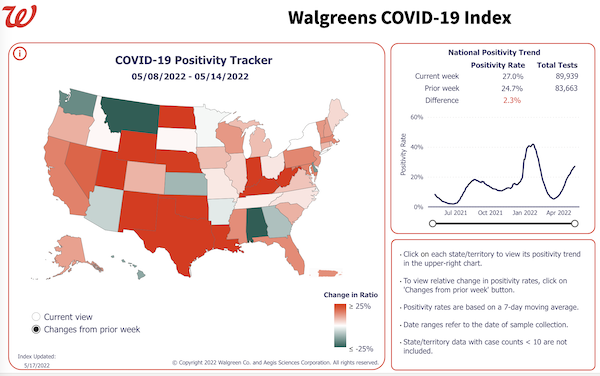 I'm leaving the corporate logo on as a slap to the goons at CDC.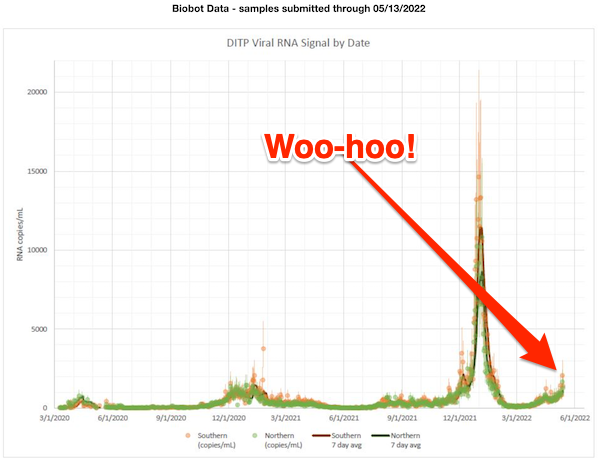 Going vertical?
The Massachusetts Water Resources Authority (MWRA) service area includes 43 municipalities in and around Boston, including not only multiple school systems but several large universities. Since Boston is so very education-heavy, then, I think it could be a good leading indicator for Covid spread in schools generally.
Cases lag wastewater data.
From Biobot Analytics: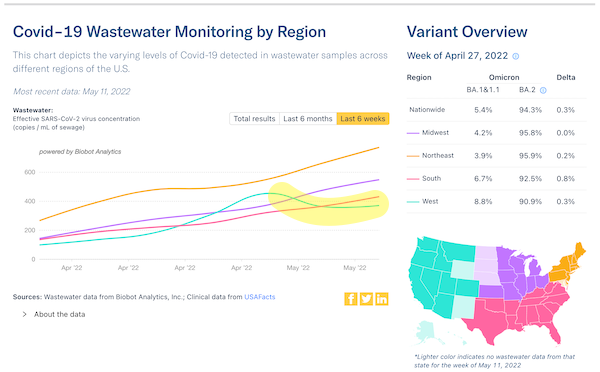 The other thing I'm not liking is that big time lag with the variants. April 27? I want to know about BA.4 and BA.5 (dubbed "variants of concern" by The European Centre for Disease Prevention and Control (ECDC) last week, but not WHO). This is the CDC's readable report on variant proportions: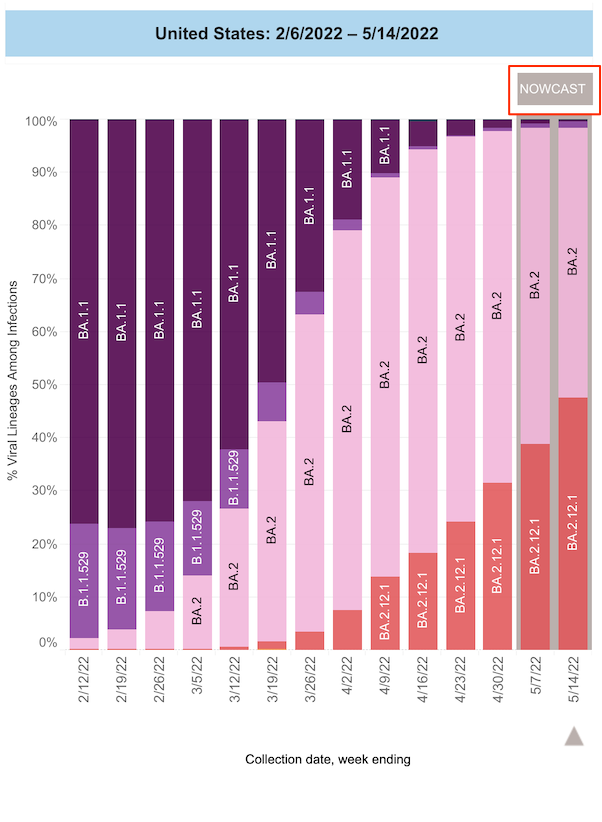 But as you can see, the most recent two weeks are based on CDC's "Nowcast" model, and I don't trust CDC models. There is a second report on variant proportions immediately below this one, which does not use the Nowcast model, but it's incredibly poorly designed, and not readable. So, up your game, Biobot. (It has occurred to me that Biobot, as a very small company, is experiencing growing pains, and data is their last concern. It should not be!)
From CDC Community Profile Reports (PDFs), "Rapid Riser" counties: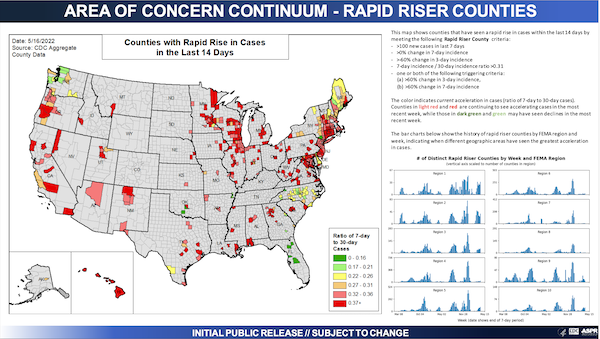 This map is bouncing around as badly as the hospitalization map! Now both the West Coast and the Northeast are worse! I'm not liking the increased sprinkles of red dots in the South, either.
The previous release: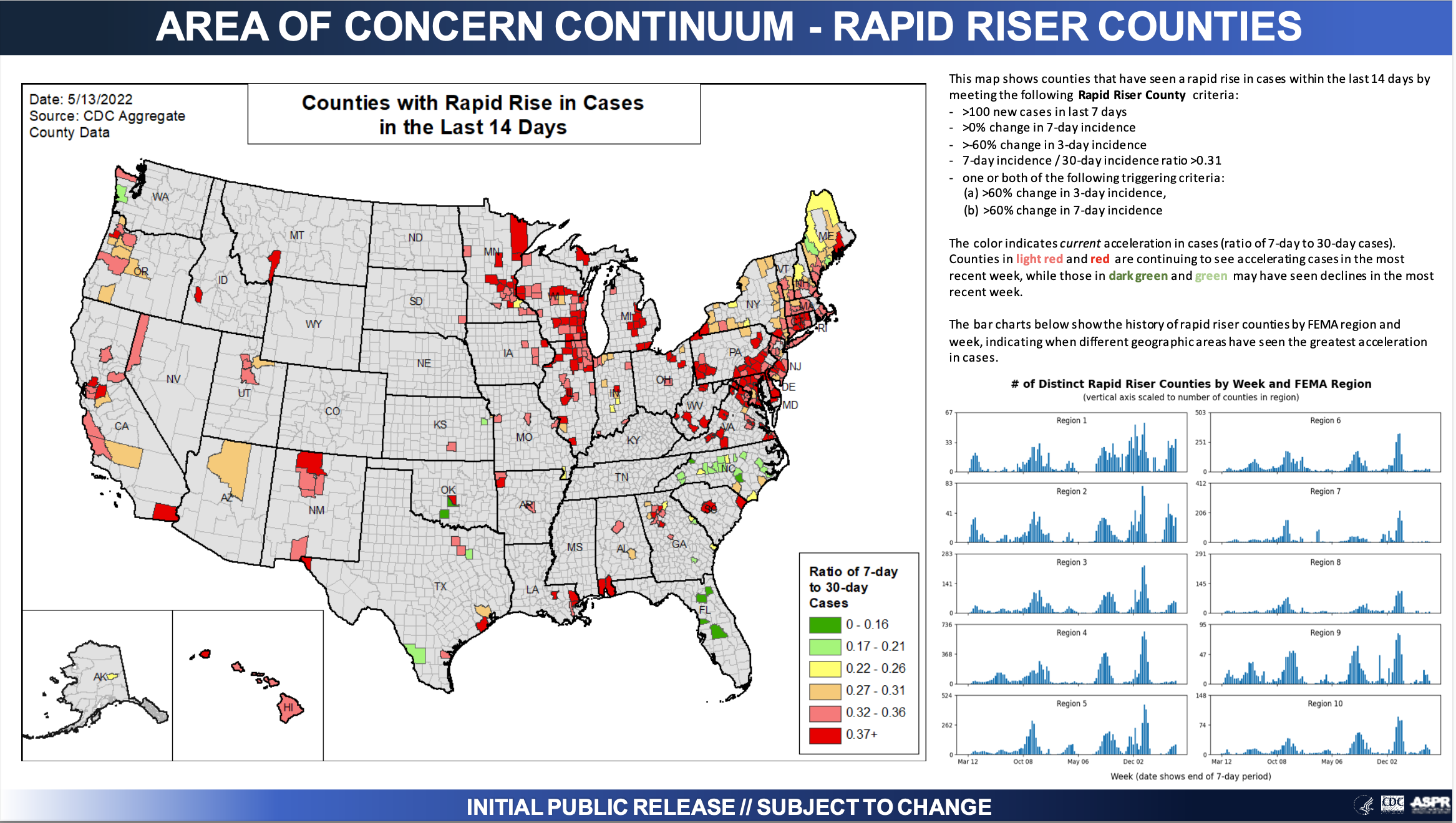 Here is CDC's interactive map by county set to community transmission. This is the map CDC wants only hospitals to look at, not you: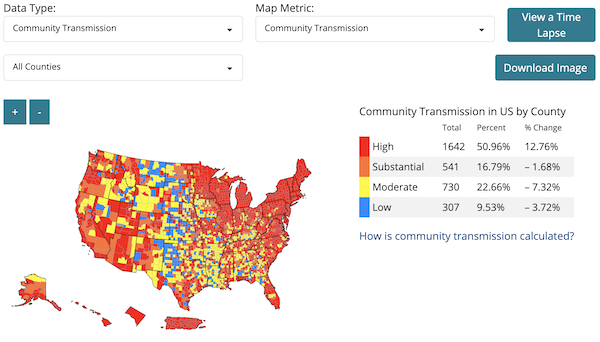 The Northeast remains stubbornly and solidly red. Now California is red as well. The Upper Midwest is moving that way, too.
Hospitalization (CDC Community Profile):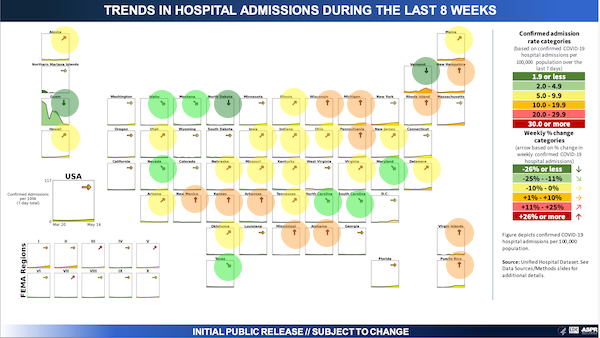 This map is very dynamic! Now the orangization has bounced around down South. (Note trend, whether up or down, is marked by the arrow, at top. Admissions are presented in the graph, at the bottom. So it's possible to have an upward trend, but from a very low baseline.)
Death rate (Our World in Data):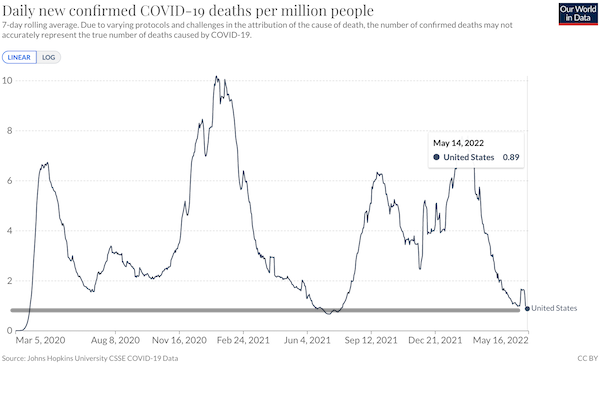 Total: 1,026,899 1,026,109. Still down and way too high. I have added an anti-triumphalist Fauci Line.
Covid cases in top us travel destinations (Statista):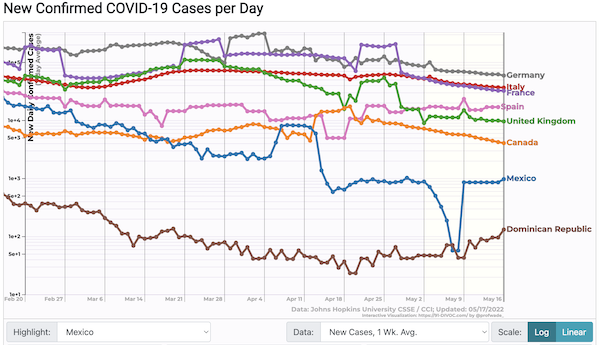 Broadly down, but is that a data thing with Mexico? (Note the quality of these numbers varies wildly. For example, the UK is cutting back on testing data.
Stats Watch
Retail: "U.S. Retail Sales" [Trading Economics]. "Retail sales in the US increased 0.9% mom in April of 2022, following an upwardly revised 1.4% surge in March and matching market forecasts. The reading showed American consumers continued to spend despite stubbornly high levels of inflation although it was the smallest gain in retail trade in four months."
Manufacturing: "United States Industrial Production MoM" [Trading Economics]. "Industrial production in the United States rose 1.1 percent from a month earlier in April of 2022, marking the fourth consecutive month of gains of 0.8 percent or greater. It follows a 0.9 percent increase in March and compared with market expectations of a 0.5 percent rise. Manufacturing output advanced 0.8 percent, the same as in the prior month and above market expectations of 0.4 percent."
Capacity: "United States Capacity Utilization" [Trading Economics]. "Capacity Utilization in the United States increased to 78.99 percent in April from 78.22 percent in March of 2022. It is the highest rate since December of 2018 and above market forecasts of 78.6 percent. Capacity utilization for manufacturing increased 0.6 percentage point to 79.2 percent, the highest level since April 2007."
* * *
Commodities: "Panic Grips Billion-Dollar Trade Over Russian Diamond Ban" [Bloomberg]. "Russian mining giant Alrosa PJSC supplies about a third of the world's raw gems, and US sanctions against the company are causing panic in the industry. Firms from Tiffany & Co. to Signet Jewelers Ltd. have announced plans to suspend sales of Russian diamonds. With wedding season looming in America, desperate delegations have been seeking a workaround from India, the world's largest exporter that cuts and polishes nine of 10 stones. The US relies on India for close to half its diamonds. That makes New Delhi an unmatched stakeholder in managing the fallout and keeping shops on Fifth Avenue stocked. Disruptions could crimp supplies across North America and cost India $2.5 billion this quarter, or nearly 10% of its annual sales. As pandemic restrictions ease, Signet and other jewelers expect 2.5 million weddings in the US this year, the highest number in four decades." • More superspreading events….
The Bezzle: "Whereabouts of Terra's Bitcoin Reserve a Mystery After Transfers" [Bloomberg]. "The $3.5 billion in Bitcoin purchased as a reserve by the foundation set up by the creators of the failed Terra blockchain became untraceable after it was moved to two cryptocurrency platforms, according to blockchain forensics firm Elliptic. What happened to the cryptocurrency held in reserve may become a key question if investors seek to recoup losses suffered in the wake of the collapse of the blockchain. " • Commentary:
"Mystery" https://t.co/GcgTcFwPCQ pic.twitter.com/hZu18c4NTh

— Doomberg (@DoombergT) May 15, 2022
The Bezzle: "The feds finally caught someone trying to use crypto to escape sanctions" [Protocol]. "In a strongly worded ruling that suggested more than a passing familiarity with the caps-lock key, U.S. Magistrate Judge Zia Faruqui approved the first Justice Department criminal complaint against a U.S. citizen accused of using crypto in violation of sanctions Friday. The defendant, who remains unnamed, is accused of transferring $10 million in bitcoin to either Cuba, Iran, North Korea, Syria or Russia. 'Issue One: virtual currency is untraceable? WRONG … Issue Two: sanctions do not apply to virtual currency? WRONG,' the judge wrote in a nine-page opinion." More: "Faruqui, a former prosecutor who pursued crypto and darknet cases, has opinions that map closely to the views of Web3 participants, reflecting a sophistication about decentralized technologies that's still rare in legal and government circles. His opinion could bring further awareness to the issue, along with testimony from FinCEN and other crypto-savvy law enforcement agencies." • Hmm.
The Bezzle: How's that workin' out for ya:
Nayib Bukele, El Salvador's president, left, with his golden scale model of a planned crypto-funded Bitcoin Cityhttps://t.co/S15OmikgJM pic.twitter.com/ZdIZVdSMO8

— Adam Tooze (@adam_tooze) May 17, 2022
The Bezzle: "Goldman Agrees to Settle Suit Over 1MDB for $79.5 Million" [Bloomberg]. "Goldman Sachs Group Inc. agreed to a $79.5 million settlement with shareholders who blamed lax oversight by the bank for its costly involvement in the 1MDB bribery scandal…. The 1MDB scandal has already cost the bank more than $5 billion globally, including $2.9 billion paid to US regulators. In 2012, Goldman issued $6.5 billion worth of bonds to 1MDB, a Malaysian development company. The bonds were earmarked for redevelopment but all but $2 billion of the money was diverted to pay bribes to government officials, federal prosecutors said. In 2020, a Goldman unit admitted to conspiring to violate US anti-bribery laws. It was the first guilty plea ever for the 153-year-old firm." • The "shareholders" seem to be the "Fulton County Employees' Retirement System." So, naturally.
Tech: "Musk: no spam account data, no Twitter deal" [Reuters]. " Elon Musk says his Twitter takeover won't move ahead until the social network can prove it has less than 5% spam accounts." • Is this how deals work? Don't you do your due diligence before making the deal?
Transportation: "The New Jet Set: How the COVID-driven boom in private jets is still flying high" [Reuters]. "A shift toward private flying that more wealthy Americans saw as a necessary luxury during COVID-19 is now showing signs of becoming something else: a pricey but sought-after alternative to a premium ticket on a commercial flight. Many stayed for the convenience, with analysts and industry executives saying they see both more first-time jet owners and families and even small- and medium businesses flying private. Airlines had an 80% share of premium travel in 2021, down from 90% before COVID-19, according to Alton Aviation Consultancy. Business jets were often associated with entertainers and top executives. They now account for a quarter of U.S. flights, roughly twice the pre-pandemic share, according to research and consultancy WINGX."
Manufacturing: "China Southern says delivery timetable for Boeing 737 MAX jets not confirmed" [Reuters]. "Bloomberg, based on Ma's comments, reported on Monday that the airline, Boeing's biggest Chinese customer, has removed more than 100 of the MAX jets from its fleet." • Oh good. After RyanAir's blast: "There has been very poor delivery for the last two years, and we think they need management changes on the civilian aircraft side because the management team in Seattle is not delivering. It has not delivered for two years and they're not up to the job…. Boeing keep missing delivery dates."
Labor Market: Speaking of the labor force participation rate:
🔴Bank of England

Worried about the sharp of the 16-64 population who are outside the workforce and do not want a job because of long-term sickness, especially women. Main cause are estimated to be long Covid and the rise in NHS waiting lists.https://t.co/ogCA7Hn0mQ pic.twitter.com/Ppm4wi98NZ

— Nancy Delagrave | Covid-Stop / Des N-95 pour tous (@RougeMatisse) May 17, 2022
Greenhalgh asks a good question:
How many of these layered protections have we abandoned? Is it any wonder the economy its suffering because workers are chronically sick? pic.twitter.com/M8qfYHiqZG

— Trisha Greenhalgh #IStandWithUkraine 🇺🇦 (@trishgreenhalgh) May 17, 2022
All? Except vaccination (Big Pharma) and "contactless services" (the banks)?
* * *
Today's Fear & Greed Index: 15 Extreme Fear (previous close: 12 Extreme Fear) [CNN]. One week ago: 10 (Extreme Fear). (0 is Extreme Fear; 100 is Extreme Greed). Last updated May 17 at 12:45 PM EDT. Mr. Bitcoin still sad?
Rapture Index: Closes unchanged [Rapture Ready]. Record High, October 10, 2016: 189. Current: 188. (Remember that bringing on the Rapture is good.)
Class Warfare
"Capitalism, not racism" (correspondence) [The Lancet]. "[T]he primary logic underpinning the western world order is not "that Black and Brown life is worth less".1 The primary logic of the world order is that profit is valued more than human needs. Although racist ideologies can and did acquire considerable autonomy, they developed in large part to justify rampant capitalist exploitation and imperialism. Racist ideologies are more than ideological superstructures, but they can only be understood fully in the context of the political economy of the world system."
News of the Wired
"Farm machinery exacting heavy toll on soil – study" [BBC]. "The weight of modern combine harvesters, tractors and other farm machinery risks compacting the soil, leading to flooding and poor harvests, according to researchers in Sweden….Thomas Keller, professor of soil management at the Swedish University of Agricultural Sciences in Uppsala, Sweden, says machinery should be designed not to exceed a certain load. 'Compaction can happen within a few seconds when we drive on the soil, but it can take decades for that soil to recover,' he said. However, the heft of modern harvesters is outweighed by long-necked plant-eating dinosaurs such as brontosaurus, which once roamed the Earth. This raises a conundrum: how did the extinct creatures thrive in the ecosystems they likely altered as they stomped across the ground? Prof Thomas Keller suggests the giant plant-eaters might have stuck to paths, using their long necks to reach out for nearby vegetation. 'We think that maybe they didn't just walk around randomly across the landscape,' he explained."
* * *
Contact information for plants: Readers, feel free to contact me at lambert [UNDERSCORE] strether [DOT] corrente [AT] yahoo [DOT] com, to (a) find out how to send me a check if you are allergic to PayPal and (b) to find out how to send me images of plants. Vegetables are fine! Fungi and coral are deemed to be honorary plants! If you want your handle to appear as a credit, please place it at the start of your mail in parentheses: (thus). Otherwise, I will anonymize by using your initials. See the previous Water Cooler (with plant) here. From Angie Neer: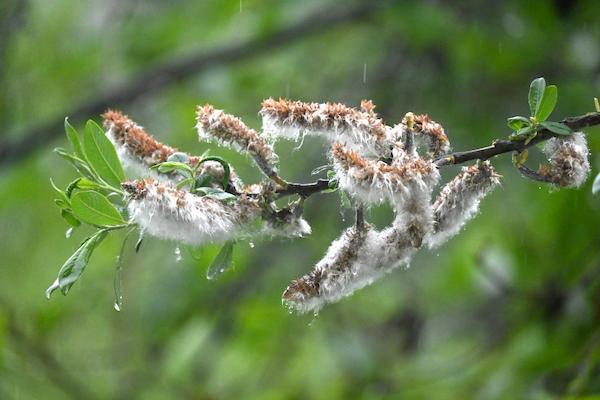 Angie Neer: "I believe this is an Alder, in the process of releasing its seeds, aided by Pacific northwest rain. Sorry about the shallow depth of focus, Lambert ;-)" This is lovely, including the bokeh :-)
Readers, I blew past actually including the image yesterday. Here it is!
* * *
NOTE ON PAYPAL: As some readers may know, PayPal whacked Consortium News's account, for no justification that I can see. It's to be hoped that Consortium News has its account completely restored, and that NC doesn't come under the same ban hammer. In the meantime, until I/we can come up with an alternative, I must continue to rely on PayPal (and rely I do). I will be cleaning out the account daily, and PayPal does give a heads-up, so your risk is minimal. Please carry on as before, or, if you feel you must, write me and I will send you directions for sending a check. Please put "PayPal" in the subject line. Thank you for your support! It is much appreciated, and helps me with responsibilities. –lambert
Readers: Water Cooler is a standalone entity not covered by the recently concluded and — thank you! — successful annual NC fundraiser. So if you see a link you especially like, or an item you wouldn't see anywhere else, please do not hesitate to express your appreciation in tangible form. Remember, a tip jar is for tipping! Regular positive feedback both makes me feel good and lets me know I'm on the right track with coverage. When I get no donations for five or ten days I get worried. More tangibly, a constant trickle of donations helps me with expenses, and I factor in that trickle when setting fundraising goals:
Here is the screen that will appear, which I have helpfully annotated: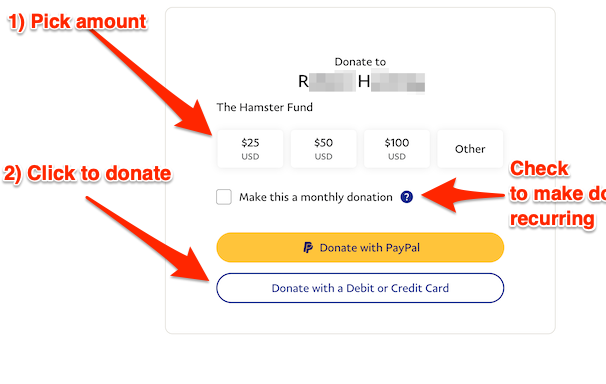 If you hate PayPal, you can email me at lambert [UNDERSCORE] strether [DOT] corrente [AT] yahoo [DOT] com, and I will give you directions on how to send a check. Thank you!