By Lambert Strether of Corrente
Bird Song of the Day
This is Sparrow week at Naked Capitalism. New York, United States. If you've spotted any sparrow species, let me know!
"Sparrow ID Guides from Macaulay Library and Bird Academy" [The Cornell Lab of Ornithology]. Free downloads. "Sparrows are a challenge to birders of all skill levels because they're often skulky and hard to see. At first they seem like dull brown birds, but when you get a good look, they show beautiful and intricate patterns on their feathers. Because many species are hard to see, they are sought after by avid listers and those who appreciate the beauty of birds. Whether you're at home or out in the field, these helpful four-sheet sparrow reference guides have full-color photos of eastern, central, western and widespread sparrows."
* * *
Politics
"But what is government itself, but the greatest of all reflections on human nature?" –James Madison, Federalist 51
"They had learned nothing, and forgotten nothing." –Charles Maurice de Talleyrand-Périgord
"When the going gets weird, the weird turn pro." –Hunter Thompson
Biden Adminstration
"Inside a Biden White House adrift" [NBC]. "Faced with a worsening political predicament, President Joe Biden is pressing aides for a more compelling message and a sharper strategy while bristling at how they've tried to stifle the plain-speaking persona that has long been one of his most potent assets. Biden is rattled by his sinking approval ratings and is looking to regain voters' confidence that he can provide the sure-handed leadership he promised during the campaign, people close to the president say…. Democratic leaders are at a loss about how he can revive his prospects by November, when midterm elections may cost his party control of Congress…. 'They came in with the most daunting set of challenges arguably since Franklin D. Roosevelt, only to then be hit by a perfect storm of crises, from Ukraine to inflation to the supply chain to baby formula,' said Chris Whipple, the author of a book about White House chiefs of staff who is now writing a book about the Biden presidency. 'What's next? Locusts?" • We don't need locusts. We already have a plague. Anyhow, maybe a staff shake-up. That's the ticket, a staff shake-up.

"Biden sees exodus of Black staffers and some frustration among those who remain" [Politico]. "At least 21 Black staffers have left the White House since late last year or are planning to leave soon. Some of those who remain say it's no wonder why: They describe a work environment with little support from their superiors and fewer chances for promotion. The departures have been so pronounced that, according to one current and one former White House official, some Black aides have adopted a term for them: 'Blaxit.'" Oof. "The reasons for the departures may vary. But the totality of them has not gone unnoticed within the ranks." • Well, the revolving door has to revolve; Simone Sanders to MSNBC, for example. Pity about those left behind. (The article doesn't say, but I wonder if the Black staffers who left Harris's operation were more disgruntled than the rest. I'm guessing yes.)

"Plans To Forgive $10,000 In Student Debt Per Borrower Announced By Biden Administration" [Yahoo News]. "According to a report by The Washington Post, the Biden administration plans to cancel $10,000 in student debt per borrower. The move would be consistent with the President's campaign promise in 2020 [lol]. With the new plan, there will be income limits. The Biden administration's forgiveness plan would apply to Americans who earned less than $150,000 in the previous year or less than $300,000 for married couples filing jointly, two of the people told the Post. A study by New York Federal Reserve economists, forgiving $10,000 per student would amount to $321 billion of federal student loans and eliminate the entire balance for 11.8 million borrowers, or 31 percent." • Well, that's pathetic. Commentary:

Biden promised to cancel ALL student debt for HBCU graduates making under 125k.

Black Americans: you simply do not have to vote for politicians who lie to you and disrespect you so openly.

Despite what Biden says, you'll still be Black. https://t.co/MAtjCeqdof pic.twitter.com/Mq0sGwd141

— Briahna Joy Gray (@briebriejoy) May 27, 2022

"Inside Biden's June pivot to the economy" [Politico]. "The Biden White House is rolling out a new monthlong economic campaign today to try to 'communicate on our accomplishments to date on the economy,' according to a White House official." • Let me know how that works out.

"Biden pledges to meet with Congress on guns" [The Hill]. • Profile in courage.

"Exclusive: Supreme Court leak investigation heats up as clerks are asked for phone records in unprecedented move" [CNN]. • Why not the Justices too?
2022
* * *

KS: I like the look, I like the ambition, and I like the platform:

At least he's in there punching!
2024
"Ranking the five Democrats most likely to win party nod if Biden doesn't run" [The Hill]. • In order: Harris, Buttigieg, Warren, Sanders, Klobuchar.
Democrats en Déshabillé
I have moved my standing remarks on the Democrat Party ("the Democrat Party is a rotting corpse that can't bury itself") to a separate, back-dated post, to which I will periodically add material, summarizing the addition here in a "live" Water Cooler. (Hopefully, some Bourdieu.) It turns out that defining the Democrat Party is, in fact, a hard problem. I do think the paragraph that follows is on point all the way back to 2016, if not before:

The Democrat Party is the political expression of the class power of PMC, their base (lucidly explained by Thomas Frank in Listen, Liberal!). ; if the Democrat Party did not exist, the PMC would have to invent it. . ("PMC" modulo "class expatriates," of course.) Second, all the working parts of the Party reinforce each other. Leave aside characterizing the relationships between elements of the Party (ka-ching, but not entirely) those elements comprise a network — a Flex Net? An iron octagon? — of funders, vendors, apparatchiks, electeds, NGOs, and miscellaneous mercenaries, with assets in the press and the intelligence community.

Note, of course, that the class power of the PMC both expresses and is limited by other classes; oligarchs and American gentry (see 'industrial model' of Ferguson, Jorgensen, and Jie) and the working class spring to mind. Suck up, kick down.

* * *
RussiaGate
"Sussmann found not guilty in blow to John Durham's investigation" [Washington Examiner]. "Following the "not guilty" verdict against Sussmann, it remains to be seen whether Durham will pursue further indictments." • Read the whole story. While I'd like to wait for an actual lawyer to analyze the outcome and especially the prosecution strategy, there do appear to be reasons for the acquittal that have little to do with the evidence.

"Sussmann acquitted on charge brought by special counsel Durham" [Politico]. "Senior Justice Department officials have been vague about what level of supervision is in place over Durham's probe, which former Attorney General Bill Barr gave special-counsel status a few weeks before the 2020 election. Attorney General Merrick Garland has said the department is adhering to regulations governing the special counsel's autonomy, but has declined to elaborate."
Realignment and Legitimacy
"Is America heading for civil war?" [Financial Times]. A topic that's really coming up on the charts. "[A] clutch of recent books make an alarmingly persuasive case that the warning lights are flashing redder than at any point since 1861…. How would a 21st century US civil war actually happen? Nothing like the first time. Unlike the 1860s, when America was neatly split between the slave-owning confederates and the north, today's separatist geography is marbled. Unlike then, America's armed forces today cannot be outgunned. Even in a country that, uniquely, has more privately owned guns than people (at more than 400mn), many of which are military-grade, it would be no contest. Yet America, of all countries, knows that asymmetric warfare is unwinnable. Think of Vietnam, Iraq and Afghanistan. Think, also, of how America was born — its revolutionary army lost almost every encounter with Britain's vastly better equipped redcoats. Yet, with the help of the French, America's guerrilla forces prevailed. Now substitute today's federal army for the redcoats. Armies have a terrible record of pacifying restive populations. Every casualty breeds 10 more rebels. 'They will slip in and out of the shadows, communicating on message boards and encrypted networks,' writes Walter. 'They will meet in small groups in vacuum-repair shops along retail strips. In desert clearings along Arizona's border, in public parks in southern California, or in the snowy woods of Michigan, where they will train to fight.'" • Leaving the jurisdictional issues aside, I don't see how the Blue States could win. So they turn off the ATMs and NetFLix. Then the Red States turn off the the pipelines, the electrical grid, and trucks and trains. (Of course, the supply chain unions could turn off the supply chain, if you wanted a civil war on class lines. That seems unlikely. Oh, and my usual question: Who gets the nukes?

"2022.05.30 The Crazy Policies Are Going To Get (A Lot) Worse" (video) [Gonzalo Lira, YouTube]. • Starts with a wonderful riff that I was sure was going to be about Paul Pelosi, but wasn't. Summarizing: Our elites have gone cray cray because they know what's coming and don't see how to stop it. So, gather ye rosebuds while ye may! Well worth a listen, because I think Lira has fought through to an important truth. or at least an aspect of it.

Guns are expensive. Lots of guns are even more expensive. These are American gentry:

This is a thread of political radicalization, no doubt, but it's also a thread of conspicuous consumption. Guns are expensive. Working-class people cannot afford these arsenals. https://t.co/xd9JZWWTGZ

— Drew McKevitt (@drewmckevitt) May 29, 2022

On the bright side, these people aren't going to be revolting over lack of food. They'll be "protecting" the supermarkets and the trucks and trains from "looters."

"Restorative Injustice: The Implosion Of A Democratic Socialist Campaign" [The Intercept]. • Discouraging.
#COVID19
Lambert here: I am but a humble tape-watcher, but if some trusting, non-realist soul tells you that "Covid is over," you can tell them that cases are up, transmission is up, test positivity is up, and hospitalization is up. And this is all from data designed to support the narrative that "Covid is over," and gamed within an inch of its life. So, if signals like that are flashing red, consider what the real signal must be like. (Note also this is all with BA.2 only, and with what the establishment considers an "immune wall" made from vaccination and prior infection. Since semper aliquid novi Africam adferre, and we've let 'er rip at the airports…. Well, I just hope we get lucky with BA.4 and BA.5. "God has a special providence for fools, drunkards, and the United States of America." –Otto von Bismarck.
If you missed it, here's a post on my queasiness with CDC numbers, especially case count, which I (still) consider most important, despite what Walensky's psychos at CDC who invented "community levels" think. But these are the numbers we have.
* * *
Not to preen [lambert preens] but NC readers are several weeks ahead of brain genius Bob Wachter:
SF folks: it's now a big-time surge. No longer just cases (~500/d reported, so true # >2K, or ~250/100K/d). Also major uptick in hospitalizations: 98 in SF (vs 18 six wks ago). @UCSFHospitals 41 pts in hospital, twice April #.
If you're trying to stay well, time to up your game. pic.twitter.com/VNmhHal5EL

— Bob Wachter (@Bob_Wachter) May 30, 2022
Big if true:
Lol my sons group of friends went from "let's just live with it everyone will get it" to being the only people in the community masked properly…. All it took was one of their 21 year old friends to say he has post covid erectile disfunction

— MissMenace101 (@missmenace101) May 28, 2022
Why hasn't Pfizer done this already?
Back due to unprecedented popularity and demand, the Covid re-infection loyalty card v2.0 is now available.
It's a special Monkeypox edition & any co-infection, please call the number on the reverse to claim your share of the jackpot.
Thanks @amandalhu for requesting the update. pic.twitter.com/BRLYzFdrww

— Pete 😷 #COVIDisAirborne (@PeteUK7) May 28, 2022
Fighting Covid as an engineering problem (i.e., no RCTs):
1. The worst thing you can do: Fogging/Spraying Disinfectant. DO NOT DO THIS! The chemicals you spray in the air land on surfaces and are supposed to disinfect them. It's really bad for you and doesn't stop the spread of COVID. Just don't.

— Joey Fox, P. Eng, M.A.Sc (@joeyfox85) May 23, 2022
Note that in Yves's post on the Covid outbreak at CalPERS headquarters, one employee advocated "deep cleaning." Bad engineering! And an utterly tragic failure by the public health establishment and the CalPERS employees' union. What about aerosol transmission and ventilation? (It would be interesting to know if the CalPERS headquarters was a "sick building."
"When will we know if COVID is seasonal?" [ABC]. "While the virus has had some element of seasonality since it first came into the world more than 2 years ago, other factors — including variant evolution, population immunity, and behavioral changes — have made seasonality less apparent. The disease may fall into a more predictable rhythm once the population has more immunity and as people go back to their pre-pandemic lives, but this will likely take a few years, most experts agreed." • Oh.
* * *
Case count by United States regions: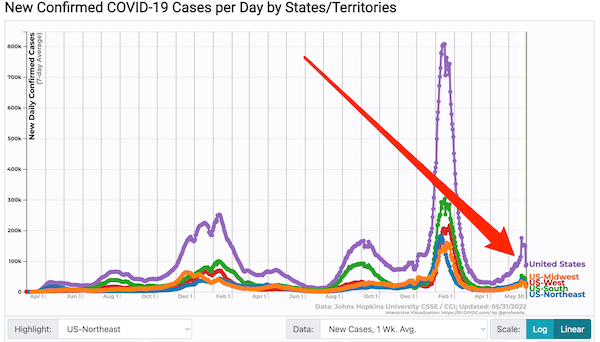 This looks like a three-day weekend reporting issue to me. Let's see what happens later in the week when CDC digs itself out from under the reports. (I'm not drawing any lines on the chart because it would be pointless.)
I've been working on the assumption that cases are undercounted by a factor of six (or seven or eight, says Gottlieb). W-e-e-e-l-l-l-l…..
"The prevalence of SARS-CoV-2 infection and uptake of COVID-19 antiviral treatments during the BA.2/BA.2.12.1 surge, New York City, April-May 2022" (preprint) [medRxiv]. " Objective: To determine the prevalence of SARS-CoV-2 infection during the Omicron BA.2/BA.2.12.1 surge in relation to official case counts, and to assess the epidemiology of infection and uptake of SARS-CoV-2 antivirals. Design: Cross-sectional survey of a representative sample of New York City (NYC) adult residents, conducted May 7-8, 2022….. Main Outcome(s) and Measure(s): Prevalence of SARS-CoV-2 infection during a 14-day period, weighted to represent the NYC adult population…. , corresponding to ~1.5 million adults (95%CI 1.3-1.8 million). Prevalence was estimated at 34.9% (95%CI 26.9%- 42.8%) among individuals with co-morbidities, 14.9% (95% CI 11.0%-18.8%) among those 65+ years, and 18.9% (95%CI 10.2%-27.5%) among unvaccinated persons." • Seems like rather a lot.
"As summer begins, US COVID-19 cases six times higher than last year" [The Hill]. "As the US marks Memorial Day weekend and the unofficial start of summer, the seven-day average for COVID-19 cases in the U.S. are more than six times what they were a year ago." • Everything's going according to plan.
Here are cases for the last four weeks: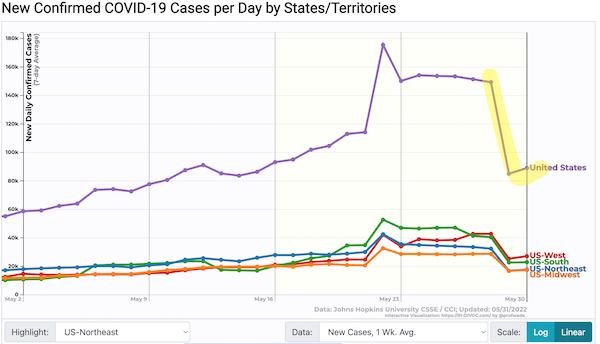 As above.
NOTE I shall most certainly not be using the CDC's new "Community Level" metric. Because CDC has combined a leading indicator (cases) with a lagging one (hospitalization) their new metric is a poor warning sign of a surge, and a poor way to assess personal risk. In addition, Covid is a disease you don't want to get. Even if you are not hospitalized, you can suffer from Long Covid, vascular issues, and neurological issues. For these reasons, case counts — known to be underestimated, due to home test kits — deserve to stand alone as a number to be tracked, no matter how much the political operatives in CDC leadership would like to obfuscate it. That the "green map" (which Topol calls a "capitulation" and a "deception") is still up and being taken seriously verges on the criminal.
From the Walgreen's test positivity tracker: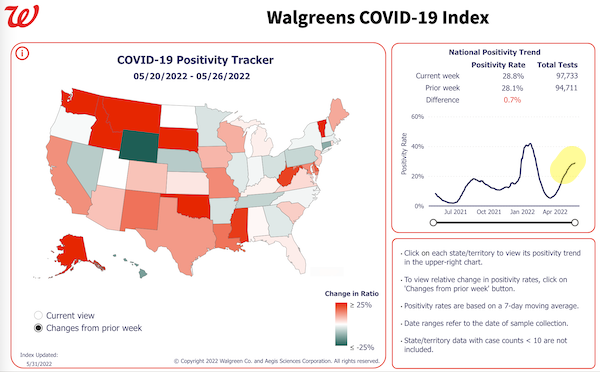 First signs of a peak? I'm leaving the corporate logo on as a slap to the goons at CDC.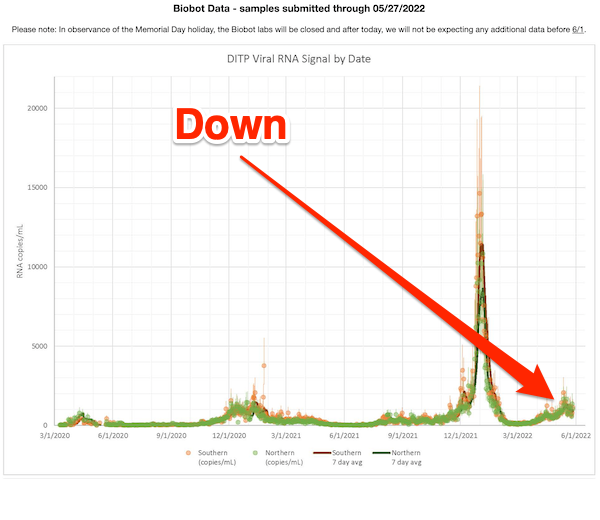 =
Down (for both north and south systems). Colleges and universities are finishing the semester, with commencements. We'll see where the trend line ends up after summer school begins.
The Massachusetts Water Resources Authority (MWRA) service area includes 43 municipalities in and around Boston, including not only multiple school systems but several large universities. Since Boston is so very education-heavy, then, I think it could be a good leading indicator for Covid spread in schools generally.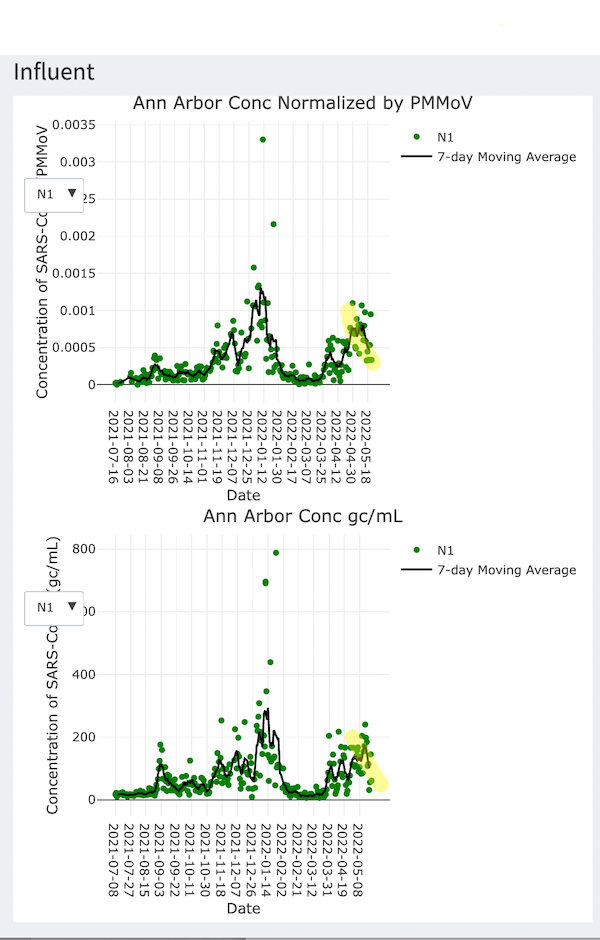 Down, in another college town. Can any readers suggest a city with an influx of summer visitors that also tracks wastewater?
Cases lag wastewater data.
From Biobot Analytics: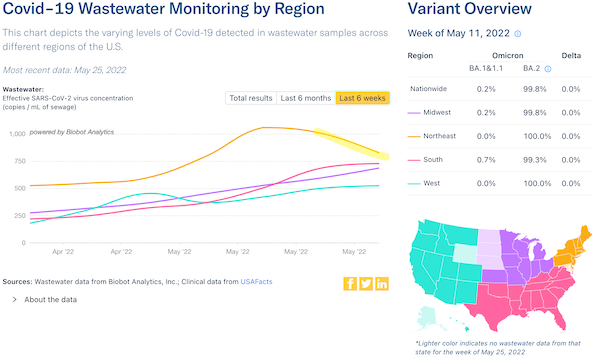 Now another enormous backward revision, this time for the South (a signal that had been doing on for weeks). I don't like this at all, and maybe I should drop this chart. The other thing I'm not liking is that big time lag with the variants. May 11? Really? I want to know about BA.4 and BA.5 (dubbed "variants of concern" by The European Centre for Disease Prevention and Control (ECDC) last week, but not WHO).
From CDC Community Profile Reports (PDFs), "Rapid Riser" counties: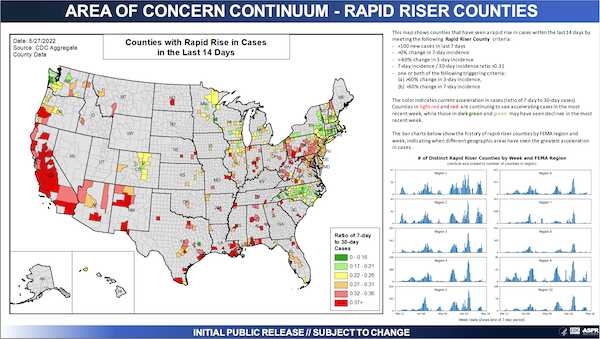 Status quo, though slight improvement along the Acela Corridor.
The previous release: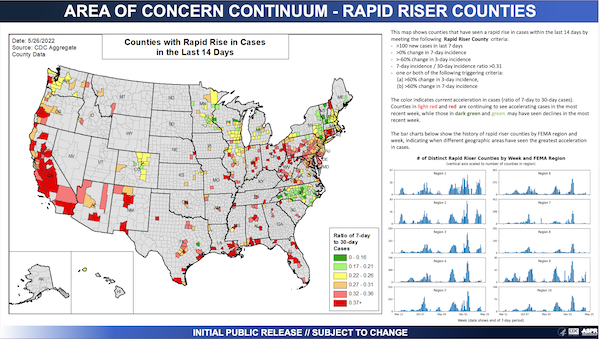 Here is CDC's interactive map by county set to community transmission. This is the map CDC wants only hospitals to look at, not you: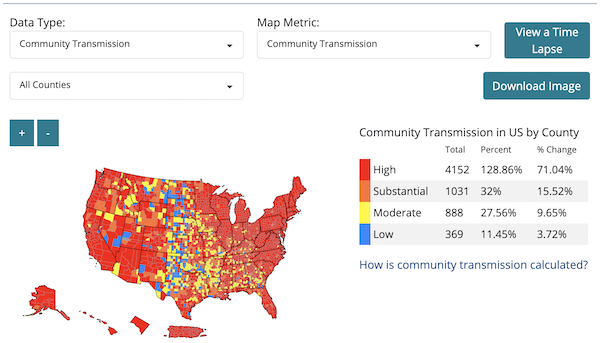 East coast, West Coast, and Midwest are all red. Now New Hampshire is red again, after having been yellow.
Hospitalization (CDC Community Profile):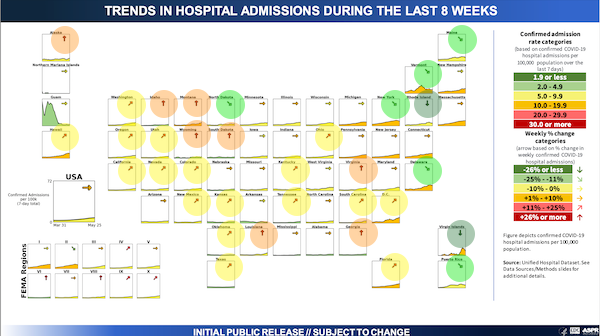 More yellow, less orange. Very dynamic.
Death rate (Our World in Data):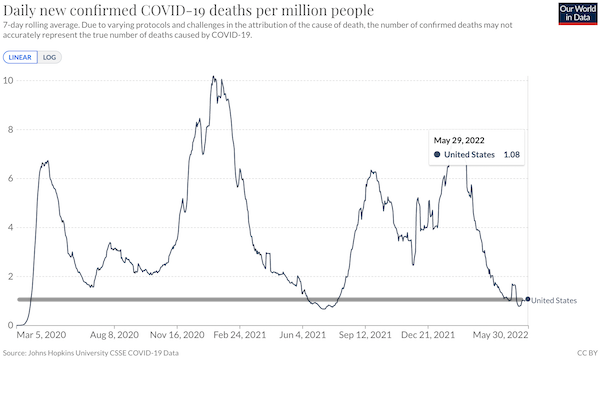 Total: 1,031,286 1,030,775. Now at the second-lowest "valley," which is good. I have added an anti-triumphalist Fauci Line.
Covid cases in top us travel destinations (Statista):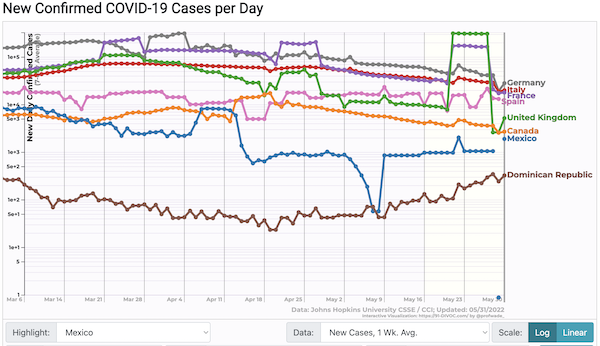 More weird fluctuations. (Note the quality of these numbers varies wildly. For example, the UK is cutting back on testing data.
Stats Watch
Manufacturing: "United States Chicago PMII" [Trading Economics]. "The Chicago PMI in the United States increased to 60.3 in May of 2022 from a downwardly revised 56.4 in April and beating market forecasts of 55."
Manufacturing: "United States Dallas Fed Manufacturing Index' [Trading Economics]. "The Federal Reserve Bank of Dallas' general business activity index for manufacturing in Texas plunged to -7.3 in May of 2022 from 1.1 in March. It was the lowest reading since May of 2020, as the new orders index fell nine points to 3.2, and the growth rate of orders index plummeted 18 points and turned negative at -5.3. Both readings mark their lowest levels in about two years. Meanwhile, the production index, a key measure of state manufacturing conditions, rose from 10.8 to 18.8, signaling an acceleration in growth from April. Also, the capacity utilization and shipments indexes moved up to 19.8 and 13.1, respectively. Labor market measures indicated robust employment growth and longer workweeks."
* * *
The Bezzle: "How Influencers Hype Crypto, Without Disclosing Their Financial Ties" [New York Times]. "Logan Paul had a message for his six million Twitter followers: He was 'all in' on a new cryptocurrency called Dink Doink. According to the project's creator, Dink Doink investors would receive shares of a cartoon character, entitling them to a portion of the proceeds if the googly-eyed figure ever appeared in a TV show or movie. Last June, Mr. Paul, a 27-year-old boxer and social-media influencer, praised Dink Doink on Twitter and in a public Telegram chat, before endorsing it again on his podcast, 'Impaulsive.' But by mid-July, the price of Dink Doink had plummeted to a fraction of a cent, and Mr. Paul was facing an online backlash. In his endorsements, he had failed to mention some relevant information: He and the project's creator were friends, and they had come up with the idea for the cryptocurrency together. He had also received a large allocation of Dink Doink coins when it launched." • Pump and dump….
* * *
Today's Fear & Greed Index: 22 Extreme Fear (previous close: 21 Extreme Fear) [CNN]. One week ago: 13 (Extreme Fear). (0 is Extreme Fear; 100 is Extreme Greed). Last updated May 31 at 1:48 PM EDT.
Rapture Index: Closes unchanged [Rapture Ready]. Record High, October 10, 2016: 189. Current: 187. (Remember that bringing on the Rapture is good.)
Poetry Nook
Smiling once more:
Sharing this beauty again because more people should read it. It's beautiful. pic.twitter.com/O62ACIpTwK

— Nikita Gill (@nktgill) May 29, 2022
These are acts of what David Graeber calls "everyday communism" (cf. Luke 11:11), and they all involve smiling, which is rapidly being weaponized by anti-masking goons, and commodified by facial recognition rent-seekers. Madness!
Book Nook
It's been a long time since I've read Vonnegut. True then, true now:
AMBASSADOR MINTON'S MEMORIAL SPEECH

Ambassador Minton went to the seaward parapet with his memorial wreath still in its case. And he delivered an amazing speech in honor of the Hundred Martyrs to Democracy.

— A.R. Moxon (@JuliusGoat) May 30, 2022
The Gallery
France, 1894, well after the Impressionists:
The Revelation (Brünnhilde discovering Sieglinde and Siegmund), by French painter Gaston Bussière (1894). Musée Thomas-Henry. pic.twitter.com/P9GwROtfJ6

— WikiVictorian (@wikivictorian) May 29, 2022
Zeitgeist Watch
"What Chloe Fineman Can't Live Without" [The Strategist]. The Strategist is a guilty pleasure of mine; I don't generally like horror, but The Strategist goes down easily, perhaps because when I want to actually buy a consumer good (a rare event) their reviews are really good. Anyhow: "I'm a really dehydrated person, and this actually moisturizes my skin. I started using it last summer. I was working on a movie, Father of the Bride, and the makeup artist was always giving me shit for how dehydrated I was. Lovingly giving me shit — I don't want to be mean to my makeup artist. But when I started using the Augustinus Bader, she was like, 'Wow, you must be drinking so much more water.' , so it must mean that the moisturizer was working." • The make-up artist (the subaltern) may have been wrong, but Fineman (the talent), can't know that the artist was lying; only the artist can know that. What mental process was at work in Fineman's brain?
Our Famously Free Press
On-the-nose:
The Ethicist | Our full time nanny had some of her student loans forgiven. Are we justified in cutting her salary?

— New York Times Pitchbot (@DougJBalloon) May 31, 2022
Police State Watch
Yikes:
Yikes. This is everything that's wrong in law enforcement all wrapped up in one tidy tweet. https://t.co/fjN2mBUKWW

— JJ MacNab (@jjmacnab) May 30, 2022
Again, if we want to successfully militarize cops — not just whacking onesies and twosies, but essentially doing urban warfare, which is the bucket school shootings would need to be tossed into — then we need to given them literal basic training, and we need institutions like West Point, but for cops. Is that what we want? If not, we need to demilitarize the police, at the very least.
* * *
Contact information for plants: Readers, feel free to contact me at lambert [UNDERSCORE] strether [DOT] corrente [AT] yahoo [DOT] com, to (a) find out how to send me a check if you are allergic to PayPal and (b) to find out how to send me images of plants. Vegetables are fine! Fungi and coral are deemed to be honorary plants! If you want your handle to appear as a credit, please place it at the start of your mail in parentheses: (thus). Otherwise, I will anonymize by using your initials. See the previous Water Cooler (with plant) here. From AG: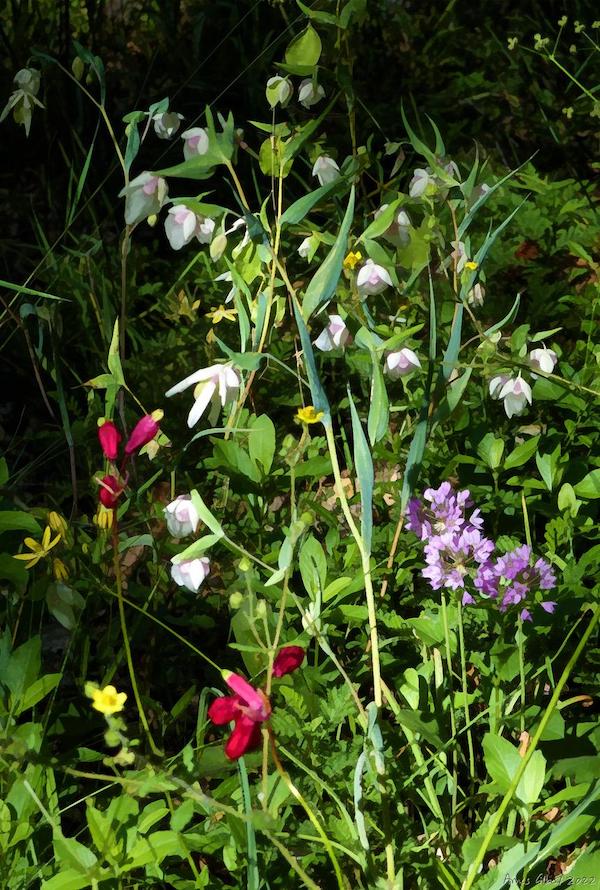 AG writes: "Burn season is pretty much over here in the California foothills at 2700 feet. Over the last five months we have chainsawed and burned eighty large trees that were felled or irreparably damaged by the December 'Snowmaggedon' — or the two periods of ferocious (60 m.p.h.+) winds that came along later. Over a hundred big burn piles, many cords of wood! Anyway, here's a pic of one small patch of our garden right now, all native plants. We are happy that at long last we have some time to appreciate it! White Globe Lilies, Foothill Pretty Face, Sticky Cinquefoil, Mountain Misery, Firecracker Flower, Membranaceous Onion, Rough–leaved Aster (just the leaves, will flower in later summer), some tall native grass stems here and there."
* * *
Readers: Water Cooler is a standalone entity not covered by the recently concluded and — thank you! — successful annual NC fundraiser. So if you see a link you especially like, or an item you wouldn't see anywhere else, please do not hesitate to express your appreciation in tangible form. Remember, a tip jar is for tipping! Regular positive feedback both makes me feel good and lets me know I'm on the right track with coverage. When I get no donations for five or ten days I get worried. More tangibly, a constant trickle of donations helps me with expenses, and I factor in that trickle when setting fundraising goals:
Here is the screen that will appear, which I have helpfully annotated: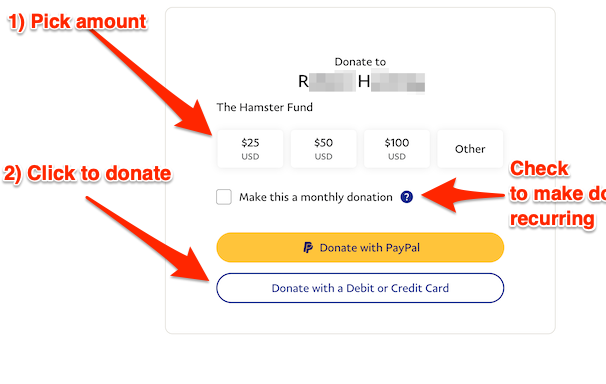 If you hate PayPal, you can email me at lambert [UNDERSCORE] strether [DOT] corrente [AT] yahoo [DOT] com, and I will give you directions on how to send a check. Thank you!