By Lambert Strether of Corrente.
Bird Song of the Day
Hermit Thrush, Tahoe National Forest; Yuba Pass; North of Sno-Park, Sierra, California, United States.
* * *
Politics
"So many of the social reactions that strike us as psychological are in fact a rational management of symbolic capital." –Pierre Bourdieu, Classification Struggles
Biden Administration
"Manchin slams Biden for 'deficiency of leadership,' applauds McCarthy debt limit plan" [The Hill]. "Sen. Joe Manchin (D-W.Va.), who faces reelection in a Republican-leaning state, on Thursday slammed President Biden for showing 'a deficiency of leadership' on a potential national default and applauded Speaker Kevin McCarthy (R-Calif.) for proposing a plan to raise the debt limit. Manchin, who has feuded with the Biden administration over implementation of the Inflation Reduction Act, which Congress passed last year, took the president to task for not sitting down with McCarthy to negotiate fiscal reforms in exchange for raising the debt limit. McCarthy says his plan would reduce the deficit by an estimated $4.5 trillion over 10 years by capping discretionary spending at fiscal 2022 levels, cancelling Biden's student debt-relief plan, and reclaiming unspent COVID-19 relief funds. It would also roll back several aspects of the Democrats' signature Inflation Reduction Act. Manchin called on Biden to respond with his own proposal."

"Biden's Labor Secretary Pick Seeks to Win Over Skeptical Democrats" [Wall Street Journal]. "President Biden picked Ms. Su for the cabinet post earlier this year. She was confirmed to take the No. 2 position at the Labor Department in 2021, but confirmation for the top job isn't assured in the closely divided Senate. Some Democrats haven't said if they would support her. Ms. Su needs near universal support from Mr. Biden's party if Republicans are united against her. Ms. Su is opposed by some business groups who say they fear she will push similar policies at the federal level as those she worked to implement as a top labor official in California. Business groups said those policies hurt the economy by restricting gig jobs and making it more difficult to operate franchises. The Labor Department is currently revising its guidance on how companies should determine whether a worker is an employee or a contractor. In her testimony Thursday, Ms. Su said the department wouldn't use a specific California test in classifying workers and said that a rule aimed at making corporations responsible for their franchisee's employees wouldn't be on the department's agenda. She also said she is ready to work with both companies and workers." • Sounds like Biden put no muscle behind Su at all.
The Supremes
"Durbin asks Roberts to testify in Congress amid Thomas controversy" [The Hill]. "Senate Judiciary Committee Chair Dick Durbin (D-Ill.) on Thursday asked Chief Justice John Roberts to testify in Congress about the court's ethical standards amid a controversy surrounding Justice Clarence Thomas. Durbin vowed to hold a hearing on May 2 on ethical rules at the high court after a ProPublica investigation revealed that Thomas took various luxury trips over the years paid for by Harlan Crow, a Dallas-based real estate developer who has donated millions to conservative causes. 'The time has come for a new public conversation on ways to restore confidence in the Court's ethical standards. I invite you to join it, and I look forward to your response,' Durbin wrote in a letter to Roberts on Thursday, also inviting him to designate another justice in his place… If Roberts does not voluntarily appear, Durbin said the absence of Sen. Dianne Feinstein (D-Calif.), who sits on the committee, would prevent Democrats from subpoenaing the chief justice." • A sternly worded letter!

"So What Could Congress Actually Do To Hold Clarence Thomas Accountable?" [Slate]. "An easy first step could be for Congress to extend the Judicial Conduct and Disabilities Act to apply to the Supreme Court. That's a code of conduct that details standards of behavior that all federal judges in lower courts across the country must adhere to. It bans judges from accepting gifts or engaging in any and all behavior that would hurt public confidence in the integrity and impartiality of the judiciary, and any violations incur steep fines. It also allows the public to submit complaints if they believe a federal judge has engaged in behavior detrimental to the court or is unable to execute duties of the judicial office…. As eager as Congress may be to step in and hold Thomas accountable for his questionable ethics, the Supreme Court is a self-governing body, and there are limitations on what legislators can do. All the experts I spoke to said that having the court choose to implement reforms of its own accord is one of the strongest solutions. The most obvious starting point would be for the court to adopt an ethics code." • We don't need no steenkin' ethics codes….
2024
"Hunter Biden Probe Is Being Mishandled, IRS Supervisor Says" [Wall Street Journal]. "An IRS supervisor has told lawmakers he has information that suggests the Biden administration is improperly handling the criminal investigation into President Biden's son, Hunter Biden, and is seeking whistleblower protections, according to people familiar with the matter. … According to the letter, the employee previously disclosed his information internally at the IRS and to the Justice Department's inspector general. He is restricted from sharing some of the information due to privacy laws that shield Americans' tax return information, the letter said. While taxpayer information is largely protected from disclosure, the tax code allows the chairs of the tax panels, including the Ways and Means Committee, to request and receive any tax returns from the IRS. Democrats used that tool to obtain former President Donald Trump's tax returns last year after a yearslong legal and political standoff." • What goes around…. The letter:

🚨BREAKING: IRS Special Agent allegedly overseeing investigation into Hunter Biden requests whistleblower protections.

The whistleblower claims their disclosures "contradict sworn testimony to Congress by a senior political appointee, involve failure to mitigate clear conflicts… pic.twitter.com/XamCe99iSE

— Benny Johnson (@bennyjohnson) April 19, 2023

"Ex-prosecutor in Trump probe ordered to testify before US Congress panel" [Reuters]. "A former prosecutor who once led the Manhattan district attorney's criminal investigation into former U.S. President Donald Trump must testify before a congressional committee, a federal judge ruled on Wednesday. Manhattan District Attorney Alvin Bragg, a Democrat whose office's investigation led to a grand jury indicting Trump in the first criminal charges against a former president, last week sued Republican Representative Jim Jordan to block a subpoena for testimony from the former prosecutor, Mark Pomerantz. The subpoena came from the House of Representatives Judiciary Committee, which Jordan chairs. Pomerantz's deposition is scheduled for Thursday. After hearing arguments in federal court in Manhattan on whether to block the subpoena, U.S. District Judge Mary Kay Vyskocil issued a written ruling approving the subpoena but encouraging the parties to reach a compromise as to how the subpoena of Pomerantz would proceed."
Democrats en Déshabillé
Patient readers, it seems that people are actually reading the back-dated post! But I have not updated it, and there are many updates. So I will have to do that. –lambert

I have moved my standing remarks on the Democrat Party ("the Democrat Party is a rotting corpse that can't bury itself") to a separate, back-dated post, to which I will periodically add material, summarizing the addition here in a "live" Water Cooler. (Hopefully, some Bourdieu.) It turns out that defining the Democrat Party is, in fact, a hard problem. I do think the paragraph that follows is on point all the way back to 2016, if not before:

The Democrat Party is the political expression of the class power of PMC, their base (lucidly explained by Thomas Frank in Listen, Liberal!). ; if the Democrat Party did not exist, the PMC would have to invent it. . ("PMC" modulo "class expatriates," of course.) Second, all the working parts of the Party reinforce each other. Leave aside characterizing the relationships between elements of the Party (ka-ching, but not entirely) those elements comprise a network — a Flex Net? An iron octagon? — of funders, vendors, apparatchiks, electeds, NGOs, and miscellaneous mercenaries, with assets in the press and the intelligence community.

Note, of course, that the class power of the PMC both expresses and is limited by other classes; oligarchs and American gentry (see 'industrial model' of Ferguson, Jorgensen, and Jie) and the working class spring to mind. Suck up, kick down.

* * *

"Sen. Bob Menendez of New Jersey to set up legal defense fund amid criminal probe" [NBC]. • What, again?
#COVID19
"I am in earnest — I will not equivocate — I will not excuse — I will not retreat a single inch — AND I WILL BE HEARD." –William Lloyd Garrison
Resources, United States (National): Transmission (CDC); Wastewater (CDC, Biobot; includes many counties); Variants (CDC; Walgreens); "Iowa COVID-19 Tracker" (in IA, but national data).
Lambert here: Readers, thanks for the collective effort. We are now up to 50/50 states (100%). This is really great! (It occurs to me that there are uses to which this data might be put, beyond helping people with "personal risk assessments" appropriate to their state. For example, thinking pessimistically, we might maintain the list and see which states go dark and when. We might also tabulate the properties of each site and look for differences and commonalities, for example the use of GIS (an exercise in Federalism). I do not that CA remains a little sketchy; it feels a little odd that there's no statewide site, but I've never been able to find one. Also, my working assumption was that each state would have one site. That's turned out not to be true; see e.g. ID. Trivially, it means I need to punctuate this list properly. Less trivially, there may be more local sites that should be added. NY city in NY state springs to mind, but I'm sure there are others. FL also springs to mind as a special case, because DeSantis will most probably be a Presidental candidate, and IIRC there was some foofra about their state dashboard. Thanks again!
Resources, United States (Local): AK (dashboard); AL (dashboard); AR (dashboard); AZ (dashboard); CA (dashboard; Marin); CO (dashboard; wastewater); CT (dashboard); DE (dashboard); FL (wastewater); GA (wastewater); HI (dashboard); IA (wastewater reports); ID (dashboard, Boise; dashboard, wastewater, Central Idaho; wastewater, Coeur d'Alene; dashboard, Spokane County); IL (wastewater); IN (dashboard); KS (dashboard; wastewater, Lawrence); KY (dashboard, Louisville); LA (dashboard); MA (wastewater); MD (dashboard); ME (dashboard); MI (wastewater; wastewater); MN (dashboard); MO (wastewater); MS (dashboard); MT (dashboard); NC (dashboard); ND (dashboard; wastewater); NE (dashboard); NH (wastewater); NJ (dashboard); NM (dashboard); NV (dashboard; wastewater, Southern NV); NY (dashboard); OH (dashboard); OK (dashboard); OR (dashboard); PA (dashboard); RI (dashboard); SC (dashboard); SD (dashboard); TN (dashboard); TX (dashboard); UT (wastewater); VA (dashboard); VT (dashboard); WA (dashboard; dashboard); WI (wastewater); WV (wastewater); WY (wastewater).
Resources, Canada (National): Wastewater (Government of Canada).
Resources, Canada (Provincial): ON (wastewater); QC (les eaux usées); BC, Vancouver (wastewater).
Hat tips to helpful readers: Art_DogCT, B24S, CanCyn, ChiGal, Chuck L, Festoonic, FM, FreeMarketApologist (4), Gumbo, hop2it, JB, JEHR, JF, JL Joe, John, JM (9), JW, KatieBird, LL, Michael King, KF, LaRuse, mrsyk, MT, otisyves, Petal (5), RK (2), RL, RM, Rod, square coats (11), tennesseewaltzer, Utah, Bob White (3).
* * *
Sequelae
"Long COVID: pathophysiological factors and abnormalities of coagulation" [Trends in Endocrinology & Metabolism]. "Acute COVID-19 infection is followed by prolonged symptoms in approximately one in ten cases: known as Long COVID. The disease affects ~65 million individuals worldwide. Many pathophysiological processes appear to underlie Long COVID, including viral factors (persistence, reactivation, and bacteriophagic action of SARS CoV-2); host factors (chronic inflammation, metabolic and endocrine dysregulation, immune dysregulation, and autoimmunity); and downstream impacts (tissue damage from the initial infection, tissue hypoxia, host dysbiosis, and autonomic nervous system dysfunction). These mechanisms culminate in the long-term persistence of the disorder characterized by a thrombotic endothelialitis, endothelial inflammation, hyperactivated platelets, and fibrinaloid microclots. These abnormalities of blood vessels and coagulation affect every organ system and represent a unifying pathway for the various symptoms of Long COVID." • As IM Doc has been saying from the beginning, Covid is a vascular diease. (Though I'd raise a hand for thinking about the gut, too.)
Policy
Because Freedom:

I've been driving my car exclusively on roads for 3 years, and it's really wearing on me. Isn't it time I be allowed to drive my car on sidewalks and in bike lanes?

— David Fisman (@DFisman) April 19, 2023
Elite Malfeasance
"Long COVID Is Being Erased—Again" [Ed Yong, The Atlantic (MR)]. "Most Americans simply aren't thinking about COVID with the same acuity they once did; the White House long ago zeroed in on hospitalizations and deaths as the measures to worry most about. And what was once outright denial of long COVID's existence has morphed into something subtler: a creeping conviction, seeded by academics and journalists and now common on social media, that long COVID is less common and severe than it has been portrayed—a tragedy for a small group of very sick people, but not a cause for societal concern. This line of thinking points to the absence of disability claims, the inconsistency of biochemical signatures, and the relatively small proportion of severe cases as evidence that long COVID has been overblown. 'There's a shift from 'Is it real?' to 'It is real, but …," Lekshmi Santhosh, the medical director of a long-COVID clinic at UC San Francisco, told me. Yet long COVID is a substantial and ongoing crisis—one that affects millions of people. However inconvenient that fact might be to the current "mission accomplished" rhetoric, the accumulated evidence, alongside the experience of long haulers, makes it clear that the coronavirus is still exacting a heavy societal toll." More: "As it stands, 11 percent of adults who've had COVID are currently experiencing symptoms that have lasted for at least three months, according to data collected by the Census Bureau and the CDC through the national Household Pulse Survey. That equates to more than 15 million long-haulers, or 6 percent of the U.S. adult population. And yet, 'I run into people daily who say, 'I don't know anyone with long COVID," says Priya Duggal, an epidemiologist and a co-lead of the Johns Hopkins COVID Long Study." • If someone says "I don't know anyone with long COVID," that means people near them who do have long Covid don't trust them enough to tell them about it. (This certainly applies to managers and others in positions of financial hegemony.) This article is well worth reading. Ed Yong comments:

I also look at why this problem persists–why the marginalization of long COVID and related conditions morphs into new guises but never goes away. They're mirrors on our society, and the image they reflect is deeply unflattering. 4/ https://t.co/Baz81cRDBg

— Ed Yong (@edyong209) April 19, 2023

"The NIH has poured $1 billion into long Covid research — with little to show for it" [STAT]. That's hardly fair. A lot of PMC kids went to college! More: "The National Institutes of Health — despite a clear mandate from Congress to study them. And the few trials it is planning have already drawn a firestorm of criticism, especially one intervention that experts and advocates say may actually make some patients' long Covid symptoms worse. Instead, . The agency isn't asking Congress for any more funding for long Covid research, and STAT and MuckRock obtained documents showing the NIH refuses to use its own money to change course. 'So far, I don't think we've gotten anything for a billion dollars,' said Ezekiel Emanuel, a physician, vice provost for global initiatives, and co-director of the Healthcare Transformation Institute at the University of Pennsylvania. 'That is just unacceptable, and it's a serious dysfunction.' Eric Topol, the founder and director of the Scripps Research Translational Institute, said he expected the NIH would have launched many large-scale trials by now, and that testing treatments should have been an urgent priority when Congress first gave the agency money in late 2020." • Of course, if you view Covid as the capital's way of culling the unfit, everything falls into place!

"Control Issues" [Science]. "Science's investigation reveals [that GISAID is] at odds with several major players in the global health community, including the U.S. Centers for Disease Control and Prevention (CDC), NIH, the Wellcome Trust, and the Bill & Melinda Gates Foundation." Many more people should be at odds with those people! But at the beginning, we see that Peter Bogner, GISAID's "perplexing creator and overseer," seems to have invented an alternate personal, Steven Meyers, and that "Meyers" had long email and telephone conversations with other scientists. This is a long and detailed article, but what makes me concerned about it is that players like CDC and NIH are not to be trusted one iota, ditto the Gates Foundation, and of course there are ruthless players in Big Phama as well. I wouldn't quite characterize the Science article as a hit piece, but when I wrote, earlier this month, that "A Fragile Institutional Foundation Means Genomic Surveillance Is a Disaster Waiting to Happen" it looks like I was on point.

* * *

Infection Control whacks a few more of the unfit:

Friend's grandmother is in a CHSLD (long term care home in Quebec). Universal masking was lifted on Friday. Outbreak was declared on her floor on Tuesday. So if the goal of this exercise is to mass infect the vulnerable, things are going great. If that wasn't the goal then… 😐

— Dr. Lisa Iannattone (@lisa_iannattone) April 20, 2023
* * *
Looks like "leveling off to a high plateau" across the board. (I still think "Something Awful" is coming, however. I mean, besides what we already know about.) Stay safe out there!
Lambert here: I'm getting the feeling that the "something awful" might be a sawtooth pattern — variant after variant — that averages out to a permanently high plateau (with, of course, deeper knowledge of the sequelae "we" have already decided to accept or, rather, to profit from). That will be the operational definition of "living with Covid." More as I think on this. In addition, I recurated my Twitter feed for my new account, and it may be I'm creating a echo chamber. That said, it seems to me that the knobs on Covid had gone up to 13, partly because science is popping, which demands more gaslighting, and partly because that "Covid is over" bubble maintenance is, I believe, more pundit-intensive than our betters believed it would be.
Case Data
NOT UPDATED BioBot wastewater data from April 18: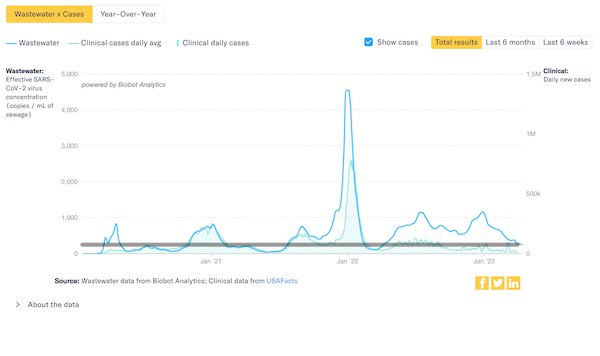 For now, I'm going to use this national wastewater data as the best proxy for case data (ignoring the clinical case data portion of this chart, which in my view "goes bad" after March 2022, for reasons as yet unexplained). At least we can spot trends, and compare current levels to equivalent past levels.
Variants
NOT UPDATED From CDC, April 15, 2023. Here we go again: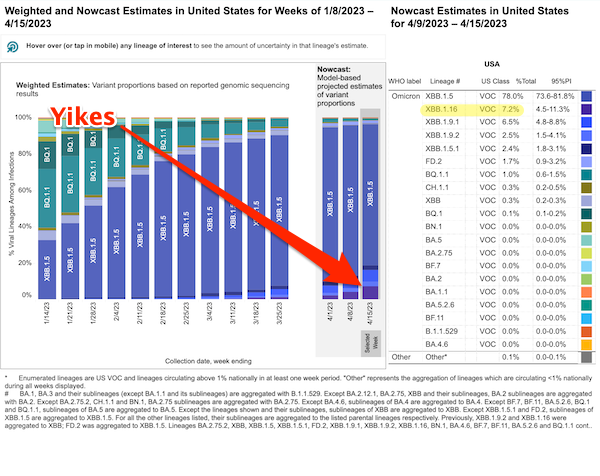 Lambert here: CDC has redesigned its chart to combine actual data with NowCast model projections (which readers will recall I refused to use, because CDC's models have a wretched track record. Worse, the press always quoted the projections, not the model). Because the new chart design makes it clear what's data and what's projection (though that "weighted estimate" gives me pause) I'm using it. Looks like XBB.1.16 is rolling right along.
Covid Emergency Room Visits
NOT UPDATED From CDC NCIRD Surveillance, from April 15: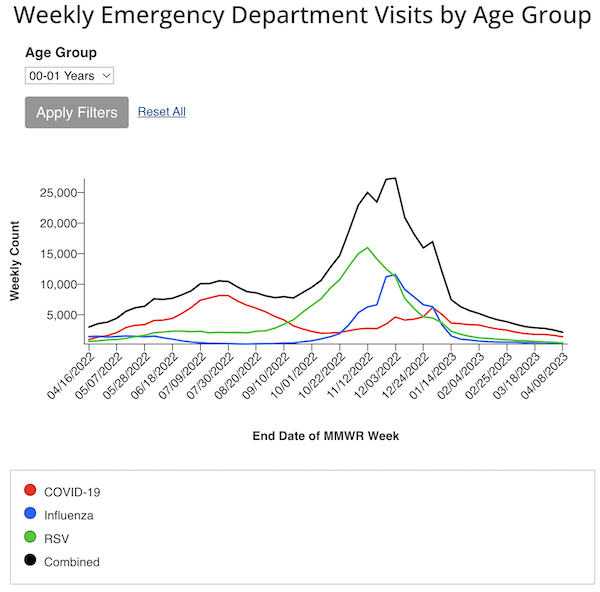 NOTE "Charts and data provided by CDC, updates Wednesday by 8am. For the past year, using a rolling 52-week period." So not the entire pandemic, FFS (the implicit message here being that Covid is "just like the flu," which is why the seasonal "rolling 52-week period" is appropriate for bothMR SUBLIMINAL I hate these people so much. Anyhow, I added a grey "Fauci line" just to show that Covid wasn't "over" when they started saying it was, and it's not over now. Notice also that this chart shows, at least for its time period, that Covid is not seasonal, even though CDC is trying to get us to believe that it is, presumably so they can piggyback on the existing institutional apparatus for injections.
Positivity
A kind reader discovered that Walgreens had reduced its frequency to once a week. So, we shall see…
Deaths
Death rate (Our World in Data):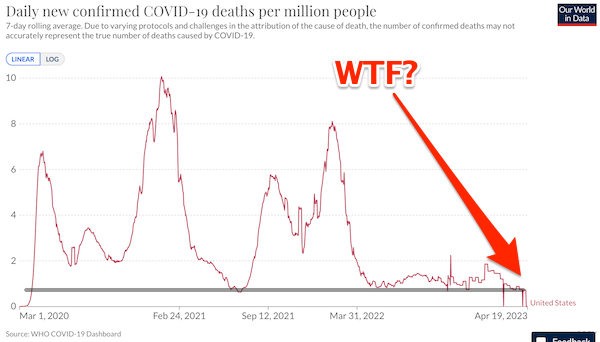 Total: 1,158,684 – 1,158,347 = 337 (337 * 365 = 123,005 deaths per year, today's YouGenicist™ number for "living with" Covid (quite a bit higher than the minimizers would like, though they can talk themselves into anything. If the YouGenicist™ metric keeps chugging along like this, I may just have to decide this is what the powers-that-be consider "mission accomplished" for this particular tranche of death and disease).
Lambert here: WHO turned off the feed? Odd that Walgreen's positivity shut down on April 11, and the WHO death count on April 12. Was there a memo I didn't get?
Excess Deaths
NOT UPDATED Excess deaths (The Economist), published April 2: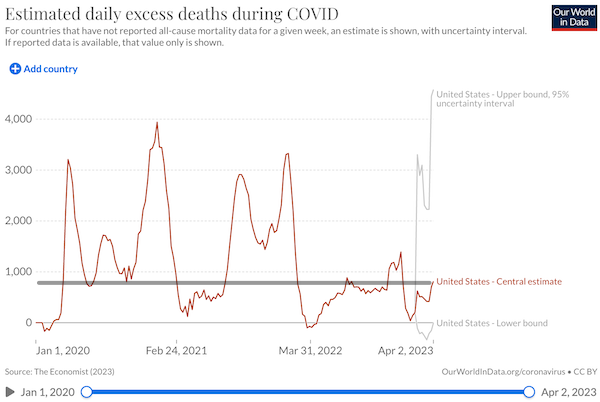 Lambert here: Based on a machine-learning model. I"m not sure how often this updates, and if it doesn't, I'll remove it. (The CDC has an excess estimate too, but since it ran forever with a massive typo in the Legend, I figured nobody was really looking at it, so I got rid it. )
Stats Watch
Employment Situation: "United States Initial Jobless Claims" [Trading Economics]. "The number of Americans filing for unemployment benefits rose by 5 thousand to 245 thousand on the week ending April 15th, the most in one month and above market expectations of 240 thousand. The result was in line with a batch of data for March that suggested some softening in the US labor market, breaking the long streak of data pointing to a tight labor market despite aggressive rate hikes by the Federal Reserve." • Awesome. At last we've thrown some people out of work!
Manufacturing: "United States Philadelphia Fed Manufacturing Index" [Trading Economics]. "The Philadelphia Fed Manufacturing Index in the US fell to -31.3 points in April of 2023, the lowest since May of 2020 from -23.2 in March. It marks an eighth consecutive negative reading, missing market expectations of -19.2."
* * *
Commodities: "What If Your Tesla Could Run on Sodium?" [Wall Street Journal]. "If sodium is the new lithium, investors may need to rethink a favorite energy-transition trade. One of the most potentially disruptive snippets of news to come out of the Shanghai auto show this week wasn't from Tesla or one of its flashy Chinese competitors but from a company that doesn't make vehicles at all: CATL. The world's largest battery producer said its first sodium-ion battery would power electric vehicles built by Chinese brand Chery, though it didn't say when. This adds to a drip-drip of signals that cheaper sodium-ion battery chemistry is moving out of the science lab and onto streets. Another one: Chinese EV leader BYD on Tuesday launched a hatchback, the Seagull, one variant of which may run on a sodium-ion battery, according to some reports that the company hasn't confirmed. If the Seagull doesn't use the new chemistry, other coming BYD models likely will… New technologies usually seep into the car industry from the top end, where consumers can afford the latest gadgets. Battery innovations, where the big goal is reducing cost, are shaping up differently…. The new technology is less powerful than the latest lithium batteries. But it matches the older generations of lithium batteries that are in EVs today, so consumers might not care. And it has other advantages—being less fire-prone and more capable in freezing temperatures."
Tech: "'AI First' To Last: How Google Fell Behind In The AI Boom" [Forbes]. "Two years earlier, Amazon had blindsided Google by releasing its voice assistant Alexa. Now a household name, it was a coup that particularly aggrieved Google. "Organizing the world's information" had long been the company's mission, and a service like that should have been the company's birthright… Seven years later, Google finds itself in a similar position, again beaten to market in a field it should have dominated. But this time it's worse: The usurper is OpenAI, a comparatively small San Francisco startup, and not a deep-pocketed giant like Amazon. The product is ChatGPT, a bot that can generate sitcom plots, resignation letters, lines of code, and other text on almost any subject conceivable as if written by a human—and it was built using a technological breakthrough Google itself had pioneered years ago. The bot, released in November, has captured the public's imagination, despite Google announcing a similar technology called LaMDA two years ago. What's worse, Google's chief search engine rival, Microsoft, is nourishing OpenAI with $10 billion and on Tuesday announced a new version of Bing with AI chat features even more advanced than ChatGPT—a potentially existential move for the future of internet search." • Existential for "search" given what Google has made of it, perhaps. How on earth do you get reliable search results from a bot that makes shit up, and at best is a distillation of conventional wisdom?
Tech:
All of the delicate ecology of trust in social environments, including businesses, replaced with a parasitic relationship with software and hardware suppliers. IT needn't be like this. But it will be, while it ignores that everything is 100% social. Transactional. 8/8

— Henry Madison 🦠x0 (@RageSheen) April 19, 2023
Of course, there are other social relations than transactional ones.
* * *
Today's Fear & Greed Index: 66 Greed (previous close: 67 Greed) [CNN]. One week ago: 67 (Greed). (0 is Extreme Fear; 100 is Extreme Greed). Last updated Apr 20 at 1:13 PM ET.
Games
"This Mom Didn't Know She Was In A $250K Candy Crush Tournament, But She's Killing It" [Kotaku]. "Erryn Rhoden is an ordinary person who works at her family's roofing company in Columbus, Ohio. She's also the top-ranked player in her semifinal bracket for the Candy Crush Saga All Stars Tournament, the biggest Candy Crush tournament in history, which she entered by accident. That makes her one of the most successful esports athletes in the entire country right now." You can read about her accidental entry in the article; these paragraphs I found more interesting:
"I have three kids, [and] I'm 48 now. I used to play a lot of video games," Rhoden told me over a Zoom call with her son Xane. " [like smoking?], I just started playing Candy Crush. Because I have ADD, I kind of need to have ten things going on at once. It's just something to fill my mind and keep me focused. I started playing it like 10 years ago." Rhoden runs a roofing company with her husband, so she normally works from her home office. There, she would play the game late into the night, but still refers to herself in our conversation as a gamer in the past tense.

Rhoden played PvP games when she was younger, where she relished in "demolishing" her opponents for the adrenaline rush. However, she didn't like the person she became while playing such competitive games. In a single-player puzzle game, the only opponent was herself.

But she isn't just innately skilled at Candy Crush. The game requires a lot of practice and actual strategy, so she'd watch videos that conveyed the core strategy of each level to up her game.

Not everyone was supportive of her dedication to the Candy craft. "[My husband] mocked me for playing Candy Crush my whole life." She suggests that his mocking came, partly, from her regularly playing the game until the wee hours of the morning for the last decade. Despite pushback from loved ones, Candy Crush became embedded in Rhoden's regular routine, eventually leading to her entering the All Star tournament by mistake.
Maybe this old codger isn't reading the right sources. But again, here we have an enormous cultural phenomenon that is never described in the mainstream press. Odd!
The Gallery
The AI and NFT art I have seen has been repellent and hideous, without exception, and not simply because of eight-fingered humans. Here's another one:
The art world provides us with a precedent for how new technologies can impact markets; from the intersection of creators with AI, to sales on the blockchain, to the relationship of community and the feedback process of customer and product. https://t.co/u9r5PmTmZs

— Forbes (@Forbes) April 20, 2023
At best, it's college dorm room-level crap. That's probably the training sets. But what does that say?
News of the Wired
A popularization of how adjectives are ordered in English:
Example
"Lovely little old rectangular red American leather-bound Collegiate Dictionary "

Not
"Collegiate rectangular little leather-bound American old little lovely Dictionary"

— Merriam-Webster (@MerriamWebster) April 19, 2023
Of course, somebody has to come up with an exception. Going meta:
There is an exception (it's English, there's always an exception!) but it's when you use a descriptor to create a class of a thing.
"Among the Great Dragons, the green Great Dragon …" is an example of what I mean.

— Katherine Keller (@sequentialkady) April 19, 2023
This is fun. I should play around, break some rules. What they're made for. The scholarly view–
"Big bad modifier order" [Language Log]. From 2016, still germane. "On a similar topic, you might take a look at Cooper and Ross, "World Order" (1975)…. They consider a wide range of cases like 'cat and mouse', 'then and now', 'here and there', 'long and short', 'ham and eggs', 'meat and potatoes', etc. You could also take a look at some of the 378 works that cite 'World Order.'" • Gin and tonic. Mutt and Jeff. Tooth and nail. High and dry. Husband and wife. If we had some ham, we could have some ham and eggs, if we had some eggs (Frank Herbert).
* * *
Contact information for plants: Readers, feel free to contact me at lambert [UNDERSCORE] strether [DOT] corrente [AT] yahoo [DOT] com, to (a) find out how to send me a check if you are allergic to PayPal and (b) to find out how to send me images of plants. Vegetables are fine! Fungi and coral are deemed to be honorary plants! If you want your handle to appear as a credit, please place it at the start of your mail in parentheses: (thus). Otherwise, I will anonymize by using your initials. See the previous Water Cooler (with plant) here. From KW: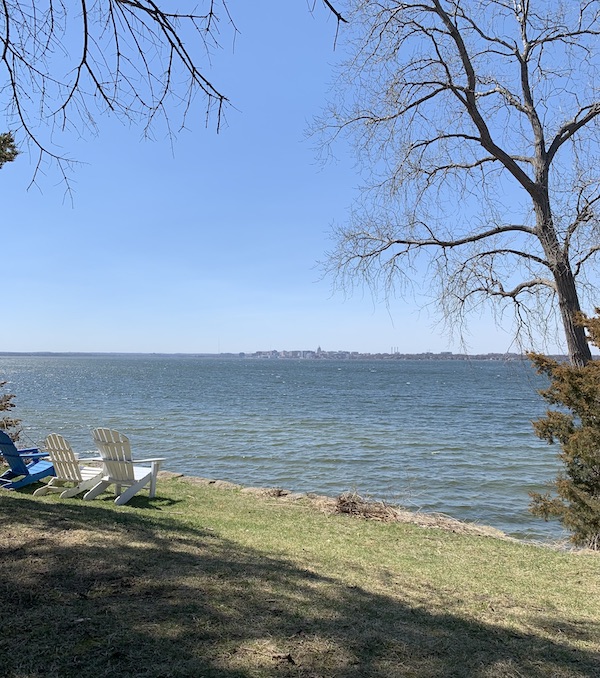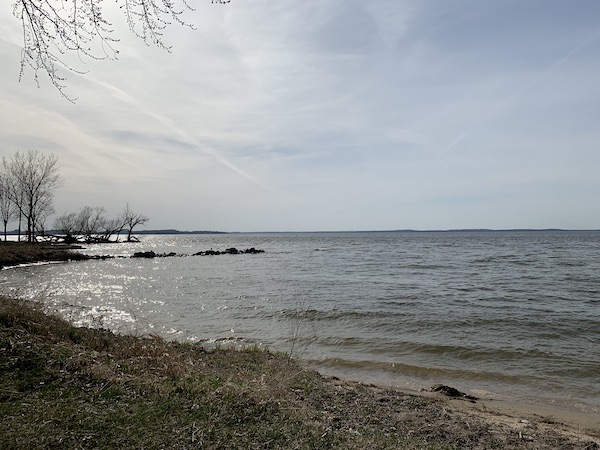 KW comments: "San Damiano, Lake Monona, Monona, Wisconsin, and Tenney Park, Lake Mendota, Madison, Wisconsin." Readers, my mailer doesn't respect attachment order. If you want me to put pictures in order, change the file names, as in 1_lake.jpg, 2_lake.jpg, or lake_monona.jpg, lake_mendota.jpg.
* * *
Readers: Water Cooler is a standalone entity not covered by the annual NC fundraiser. So if you see a link you especially like, or an item you wouldn't see anywhere else, please do not hesitate to express your appreciation in tangible form. Remember, a tip jar is for tipping! Regular positive feedback both makes me feel good and lets me know I'm on the right track with coverage. When I get no donations for five or ten days I get worried. More tangibly, a constant trickle of donations helps me with expenses, and I factor in that trickle when setting fundraising goals:
Here is the screen that will appear, which I have helpfully annotated: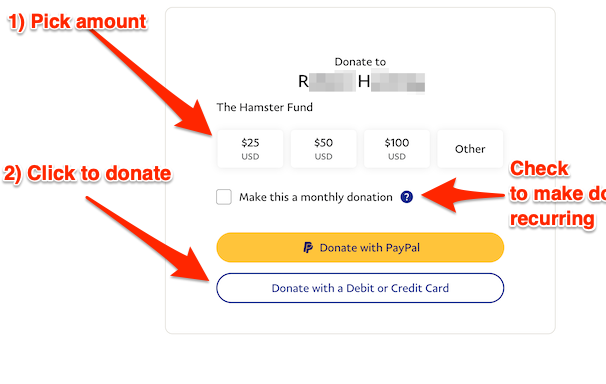 If you hate PayPal, you can email me at lambert [UNDERSCORE] strether [DOT] corrente [AT] yahoo [DOT] com, and I will give you directions on how to send a check. Thank you!