By Lambert Strether of Corrente.
Bird Song of the Day
Malagasy Turtle-Dove, Rd Along Coast Between Table Mtn And St. Augustin, Mangrove Bay, Toliara, Madagascar. "Singing from tree top." At least this dove sounds like a dove!
* * *
Politics
"So many of the social reactions that strike us as psychological are in fact a rational management of symbolic capital." –Pierre Bourdieu, Classification Struggles
2024
I guess it's time for the Countdown Clock!

* * *

"Otherwise appeared quite spry":

Biden bumped his head on Marine One while exiting tonight according to the pool report. pic.twitter.com/uQNmy9teLD

— Andrew Leyden (@PenguinSix) June 1, 2023

"Casey DeSantis emerges as pivotal figure on 2024 campaign trail" [Reuters]. "On the trail in the early voting states, Casey DeSantis, 42, has combined a fierce defense of her husband's record as governor with anecdotes about the challenges of raising their three children, ages 3, 5 and 6. Her remarks in the blue-collar New Hampshire city of Laconia elicited a mixture of laughter and applause. 'He doesn't cower. He never takes the path of least resistance. He always stands up for what's right,' she said, calling her husband her 'better half.' Some Republican voters said they viewed her personal story – she is a former TV broadcaster who overcame breast cancer – as uplifting and believed that she could help soften the perception of her husband, who has been criticized for being stiff and lacking charisma. 'She just came across as very warm, very caring, very supportive, very intelligent,' said Suzanne Nelson, president of a women's club in New Hampshire that works to support Republican candidates. 'I like what I heard from him, but I think she could make a difference.'"
2020 Post Mortem
"Georgia probe of Trump broadens to activities in other states" [WaPo]. "An Atlanta-area investigation of alleged election interference by former president Donald Trump and his allies has broadened to include activities in Washington, D.C., and several other states, according to two people with knowledge of the probe — a fresh sign that prosecutors may be building a sprawling case under Georgia's racketeering laws. Fulton County District Attorney Fani T. Willis (D) launched an investigation more than two years ago to examine efforts by Trump and his allies to overturn his narrow 2020 defeat in Georgia. Along the way, she has signaled publicly that she may use Georgia's Racketeer Influenced and Corrupt Organizations (RICO) statute to allege that these efforts amounted to a far-reaching criminal scheme. In recent days, Willis has sought information related to the Trump campaign hiring two firms to find voter fraud across the United States and then burying their findings when they did not find it, allegations that reach beyond Georgia's borders, said the two individuals, who spoke on the condition of anonymity to speak candidly about the investigation. At least one of the firms has been subpoenaed by Fulton County investigators."
Democrats en Déshabillé
Patient readers, it seems that people are actually reading the back-dated post! But I have not updated it, and there are many updates. So I will have to do that. –lambert

I have moved my standing remarks on the Democrat Party ("the Democrat Party is a rotting corpse that can't bury itself") to a separate, back-dated post, to which I will periodically add material, summarizing the addition here in a "live" Water Cooler. (Hopefully, some Bourdieu.) It turns out that defining the Democrat Party is, in fact, a hard problem. I do think the paragraph that follows is on point all the way back to 2016, if not before:

The Democrat Party is the political expression of the class power of PMC, their base (lucidly explained by Thomas Frank in Listen, Liberal!). ; if the Democrat Party did not exist, the PMC would have to invent it. . ("PMC" modulo "class expatriates," of course.) Second, all the working parts of the Party reinforce each other. Leave aside characterizing the relationships between elements of the Party (ka-ching, but not entirely) those elements comprise a network — a Flex Net? An iron octagon? — of funders, vendors, apparatchiks, electeds, NGOs, and miscellaneous mercenaries, with assets in the press and the intelligence community.

Note, of course, that the class power of the PMC both expresses and is limited by other classes; oligarchs and American gentry (see 'industrial model' of Ferguson, Jorgensen, and Jie) and the working class spring to mind. Suck up, kick down.

* * *
#COVID19
"I am in earnest — I will not equivocate — I will not excuse — I will not retreat a single inch — AND I WILL BE HEARD." –William Lloyd Garrison
Resources, United States (National): Transmission (CDC); Wastewater (CDC, Biobot; includes many counties); Variants (CDC; Walgreens); "Iowa COVID-19 Tracker" (in IA, but national data).
Lambert here: Readers, thanks for the collective effort.
Resources, United States (Local): AK (dashboard); AL (dashboard); AR (dashboard); AZ (dashboard); CA (dashboard; Marin); CO (dashboard; wastewater); CT (dashboard); DE (dashboard); FL (wastewater); GA (wastewater); HI (dashboard); IA (wastewater reports); ID (dashboard, Boise; dashboard, wastewater, Central Idaho; wastewater, Coeur d'Alene; dashboard, Spokane County); IL (wastewater); IN (dashboard); KS (dashboard; wastewater, Lawrence); KY (dashboard, Louisville); LA (dashboard); MA (wastewater); MD (dashboard); ME (dashboard); MI (wastewater; wastewater); MN (dashboard); MO (wastewater); MS (dashboard); MT (dashboard); NC (dashboard); ND (dashboard; wastewater); NE (dashboard); NH (wastewater); NJ (dashboard); NM (dashboard); NV (dashboard; wastewater, Southern NV); NY (dashboard); OH (dashboard); OK (dashboard); OR (dashboard); PA (dashboard); RI (dashboard); SC (dashboard); SD (dashboard); TN (dashboard); TX (dashboard); UT (wastewater); VA (dashboard); VT (dashboard); WA (dashboard; dashboard); WI (wastewater); WV (wastewater); WY (wastewater).
Resources, Canada (National): Wastewater (Government of Canada).
Resources, Canada (Provincial): ON (wastewater); QC (les eaux usées); BC, Vancouver (wastewater).
Hat tips to helpful readers: Art_DogCT, B24S, CanCyn, ChiGal, Chuck L, Festoonic, FM, FreeMarketApologist (4), Gumbo, hop2it, JB, JEHR, JF, JL Joe, John, JM (9), JustAnotherVolunteer, JW, KatieBird, LL, Michael King, KF, LaRuse, mrsyk, MT, MT_Wild, otisyves, Petal (5), RK (2), RL, RM, Rod, square coats (11), tennesseewaltzer, Utah, Bob White (3).
Stay safe out there!
* * *
Look for the Helpers
It is possible to persuade people:

I went to an event tonight with about 30 people, I was the only one wearing a mask, P100 of course, when it was my turn to speak I shared that the CO2 was high & approximately one breath per minute was entirely someone else's air, 2 people opened doors & 5 others took masks

— Parenting Mishmash ง (@ParentMishmash) June 2, 2023

We have the tools!

If you're from MA, you can stick to MGH on their anti-masking policy at the Attorney General's website:

BIG news: Massachusetts' Attorney General's office wants to hear from YOU about the removal of masks in healthcare. They've asked that we file complaints about this civil and human rights violation.

MCHE has put together templates here:https://t.co/noFsPHcDUb

— World Health Network (@TheWHN) June 1, 2023

Stochastic eugenics is, I imagine, a human rights violation; I'd have to look into it.

"Being immunocompromised isolated them during COVID. This website is helping" [Fortune]. " [T]he website COVID Meetups [is] a free service for anyone in the world who wants to socialize in a COVID-safe way. So far, it's amassed almost 7,000 members across 63 countries, though the majority (68%) of its users live in the U.S. For people like Greg, the site is a lifeline. This environment allows for safe socialization, which is especially important for people who are immunocompromised because they are more likely to get very sick if infected with COVID. Vaccines also aren't guaranteed to create enough—or any antibodies against COVID, like they do for healthy people. Adding to this sober reality, is the fact that as the virus mutates, COVID protections for immunocompromised people are dwindling." • Note lack of agency in "are dwindling." Still, this is good. Green shoots, is it were, like the "Clean Air Club" in Chicago yesterday. (I lean towards a club, paid membership, model because that's how you can pay for HEPA filters, free masks, maybe speakers, and so on. And, well, organizing.)
Covid Is Airborne
"How to tackle the global indoor air crisis" [Quartz]. "Air. It's everywhere. It's invisible. And frequently it's so full of germs and particles that some call air 'the new poop.' Indoors, it's hard to quickly assess whether the air you're breathing is clean or not. But determining that could have made people less sick during the pandemic. 'The COVID-19 crisis is almost certainly an indoor air crisis; it is very likely a ventilation crisis,' Yuguo Li, a professor of mechanical engineering at the University of Hong Kong, and his colleagues wrote in the journal Indoor Air in late 2021…. Among the low-hanging fruit in this field is the monitoring of carbon dioxide levels. These levels serve as a proxy for how frequently fresh air is pumped into a space to replace exhaled air. A room with lower CO2 readings poses lower risks of spreading germs, because any pathogen-laden air breathed out by an infected person is replaced more quickly with clean air than in a poorly ventilated room. Li wants to see governments mandate real-time monitoring and display of CO2 levels in public spaces and transportation. 'That's a first step the world should take,' he said. 'Without measurement, forget about discussion, you don't know what's going on.' . It is, in fact, . 'If [the smell] is not so good, then you go away,' he said. But for those with less acutely tuned olfactory senses, CO2 monitors can help." • That's a good tip on smell (assuming you can; funny that anosmia is yet another way that SARS-CoV-2 optimizes our bodies for its own reproduction. Also, encouraging to see this sort of article make the mainstream.

"FAR UV light system upgrades for wing" [Defense Visual Information Distribution Service]. Little Rock Air Force Base, AR, United States: "Due to the high success rate of the initial FAR UV installation throughout the Department of Defense, AFWERX recently awarded an additional $1M to the FAR UV company's production program, enabling them to engineer an updated version of the FAR UV light system. The new system now features replaceable bulbs, motion sensing, built-in startup checks and end-of-life indicators. Over the past few years, UV lights have been installed throughout the Arkansas Air National Guard campus buildings as well as in the 19th Medical Group as another way to minimize the spread of COVID-19 and other viruses. In April, the 189th Airlift Wing and Joint Force Headquarters were included in the $1M contract to receive new light systems throughout their campuses, lowering sustainment costs for the lamps and decreasing the need for regular maintenance. The new bulbs last for 9,000 hours and auto shut off after 30 minutes of inactivity in a room. 'From my perspective, as we lean forward in preparation for a peer-level conflict, we have to explore every option to keep our Airmen ready to fight,' said Col. Seth Tolliver, the 189th Medical Group commander. 'We won't have the luxury of taking down time for forces to recover if we are called to arms.' UV lights have been commonplace in mobile commercial settings such as ambulances and aircraft, but the wing is still in the beginning stages of this idea when applied to mobile assets. Tolliver mentioned the future use of mobile UV technology for troops and assets in a deployed or mobile environment, expressing the benefits of UV technology in the field." • I would like very much to know how the "success rate" was measured. Readers? NOTE "as we lean forward in preparation for a peer-level conflict" is more suitable for Links than Water Cooler, but yikes!
Vaccines
"Lack of association between vaccination rates and excess mortality in Cyprus during the COVID-19 pandemic" [Vaccine]. "We examined whether all-cause mortality has actually increased in Cyprus during the first two pandemic years, and whether any increases are associated with vaccination rates…. 552 excess deaths were observed in Cyprus during the study period (95% CI: 508–597) as opposed to 1306 confirmed COVID-19 deaths. No association between excess deaths and vaccination rates was found overall and for any age group except 18–49 years, among whom 1.09 excess deaths (95% CI: 0.27–1.91) per 10,000 vaccinations were estimated during the first 8 weeks post-vaccination. However, detailed cause-of-death examination identified just two such deaths potentially linked to vaccination, therefore this association is spurious and attributable to random error. Excess mortality was moderately increased in Cyprus during the COVID-19 pandemic, primarily as a result of laboratory-confirmed COVID-19 deaths. No relationship was found between vaccination rates and all-cause mortality, demonstrating the excellent safety profile of COVID-19 vaccines." • Interesting, though I'm leery about porting national data across national boundaries. (For example, we know that Covid is an endothelial and vascular disease; this layperson has often given consideration to the idea — I don't know if there's a study for this — that athletes and "physically fit" people in general are being punished by SARS-CoV-2 in some way for strengthening their vascular systems, maybe through increased microclotting. Pure speculation, but at least I sketched a mechanism. So the population of Cyprus would be quite different from the population in, say, Denver, CO (also high altitude, so more vascular effets)).

"Germany's Health Minister changes tune on vaccine injuries" [Unherd]. From March, still germane. "[Karl Lauterbach, Germany's Minister for Health claimed] — not only in a now-infamous tweet but also in several talk shows — that the Covid vaccines were 'without side effects.'… Over the past two years, more than 300,000 cases of vaccine side effects have accumulated in the Ministry's own system, and more and more people are lodging compensation claims against the state — which, based on the contracts signed by the EU with vaccine manufacturers, is liable for any vaccine-related damage. Meanwhile, the subject of vaccine injuries has begun to be openly discussed in the German mainstream media. All this has forced Lauterbach to make a spectacular U-turn. In a recent TV interview, he admitted that vaccine-induced injuries are a serious issue, and that his ministry was planning to launch a programme to investigate the negative consequences of Covid vaccination and improve care as soon as possible. Additionally, Lauterbach said that he hopes pharmaceutical companies will voluntarily help to compensate those harmed by the vaccines. 'That's because the profits have been exorbitant', he said. Just a year ago he had said: 'The pharmaceutical companies will not get rich with vaccines.'" • Maybe the Germans will actually have good data? Let's wait and see.

"Health Shocker: Jamie Foxx Left 'Paralyzed and Blind' From 'Blood Clot in His Brain' After Receiving COVID-19 Vaccine, Source Claims" [OK! Magazine]. • That's "source," singular. Nevertheless. I could have filed this under celebrities, but I wanted to put it next to Lauterbach. This layperson's view: It's the spikes (and maybe the tentacles). SARS-CoV-2 spikes are bad, whether they come "naturally" from infection, or through vaccines. It seems reasonable to me that when we inject little spike factories into the body, as mRNA vaccines do, there are likely to be bad outcomes for some patients (probably more than killed virus vaccines). That's why, Covid vaccines — very much unlike the children's vaccination schedule for, e.g, measles — should never have been mandated. (We mandated what we should not have (vaccines) and did not mandate what we should have (non-pharmaceutical interventions). However — and this will make anti-vaxxers very unhappy, sorry not sorry — I think that, at the population level, the spike damage from "natural" infection vastly outweighs the spike damage from vaccines.
Maskstravaganza
Gamers 1, PMC 0:

My son showed me this and I was shocked, and proud! https://t.co/k6YG8ncQ83 pic.twitter.com/YKtlgqN8sm

— Laurie O' ☮️❤️🎶 (@LaurieOzz) May 31, 2023

The PMC are so committed to the bit they'll infect themselves. Not so gamers! More pointedly:

Spot the difference. Part 2

Thanks to @LaurieOzz via @DavidSteadson

AAI2023 Gamers pic.twitter.com/KTbkiqA5lw

— Antonio Caramia (@Antonio_Caramia) June 1, 2023

In British Columbia:

By the way, he stated this loudly, but not condescendingly, in front of his friends, all of whom listened to him attentively. There was no snickering.

This was a few days ago, and I'm still thinking about this confident and articulate young man. /2

— Jennifer Lloyd (@JEVLloyd) May 28, 2023

Take that, Bonnie Henry!

In Australia:

People thought we were mad for sending our kids to school in a mask

"It's unfair"
"She will be made fun of"

Today is cross country.

My daughter is at school. Many are not.

COVID it seems is very and entirely predictable #CovidIsNotOver pic.twitter.com/DvUtwMyjvW

— Michael Livingston (@DrMLivingston) June 2, 2023

Another success story…
Celebrity Watch
"Taylor Swift fans are getting amnesia at her concerts due to a rare phenomenon" [Indy100]. "Taking to social media, many users have shared their inability to recall the events of the show, from small details to even significant parts of the concert. Some described having feelings of guilt after waiting so long to attend the show and leaving without explicit memories." • How can this be happening? 'Tis a mystery!
Scientific Communication
"On Covid, the past is being erased and the present ignored" (letters) [Guardian]. From the UK: "The past is being erased. The present is being ignored. Even though the pandemic is still with us, all protections, surveillance and data collections have been dismantled. Those millions still at the highest risk are reporting being told to take their masks off in hospitals. The roughly quarter of a million people who died from Covid are no longer even a number." And: " If the choices that the government makes result in a catastrophic number of preventable deaths, then the logical path to follow is to quieten, subdue and silence discussion about the dead, and deflect attention about who is accountable. Shamefully, that is what has happened, and is happening, in England and Wales right now." And: "His last words, I'm sorry to say, were not something to treasure, but a furious 'Get me out of here.' I registered his death at the town hall, and found that Covid was not mentioned on the certificate – I was too exhausted to argue. But my husband read history at Emmanuel College, Cambridge, and would regard this as a small example of corruption of historical sources. Because I saw every step, I know that Covid, and the resulting NHS crisis, were among the causes of his death. I must be one of many who believe that their relative's individual piece of historical evidence has been falsified to make the figures look less dire." • The same across the Five Eyes — spooks are good at erasure — and in the West, too. Perhaps China also.
Infection
"The Great Imitator":

COVID-19 is the new 'Great Imitateur'

In medical school I was taught that tuberculosis was 'The Great Imitator' because of its ability to manifest itself in any organ or system of the body, in unforeseen atypical ways beyond the typical lung disease we associate with it.
1/ pic.twitter.com/luX8DwyyD5

— Pedro Lérias (@RPLerias) May 28, 2023

Like so much else, we used to know how to fight airborne diseases:

Vaccination for tuberculosis was once mandatory. While in school here in Portugal in the 1980's children still did the Mantoux test, a tuberculin sensitivity test for the screening of the disease or to check if we had developed immunity from the vaccine.
7/ pic.twitter.com/qmPOgBOqkW

— Pedro Lérias (@RPLerias) May 28, 2023
Sequelae
Remember that the effects of Covid are cumulative:

*If* the lifetime risk of post covid health issues keeps increasing with subsequent infections isn't controversial anymore. It does. The remaining unknown is *how quickly* your lifetime risk increases. How many infections before the odds of being okay are no longer in your favor.

— Dr. Lisa Iannattone (@lisa_iannattone) May 29, 2023

So factor that into your "personal risk assessment"….
Prevention
"The Effects of Ethyl Lauroyl Arginine Hydrochloride (ELAH) in Nasal Spray Formula on SAR-Cov-2" [Research Square]. "The aim of the study was to investigate the broad-spectrum antiviral effects of ethyl lauroyl arginine hydrochloride (ELAH) in in vitro and in vivo assays. Cell-based assays found that the pseudovirus VSV-SARS-CoV-2 was inhibited with an EC50 of 15 micrograms/ml, with complete inhibition achieved at 110 micrograms/ml. The effects were comparable to those observed with anti-SARS-CoV-2 antibody neutralization assays against VSV-SARS-CoV-2. Intranasal administration of the Wuhan strain of SARS-CoV-2 treated in vitro with ELAH inhibited the disease symptoms caused by the virus in a Syrian hamster model compared to that caused by the same dose of virus treated in vitro with medium alone. Subgenomic RNA and total RNA viral load were concomitantly reduced in the treated animals compared with the control group. In cell-based studies, pretreatment of susceptible cells with 1-10 micrograms/ml ELAH inhibited the attachment of the virus to the cells, as measured by cytopathic and high-resolution scanning electron microscopy (SEM) effects, suggesting that the primary mode of ELAH action was due to preventing the attachment of the virus to the cells. Collectively, the data suggest that ELAH could be a promising agent for the prevention of SARS infection through nasopharyngeal surfaces." • The product that implements ELAH is Covixyl, now available at Walmart. From their site:

The primary ingredient, ELAH (ethyl lauroyl arginate HCl), has been used for decades as a food preservative and in mouthwashes to prevent gingivitis. Testing shows ELAH blocks viral attachment in the nose as well.

Respiratory viruses primarily enter the body through the nose where they attach to nasal cells and begin to replicate. Covixyl™ creates a physical barrier in the nasopharynx which prevents airborne respiratory viruses from attaching to the cell walls, protecting the body from infection for up to six (6) hours per use. Our scanning-electron microscopy from the University of Wyoming demonstrated this effect. After treating cells with Covixyl™ , then rising the cells with virus, after an incubation period, the control group showed virions emerging from the cells, indicating infection and replication. The treated cells did not exhibit this behavior, indicating a lack of infection.

(I have to go find that Wyoming study. I'm chuffed to see another nasal spray on the market!
"Something Awful"
Lambert here: I'm getting the feeling that the "Something Awful" might be a sawtooth pattern — variant after variant — that averages out to a permanently high plateau. Lots of exceptionally nasty sequelae, most likely deriving from immune dysregulation (says this layperson). To which we might add brain damage, including personality changes therefrom.

* * *

Shot:

People who catch Covid here and now in 2023 and are then unable to walk the way they used to, unable to pick up their feet, walking by sliding their feet along the ground.

— tern (@1goodtern) June 2, 2023

Chaser: "Individuals with a COVID-19 history exhibit asymmetric gait patterns despite full recovery" [Journal of Biomechanics]. "Individuals with a history of mild-to-moderate COVID-19 showed more asymmetrical gait patterns than individuals without a disease history. Regardless of its severity, the multifaceted long-term effects of COVID-19 need to be examined and the scope of clinical follow-up should be detailed." • Readers, have any of you spotted this?
Elite Maleficence
"COVID outbreak at homeless shelter leaves nonprofit struggling to help those most vulnerable" [WXYZ]. "Hope Shelters on Baldwin Avenue in Pontiac has done a lot of good for those who have found themselves homeless. And the nonprofit was able to manage COVID-19 so well that they didn't have their first cases until December 2021…. 'We've got 36 people as of today out with COVID, including four or five staff members,' Hope Shelters Executive Director Brian Wright said. '.' To isolate their residents who tested positive for the virus, Hope Shelters paid to move them to hotels, staying two to a room. But the hotel stays for so many people has left Hope Shelters with unexpected costs that are into the thousands and growing as they are still having to isolate dozens of residents until they can return to the group setting." • I don't know if anecdotes like this shift the aggregate numbers, since the CDC has deliberately dismantled our data collection. But every such event is a tragedy, and there are many such event. So thanks for ending masking, CDC!

Hat tip, GBD:

It is also a pretty significant acknowledgement by Donald Trump's surgeon general that the country didn't do enough to respond to COVID.

That's because key personnel in the Trump administration was getting bad advice. pic.twitter.com/pPDDBkowMq

— Walker Bragman (@WalkerBragman) May 30, 2023
* * *
Case Data
From BioBot wastewater data from May 30: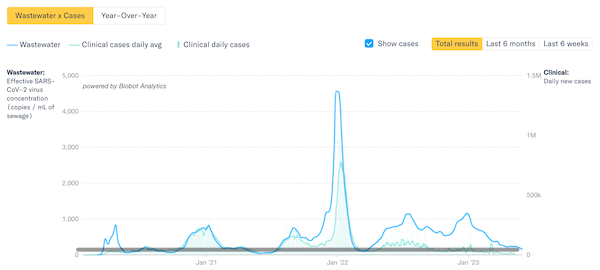 Lambert: Exhibiting what I don't like about the Biobot data: The shape of the curve changes retrospectively.
Lambert here: Unless the United States is completely, er, exceptional, we should be seeing an increase here soon. UPDATE Still on the high plateau. Are we are the point in the global pandemic where national experiences really diverge?
For now, I'm going to use this national wastewater data as the best proxy for case data (ignoring the clinical case data portion of this chart, which in my view "goes bad" after March 2022, for reasons as yet unexplained). At least we can spot trends, and compare current levels to equivalent past levels.
• New York a hotspot:
Looks like many NYC sites were last sampled on 5/21 & displayed every 15 days. If we're 11 days out from the last sample how useful is the data for making personal risk assessments & decisions like choosing to dine out or attend an event TODAY? Safe to assume it's still high! pic.twitter.com/63QkrDtsjk

— Vanessa Sica Kasabach (@VSicaKasabach) June 1, 2023
Note that we're 11 days out, and "flying blind" (exactly as Eric Rubin says at NC here). How on earth are we to make our "personal risk assessments" when we know we've got a hot spot, but don't know how hot it is? The precautionary principle, I suppose. (NOTE My priors on New York are airport spread, from 2020. I was wrong on that in 2022!)
• A useful map that went dark:
For two years I relied heavily on the @NYCSchools Daily COVID Case Map to monitor cases in students & staff and surges in NYC in general. It was incredibly helpful, until it suddenly went dark a few weeks ago! 🤦‍♀️ pic.twitter.com/eNGYZtdqLn

— Vanessa Sica Kasabach (@VSicaKasabach) June 1, 2023
• "Is COVID back in NYC? Wastewater surveillance shows virus is rising." [Gothamist]. "New Yorkers who've noticed more sniffles and coughs during their subway commutes aren't imagining things. Wastewater monitoring is showing early signs of a coronavirus rebound in New York City and some surrounding suburbs. All 14 wastewater treatment plants across NYC are reporting high concentrations of SARS-CoV-2 coronavirus, according to the dashboard run by NYS Wastewater Surveillance Network… The New York City health commissioner confirmed the wastewater uptick, but he and public health researchers said it's too early to tell if the rise indicates the start of a full blown wave. The change could just be a blip caused by more people hanging out as the weather improves or due to a new version of omicron finding occasional places to thrive… The wastewater trend is noteworthy because similar signs have not appeared yet among confirmed cases — the classic way that people have followed COVID-19 patterns for the past three years. This metric depends on PCR testing, which labs and hospitals are no longer required to do, given rollbacks in recent months and the conclusion of COVID public health emergency in early May." Flying blind. And: "Hospitalizations and deaths still provide faithful readouts given those are still reported to public health departments, but those signs can take weeks to show up once a surge is already underway." • The public health establishment learned nothing. Nothing. Unless their goal was stochastic eugenics, in which case they learned quite a lot.
Variants
NOT UPDATED From CDC, May 27, 2023: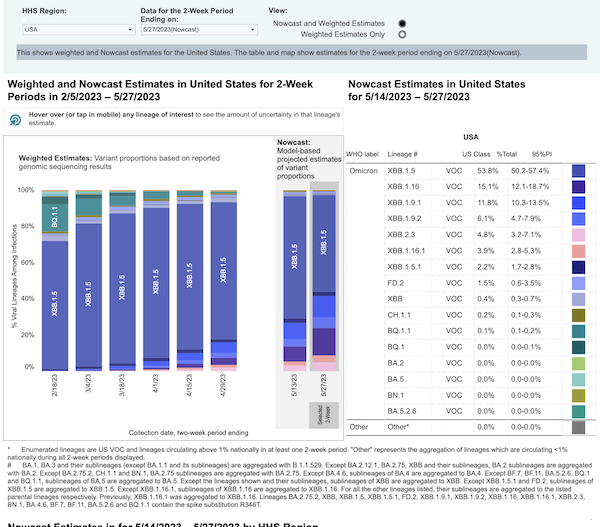 Lambert here: XBB.1.16 and XBB.1.9.1 still on the way up, eating into XBB.1.5. I sure hope the volunteers doing Pangolin, on which this chart depends, don't all move on the green fields and pastures new (or have their access to facilities cut by administrators of ill intent).
CDC: "As of May 11, genomic surveillance data will be reported biweekly, based on the availability of positive test specimens." "Biweeekly: 1. occurring every two weeks. 2. occurring twice a week; semiweekly." Looks like CDC has chosen sense #1. In essence, they're telling us variants are nothing to worry about. Time will tell. Looks like the Walgreens variants page isn't updating.
Covid Emergency Room Visits
NOT UPDATED From CDC NCIRD Surveillance, from May 27: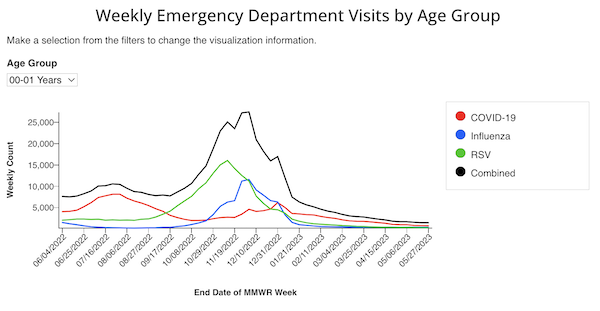 NOTE "Charts and data provided by CDC, updates Wednesday by 8am. For the past year, using a rolling 52-week period." So not the entire pandemic, FFS (the implicit message here being that Covid is "just like the flu," which is why the seasonal "rolling 52-week period" is appropriate for bothMR SUBLIMINAL I hate these people so much. Notice also that this chart shows, at least for its time period, that Covid is not seasonal, even though CDC is trying to get us to believe that it is, presumably so they can piggyback on the existing institutional apparatus for injections.
Positivity
NOT UPDATED From Walgreens, May 30: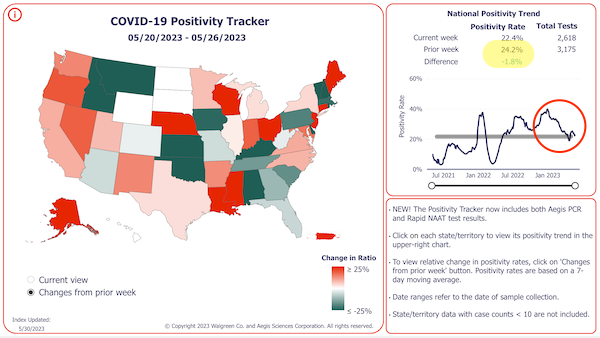 -1.8%. Frequency down to once a week.
Deaths
Death rate (Our World in Data), from May 31: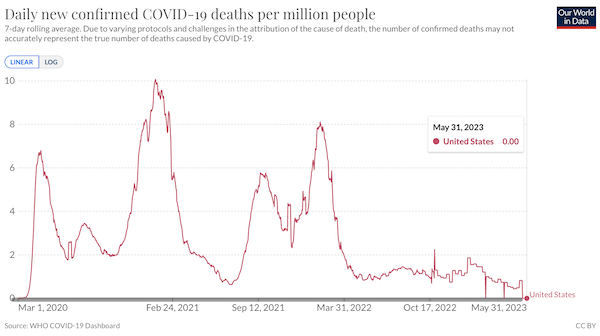 Lambert here: I'm happy the numbers are down, but zero they cannot be. Looks like some administrative minimizer at WHO put the worst intern in charge of the project. And thanks, Johns Hopkins of the $9.32 billion endowment, for abandoning this data feed and passing responsibility on to the clown car at WHO.
Total: 1,165,531 – 1,165,449 = 82 (82 * 365 = 29,930 deaths per year, today's YouGenicist™ number for "living with" Covid (quite a bit higher than the minimizers would like, though they can talk themselves into anything. If the YouGenicist™ metric keeps chugging along like this, I may just have to decide this is what the powers-that-be consider "mission accomplished" for this particular tranche of death and disease).
Excess Deaths
NOT UPDATED Excess deaths (The Economist), published May 21: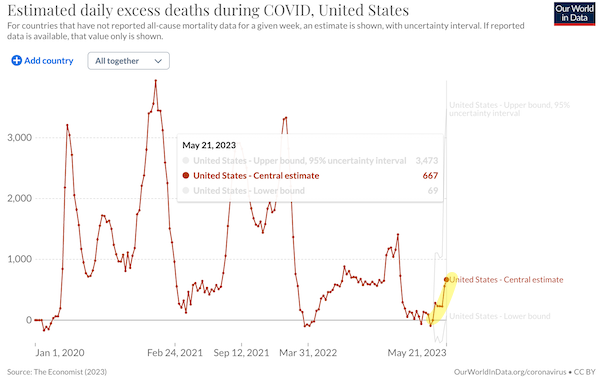 Lambert here: Based on a machine-learning model. (The CDC has an excess estimate too, but since it ran forever with a massive typo in the Legend, I figured nobody was really looking at it, so I got rid it. )
Stats Watch
"United States Unemployment Rate" [Trading Economics]. "The unemployment rate in the US increased to 3.7 percent in May 2023, the highest since October 2022 and above market expectations of 3.5 percent. Despite this uptick, the jobless rate remained historically low and suggested the labor market remained tight."
* * *
The Bezzle: "Tesla Quietly Disconnecting Radar in Customer Cars During Service Visits" [The Drive]. "In 2021, Tesla made the decision to remove the radar sensor from its best-selling Model 3 and Y vehicles and decided shortly afterward that the luxury-oriented S and X should follow suit. Now, Tesla is going on the offensive for select vehicles that still have radar units installed and unplugging the sensors from customer cars during routine service appointments. The silent change was noticed by some eagle-eyed customers who found a no-cost line item on their service estimates, which must be approved prior to a Tesla Service Center performing work on a customer car. This means that if owners approve the work estimate for their car without reading through it ahead of time, the service techs may simply disconnect the radar during the service visit."
* * *
Today's Fear & Greed Index: 65 Greed (previous close: 67 Greed) [CNN]. One week ago: 66 (Greed). (0 is Extreme Fear; 100 is Extreme Greed). Last updated Jun 2 at 1:55 PM ET.
The Gallery
"Danish Golden Age Painters Used Beer Leftovers to Prep Their Canvases" [Smithsonian]. "When researchers set out to study the canvas preparation practices of the Danish masters, they were searching for traces of proteins that indicated the use of animal-based glue—and in eight of the ten paintings they studied, that's what they found. 'Then, by surprise, we found something completely different,' says study author Cecil Krarup Andersen, a paintings conservator at the Royal Danish Academy, to Maddie Burakoff of the Associated Press (AP). Seven of the paintings also contained the byproducts of brewing beer…. Researchers examined works made by Christoffer Wilhelm Eckersberg (sometimes called the 'father of Danish painting') and Christen Schiellerup Kobke during the Danish Golden Age, a time of cultural revitalization in the early 19th century when painters were known for creating realistic scenes with soft light. With scraps of canvas from the ten artworks as samples, the researchers conducted an analysis to determine which proteins they could detect. They found that seven of the works contained combinations of proteins from yeast, wheat, barley, buckwheat and rye—all telltale signs of a brew." • Today, stems and seeds? From the Met: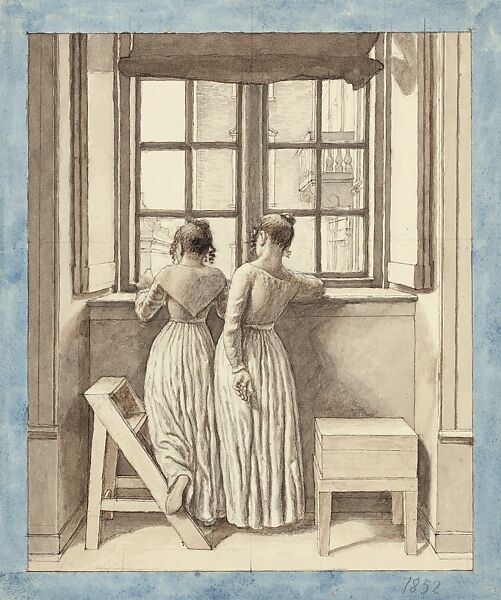 A drawing, sorry, so no beer or soft light, but I thought this was the best Eckersberg I could find.
Zeitgeist Watch
Red flags on dating apps:
1. "I like to play devil's advocate." He's racist, misogynistic, etc but is too much of a coward to admit it outright- it cuts his access to women by a decent enough amount to hurt. Do not engage.
2. "Looking for someone adventurous." No, he's not. Lol.

— Tom Cruise's Shoe Lifts (@platformedboots) June 1, 2023
Eesh, what a hellscape. (And note that if we turn an AI loose on this dataset, it would generate even more awful results. I wonder if anyone's done that.)
I love this account:
Matt Walsh: Welcome to our film screening for What Is A Wo—

Me, from the back row: HISTORICALLY MEN'S COATS BISECTED THEM HALFWAY FROM THEIR COLLAR TO THE FLOOR WHEN THEY WORE HEELED SHOES. YOUR COAT HITS AROUND YOUR BELTLINE, WHICH TECHNICALLY PUTS IT MUCH CLOSER TO WOMENSWEA— pic.twitter.com/hhnkEPbUGE

— derek guy (@dieworkwear) June 2, 2023
For why the joke's on Matt Walsh, see here.
News of the Wired
"Stitches Shuttered as XRX Files for Bankruptcy" [Knitting]. Probably les tricoteuses among us already know this, but I thought I should register it (and I can't bust the Bloomberg paywall). "Stitches Events has announced that its business is shut down after 40 plus years of publishing needlecrafting books and producing events… XRX put on large needlework events around the country several times a year before covid shut them down. The most recent in person event was Stitches West, held in March in Sacramento. The company also used to publish books under the XRX imprint, as well as Knitter's Magazine, which ceased publication in 2016. The statement says the company is liquidating all business assets and the resulting trust account will be used to pay back creditors. It notes the business 'can no longer survive in the present economic climate.'" • Hmm. Not sure if XRX going under is a harbinger of anything larger, but it's a sad day,
* * *
Contact information for plants: Readers, feel free to contact me at lambert [UNDERSCORE] strether [DOT] corrente [AT] yahoo [DOT] com, to (a) find out how to send me a check if you are allergic to PayPal and (b) to find out how to send me images of plants. Vegetables are fine! Fungi and coral are deemed to be honorary plants! If you want your handle to appear as a credit, please place it at the start of your mail in parentheses: (thus). Otherwise, I will anonymize by using your initials. See the previous Water Cooler (with plant) here. From SR: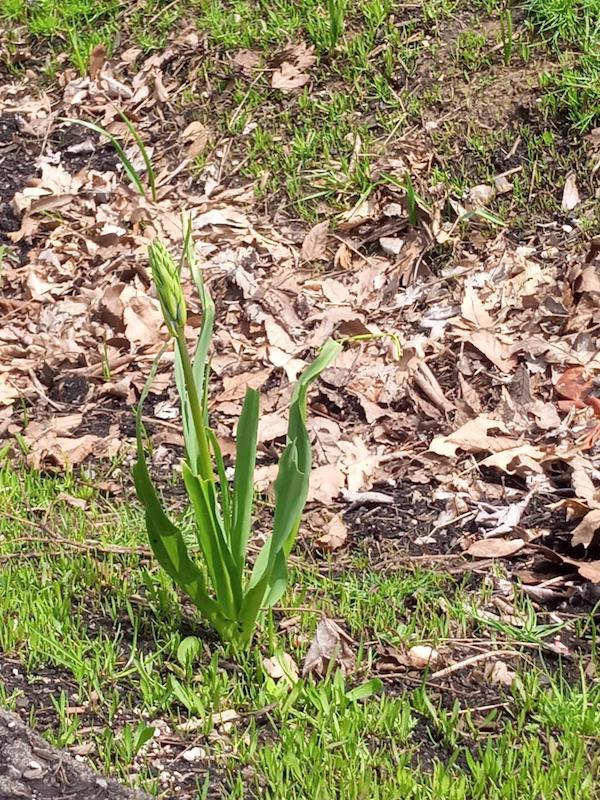 SR writes: "Camas, belonging to the lily family, beginning to bud, Portland, Oregon, April 24, 2023. Indigenous people of the Northwest ate camas bulbs roasted or ground into flour." I am big fan of rotting leaves, and I love this moment in the spring when the earth emerges from the snow, still wet, the grass appears, and all the plant matter that was frozen begins to disintegrate into the soil.
* * *
Readers: Water Cooler is a standalone entity not covered by the annual NC fundraiser. So if you see a link you especially like, or an item you wouldn't see anywhere else, please do not hesitate to express your appreciation in tangible form. Remember, a tip jar is for tipping! Regular positive feedback both makes me feel good and lets me know I'm on the right track with coverage. When I get no donations for five or ten days I get worried. More tangibly, a constant trickle of donations helps me with expenses, and I factor in that trickle when setting fundraising goals:
Here is the screen that will appear, which I have helpfully annotated: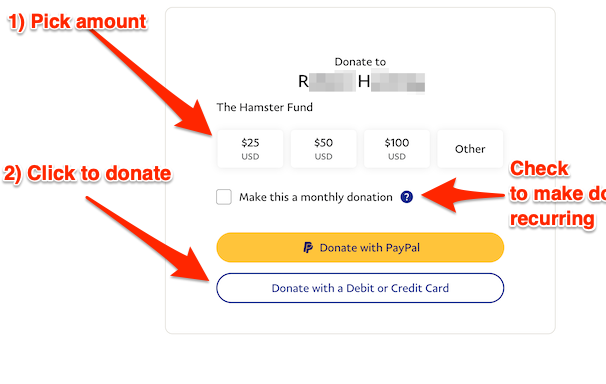 If you hate PayPal, you can email me at lambert [UNDERSCORE] strether [DOT] corrente [AT] yahoo [DOT] com, and I will give you directions on how to send a check. Thank you!