By Lambert Strether of Corrente.
Bird Song of the Day
Magpie-lark, Casuarina Coastal Reserve–Dripstone Park, Darwin, Northern Territory, Australia.
* * *
Politics
"So many of the social reactions that strike us as psychological are in fact a rational management of symbolic capital." –Pierre Bourdieu, Classification Struggles
2024
Time for the Countdown Clock!

* * *

"Old yeller: Biden's private fury" [Axios]. "Biden has such a quick-trigger temper that some aides try to avoid meeting alone with him. Some take a colleague, almost as a shield against a solo blast. The president's admonitions include: 'God dammit, how the f**k don't you know this?!,' 'Don't f**king bullsh*t me!' and 'Get the f**k out of here!' — according to current and former Biden aides who have witnessed and been on the receiving end of such outbursts. The private eruptions paint a more complicated picture of Biden as a manager and president than his carefully cultivated image as a kindly uncle who loves Aviator sunglasses and ice cream." • Many entertaining anecdotes. It was obvious to anyone who followed him closely that Biden had a temper; I don't much like "body language," but tightness around his mouth was always a sign, and his mouth was tight quite often. That said, the real question about this article — this sighting shot? This transition into "pull the wings off flies mode? — is "Why now?" War in Ukraine going even worse than we thought?

* * *

Too bad Trump can't take advantage of this:

A single payer plan that phases in over four years just seems less cool after Donald Trump stood up a single payer plan in more like four months. That everyone forgets he did that is just odd. https://t.co/JTRW5tlYjE

— Carlos Mucha (@mucha_carlos) July 6, 2023

Or could he?

So why isn't the sauce for Biden's clusterbombs the same as the sauce for Trump's classified documents?

There's literally a US law prohibiting the export of the kind of cluster munitions Biden is sending Ukraine. It's very explicit. This is the full text. Biden does not even claim that the munitions qualify under the exception. He just claims he's "waiving" (ie violating) the law. pic.twitter.com/IS4mjUrpo5

— Nathan J Robinson (@NathanJRobinson) July 9, 2023

* * *

"The Alternative Facts of Robert F. Kennedy, Jr." (interview) [David Remnick, The New Yorker]. You've got to admire the picador work: "To prepare for the conversation, I listened to some of Kennedy's podcast sessions with Bari Weiss, Jordan Peterson, Russell Brand, and Joe Rogan. I watched his marathon announcement speech and tuned in to all the hosannas he was getting from that includes Steve Bannon, Jack Dorsey, and Tucker Carlson. In his 2021 book 'The Real Anthony Fauci,' Kennedy accuses Fauci, who was then [genuflects] the nation's top infectious-disease doctor, of helping to carry out '2020's historic coup d'état against Western democracy.'" He's just not our kind! (And Fauci is genuinely evil, but you wouldn't know it from Kennedy's footnotes.) More: "Kennedy's habits of mind are MAGA-adjacent, but his manner differs from that of his Republican doppelgänger. Donald Trump is a bully—rude, swaggering, out to flatten his questioner under an avalanche of lies and volume. Kennedy is not rude. Rather, he is serenely convinced of his virtue and his interlocutor's pitiful susceptibility to conventional wisdom. The experience of interviewing him and listening to his previous interviews, I found, was like settling in for a long train ride with a seemingly amiable stranger in the next seat. You ask a straightforward question and, an hour later, as you race by Thirtieth Street Station, in Philadelphia, he is still going on about the fraud of covid vaccines and how he was unfairly 'deplatformed' for spouting conspiracy theories. By the time you've pulled into Wilmington, he might be talking about how drugs known as poppers helped cause the aids epidemic, or how 'toxic chemicals' might contribute to 'sexual dysphoria' in children. As you head south, he is talking about being 'censored' by Instagram, the F.B.I. [true], and the Biden White House. New technologies like 5G towers and digital currencies are totalitarian instruments that could 'control our behavior.' Wi-Fi causes 'leaky brain.' After a while, you begin to wonder why you bought a ticket. But it's too late. You're pinned into the window seat." And now the zinger: "This conversation has been edited for length and clarity." • Ouch! Thing is, Remnick and his stooge, Hendrik Hertzberg, were in so deep for Obama in 2008 that [insert joke here]. And then of course there's the constant TDS reinfection; the virus is hiding out somewhere in The New Yorker's editorial tissues, and the sequelae are bad. These people don't get to pose as serene, brainworm-free representatives of Reason Against The Mob. Well, OK, they do, but if there were any justice in the world they would have been stopped by now, defenestration o f Prague-style. Also, the cartoons aren't funny anymore. Rather like the entire New Yorker schtick, if it comes to that.

Marianne Williamson asks for my vote:

I love this. Nature stops you in your tracks if you allow it to. https://t.co/dX9NXa1B1O

— Marianne Williamson (@marwilliamson) July 10, 2023

* * *

MI: "Hill Harper, 'Good Doctor' Actor, Enters Senate Race in Michigan" [New York Times]. "Hill Harper, an author and actor, on Monday entered Michigan's 2024 Senate race, pledging to run to the left of Representative Elissa Slotkin, a moderate Democrat, in what is expected to be one of the most closely watched Democratic primary races in a 2024 presidential battleground state. Mr. Harper, a first-time candidate known for his roles on 'CSI: NY' and 'The Good Doctor,' began his campaign with a message focused on expanding Social Security and access to affordable health care, as well as tackling income inequality and student debt. In an interview, he said he planned to position himself as 'the most progressive candidate' in the race and would work to bring jaded and unheard voters back into the Democratic fold. 'It became clear to me that folks across Michigan don't feel like they are being represented in Washington, D.C.,' he said, describing his conversations with people at farmers' markets and union halls as he weighed his decision to run. The state's Democratic leadership, which holds the governor's office and both chambers of the Michigan Statehouse, he added, has 'done a lot to move the state forward, but Washington is still broken.' The Democratic primary is likely to be followed by a heated general election against a tense backdrop." • Slotkin is, of course, a spook CIA Democrat, so I'm sure the Times will do all in its power to support her.
Democrats en Déshabillé
Patient readers, it seems that people are actually reading the back-dated post! But I have not updated it, and there are many updates. So I will have to do that. –lambert

I have moved my standing remarks on the Democrat Party ("the Democrat Party is a rotting corpse that can't bury itself") to a separate, back-dated post, to which I will periodically add material, summarizing the addition here in a "live" Water Cooler. (Hopefully, some Bourdieu.) It turns out that defining the Democrat Party is, in fact, a hard problem. I do think the paragraph that follows is on point all the way back to 2016, if not before:

The Democrat Party is the political expression of the class power of PMC, their base (lucidly explained by Thomas Frank in Listen, Liberal!). ; if the Democrat Party did not exist, the PMC would have to invent it. . ("PMC" modulo "class expatriates," of course.) Second, all the working parts of the Party reinforce each other. Leave aside characterizing the relationships between elements of the Party (ka-ching, but not entirely) those elements comprise a network — a Flex Net? An iron octagon? — of funders, vendors, apparatchiks, electeds, NGOs, and miscellaneous mercenaries, with assets in the press and the intelligence community.

Note, of course, that the class power of the PMC both expresses and is limited by other classes; oligarchs and American gentry (see 'industrial model' of Ferguson, Jorgensen, and Jie) and the working class spring to mind. Suck up, kick down.

* * *

"Activists want to disqualify Trump from ballot in key states under 14th Amendment" [The Hill]. "The groups say secretaries of state are empowered by the 14th Amendment to bar Trump from running for office because of the Jan. 6, 2021, Capitol insurrection. Starting Sunday, Mi Familia Vota and Free Speech for People will stage a week of rallies and banner drops outside the offices of the secretaries of state of California, Oregon, Colorado and Georgia. The groups also penned a letter to Nevada Secretary of State Cisco Aguilar last month, calling on him to block Trump under what's known as the Insurrectionist Disqualification Clause. 'We're really focusing on Nevada and California and [Oregon, Colorado and Georgia] to make sure that they are taking a stand by disqualifying Trump in those spaces, which is something that the secretary of state can do,' said Héctor Sánchez, executive director of Mi Familia Vota. The groups are calling their campaign 'Trump is Disqualified,' and are timing it to coincide with the 155th anniversary of the 14th Amendment." • Oh, clever! I mean, better than the 154th or 156th, I suppose. I'm filing this under Democrats because it illustrates two things about the party. First, the cynical use of NGOs as party ringers. Second, the general Democrat practice of claiming a universal principle and then demonstrating the claim is in fact solely tactical "fighting for" it only in limited arenas. If indeed the 14th Amendment amendment disqualifies Trump, then that merits a 50 state campaign, not a campaign limited to three tactically important states. The Democrats did exactly the same thing in Florida 2000, when they called for recounts only in counties they thought they could win, which undermined any claim to the high ground on the election theft.
Obama Legacy
Shot:

Here's the advice I shared with Malia about what progress looks like – and the work we can do right now to make a difference. pic.twitter.com/c3fbAEp3eu

— Barack Obama (@BarackObama) July 6, 2023

Chaser:
Realignment and Legitimacy
"Gay Nude Resort Must Allow Women, Judge Declares" [Advocate]. "A clothing-optional Florida resort catering to gay and bisexual men must open all areas to women, according to a June 30 ruling from a judge on the Florida Commission on Human Relations and reported by Metroweekly. The decision — which overruled a previous ruling stating the resort did not discriminate — affects Key West's New Orleans House, though it's not binding until the full commission weighs in. The resort is one of at least two nude resorts challenged by Amita Chaudhry, a 38-year-old cisgender woman who identifies as part of the LGBTQ+ community." • Well, why not?
#COVID19
"I am in earnest — I will not equivocate — I will not excuse — I will not retreat a single inch — AND I WILL BE HEARD." –William Lloyd Garrison
Resources, United States (National): Transmission (CDC); Wastewater (CDC, Biobot; includes many counties; Wastewater Scan, includes drilldown by zip); Variants (CDC; Walgreens); "Iowa COVID-19 Tracker" (in IA, but national data). "Infection Control, Emergency Management, Safety, and General Thoughts" (especially on hospitalization by city).
Lambert here: Readers, thanks for the collective effort. To update any entry, do feel free to contact me at the address given with the plants. Please put "COVID" in the subject line. Thank you!
Resources, United States (Local): AK (dashboard); AL (dashboard); AR (dashboard); AZ (dashboard); CA (dashboard; Marin, dashboard; Stanford, wastewater; Oakland, wastewater); CO (dashboard; wastewater); CT (dashboard); DE (dashboard); FL (wastewater); GA (wastewater); HI (dashboard); IA (wastewater reports); ID (dashboard, Boise; dashboard, wastewater, Central Idaho; wastewater, Coeur d'Alene; dashboard, Spokane County); IL (wastewater); IN (dashboard); KS (dashboard; wastewater, Lawrence); KY (dashboard, Louisville); LA (dashboard); MA (wastewater); MD (dashboard); ME (dashboard); MI (wastewater; wastewater); MN (dashboard); MO (wastewater); MS (dashboard); MT (dashboard); NC (dashboard); ND (dashboard; wastewater); NE (dashboard); NH (wastewater); NJ (dashboard); NM (dashboard); NV (dashboard; wastewater, Southern NV); NY (dashboard); OH (dashboard); OK (dashboard); OR (dashboard); PA (dashboard); RI (dashboard); SC (dashboard); SD (dashboard); TN (dashboard); TX (dashboard); UT (wastewater); VA (dashboard); VT (dashboard); WA (dashboard; dashboard); WI (wastewater); WV (wastewater); WY (wastewater).
Resources, Canada (National): Wastewater (Government of Canada).
Resources, Canada (Provincial): ON (wastewater); QC (les eaux usées); BC, Vancouver (wastewater).
Hat tips to helpful readers: anon (2), Art_DogCT, B24S, CanCyn, ChiGal, Chuck L, Festoonic, FM, FreeMarketApologist (4), Gumbo, hop2it, JB, JEHR, JF, JL Joe, John, JM (10), JustAnotherVolunteer, JW, KatieBird, LL, Michael King, KF, LaRuse, mrsyk, MT, MT_Wild, otisyves, Petal (6), RK (2), RL, RM, Rod, square coats (11), tennesseewaltzer, Utah, Bob White (3).
Stay safe out there!
* * *
Testing and Tracking
"New Air Monitor Can Detect COVID-19, Flu, RSV, and Other Viruses in Real-Time" [SciTech Daily]. " By combining recent advances in aerosol sampling technology and an ultrasensitive biosensing technique, researchers at Washington University in St. Louis have created a real-time monitor that can detect any of the SARS-CoV-2 virus variants in a room in about 5 minutes. The inexpensive, proof-of-concept device could be used in hospitals and health care facilities, schools, and public places to help detect CoV-2 and potentially monitor for other respiratory virus aerosols, such as influenza and respiratory syncytial virus (RSV). Results of their work on the monitor, which they say is the most sensitive detector available, are published today (July 10) in the journal Nature Communications." • Awesome. Finally, some really good news. I assume we'll see rapid uptake, especially in medical facilities MR SUBLIMINAL Not!
Transmission
Just to hammer on airline travel once more, requoting Taleb from Links last week:

Systemic Risk of Pandemic via Novel Pathogens – Coronavirus: A Note (PDF) Joseph Norman, Yaneer Bar-Yam, Nassim Nicholas Taleb. From 2020, explicated here at NC, still highly germane. "It will cost something to reduce mobility in the short term, but to fail do so will eventually cost everything—if not from this event, then one in the future."

Truer words. Planes everywhere:

Yesterday was the busiest day for commercial aviation that we've ever tracked. We tracked 134,386 commercial flights on 6 July and today is shaping up to be another busy day. More than 20,000 flights are in the air right now. pic.twitter.com/E7wheAo86B

— Flightradar24 (@flightradar24) July 7, 2023

Carrying the virus everywhere:

So, looking for more on the current Covid surge in Japan I stumbled upon a video (shortened for tweet).
This is so sad.

But, it's our Govts we should be angry w/ for delivering us to a place where putting each other at risk of potentially life changing illnesses is common place. pic.twitter.com/aFzwFLVXXz

— Jesse International (@jesseintl) July 9, 2023

Worth watching to see how this young person has been let down by literally every system in which she is enmeshed. At least she was lucky enough not to find blood and feces under her feet, like the Air France traveler yesterday:

I view flying as a major C0VID risk.

Planes have poor #ventilation (pic). And I simply don't trust their HEPA filtration reliability given experiences w/landing gear & other issues.

If they can't clean up bloody feces, why assume they took the shrink wrap off HEPA filters? https://t.co/ECnZ6nVvH4 pic.twitter.com/EkoFA7odWF

— Mike Hoerger, PhD MSCR MBA (@michael_hoerger) July 8, 2023
"Something Awful"
Lambert here: I'm getting the feeling that the "Something Awful" might be a sawtooth pattern — variant after variant — that averages out to a permanently high plateau. Lots of exceptionally nasty sequelae, most likely deriving from immune dysregulation (says this layperson). To which we might add brain damage, including personality changes therefrom.

* * *

"A Tsunami of Disability Is Coming as a Result of 'Long COVID'" [Scientific American]. • Time to make the disability system even more dysfunctional than it already is, I suppose.
* * *
Case Data
From BioBot wastewater data, July 7: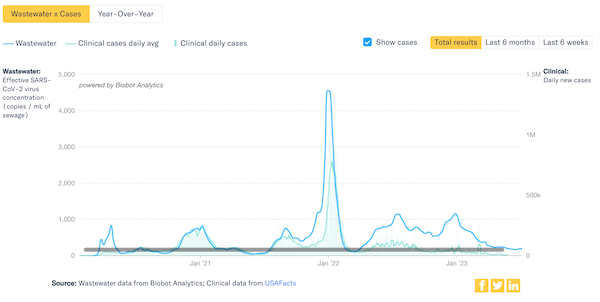 Lambert here: Still a trend upward. Happy July 4! Absent a new variant to race though the dry tinder, I don't see an oncoming debacle even with July 4 travel. But plenty of people will still get sick (again).
Regional data: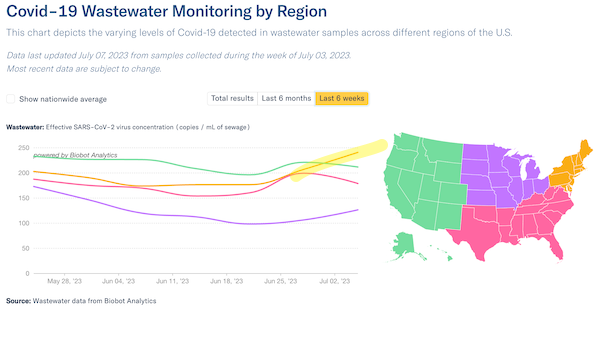 Regional variant data:

Whatever the cause of the uptick in the Northeast, it's not EG.5 (the orange pie slice), which seems evenly distributed.
Variants
NOT UPDATED From CDC, July 8: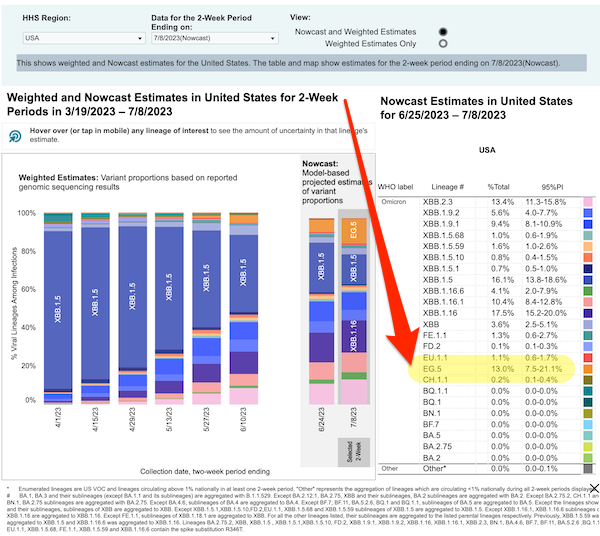 Lambert here: EG.5 moving like a bat out of hell, showing unactionable nature (uselessness) of these CDC two-week-lag charts (here, and in positivity, too). They're not even performative!
From CDC, June 24: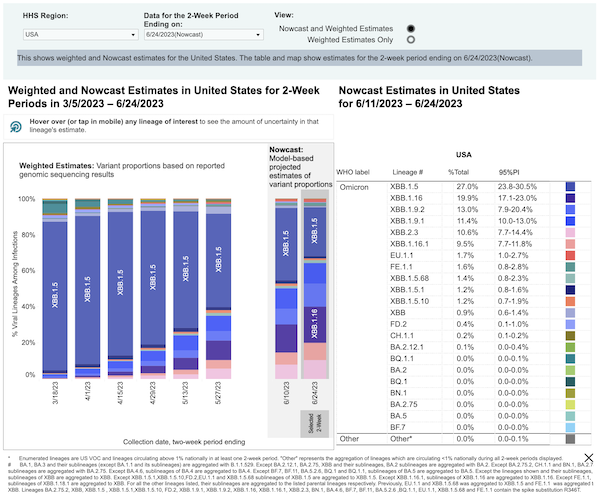 Lambert here: Not sure what to make of this. I'm used to seeing a new variant take down the previously dominant variant. Here it looks like we have a "tag team," all working together to cut XBB.1.5 down to size. I sure hope the volunteers doing Pangolin, on which this chart depends, don't all move on the green fields and pastures new (or have their access to facilities cut by administrators of ill intent).
CDC: "As of May 11, genomic surveillance data will be reported biweekly, based on the availability of positive test specimens." "Biweeekly: 1. occurring every two weeks. 2. occurring twice a week; semiweekly." Looks like CDC has chosen sense #1. In essence, they're telling us variants are nothing to worry about. Time will tell.
Covid Emergency Room Visits
NOT UPDATED From CDC NCIRD Surveillance, July 1: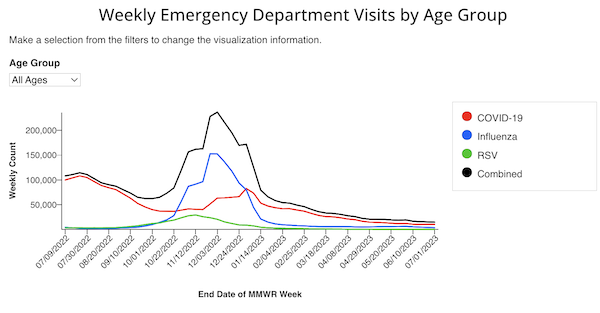 NOTE "Charts and data provided by CDC, updates Wednesday by 8am. For the past year, using a rolling 52-week period." So not the entire pandemic, FFS (the implicit message here being that Covid is "just like the flu," which is why the seasonal "rolling 52-week period" is appropriate for bothMR SUBLIMINAL I hate these people so much. Notice also that this chart shows, at least for its time period, that Covid is not seasonal, even though CDC is trying to get us to believe that it is, presumably so they can piggyback on the existing institutional apparatus for injections.
Positivity
From Walgreens, July 10: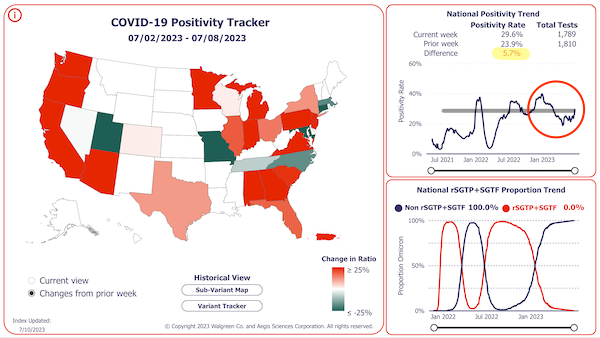 5.7%. Going vertical, though the absolute numbers are still very small relative to June 2022, say. Interestingly, these do not correlate with the regional figures for wastewater.
NOT UPDATED From CDC, June 19: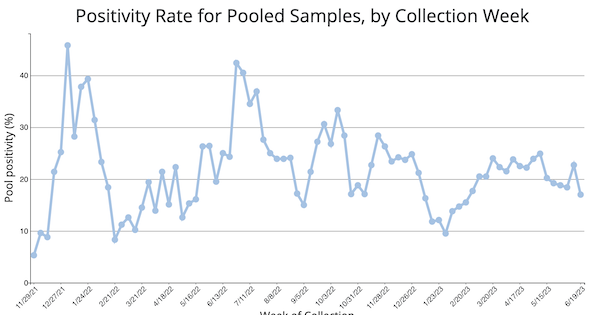 Lambert here: This is the CDC's "Traveler-Based Genomic Surveillance" data. They say "maps," but I don't see one….
Deaths
NOT UPDATED Iowa COVID-19 Tracker, June 28: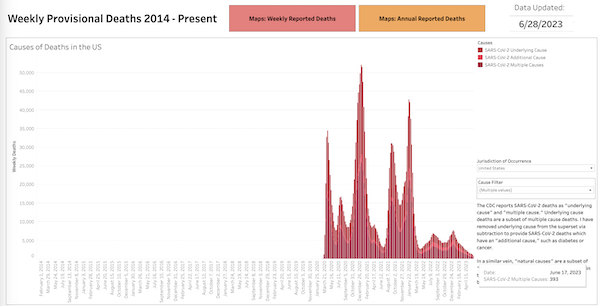 Lambert here: The WHO data is worthless, so I replaced it with the Iowa Covid Data Tracker. Their method: "These data have been sourced, via the API from the CDC: https://data.cdc.gov/NCHS/Conditions-Contributing-to-COVID-19-Deaths-by-Stat/hk9y-quqm. This visualization updates on Wednesday evenings. Data are provisional and are adjusted weekly by the CDC." I can't seem to get a pop-up that shows a total of the three causes (top right). Readers?
Total: 1,168,502 – 1,168,485 – 1,168,414 = 17 (17 * 365 = 6,205 deaths per year, today's YouGenicist™ number for "living with" Covid (quite a bit higher than the minimizers would like, though they can talk themselves into anything. If the YouGenicist™ metric keeps chugging along like this, I may just have to decide this is what the powers-that-be consider "mission accomplished" for this particular tranche of death and disease).
Excess Deaths
Excess deaths (The Economist), July 9: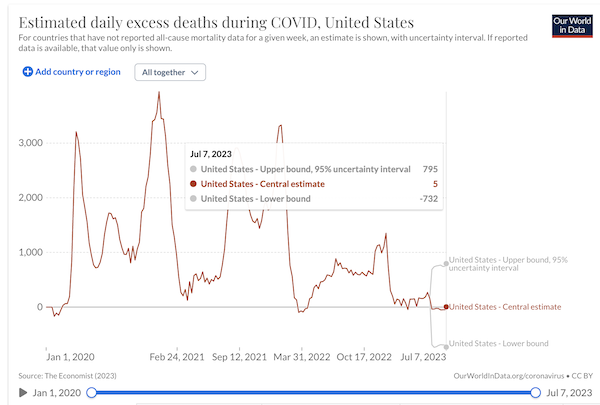 Lambert here: This is now being updated daily. Odd. Based on a machine-learning model. (The CDC has an excess estimate too, but since it ran forever with a massive typo in the Legend, I figured nobody was really looking at it, so I got rid it. )
Stats Watch
There are no official statistics of interest today.
* * *
Tech: "A technophobe's guide to AI chatbots" [Boston Globe]. The deck: "Systems like ChatGPT aren't going anywhere. Are you ready to use them?" • Idea:
ChatGPT: "Mary had a little lamb."

To fill in the blank, I completed the famous nursery rhyme with the word "lamb." As an AI language model, I have been trained on a vast corpus of text, including nursery rhymes, literature, and common knowledge. This extensive training enables me to recognize and complete well-known phrases and sentences. The phrase "Mary had a little lamb" is one of the most recognized and widely known lines from nursery rhymes, making it easy for me to identify and complete the missing word.
Why don't we outlaw the use of the first person in AI chat responses? The concept that there is an "I" there is, after all, bullshit, as is all the output of generative AI, inherently and without exception.
* * *
Today's Fear & Greed Index: 78 Extreme Greed (previous close: 78 Extreme Greed) [CNN]. One week ago: 79 (Extreme Greed). (0 is Extreme Fear; 100 is Extreme Greed). Last updated Jul 10 at 1:33 PM ET.
Rapture Index: Closes unchanged [Rapture Ready]. Record High, October 10, 2016: 189. Current: 182. (Remember that bringing on the Rapture is good.) NOTE on #42 Plagues: "The coronavirus pandemic has maxed out this category." More honest than most!
Poop Watch
"The poop knife" [Reddit (via)]. • I can't possibly quote from this on a family blog. I advise you not to read it, and if you do, not to comment on it. And if you do comment on it, please use the most euphemistic terms possible.
The Jackpot
Everything is fine:
people do not think climate change will affect them personally (much like they don't think the pandemic affects them personally) pic.twitter.com/plnmrOW5qU

— plague rat 🐀 (@x3r0gxx) July 9, 2023
No, really!
Zeitgeist Watch
"New TikTok challenge to blame for 4 Alabama deaths" [WVTM]. "A social media challenge is at the center of the deaths of four people in Central Alabama. This deadly TikTok trend is called '#boatjumping.' People are jumping off of moving boats at lakes like those in Shelby County. The TikTok challenge has rescue crews worried about people on the water this summer. In the last six months, they've seen four victims die from this boat jumping TikTok challenge. Capt. Jim Dennis with the Childersburg Rescue Squad said these deaths are people of all ages. 'The four that we responded to when they jumped out of the boat, they literally broke their neck and, you know, basically an instant death,' Dennis said."
Class Warfare
"16-Year-Old Boy Dies After 'Industrial Accident' at Wisconsin Sawmill: 'No Longer Suffering'" [People]. • Thanks, libertarians. On the bright side, that young man learned an important lesson!
News of the Wired
"Axios Finish Line: No time to run? Hug a loved one" [Axios]. "Americans are stressed out. While exercise is a proven way to support mental health — which made evolutionary sense for our ancestors — it's not the only way to de-stress. There are other options we often overlook. Today, even the idea of exercising can be stressful." Various hints, concluding: "Take a break outside. They call it nature therapy for a reason. Slow your breathing. Taking one minute to breathe in for a count of five, and then out for five, can help your body feel calmer, [Jennifer Taitz, clinical psychologist] told Axios. Of note: Stress isn't all bad. It can help us meet deadlines, like the one for this story. 'Changing your view of stress [is important] because stressing about stress is very stressful,' Taitz said." • Meta-verklemptitude…
* * *
Contact information for plants: Readers, feel free to contact me at lambert [UNDERSCORE] strether [DOT] corrente [AT] yahoo [DOT] com, to (a) find out how to send me a check if you are allergic to PayPal and (b) to find out how to send me images of plants. Vegetables are fine! Fungi and coral are deemed to be honorary plants! If you want your handle to appear as a credit, please place it at the start of your mail in parentheses: (thus). Otherwise, I will anonymize by using your initials. See the previous Water Cooler (with plant) here. From JM: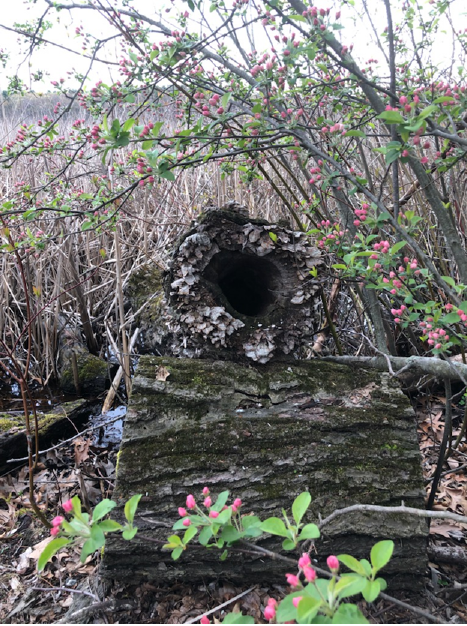 JM writes: "I have been taking photos of this log, which is along a trail where I go bird watching, from time to time for many years. The hedgerow has a lot of weedy cherry flowering right now, in three different shades of pink." What a great project! I keep recommending walks to readers; a project like this would be a fine addition to one's constitutional; grab your camera or (even) your (smart)phone. I think you will be surprised at the depths in seemingly mundane objects if you photograph them repeatedly (Monet's haystacks are an example (the repellent brainworm "Shake your Monet maker" just entered my mind; I apologize)).
* * *
Readers: Water Cooler is a standalone entity not covered by the annual NC fundraiser. So if you see a link you especially like, or an item you wouldn't see anywhere else, please do not hesitate to express your appreciation in tangible form. Remember, a tip jar is for tipping! Regular positive feedback both makes me feel good and lets me know I'm on the right track with coverage. When I get no donations for five or ten days I get worried. More tangibly, a constant trickle of donations helps me with expenses, and I factor in that trickle when setting fundraising goals:
Here is the screen that will appear, which I have helpfully annotated: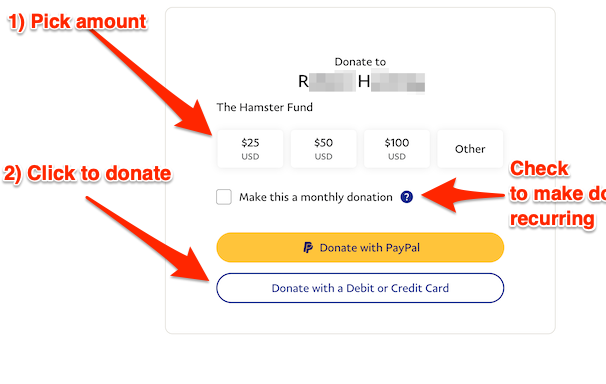 If you hate PayPal, you can email me at lambert [UNDERSCORE] strether [DOT] corrente [AT] yahoo [DOT] com, and I will give you directions on how to send a check. Thank you!