By Lambert Strether of Corrente.
It's been awhile since I perambulated through the biosphere (here, here, here, or here), or indeed at all, and today I thought I would perambulate through the concept of perambulation itself: What is the right word for one who walks with awareness? (Leaving aside White Walkers, and Walker, Texas Ranger, both dubiously aware, and also the ambiguous "walker"[1].) There are several options, but flâneur (Fr. f. flâneuse) seems to lead the pack:
Flâneur (French: [flɑnœʁ]) is a French noun referring to a person, literally meaning "stroller", "lounger", "saunterer", or "loafer", but with some nuanced additional meanings (including as a loanword into English). Flânerie is the act of strolling, with all of its accompanying associations. A near-synonym of the noun is boulevardier. Traditionally depicted as male, a flâneur is an ambivalent figure of urban affluence and modernity, representing the ability to wander detached from society with no other purpose than to be an acute observer of industrialized, contemporary life.
The OED defines flâneur as follows:
flâneur /flɑnœːr/ noun. Pl. pronounced same. m19.


[ORIGIN: French, from flâner (see flânerie) + -eur -or.]


An idler.


R. Holmes Paris..celebrated the idea of the flâneur, the man who drifts round the streets, gazing at everything.
Interestingly, the usage example is a better definition of the word than the actual definition. Because I am feeling undisciplined and lazy just now, I will quote a potted history from the New York Times, which bears out this claim, instead of deploying Poe, Baudelaire, Walter Benjamin, and Nicholas Nassim Taleb, flâneurs all:
The flâneur is an archetype born, not in Rome, but in 19th-century Paris as it was transforming into a modern city. Baudelaire described this metropolitan character as a 'passionate spectator' who 'enters into the crowd as though it were an immense reservoir of electrical energy.' The philosopher and essayist Walter Benjamin called the flâneur a pedestrian with 'a detective's nose.' Like a number of artists and writers, the painter Edouard Manet was himself a flâneur — a 'fashionable boulevardier' as a 1982 exhibition catalog for 'Manet and Modern Paris' at the National Gallery of Art in Washington, D.C., put it — who used the city's streets, gardens and cafes as his muses.

This sort of aimless strolling is conducive to savoring, to finding joy in the moment, a practice that some social scientists have found can be cultivated and may help lead to a more fulfilling life. In "Savoring: A New Model of Positive Experience," the scholars Fred B. Bryant and Joseph Veroff describe savoring not as mere pleasure, but as an active process that requires presence and mindfulness. It's "a search for the delectable, delicious, almost gustatory delights of the moment," as they put it.
Why have I wandered into this maze of strolling detectives and passionate spectators? Because of alert reader JM's log: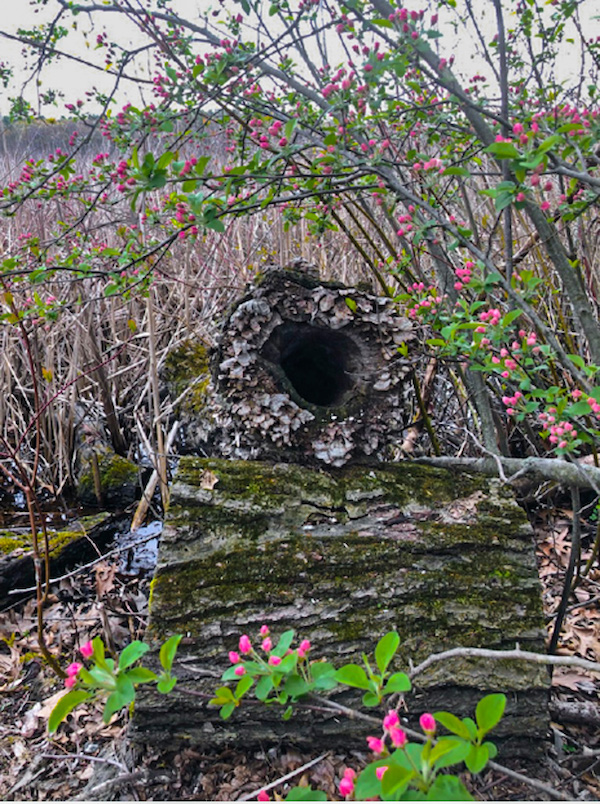 Of that log, JM wrote:
I have been taking photos of this log, which is along a trail where I go bird watching, from time to time for many years. The hedgerow has a lot of weedy cherry flowering right now, in three different shades of pink.
(I went into LightRoom and enhanced the image to bring out the pink, so it's a bit different from the image that originally appeared in Water Cooler.)
Alert reader Amfortas the hippie commented on "JM's Study", walking along the trail:
that's cool af.

i love stuff like that.

one of the benefits of stayin put for almost 3 decades is ive been able to watch such ecological over the whole 20 acres…plus the surrounding 2000(i have legit access to half of that,lol…the rest, due to chasing wayward animals(frelling goats…))

from things like fallen trees, turning eventually into dirt…or a dead rabbit, doing the same, just much quicker…or the broader succession of the pastures: weeds to the willman lovegrass i spread around to stabilise and smother and build soil=> varied succession of native grasses i tossed out there eventually supplanting the lovegrass(i carry a bucket with me in the truck, and take dirt roads often, and in season can often be found picking grass seed on the side of a lonely dirt road)

and various trees and shrubs(mom hates this part,lol…so untidy!) slowly but surely doing their thing, and it'll eventually be a "sylvopasture", and thus more robust and resilient.
Alert reader mrsyk also commented:
I think JM's log study is cool too. Richard Powers' "The Overstory" has a similar study over which [they] nimbly [use] to emphasize a theme here and there.

Now, if someone were to take a bunch of photos of their three cats on a daily basis, would that be considered similar? Asking for a friend.
I will get to the cats in a moment. My question: Is it correct to categorize JM as a flâneur?
There are two reasons to answer in the negative. First, the flâneur is almost always characterized as male. Second, flânerie is practiced in the city (where logs exist, to be sure, but not always as objects of interest).
I see no reason why flânerie may only be practiced by males. Certainly, either of the two dominant sexes is equally capable of passionate observation, and so I see no reason to import flâneuse from the French. It may be that the disparity is caused by flânerie's second characteristic: Cities are not nearly as safe for women as they are for men.
But must flânerie be practiced only in the city? The Times again writes:
To walk a city led by your senses rather than a destination is to awaken to the city and, possibly, to yourself. It's an opportunity to expand your capacity for wonder, to discover and delight in things you might have missed had you been aiming to get somewhere.
And:
[T]he flâneur's raison d'etre—to participate fully through observation—has always remained the same.
It is true that JM is not "participat[ing] fully through observation" in, say, café life, or energetic street life, or mimes, etc. However — the photograph shows this[2], and both Amfortas and mrsyk point this out — JM is participating through observation in the process of succession, something not generally as visible in the city as in the country.
So I think it's fine to characterize JM's routine as flânerie. Now about those cats: I would answer in the negative. A times series of photographs of one's cat, though obviously a worthy project, is not flânerie, which by definition includes walking, and not only observation, no matter how passionate one might be about one's cats, and rightly, of course.
My real motivation for all this fancy footwork is to encourage you, dear readers, to walk, if you can, regularly — to practice flânerie not, heaven forfend, with zeal, but at least with diligence — and moreover to include an object of interest on your walks, and to observe it passionately. I need not rehearse the health benefits of walking (here, here, here), especially for Jackpot-induced, well, weighty emotions. But I also believe that the act of passionate observation is good in itself, that it will sharpen the mind and strengthen the spirit to photograph, sketch, paint, or journal your object of interest as regularly as you walk, and so I encourage you to do that as well.
NOTES
[1] Hat tip, Karma Medical: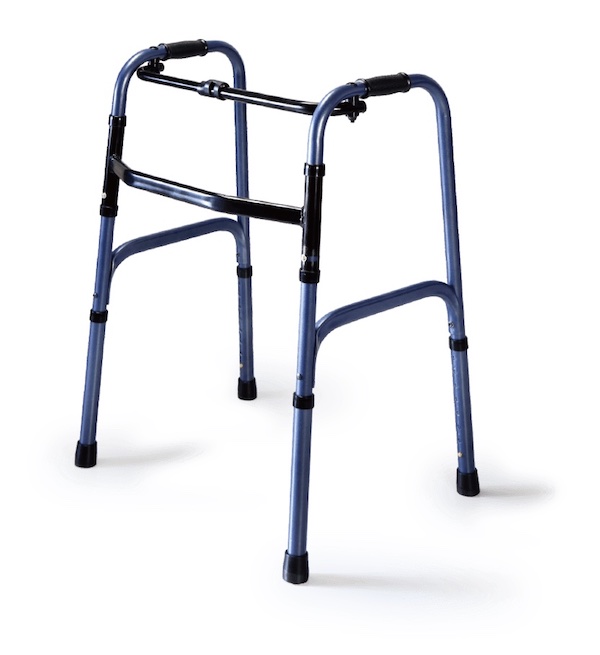 [2] Although a series of photographs, perhaps even over the years, would show it more fully.