By Lambert Strether of Corrente.
Bird Song of the Day
Horned Lark, route 14 along county road 69, Weld, Colorado, United States. "Horned Larking singing from ground in pre-dawn darkness."
* * *
Politics
"So many of the social reactions that strike us as psychological are in fact a rational management of symbolic capital." –Pierre Bourdieu, Classification Struggles
2024
Time for the Countdown Clock!

* * *

"There's Good News and Bad News for Trump in a New Survey" [Politico]. "My survey of GOP county chairs is part of an ongoing effort to track the so-called "invisible primary" for the 2024 Republican presidential nomination, with a series that is being featured in POLITICO Magazine over the next year. What takes place during the invisible primary is the crucial coordination and jockeying that occurs before anyone starts voting or caucusing, but which will do much to determine the eventual winner. County chairs are figures who will play a key role in shaping the race. They are highly attentive to the party's internal dynamics and are influential in local GOP circles; they offer the kind of endorsements that candidates are eager to collect. They're also still close to the rank-and-file grassroots, and their shifts are likely to signal where the rest of the party is going…. The most recent survey, conducted in the first few weeks of June, came amid yet another criminal indictment — this time involving federal charges that he mishandled classified documents, including violations of the Espionage Act. Yet I found Trump's support continued to increase. Roughly twice as many county party chairs are now committed to Trump as to DeSantis, and no other candidates have really broken through." • Handy chart:

"Trump in Las Vegas speech attempts to rally voters against DeSantis: 'He's highly overrated'" [The Hill]. "'I'm not a big fan of his and he's highly overrated. He's highly overrated,' Trump told the crowd at a GOP volunteer event in Las Vegas. 'Remember, he's the one that wanted to cut Social Security. He's the one that wanted to raise the minimum age and he voted on this.' 'This isn't just. And the one thing you have to remember when a politician comes out with an initial plan and then they go into a corner because they're getting killed because he's getting killed,' the former president said in his remarks, which were under an hour long. 'Well, he also has no personality. That helps, right?' Trump, who lost the support of the state in both the 2016 and 2020 presidential elections, acknowledged the difficulty he's had with Nevadan voters. 'We have a big job to do. This has been a hard state,' he said during Saturday's event. 'I really believe it's a Republican state.'"

"Judge agrees to delay next hearing in Trump classified documents case" [ABC]. "The hearing, originally scheduled for Friday, July 14, will now occur on Tuesday, July 18."

* * *

"DeSantis's stumbles have GOP mulling other Trump alternatives" [The Hill]. "John Merrill, who served two terms as Alabama's secretary of state, said, 'Gov. DeSantis is in trouble.' 'There were high expectations for Gov. DeSantis and his team when they entered the race. I think they were confident they were going to be the Trump-lite alternative,' he said. 'What I mean by that is having the same emphasis that President Trump had, having the same following that President Trump [had]. But the problem is he didn't have a ground game in place that was able to allow him to continuously mature [Trump-inclined supporters] to make them the kind of supporters that he had to have,' Merrill added. 'It's a major problem for him. He waited too long because I think that he anticipated that people were just waiting on him to be the guy to come out and beat Trump and that is obviously not the case,' added Merrill, who hasn't endorsed a candidate but plans to support Trump." But: "[Former New Hampshire Sen. Judd Gregg (R)] suggested a candidate like Youngkin could enter the race late and still have a chance of beating Trump in New Hampshire for two reasons. 'New Hampshire is notoriously late deciding. We can be two weeks from a major election, especially the primaries, and we don't know who's going to win. Very late-deciding voters,' he said. 'The second is there isn't going to be a serious Democratic [presidential primary] race up here … That means we're going to have a huge independent vote in the Republican Primary, huge. Independents outnumber both the Democrats and Republicans up here,' he said. 'So a late entrant, who's a legitimate, viable person who comes here and takes the time to meet people, I think they're still viable.'" • Taking time to meet people implies a ground game, however. The "late entrant" would have to have done some stealthy work beforehand….

"Why Trump's Republican rivals should focus on New Hampshire, not Iowa" [Harry Enten, CNN]. "owa, it turns out, has not been very good at picking Republican nominees for president. In primary seasons since 1980 that didn't feature a GOP incumbent, the Iowa winner went on to win the nomination two times. Both times, that candidate had been the national front-runner prior to his Iowa win (Bob Dole in 1996 and George W. Bush in 2000). Five other Iowa winners did not become the nominee. One reason Iowa hasn't done nearly as well at predicting nominees is that socially conservative candidates often appeal to the state's religious conservative base. Religious conservatives tend to have an outsize influence in the Hawkeye State compared with other states…. New Hampshire has had a significantly better track record. Republican primary voters there have picked the eventual nominee in five out of seven elections since 1980 without an incumbent GOP president. This includes the last three primary seasons without an incumbent, while Iowa, at the same time, has gone 0 for 3… New Hampshire GOP primary voters are usually more moderate than their counterparts in Iowa…. Trump has also been weaker among demographic groups who make up a larger share of the New Hampshire Republican electorate."

* * *

"Doug Burgum is about to drop hundreds of thousands of dollars on gift cards to qualify for the debate" [Politico]. "The North Dakota governor's presidential campaign is offering $20 cards to donors who give his campaign as little as $1. It's a bold and expensive fundraising tactic designed squarely to allow him to hit the donor threshold to qualify for the debate stage — while also raising a new set of legal questions. The effort — billed in a fundraising text as an attempt to "help ease the burden of Bidenflation" — is a sign of just how unafraid Burgum is to dip into his personal wealth as he seeks the Republican Party's nomination. It also reflects the difficulties of lesser-known candidates in reaching the Republican National Committee's donor threshold to qualify for upcoming debates. The Burgum campaign's WinRed page indicated gift cards would be available for up to 50,000 donors — enough to make the August debate stage at a cost of $950,000 to the campaign if all donors only gave $1. A donor can only receive one gift card. His campaign said on Twitter that 50,000 people who donated would receive Visa or Mastercard gift cards at their mailing addresses." • Admirably simple and direct.

"Ramaswamy offers commission payments to supporters who fundraise for him" [The Hill]. "Republican presidential candidate Vivek Ramaswamy on Monday announced he's offering a 10 percent commission to supporters who fundraise for his 2024 campaign. 'A small oligopoly of political fundraisers is already making an ungodly amount of $$ on this election. It's disgusting. I'm breaking up that cartel,' Ramaswamy said on Twitter. 'Today we're launching the Vivek Kitchen Cabinet: starting today, *anyone* can fundraise for the Vivek 2024 campaign & make a 10% commission. If someone else is getting rich on this, it might as well be you. Let's go,' he said… Ramaswamy said people in the program will 'have a special relationship' with him and that he'll be calling participants to let them know how to be 'most effective.' Participants will get a unique link to share with donors in order to earn the commission." • A "special relationship"? Why not, I suppose….

* * *

"Tucker Carlson to host GOP presidential primary forum with 5 candidates" [New York Post]. "Former Fox News host Tucker Carlson will host a Republican presidential primary forum in Iowa on Friday that will include five candidates, according to Blaze Media. The forum will notably not include the 2024 GOP front-runner, former President Donald Trump, who has indicated he is considering skipping debates because of his double-digit lead in the polls… Florida Gov. Ron DeSantis, former South Carolina Gov. Nikki Haley, entrepreneur Vivek Ramaswamy, Sen. Tim Scott (R-SC) and former Vice President Mike Pence will participate in the forum, which will be held at the Family Leadership Summit in Des Moines, Iowa, on July 14."

"Scoop: GOP plan targets foreign dark money for 2024" [Axios]. "Conservative groups are zeroing in on [Hansjörg Wyss, a Swiss billionaire] as a poster child for how wealthy foreign billionaires can influence U.S. elections, alleging that he has pumped $475 million into the U.S. political system. In 2021 alone, his Berger Action Fund gave some $72 million to a dozen different nonprofit organizations, including the Sixteen Thirty Fund, which advocates for progressive causes, according to the Associated Press and tax filings. Those 501(c)(4) nonprofits, like the Sixteen Thirty Fund, can give directly to superPACs that support the Democratic agenda, the New York Times has reported. 'The problem is that c4's are a bit of a black box when it comes to campaign finance laws,' said Saurav Ghosh, the director of the Campaign Legal Center, a Washington-based nonpartisan watchdog group…." • Republican examples from 2018 and 2016. Democrat examples from 2002.

* * *

Keeping the camera on Biden that long is brutal:

EARLIER: President Biden departs the United Kingdom for Vilnius, Lithuania for a July 11-12 summit of NATO leaders, where Russia's war with Ukraine is expected to be in focus https://t.co/dQPBnYXuQE pic.twitter.com/24kglu0mrE

— The Hill (@thehill) July 10, 2023

My father didn't walk like that when he was Biden's age….

* * *

"Opinion: Biden has a Kennedy problem" [CNN]. "Kennedy, an environmental lawyer turned anti-vaccine conspiracy theorist, is polling between 10 and 20% nationally. And he keeps gaining significant media attention, from a lengthy profile in New York Magazine to his appearance on Joe Rogan's popular podcast… The biggest problem, however, has to do with the primary calendar. At the end of last year, Biden switched the Democratic primary schedule to put South Carolina first. But New Hampshire is refusing to cede its historic spot, pointing to a state law that stipulates the Granite State must hold its primary one week before all the others. As a result, Biden might not even appear on the New Hampshire ballot, effectively ceding the state to Kennedy and author and speaker Marianne Williamson. If Kennedy sails to victory, this could cause a fallout reminiscent to what President Lyndon B. Johnson faced in 1968, when Sen. Eugene McCarthy of Minnesota came in a strong second in New Hampshire. McCarthy's success partly contributed to Johnson's shock announcement weeks later that he would not, in fact, run for reelection."

Cornel West asking for my vote (mrsyk):

Let us not be deceived: NATO is an expanding instrument of U.S. global power that provoked Russia into a criminal invasion and occupation of Ukraine. This proxy war between the American Empire and the Russian Federation could lead to World War III. We must stop the war and war…

— Cornel West (@CornelWest) July 10, 2023

W. E. B. Du Bois making a very early call, too….

* * *
Democrats en Déshabillé
Patient readers, it seems that people are actually reading the back-dated post! But I have not updated it, and there are many updates. So I will have to do that. –lambert

I have moved my standing remarks on the Democrat Party ("the Democrat Party is a rotting corpse that can't bury itself") to a separate, back-dated post, to which I will periodically add material, summarizing the addition here in a "live" Water Cooler. (Hopefully, some Bourdieu.) It turns out that defining the Democrat Party is, in fact, a hard problem. I do think the paragraph that follows is on point all the way back to 2016, if not before:

The Democrat Party is the political expression of the class power of PMC, their base (lucidly explained by Thomas Frank in Listen, Liberal!). ; if the Democrat Party did not exist, the PMC would have to invent it. . ("PMC" modulo "class expatriates," of course.) Second, all the working parts of the Party reinforce each other. Leave aside characterizing the relationships between elements of the Party (ka-ching, but not entirely) those elements comprise a network — a Flex Net? An iron octagon? — of funders, vendors, apparatchiks, electeds, NGOs, and miscellaneous mercenaries, with assets in the press and the intelligence community.

Note, of course, that the class power of the PMC both expresses and is limited by other classes; oligarchs and American gentry (see 'industrial model' of Ferguson, Jorgensen, and Jie) and the working class spring to mind. Suck up, kick down.

* * *
Realignment and Legitimacy
"Where does the legitimacy of citizen conventions come from?" [Equality by Lot]. "In France we have already had two citizen conventions: the first in 2020, dealing with the climate, the second very recently, dealing with end-of-life issues. But where does legitimacy of such institutions come from? Why should we trust 150 allotted citizens? This question is fundamental: citizen conventions are being established, in France and abroad, as a component of representative democracies. Let's quickly recall the procedure: draw at random several dozens, or even hundreds of individuals, who then meet regularly, for several months, until they formulate their recommendations on the question with which they are dealing. This is what we would like to clarify. Why should we accept that a handful of citizens, selected by chance, would be vested with the power to influence the decisions on subjects that concern all, without us being able to say a word about it, whereas we already have our elected bodies? As unfamiliar as it may seem, sortition has in fact two essential virtues. The first, it is representative of society: if the participants are allotted in a well fashioned way, and that is far from always being the case, then we will mechanically generate an assembly that resembles France. It would contain as many workers, young people, women, as the general population. The allow introducing into the public discussion the contribution of people whom we rarely hear. That, obviously, is a democratic virtue. But that is not all. The second virtue of sortition is independence. The participants do not owe their place to anything other than chance. They don't have to worry about being reelected." • Interesting!
#COVID19
"I am in earnest — I will not equivocate — I will not excuse — I will not retreat a single inch — AND I WILL BE HEARD." –William Lloyd Garrison
Resources, United States (National): Transmission (CDC); Wastewater (CDC, Biobot; includes many counties; Wastewater Scan, includes drilldown by zip); Variants (CDC; Walgreens); "Iowa COVID-19 Tracker" (in IA, but national data). "Infection Control, Emergency Management, Safety, and General Thoughts" (especially on hospitalization by city).
Lambert here: Readers, thanks for the collective effort. To update any entry, do feel free to contact me at the address given with the plants. Please put "COVID" in the subject line. Thank you!
Resources, United States (Local): AK (dashboard); AL (dashboard); AR (dashboard); AZ (dashboard); CA (dashboard; Marin, dashboard; Stanford, wastewater; Oakland, wastewater); CO (dashboard; wastewater); CT (dashboard); DE (dashboard); FL (wastewater); GA (wastewater); HI (dashboard); IA (wastewater reports); ID (dashboard, Boise; dashboard, wastewater, Central Idaho; wastewater, Coeur d'Alene; dashboard, Spokane County); IL (wastewater); IN (dashboard); KS (dashboard; wastewater, Lawrence); KY (dashboard, Louisville); LA (dashboard); MA (wastewater); MD (dashboard); ME (dashboard); MI (wastewater; wastewater); MN (dashboard); MO (wastewater); MS (dashboard); MT (dashboard); NC (dashboard); ND (dashboard; wastewater); NE (dashboard); NH (wastewater); NJ (dashboard); NM (dashboard); NV (dashboard; wastewater, Southern NV); NY (dashboard); OH (dashboard); OK (dashboard); OR (dashboard); PA (dashboard); RI (dashboard); SC (dashboard); SD (dashboard); TN (dashboard); TX (dashboard); UT (wastewater); VA (dashboard); VT (dashboard); WA (dashboard; dashboard); WI (wastewater); WV (wastewater); WY (wastewater).
Resources, Canada (National): Wastewater (Government of Canada).
Resources, Canada (Provincial): ON (wastewater); QC (les eaux usées); BC, Vancouver (wastewater).
Hat tips to helpful readers: anon (2), Art_DogCT, B24S, CanCyn, ChiGal, Chuck L, Festoonic, FM, FreeMarketApologist (4), Gumbo, hop2it, JB, JEHR, JF, JL Joe, John, JM (10), JustAnotherVolunteer, JW, KatieBird, LL, Michael King, KF, LaRuse, mrsyk, MT, MT_Wild, otisyves, Petal (6), RK (2), RL, RM, Rod, square coats (11), tennesseewaltzer, Utah, Bob White (3).
Stay safe out there!
* * *
Maskstravaganza
Seattle Children's lets the cat out of the bag:

WISH GRANTED! We are so thankful for Krystin, @makeawishakwa and @buildabear for bringing smiles to the patients at Seattle Children's. Krystin's wish to give children their own furry friend came true! pic.twitter.com/3SY7qZmtE6

— Seattle Children's (@seattlechildren) July 10, 2023

Yes, it's possible to detect a smile on a masked face. Who knew, except all of Asia? Sadly, however–

Today @seattlechildren informed staff that their masking policies will change on 7/13

Currently, everyone who can is required to mask in all public areas of the hospital.

Now, no one has to mask anywhere unless they are symptomatic or staff providing direct patient care. pic.twitter.com/EgOEWlEWdl

— Becca Peter (@DefectiveBecca) July 11, 2023

Since "I want to see your smile" isn't a factor, some other factor must be in play.

Masks as fashion:

Ghibli Spirited Away Soot Sprites x @flo_mask at Anime Expo pic.twitter.com/Fb75PWhExa

— nic (@nickelpin) July 8, 2023
Sequelae
"Association Between the COVID-19 Pandemic and Early Childhood Development" [JAMA]. From the Abstract: "The findings of this study showed an association between exposure to the pandemic and delayed childhood development at age 5 years. Variations in development widened during the pandemic regardless of age. It is important to identify children with developmental delays associated with the pandemic and provide them with support for learning, socialization, physical and mental health, and family support."
"Something Awful"
Lambert here: I'm getting the feeling that the "Something Awful" might be a sawtooth pattern — variant after variant — that averages out to a permanently high plateau. Lots of exceptionally nasty sequelae, most likely deriving from immune dysregulation (says this layperson). To which we might add brain damage, including personality changes therefrom.

* * *
* * *
Case Data
From BioBot wastewater data, July 10: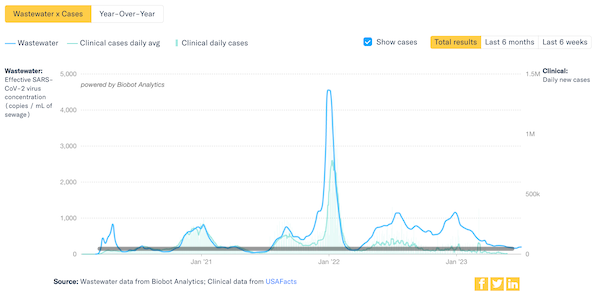 Lambert here: Still a trend upward. Happy July 4! Absent a new variant to race though the dry tinder, I don't see an oncoming debacle even with July 4 travel. But plenty of people will still get sick (again).
Regional data: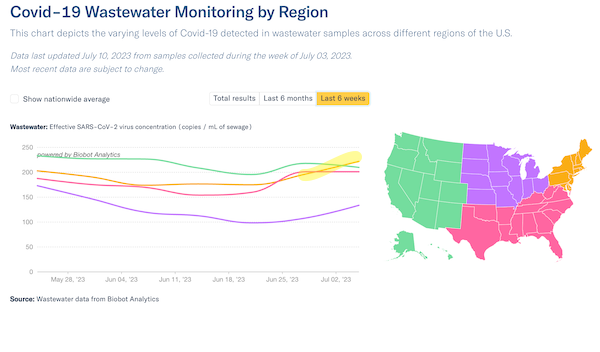 If you look at yesterday's Biobot regional data, you'll see that the data for both the West and the South has been retrospectively revised (upwardly).
Regional variant data:

Whatever the cause of the uptick in the Northeast, it's not EG.5 (the orange pie slice), which seems evenly distributed.
Variants
NOT UPDATED From CDC, July 8: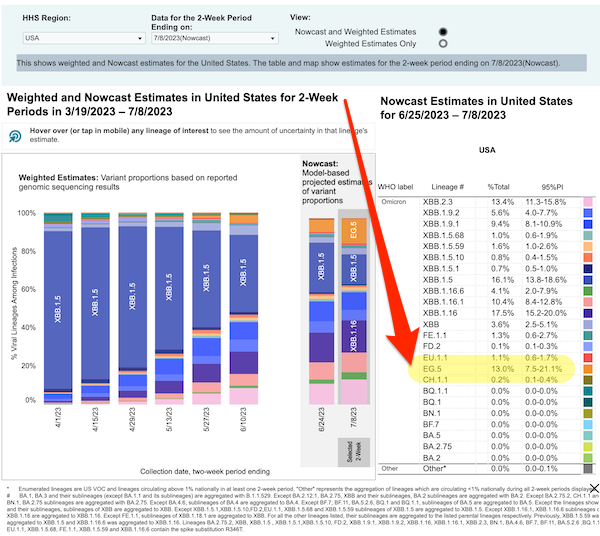 Lambert here: EG.5 moving like a bat out of hell, showing unactionable nature (uselessness) of these CDC two-week-lag charts (here, and in positivity, too). They're not even performative!
From CDC, June 24: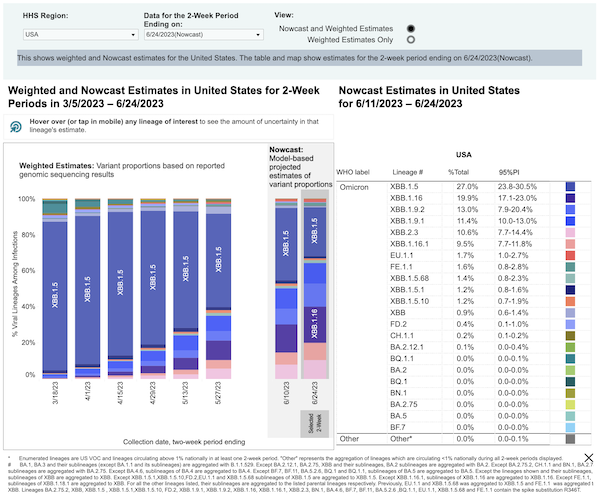 Lambert here: Not sure what to make of this. I'm used to seeing a new variant take down the previously dominant variant. Here it looks like we have a "tag team," all working together to cut XBB.1.5 down to size. I sure hope the volunteers doing Pangolin, on which this chart depends, don't all move on the green fields and pastures new (or have their access to facilities cut by administrators of ill intent).
CDC: "As of May 11, genomic surveillance data will be reported biweekly, based on the availability of positive test specimens." "Biweeekly: 1. occurring every two weeks. 2. occurring twice a week; semiweekly." Looks like CDC has chosen sense #1. In essence, they're telling us variants are nothing to worry about. Time will tell.
Covid Emergency Room Visits
NOT UPDATED From CDC NCIRD Surveillance, July 1: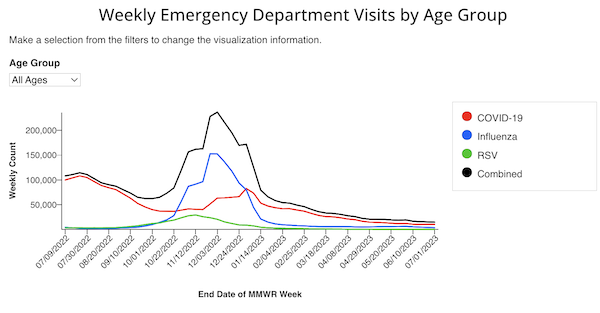 NOTE "Charts and data provided by CDC, updates Wednesday by 8am. For the past year, using a rolling 52-week period." So not the entire pandemic, FFS (the implicit message here being that Covid is "just like the flu," which is why the seasonal "rolling 52-week period" is appropriate for bothMR SUBLIMINAL I hate these people so much. Notice also that this chart shows, at least for its time period, that Covid is not seasonal, even though CDC is trying to get us to believe that it is, presumably so they can piggyback on the existing institutional apparatus for injections.
Positivity
NOT UPDATED From Walgreens, July 10: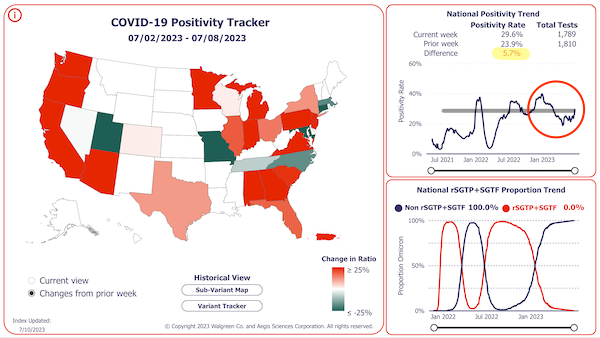 5.7%. Going vertical, though the absolute numbers are still very small relative to June 2022, say. Interestingly, these do not correlate with the regional figures for wastewater.
NOT UPDATED From CDC, June 19: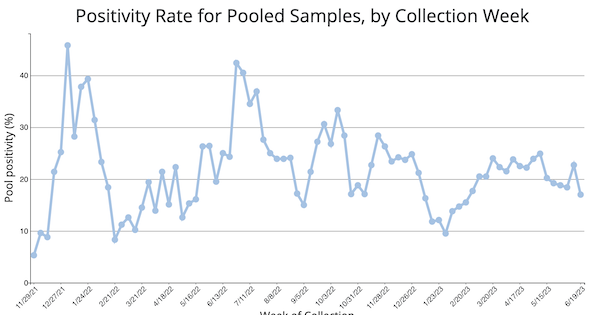 Lambert here: This is the CDC's "Traveler-Based Genomic Surveillance" data. They say "maps," but I don't see one….
Deaths
NOT UPDATED Iowa COVID-19 Tracker, June 28: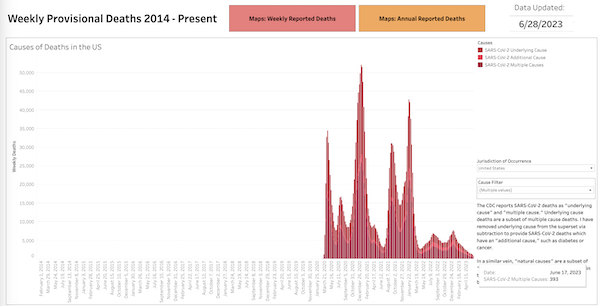 Lambert here: The WHO data is worthless, so I replaced it with the Iowa Covid Data Tracker. Their method: "These data have been sourced, via the API from the CDC: https://data.cdc.gov/NCHS/Conditions-Contributing-to-COVID-19-Deaths-by-Stat/hk9y-quqm. This visualization updates on Wednesday evenings. Data are provisional and are adjusted weekly by the CDC." I can't seem to get a pop-up that shows a total of the three causes (top right). Readers?
Total: 1,168,505 – 1,168,5021,168,414 = 3 (3 * 365 = 1,095 deaths per year, today's YouGenicist™ number for "living with" Covid (quite a bit higher than the minimizers would like, though they can talk themselves into anything. If the YouGenicist™ metric keeps chugging along like this, I may just have to decide this is what the powers-that-be consider "mission accomplished" for this particular tranche of death and disease).
Excess Deaths
Excess deaths (The Economist), July 11: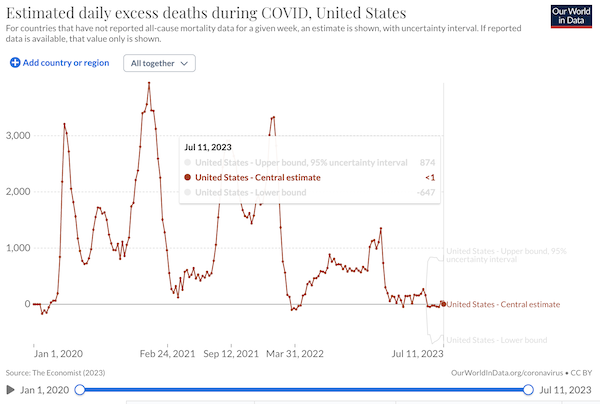 Lambert here: This is now being updated daily. Odd. Based on a machine-learning model. (The CDC has an excess estimate too, but since it ran forever with a massive typo in the Legend, I figured nobody was really looking at it, so I got rid it. )
Stats Watch
Small Business Optimism: "United States Nfib Business Optimism Index" [Trading Economics]. "The NFIB Small Business Optimism Index in the United States went up to a seven-month high of 91 in June 2023, beating again market expectations of 89.9. Among the key findings, 24% of owners reported that inflation was the single most important problem in operating their business, down 1 point from last month."
* * *
"Ack! Twitter Account Hacked!" [Barry Ritholtz, The Big Picture]. "Over the 36 hours since the hack took place, Twitter Support has been an exercise in frustration. From the new account, I filed an impersonation report, noting that my account was hacked and the new account (@Ritholtz) is what I am using to access support. They asked for a government ID, so maybe that's a good sign. If there is a silver lining, its that this led me to change lots of passwords, add two-factor authentication1 (2FA) everywhere, and a separate digital authenticator. I am way too addicted to Twitter as a news/research tool and need to find backups." • "Automated hellscapes" are not unknown in social media. Nevertheless.
Tech: "Mr. Zuckerberg, release the Facebook Files" [Jonathan Turley, The Hill]. "On the first day of the rollout, millions signed up, thanks in large part to Zuckerberg linking the new platform to Instagram. The censors also got to work right away. When people tried to follow Donald Trump Jr., they were met with a warning label: 'Are you sure you want to follow donaldjtrumpjr? This account has repeatedly posted false information that was reviewed by independent fact-checkers or went against our Community Guidelines.' Later, the company backed down after an outcry. But it was a telling moment. Andy Stone, who heads communications for Meta, wrote: 'This was an error and shouldn't have happened. It's been fixed.' But this was clearly a pre-established warning system, to be used to flag accounts disfavored by the company. It was 'an error' that would likely not have been 'fixed,' if not for the objections voiced on the first day of the rollout. The controversy itself was a warning that the company has activated its signature censorship system to influence or regulate viewpoints…. Facebook is the largest platform in the world, but so far it has steadfastly refused to offer the transparency of Twitter. If Zuckerberg is truly proud of his 'sane' approach to social media, he should not fear the release of information on the past coordination with federal and congressional offices. We assume that Facebook had the same backchannels that were established at Twitter, but the company has left the public entirely in the blind. That approach has made Meta one of the least transparent companies in the world on the scope and standards of censorship." • Which is why liberal Democrats are signing up…..
* * *
Today's Fear & Greed Index: 78 Extreme Greed (previous close: 78 Extreme Greed) [CNN]. One week ago: 79 (Extreme Greed). (0 is Extreme Fear; 100 is Extreme Greed). Last updated Jul 10 at 1:33 PM ET.
Rapture Index: Closes unchanged [Rapture Ready]. Record High, October 10, 2016: 189. Current: 182. (Remember that bringing on the Rapture is good.) NOTE on #42 Plagues: "The coronavirus pandemic has maxed out this category." More honest than most!
Games
"87% Missing: The Disappearance Of Classic Video Games" [Video Game History Foundation]. "For accessing nearly 9 in 10 classic games, there are few options: seek out and maintain vintage collectible games and hardware, travel across the country to visit a library, or… piracy. None of those options are desirable, which means that most video games are inaccessible to all but the most diehard and dedicated fans. That's pretty grim! This is where libraries and archives should come in. Anyone should be able to easily explore, research and play classic video games, in the same way that they can read classic novels, listen to classic albums, and watch classic movies. But outdated copyright laws are preventing institutions like ours from doing our jobs…. The next rulemaking proceeding under the Digital Millennium Copyright Act ('DMCA'), Title 17, section 1201, of the United States Code is scheduled for 2024. We're hopeful that this study will incite change, and that video game preservation will become stronger — before we lose more."
The Gallery
Van Gogh art bots re-appear, I suppose because he's so popular:
Ears of Wheat, 1890 https://t.co/aScjConhJQ pic.twitter.com/avpen9CN2b

— Vincent van Gogh (@vangoghartist) July 8, 2023
"Master Watercolorists" [Harvard Magazine]. "ATERCOLORS, vulnerable to damage from overexposure, rarely leave climate-controlled museum storage vaults. Often, they are so delicately composed that what's omitted can make the most dramatic visual impact, as in the case of John Singer Sargent's 1917 Muddy Alligators. The famous portraitist was also a master watercolorist. In this case, Sargent traveled to Miami to render a pair of Rockefellers and became entranced by the tropical plant life and animals, producing, among other works, the primordial image of five reptiles lounging in the sun and shallows, says Nancy Kathryn Burns, Stoddard curator of prints, drawings, and photographs at the Worcester Art Museum (WAM), where the painting is now on display. "The weightiest thing in the work is the tonnage of these alligators in a swampy, lagoon-like setting. And yet they are almost exclusively composed of just the paper with minimal marks," she says. "The most realized parts of the alligators are these staccato-like strokes that evoke the ridges of their backs. But you can feel their massive weight, their potential to lash out." • Just like Peggy Noonan! Adding, I think two Rockefellers would be better re ferred to as "a brace," rather than as "a pair." Anyhow, Sargent's alligators: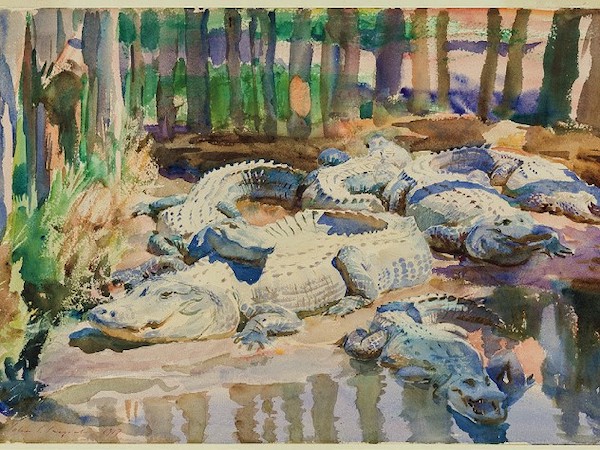 "Do painters subconsciously paint themselves into their work?" [Res Obscura]. "Ogni dipintore dipinge sé: 'every painter paints themselves.' The earliest attributed source for the quote is Cosimo de Medici (1389-1464), the Florentine powerbroker and arts patron. It seems to have rapidly become a proverbial expression, capturing something of the ambient folk wisdom of Renaissance Italy. Leonardo da Vinci, for one, discussed it at length in his Treatise on Painting. The tendency of painters to mirror themselves in their art was, da Vinci believed, one that revealed much not just about how the painter looked, but how they thought. Art historians have written about this idea, which they call automimesis, for well over a century. They've uncovered a surprisingly complex history involving Aristotle's theory of personality and Neo-Platonic philosophy (here is a good article on the topic, and here's a new book on "the Involuntary Self-Portrait")."
Class Warfare
"In The Grip of Necrocapitalism" [George Tsakraklides]. "At the most fundamental level, a life form is defined as an entity which can replicate itself. Our economic system is so efficient, so adaptable and vicious in its search for profit, that it partially fulfils the criteria to be classified not only as a life form all to itself, but also as a semi-sentient one. Nothing can kill it, not even its creators, who have become both servants and dependents within it. This system has proven to be the ultimate predatory life form: able to survive on scraps here and there, and even eat itself if it needs to. Most of all, it can feed on death itself… In order to avoid a pointless, philosophical and narcissistically human-centric debate on the sentience or not of this system, I will resort for now to refer to it as the 'Thing', also to avoid direct comparisons to DNA-based biological life forms. Some people, including myself, may at times refer to the Thing as capitalism. Others may refer to it as a form of artificial intelligence. The big problem with the Thing is that it is by definition self-destructive. It is a resource-syphoning system driven by profit and efficiency alone, aimed at maximum utilization of resources to the point of exhaustion. Regardless of how one describes it or names it, the economic system humans have created has taken over and now has a mind of its own." • A paperclip maximizer.
News of the Wired
I am not feeling wired today. Perhaps tomorrow!
* * *
Contact information for plants: Readers, feel free to contact me at lambert [UNDERSCORE] strether [DOT] corrente [AT] yahoo [DOT] com, to (a) find out how to send me a check if you are allergic to PayPal and (b) to find out how to send me images of plants. Vegetables are fine! Fungi and coral are deemed to be honorary plants! If you want your handle to appear as a credit, please place it at the start of your mail in parentheses: (thus). Otherwise, I will anonymize by using your initials. See the previous Water Cooler (with plant) here. From wol: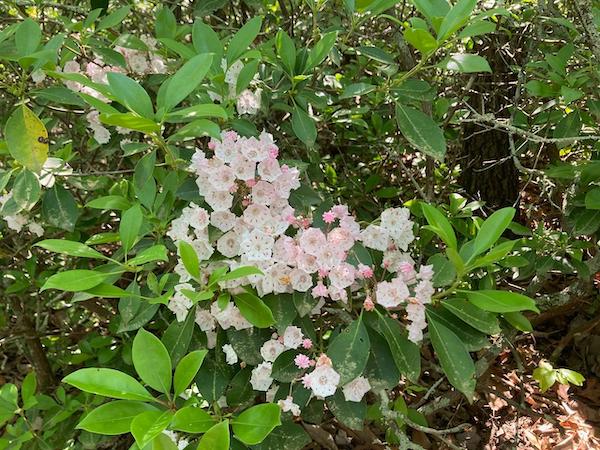 wol writes: "Catawba rhododendrons, Occoneechee Mountain, central piedmont, NC. Native to the mountains of western NC."
* * *
Readers: Water Cooler is a standalone entity not covered by the annual NC fundraiser. So if you see a link you especially like, or an item you wouldn't see anywhere else, please do not hesitate to express your appreciation in tangible form. Remember, a tip jar is for tipping! Regular positive feedback both makes me feel good and lets me know I'm on the right track with coverage. When I get no donations for five or ten days I get worried. More tangibly, a constant trickle of donations helps me with expenses, and I factor in that trickle when setting fundraising goals:
Here is the screen that will appear, which I have helpfully annotated: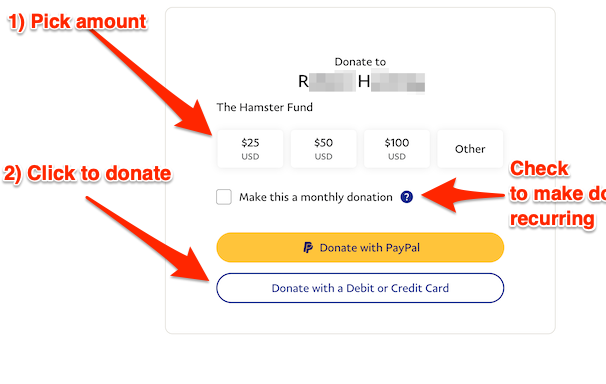 If you hate PayPal, you can email me at lambert [UNDERSCORE] strether [DOT] corrente [AT] yahoo [DOT] com, and I will give you directions on how to send a check. Thank you!