By Lambert Strether of Corrente.
Bird Song of the Day
At the request of alert reader some guy:
Eastern Meadowlark (Eastern), Noelridge Park, Linn, Iowa, United States. Dated July 1, 2023. So summery.
* * *
Look for the Helpers
I don't want Water Cooler to be an exercise in doomscrolling. That's why there are birds at the top, in the sky, and plants at the bottom, for the earth. That said, the world isn't in the best shape, and we do have to report that clearly, especially in the face of denial, minimization, layers of impacted PMC bullshit. That said, ""if it bleeds, it leads,"" meaning that our famously free press has little incentive to report good news beyond clickbait-y heartwarming anecdotes. That's one reason I invented, quoting Mr. Rogers, ""Look for the helpers"" in the Covid section; to relieve the bleakness. Let's expand the principle!
Alert reader Maggie submitted this photo:
Favorite Helper Picture: Love this one capturing our Granddaughter Clara Kay helping feed the food processor. The upcoming generation…..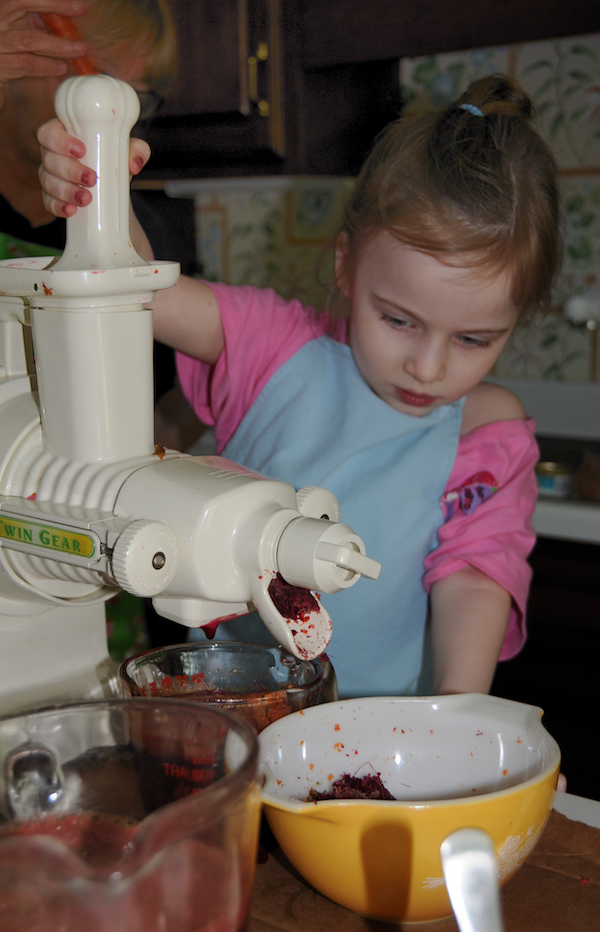 Links to stories about helpers are also good:
If readers wish to send me more links or photos of helpers in action, you can mail me with ""Helpers"" in the subject line. Can be any situation, not just Covid (though that's where I got the idea). Even helpful animals!
Politics
"So many of the social reactions that strike us as psychological are in fact a rational management of symbolic capital." –Pierre Bourdieu, Classification Struggles
2024
Time for the Countdown Clock!

* * *

"How Donald Trump's many legal troubles are all starting to intersect" [Politico]. "Potential trial schedules are starting to conflict. Even a lawyer representing Trump in one of his criminal indictments could be a witness against him in another. In some ways, the overlap is inevitable, if only because of the logistical difficulties of litigating so many criminal and civil matters across various jurisdictions. But in other ways, the connections are Trump's own doing — and could provide advantages to his legal adversaries." For example: "Take a recent dispute over a videotaped deposition that Trump gave as part of writer E. Jean Carroll's lawsuit accusing him of rape and defamation…. On May 5, excerpts of that deposition became public after they were used as evidence during the trial (in which a jury sided with Carroll). Trump's reactions to being questioned about Carroll's accusations captured the attention of cable-news hosts and pundits across the country. But they weren't the only ones watching. Across the street from the courthouse where the trial took place, prosecutors in the office of the Manhattan district attorney — who earlier this year brought the first-ever criminal charges against Trump — watched the deposition excerpts, too. And 10 days later, they subpoenaed the law firm representing Carroll in an effort to obtain the unreleased portions of the deposition, arguing in court filings that the full scope of his comments is relevant to their case, in which Trump is accused of falsifying business records to help cover up an affair with a porn star. On Thursday, a judge ruled the law firm can comply with the subpoena. Trump is facing a gauntlet of court dates over the next year at the same time that he is campaigning to return to the White House. : the Manhattan DA's criminal trial, a federal criminal trial, a New York state civil fraud trial and two federal civil trials. A sixth trial in his newest criminal case — an indictment for trying to overturn the 2020 election — will be scheduled later this month. And he might soon face additional criminal charges in Fulton County, Georgia." • Lawfare. And speaking of lawfare–

"Here's the Intelligence Assessment of Donald Trump that the Government Can't Write" [Donell Harvin*, Politico]. "[H]omeland security ** are also trained to be apolitical [lol], so here's what they can't tell you: Donald J. Trump poses a significant threat to homeland security… I do not issue this assessment lightly. Such statements are considered blasphemy in domestic intelligence circles and will undoubtedly draw the ire of many both inside and outside of the profession. To name a political figure, or any prominent U.S. person, in a domestic intelligence assessment is taboo. Intelligence analysts and the agencies that oversee them are taught to not politicize threat assessments. To do so would potentially run afoul of civil rights and civil liberties and the First Amendment. But times have drastically changed since the Trump presidency began. Even as the homeland security profession has resisted involving itself in politics, politically motivated violence has emerged as a major threat to our homeland ["our democracy," "our homeland"]. This has led to the rise of ***. NOTES * The bio: "Donell Harvin is a homeland security expert and educator with over 30 years of public safety service. He oversaw the Fusion Intelligence Center for the District of Columbia on Jan. 6, 2021." And what a success he had during his tenure; see above. Of the headline: For some definition of "government." Once a spook, always a spook, say I. ** I don't care whether Harvin's desk is bought by the GSA or by a corporate purchasing department; he's got the same job no matter which desk he sits at. *** Like… Russians and Russian Presidents, with whom we then go to war?

* * *

I'm continuing my close reading of United States of America v. Donald J. Trump (the "J6" indictment in DC. This is a searchable PDF version from the DOJ). I'm still working on getting my arms round the four elements of a conspiracy — I sorta expected a bulleted list of them in Smith's indictment, but no joy — but in the meantime Smith's structure is interesting: Count One is the enormous narrative, and Counts Two, Three, and Four are larded on top of the narrative in Count One. I don't know of that's the usual structure or not. Anyhow, one thing I tend to look for in good writing, including my own, is strong verbs. Smith's verbs are weak. From item (a) of the "Manner and Means" section in Count One:

" state legislators to" is weak. What does "get" even mean? What is the mechanism? It certainly doesn't sound like legalese. Or anything lifted from a "Pattern Indictment" if indeed there is such a thing.

Similarly with item (e) of the same section:

" is weak. And not legalese. From what baseline? With what mechanism? (I know Smith would say that the baseline is high, but that's not conveyed by the word he chose?

Then there is a First Amendment issue. From the Introduction to Count One:

"Built on is weak. Certainly not legalese. And how is the highlighted portion different from, well, ordinary politics as practiced by everyday Americans doing RussiaGate? Or, for that matter, smearing RFK?

Finally, we have an absurd reading of history in the Introduction to Count One:

I would love to write an indictment with a Smithian narrative about RussiaGate, where the theory of the case would be that Democrats + the spooks + the press conspired together to deprive the American people of an essential Federal Government Function: A functioning chief executive. It wouldn't be hard to write. At all. That would take care of the "orderly manner" of election 2016. Of course, there's also election 2000. Nobody who saw Michael Moore's Fahrenheit 9/11 can forget the spectacle of Al Gore gaveling the Congressional Black Caucus into silence as they sought to get George W. Bush's theft of Florida into the record. "Orderly and peaceful" my Sweet Aunt Fanny. And of course there's election 2004, but John Kerry — bless his heart — rolled over and widdled himself well before the certification stage. So that'sa alright then.

* * *

"Democratic establishment fears RFK Jr. has a path to victory" [Washington Examiner]. "So does RFK Jr. actually have a viable path to victory? Ask yourself: If the DNC didn't believe him to be a viable threat, why would they be wasting time and resources attacking him? But given the DNC's successful rigging of the 2016 and 2020 primaries to prevent the nomination of Bernie Sanders at any cost, what chance does Kennedy stand when he is even more boxed out? Sanders, at least, was granted the opportunity of debating the anointed candidate, if only for appearance's sake. The key difference is that, compared with RFK Jr., Sanders had relatively little appeal with the unaffiliated and independent voters that were the key to former President Donald Trump's victory in 2016. These voters are now up for grabs, and they can vote in a lot of the early open primary states….. [RFK Jr.] is effectively making the case that he knows how to prevail where Trump so abjectly failed. This applies not just to effectively reforming the health bureaucracy but also to taming the out-of-control intelligence agencies, addressing spiraling crime and disorder in the cities, dealing with the humanitarian disaster at the southern border, fighting censorship, grappling with looming new methods of surveillance and control (such as the imposition of digital currency), and taking back foreign policy from the military-industrial complex. On every one of these issues that motivate his base, Trump has only divisive, impotent rhetoric, while RFK has a plan. If Kennedy can get these voters to support him in the early, open primary states, all bets are off." • Well, the Democrat Party reminds me of the Russian entrenchments in Ukraine. RFK might breach the outer defenses (the "crumple zone" as it were). Then come multiple lines of fortification. The superdelegates are the dragon's teeth, no doubt, but I'm sure the Democrats would prefer that matters not reach that point. With Democrat control of the commanding heights — press, spooks, Big Tech (social media) — that should not be too difficult. Still, you never know!
Clinton Legacy
"The Weaponization of Loneliness" [Hillary Clinton, The Atlantic]. Yeah, guess who's doing it, ffs. Anyhow: "In May, Surgeon General Vivek Murthy published an advisory, warning that a growing ""epidemic of loneliness and isolation"" threatens Americans' personal health and also the health of our democracy…. In 1996, I published It Takes a Village. As first lady, I was worried that American life had become frantic and fragmented for many people, especially stressed-out parents. Social, economic, and technological trends seemed to be pulling us apart rather than lifting us up. We were spending more time in our cars and in front of the television and less time engaging in our communities. … Nearly 30 years later, it's clear that the problems I diagnosed in the 1990s ran deeper than I realized, and were more dire than I could have imagined…. Murthy cites the work of another Harvard researcher, Raj Chetty, who shows how the decline of social connections between people of different classes and backgrounds—the kinds of relationships that used to be formed in VFW halls, church basements, and PTA meetings—has significantly reduced economic mobility in America. The data show that diverse, robust social networks make the American dream possible. Without them, it fades." • Ah, finally we get to the point. It's not the oligarchs! It takes a village to stomp a weasel, my attitude. There's more, much more. 
Democrats en Déshabillé
Patient readers, it seems that people are actually reading the back-dated post! But I have not updated it, and there are many updates. So I will have to do that. –lambert

I have moved my standing remarks on the Democrat Party ("the Democrat Party is a rotting corpse that can't bury itself") to a separate, back-dated post, to which I will periodically add material, summarizing the addition here in a "live" Water Cooler. (Hopefully, some Bourdieu.) It turns out that defining the Democrat Party is, in fact, a hard problem. I do think the paragraph that follows is on point all the way back to 2016, if not before:

The Democrat Party is the political expression of the class power of PMC, their base (lucidly explained by Thomas Frank in Listen, Liberal!). ; if the Democrat Party did not exist, the PMC would have to invent it. . ("PMC" modulo "class expatriates," of course.) Second, all the working parts of the Party reinforce each other. Leave aside characterizing the relationships between elements of the Party (ka-ching, but not entirely) those elements comprise a network — a Flex Net? An iron octagon? — of funders, vendors, apparatchiks, electeds, NGOs, and miscellaneous mercenaries, with assets in the press and the intelligence community.

Note, of course, that the class power of the PMC both expresses and is limited by other classes; oligarchs and American gentry (see 'industrial model' of Ferguson, Jorgensen, and Jie) and the working class spring to mind. Suck up, kick down.

* * *

I've already linked to this Thomas Frank interview; Frank is an excellent form, which I'm happy to see. The whole interview is worth listening to, but I set the starting point for this posting:

Frank initially talks about hegemon-busting "social movements," but the discussion segues into a discussion of the wonderful and brutal Listen, Liberal! (published March 15, 2016, that is before Trump was elected). Frank tells how he did a world tour on the strength of that book: France, New Zealand… And in the United States? Frank was blackballed by the press. No more MSNBC, no more Wall Street Journal. Frank was personal non grata. This shows that the liberal Democrat lust to censor was in full force at least seven years ago, even if that lust had not recruited the service providers among the spooks and social media that came to constitute the Censorship Industrial Complex. Frank held up a mirror. Democrats smashed the mirror, and ostracized Frank.
#COVID19
"I am in earnest — I will not equivocate — I will not excuse — I will not retreat a single inch — AND I WILL BE HEARD." –William Lloyd Garrison
Resources, United States (National): Transmission (CDC); Wastewater (CDC, Biobot; includes many counties; Wastewater Scan, includes drilldown by zip); Variants (CDC; Walgreens); "Iowa COVID-19 Tracker" (in IA, but national data). "Infection Control, Emergency Management, Safety, and General Thoughts" (especially on hospitalization by city).
Lambert here: Readers, thanks for the collective effort. To update any entry, do feel free to contact me at the address given with the plants. Please put "COVID" in the subject line. Thank you!
Resources, United States (Local): AK (dashboard); AL (dashboard); AR (dashboard); AZ (dashboard); CA (dashboard; Marin, dashboard; Stanford, wastewater; Oakland, wastewater); CO (dashboard; wastewater); CT (dashboard); DE (dashboard); FL (wastewater); GA (wastewater); HI (dashboard); IA (wastewater reports); ID (dashboard, Boise; dashboard, wastewater, Central Idaho; wastewater, Coeur d'Alene; dashboard, Spokane County); IL (wastewater); IN (dashboard); KS (dashboard; wastewater, Lawrence); KY (dashboard, Louisville); LA (dashboard); MA (wastewater); MD (dashboard); ME (dashboard); MI (wastewater; wastewater); MN (dashboard); MO (wastewater); MS (dashboard); MT (dashboard); NC (dashboard); ND (dashboard; wastewater); NE (dashboard); NH (wastewater); NJ (dashboard); NM (dashboard); NV (dashboard; wastewater, Southern NV); NY (dashboard); OH (dashboard); OK (dashboard); OR (dashboard); PA (dashboard); RI (dashboard); SC (dashboard); SD (dashboard); TN (dashboard); TX (dashboard); UT (wastewater); VA (dashboard); VT (dashboard); WA (dashboard; dashboard); WI (wastewater); WV (wastewater); WY (wastewater).
Resources, Canada (National): Wastewater (Government of Canada).
Resources, Canada (Provincial): ON (wastewater); QC (les eaux usées); BC, Vancouver (wastewater).
Hat tips to helpful readers: anon (2), Art_DogCT, B24S, CanCyn, ChiGal, Chuck L, Festoonic, FM, FreeMarketApologist (4), Gumbo, hop2it, JB, JEHR, JF, JL Joe, John, JM (10), JustAnotherVolunteer, JW, KatieBird, LL, Michael King, KF, LaRuse, mrsyk, MT, MT_Wild, otisyves, Petal (6), RK (2), RL, RM, Rod, square coats (11), tennesseewaltzer, Utah, Bob White (3). 
Stay safe out there!
* * *
Maskstravaganza
Doublethink (1):

OMG

I once pointed out if one person on a plane has a peanut allergy then nobody on the plane gets peanuts

But if one person on a plane has a SARS-CoV-2 infection then everybody on the plane gets a SARS-CoV-2 infection

People with peanut allergies sent me hate mail for days

— Gregory Travis. Make schools #DavosSafe (@greg_travis) August 6, 2023

Doublethink (2):

I said: "His immune system will become imprinted to an older strain of rabies. That's why natural infection is better, because you are getting infected with the most modern strain"

He said: "It doesn't work that way"

Also I have a question: why is my dog foaming at the mouth?

— Gregory Travis. Make schools #DavosSafe (@greg_travis) August 6, 2023

"Aggressive Mask-Wearing":

this sounds like their problem. they see mask wearing as "aggressive" because it breaks their illusion that everything is fine. it's not. they don't wanna be reminded of the ongoing pandemic and their complicity in spreading harm. their guilt is them knowing they're doing wrong. https://t.co/0wMoFpRCbu

— Reese 😷 • mask up, ableists (@ReesiePeacie) August 4, 2023

I wonder how long before some spook writes a think tank piece on how masks promote "stochastic terrorism."

* * *

DSA does the right thing:

DSAcon 2023 has 100% mask compliance on the floor with 50% of them being N95 or KN95 except for the speakers

— Matrix Marxist🌹 (@matrixmarxist) August 4, 2023

Hawaii does the right thing:

Nice, the Hawaiʻi State Department of Health (@HawaiiDOH ) just sent out an email with this video in it: https://t.co/zirEwo1BRX

— Violet Blue® (@violetblue) August 4, 2023

Breaking through the doublethink:

Attended my 1st science meeting where remote wasn't an option since before pandemic. I traveled there wearing a mask. I was one of a few as meeting started. Covid+ cases kicked in. Went from 5% to 90% wearing masks. I lucked out and didn't get covid but it was far too close.

— Kimberly Prather, Ph.D. (@kprather88) August 5, 2023

And the trigger that "kicked in"?

Attended my 1st science meeting where remote wasn't an option since before pandemic. I traveled there wearing a mask. I was one of a few as meeting started. Covid+ cases kicked in. Went from 5% to 90% wearing masks. I lucked out and didn't get covid but it was far too close.

— Kimberly Prather, Ph.D. (@kprather88) August 5, 2023

* * *

"Endemic" ≠ "safe":

Since some of you don't seem to understand what endemic means – it is NOT the same as harmless.

In places where malaria is endemic, they don't pretend it doesn't exist, they sleep with fucking mosquito nets.

Your mask is your mosquito net. It only works if you use it, doofus.

— Flying Lady Doctor Says | تقول الطبيبة | 🇮🇶 (@LadyDoctorSays) August 4, 2023
Treatment
"Photodynamic nasal SARS-CoV-2 decolonization shortens infectivity and influences specific T-Cell responses" [Frontiers in Cellular and Infection Microbiology]. "Frontiers in." Nevertheless, from the Discussion: "The primary endpoint of the trial (infectivity reduction) was achieved. We demonstrated a reduction of infectivity in mildly symptomatic, otherwise-healthy individuals with high viral load (Ct<27), when applied during the first days of the replication phase in the nasal mucosa. The treatment consisted of three consecutive day, 12 min-applications of methylene blue-based PDT. Because of the absence of prior literature in intranasal PDT treatment of SARS-CoV-2, we decided to adopt a repeated application protocol rather than the single- or double-applications tested in vitro. This was supported by the low toxicity of the technique, the expected high viral replication rate, the intracellular life of viruses and the interference of mucous layers, especially in patients with nasal congestion." "ASX Health Stocks: Firebrick achieves primary endpoint in Phase 2; Memphasys surges 20pc on Japan deal" [Stockhead]. "Firebrick Pharma (ASX:FRE) rose 8% this morning after announcing that its Phase 2 trial of Nasodine Nasal Spray in Covid-19 has achieved its primary endpoint. Results demonstrated that Nasodine significantly reduced viral shedding versus placebo, with 100% of Nasodine subjects clearing the virus after the completion of treatment. 'To put this in perspective, the treatment regimen ran over two and a half days and then on the fourth day, 100% of the Nasodine subjects were clear of virus,' said Firebrick executive chairman, Dr Peter Molloy." • Big if true.
Prevention
"Vaccine 'accessory' found to stop Covid infection in the nasal tract" [ETV Bharat]. "A nasal vaccine adjuvant, or a substance added to nasal vaccines to trigger a stronger immune response, was found to stop COVID-19 infection in both young and old mice. Several current vaccines contain adjuvants, which boost the effectiveness of a vaccine. While vaccines are known to offer protection against serious illness and death, vaccines can be improved in their ability to stop the spread of SARS-CoV-2 at the point of entry in the upper respiratory tract, the research led by the University of Michigan (U-M) and the Icahn School of Medicine at Mount Sinai, US, said.Their vaccine protocol combines a nanoemulsion, similar to a tiny droplet of oil and water, and an RNA-based molecule, which is the adjuvant, recognised by the immune system. The RNA adjuvant triggers antiviral pathways inside the cell while the nanoemulsion carries it into the cell, the study published in the journal NPJ Vaccines said. This helps prevent the adjuvant from being cleared too quickly from inside the nasal passages, along with activating immune pathways complementary to the one triggered by the RNA adjuvant, it said." • Also big if true.
"Something Awful"
Lambert here: I'm getting the feeling that the "Something Awful" might be a sawtooth pattern — variant after variant — that averages out to a permanently high plateau. Lots of exceptionally nasty sequelae, most likely deriving from immune dysregulation (says this layperson). To which we might add brain damage, including personality changes therefrom.

* * *

"Scientists begin to untangle how COVID-19 affects brain cells" [The Francis Crick Institute]. "In this research, published this week in Journal of Neuroinflammation, brain cells and a 3D model of a blood-brain barrier were exposed to different strains of SARS-CoV-2: wild-type (the original variant from Wuhan), Alpha, Beta, Delta, Eta and Omicron. The brain cells investigated were pericytes, astrocytes, endothelial cells and microglia – cells that support nerve cells and control how permissible the blood-brain barrier is to allowing molecules and cells to cross. The researchers showed that all variants caused stress to brain cells, stopping them from working as well, but exactly which cells were affected depended on the variant. The wild-type virus killed all cell types except astrocytes, whereas Alpha and Beta only killed pericytes, and Omicron killed endothelial cells and pericytes. The researchers also looked at how well the variants crossed the model blood-brain barrier. The wild-type virus and to a lesser extent Omicron were able to disrupt the integrity of the barrier while the other variants could not."
Elite Maleficence
"Actually, we can't yet 'ignore COVID'" [Boston Globe (MV)]. Letters in response to Jha's horrid screed. For example: "By downplaying the prevalence and debilitating outcomes of even moderate long COVID, Jha is signing thousands of people up to the misery and despair with which I live every day." Everything's going according to plan!

"A Covid Positive Milestone" [Anthony J Leonardi, Easy Chair]. A takedown of Leonhardt's horrid screed, the latest one. "The virus has not turned into an ordinary illness. Symptoms are familiar things, borne from the immune response and appreciated grossly, through amorphous metrics. (Think cough, chills, sore throat, trouble breathing, headache, fever.) Pathophysiology however, what the virus is actually doing to the body, tells a different tale of effects that SARS Cov 2 is able to do that ordinary illnesses do not. For example, even extreme lethal cases of flu do not send T cells into the brain."

"The Concept of Classical Herd Immunity May Not Apply to COVID-19" [David M Morens, Gregory K Folkers, , The Journal of Infectious Diseases]. From the Abtract: "However, severe acute respiratory syndrome coronavirus 2 (SARS-CoV-2), the virus that causes COVID-19, is so different from polio and measles that classical herd immunity may not readily apply to it. Important differences include the phenotypic stability of polio and measles viruses, and their ability to elicit long-term protective immunity, compared to SARS-CoV-2. For these and other reasons, controlling COVID-19 by increasing herd immunity may be an elusive goal." • We ran this in March 2022. Interestingly, the weeks on either side of March 2022 are also the time when the Biden Administration "Let 'er rip!" That's when CDC's "Green Map" came out.

Hospital Infection Control whacks more patients:

Dr Mary Ramsay, Head of Immunisation at the UK Health Security Agency (UKHSA) said on this week's report 🔽 pic.twitter.com/aQlahbSlZ2

— UK Health Security Agency (@UKHSA) August 3, 2023

Handwashing as a Covid prophylactic. In 2023. I wish I were astonished.
* * *
Case Data
From BioBot wastewater data, August 7: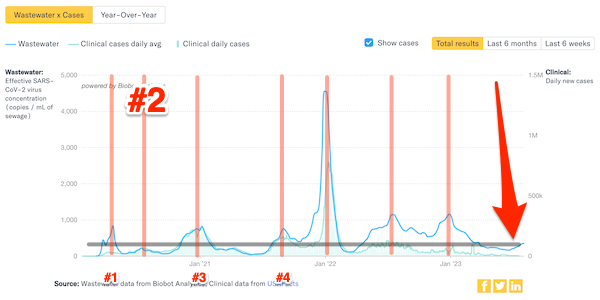 Lambert here: We have now surpassed the second peak (#2), of the previous Covid pandemic infection peaks. I would like to congratulate the Biden administration and the public health establishment, the CDC especially, for this enormous and unprecedented achievement. And a tip of the ol' Water Cooler hat to the Great Barrington goons, whose policies have been followed so assiduously! I wonder which of the previous peaks (#1, #3, or #4) we'll surpass next. A curious fact: All of Biden's peaks are all higher than Trump's peaks. Shows you what public health can do when it's firing on all eight cylinders! Musical interlude.
Regional data: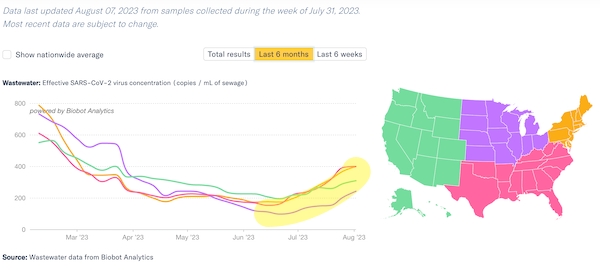 Interestingly, the upswing begins before July 4, which neither accelerates nor retards it.
Regional variant data: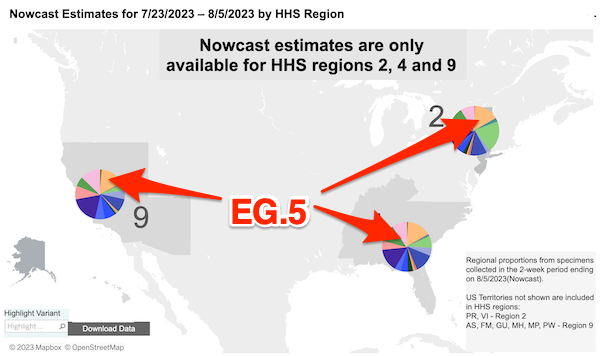 EG.5 (the orange pie slice) still seems evenly distributed.
Variants
NOT UPDATED From CDC, August 5: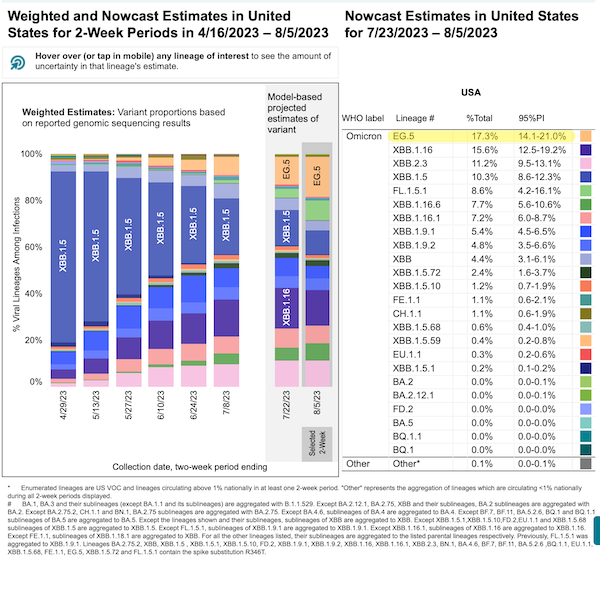 Lambert here:  EG.5 at the top of the leaderboard (after waiting two weeks ffs). EG.5 is big in Japan:
As far as we can tell, in Japan it's mostly Eris (EG.5.1*) and Arcturus (XBB.1.16*) there. There's nothing super notable about either of those, and they're already found elsewhere, so it's not at all clear that the surge in hospitalizations is variant-driven per se in Japan. pic.twitter.com/pYEm2jHAe1

— T. Ryan Gregory (@TRyanGregory) August 1, 2023
From CDC, July 22: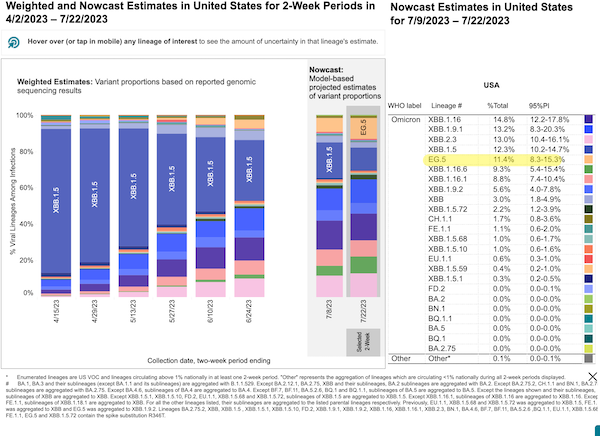 Lambert here: Not sure what to make of this. I'm used to seeing a new variant take down the previously dominant variant. Here it looks like we have a "tag team," all working together to cut XBB.1.5 down to size. I sure hope the volunteers doing Pangolin, on which this chart depends, don't all move on the green fields and pastures new (or have their access to facilities cut by administrators of ill intent).
CDC: "As of May 11, genomic surveillance data will be reported biweekly, based on the availability of positive test specimens." "Biweeekly: 1. occurring every two weeks. 2. occurring twice a week; semiweekly." Looks like CDC has chosen sense #1. In essence, they're telling us variants are nothing to worry about. Time will tell.
Covid Emergency Room Visits
NOT UPDATED From CDC NCIRD Surveillance, July 29: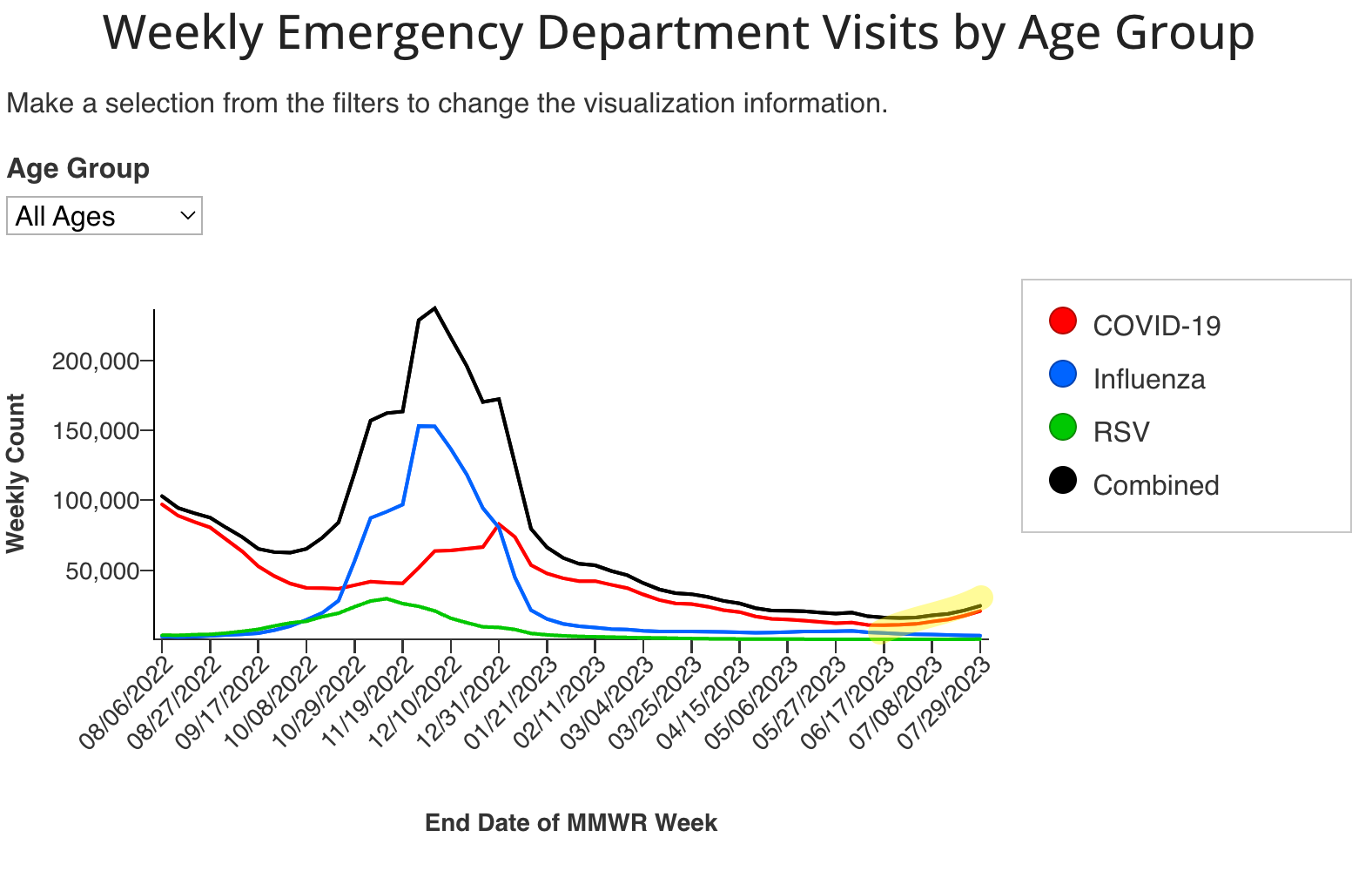 Lambert here: Increase is even more distinct. (The black line is "combined", but it is easy to see that Covid, the red line, is driving everything.)
NOTE "Charts and data provided by CDC, updates Wednesday by 8am. For the past year, using a rolling 52-week period." So not the entire pandemic, FFS (the implicit message here being that Covid is "just like the flu," which is why the seasonal "rolling 52-week period" is appropriate for bothMR SUBLIMINAL I hate these people so much. Notice also that this chart shows, at least for its time period, that Covid is not seasonal, even though CDC is trying to get us to believe that it is, presumably so they can piggyback on the existing institutional apparatus for injections.
Positivity
NOT UPDATED From Walgreens, July 31: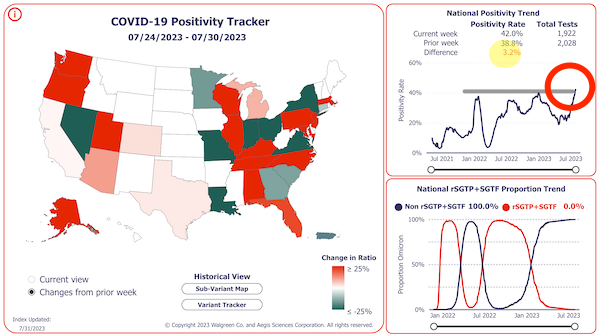 3.2%. Interestingly, people are citing to this, too, as well as Biobot. Vertical, though the absolute numbers are still very small relative to June 2022, say. Interestingly, these do not correlate with the regional figures for wastewater. (It would be interesting to survey this population generally; these are people who, despite a tsunami of official propaganda and enormous peer pressure, went and got tested anyhow.)
From CDC, July 17: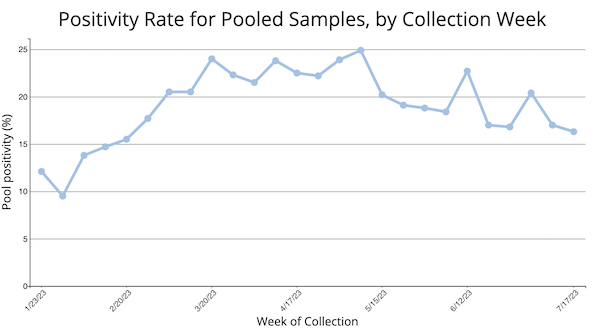 Lambert here: This is the CDC's "Traveler-Based Genomic Surveillance" data. They say "maps," but I don't see one…. 
Deaths
NOT UPDATED Iowa COVID-19 Tracker, August 2: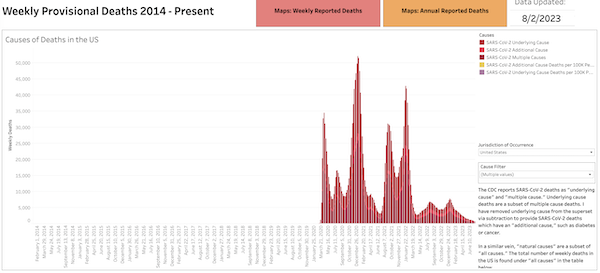 Lambert here: The WHO data is worthless, so I replaced it with the Iowa Covid Data Tracker. Their method: "These data have been sourced, via the API from the CDC: https://data.cdc.gov/NCHS/Conditions-Contributing-to-COVID-19-Deaths-by-Stat/hk9y-quqm. This visualization updates on Wednesday evenings. Data are provisional and are adjusted weekly by the CDC." I can't seem to get a pop-up that shows a total of the three causes (top right). Readers?
Total: 1,170,781 – 1,169,999 = 782 (782 * 365 = 285,430 deaths per year, today's YouGenicist™ number for "living with" Covid (quite a bit higher than the minimizers would like, though they can talk themselves into anything. If the YouGenicist™ metric keeps chugging along like this, I may just have to decide this is what the powers-that-be consider "mission accomplished" for this particular tranche of death and disease). 
Lambert here: Big jump, even for over the weekend. Odd.
Excess Deaths
The Economist, August 6: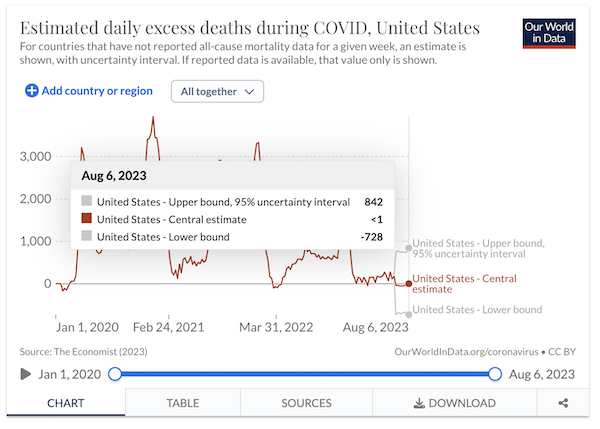 Lambert here: This is now being updated daily. Odd. Based on a machine-learning model. (The CDC has an excess estimate too, but since it ran forever with a massive typo in the Legend, I figured nobody was really looking at it, so I got rid it. )
Stats Watch
* * *
Tech: "Google Maps has become an eyesore. 5 examples of how the app has lost its way" [Fast Company]. "Finally, Google Maps seems more intent today on showing bars, restaurants, ads, and work-from-home businesses than useful map-related features. Sometimes it doesn't even show the most basic information anymore, including street names. Many times I just want to see the name of the street I'm standing on. So, I open Google Maps and zoom in on my current location. Yet no matter how far in I zoom in, Google Maps doesn't always apply a label to the street I'm standing on. It just remains blank. Of course, business pins I have no interest in are still prominently displayed.  A workaround I've stumbled upon whenever this happens is to select a business pin on the next street over. When Google Maps centers on that, it for some reason will label the street I'm standing on. Among all the gripes on this list, I think this one is my biggest. If my ad-hoc workaround doesn't work, I often have to open Apple Maps just to look up the name of the street I'm on." • Yep.
* * *
Today's Fear & Greed Index: 71 Greed (previous close: 68 Greed) [CNN]. One week ago: 76 (Extreme Greed). (0 is Extreme Fear; 100 is Extreme Greed). Last updated Aug 7 at 1:51 PM ETl.
Rapture Index: Closes up one on Oil Supply/Price. "Oil demand is up." They got that one right! [Rapture Ready]. Record High, October 10, 2016: 189. Current: 183. (Remember that bringing on the Rapture is good.) NOTE on #42 Plagues: "The coronavirus pandemic has maxed out this category." More honest than most! 
Feral Hog Watch
I suppose we would call it "Hog Many":
happy 30-50 feral hogs day to all who celebrate https://t.co/V5GpaBAnnX

— joe cole (@joecacola) August 4, 2023
Zeitgeist Watch
"Alabama Boat Brawl Video Explained in Detail: How Events Unfolded" [Newsweek]. "Videos showing a group of white men attacking a Black dock worker in Alabama have gone viral on social media. The incident took place after a pontoon boat blocked an area where a riverboat was parking near Montgomery Riverfront Park on Saturday evening, WFSA's Jasmine Williams reported." • Avoid shirtless men at all costs. 
Class Warfare
"Working Class Does not Equal White" [Ibram X. Kendi (!!), The Atlantic]. "That the words working class are synonymous in the minds of many Americans with white working class is the result of a political myth. As the award-winning historian Blair LM Kelley explains in her new book, Black Folk: The Roots of the Black Working Class, Black people are more likely to be working-class than white people are. Kelley's Black Folk opens our minds up to Black workers, narrating their complex lives over 200 years of American history. Kelley looks at the history of her own working-class ancestors, as well as the laundresses, Pullman porters, domestic maids, and postal workers who made up the world of Black labor. Their joys. Their skills. Their challenges. She also offers historical context for the racist ideas about Black workers that endure in our time, while highlighting the ways that Black labor organizing has always helped to fight back against [wait for it….] bigotry." • Not their, well, owners…..
"Google Takes a Page Out of Twitter's Book: Invites Employees to Sleep 'On Campus' for a Fee" [Gizmodo]. • Why not go whole hog and set up a trailer park? Reinvent the company town!
News of the Wired
"Where communication breaks down for people with autism" [Spectrum]. "Communication is verbal and nonverbal — it includes the words we use and the order in which we place them, but also gestures, facial expressions, eye contact and so on. Depending on how you define it, 'prosody' contains elements of both. And it's where many discussions about communication in autism begin. Put simply, prosody is the rhythm of speech, its rise and fall, energy and intonation. That rhythm does a tremendous amount of work. '[Prosody] is part of the way we perform with language,' says Helen Tager-Flusberg, director of the Center for Autism Research Excellence at Boston University. Stressing one word over another, for instance, provides pragmatic information about importance, as in 'I wanted blue socks' versus 'I wanted blue socks.'… Prosody has long been an obvious source of difficulty for individuals with autism." • I just wanted to highlight "prosody," but the whole article is insightful. (I don't think I'm "on the spectrum," so I'm not speaking from "lived experience" as we say.)
"Why homes often feel warmer than the thermostat suggests – and what to do about it" [The Conversation]. More personal risk assessment. "As a professor of architecture and building science, I believe today's byzantine building codes and rental rules could be greatly improved for comfort by regulating mean radiant temperature rather than air temperature. Vast sections of code could be jettisoned by requiring that interior surfaces, which are easy to measure with an inexpensive infrared thermometer, be kept within a comfort range above 60 F (15.6 C) and below 85 F (29.4 C). For more comfortable buildings, architects and engineers can apply simple, established principles, such as natural ventilation, shading and the right insulation and windows for the climate. Keeping heat out in the first place means we don't have to spend so much on energy for cooling. Research shows that these measures can also make us safer by keeping buildings cooler for longer in summer power outages. The happy result: homes and other buildings that are not only comfortable, but also safer and more affordable to operate."
* * *
Contact information for plants: Readers, feel free to contact me at lambert [UNDERSCORE] strether [DOT] corrente [AT] yahoo [DOT] com, to (a) find out how to send me a check if you are allergic to PayPal and (b) to find out how to send me images of plants. Vegetables are fine! Fungi and coral are deemed to be honorary plants! If you want your handle to appear as a credit, please place it at the start of your mail in parentheses: (thus). Otherwise, I will anonymize by using your initials. See the previous Water Cooler (with plant) here. From MF: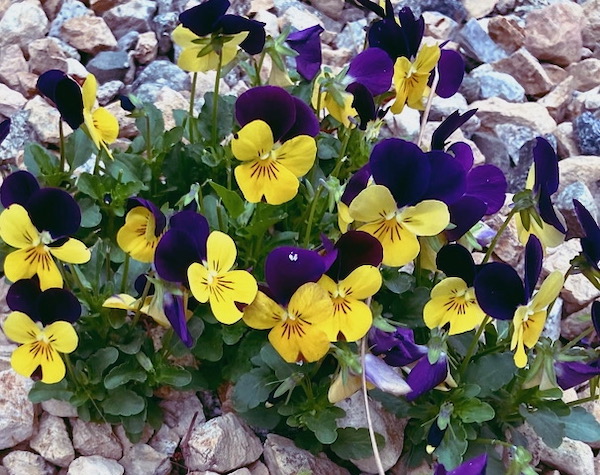 MF writes: "This is a wild yellow pansy with purple wings that took root in our rock garden this spring."
* * *
Readers: Water Cooler is a standalone entity not covered by the annual NC fundraiser. So if you see a link you especially like, or an item you wouldn't see anywhere else, please do not hesitate to express your appreciation in tangible form. Remember, a tip jar is for tipping! Regular positive feedback both makes me feel good and lets me know I'm on the right track with coverage. When I get no donations for five or ten days I get worried. More tangibly, a constant trickle of donations helps me with expenses, and I factor in that trickle when setting fundraising goals:
Here is the screen that will appear, which I have helpfully annotated: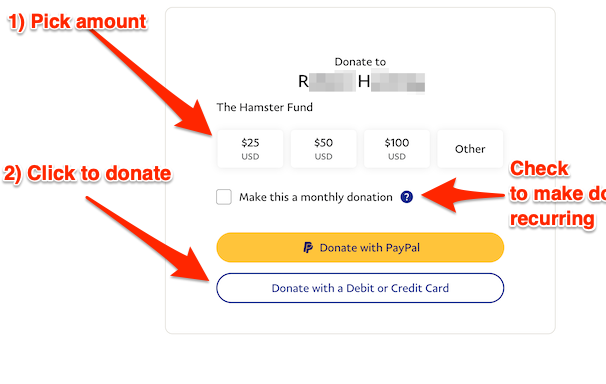 If you hate PayPal, you can email me at lambert [UNDERSCORE] strether [DOT] corrente [AT] yahoo [DOT] com, and I will give you directions on how to send a check. Thank you!