It might surprise readers to learn that economists are still debating whether low interest rates in countries like Ireland and Spain were responsible for their housing bubbles. A new paper by Christian Hott and Terhi Jokipii at VoxEU looked at housing prices in 14 OECD countries from 1985 onward to assess the impact of protracted periods of low short term interest rates. Their conclusion was that they explained up to 50% of housing overvaluation in bubble-afflicted markets.
The interesting part of the paper is that they created a model for fundamental housing market values:
We instead obtain the fundamental value by calibrating a theoretical house price model for each of the 14 OECD countries in our sample. This house price model implies that the fundamental value is given as the sum of future expected imputed rents. Imputed rents, in turn, are assumed to depend positively on GDP (as a measure of demand) and negatively on construction activities (as a measure of supply).
And they compared the model price with actual prices: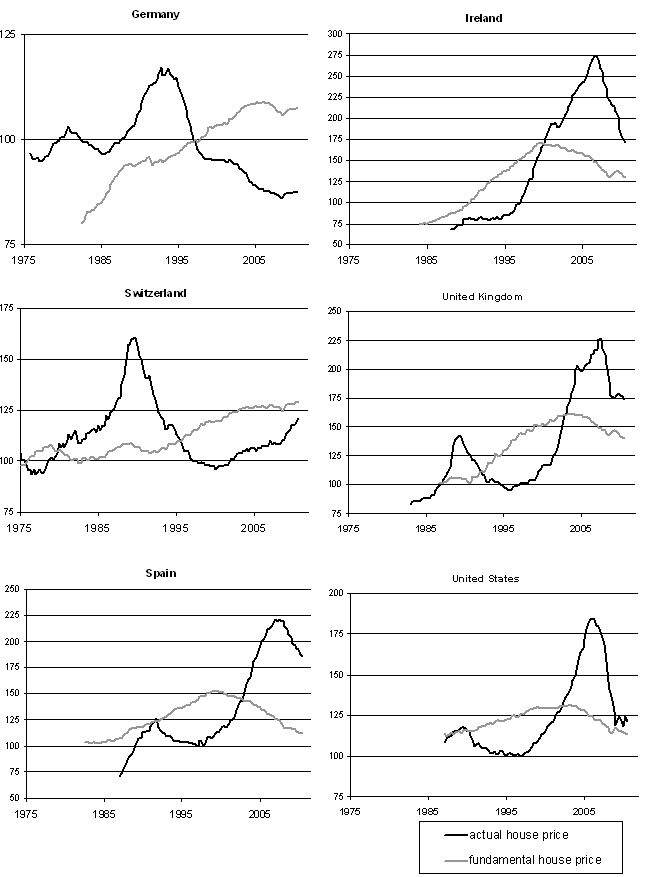 Now of course, one should take model-derived prices with some salt. Nevertheless, look at how, despite their sharp falls, prices in Ireland, the UK, and especially Spain, are well above their "fundamental" price. And I wouldn't take undue cheer from the fact that US prices are close to fair value. The article mentions that in zombified Japan, real estate prices have remained below their fundamental level since the mid 1990s. We have similar issues that look likely to produce a price overshoot to the downside: a broken servicing model, which means far more homes will be foreclosed upon than is necessary; student debt being senior to mortgage debt and keeping a lot of young people from purchasing homes; and the fact that many of the new jobs being created are at much lower wages than the jobs lost, meaning those workers may not be able to buy homes any time soon, if ever.
As I often say, it would be better if I were wrong, but I suspect I won't be.