It has come to our attention that an article by Tom Ferguson, the political scientist who is generally recognized as the expert on the role of money in American politics, had an article posted on TPM's website on April 17, 2008, which appears to have been removed from the site.
You can find it via a wayback machine (hat tip Ed Harrison for tracking it down) but not at TPM or via Google. We are reposting it to make it more accessible. It is rather curious that TPM decided to remove the article now, while a presidential campaign is on, when Ferguson's piece demonstrates that predictive social science is possible after all.
This is the header of the piece:

And the text, which you'll see was a good call:
Kevin Phillips once gain does us all a service with his sharp and wonderfully lucid discussion of finance and politics. Since we can take it for granted now that neither the Democrats nor the Republicans are going to attempt any reforms of the US financial system this year, the task is going to fall to the next President to propose something. I wish I could find real grounds for optimism, but that's not easy.
Here is a table that I've prepared for a short presentation at an academic conference. It is an analysis of "early money" (defined as that contributed before any voting took place) in the current presidential election. It covers the usual universe of large firms and investors that I typically investigate every four years.[If you are interested in details, just see my Golden Rule (Chicago, University of Chicago Press, 1995).]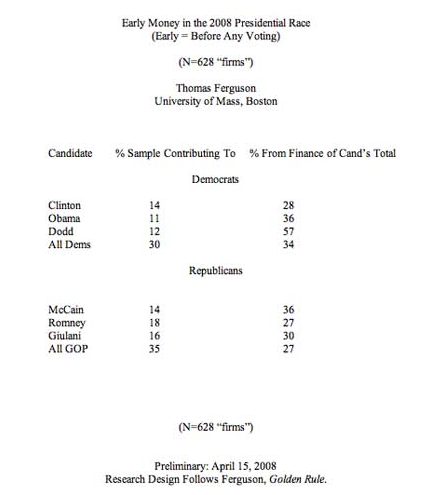 I think it pretty much speaks for itself. Both Obama and Clinton are heavily supported by financiers; I include Chris Dodd, whose candidacy was not on the same level, since he remains head of the Senate Finance Committee. Note that the candidate most heavily supported by finance in the Republican race, John McCain, also won that one.
I would caution against over-interpreting these results. Broadcasting, defense, pharmaceuticals, and other sectors all weighed in. But the particular importance of finance to the Democrats is hard to miss and I am sure will also show up when subsequent contributions get inventoried. Kevin Phillips' analysis, I think, is likely to remain timely.