Anyone in the political or public relations game knows that the best way to make a disclosure but minimize its impact is to do so on day before the long holiday weekend.
If the government had the ability to make an announcement they'd rather not make during a major holiday break, they would. And the New York Times, which does have that luxury, looks to have done precisely that with an important article on private equity fee abuses by Pulitzer Prize winning reporter Gretchen Morgenson. As we'll see shortly, this isn't one of her 1000 or so word weekly "Fair Game" columns; this is substantial piece of original reporting discussing several types of private equity fee abuses.
So why would the Grey Lady bury an important article by running it on long weekend? Oh, and worse, that has anodyne headline, "The Deal's Done. But Not the Fees," which doesn't flag who the perps are? One has to assume that the Times isn't too keen about rocking the boat with powerful financiers, particularly since the incoming New York Times editor, Dean Baquet, who has a track record of avoiding controversial reporting. In addition, former Lehman Brothers partner and art world denizen Michael M. Thomas dates the beginning of the end of the New York Times as a journalistic institution from when Punch Sulzberger joined the board of the Metropolitan Museum. As Thomas remarked, "He needed to be dining with people he should be dining on."
Make no bones about it, the Morgenson story, which comes on the heels of a Wall Street Journal exposing industry leader KKR's far too clever and potentially impermissible dealings with its house consulting firm, KKR Capstone, discloses important new fee abuses, including getting paid for services never rendered.
One of the things that the broader public may not realize is that the normally complacent investors in these funds, known as limited partners, have been pushing back against the fees charged to them by the private equity firms, who in industry parlance are called general partners. Thus this fee chicanery is particularly important because it reveals a concerted effort by the general partners to out-fox the limited partners and continue to extract more in rents from the limited partners than they think is warranted and thought they had agreed to pay. It's an up-market version of Elizabeth Warren's famed "tricks and traps." . From the Morgenson story:
"In some instances, investors' pockets are being picked," Andrew J. Bowden, director of the S.E.C.'s office of compliance inspections and examinations, said in a recent interview. "These investors may be sophisticated and they may be capable of protecting themselves, but much of what we're uncovering is undetectable by even the most sophisticated investor."
Actually, what Bowden is suggesting is worse than Warren's objections to sneaky hidden terms in impenetrable consumer contracts. While Bowden says that the general partners are waging a successful document/deal structuring complexity war against limited partners, his "pockets are being picked" suggests the SEC is also seeing cases of flat-out embezzlement.
The public assumes that the private equity kingpins get rich by virtue of their success fees, the 20% (or more in some cases, typically after a hurdle is met) that they get when their investments show a profit. It is much less widely known that general partners charge a raft of other fees, including transaction fees (which are on top of the fees paid to investment bankers and funding sources) and monitoring fees (which are in addition to the management fees). The exhaustively researched new book Private Equity at Work by Eileen Appelbaum and Rosemary Batt explains where the general partners' income really comes from:
The conventional understanding is that general partners have earned about two-thirds of their compensation from carried interest [the upside fees] and one-third from fixed components such as fees. At some point that relationship changed. One econometric study of 144 buyout funds from 1993 to 2006 found that almost two-thirds of the revenues of PE firms came from fixed components, but this study did not show how or when the proportion of fixed-to-carry changed over this time period. (p. 254)
Why does this split matter? To the extent that private equity general partners earn their pay from sources that don't depend on the success of the investment, their incentives are not aligned with those of the limited partners. It may be no surprise that Appelbaum and Batt (consistent with other reports on the industry) find that the shift to "heads I win, tails you lose" fee components took place during a time frame when buyout returns have been declining.
Morgenson explains, as did the Wall Street Journal in its KKR story, the big way that investors have tried pushing back is to have a big chunk of all those extra fees offset against the annual management fee (the 2% of the prototypical "2 and 20" although for bigger funds, the management fee level is lower), via this graphic (click to enlarge):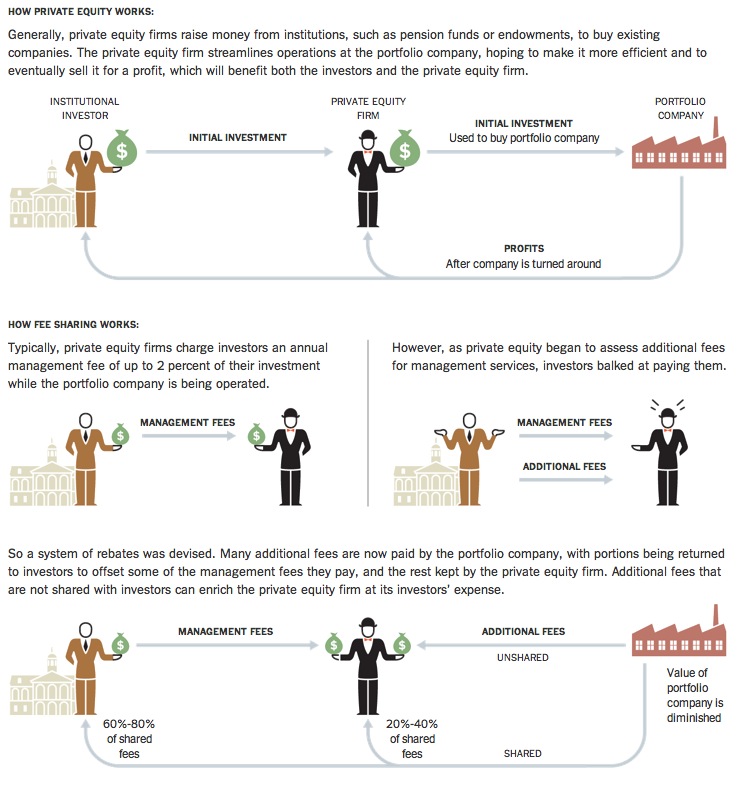 But this approach of rebates caps how much the limited partners can recoup, as Morgenson notes:
There are two problems with these reimbursements. Because they can offset only the amount an investor pays in management fees, ancillary fees in excess of those payments are not shared; they are kept solely by the private equity firm. And some fund advisers have found ways to limit the amount of fees they must give back.

One example involves senior advisers hired by private equity firms to help oversee acquired companies. These advisers tend to be corporate executives with experience in a particular industry who work with the acquired companies; a former hotel executive might work with a portfolio of companies in the hospitality business, for instance, to help them run more efficiently.

Traditionally, these executives have been employed directly by the private equity firms, meaning that the firms, not their investors or the portfolio companies, have paid the executives' salaries, which can be substantial. In other cases, they are paid by portfolio companies, which means that the salaries may be considered a fee to be partially reimbursed to the investors.

Recently, however, some private equity firms have found a way around this. Salaries of executives hired as unaffiliated contractors are not subject to reimbursements, private equity filings show, and by making these people contractors, rather than employees, firms can avoid reimbursing the investors for their costs. The private equity firms also increase profits by shifting the salary of the contractor to the payroll of portfolio companies.
This, readers may realize, is a more general version of the issue with KKR Capstone: limited partners were presented with a management team when the fund was marketed, and assumed all its members were on the payroll of the private equity firm and hence paid for out of its management fee charged. They were unaware that they'd be billed for many of them separately, by having their compensation charged against the income of portfolio companies.
Trust me, this practice is common in the industry. If you go on the website of many PE firms, you'll see people identified as "senior advisors" who are nevertheless on the "management team" page. The odds are high that many of them were presented in marketing documents as if they were private equity firm members.
Morgenson concurs with this reading and flags one example:
Silver Lake Partners is a huge Silicon Valley private equity firm with $23 billion in assets, including investments in Dell, Groupon and Virtu Financial, the high-frequency trading firm. In a 2014 filing, Silver Lake noted that when it retained "senior advisers, advisers, consultants and other similar professionals who are not employees or affiliates of the adviser," none of those payments would be reimbursed to fund investors. Silver Lake acknowledges that this creates a conflict with its investors, "because the amounts of these fees and reimbursements may be substantial and the funds and their investors generally do not have an interest in these fees and reimbursements." Similar language is found in regulatory filings across the industry.
Morgenson identifies an even more dubious fee practice early in her article, that of managing to get paid for services never performed. She discusses the sale of Biomet, a Warsaw, Indiana- based company sold by a Blackstone-led consortium for $13.4 billion, which included a $2 billion profit. But the carried interest and the transaction fees weren't all the general partners got out of this deal:
But for Blackstone and the other private-equity partnerships in the deal — overseen by Goldman Sachs, Kohlberg Kravis Roberts and TPG Capital — this deal will be a gift that keeps giving. That's because, beyond the profits they share with their clients, they will be paid millions more in fees — for work that they are never going to do.

In addition to a 20 percent share of gains from the sale, as well as management fees of 1.5 percent to 2 percent charged to investors, the private equity firms will also share in an estimated $30 million in "monitoring fees." These fees were to be charged through 2017, but given that the deal is expected to close early next year, Blackstone, Goldman Sachs, K.K.R. and TPG will be paid for two years of services that Biomet isn't receiving.
The SEC and the media have only started peeling the many layers of the onion of private equity firm exploitation of too-trusting (and even when not that trusting, outmatched) limited partners. You'll be reading more about these abuses in the coming weeks and months. Pass the popcorn.