In a mere four months, the SEC has gone from calling out widespread abuses in the private equity industry to not just walking back its detailed criticisms, but actually enabling a coverup.
Readers may recall that in May, SEC inspection chief Andrew Bowden gave what was by regulatory standards a blistering speech describing widespread misconduct in the private equity industry. His detailed account followed SEC Chairman Mary Jo White setting forth uncharacteristically clear-cut details of private equity abuses in testimony to Congress.
Bowden was specific about the extent of the abuses by general partners, which included what amounts to theft, as in taking funds they weren't entitled to. Bowden categorically stated that the bad acts implicated over half the firms they'd examined. Moreover, he described in considerable detail the types of grifting they'd found so far. Privately, the SEC has made clear that the abuses weren't concentrated at small fry but were across the spectrum of firms, including the very top players.
These revelations should not surprise regular Naked Capitalism readers. We've been writing about questionable charges and conflicts of interest in private equity since 2012. Within weeks of the Bowden speech, powerful support came in the form of Wall Street Journal articles by seasoned reporter Mark Maremont describing KKR's far too clever and potentially impermissible dealings with its house consulting firm, KKR Capstone (and yes, sports fans, KKR Capstone is an affiliate of KKR, as we explained here).
Gretchen Morgenson provided more confirmation of the SEC's charges, describing how private equity general partners paid themselves for services never rendered. Morgenson followed up in July with an even bigger and more obvious abuse that the SEC is apparently ignoring, the failure of private equity firms to register as broker-dealers.
Even the leading private equity reporter, Dan Primack at Fortune, who by necessity of writing on the industry daily can't afford to take too tough a line, sided with the SEC's position in an article, "Will private equity investors keep getting their pockets picked?" The Financial Times published a lengthy analysis in July, Private equity: A fee too far, focusing on how private equity firms line their pockets by charging monitoring and other fees to porfolio companies. It also described how investors in the funds, the limited partners, were upset by the SEC's confirmation of long-standing concerns, yet found it difficult to bring the general partners to heel.
Normally, when the SEC makes it known that it has the 5×7 glossies on specific players, Wells notices, which are letters warning of impending enforcement actions, are issued within weeks. Even better, in this case, the SEC had the tailwinds of major stories in leading business publications supporting its findings.
More than four months later, the SEC isn't merely sitting pat. It has been making the rounds, both with insider private equity journalists and in closed door meetings. Bowden has been making so many conciliatory noises that it's clear, absent more public pressure or continued media revelations of industry misconduct, that the SEC is unlikely to do more than engage in a few image-saving wet noodle lashings, such as its small dollar enforcement action this week against a private equity firm no one ever heard of.
Even worse, a careful reading of Bowden's recent remarks indicate that the SEC isn't merely retreating from its earlier bold talk. It appears to be actively enabling a massive coverup of these abuses. Mind you, this is even worse than the SEC's limp-wristed enforcement of financial-crisis-related misconduct against the too-big-to-fail banks.
The real message is that private equity is too powerful to discipline.
What is the basis for this conclusion? The first is a mollifying-souding interview in a trade publication, Private Equity International. In fact, the article flags the SEC's peculiar silence after its spirited salvo as the reason for needing more intelligence:
….there hasn't been much additional commentary from the SEC about exactly what these violations were, who was involved, or what transgressors can expect in terms of enforcement actions.
Alarmingly, Bowden starts by walking back the finding from 150 exams as maybe too small a sample to reach any conclusions. Huh? This is out of a total population of roughly 2000.
Even more troubling is this statement:
Anecdotally, I would say there have been some changes in the behaviour on the part of funds and investors and that's all for the good.
What kind of nonsense is this? The SEC per Bowden's own pronoucements isn't that far along with the examination process. It has only been four months since Bowden declared more than half the industry was wildly out of compliance. That means the agency almost certainly has not yet reaudited any firms to see concrete evidence of changes in conduct.
Moreover, press reports have strongly signaled that the private equity firms were outraged and pushing back hard, using their big weapon, the fact that they have a lock on the very best securities lawyers in the US. The Private Equity International story gives a polite version of some of the arguments:
Some lawyers for GPs have noted that a lot of what the SEC seems to take issue with was asked and answered in the LPA negotiation; imposing sanctions now negates part of that contract process. One told PEI in July: "They are asking one of my clients to pay back tens of millions of dollars, despite there being a partnership agreement in place that allowed for the charges, and despite enhanced disclosure having been made."
It's important to understand that this type of objection is hogwash. Reporters have only started digging into these stories, and the Mark Maremont and Gretchen Morgenson accounts alone show evidence of charges that fell outside what was contemplated in the limited partnership agreements. Moreover, in his May speech, Bowden chided the limited partners for agreeing to remarkably vague language on key terms and inadequate oversight mechanisms. We wrote before this storm broke that no investor in private equity looks closely at whether PE firms are complying with the fee and expense provisions of their agreements. And we've flagged evidence of other misconduct, such as how a widely used software program gives PE firms unprecedented ability to cook the books of their portfolio companies while maintaining a facade of compliance.
Moreover, the claim of "enhanced disclosure" simply doesn't stand up to scrutiny. Private equity limited partnership agreements stipulate quite clearly, as in narrowly, what representations have legal force. Like pretty much any competently drafted contract, all the sales talk, presentations, and preliminary documents are excluded.
So what is this "enhanced disclosure" that the attorney depicts as proof of the funds' virtue? It's almost certainly the result of now being regulated by the SEC as investment advisors and specifically, having to file disclosure forms (Form ADV) annually. Bear in mind that for the overwhelming majority of private equity investors, the information about a fund manager contained in Form ADVs became available to them after they were investors in these funds, which typically have eight to twelve year lives. "Enhanced disclosure" after you are locked into a long-term investment is hardly tantamount to informed consent.
The "A fee too far" story in the Financial Times had even more heated remarks from general partners:
In private, executives scoff at the SEC's examination. "They are going after odd micro concerns," says the founder of one leading US private equity firm. "They dispute what is the equivalent of footnotes in our agreements with our investors and try to knock down the industry with legalistic disclosure issues…..I told them we didn't do anything wrong and we wouldn't pay."
So we should not be surprised to see a major pullback from the SEC's earlier position. Again from the PEI interview:
Will there be more enforcement action? "I think as a mathematical answer the answer is yes, because more people are now registered. But I also think most people are doing the right thing," he says.
Notice that this is the polar opposite of Bowden's position in the May speech, that more than half the industry was engaged in serious misconduct, including what amounts to stealing. It's even harder to reconcile this suddenly sunny view with the remarks made at PE/VC Finance & Compliance Forum 2014 last week. As reported in CCOs: Tougher exams post Bowden speech in Private Funds Management:
Before the speech a normal inspection may start with a phone call from SEC inspectors who would show up a few days later for a presence exam that focused on a limited number of issues, one regulatory lawyer in attendance said. After the speech, the lawyer said the SEC is having phone conversations "that can last up to four hours" before even arriving and afterward sending follow-up request letters that are more tailored to the firm under review. At a general level, more inspectors are also probing a wider spectrum of issues and no longer limiting their investigations into one particular function or area such as valuation or fees, he said.

"In the past six months, or past two years really, clearly they've gotten up to speed with how our industry works," the lawyer said…

Another difference relates to disclosures. Before the "Sunshine" speech, it was believed that disclosing certain fees and expenses to a limited partner advisory committee was a quick cure for investor approval. Today some inspectors are beginning to question if these types of disclosures must be notified to every LP, and not just those sitting on the advisory committee, one compliance expert at the forum warned. Others noted that the SEC was beginning to flag disclosures made after commitments were sealed, meaning LPs had less opportunity to question them during negotiations.
So if the SEC found evidence of serious misconduct at over half the firms it examined in a relatively cursory manner, pray tell why should it suddenly be finding less wrongdoing when it is digging deeper into a much wider range of issues?
Now it might be easy to go with the superficial analysis of this shift, that the SEC was assaulted not just by an army of white-shoe law firms, but also by angry Congresscritters calling on behalf of major contributors, and decided to beat a retreat.
But well-placed sources tell me something even worse, and their accounts reconcile some of the seeming inconsistencies in this article and other recent statements that Bowden has made, that the SEC is being tough in its audits and is serious about firms exaggerating their returns around the time of fundraising and making charges to the portfolio companies or the funds that weren't disclosed adequately.
I am hearing that some general partners are coughing up some dough to investors. VOLUNTARILY. While it may sound like a win for the SEC, since it has gotten some funds back to wronged investors merely by barking, this is actually a lousy solution.
In this scenario, there is no disclosure to the public as to the nature of the bad conduct. Even worse, the SEC's track record strongly suggests that even the investors who do get money back aren't told exactly what it was for, meaning the nature and magnitude of the verboten conduct. That means they have no idea whether the payment was adequate, nor will they know precisely what they need to guard against in the future.
But this likely sorry conduct should come as no surprise. Remember, the SEC has a well-established pattern, in cases where it had filed suits that set forth in some detail what certain banks had done wrong before and during the crisis, of entering into settlements where the banks admitted to virtually nothing. Recall that this was the basis of Judge Jed Rakoff's rejection of a Citigroup CDO settlement, in which he insisted the SEC try the case instead. Rakoff's ruling was widely praised for its directness, its reasoning, and its insistence that a certain minimum standard be met for jurisprudence. Rakoff was slapped down by the appeals court, but many lawyers have criticized the logic of the ruling.
Precisely because it is so convenient for powerful financiers and craven or overmatched regulators to pretend that cost-of-doing-usiness fines are adequate punishments, this pattern of settlments with no meaningful admissions is on its way to becoming the norm for dealing with financial miscreants. For instance, Susan Beck of Litigation Daily blasted the Department of Justice over a $7 billion settlement with Citigroup over misrepresented mortgage backed securities. If you read the statement of facts, the only evidence mentioned is one e-mail from an unnamed trader. Beck states, incredulous: "That's it—one email. Did Citi really agree to pay $7 billion because it was afraid of one email?"
So why is the private equity coverup even worse than these predecessors?
Remember, paying back actual hard dollars, or offering funny money rebates is tantamount to an admission of improper conduct. Yet is it almost certain that the general partners will tell investors and anyone else who learns about any payments that the general partners disagreed with the SEC's position but they valued their privacy so much that the agency was in a position to extract concessions that they felt were unwarranted (you gotta love the use of the secrecy fetish as a defense).
In the case of big bank lawlessness, the public had a dim idea of what was afoot. The various agencies identified particular players who misbehaved and at a bare minimum, the general terrain in which the abuses occurred.
Here, the lay public, indeed, everyone but the SEC and those on the receiving end of the concessions won't have the foggiest idea of who was caught with enough dirt on them to have to have bent to the SEC's findings.
With no disclosure as to which firms misbehaved, and who did what, investors new to a particular GP don't know if they gave money back or not.
Even worse, the private equity industry is pushing to launch funds that will allow retail investors to invest in private equity funds. It is an abject dereliction of duty for the SEC to the public and Congress to persist in the delusion that nothing much is amiss in PE land if firms, as we are indeed being told, feel compelled to make some restitution to investors in order to keep their dirty laundry from being aired.
It looks as if the SEC is hoping that if it makes noise, the firms will correct their conduct.* That just means they'll paper up the next deal more artfully.
Moreover, the SEC should know that promises to shape up aren't worth the paper they are printed on. A 2011 analysis by the New York Times found that even when major banks entered into settlements where they pledged to refrain from certain kinds of conduct, they routinely violated those agreements. In some cases, the banks were repeat recidivists. So here, with even less public scrutiny about the abuses, why should we trust Bowden's naive-sounding assessment that the industry is turning over a new leaf? That skepticism should go double since leaky deal lawyers are insinuating that the SEC has missed some of the finer point of how the general partners use consultants to syphon funds from portfolio companies.
So Bowden's latest round of private-equity industry PR looks like an effort at preserving the SEC's manhood while letting the private equity industry get away with at most token refunds and erstwhile promises to shape up. If you think that's adequate, I have a bridge I'd like to sell you.
____
* Various private equity industry publications, such as PE Law 360, picked up on an effort by Pitchbook to claim that its data on the components of fees in new private equity fundings showed that private equity firms were chastened by the SEC's talk and were reducing the use of transaction and monitoring fees.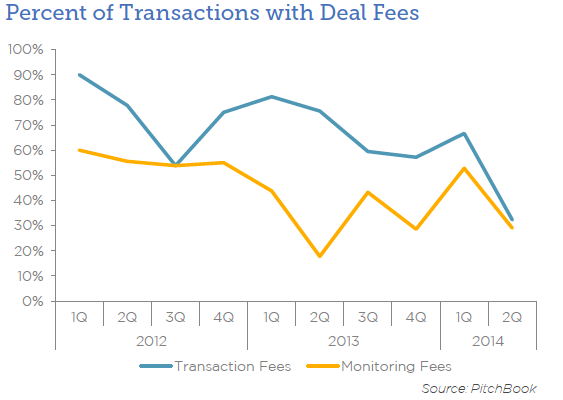 The problem is that this claim is premature. A considerable minority of firms, such as Warburg Pincus and Hellman & Friedman, don't charge the types of fees that are in the SEC's crosshairs. If you look at the fee mix data from Pitchbook over time, it's volatile precisely because different firms have different practices, and the mix of who is coming to market when leads to big swings.
More important, the Bowden speech was on May 6. The Pitchbook story is about second quarter 2014 data. It takes a bare minimum of a few weeks for any development to affect the legal documents related to a deal (unless it's an M&A transaction or bankruptcy where people lock themselves in rooms to get them done). Fees are a huge issue, so no firm would decide to cut them without huge internal debate and handwringing.
Given the lead times, there is no way the Bowden speech had much if any impact on the terms that private equity firms were presenting to investors. The one way it could have had an effect is on investors: that it led some prospective limited partners to grill general partners raising new funds more intensely when those funds that have transaction and monitoring fees, delaying those financings. So the real test will be whether you see a reversion to historical levels. That could well happen if funds wind up being subject to more scrutiny by virtue of charging those fees do get their deals closed but on a slower timetable.
Regardless of whether the second quarter results are noise or not, there is a clear positive element here: the notion that transaction and monitoring fees are suspect is now being treated as a given by industry reporters and even major data vendors. But how much limited partner behavior changes remains to be seen.