By Lambert Strether of Corrente
2016
"Can Liberal Zionists Count On Hillary Clinton?" [New York Times]. Remarkably similar to the "he has to say that," "his heart is in the right place" discussion of Obama in 2009.
Guy Cecil, front-runner for Clinton campaign manager job, bows out [The Hill].
Please tell me Rudy's not running again [The Hill].
Jebbie's first follow on Twitter [Mother Jones]. Karl Rove. Alrighty, then.
Herd on the Street
"It's going to be pretty tough to divine anything meaningful from the market this week with Christmas coming up on Thursday and with trading desks half-staffed" [Bloomberg].
UK to extend Libor manipulation laws to cover gold, oil, silver [Reuters].
"'Selling volatility' — as such wagers are known — became one of the most popular trades of the year [FT]. So in essence we have punters betting the market will stay rigged. Isn't this situation made for somebody who understands and can exploit reflexivity? And/or is all the fear-mongering about speculative churn?
Black Injustice Tipping Point
Ferguson to increase police ticketing to close city's budget gap [Bloomberg]. Doubling down.
"Middleburg Heights Motel 6 manager accused of attacking protesters also used racial slurs during incident, police say" [Cleveland Plain-Dealer]. Motel 6 says "they're reaching out to local authorities." Note that the only reason this incidents got taken seriously is that it was streamed.
Brinsley cop-shooting timeline [New York Times, "New York Officers' Killer, Adrift and Ill, Had a Plan"].
Cuomo: "I'd like to get past this period and bring the temperature down. Let's grieve and respect the families of Ramos and Lui" [Buzzfeed]. Oddly, or not, the first death in Brinsley's spree is no longer part of the narrative. Or gun control.
Self-indulgent wankery of "What do we want? Dead cops" chanting used to trash non-violent branding of Ferguson die-ins, other protests [Bloomberg]. So these clowns chant, and go home to their beds. Good for them. The activists I follow were universally horrified at this nonsense, since it would make the cops at their protests more trigger happy. Skin in the game, as it were.
"Blue Lives Matter" [Ta-Nahesi Coates, The Atlantic]. "[O]ne does not have to work hard to imagine a future when the agents of our will, the agents whom we created, are in fact our masters." Indeed.
When Sally Met Tom [Vox].
Whither Oil?
Not enough shops to retrofit tank cars to carry flammable liquids, so "[t]he oil 'is either going to move by trucks or it's going to stay in the ground'" [WSJ, "Railcar Bottleneck Looms for Oil"]. Oil is a nasty and disgusting fluid, besides being toxic. It should be taboo, like sh*t. We should respect that taboo by leaving as much as possible in the ground. Why not start now?
Canada's high cost tar sands operations going offline. So, the commodity boom ends, but households are highly leveraged… [Sober Look].
U.S. authorities torpedo Morgan Stanley deal to acquire Rosneft because Putin [Reuters].
Corruption
Alstom to pay Justice record $772 million fine for violating bribery laws [Reuters]. So the fine isn't the last bribe in the chain why?
Public prosecutors in Brazil charged 36, including executives from some of the country's leading civil engineering companies, with involvement in a multibillion-euro graft scheme at the state-controlled oil giant Petrobras [Irish Times]. Roussef: Senior Petrobras executives not involved [Reuters].
Terse announcement: Ling Jihua, senior Party official, now under investigation for "suspected serious disciplinary violation" [China Radio International].
The Haitian Court of Justice on December 16 decreed that a corruption investigation focused on the [President Michel Martelly]'s son Olivier, and the First Lady Sophia, could proceed [VOA News]. "[C]onsiderable popular discontent with what is called Haiti's 'culture of corruption'".
Panel delays key vote into graft claims related to former ministers [Hurriyet Daily News]. "[S]pectacular graft scandal" [Al Ahram].
Doctors and a head nurse at a hospital in Serbia's third largest cit arrested for accepting bribes of up to €13,000 and using their networks to secure healthcare jobs for relatives [Transparency International].
FIFA to release WC 'corruption' report [Al Jazeera]. "The report was drawn up by top US lawyer Michael Garcia who resigned on Wednesday in protest at the handling of the inquiry by FIFA's leadership."
The FBI and Texas Rangers lead new public corruption task force created in South Texas [Washington Times]. DA: "Do we have corruption here in South Texas? Yes we do. Is it only in South Texas? No. It's all over. We haven't cornered the market on corruption." Nope.
Harvard survey finds Pennsylvania among most corrupt states [Times-Leader]. Larry? Is that you? Marty? Timmy? Bob?
Class Warfare
"[H]is stomach was empty when he died, there was no food in the flat – and he had just £3.44 in his bank account" [Private Eye (quoted print version)]. It's "Neoliberalism expressed as simple rules": There's Rule #1: Because Markets, which handles the "public policy" [snort] aspects; this particular story, however, is falls under Rule #2: Go die. See also "Competitive Caring" [Private Eye].
Former American Apparel sleaze schmatta merchant CEO Dov Charney down to his last $100K, sleeping on his friend's couch [Business Insider]. Expensive couch.
In the 1940 census she listed her occupation as a "maker of games." In the column for her income she wrote, "0″ [Smithsonian]. Monopoly's original designer, Lizzie Magie.
Stats Watch
Existing home sales, November 2014: "[S]inking a very steep 6.1 percent"; "November's weakness is broad based with all 4 regions showing single digit monthly declines" [Bloomberg].
News of the Wired
* * *
Readers, feel free to contact me with (a) links, and even better (b) sources I should curate regularly, and (c) to find out how to send me images of plants. Vegetables are fine! Fungi are deemed to be honorary plants! See the previous Water Cooler (with plant) here. And here's today's plant (CG):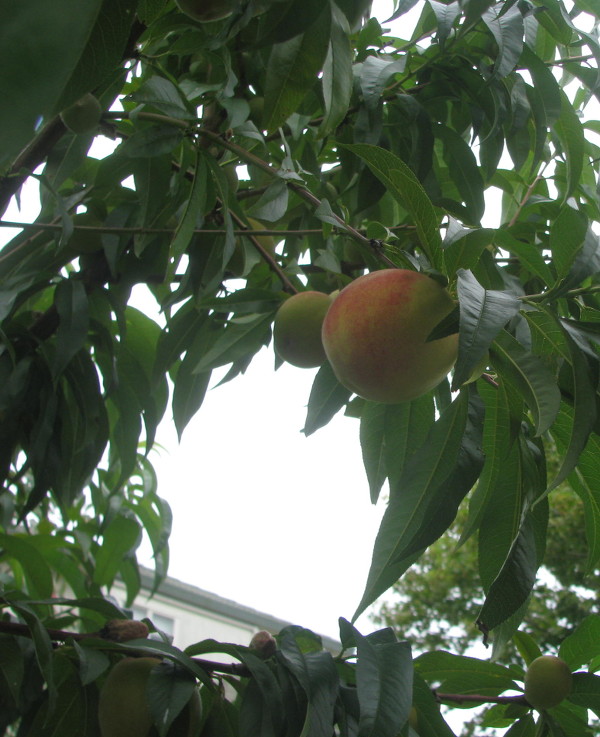 The moral of this luscious peach tree is start with perennials, not with annuals!
Readers, naughty and/or nice, I'm still feeling more than a little angst over fuel, now that the heating season in Maine is upon me, so any help you can give will be appreciated!
If you enjoy Water Cooler, please consider tipping and click the hat:
Talk amongst yourselves!