Dear patient readers,
Some mobile phone readers were having terrible problems with accessing the site. Our ad service blocked what appeared to be the offending code. If you were having trouble, please let us know whether this move resolved it.
A 3D Printed Moon Base: Science Fiction or Science Fact? Singularity HUB (furzy mouse)
BlackBerry works with Boeing on phone that self-destructs Reuters. So what happens if a mere mortal get this phone and it self destructs when the police are trying to get data from it? Will the owner be charged with destroying evidence?
Ancient Egyptian technology may be our first line of defense from hospital infections Daily Kos (furzy mouse). Remember the Three Magis' gifts of frankensense, gold and myrrh? Myrrh, a natural antibiotic, was the most expense of the three at the time.
The real victims in the 'war of terror' Bangkok Post (furzy mouse)
Creative accounting is nothing new for the Eurozone Fistful of Euros
Spanish princess to face fraud trial BBC
Greece's radical left could kill off austerity in the EU Guardian. I'd hardly call Syzria radical, and this idea strikes me as too optimistic. But one can always hope.
OPEC Calls For Widespread production Cuts Oil Price and Non-Opec producers blamed for oil slide Financial Times. So cute! The Saudis claim they have no power, they have no rational choice other than to keep pumping to preserve market share. Translation: "Yes, this is a game of chicken, and we are not blinking first."
On Cuba, no side has got it right Financial Times
Sony Gaslighting. While some things like our drone and torture practices make me ashamed to be an American, this incident makes me embarrassed to be an American. Obama's conduct here is unhinged, and worse, the MSM is reporting on it uncritically. How long before Incitatus gets a Senate seat?
About That Interview Ilargi. Wish I had written this, although I would have spent more time on the information that makes the charges against North Korea look implausible.

The Sony Hackers Pranked The FBI Business Insider. Some realism in this account, but notice how it is walked back a fair bit so the publication can have it both ways.

What is FBI evidence for North Korea hack attack? BBC

US struggles to respond to hack of Sony Financial Times. So Obama spoke loudly and is revealed to be carrying no stick.
Ukraine/Russia
Tuft's Professor Promotes Flawed "Double Government' Meme Alternet. Debunks the "Deep State: hypothesis.
The 'Cuban Five' — On Their Case & Release from US Prison as Part of a Prisoner Swap Kevin Gozutola, Firedoglake (furzy mouse)
Whither Markets?
Iron ore price estimate cut 33% Sydney Morning Herald (EM)
Oil Rebounds Above $62, Tracking Broader Markets Business Insider
Ready for $20 Oil? A. Gary Shilling, Bloomberg
Taxpayers Could Be on the Hook for Trillions in Oil Derivatives NationofChange
Oil Crash Wipes $11.7 Billion From Buyout Firms' Holdings Bloomberg
US regulator probes ETF pricing structures Financial Times. This is really embarrassing. Are we supposed to believe the Fed heard about this issue only now? Tracking risk is a well known risk in ETFs, particularly the levered ones, since the price is set by intra-day trading, which can deviate markedly from NAVs.
Class Warfare
Debt Collectors Hound Millions of Retired Americans NBC (Alan T)

Inequality and growth and well-being – revolutions have occurred for less Bill Mitchell
Antidote du jour (furzy mouse). I get a kick out of animal odd couples: "This pair has been seen together for over a year in Lake Van, Turkey. They were first spotted by local fisherman who witnessed them sharing a fish and playing together."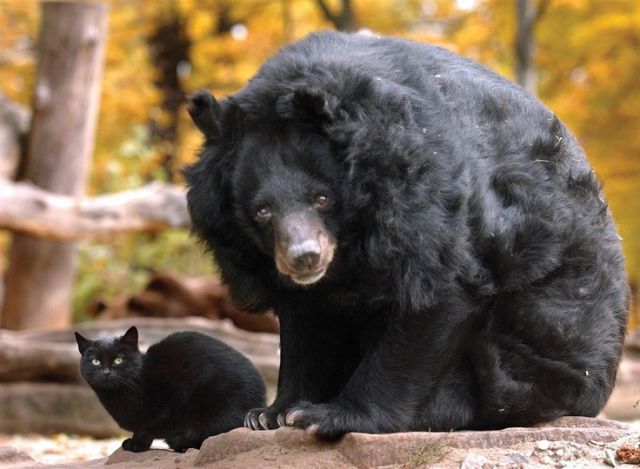 See yesterday's Links and Antidote du Jour here.