Stranger gave mum £10 to piss off Daily Mash
AI will not kill us, says Microsoft Research chief BBC. I don't think Microsoft is capable of knowing whether it is incubating SkyNet until too late.
Our Overreaction to Terrorist Attacks Like Paris Is Only Making Things Worse Defense One (furzy mouse)
Grexit?
Greek markets hit as debt fears grow Financial Times

Germans Are In Shock As New Greek Leader Starts With A Bang Business Insider. I hate to be a voice of sobriety, but notice the part buried in the piece that Germans are no longer worried about contagion risk from a Grexit. Whether that view is well founded or not, it will make them pretty non-negotiable on debt writedowns. The most you can expect is an extension of maturities and maybe some lowering of the already back-end-loaded interest rates.

Clash Over Sanctions: Syriza Opposes Sanctions on Russia, Calls Them "Neocolonial Bulimia"; Negotiation Rules Michael Shedlock (EM). This is great theater, but Syriza needs to rally support in the rest of Europe (and that means getting the technocrats on board, or at least afraid of the anti-Euro, anti-austerity parties) to make a dent on the Germans. I'm not saying Syriza can't get there, but we need to recognize that this is very much an uphill battle with a short time window. The odds are high that they lose the critical battle (the bailout terms) while setting the stage for others to win the anti-austerity war.

Carney attacks German austerity BBC. Important as one of many calls for the Germans to relent, but England is seen as being Euro-skeptic, so not sure it will have the impact it should. Recall that Geithner, who had more clout than Carney does now, tried talking the Troika out of its punitive orientation towards the periphery and got nowhere.

Ian Bremmer on Greece's Challenge to European Cohesion Council on Foreign Relations
Ukraine/Russia
Raul Castro: US must return Guantanamo for normal relations Associated Press
Syraqistan
U.S. Goes Quiet on Aid to Afghan Forces New York Times

JOURNAL: Did ISIS just enter Saudi Arabia? Global Guerrillas (furzy mouse)
Big Brother is Watching You Watch
CANADA CASTS GLOBAL SURVEILLANCE DRAGNET OVER FILE DOWNLOADS Intercept

Panama's ex-president's hunger for gossip at center of wiretap probe McClatchy (Tim F)

Spy agency employee was flying drone that crashed at White House Reuters (EM). A world-class example of a career-limiting move.
Obamacare
Up to Six Million Households Facing Penalty for Skipping Health Insurance Wall Street Journal
Obama dropping plan to tax college savings Reuters. Yesterday's news, which I chose to skip, but I like EM's take: "Translation of article gist: 'Disproportionate impact on hedge fund managers.'"
Obama's First Surrender on Inequality Bloomberg. "First"? They haven't been counting.
US Senate refuses to accept humanity's role in global climate change, again Guardian (furzy mouse)
Enbridge Gets Another Federal Tar Sands Crude Pipeline Permit As Senate Debates Keystone XL Steve Horn. While you were presumably not looking…
How Roy Cohn Helped Rupert Murdoch Robert Parry, Consortium News (furzy mouse)
The Petulant Entitlement Syndrome of Journalists Glenn Greenwald, Intercept
Black Injustice Tipping Point
Video: Seattle Police Jail Elderly Military Veteran for "Walking in Seattle While Black" The Stranger (neo-realist)

Seattle man needed state official's help to avoid charges for 'walking while black' Raw Story (YY)
Oil
Bonds: Caught in a debt trap Financial Times. Important, and consistent with our discussion for some time on how the Fed has painted itself in a corner. I remember the moment in the crisis when the Fed dropped the Fed funds rate below 2% (after having engaged in too many "75 is the new 25" point cuts) and knew that was a move they'd come to regret.
Too late: We're already in a bear market Yahoo (furzy mouse)
S&P Close to $1.37 Billion Crisis-Era Lawsuit Settlement Wall Street Journal
What Failed in 2008? Brad DeLong, Project Syndicate (David L)
Second-Liens and the Leverage Option Adam Levitin, Credit Slips. Useful for mortgage and housing policy junkies.
Big banks eye peer-to-peer lending push Financial Times. Finance for the people brought to you by Wall Street. Charming.
Harsh Words for Caesars in Court Wall Street Journal
Class Warfare
"While the capitalists are winning every battle between the two classes, they are nonetheless losing the war." New Inquiry

How a Two-Tier Economy Is Reshaping the U.S. Marketplace Wall Street Journal. Good, if depressing, detail on the gap between the "haves" and the "have nots".
Antidote du jour: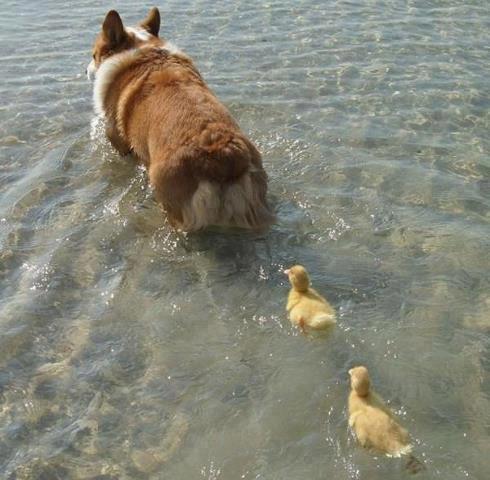 See yesterday's Links and Antidote du Jour here.