If a lawsuit filed yesterday by TPG is to be taken at face value, the private equity kingpin has been the subject of a nasty extortion attempt by a vengeful now former employee, Adam Levine. Levine allegedly not only threatened to use his PR clout to bring down the firm, but purloined confidential materials from TPG's systems and doctored at least one before sending it to a reporter at New York Times' Dealbook. And TPG further claims it had good reason to be worried because Levine asserted that it was his grand jury testimony, shortly after he left the Bush White House as a member of its communications team, that brought down Scooter Libby.
We're embedding the complaint, which was first reported in the Wall Street Journal yesterday, at the end of the post. It is short and colorful, and we suggest you read it in full.
While there may be exculpating facts on Levine's side, the TPG account makes him sound completely self-interested, frustrated by his failure to get promoted to partner, and no whistleblower, contrary to the statement of his representative to the Wall Street Journal. As much as we are sympathetic to whistleblowers and well aware of how they are too often ignored and marginalized, as we will discuss, Levine will need to provide a good deal of additional information to dispel the impact of the e-mails and statements cited in TPG's filing. These may have been carefully cherry picked out of a much larger context, but in isolation, it will be hard for Levine to counter the impression they leave.
But the real bombshell in the TPG filing is the way that the New York Times' Dealbook looks to have thrown Levine, a source, under the bus. Levine was presumably behind a January 5 article about dubious expense-charging practices by a TPG portfolio company, the yogurt company Chobani. The filing clearly states that an unnamed New York Times reporter sent an e-mail that it had gotten from a source to TPG. TPG used that e-mail to identify Levine as the apparent leaker and further asserts that Levine had tampered with the e-mail obtained by the Times.
Why Levine Looks to Be in Serious Hot Water
The allegations are consistent with well-documented stories by the Wall Street Journal's Mark Maremont, and the New York Times' Gretchen Morgenson, about private equity firms charging fees that investors in the firms' funds were confident were being largely rebated to them. In fact, due to limited partner complacency and cluelessness, as well as a troubling lack of vigilance by their attorneys and consultants, the private equity firms through both legal legerdemain and in many cases, what the SEC alleges is outright stealing, took more than their limited partners had been led to believe they were skimming off.
However, as Emerson said, "If you strike at a king, you must kill him." Levine appears to have badly estimated who he was up against.
The core of TPG's charges is that Levine violated confidentiality agreements with TPG as well as firm written policies and his fiduciary duty in providing documents and information to the New York Times and possibly other media outlets, and that he has also refused to return a laptop and Blackberry provided by TPG. TPG also claims that after Levine's dispute with TPG heated up and he started resorting to threats, that he came into the firm at off hours, including Christmas Eve and Christmas Day, to download documents, including ones to which he normally would not have access.
Note that one can make a legal argument that confidentiality agreements are not binding if they are contrary to public policy. Using confidentiality agreements and claims of trade secrets to hide damaging information from regulators and wronged investors would presumably fall in that category. But there's no statutory right to waive those agreements; you need to rely on case law and a sympathetic hearing from a judge.
And most important, at least as TPG tells the story, Levine did not try to act as a whistleblower first, either by making complaints internally or going to authorities. Now that issue is in dispute: Levine's representative says that Levine "alerted TPG senior management to serious issues of noncompliance and defrauding its investors of millions of dollars in fees and expenses." And while I am normally inclined to believe that type of charge, the reason it does not ring as true here as it might otherwise is that a press person at a private equity firm is normally removed from the action. He would not be routinely interacting with portfolio documents or legal filings to see this sort of chicanery first hand. The type of person you would expect to make this sort of claim would be someone who saw the money flows, either financial or potentially operating staff at a porfolio company or at TPG itself.
Thus, it is conceivable Levine might have been fielding queries from limited partners about TPG's practices, now that the SEC and the press have made them a hot topic, and not liked the caliber of response he was getting from firm partners. But even so, by background and experience, he would not be well suited to determine whether any doubts were valid.
Perhaps we'll hear Levine's defense amplified and supported with evidence in a counter-claim, that the refusal to promote him was based on him raising too many uncomfortable questions about the firm's practices. But even so, if that were the case, Levine should have gone first to the SEC, then to the press, not only for his own protection but because the SEC now pays significant awards for whistleblower filings that it pursues and wins. Absent Levine's side demonstrating that he did indeed act as a whistleblower in concert with his media war against TPG, he is going to have a very rough time at trial.
The Wall Street Journal fingers a New York Times January 5 story on Chobani as Levine's presumed handiwork. This story falls short of getting the goods on TPG. Mind you, it has a salacious story line, that TPG was double-charging clients by billing a firm partner in the San Francisco office to portfolio companies. Investors would assume someone that senior was being paid for out of the typically 2% annual management fee, as in that he was part of firm overhead. Instead, the article alleges he was being billed to Chobani:
But in the biggest deal struck last year by the Texas private equity giant TPG, investment clients are effectively paying twice for a partner's time — once through management fees and again through a separate fee based on the partner's work on the particular investment…

Mr. Burns, who continues to draw a full salary from TPG, has spent most of his time at Chobani since quietly taking on the management role in early September, the people said. The additional payments for his Chobani work — which TPG officially classifies as reimbursements — flow to TPG itself, which is owned by Mr. Burns and the other partners.
This sounds really bad, no? The Times effectively walks back the allegation in the very next paragraph:
Such a payment plan appears to fall within TPG's stated business practices. Members of the firm's operations group may serve in management roles at the firm's portfolio companies, at the expense of clients, according to a regulatory filing by TPG in March. Nevertheless, the existence of the arrangement, which has not previously been reported, highlights a thorny issue in private equity that is being scrutinized by the Securities and Exchange Commission.
Here's why the information from Levine looks to have fallen short of what was needed, and suggests he lacked the savvy to take on TPG. The regulatory filing mentioned is almost certain to have been TPG's form ADV, filed with the SEC now that private equity firms are subject to the agency's oversight. But whether or not the double billing was kosher has nada to do with what that particular filing says. What matters is whether the firm's marketing materials prior to when the fund was closed were misleading, and whether the fund's limited partnership agreement gave TPG enough wriggle room to assert that it was within its rights to be charing these fees. In other words, even if Levine saw or heard things that he thought proved that TPG's was not on the up and up, he appears not to have had the sophistication to understand what documents he needed to obtain to see if their conduct was merely unseemly, or rose to being an actual violation of their agreements.
What looks even worse is the charge that Levine fabricated evidence. TPG claims it found "certain information having been added, certain information having been deleted, and certain information having been changed" in an e-mail that we will discuss in more detail shortly. Now mind you, this is based on a "TPG…forensic investigation" which really means an internal investigation not verified by outside experts. Nevertheless, this is ugly.
Finally, Levine shockingly looks not to have any legal representation. The court filings do not show any law firm representing Levine. If someone were in an serious employment dispute, it would be normal to have retained counsel, and once as an individual is represented, official legal communications, including filings, typically go to counsel. In addition, even though the original TPG complaint was filed Monday the 26th and the amended complaint on Tuesday before 10:00 AM in Texas on the 27th, there has yet to be a response filed on behalf of Levine. A seasoned lawyer with litigation experience told me that if there is no filing by mid-day today, it looks as if Levine has yet to find representation, a terrible position for him to be in.
Further confirmation that Levine may be way out of his depth comes in the Wall Street Journal account. Levine's representative is identified as one Barbara Rohn. Neither I nor an attorney could find any evidence that she is a lawyer. Normally in litigation, any response to media inquiries is made by counsel, because the attorney will want to make sure that the presentation to the press is consistent with the facts of the case and the intended legal strategy (plus of course they want the media visibility). Even worse, it does not even appear that Rohn is working as a public relations professional. I left messages with a Barbara Rohn that I am reasonably certain is Levine's representative and got no reply.
Why Dealbook's Conduct Looks Shameful
Here is the eyepopping section discussing the New York Times' role, from the First Amended Complaint: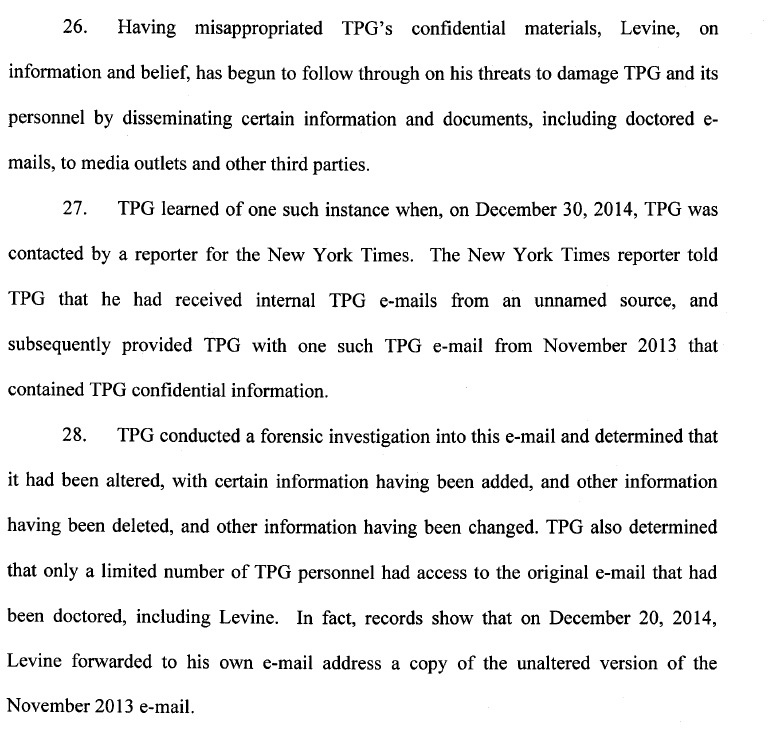 Read paragraph 27 again. The reporter contacted TPG on December 30 about a story that ran January 5. The reporter subsequently, at a date unspecified, provided the e-mail to TPG.
There is no way to pretty this up. The most a reporter owes the target of a story is the opportunity to correct and rebut the conclusions a story reaches. Sharing the actual evidence is a shocking breach of journalistic practice. Documents contain metadata; sending a source's e-mail would make it easy for a company to identify when it was created and who created it. Even if the reporter only sent on a copy of the text, as opposed to the original record that the source supplied to the Times, that would also give a company a route for finding out who might have been responsible, as the TPG filing demonstrates. It was far too easy for TPG to isolate who had accessed that message and when.
And this gets even worse. If the Times reporter sent the message to TPG before the story ran, it seems unlikely that TPG had responded to it. If TPG had determined that the e-mail was doctored prior to the story appearing, you'd expect them to go to the Times immediately. That would so impugn the source as to kill the story. Thus the odds seem high that the reporter gave the e-mail to TPG after the story appeared, possibly to placate them or prove he had the goods. But again, at that point in time, the onus would be on TPG to prove the story was wrong, with its own evidence, and demand a retraction or a correction. But the claims in the story were so weak that no correction has been made, even in the face of a supposedly bogus e-mail.*
Thus it appears that the Dealbook reporter cooperated with TPG in its efforts to identify and punish a leaker. Why should anyone with an operating brain cell every trust a Dealbook reporter, which now encompasses virtually the entirety of the New York Times' business reporting staff, after this incident?**
This conduct is particularly appalling given that it seems utterly at odds with Times' executive editor Dean Baquet's claims that he wants to improve the Grey Lady's standing with sources. From an interview with Der Spiegel, We Were Arrogant, flagged by Lambert in Links earlier this week:
SPIEGEL: How painful was it as an institution that Edward S didn't approach the New York Times?

Baquet: It hurt a lot. It meant two things. Morally, it meant that somebody with a big story to tell didn't think we were the place to go, and that's painful. And then it also meant that we got beaten on what was arguably the biggest national security story in many, many years. Not only beaten by the Guardian, because he went to the Guardian, but beaten by the Post, because he went to a writer from the Post. We tried to catch up and did some really good stories that I feel good about. But it was really, really, really painful.
So pray tell, how likely is it that the next Snowden, or for that matter, any source with information that puts him at risk, will come come to the Times, now that Dealbook burned a source?
Dealbook has shown the true face of the Times. It confirms and reinforces the reputational damage the Times suffered for spiking the James Risen story on warrentless surveillance, which is what led Snowden to bypass the Times.
If Baquet wants to restore the Times to its former stature, the first thing he needs to do is clean house at Dealbook. As we have said previously, it is effectively a firm within a firm, a model that brought both Drexel Burnham Lambert and AIG to ruin. The Times has no business treating what amounts to an in-house trade journal, which is inevitably too willing to cater to its pet sources, which are also major advertisers, as a bona fide journalistic operation. Baquet needs to deal with the considerable problems and conflicts that Dealbook embodies promptly and effectively.
_____
* It is possible that the bogus e-mail was a set-up that Levine fell into. I spoke with a former senior securities regulator/examiner, and he and I both came up with multiple scenarios as to how Levine might not have been the one to tamper with the original e-mail.
** This is another stunning example of Levine's lack of sophistication in his own area of expertise. Why would you ever give an anti-finance story to a Dealbook reporter? Gretchen Morgenson has broken all of New York Times stories on private equity fee shenanigans. It looks as if Levine was overconfident enough to go to a reporter to which he had ready access, by virtue of Dealbook doing normal private equity trade journal type reporting. But this was not at all that kind of story.
TPG-v-Levine-First-Amended-Complaint
TPG v Levine First Amended Complaint